Butternut Squash Noodles with Brown Butter and Sage, Pumpkin Seed Pesto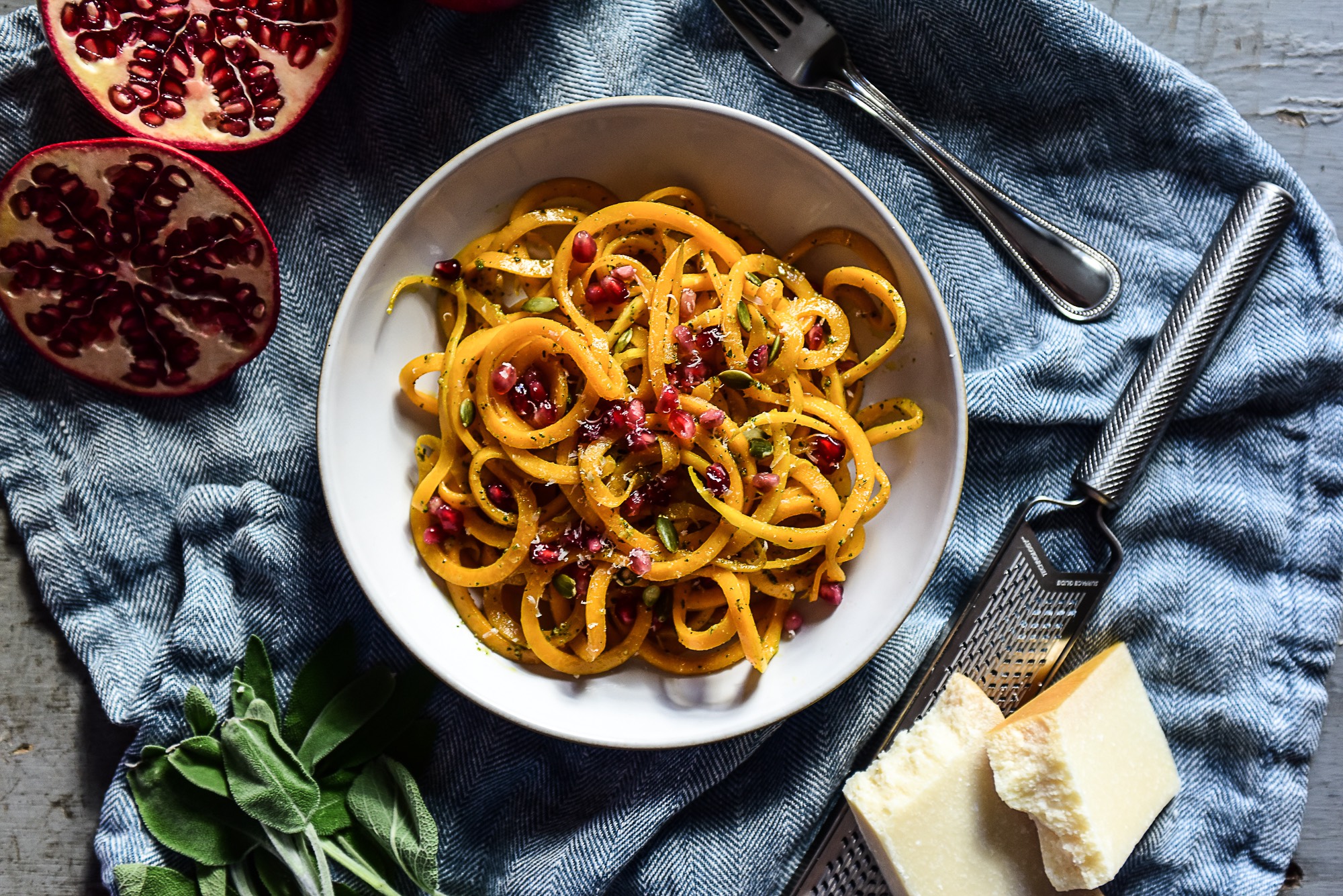 Looking for an elegant holiday dish that celebrates all the flavors of the season without the guilt? Perhaps someone in your group is a vegetarian. Maybe they're doing Paleo or cutting carbs. There could be nut allergies or gluten intolerance. Whatever the case, this recipe has you covered.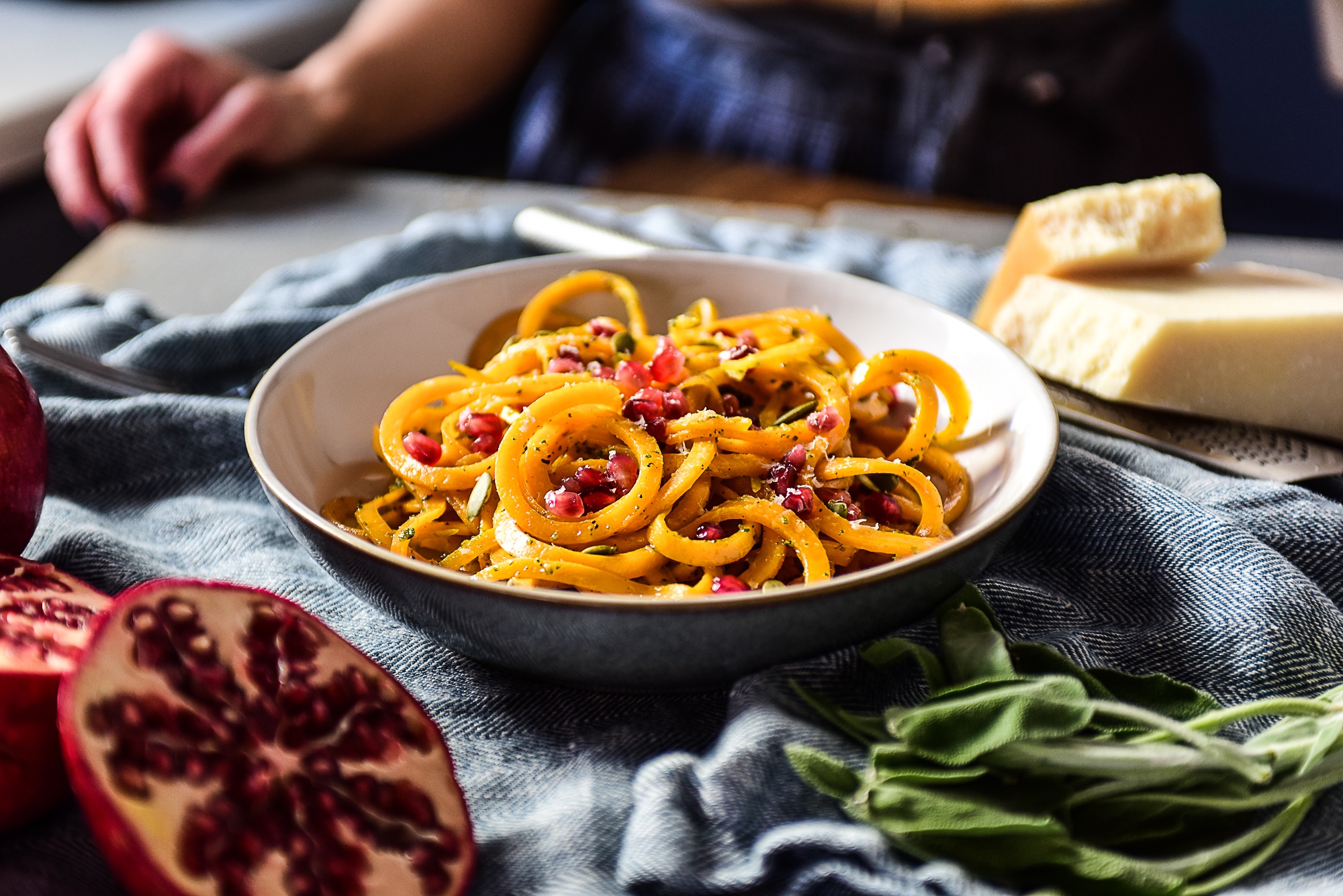 These Spiralized Butternut Squash Noodles are tossed with Brown Butter and Sage Pumpkin Seed Pesto. Topped with a sprinkle of pomegranate seeds and Parmesan cheese, this recipe is as much a feast for the eyes as it is for the taste buds. Beautiful and hearty enough to stand alone this elegant meatless feast is a gluten-free, low-carb, nut-free vegetarian wunderkind.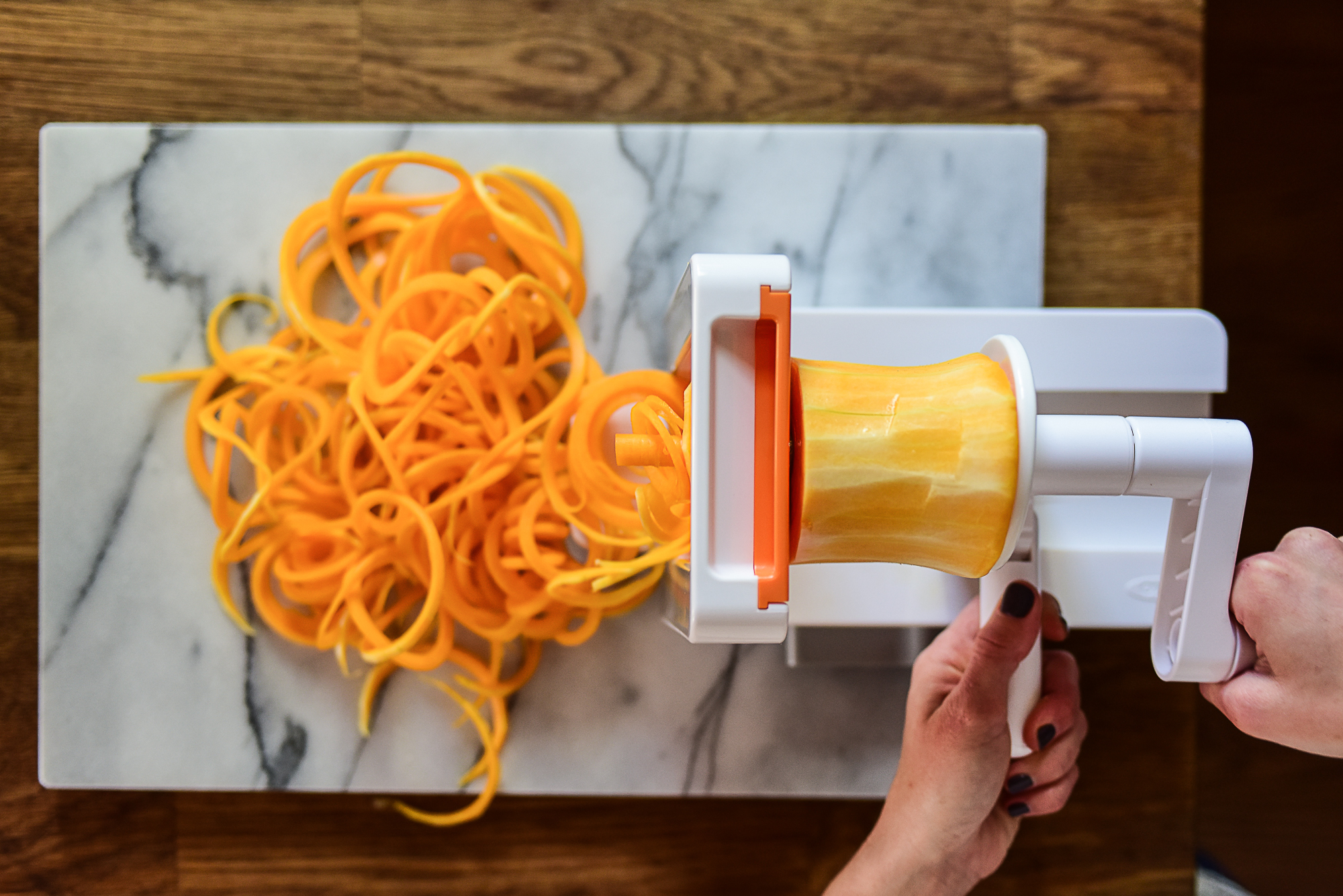 The secret to making this dish feel like a meal instead of a side is the spiralized "noodles." Simply peel butternut squash and transform it into gorgeous, golden "fettuccine" using a spiralizer. This awesome Tabletop Spiralizer from Oxo cranks through an entire squash in just a few minutes.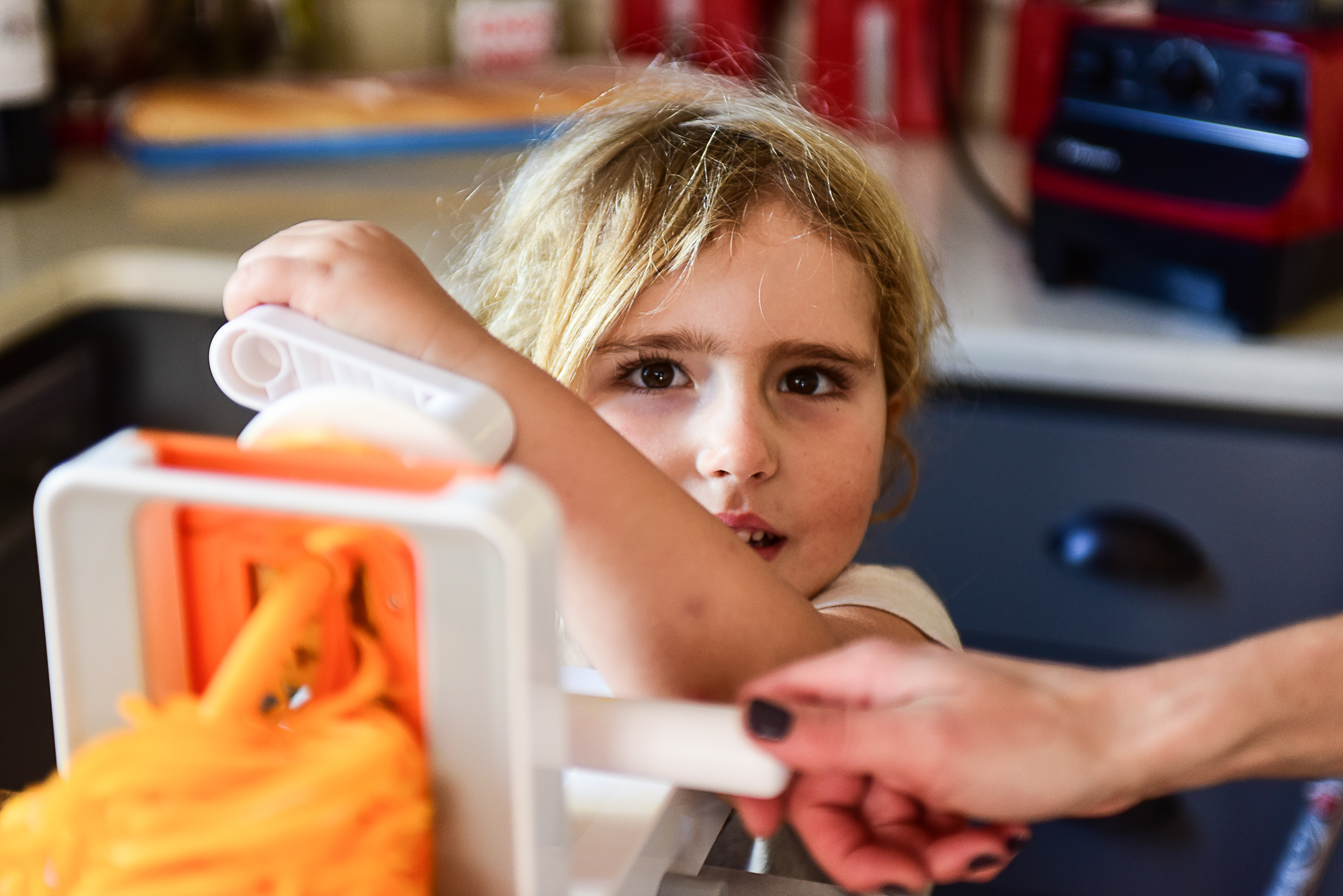 Noodle making is so much fun it piqued the interest of my five-year old, who now wants to spiralize everything (her favorites are apples and zucchini).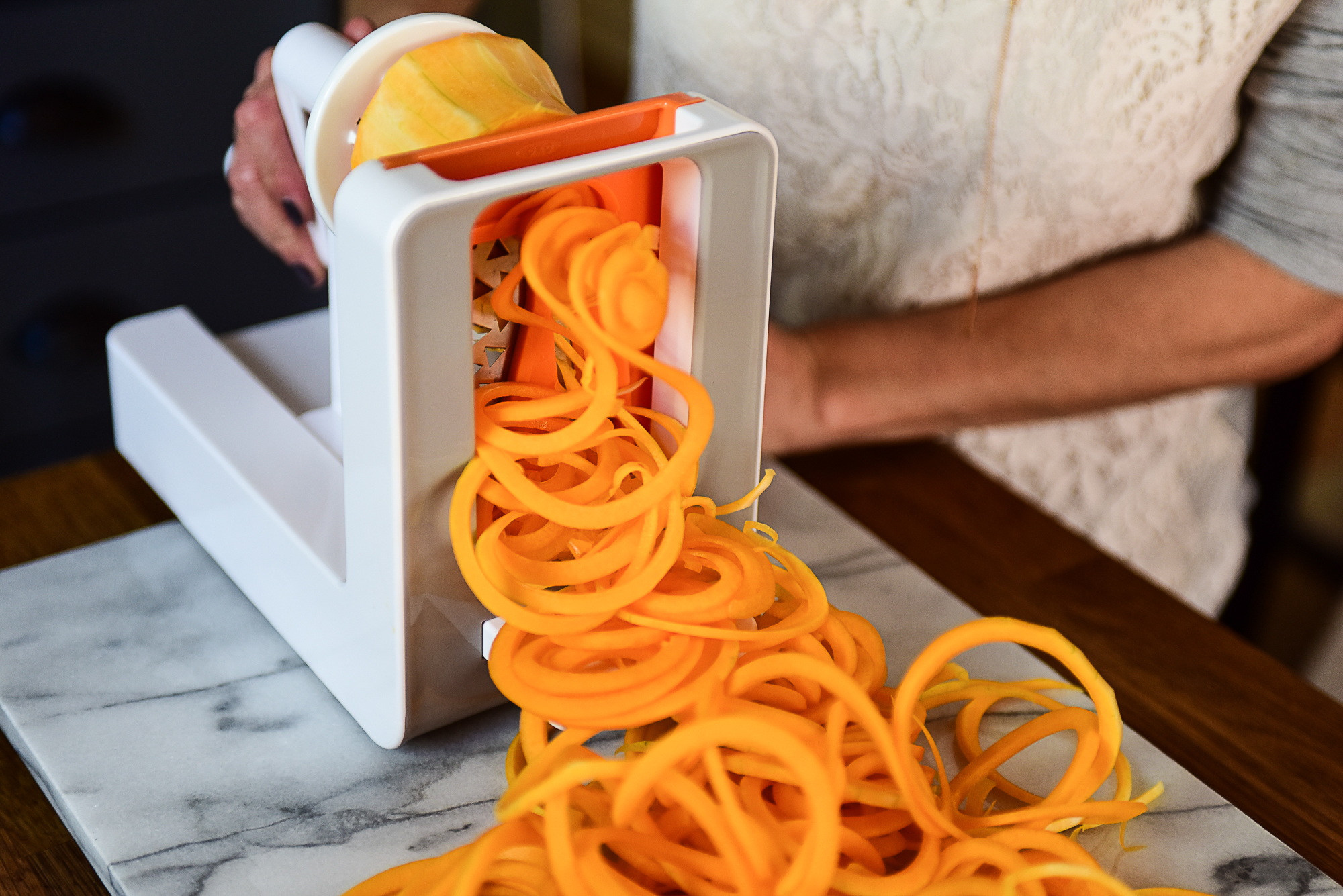 Next we make the pesto, which comes together in mere seconds using a Vitamix blender with a short cup attachment. To give things a distinctive fall flavor, swap in fresh sage leaves instead of basil and pumpkin seeds instead of pine nuts. Parmesan cheese and a drizzle of olive oil bring it all together.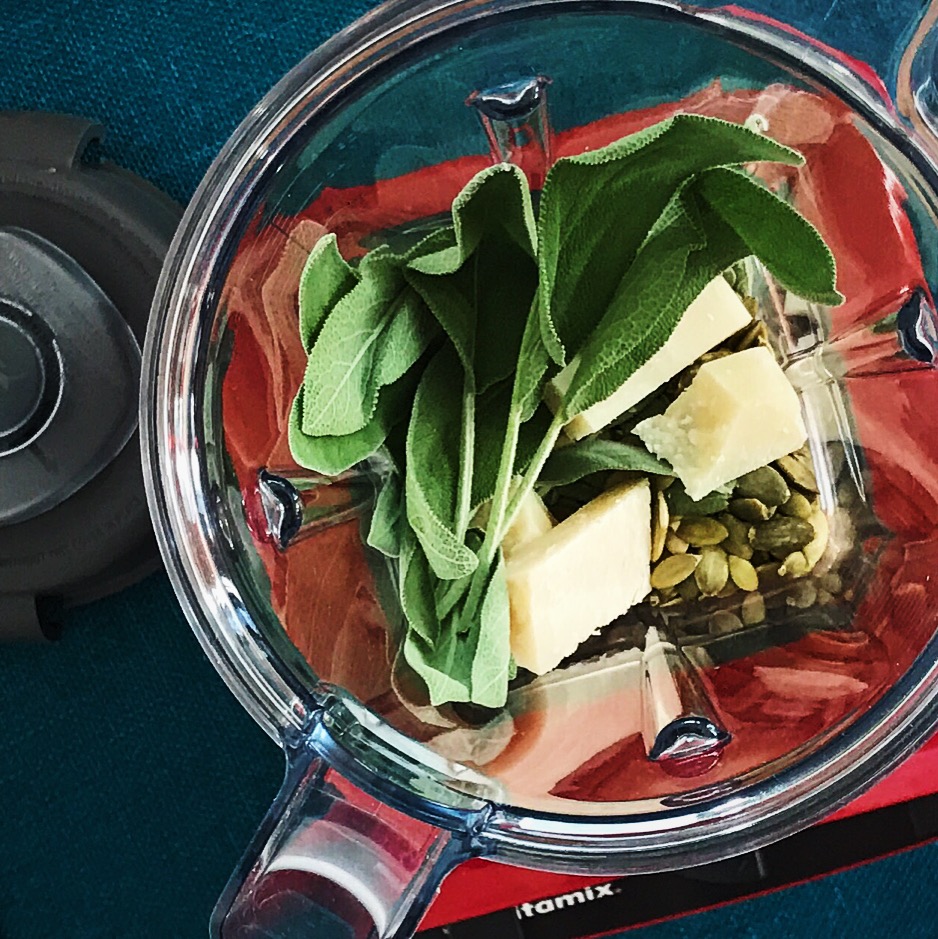 When you're ready to eat, this dish cooks up in a matter of minutes, so it's an ideal choice for a vegetarian weeknight dinner. If you're planning to serve this as part of a larger holiday meal, the first two steps can easily be done in advance. Simply place the spiralized squash and sage pesto in separate airtight containers in the refrigerator. They should keep nicely for up to 48 hours.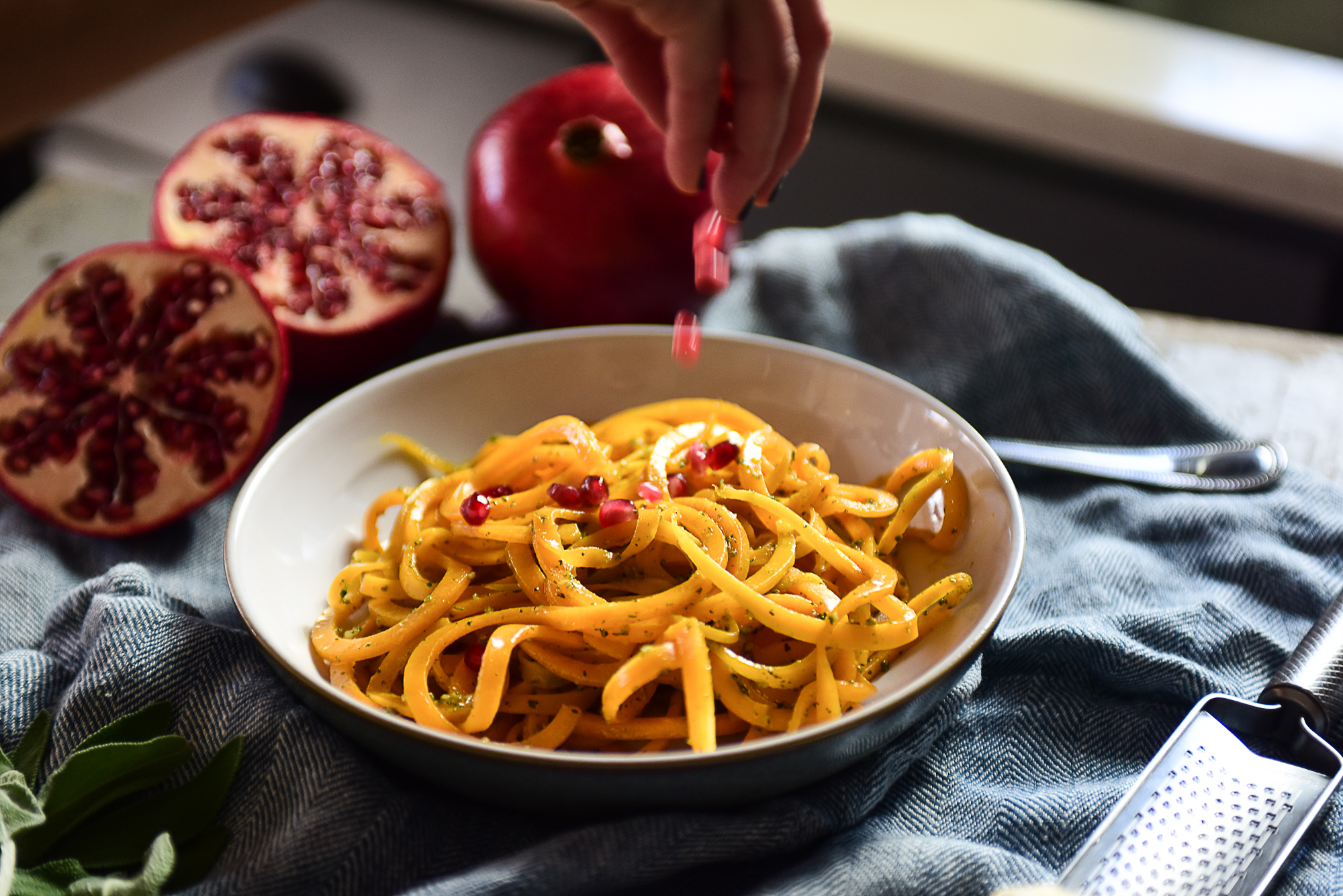 Just before serving, melt butter in a large sauté pan and add the spiralized squash. Toss gently for about 8 minutes until the noodles begin to soften and the butter is browned, and then add a few generous dollops of pesto. Top each serving with pomegranate seeds, whole pumpkin seeds, a dusting of cinnamon and grated Parmesan cheese.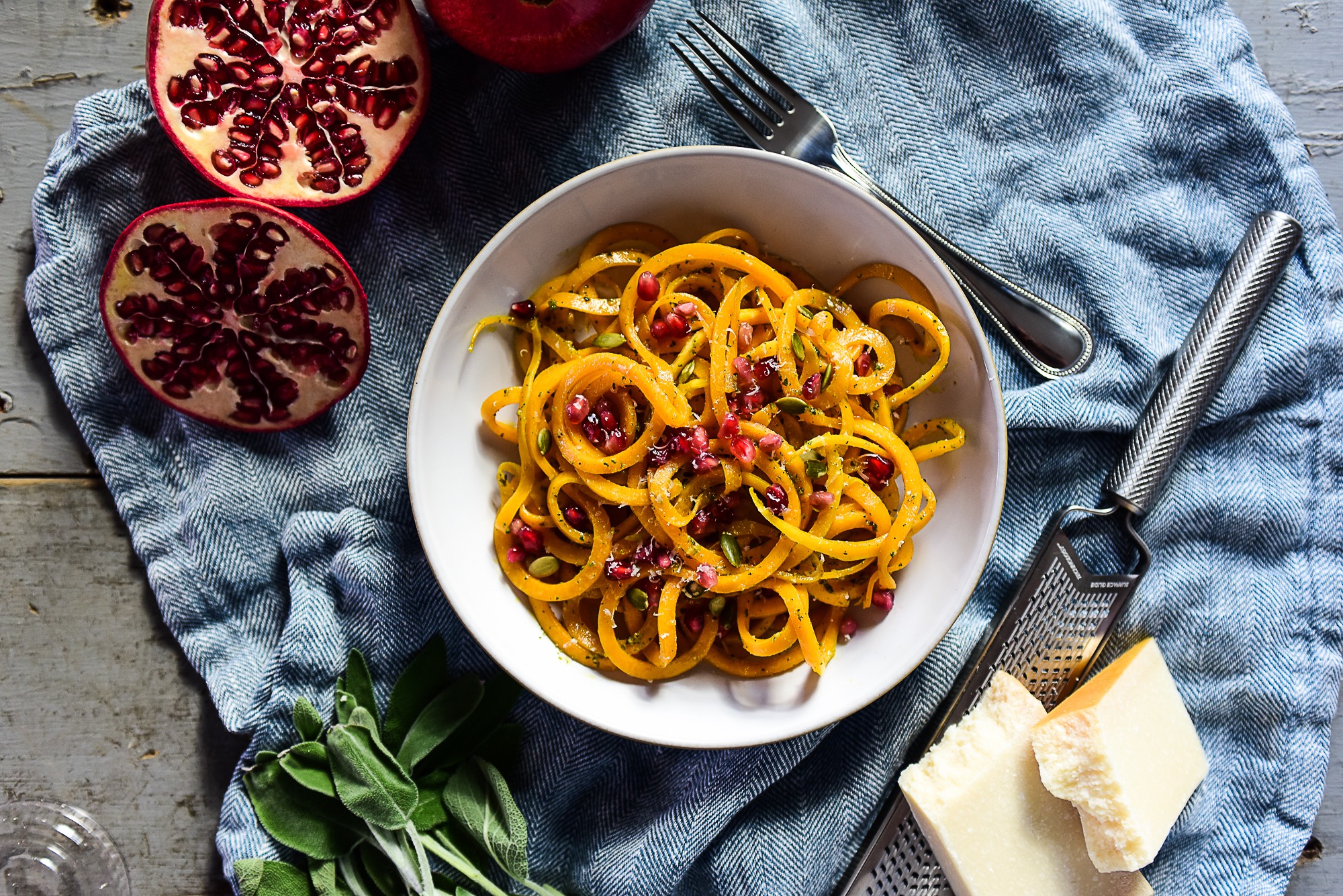 Butternut Squash Noodles with Brown Butter and Sage, Pumpkin Seed Pesto Recipe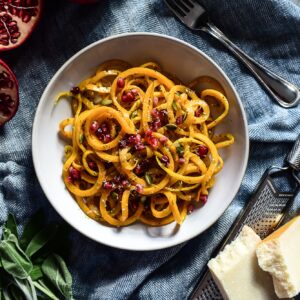 INGREDIENTS
2 medium butternut squash, peeled
2 cup loosely packed fresh sage leaves
3 tablespoons hulled pumpkin seeds
¼ cup good quality Parmesan cheese
2 Tablespoons olive oil
2 Tablespoons butter
¼ cup pomegranate arils
2 Tablespoons hulled pumpkin seeds, toasted
3 Tablespoons grated Parmesan cheese
1 teaspoon ground cinnamon
Salt & pepper to taste
INSTRUCTIONS
Cut the butternut squash width-wise, just above the hollow round base of the squash. Keep the round portion for another use. Keep the long, tube-shaped parts of the squash for spiralizing. Use a tabletop spiralizer with a fettuccine attachment to transform the squash into noodle shapes. Set spiralized squash aside.
In a blender or food processor combine sage, 3 tablespoons pumpkin seeds and Parmesan cheese. Cover machine and pulse until the mixture resembles course crumbs. With motor running, slowly add in olive oil in a long stream until the mixture looks like paste. Transfer pesto to a small, airtight container until ready to use.
To prepare dish, melt butter over medium heat in a large pan. Add spiralized to pan and toss to coat. Continue cooking over medium heat until squash noodles are tender and butter has browned, about 8 minutes. Add 2-3 tablespoons of the pesto mixture. Toss to combine and continue cooking for 2 minutes more. Season generously with salt and pepper to taste.
Remove noodles from heat. Garnish each serving with fresh pomegranate arils, toasted pumpkin seeds, grated Parmesan cheese and a dusting of cinnamon.