Vineyard Harvest Roasted Chicken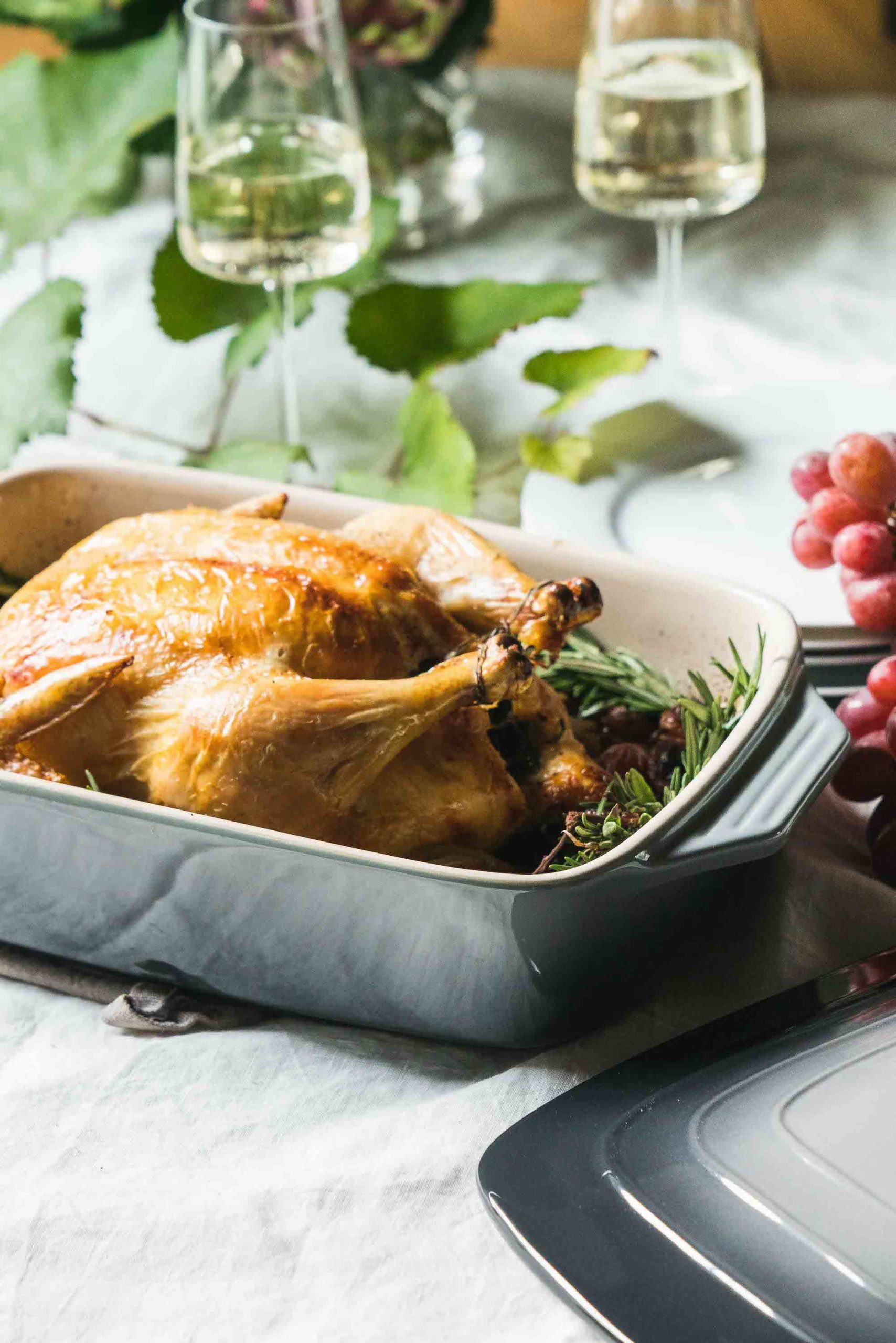 Roasting an entire chicken is a deceptively impressive display of kitchen prowess. No one else needs to know how easy this really is. We can keep it between the two of us once you give it a try, because as soon as you trot this platter out for a family dinner, you can frolic through the mounds of praise for days on end. Just make sure you put the chicken down first.
During autumn you have your pick of winter squashes and other veggies to accompany a chicken, but today we're taking advantage of some seasonal fruit: grapes… and their even better drinkable counterpart: wine.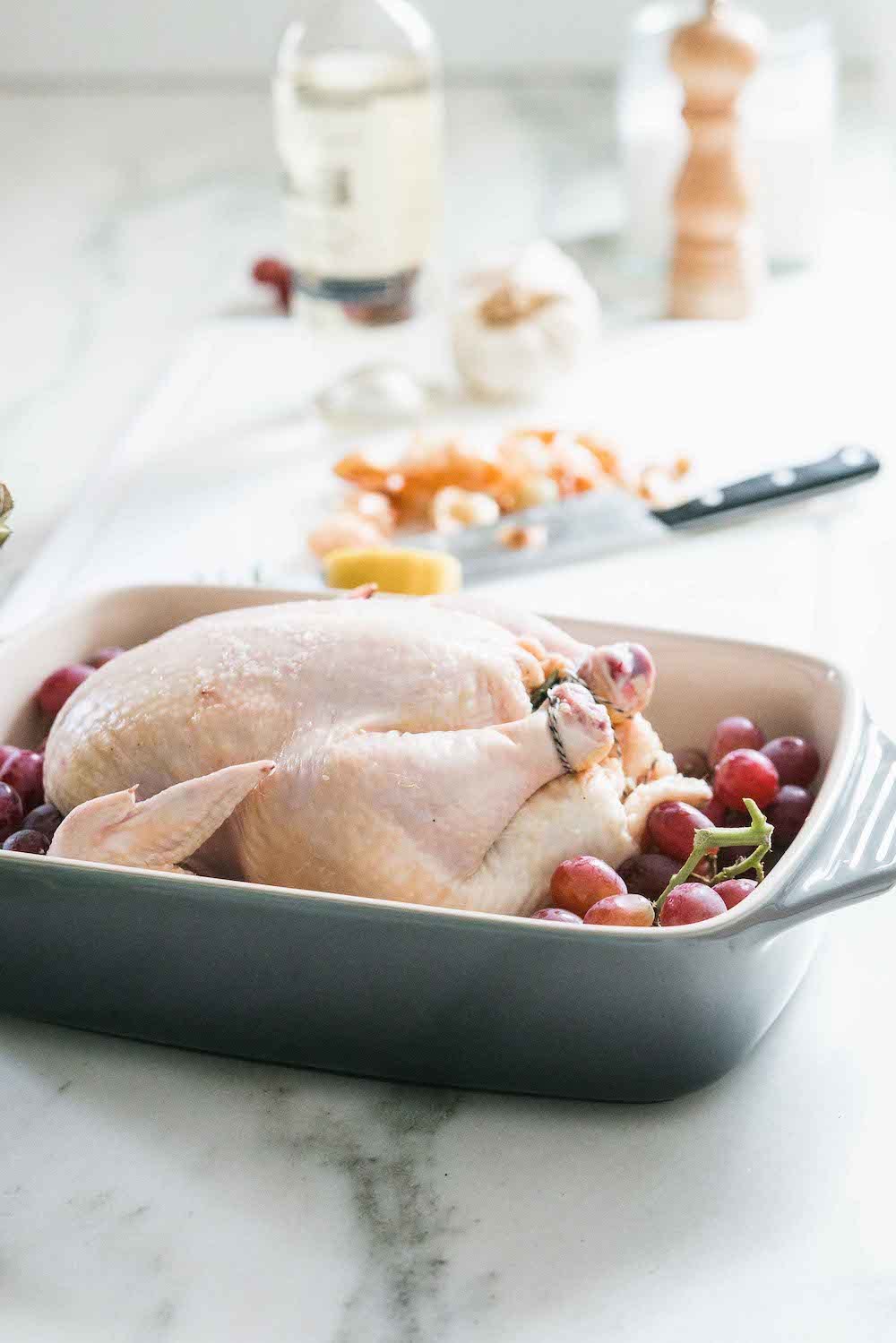 With the seasons changing, we've just finished my favorite part of the year here in Virginia wine country. The grape harvest has been completed. The winery tasting rooms are full and cozy (although to be honest, I'm personally a fan of a practically empty tasting room and will go at opening to avoid crowds. Wine at 11? Sure). Between table grapes and wine grapes, there are plenty of ways to use the flavors of both.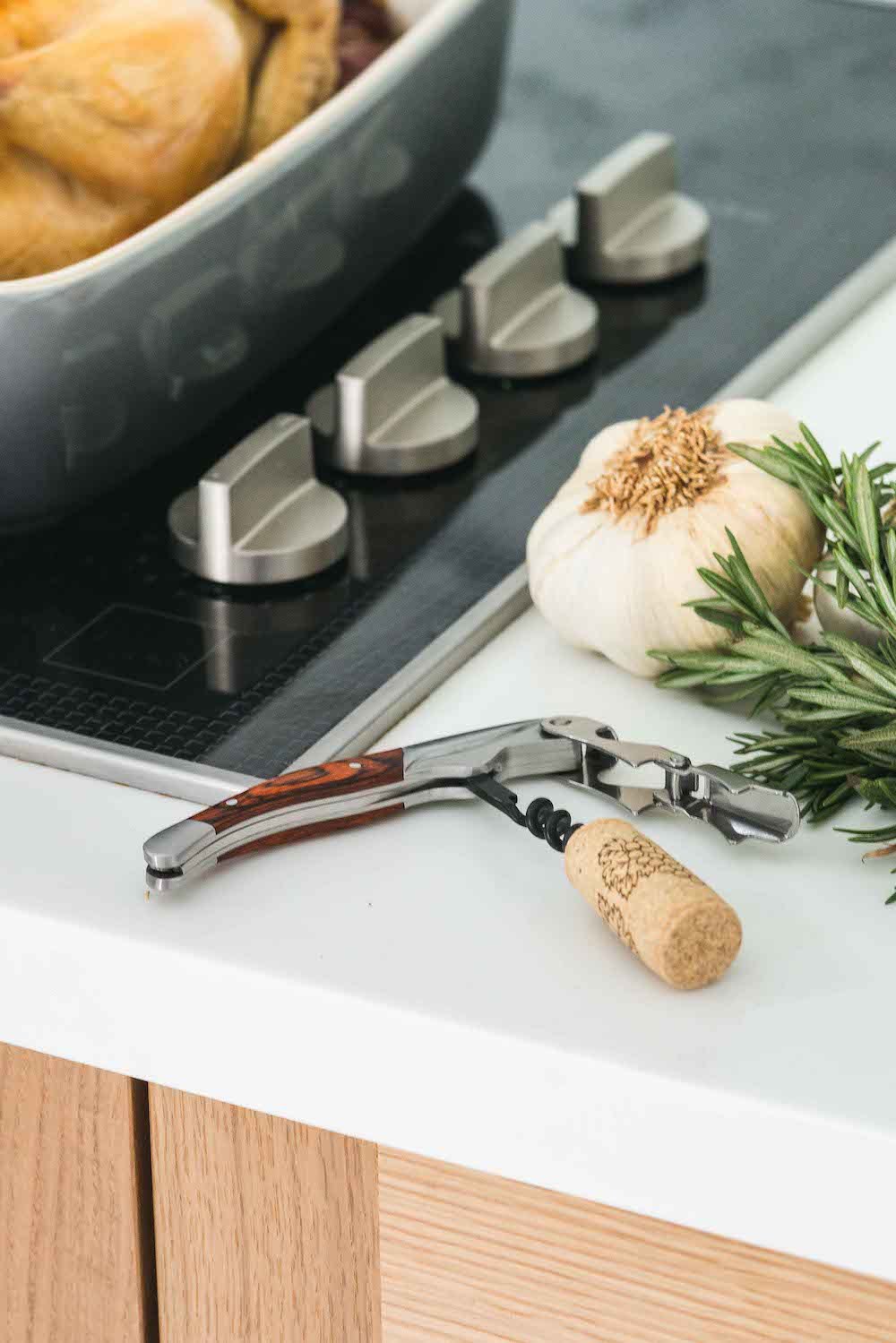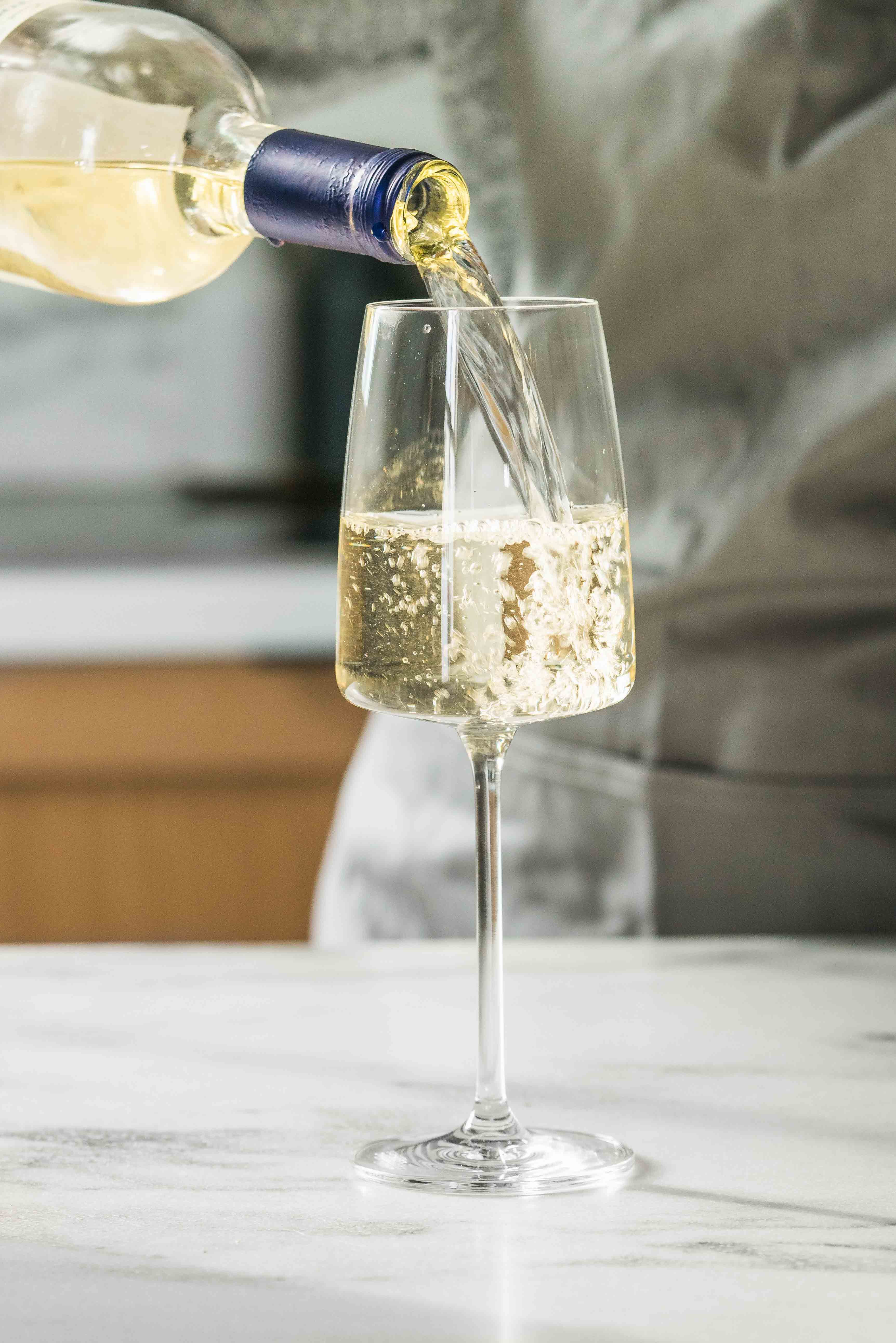 Roasted grapes add a complex sweetness to any dish. While you could absolutely throw them on a sheet pan with your other roasted veggies for the week, I think you'll love how they turn out with the chicken.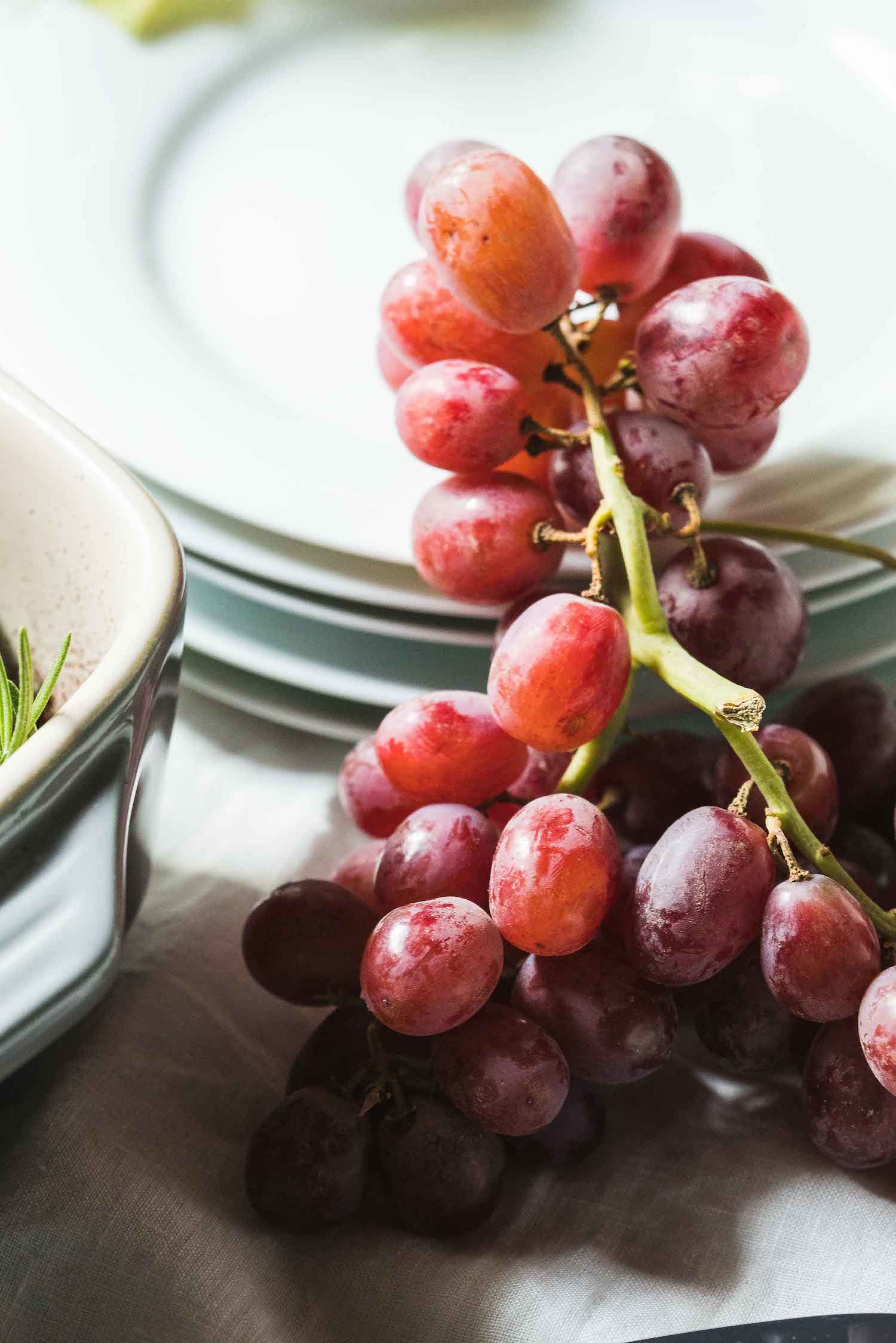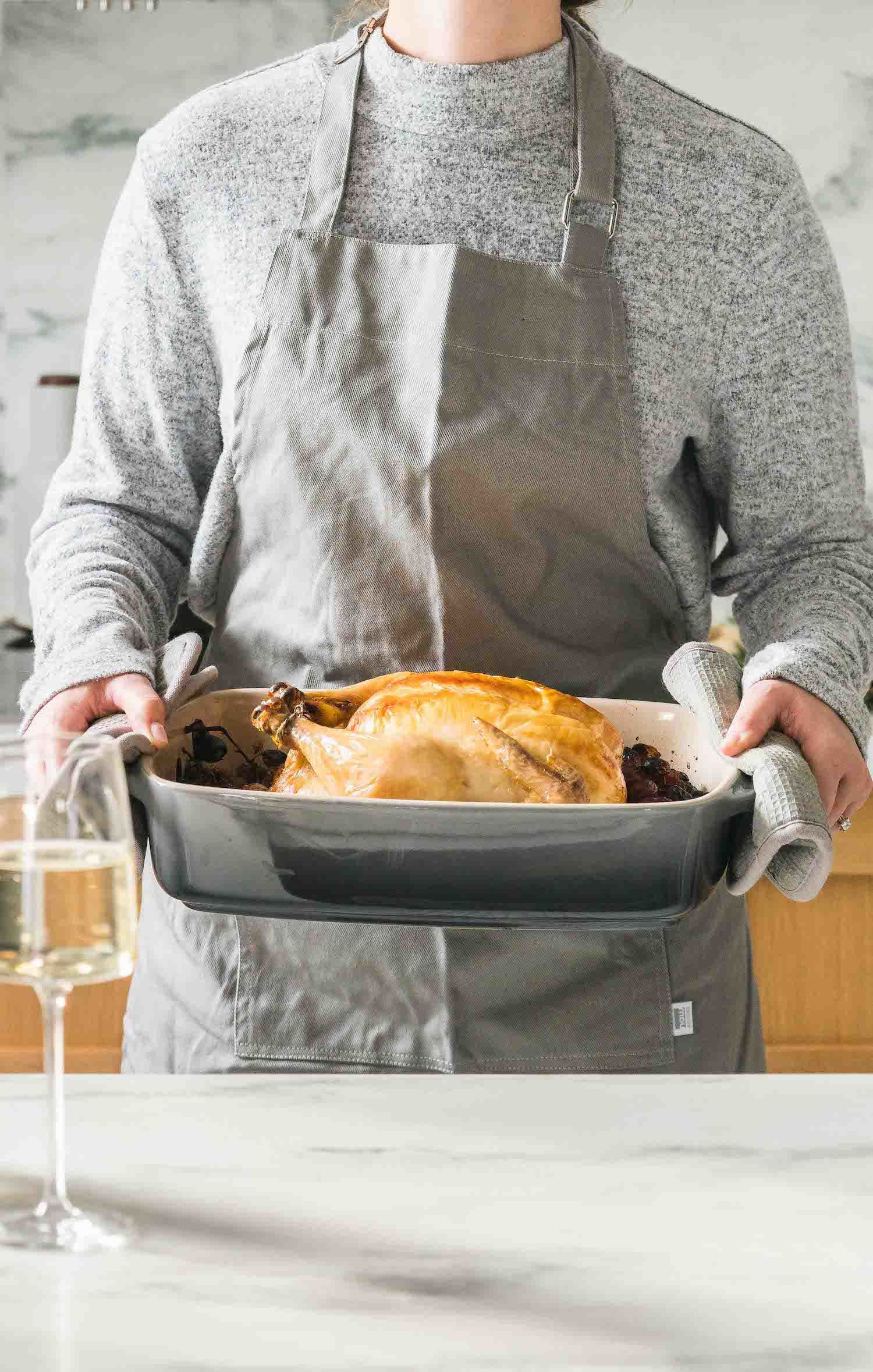 To create a nice sauce to go with the chicken, I sautéed a little garlic and added Chardonnay, bringing it to a simmer. That went into the bottom of the pan along with the grapes and some pearl onions under the chicken. After about an hour, and therefore the addition of chicken flavors, you're left with a perfectly paired sauce to dip the chicken into, or spoon over veggies or even have with a baguette.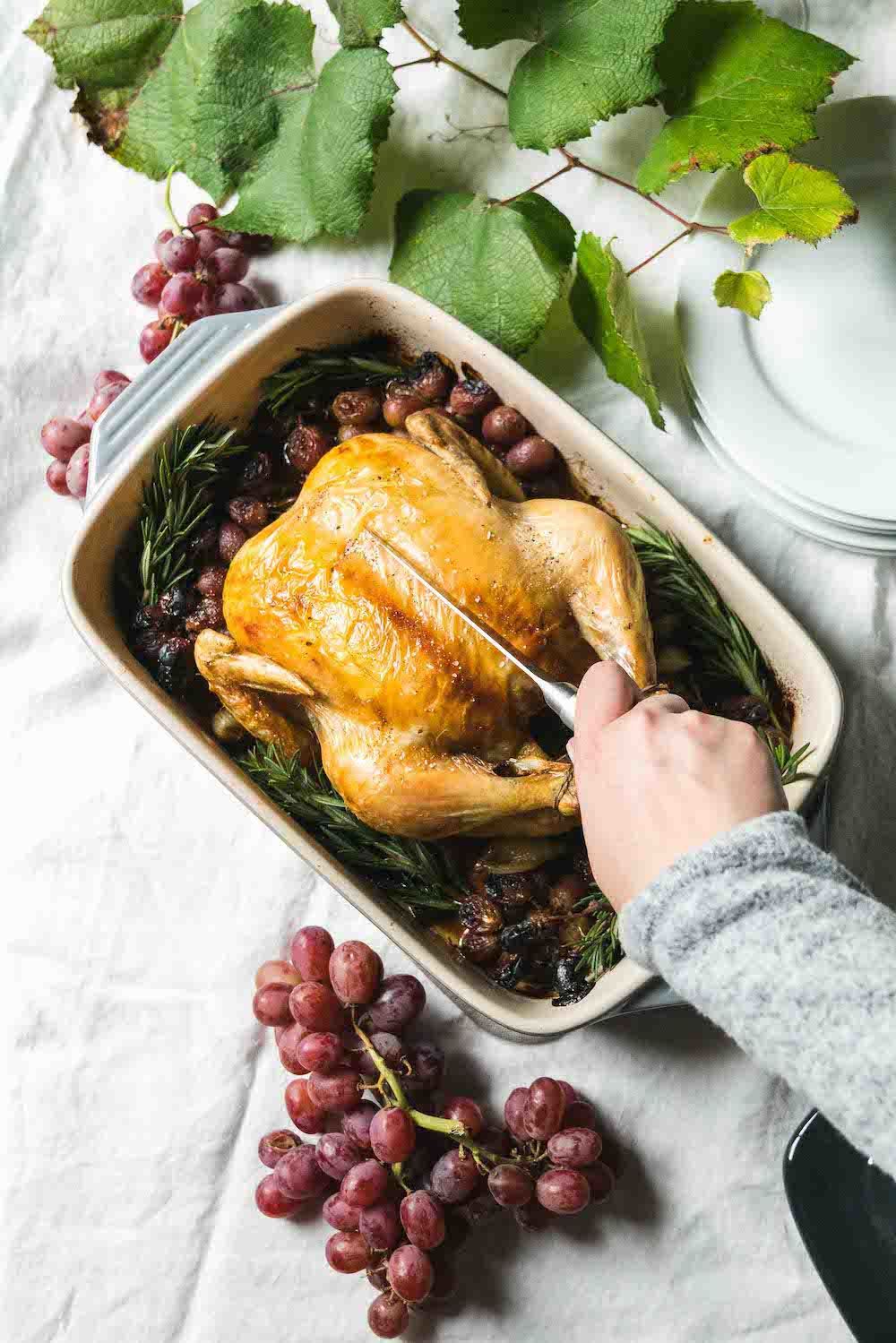 Once you're done with dinner, you can use the leftovers for sandwiches, salad or even stir-fry. Then make chicken stock you can always freeze for winter soups. Roasted chicken is the gift that keeps on giving. Especially since the best part of all of this, minus the lavish praise, is the aroma. I challenge you to find a better smelling candle than roasted chicken with rosemary.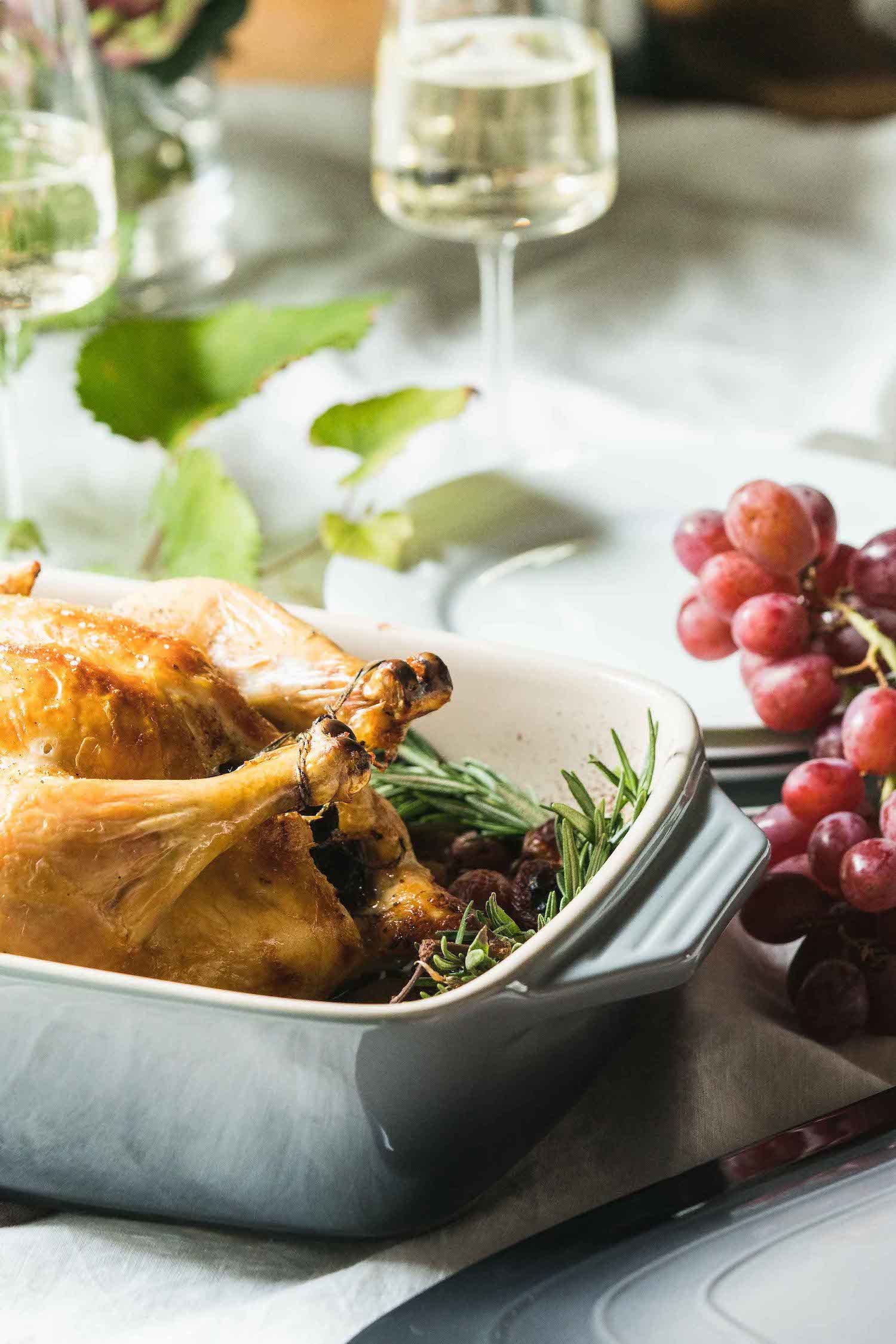 Vineyard Harvest Roasted Chicken
Roasting an entire chicken is a deceptively impressive display of kitchen prowess. No one else needs to know how easy this really is. Everyone will be singing your praises once you give it a try!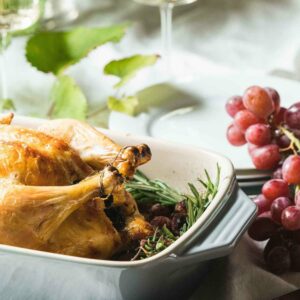 INGREDIENTS
5 pound whole chicken
Half lemon
2 sprigs rosemary
½ tablespoon kosher salt
Freshly ground black pepper
About ½ pound seedless red or black table grapes
1 cup pearl onions
1 Tablespoon extra virgin olive oil
1 Tablespoon minced garlic
½ cup chardonnay wine
1 teaspoon honey clover
INSTRUCTIONS
Preheat oven to 375 F (convection setting if available) with a rack in the lower middle.
Remove chicken from fridge, remove and discard gizzard from inside cavity (or keep to make a sauce later). Pat dry and place on cutting board.
Salt and pepper the inside of the chicken cavity. Place lemon and rosemary inside.
Using baking twine, tie legs closed.
Pat outside of chicken dry with paper towels. Salt outside of chicken and place in casserole dish breast side up.
Place washed leaves (still on stem) around outside of chicken.
To prepare pearl onions, boil for 60 seconds, remove from water and chop off bottom end. Squeeze to release onion from skin. Place in dish around chicken.
In a small saucepan, add olive oil and garlic over medium heat. Sauté for about two minutes or until garlic is flavorful.
Add wine and bring to a simmer. Cook for about three minutes, then add honey and stir.
Pour wine mix around base of chicken (do not pour over top).
Cover with foil tightly and cook for an hour and 30 minutes.
Remove foil from chicken and increase temperature to 400 F. Roast until browned and skin is crisp, about 15-20 minutes.
Check internal temperature of chicken to ensure it is at least 165 F. Rest for at least 10 minutes. Carve and serve.
Note: Great with salad, mashed garlic potatoes, and seasonal veggies.
Nutrition
Serving:
1
g
Calories:
935
kcal
Carbohydrates:
8.2
g
Protein:
131.8
g
Fat:
36.5
g
Saturated Fat:
9.7
g
Cholesterol:
404
mg
Sodium:
1091
mg
Fiber:
1
g
Sugar:
4.9
g