Braised Beef Brisket & Roasted Carrots with a Pomegranate-Honey Glaze for Rosh Hashanah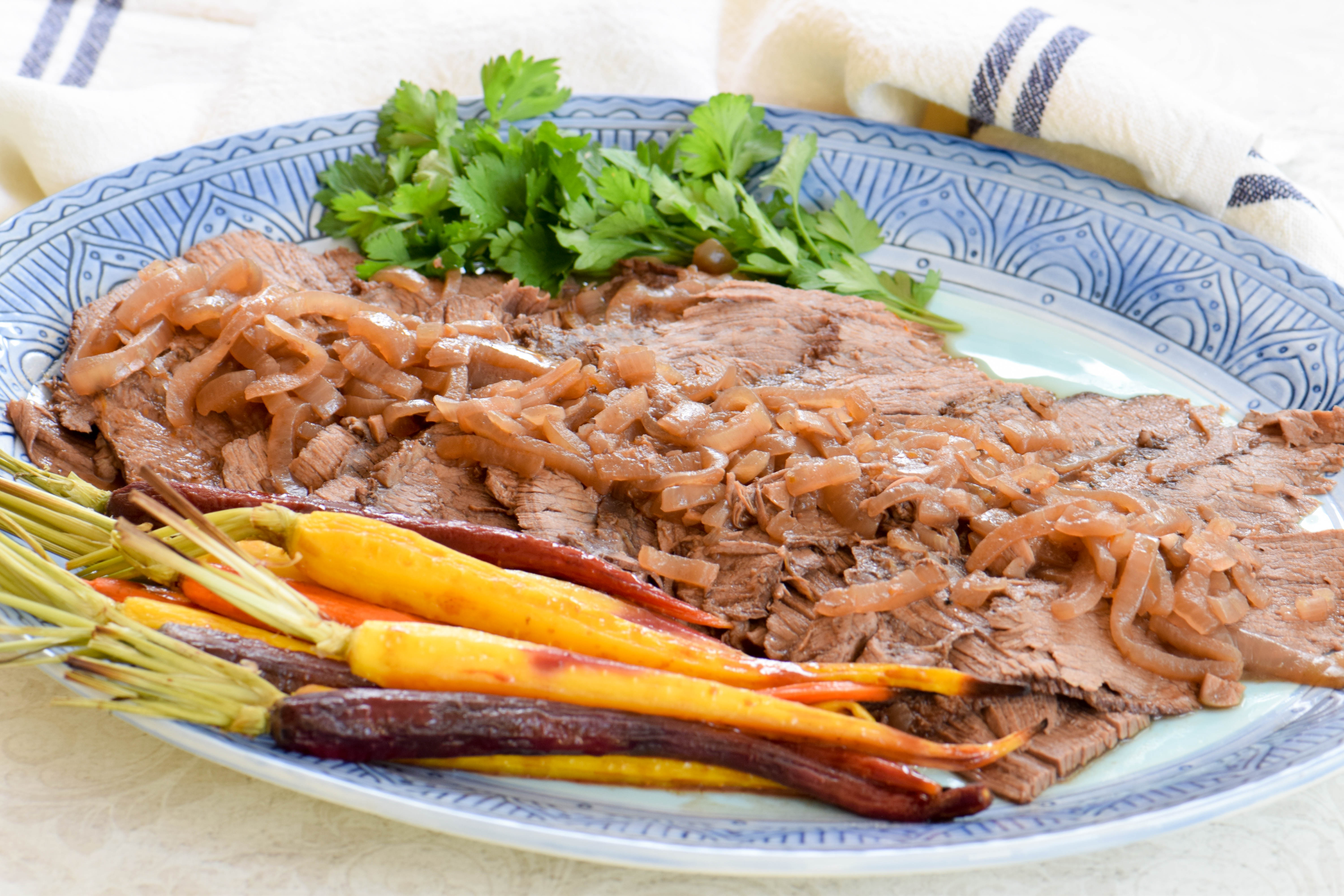 Melt-in-your-mouth brisket smothered in rich gravy. Caramelized roasted carrots drizzled with a pomegranate-honey syrup. Sweet meets savory over a festive holiday meal this Rosh Hashanah.
Rosh Hashanah, the Jewish new year celebration, begins at sundown on October 2. All over the country, Jewish families will gather with friends and family to recite the holiday blessings, break bread and wish one another "L'shana tovah:" a sweet new year!
Because we leave nothing to chance, Jewish families celebrate Rosh Hashanah, which means the "head of the year," with a meal full of sweet foods to symbolize our hope that the coming year be a sweet one. For example, many families begin Rosh Hashanah dinner by dipping slices of apple in honey. Rosh Hashanah also comes at a time of year when fall fruits and vegetables are at their peak, making it easy to plan a delicious and seasonal menu.
One fall vegetable that graces many Rosh Hashanah tables are carrots. Look for carrots with the green tops still attached – they have the best flavor – and seek out some heirloom varieties in different hues of yellow, orange and even purple at your local farmers market. I find that roasting brings out carrots' natural sweetness. Add a sweet-tart glaze made with pomegranate molasses and honey — another traditional Rosh Hashanah food — and you have carrots worthy of a holiday meal.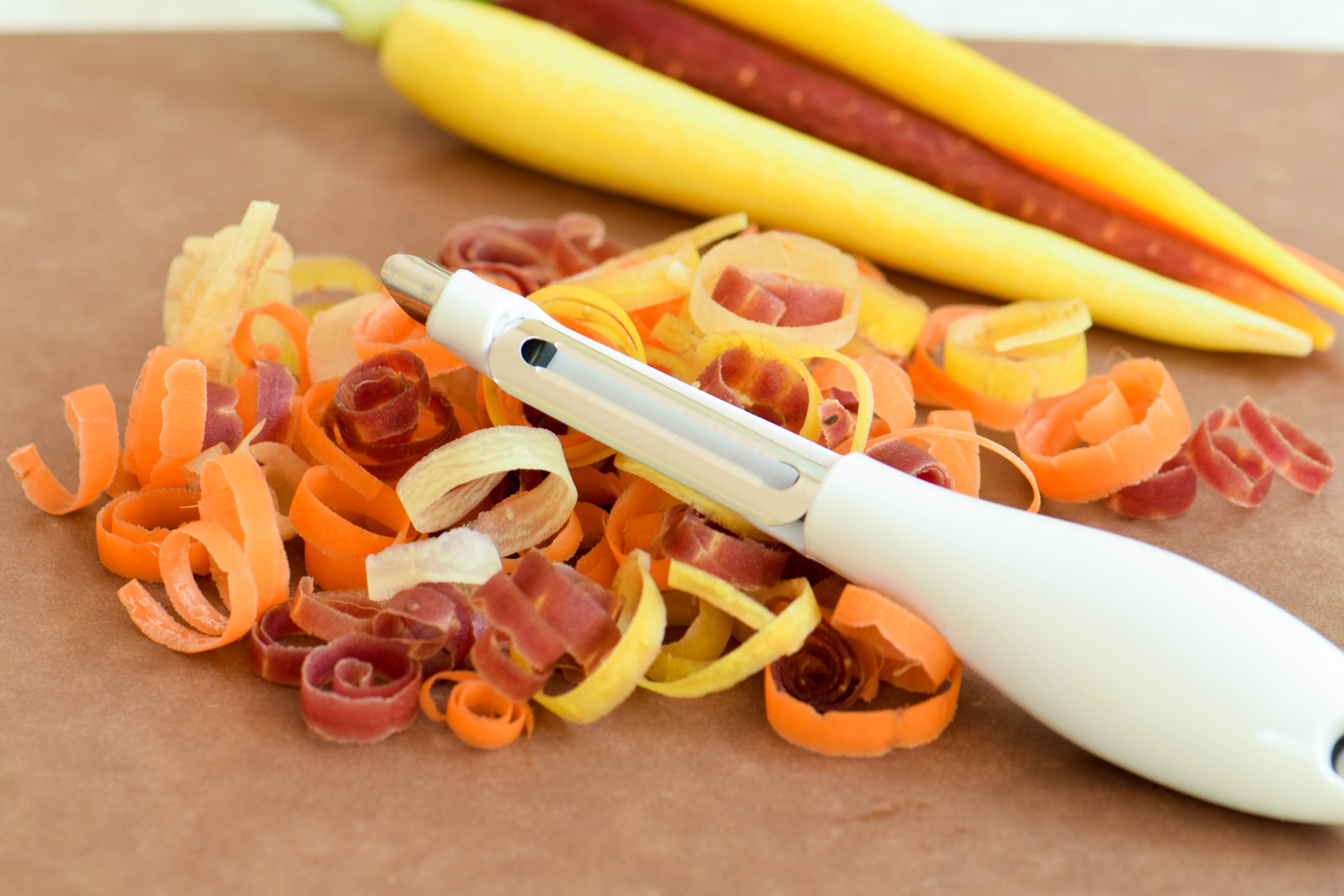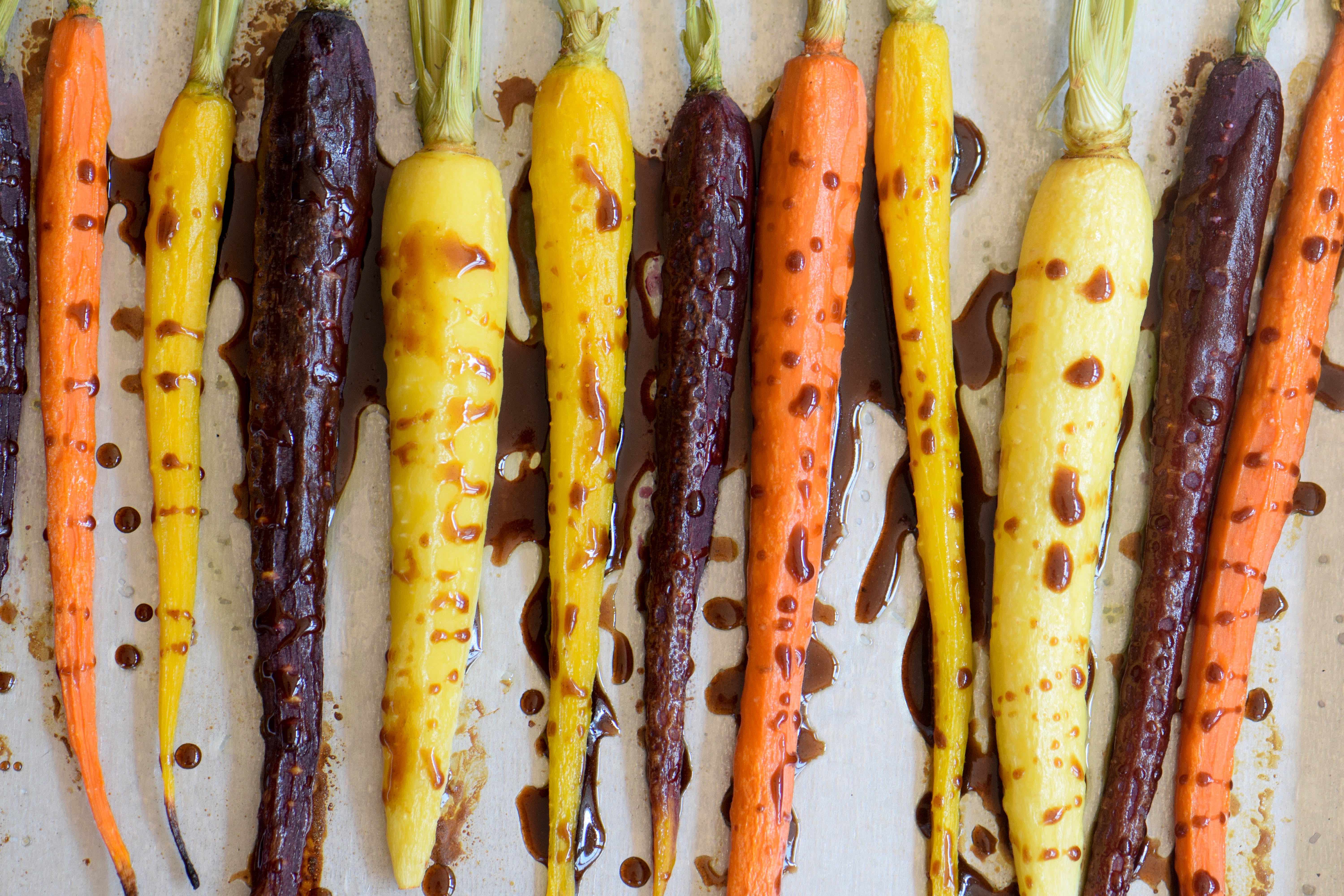 (Pomegranate molasses, a common Middle Eastern ingredient, is simply pomegranate juice that has been reduced to a thick sauce. It resembles nothing so much as Balsamic vinegar. You will find it at better grocery stores or you can make it yourself by cooking down pomegranate juice until syrupy. After Rosh Hashanah, try pomegranate molasses in salad dressing or as a glaze for meat.)
The centerpiece of my Rosh Hashanah menu is a beef brisket cooked in a red wine sauce. An inexpensive cut of meat, brisket is the ideal food to serve a crowd because you can do all the work in advance. Not only is it possible to make brisket the day before you plan to serve it, it is preferable.
But put aside such mundane considerations as price and convenience: brisket is a wonderful dish to serve a crowd because it is true comfort food. Shreds of meat that melt in your mouth, winey, tomatoey gravy that soaks everything it touches. Who can resist such satisfying warmth?
The key to tender, melt-in-your-mouth brisket is to braise it, that is, sear it first on the stove, then cook it in the oven, surrounded by liquid, for several hours. For this task, use a heavy, lidded Dutch oven, such as one by Le Creuset, that can go from stovetop to oven. The brisket should fit snugly in your pot.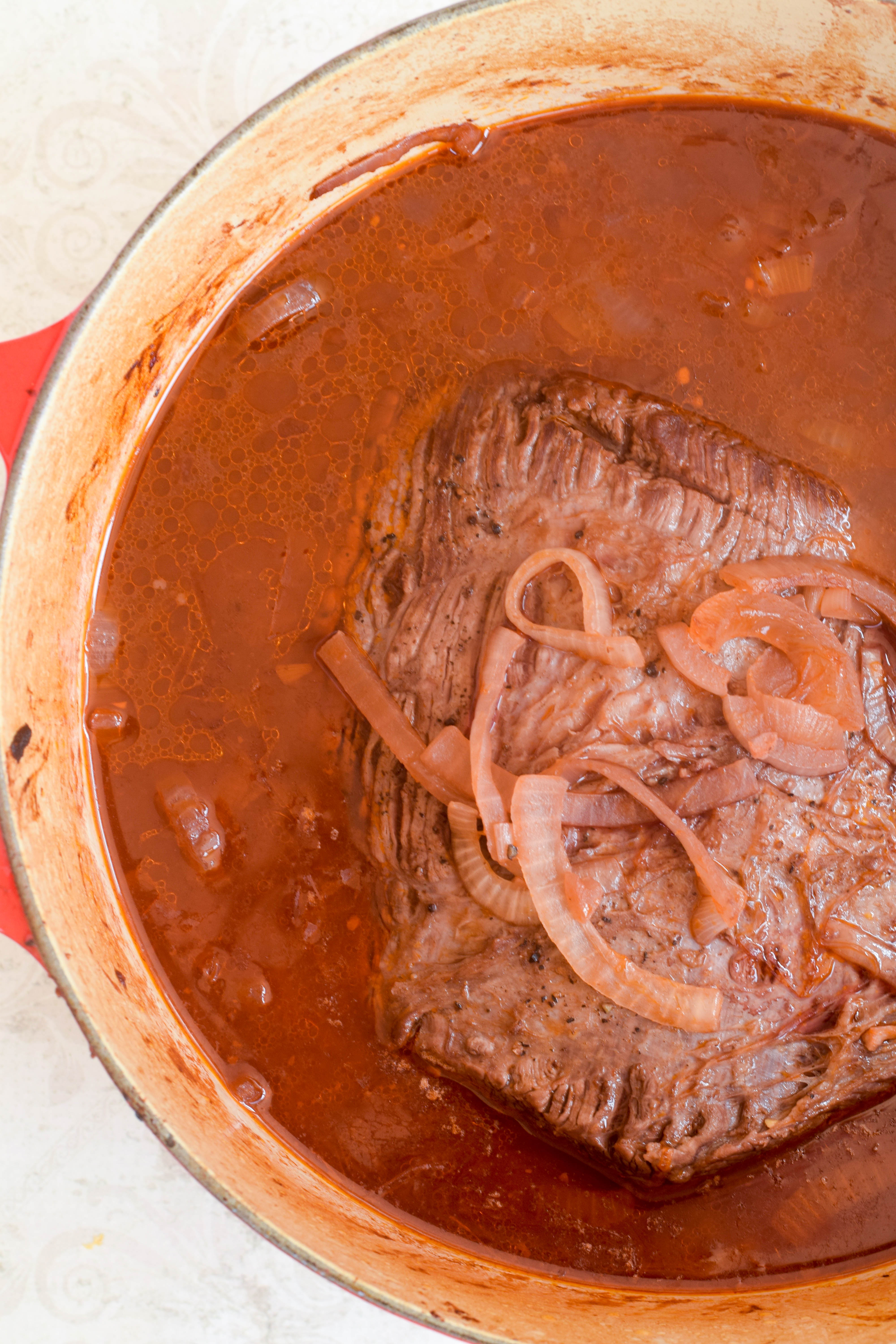 The brisket's cooking liquid will become a flavorful gravy to serve alongside the meat. But here is another potential pitfall. The sauce can end up being greasy because of the fat from the brisket. The solution is to cook the meat the day before you plan to serve it, as I mentioned. You can then chill the sauce and the fat will congeal at the top, making it easy to remove.
Another advantage to cooking the brisket the day before your celebration and refrigerating it is that brisket is easier to slice when it is cold. You want thin slices of meat, so use your sharpest carving knife and be sure to cut across the grain of the meat. The sliced brisket is then reheated in the remaining gravy just an hour prior to serving. There is always so much to do in the hour before guests arrive — isn't it nice to serve a main dish that requires no attention from you during that time?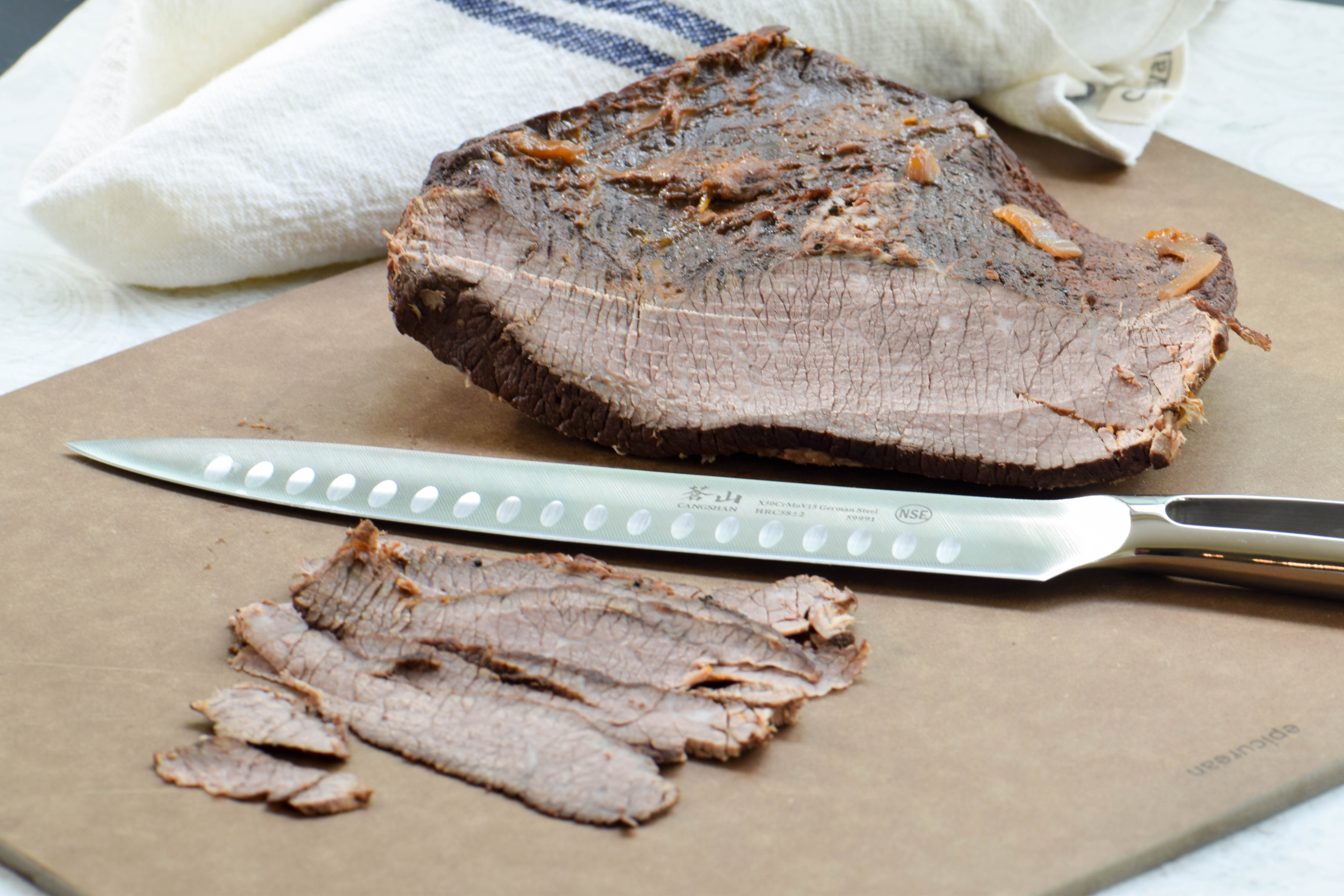 To round out this menu of brisket and roasted glazed carrots, I recommend a refreshing green salad garnished with pomegranate seeds, another traditional Rosh Hashanah food; a round challah; and for dessert, a traditional honey cake, or perhaps, for a more sophisticated crowd, an apple tart topped with creme fraiche.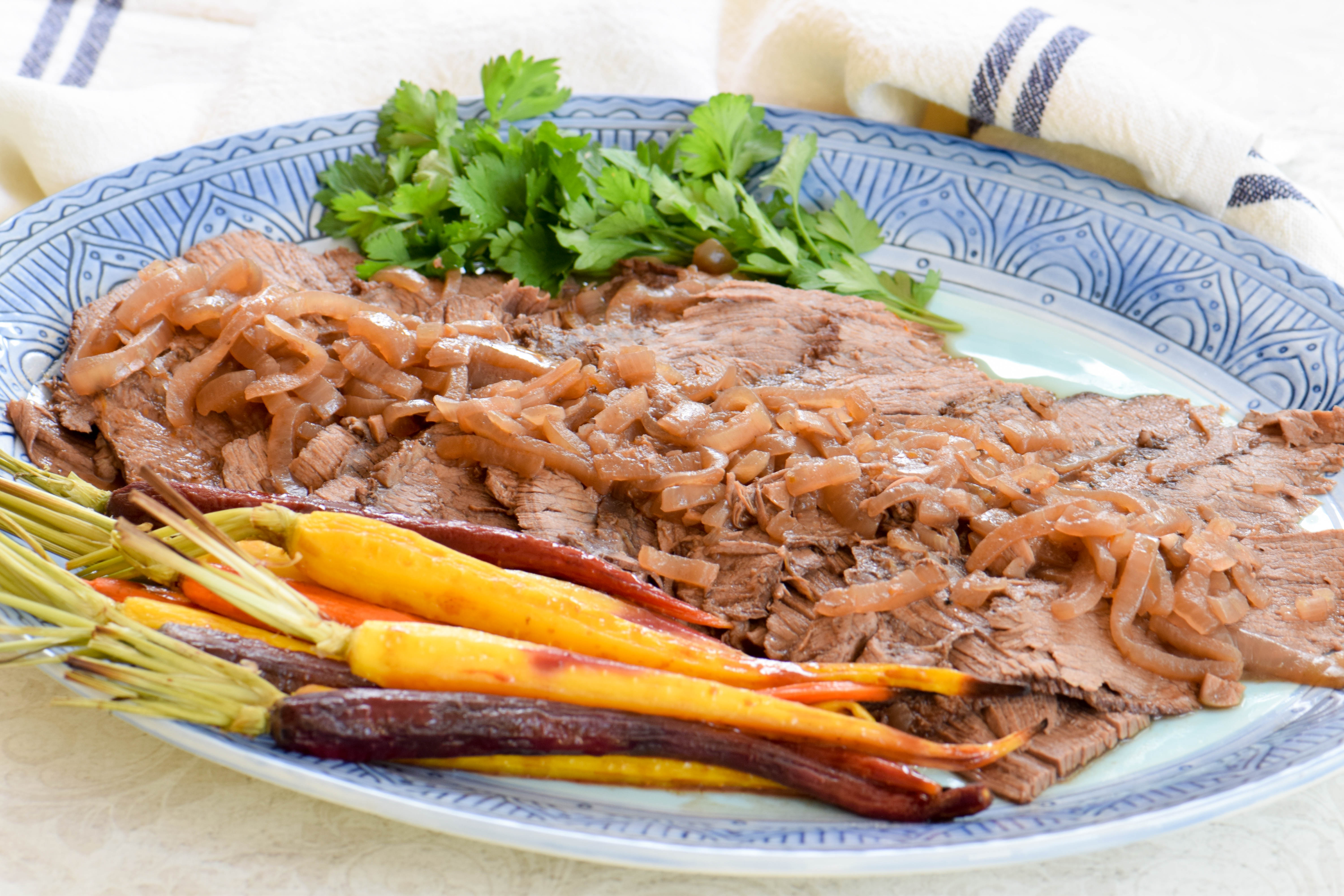 May your Rosh Hashanah dinner be festive and delicious and your new year sweet and full of blessings!
Braised Beef Brisket in Red Wine Gravy Recipe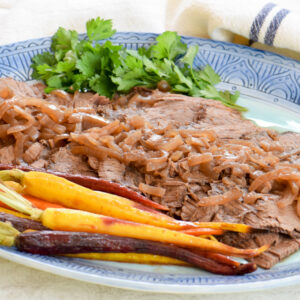 INGREDIENTS
5 lb. beef brisket
3 TB vegetable oil
2 TB butter
2 onions, sliced
4 cloves garlic, minced
2 TB tomato paste
2 cups beef broth
1 bottle fruity red wine such as Zinfandel or Pinot Noir
INSTRUCTIONS
Preheat the oven to 325.
Heat the oil in a heavy-bottomed, oven-proof Dutch oven that fits the brisket snugly.
Once the oil is hot, place the brisket in the pot and turn heat down to medium.
Brown the brisket on both sides, about five minutes per side, and then remove it from the pot and place on a large plate or cutting board.
Season the brisket with salt and pepper and set aside.
Pour out all but 1 TB of the oil and add the butter and heat over medium heat.
Add the onion and sauté until tender, about ten minutes, scraping up any brown bits on the bottom of the pot with a wooden spoon.
Add the garlic, tomato paste, beef broth, and red wine and stir to combine.
Return the brisket and any juices that have accumulated to the pot. The liquid should cover about ⅔ of the meat.
Cover tightly and place pot in oven.
Cook the brisket for three hours, turning once every hour. If the liquid level gets too low, add more beef broth or water.
Remove the pot from the oven and refrigerate the meat and gravy separately for at least several hours but preferably overnight.
To reheat the brisket, skim off any congealed fat from the top of the gravy.
Preheat oven to 350.
Using a sharp carving knife, remove the fat cap from the top of the brisket. Slice the brisket against the grain into thin slices.
Place the sliced brisket into a 3 quart glass baking dish and pour the gravy over the meat.
Cover the baking dish with foil and bake until the meat and gravy are heated through, 45 minutes to an hour.
To serve, arrange the slices of meat on a platter and pass the sauce separately.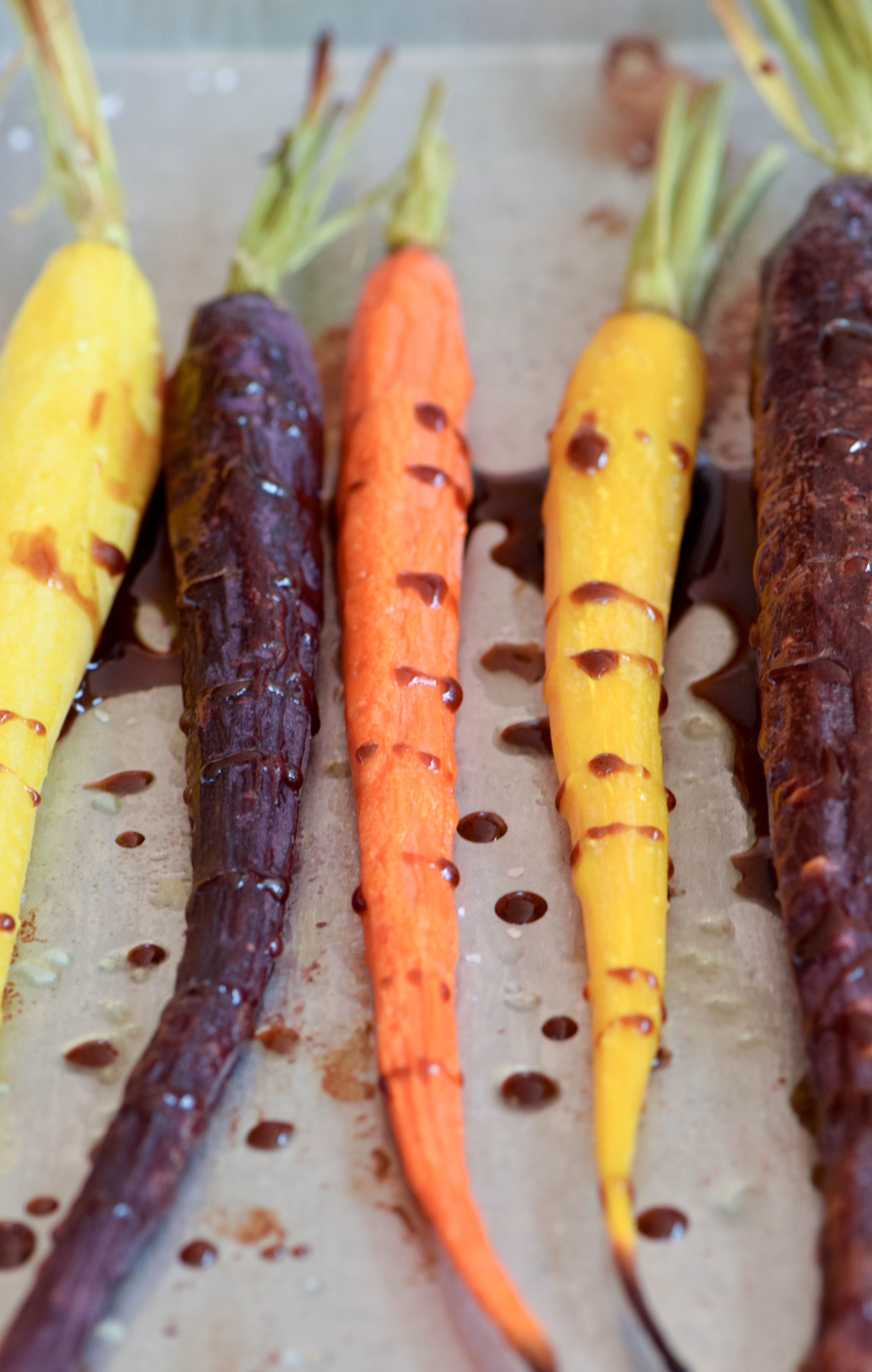 Roasted Carrots with Pomegranate-Honey Glaze Recipe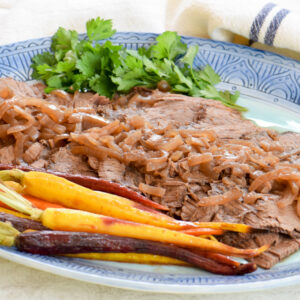 INGREDIENTS
3 lbs carrots, preferably with the tops attached, peeled
Extra-virgin olive oil
2 TB pomegranate molasses
2 TB honey
Salt and pepper to taste
INSTRUCTIONS
Preheat oven to 425. Peel the carrots and trim the green tops. Wash well.
Arrange carrots on a sheet pan and brush with olive oil.
Roast carrots until tender and browned, about thirty-five minutes, turning once.
In a small saucepan, combine the pomegranate molasses and honey and bring to a simmer. Simmer five minutes until slightly reduced and thickened.
Drizzle pomegranate and honey glaze over roasted carrots. Season well with salt and pepper and serve.