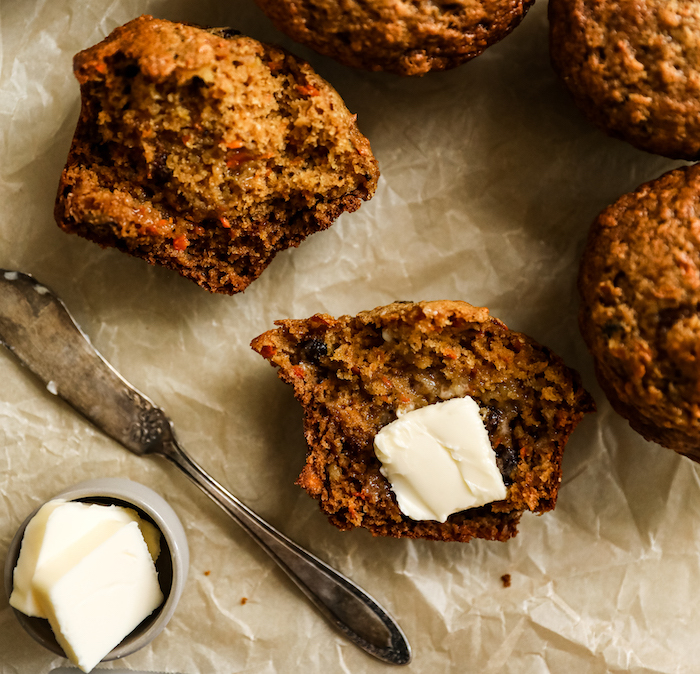 I love muffins. They have this sort of nostalgic value for me. However, I'm not talking about just any old muffin. No, no, it's a diner-style, extra-large with an overflowing muffin top. The flavors are bran, corn, or if I hit the jackpot, morning glory.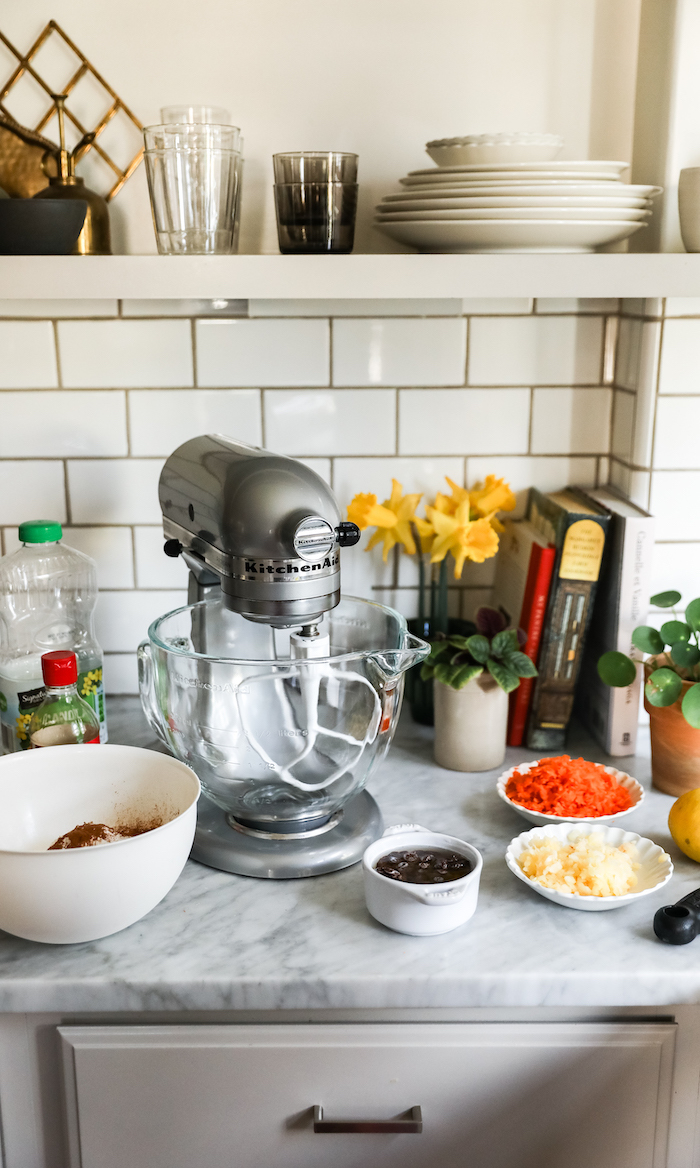 The kind you would imagine to discover at a little gem of a breakfast spot that has regulars who have been patrons for 30 years. At the kind of place where everyone is on a first-name basis, but you. A place with a grill top that serves hot muffins slathered in salty butter, grilled on each side to golden brown perfection. Yes. That's my kind of muffin.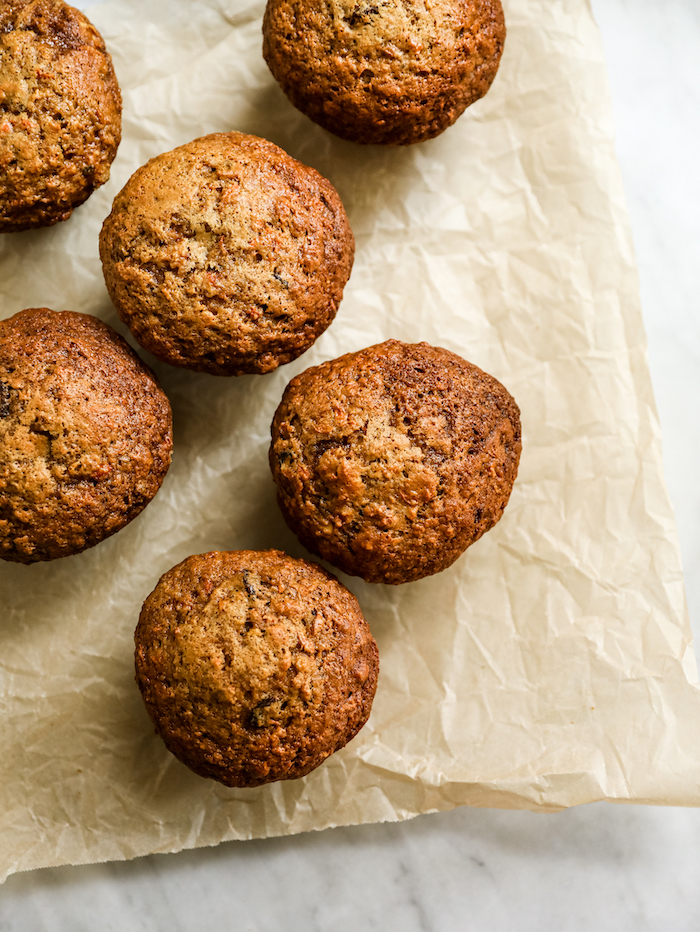 In an attempt to recreate my childhood memories, I set out to create the most perfect diner-style morning glory muffin. I just love how moist these are and how much flavor and texture is packed into them. The oversized jumbo muffin is really kind of fun, too!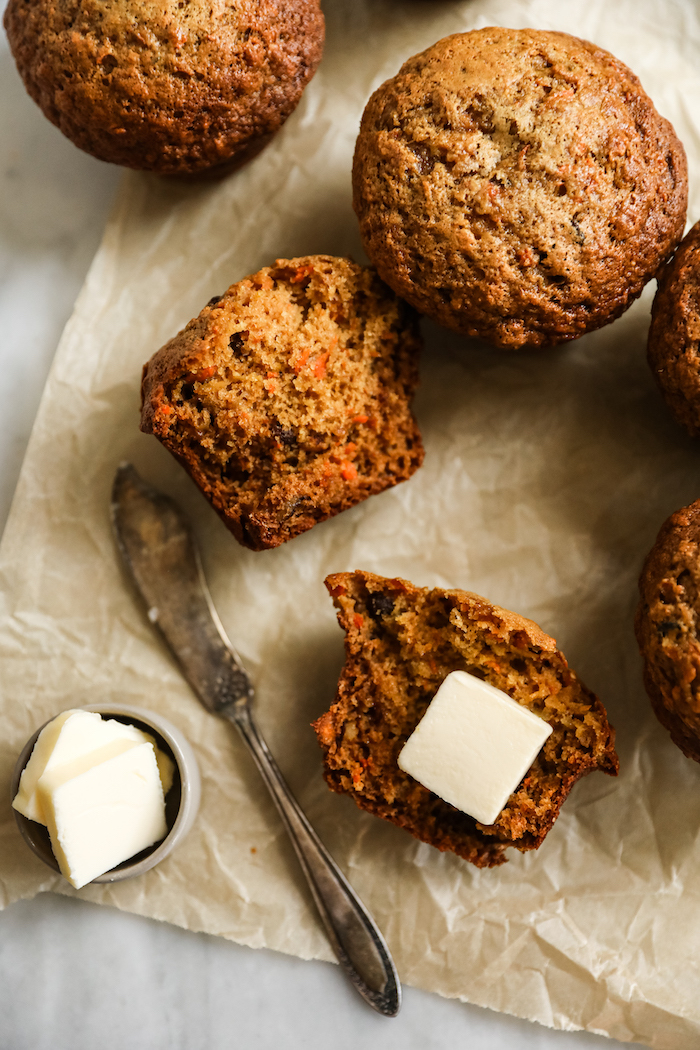 This muffin is the most perfect diner-style Morning Glory Muffin. They are so moist with lots of flavor and texture packed into them. The oversized jumbo muffin is fun too!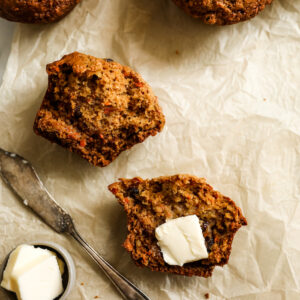 Ingredients
2.25

cups

All-purpose flour

1

tbsp

Cinnamon

2

tsp

baking soda

1

tsp

salt

.5

tsp

ground ginger

3

large eggs

.75

cups

granulated sugar

.5

cups

dark brown sugar

.5

cups

vegetable oil

.25

cups

applesauce

.25

cups

orange juice

2

tsp

vanilla extract

2

cups

washed and shredded carrots (about 3 medium carrots)

1

cups

peeled and shredded apple (about 1 apple), squeezed to dry in a paper towel

.5

cups

raisins, plumped up in hot water for 10 min. then drained

1

zest of 1 lemon

.5

cups

chopped pecans
Instructions
Preheat oven to 350. In a large bowl, mix flour, cinnamon, baking soda, salt, and ginger together. Set aside.

In the bowl of your standing mixer using the paddle attachment, beat the eggs, sugars, oil, applesauce, orange juice, and vanilla extract together until well incorporated.

Add the dry ingredients to the standing mixer and continue to mix until a smooth batter forms. About 1-2 minutes on medium-low speed. Scrape down the sides and bottom of the bowl with a spatula.

Add in the carrots, apple, raisins, lemon zest, and pecans and mix until evenly incorporated.

In a well-greased (I like to use Baker's Joy spray) jumbo muffin tin, add about 3 scoops (or 9 tablespoons) of batter to each muffin well. The batter should be just about at the top so that there is good pour-over to create a nice muffin-top.

Bake in the center of the oven for about 25-30 minutes. If you are using a smaller size muffin tin, bake 15-20 minutes. Either way, take them out when they are brown in color and bounce back when you touch the top. If they are still a bit jiggly or if you test with a toothpick and it comes out coated in batter, continue to bake.

Pull them out of the oven and cool for about 5-10 minutes before you pull them out of the muffin tray. Either serve warm with salted butter or cool fully and store in an airtight container.

If enjoying the following day, heat a cast iron or sauté pan over medium heat. Cut the muffin in half vertically (down the center top-to-bottom). Melt a pad of butter into the heated pan and toast the muffin cut side facing down. Cook until a golden crust is formed. Serve with a tiny bit more salted butter and enjoy!
Nutrition
Serving:
6
g
Calories:
718
kcal
Carbohydrates:
94.8
g
Protein:
11
g
Fat:
34.7
g
Saturated Fat:
5.8
g
Cholesterol:
93
mg
Sodium:
867
mg
Fiber:
5.8
g
Sugar:
49.5
g
A Few Recipe Notes
Flour.
Feel free to use 50/50 AP and Whole Wheat flour if you so desire. You could even swap it 100%. Whole wheat absolutely works in this recipe.
Liquid.
In this recipe, I call for a mixture of vegetable oil, applesauce and orange juice to get a total volume of 1 cup. This helps add moisture and flavor, however, if you're in a pinch you could do all applesauce, all oil, or even melted butter or yogurt. All of these combinations would provide deliciously moist muffins. If you can keep the orange juice, it adds a nice brightness to the flavor.
Dark brown sugar.
Light brown will absolutely do if it's what you have. If you don't have brown sugar, but happen to have a dark liquid sweetener like molasses or maple syrup, you can make your own by adding the liquid to regular sugar slowly until desired darkness and texture is reached.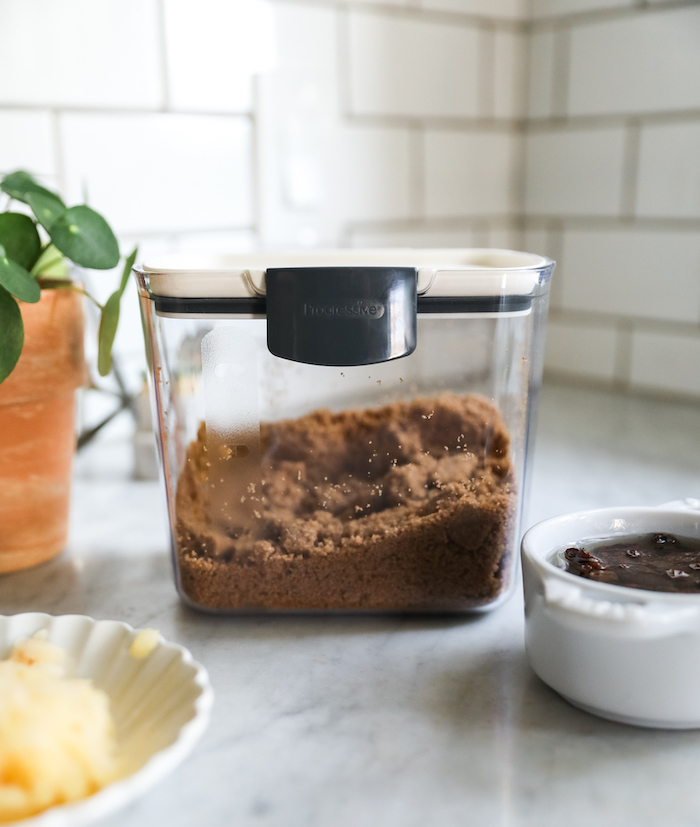 Prokeeper Baker's Storage Set of 6

By Progressive

Shop Now
Raisins.
In any of my baked goods recipes that call for raisins, I ask you to reconstitute them with warm water. The reason is that the texture is so much more enjoyable when there's some softness added back in. It doesn't need to be perfect, but you want to see the raisins plump or swell up a bit. Just make sure to drain them so that you're not inadvertently adding extra water to the batter.
Lemon Zest.
If you have an orange, that would be a great replacement. Or you could do half and half. I really encourage you to keep this ingredient as it really enhances the flavor by adding brightness.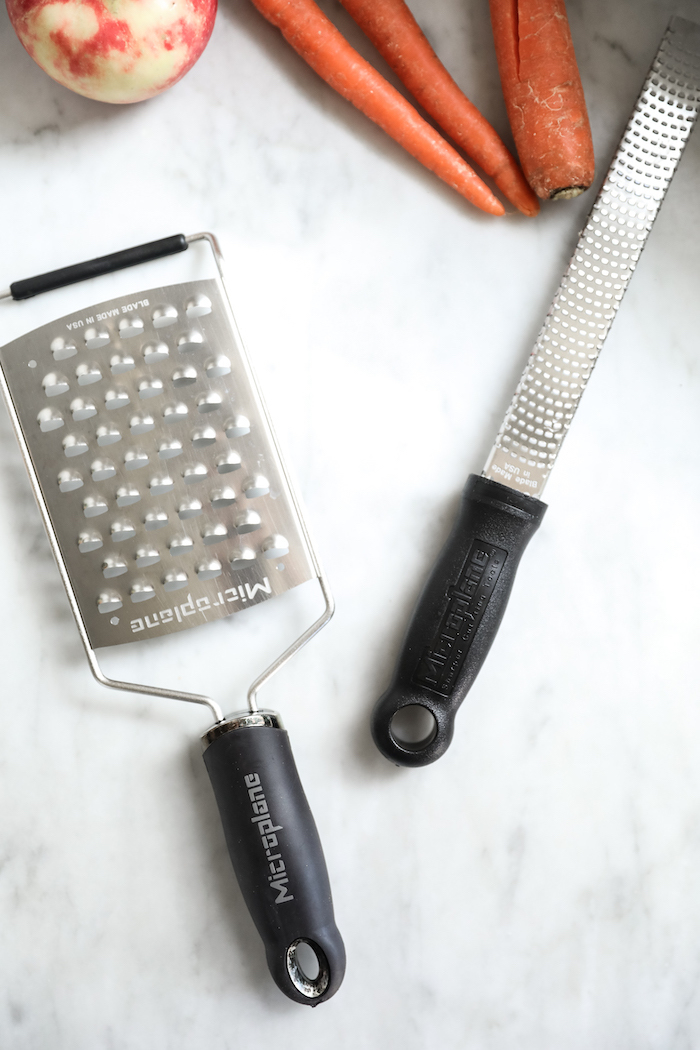 Gourmet Series Ultra Coarse Cheese Grater

By Microplane

Shop Now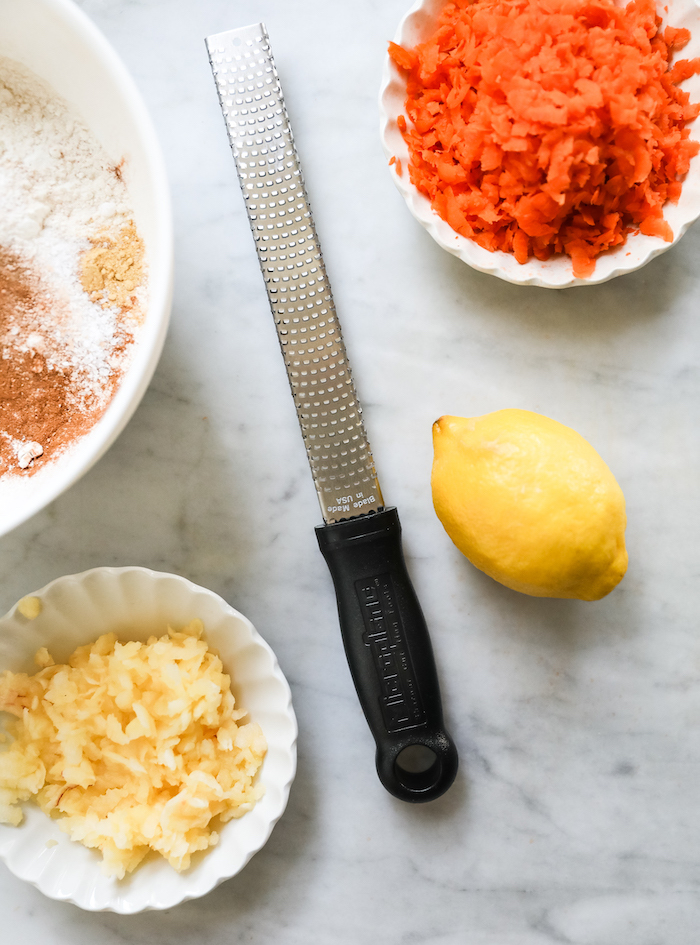 Classic Series Zester / Grater

By Microplane

Shop Now
Pecans.
This ingredient can absolutely be omitted if there is a nut allergy or a preference. However, I highly encourage you to use pecans rather than substituting for some other nut. For example, I've tried to bake with chopped walnuts again and again, and it just adds too strong of a flavor and texture. I say stick with the pecans. They are tender and delicate, yet add a much-desired crunch.
Mixing.
This recipe is a simple batter that asks you to mix the wet ingredients and the dry ingredients separately, then incorporate the dry into the wet. Stir in the mix-ins and it's done. I use my standing mixer, but you could mix by hand with a wooden spoon if need be.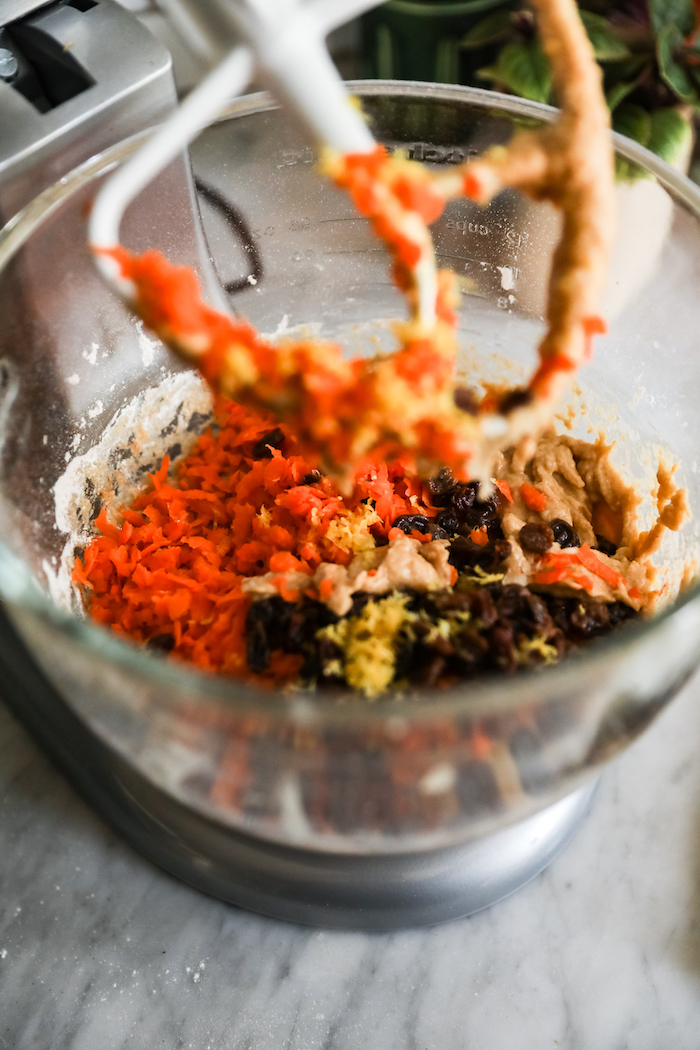 Muffin Tin.
I call for jumbo muffin tins in this recipe to create a nostalgic-size muffin. Any size will absolutely do.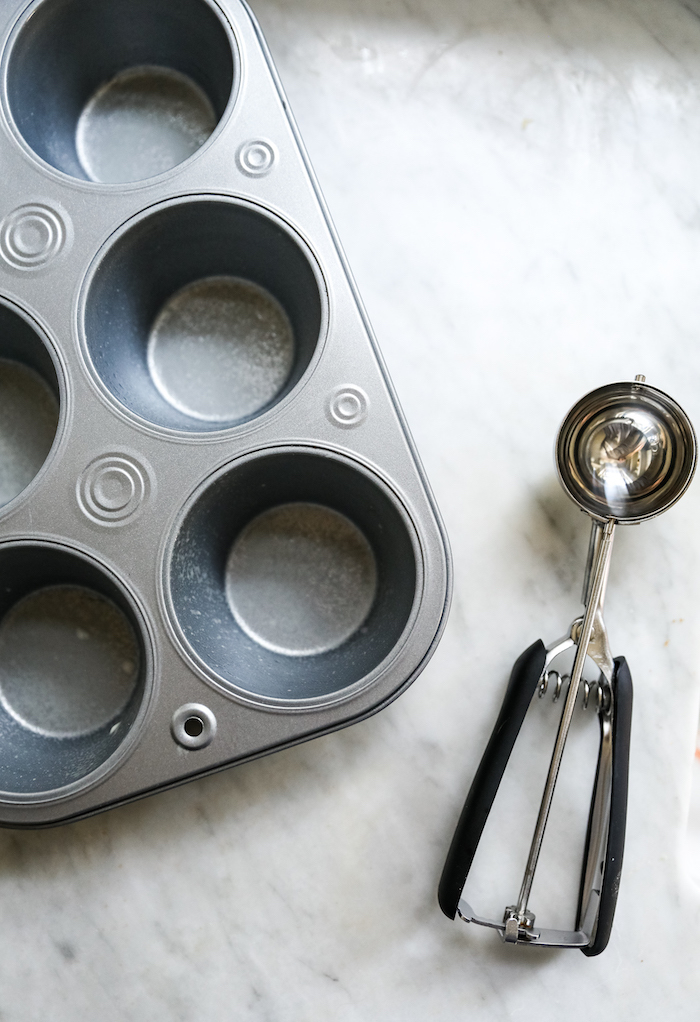 Good Grips Cookie Large Scoop

By OXO

Shop Now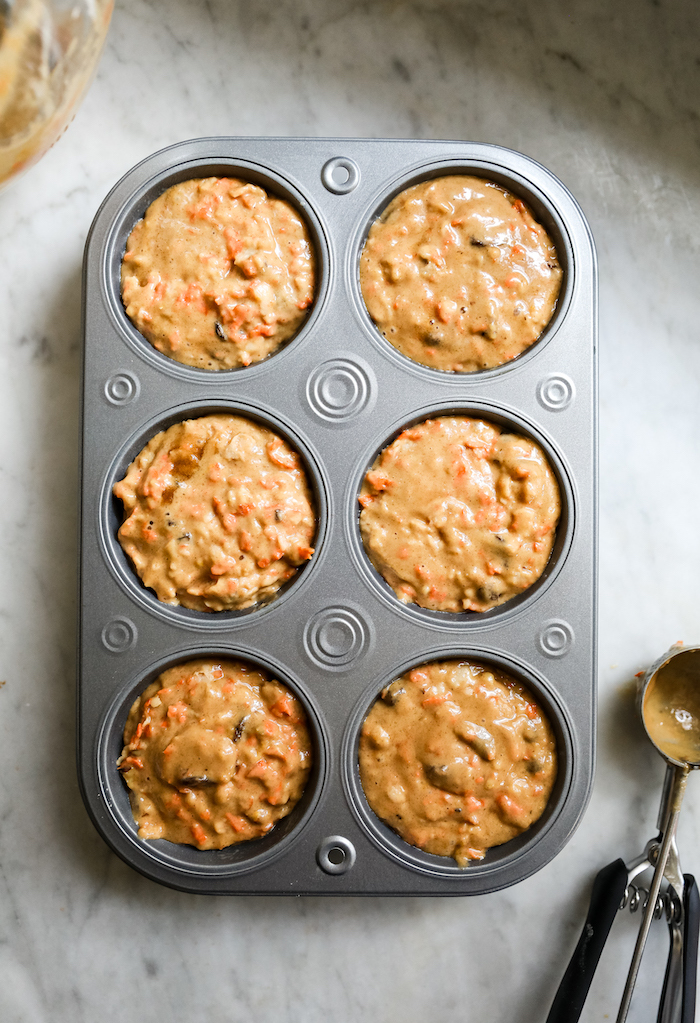 OvenStuff 6-Cup Jumbo Muffin Pan

By G & S Metal

Shop Now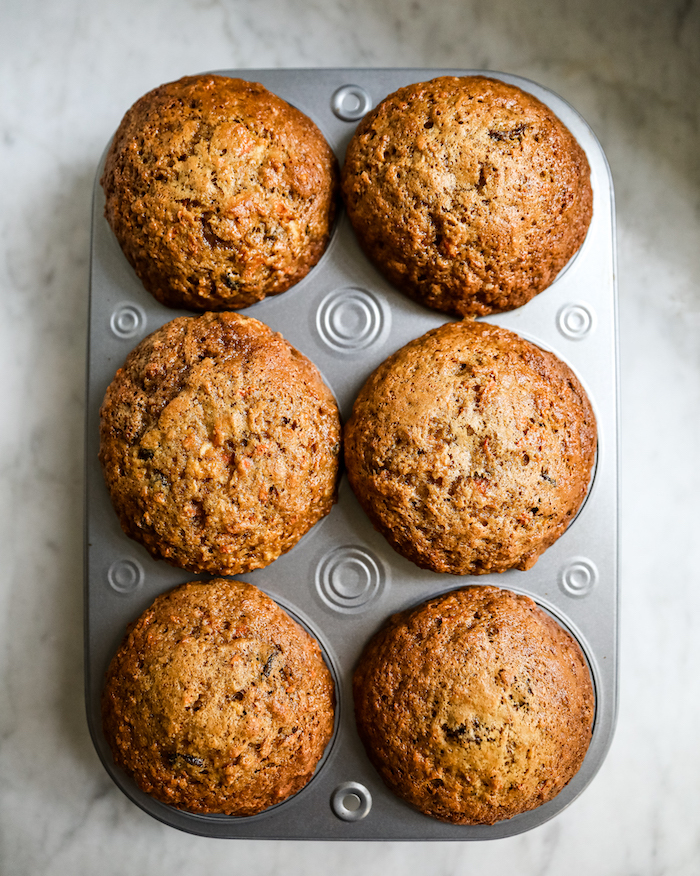 My tip is just to fill to the top of each muffin well so that it rises up and over to create a classic golden muffin-top.
Enjoy!!
Looking for more muffin recipes?