Mix Cocktails with Flowers This Spring: Hibiscus Daiquiris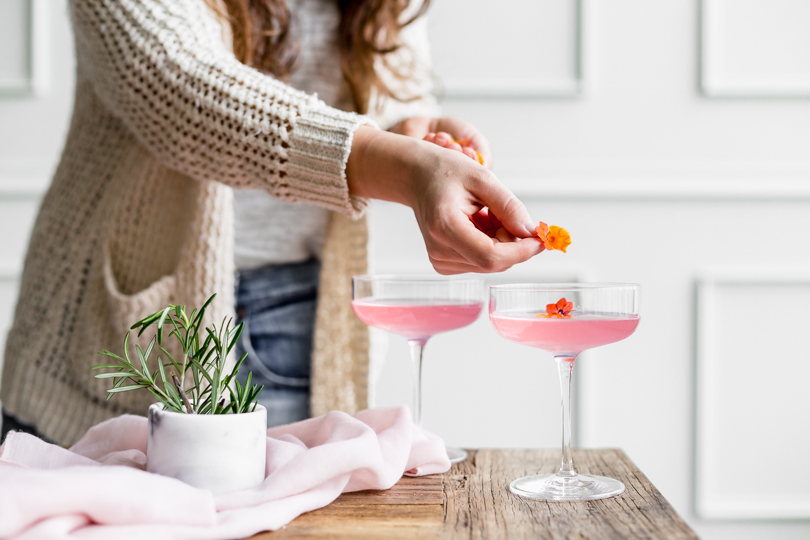 It's officially spring, even if the weather in most of the country isn't exactly cooperating. If you need a little seasonal pick-me-up to convince yourself that yes, the winter is actually over, why not turn to the most vernal of all produce: flowers?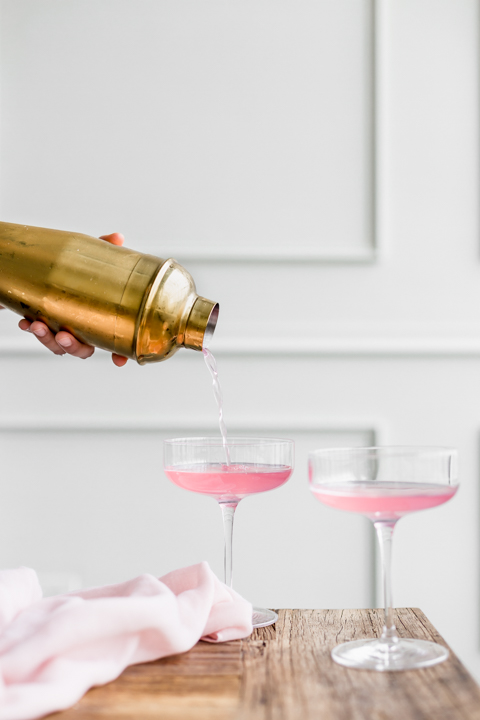 You can mix with them. You can garnish with them. You can even do both, which is what you see here. So let's talk about some of my favorite ways to get floral flavor into your actual drink, before we talk about best practices in garnishing.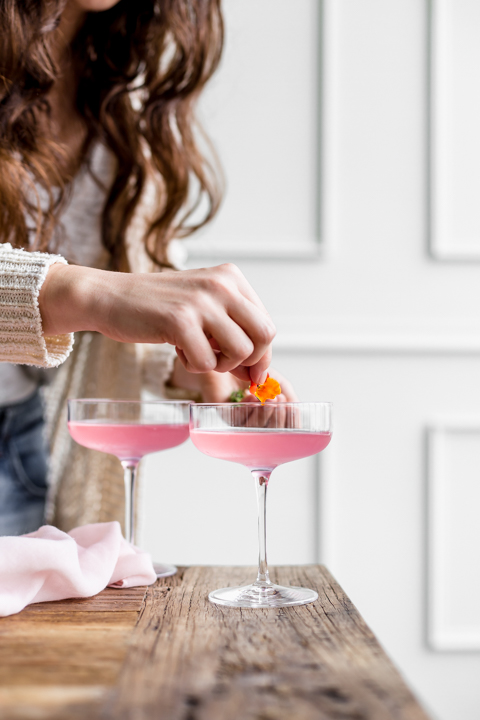 (1) Use a floral spirit. There are plenty of floral liqueurs on the market, the most popular (for good reason) being St. Germain, an elderflower liqueur that pairs surprisingly well with just about everything. But I also love seeking out floral gins this time of year, like Hendricks, which has a touch of rose. A lot of local, craft distilleries turn to flowers in their botanical mixes, too, so use the season as an excuse to sniff out something new — many brands will have botanicals or flavor notes listed right on the bottle.
(2) Infuse your booze. I prefer infusing with dried flowers and floral teas — think chamomile, hibiscus, lavender, or rosebud — because they tend to be more consistent than fresh ones, which can be full of live plant matter that in the simplest terms just doesn't age well, which makes capturing those flavors difficult when using traditional infusion methods. The good news is that dried edible flowers are easier to source than fresh ones, and the infusions couldn't be simpler — just add a tablespoon to a cup of booze, let it sit for an hour, and taste. If the flavor isn't coming through, let it sit another hour and try again.
(3) Make a syrup. This is even faster than an infusion. Simply brew a floral tea — the same varieties I recommend infusing with — then add equal parts sugar and stir or blend until combined. I make floral tea syrups constantly with this method, including the hibiscus syrup I use in this recipe.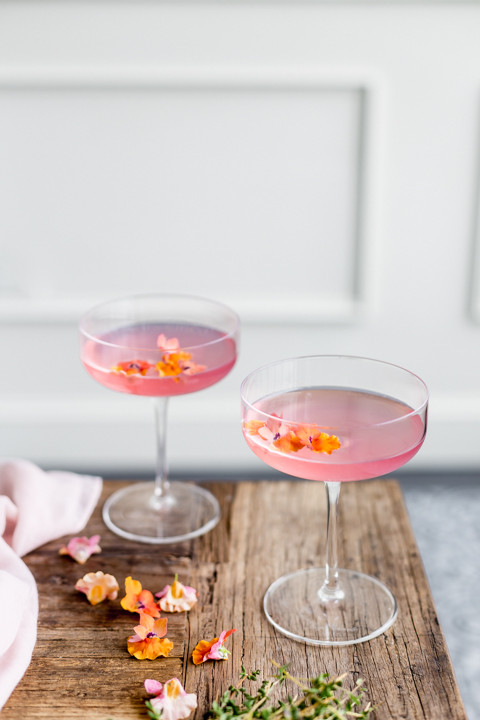 Now. Let's talk garnishing for a sec. I'm gonna be a leeetle controversial here and say that I don't limit myself to edible flower varieties. Yes, I often garnish with edibles, because there are a whole slew of great options and I can sometimes snag them in the herb section at the food store. But to be honest, I use them more often in garnishing food than beverages, because no one ever actually eats the flower garnish on a cocktail. Salads? Yes. Pasta? Of course. Soups? You bet. Spooning a flower into your mouth as part of a yummy dish is one thing, but plucking it off of a beverage, chewing and swallowing is quite different.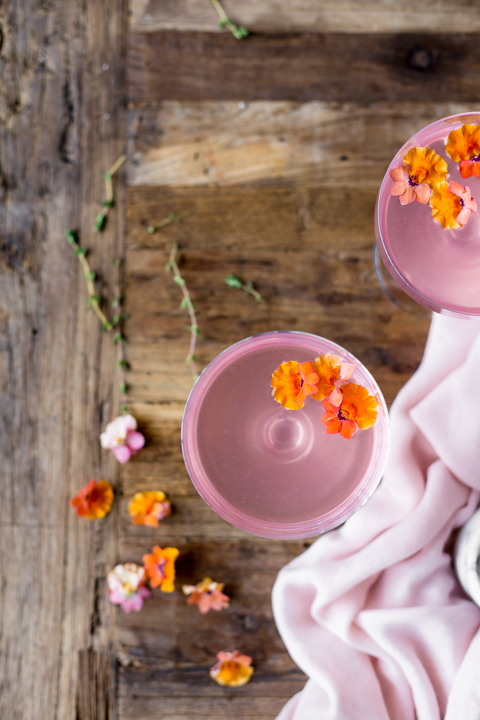 The flowers I put on the drink aren't always meant to be consumed — they might just be there to add color and aroma to the cocktail, which can elevate the drinking experience even if you're not actually eating them. When I'm not using edible varieties, I float the cocktail on top of the drink so it's barley in contact with the liquid, or else perch it on the side with a cocktail pick. You still want to make sure you're using organic flowers, because alcohol will leach away any icky floral preservatives and pesticides right into your beverage. Ew. And make sure you give your guests a heads up that the flowers are just for show.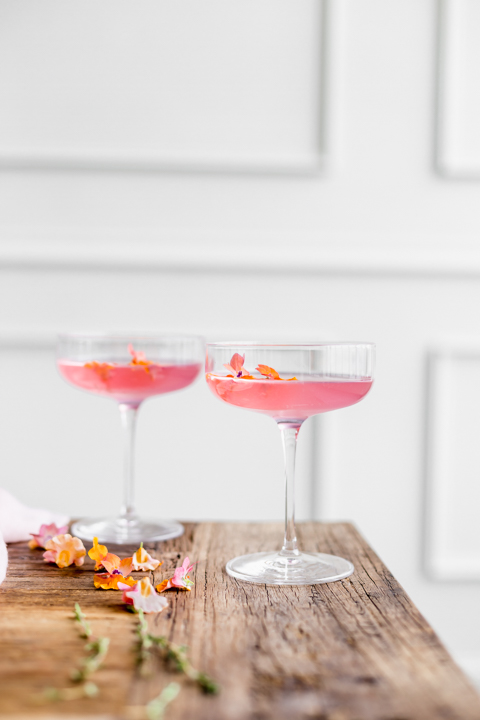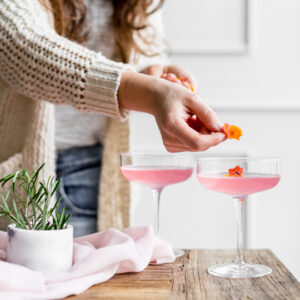 INGREDIENTS
For the Daiquiri:
2 oz white rum (I use Flor de Cana)
.75 oz fresh squeezed/strained lime juice
.75 oz hibiscus syrup (see below)
pinch of salt
For the Syrup:

1 cup brewed hibiscus tea
1 cup sugar
INSTRUCTIONS
For the Daiquiri:
Combine all in a cocktail with ice, and strain into a chilled coupe glass. Garnish with an organic flower.
For the Syrup:

Stir or blend until fully combined. Store in the fridge.