Rainbow Veggie Juicing 101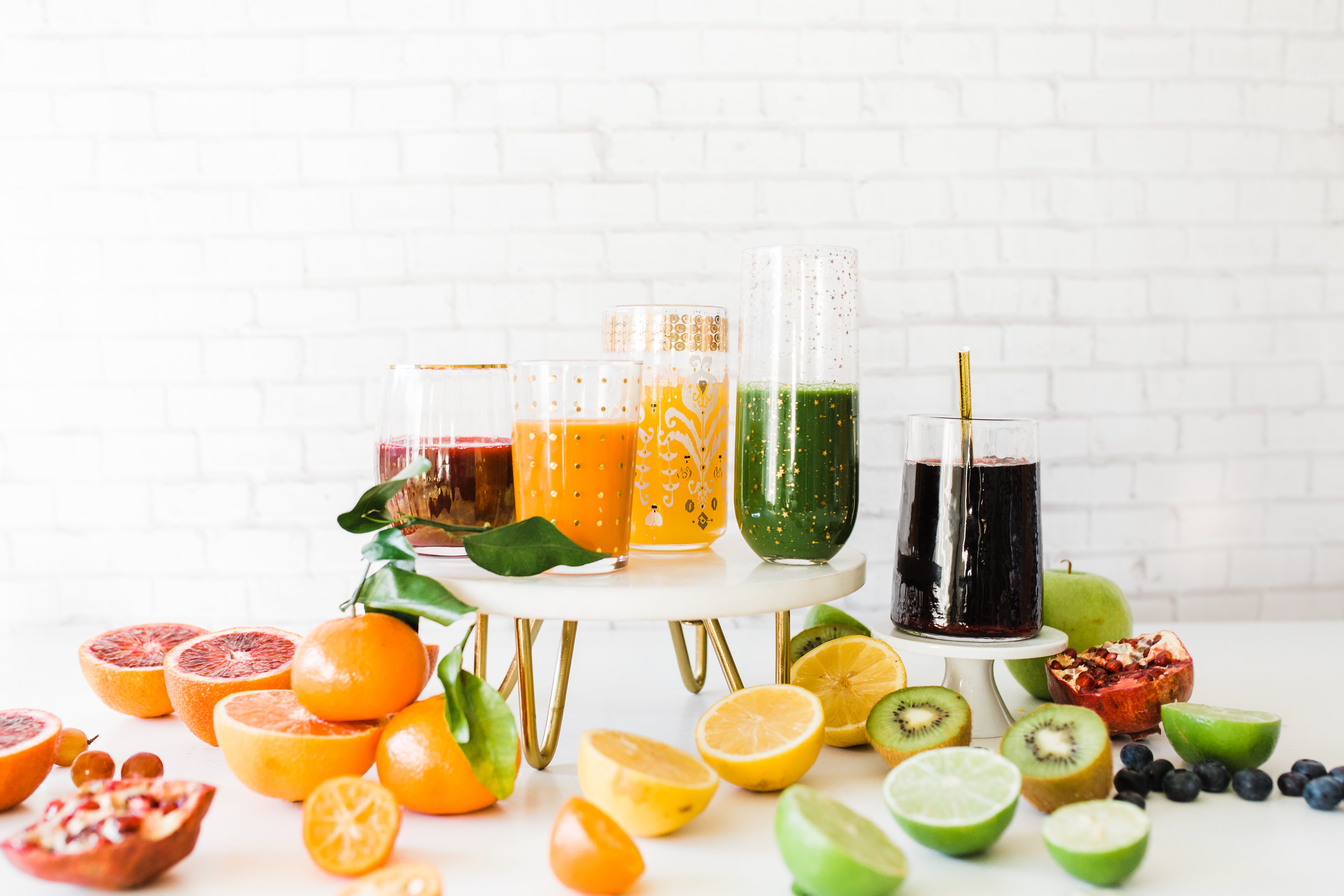 You could hit that local juicery and drop $10 for a 6oz glass full of fresh juice. Or, you can gather a grocery bag full of organic veggies and make your own at home all week long.
Whether you're new to juicing and not sure where to start, or have a juicer gathering dust in the back of your kitchen cupboards and a boost of motivation, we're here to help you get your juice routine rockin'.
Here's everything you need to know to make a juice a day, every day.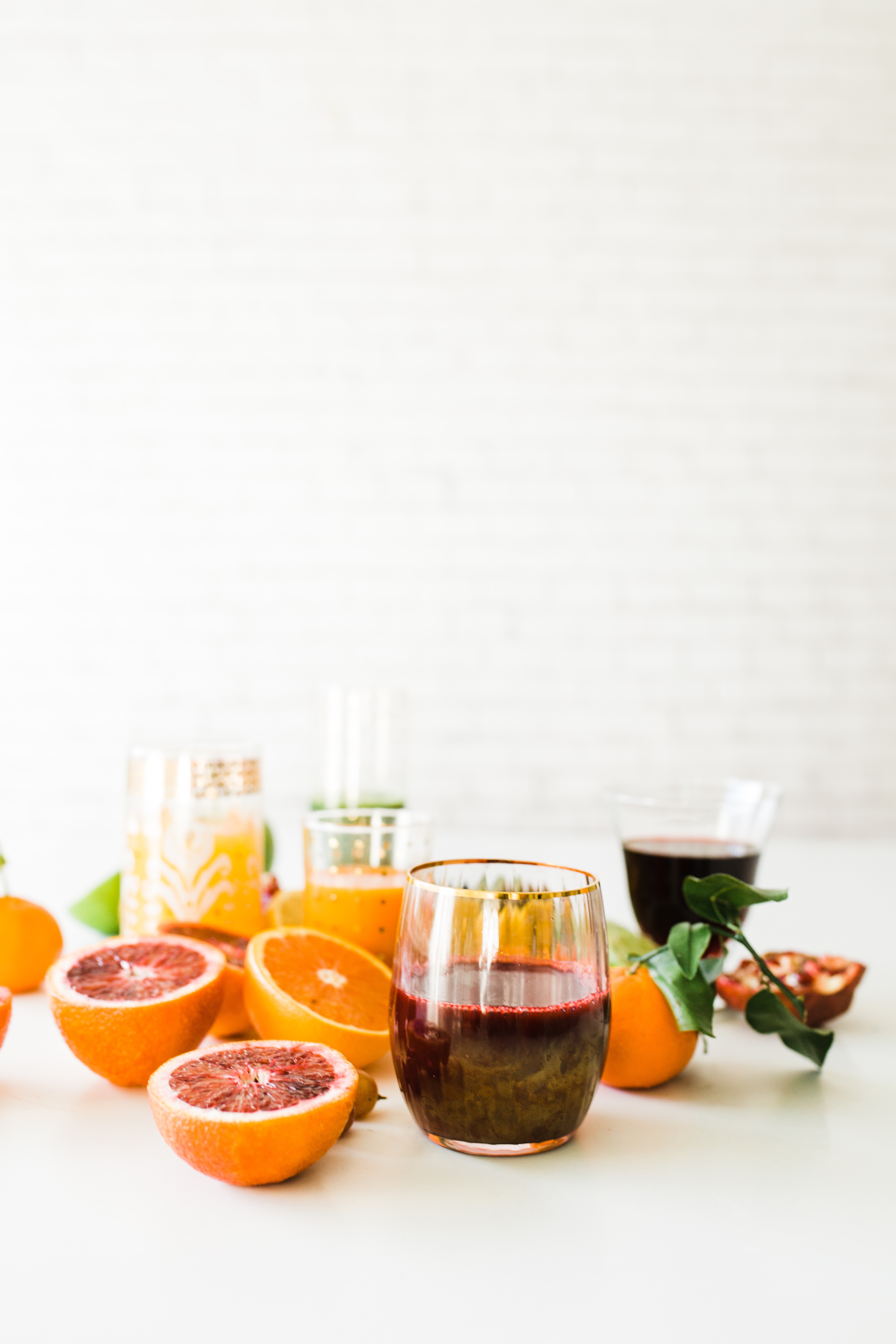 The Veggie Juice Formula
You don't need a recipe to make great juice. When it comes to creating your own juices at home, anything goes! Get creative, use whatever you've got in the fridge. But for best results (aka: juices you'll actually want to drink), I recommend sticking to a loose 1:3 ratio of sweet fruits to veggies.
For example:
1 apple to 3 carrots
1 cup pineapple to 3 cups chopped kale
1 orange to 3 small sweet potatoes
If you're new to juicing and need a little more sweetness to make a great sipper, feel free to boost that ratio to 2:3 sweet fruits to veggies.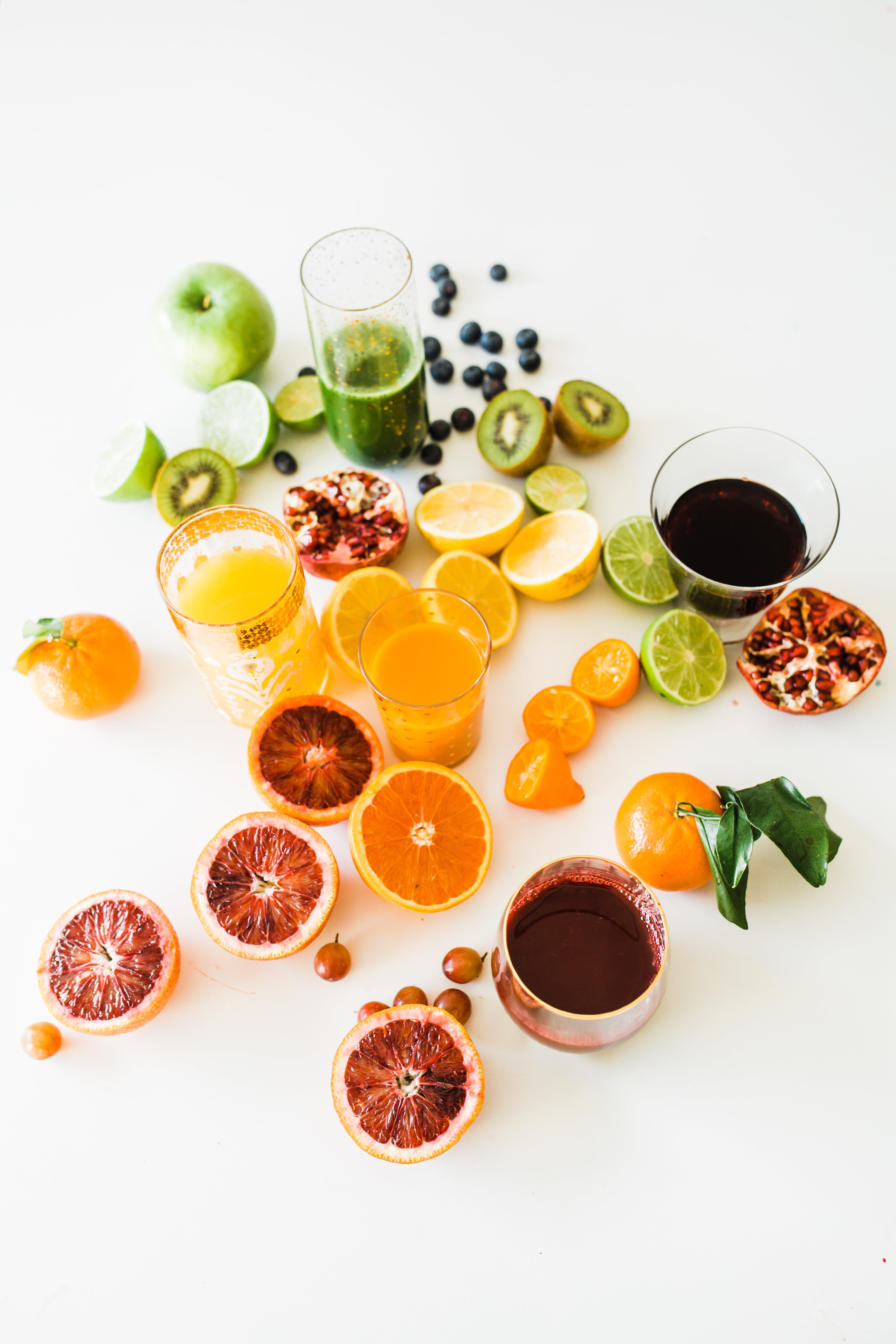 Combos By Color
They always say "eat a rainbow" to ensure a balance plate. I say "drink a rainbow" to ensure a balanced week.
Creating rainbow colored veggie juices–a different color each day for a full week–makes it easy to ensure a wide variety of flavors and nutrients. And also encourages you to get creative, and keeps you excited about adding this routine to your morning.
MONDAY: Drink Red
Toss an apple or blood orange into your juicer with red peppers, red carrots and a beet. Naturally sweet and so yummy!
TUESDAY: Make Orange
Add citrus or melon and a peeled lemon to your juicer, then toss in carrots, orange bell peppers. A slice of fresh ginger also tastes great with this combo!
WEDNESDAY: Hello Yellow
Start with pineapple for a bit of sweetness, then toss in yellow bell peppers, romaine lettuce, lemons, a yellow apple and celery. So good, you'll wish it was Wednesday everyday.
THURSDAY: Go Green
Get more of those leafy greens by juicing spinach, kale, swiss chard, fresh fennel, even broccoli can be juiced. Add a cucumber and lemon to mellow the greens, an apple or melon for sweetness. Pineapple also makes green juice palatable.
FRIDAY: Sip Purple
So many options here! With more purple produce making it's way into grocery stores, you can switch up your weekly purple juice with fresh, fun new flavors each week! A few ideas: purple carrots, purple cabbage and purple sweet potatoes make for a great purple base. Add a lemon, ripe bosc pears or apples for added sweetness. A beet and ginger also add great flavor and color for purple juices.
How do I pick my juicer?
The 2 most popular style of juice extractors are centrifugal or masticating.
CENTRIFUGAL JUICERS
Centrifugal juicers are the typical style most of us think of when we think about how a juicer works. With a center piece that rapidly grates produce into pieces, then applies outward force to push the juice away from the pulp, where it is collected into a basket. Centrifugal juicers are typically noisy, and often need to be replaced more often than masticating juicers.
MASTICATING JUICERS
Masticating juicers chop the produce and squeeze out the juice. A slower and more quiet method, with a motor that doesn't require as much power, which produces less heat. Many nutritionists prefer this method, since the juice can be extracted without coming in contact with rising temperatures, which can help ensure the natural enzymes of the juice remain unheated.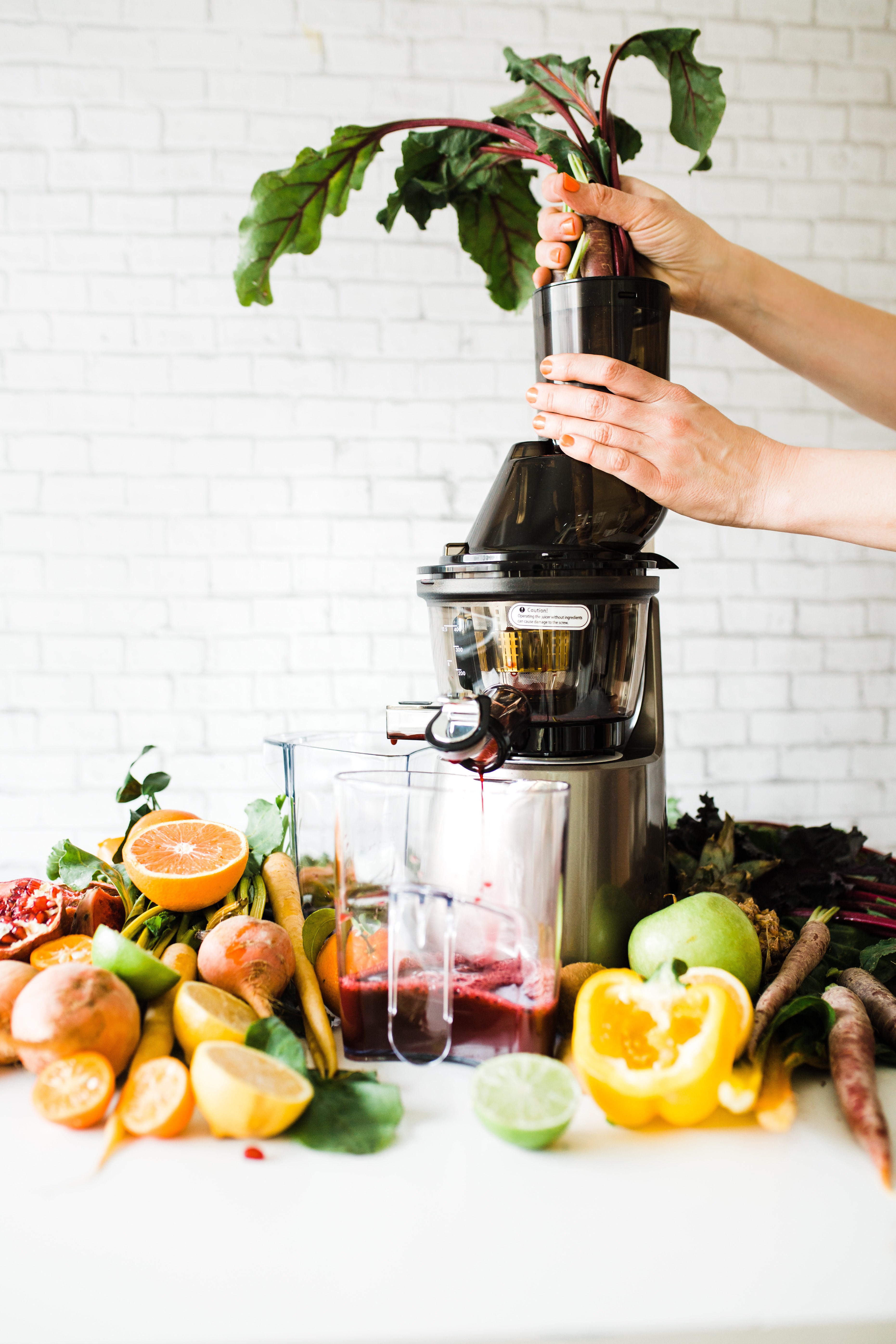 After much research, I chose a masticating juicer. I started hunting through the list of options, and ended up falling in love with the Kuvings Vertical Slow Juicer Elite 7000S. The low-speed motor makes for quiet juicing, no gale-force vibration blowing my house down while I prep a good green juice. The machine fits together compactly, so I don't need to build a new pantry just to hold my juicing supplies. And if you've ever had to stand over your sink and scrub your 1980's juicer with a wing and a prayer and a toothbrush, you'll now how entirely I appreciate this next one: all parts can be quickly and easily disassembled. So I can now juice, and clean. In the time that it used to take me to hop in the car, drive to the juice cafe, and order up a single glass of expensive pressed juice.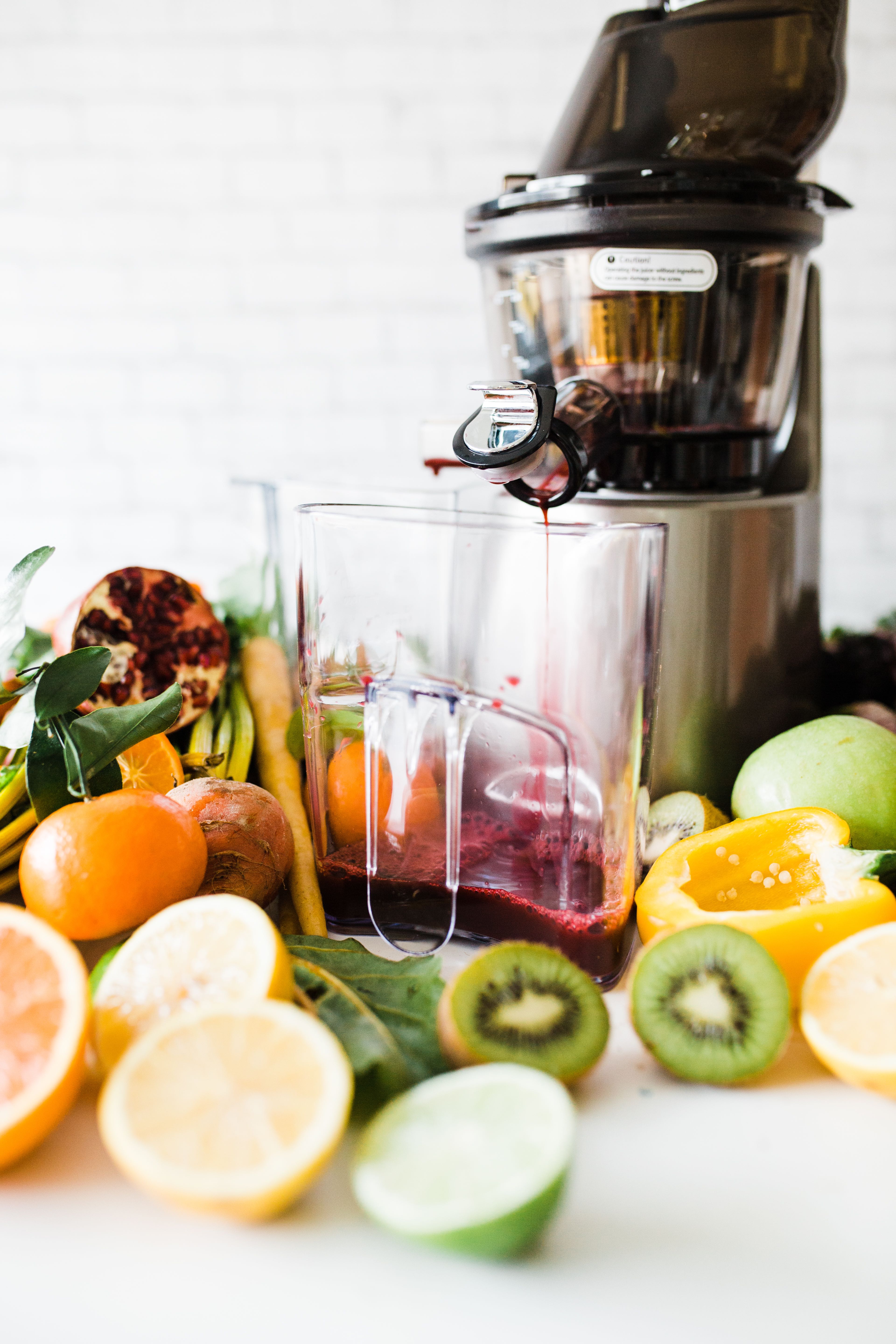 Adding a juicer has been the single best purchase I've made for my kitchen (equal only to a high speed blender). After years of wanting to make my own juices, this tool has been an absolute win in every way.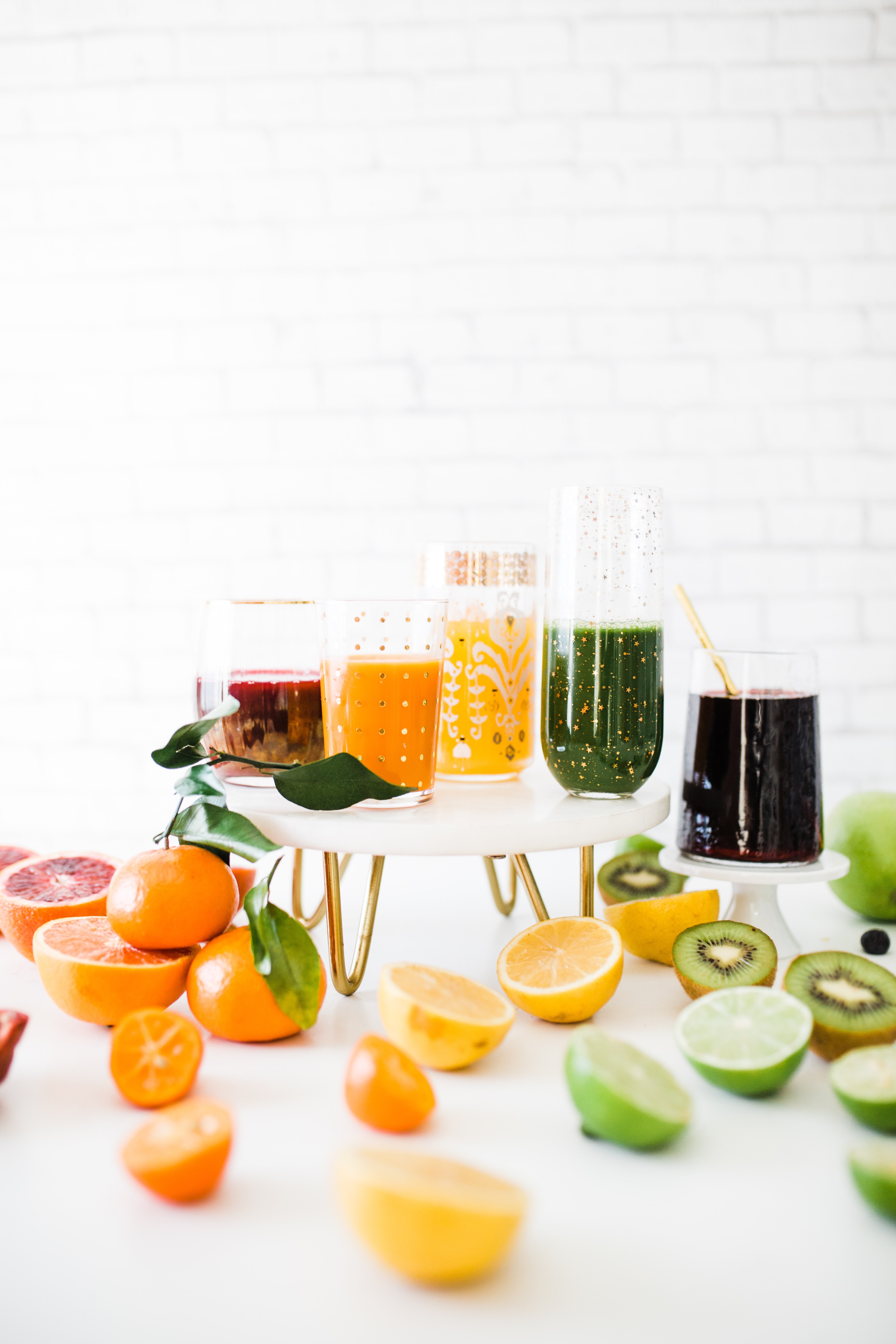 Show Us Your Rainbow
We love when The Inspired Home ideas end up in your home. If you're inspired to juice the rainbow, snap a photo and upload it to Instagram. Don't forget to tag us @theinspiredhome_com.