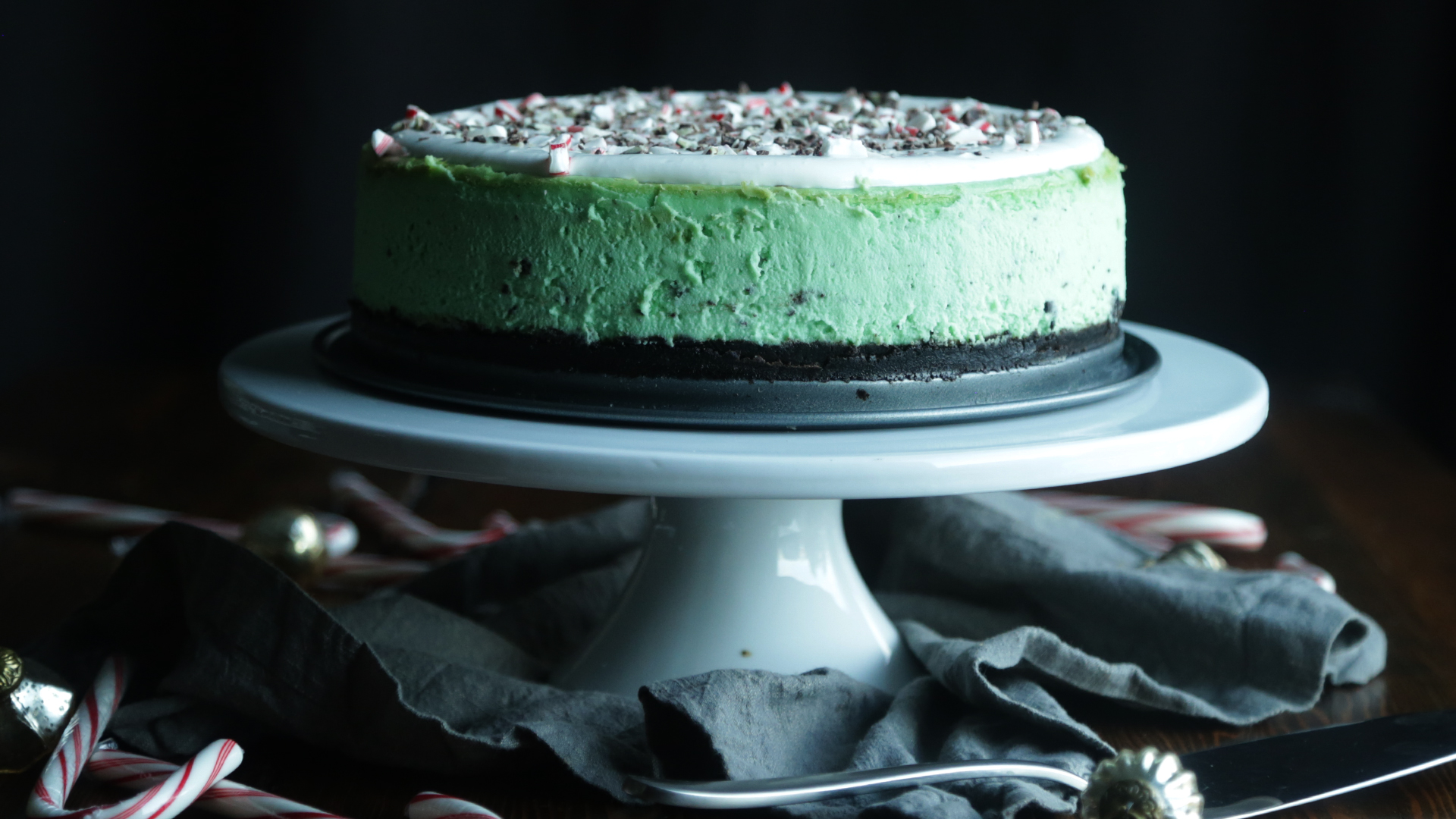 Only thing better than a Cheesecake you ask? Well how about a Mint Cheesecake Recipe with a sour cream topping and crushed peppermints and mints!!
Honestly this cheesecake is just sinful and so good. I put it in the freezer when it was all said and done and it literally tastes like I'm eating the fattiest, richest mint chocolate chip ice cream of all time. I'm not even sure what I like more, the cheesecake filling or the insanely delicious oreo crust. Thanks to this recipe I've polished off a whole bag of oreos already… DANG IT! In general when making cheesecakes, it does take a bit of time simply because it needs to cool to room temperature and then chill in the refrigerator.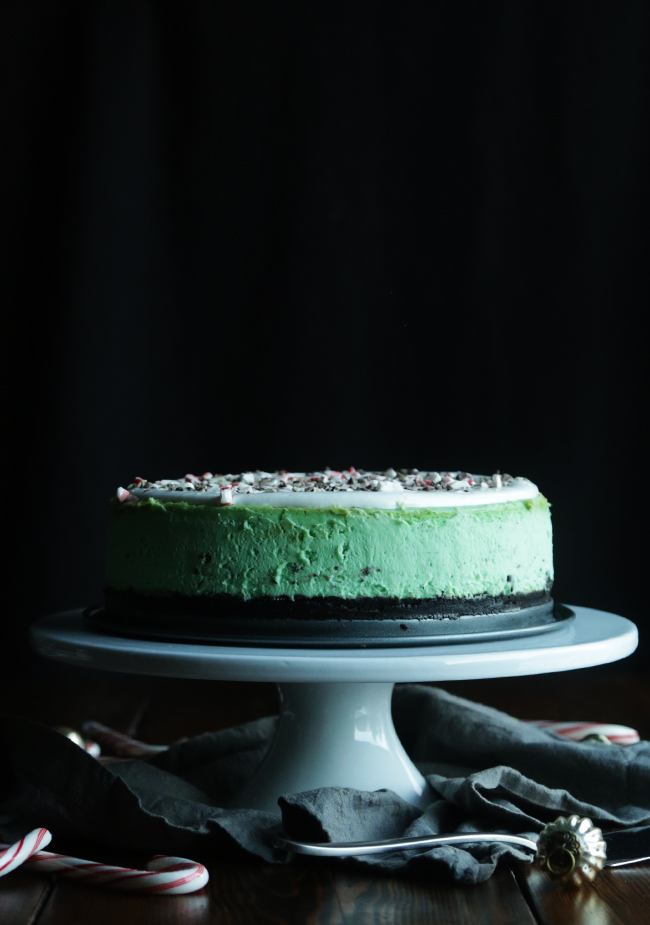 If you want to play it safe I would say be prepared to serve this the next day. The reason you want to let it cool to room temperature is because of the carry over cooking that takes place which actually cooks it a bit further and ensures its doneness. In other words, don't skip this step. This Mint Cheesecake Recipe is a winner and oh so festive with the amazing mint flavor, so if I were you I'd give this one a try this holiday season.
Mint Cheesecake Recipe Recipe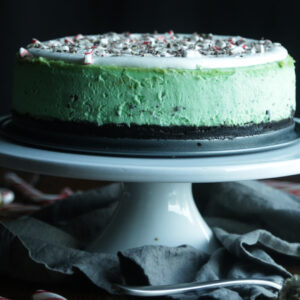 INGREDIENTS
For the Cheesecake:
24 oreos
5 tablespoons of melted unsalted butter
2 pounds of cream cheese
1 ½ cups of sugar
16 minced chocolate mints
½ teaspoon of peppermint extract
5 eggs
¼ cup of heavy whipping cream
1 cup of sour cream
12 drops of green food coloring
For the Topping:
2 ½ cups of sour cream
½ cup of powdered sugar
2 crushed candy canes
4 minced chocolate mints
INSTRUCTIONS
Preheat the oven to 350°.
Add the oreos and melted butter to a food processor and process on high until it resembles a grainy meal.
Transfer the mixture to a spring form pan and press down to form the crust of the cheesecake. Set aside.
Next beat the cream cheese in a large bowl with a hand mixer on high speed until light and fluffy, about 3 to 4 minutes.
Beat in the sugar, mints and extract until completely combined.
Add the eggs, whipping cream and sour cream and mix on high speed until it is mixed in.
Finish by beating in the food coloring and then transfer the batter to the spring form pan and pour it over the oreo crust.
Wrap the outside of the springform pan with a double lining of heavy duty foil and place it in a large 2" sheet tray. Fill with water until it reaches the halfway mark.
Transfer the pans to the oven and bake at 350° for 90 to 100 minutes or until the center as a little wiggle.
Remove the springform pan from the foil and pan and set on a rack and cool to room temperature and then transfer to the refrigerator and cool completely, or overnight.
In a small bowl whisk together the sour cream and powdered sugar and spread over top of the cooled cheesecake and sprinkle on the crushed peppermints and minced chocolate mints.
Slice and serve cold.