These Matcha Raspberry Ginger Pop Tarts Are the Homemade Upgrade You Need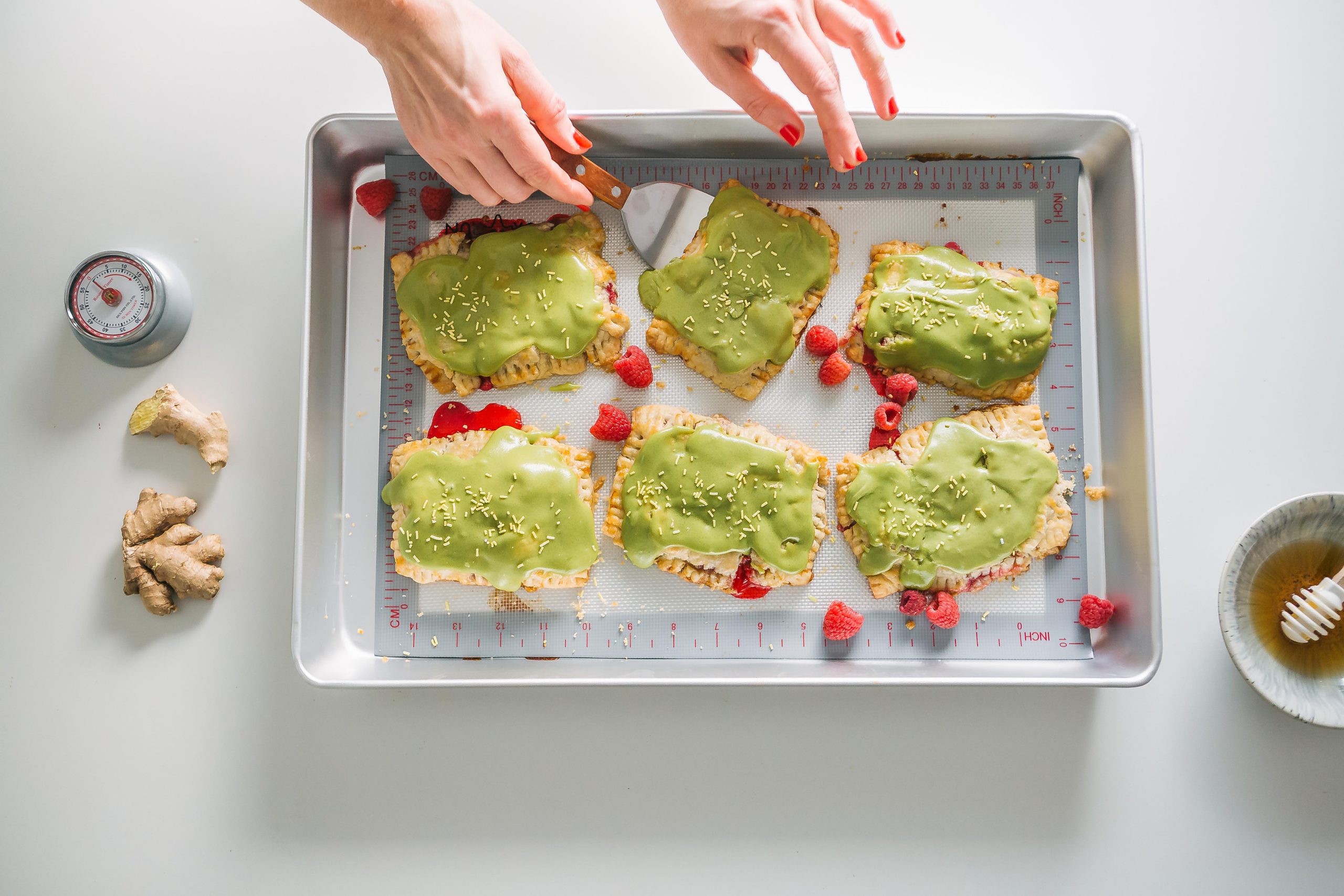 Grownup as I may be, Pop Tarts still call my name in the grocery store. Those icing-topped, sprinkled pastries are as irresistible as they always have been. Flaky pastry, sweet fruit filling. That perfectly crisp, sugared icing.
And while my heart yearns to pop 'em in my cart, my head says: "Girl, you know better." I've been steering clear of pre-made foods. So those cardboard boxes of toaster pastries are officially off the menu.
But only the storebought pops. Homemade version? Entirely on the menu.
But only the store bought pops. Homemade version? Entirely on the menu. Because when you make them homemade, there are lots of easy little tweaks that can elevate this treat into a rather elegant piece of pastry.
Let's start with the filling.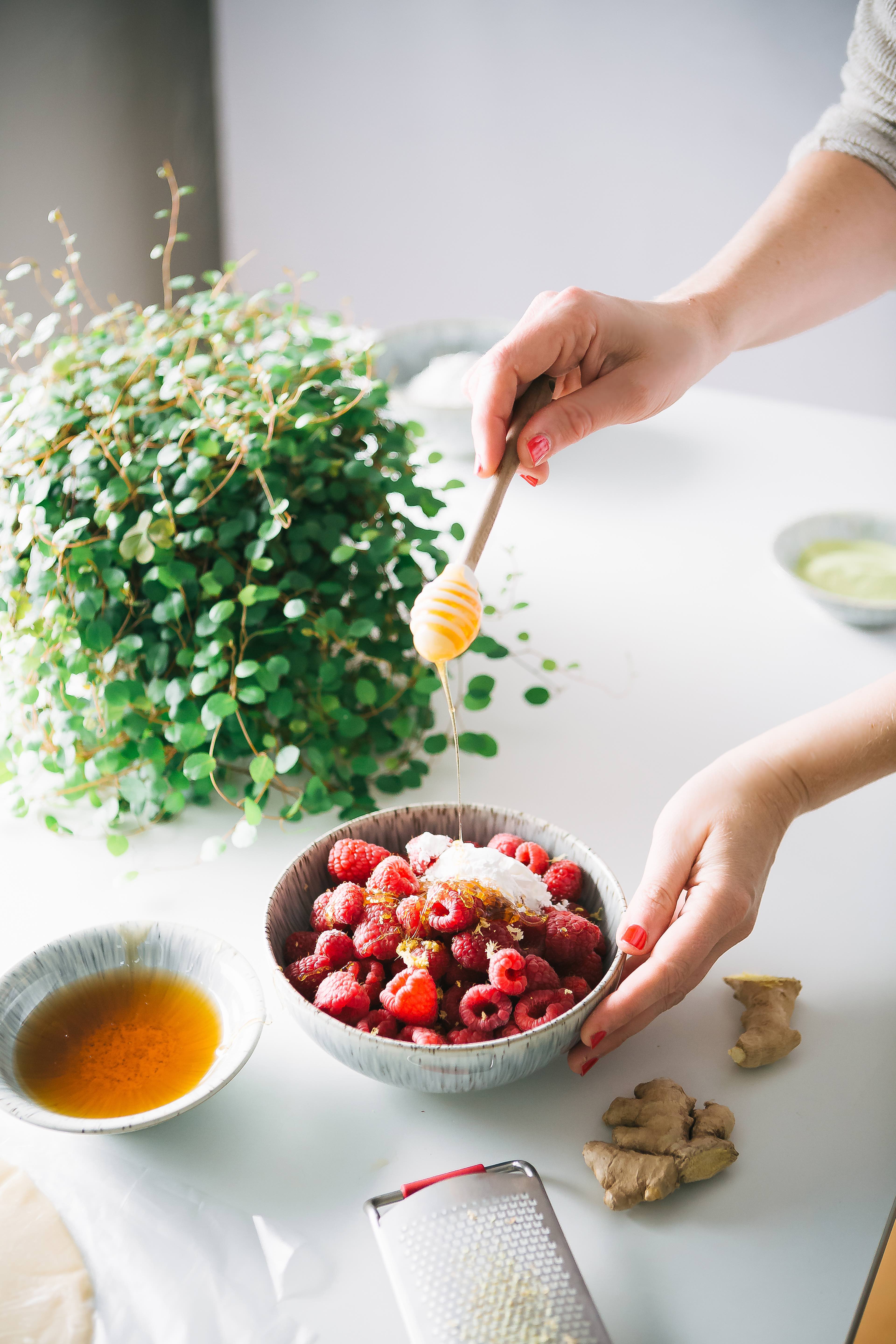 Most store bought Pop Tarts are stuffed with small amounts of some gluey fruit center. A little like jam, not a lot like actual fruit. We've nixed that slim, sugar center and added instead: fresh raspberries, raw honey, real ginger. And that's basically it. A bit of cornstarch to thicken, but otherwise, this fruit filling is really… well… real fruit filling. It bakes up with golden sweetness and a kiss of tart around the edges. Plus, so much all-natural color, you'll feel like you've struck gold. Except it's raspberry red, crimson, ruby perfection.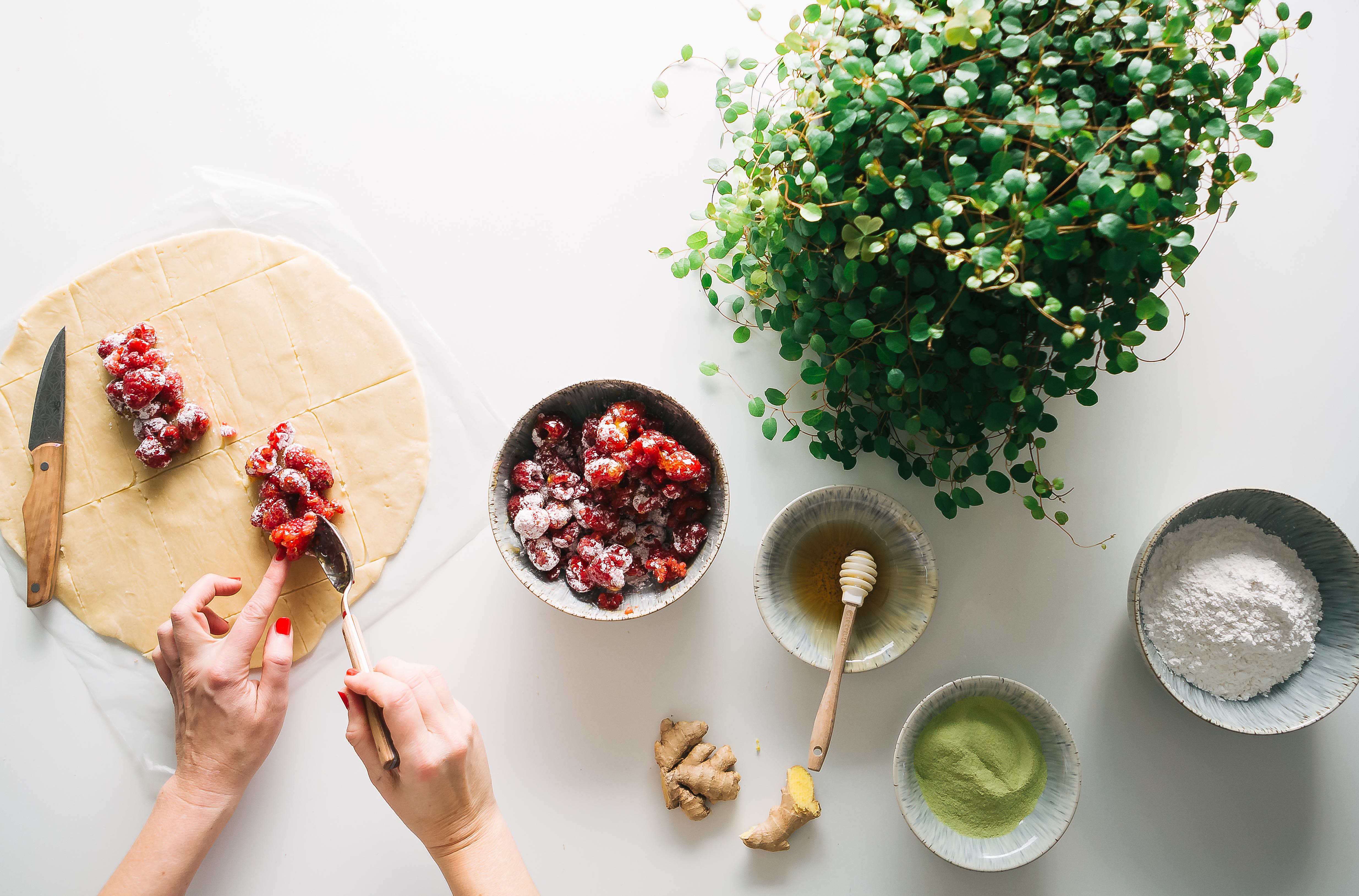 Now for the pastry. Boxed Pop Tarts crusts are a little bit blah. Were you one of those kids that ate the frosting and filling, but left the crimped crust on your plate?(Oh, hey! That was me.)
So, we're going to completely upgrade this baby with truly beautiful, flaky pie crust. Look for prepared, frozen crust at the grocery store. Or make your own. Either way, using a good pie crust is the secret to irresistible homemade Pop Tarts. Buttery, flaky and beautiful.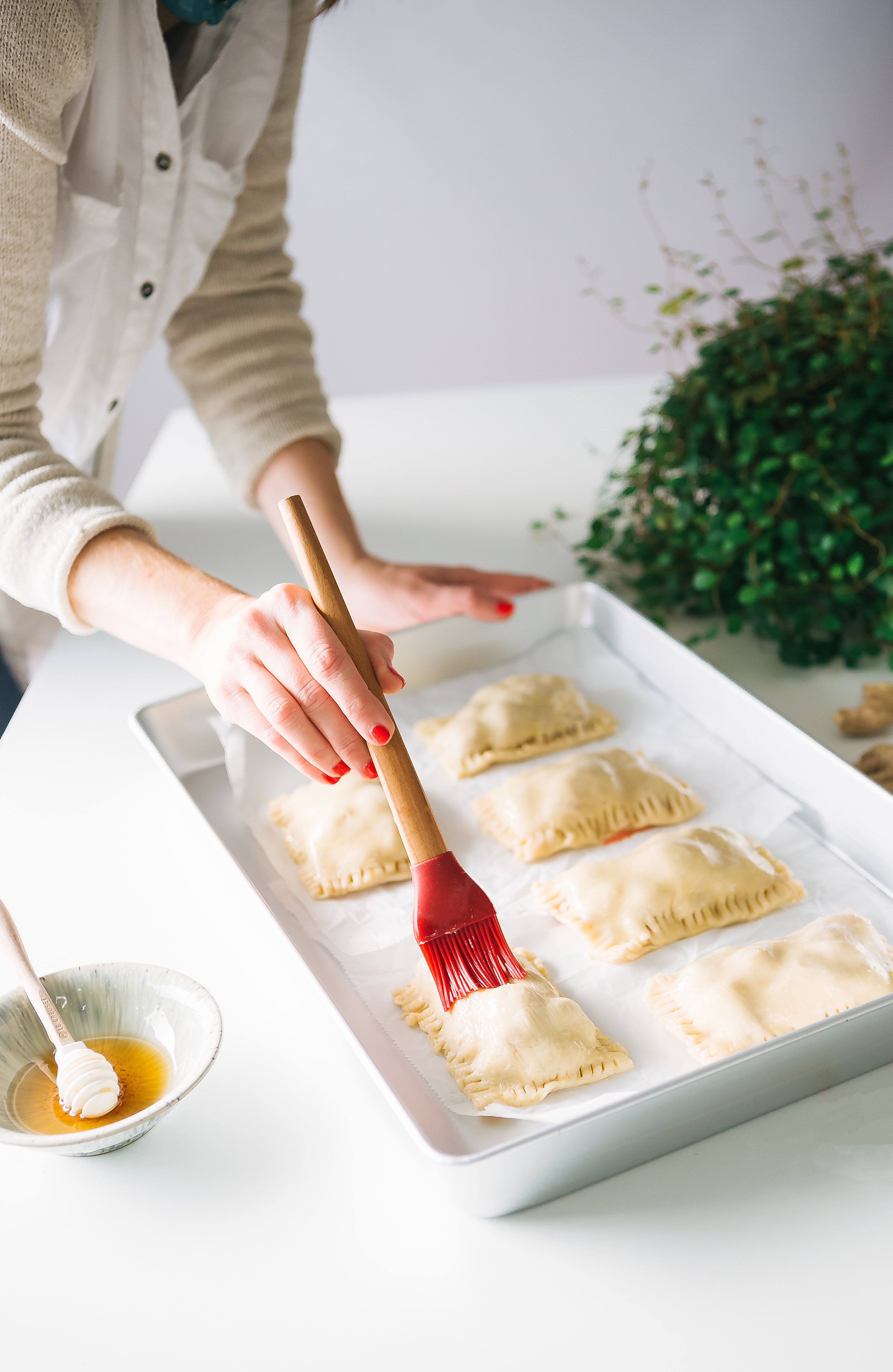 And finally, the icing. We've stirred matcha into ours. The color and flavor pair beautifully with the ginger-raspberry filling. Added bonus: no artificial color required. Just pure, perfect matcha. Making a bright green crown for these pretty little homemade poptarts.
Once the parts and pieces are mixed together, it's time to assemble and bake.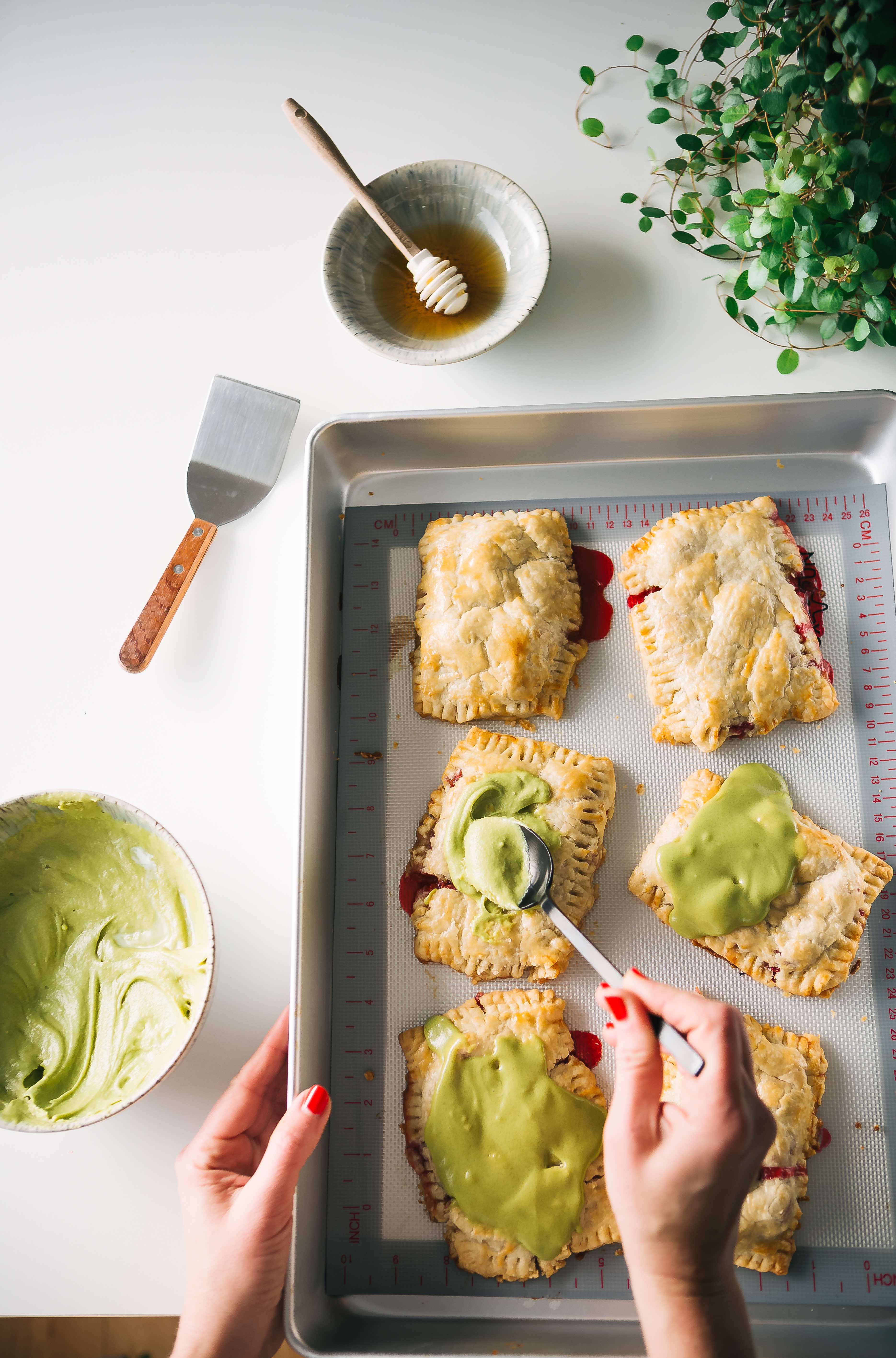 I used the oversized Wilton Aluminum Performance Pan, and was so glad to have it in my kitchen. It fit six Pop Tarts perfectly, with plenty of space for them to bake and puff slightly. The pan was lined with a Fox Run SIlicone Baking Mat – a step you won't want to miss, since the filling can run a bit while baking.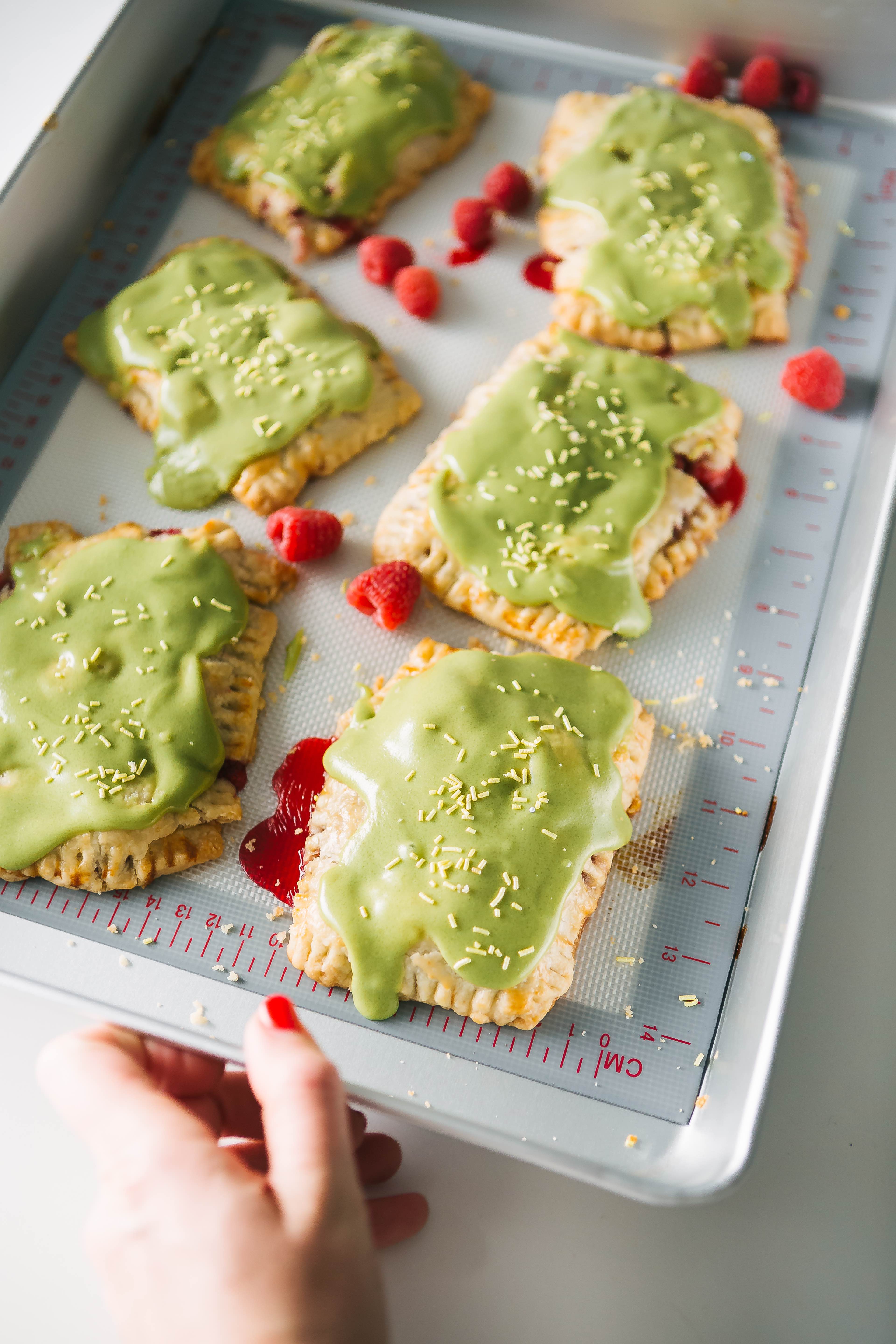 Total baking time for the batch was just about 20 minutes. I set my adorable Fox Run Retro Timer, put a pot of coffee on brew and mixed icing while waiting for the "ding."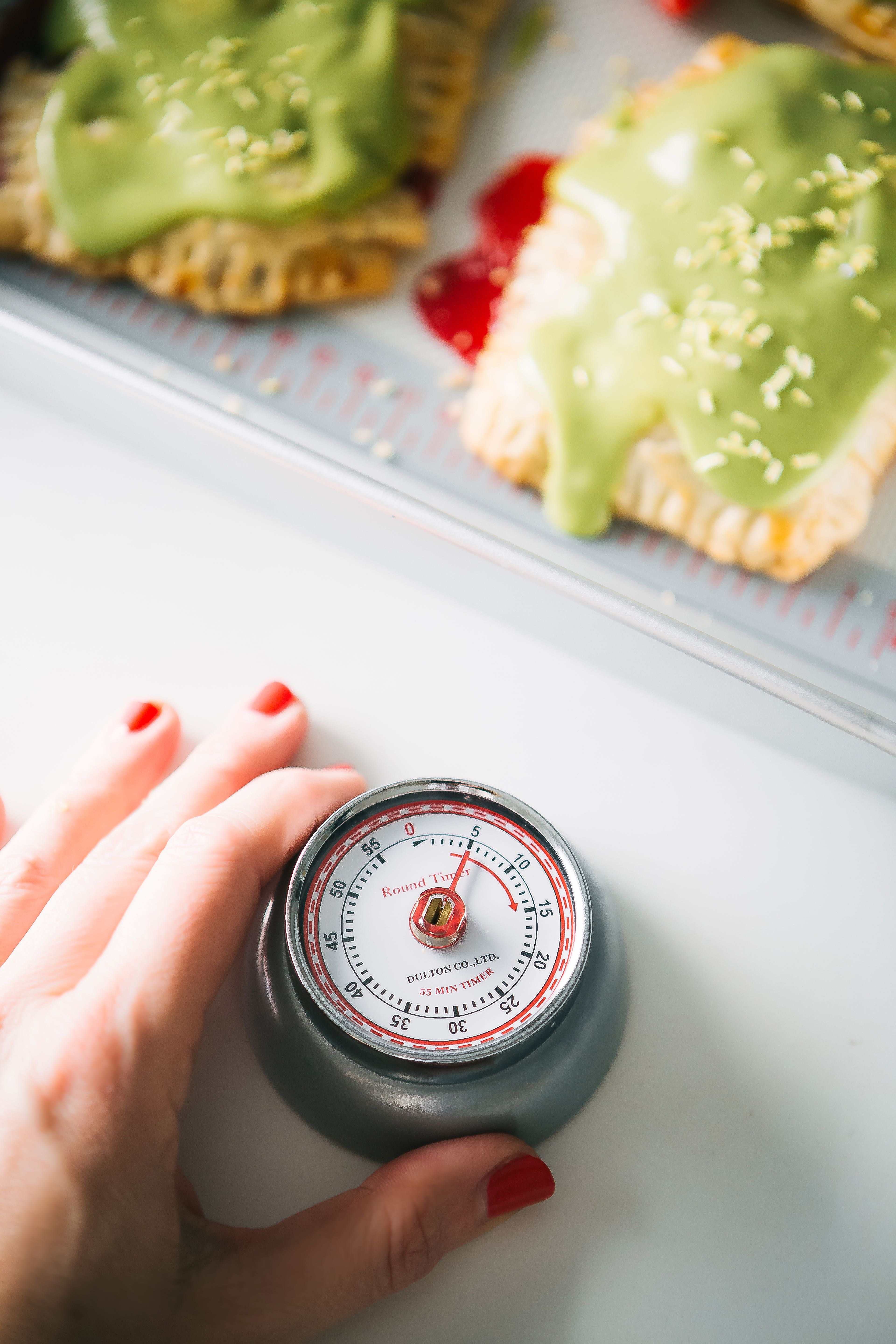 As soon as the Pop Tarts came out of the oven, they were drizzled with icing. Frosting while warm lets the icing melt a bit, giving the poptarts a beautifully glossy topping. We added lime green sprinkles, but I wished I'd had some white nonpareils. Wouldn't they look lovely with the green and red?!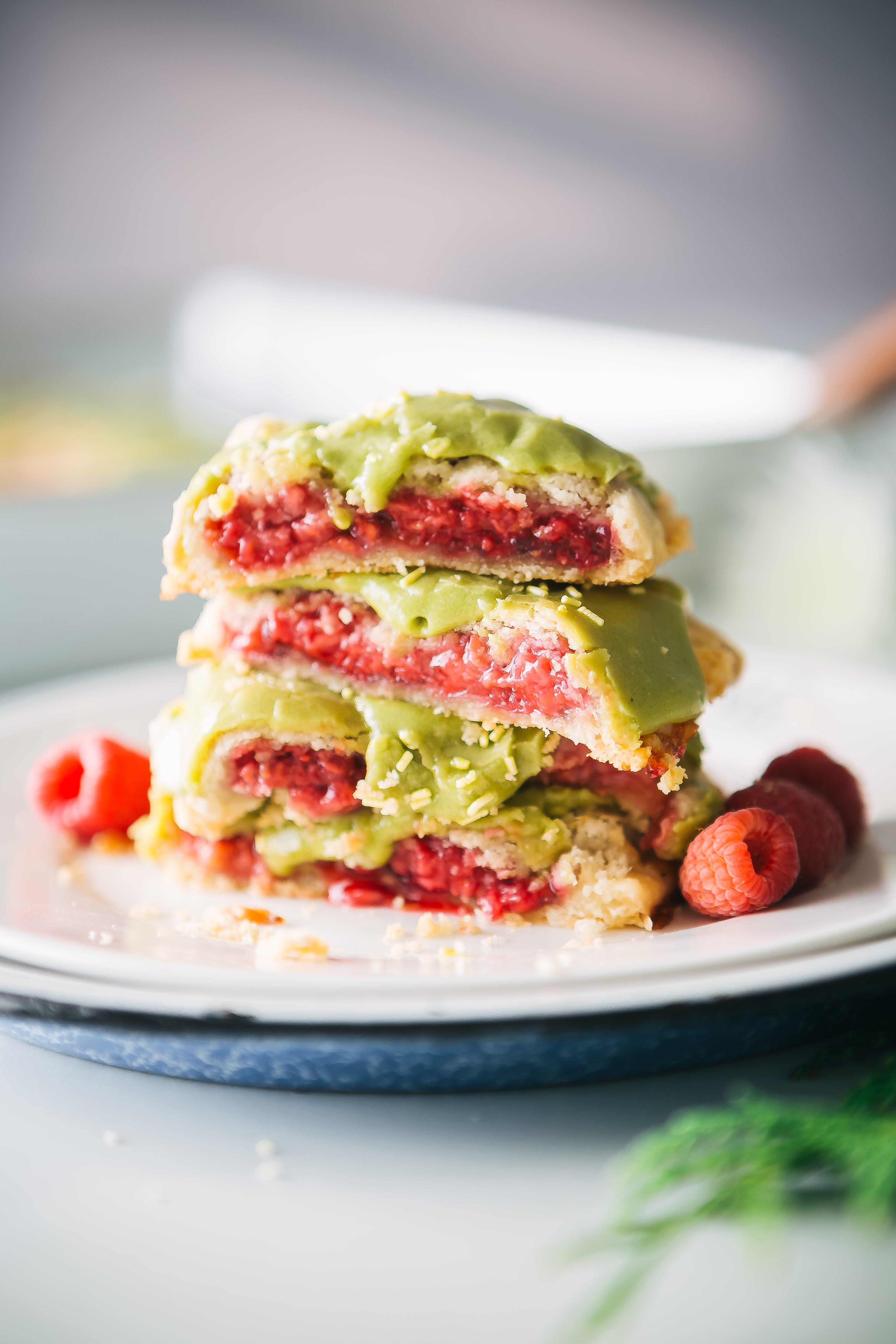 I sit with a plate of homemade Pop Tart crumbs on my lap as I type. This recipe is ridiculously fun to make, and so nice to enjoy. Not quite as sweet as original Pop Tarts. So much prettier. Plus, matcha ginger and fresh raspberries. What's not to love?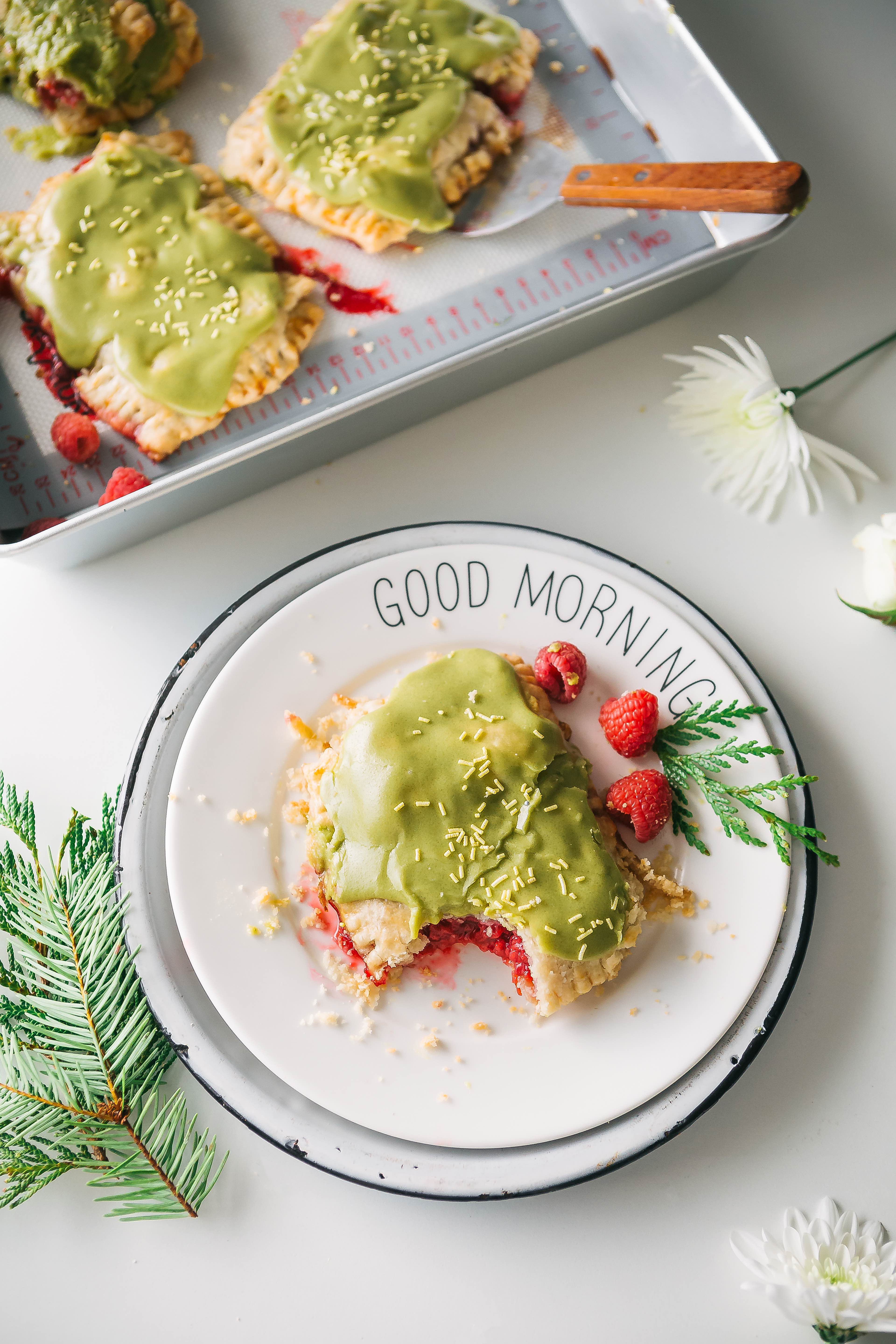 Surprisingly simple to make, this is the perfect recipe for your next round of Sunday morning baking.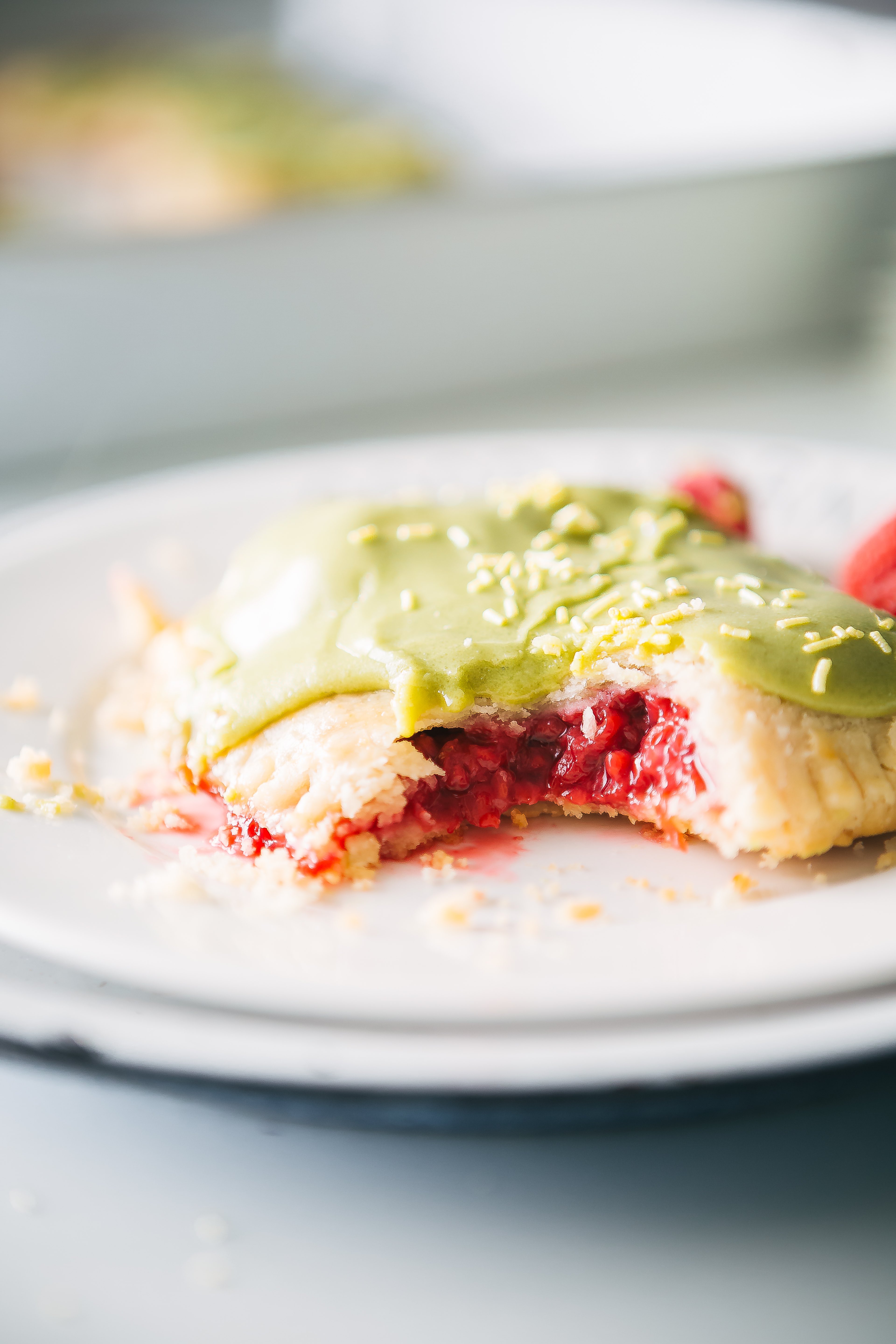 Homemade Matcha Ginger Pop Tarts
This recipe is ridiculously fun to make and so nice to enjoy. Not quite as sweet as original Pop Tarts. So much prettier. Plus, matcha ginger and fresh raspberries. What's not to love?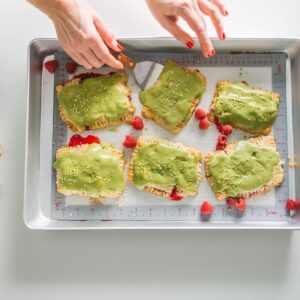 Ingredients
48

oz

fresh raspberries

.5

cups

honey

2

tbsp

cornstarch

1

tsp

fresh grated ginger

1

Meyer lemon, freshly squeezed

2

rounds pie crust

1

egg, well mixed

2

cups

powdered sugar

2

tbsp

matcha latte mix (or 1 Tbsp matcha powder)

1

tbsp

melted butter

2

tbsp

milk

White or light green sprinkles (if desired)
Instructions
Preheat oven to 400°F.

Line a baking pan with parchment or a nonstick silicone baking mat.

Mix together raspberries, honey, cornstarch, ginger and ½ of lemon juice.

Cut pie crust into six 2½ " x 3½ " rectangles. Spoon raspberry mixture into the center of each rectangle, leaving ¼" uncovered around the edges.

Cut six pieces of pie crust into 3 ½ x 4 ½" rectangles. Gently drape these larger rectangles over the raspberry filling. Press firmly around the edges with fork to seal.

Brush with egg.

Place on prepared baking pan.

Bake 17-20 minutes, or until poptarts are medium golden brown.

Mix together powdered sugar, latte mix, butter, milk and remaining lemon juice.

Drizzle over warm poptarts. If desired, sprinkle while warm.

Cool before serving.
Nutrition
Serving:
1
g
Calories:
662
kcal
Carbohydrates:
120.2
g
Protein:
6.2
g
Fat:
20.2
g
Saturated Fat:
5.4
g
Cholesterol:
33
mg
Sodium:
321
mg
Fiber:
15.3
g
Sugar:
79
g