Get 4th of July Ready with a Mini Cupcake Flag Cake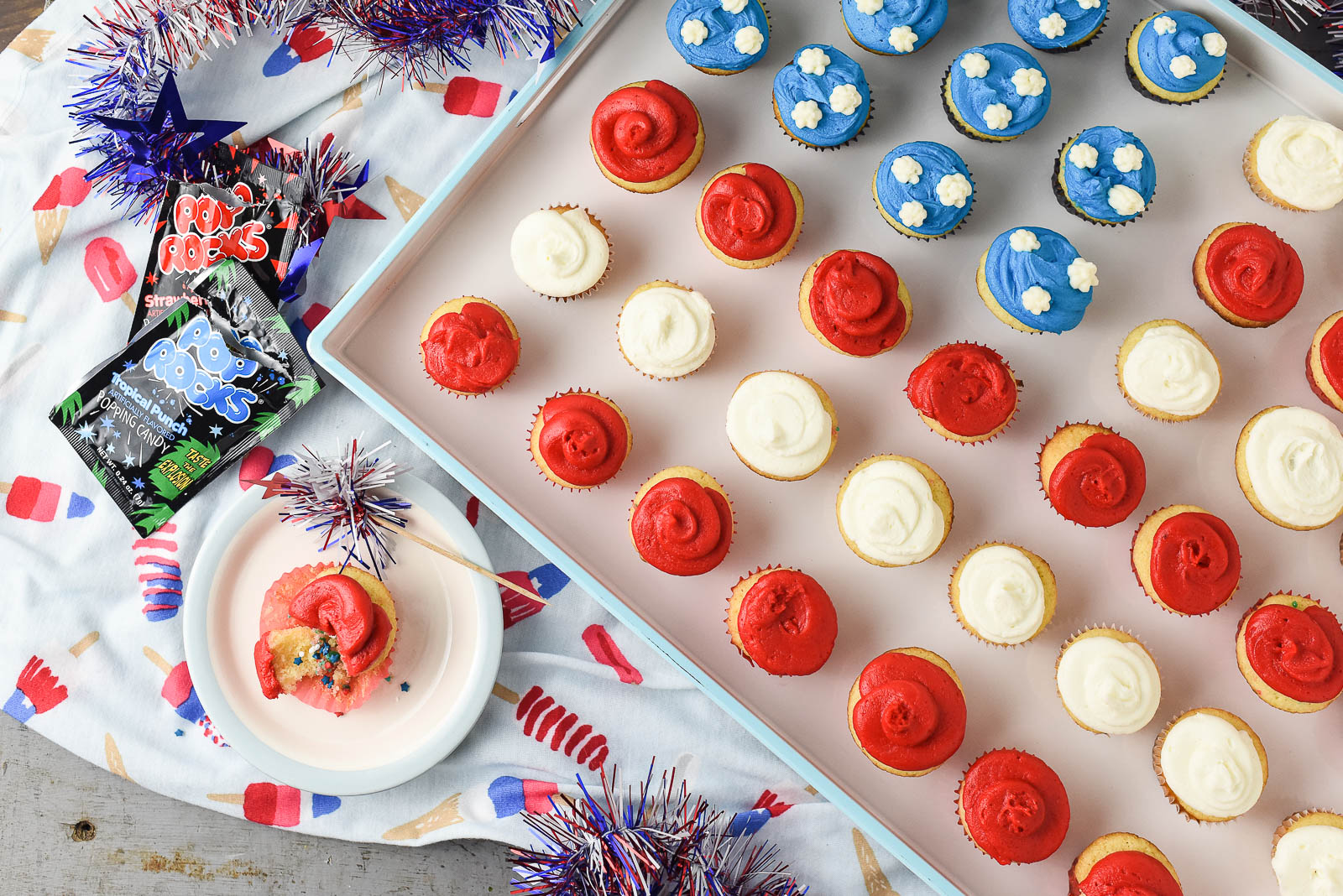 This fun & easy flag cake is sure to add some fireworks to your 4th of July party — each mini cupcake is filled with popping candies that crackle with every bite.
Looking for an adorable, fun dessert to feed a crowd on the Fourth? You've come to the right place. This stars and stripes flag cake is made with 48 bite-sized cupcakes with a surprise: they're filled with a mixture of star-spangled sprinkles and popping candies. Each bite pops in your mouth!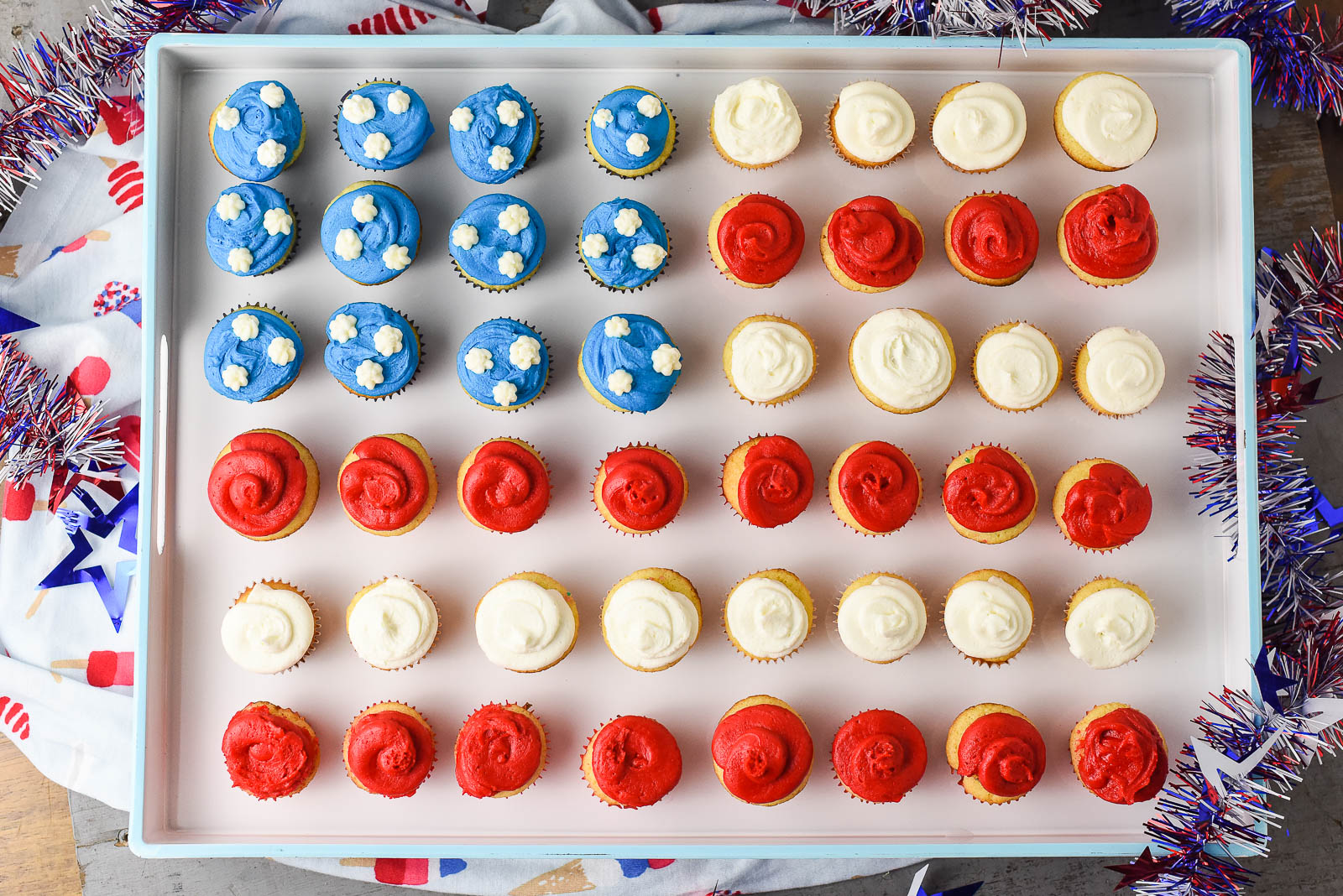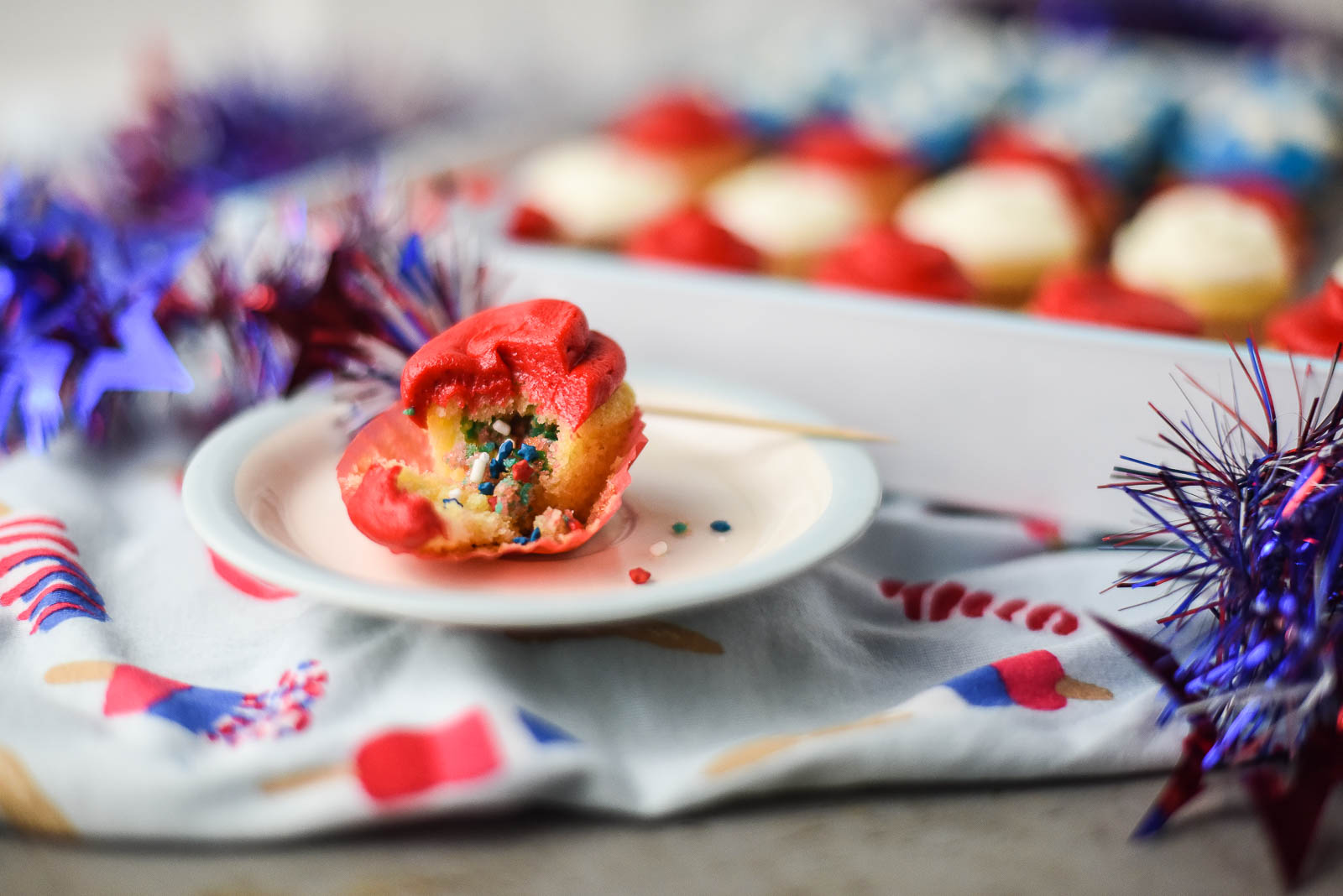 Don't let the thought of making 48 cupcakes intimidate you. These are minis, easily made from a standard batch of cake batter. I used my absolute favorite foolproof vanilla cake recipe, then portioned it into a 48-well mini cupcake pan.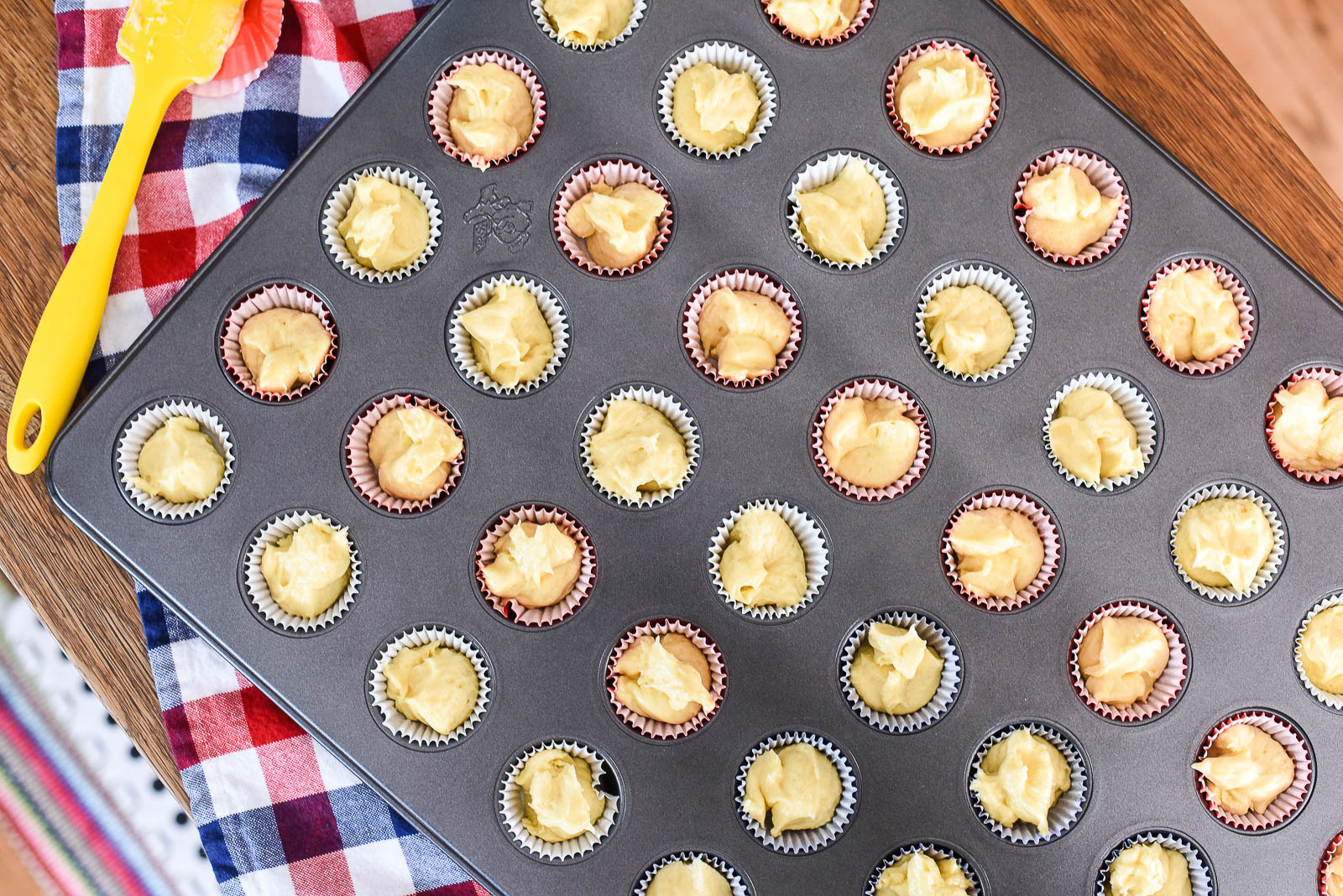 Once the cupcakes are baked, it's time to add the surprise filling: Pop Rocks Candies! I mixed them with some stars-and-stripes sugar sprinkles for an extra patriotic punch. Since Pop Rocks are activated by moisture, you'll want to fill and decorate these as close to serving time as possible for the biggest "pop," but we did tried ours over the course of a day and the candies still had some good fizz to them up to 8 hours after filling.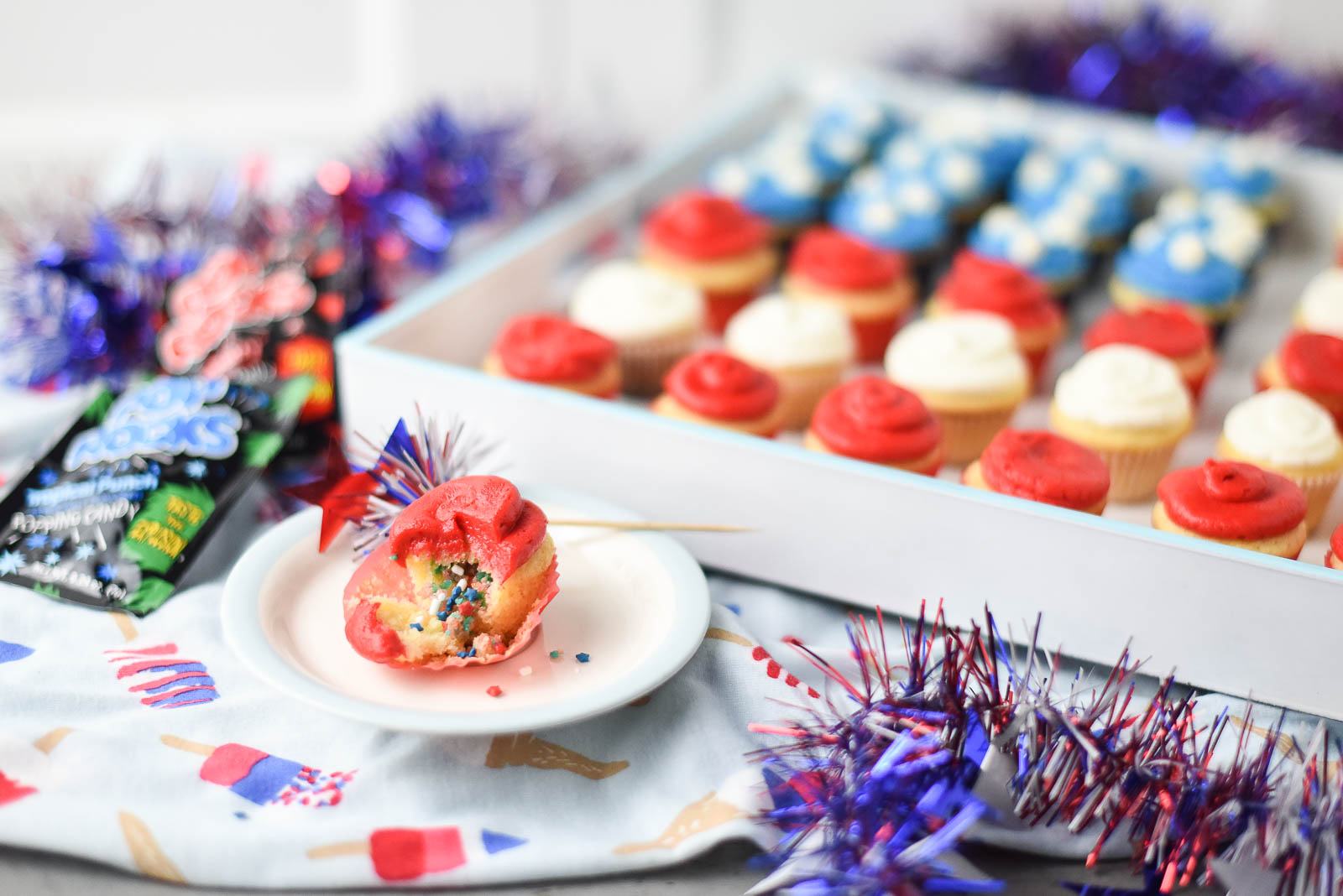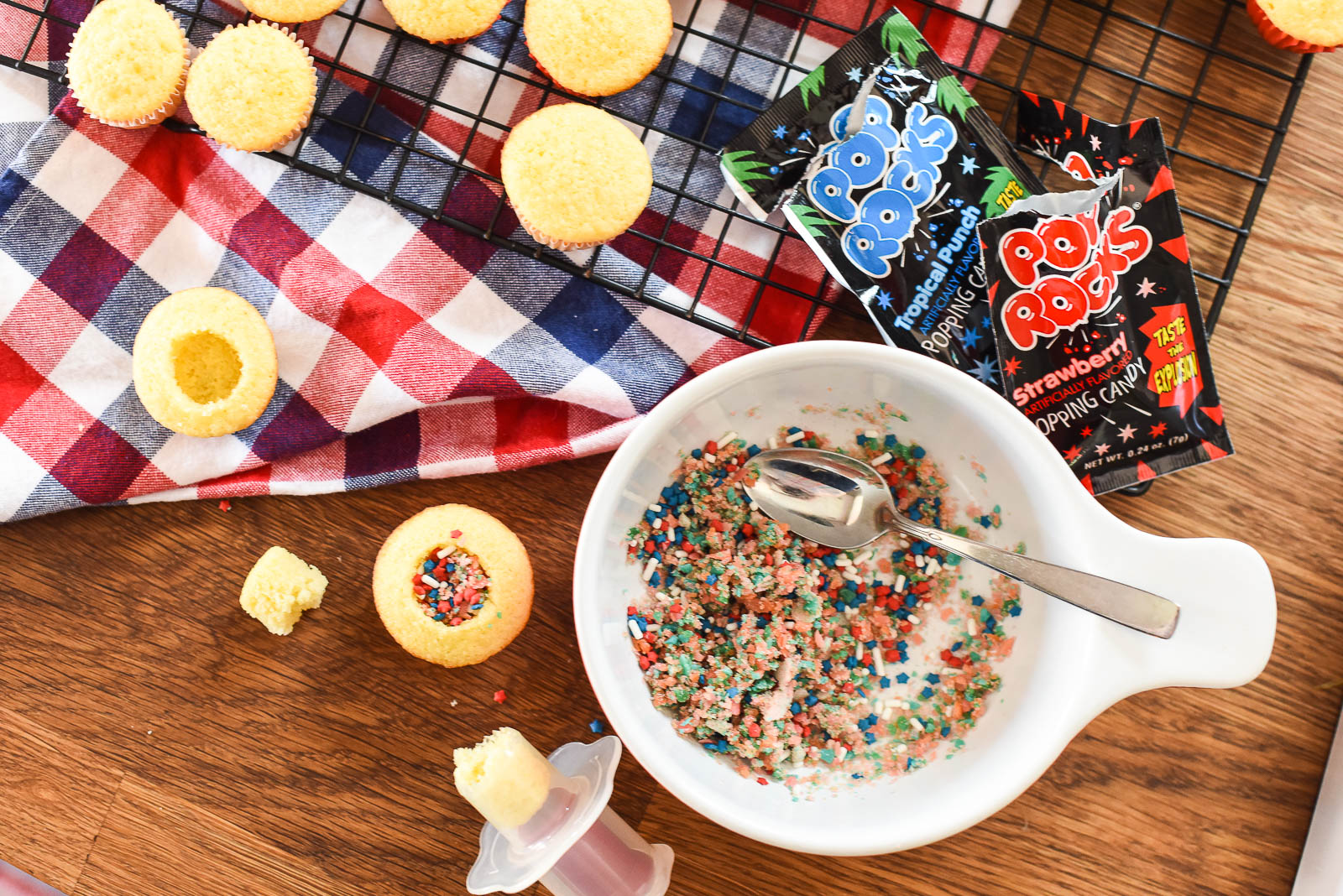 A little gadget called a cupcake corer makes quick work of hollowing out the cupcakes, then fill the well with a spoonful of candy mixture and replace the top (you may need to Thisplit the top in half to make it fit).
Now all thats left is to decorate the cupcakes. I used one batch of super simple buttercream frosting and divided into 3 portions for red, white and blue. To ensure the most vibrant color possible for the red and blue I used dyes specially made for cake decorating — they gave the icings completely brilliant color without any fuss.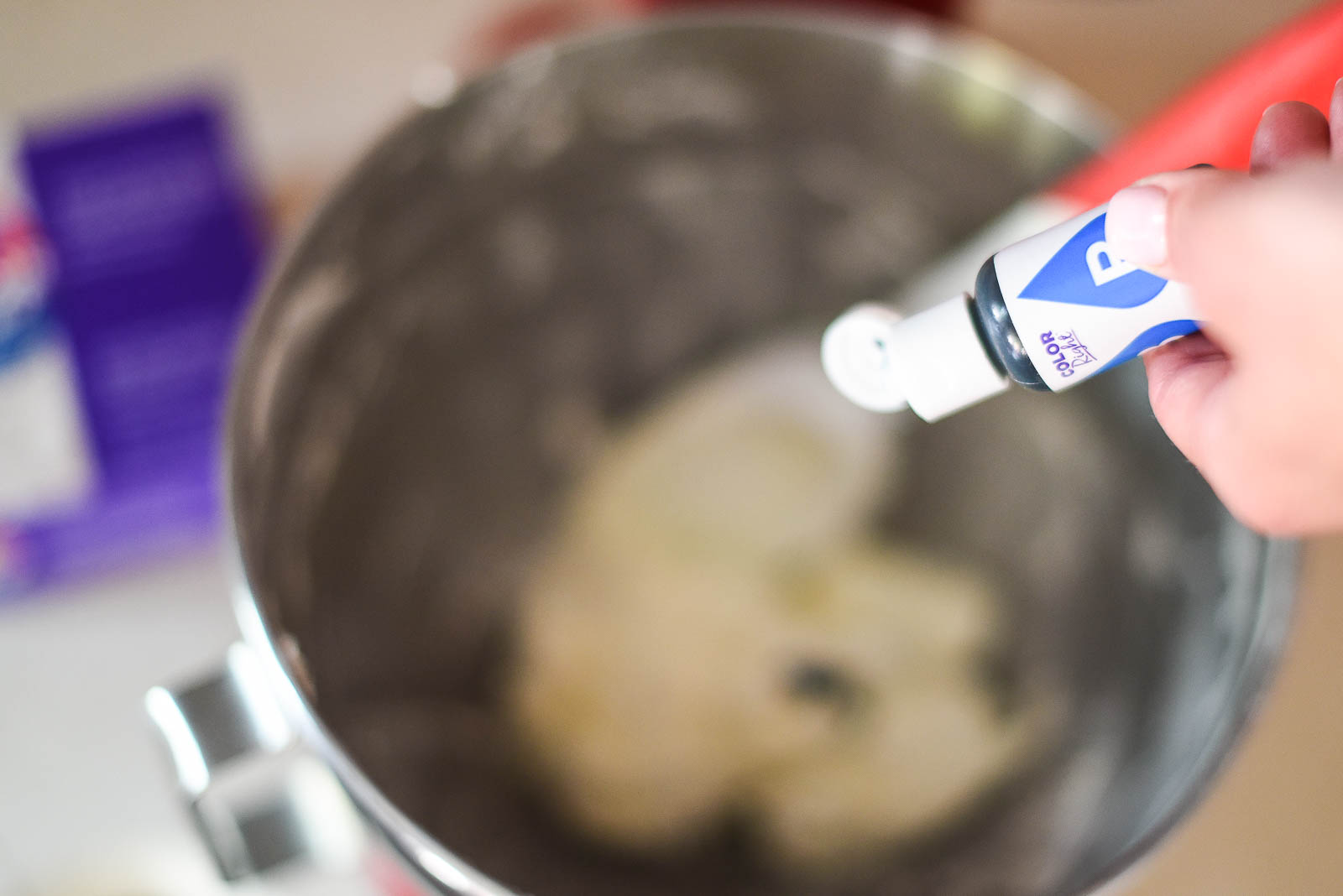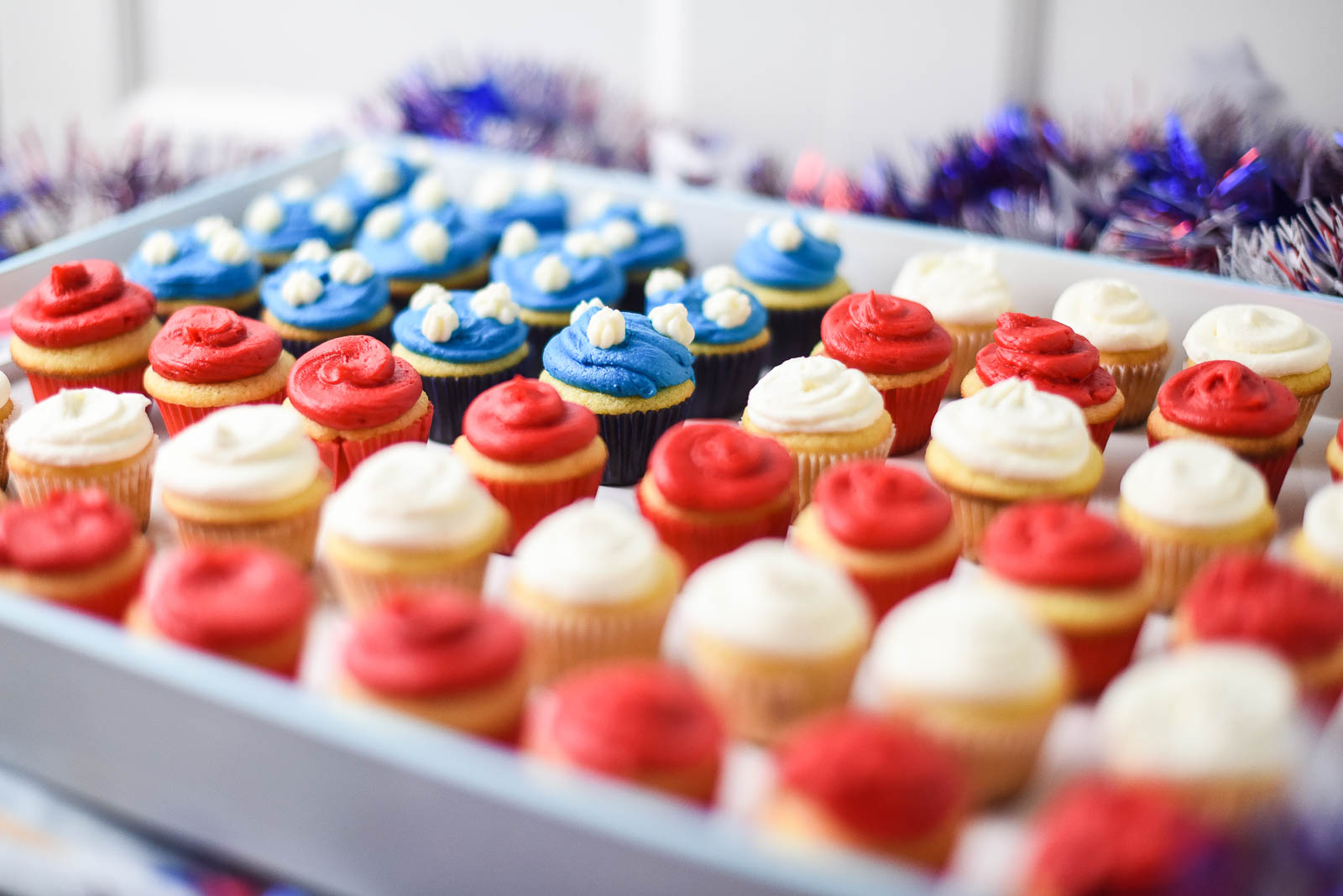 I decorated 12 cupcakes with blue frosting using a standard icing tip. Then I used a small star tip to and a few random white stars. Next, I frosted 20 cupcakes in red and the remaining in white and arranged all of them into a flag shape on a large platter. The effect is pretty adorable. One last note: I typically use all butter in my buttercream frosting, but if you're planning to serve this outdoors on a hot day, I recommend subbing in shortening for at least half to avoid melted icing.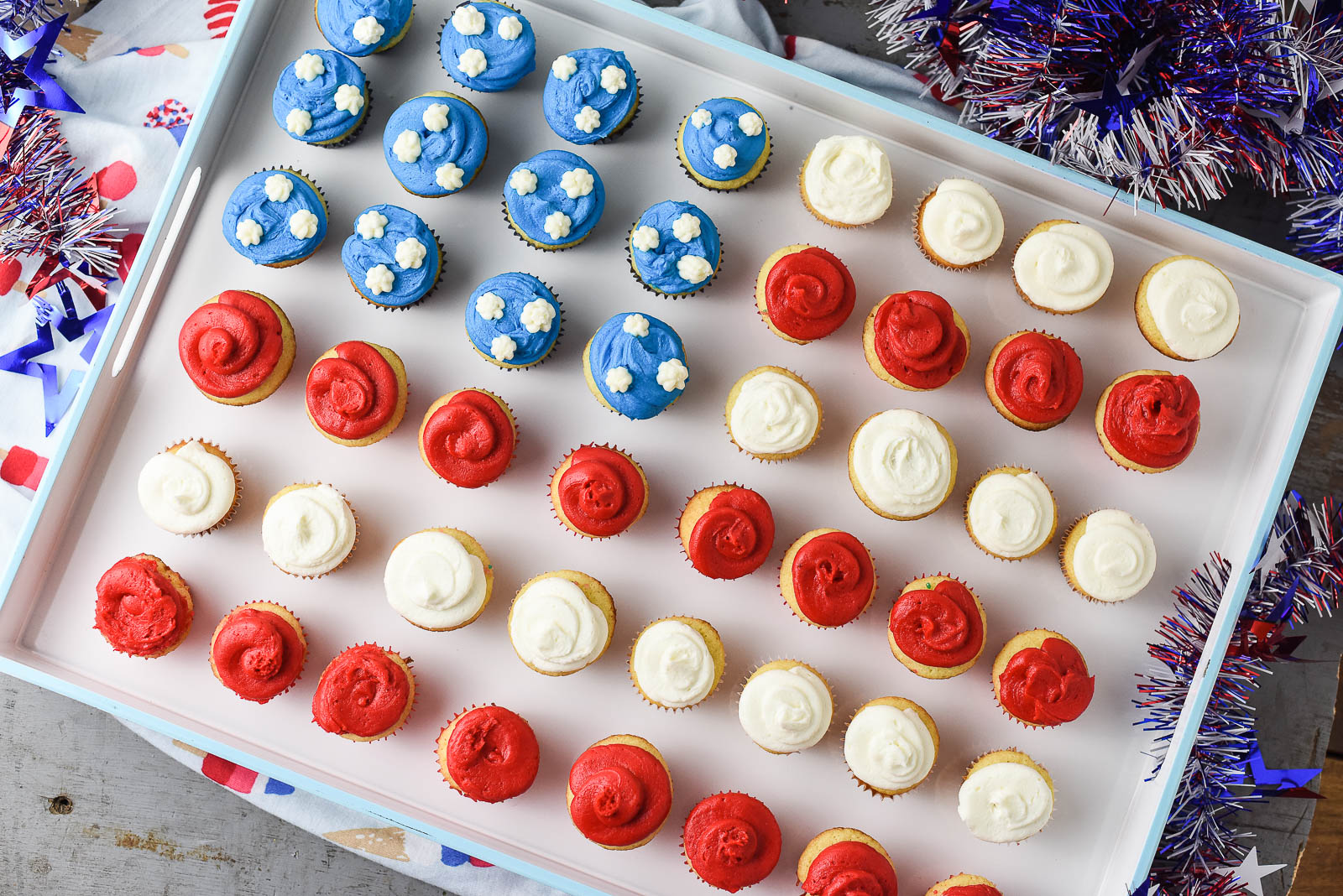 However you celebrate, I wish you a safe and sparkly Independence Day!
Pop Rocks Surprise Mini Cupcake Flag Cake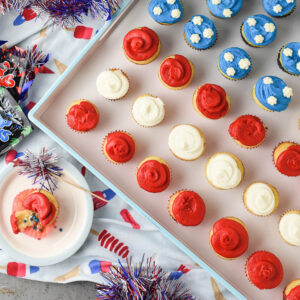 INGREDIENTS
1 ¾ cup all-purpose flour
2 ½ teaspoons baking powder
½ teaspoon salt
¾ cup granulated sugar
1 cup unsalted butter, softened (2 sticks)
4 large eggs
1 teaspoon vanilla extract
1/3 cup half & half or milk
6 packets Pop Rocks Candies
2 tablespoons of stars-and-stripes sugar sprinkles (optional)
INSTRUCTIONS
Preheat oven to 400 degrees F and line the wells of a 48-cup mini cupcake pan with paper mini cupcake liners.

Whisk together flour, baking powder, and salt in a medium bowl until well combined .
In the bowl of a stand mixer, cream butter and sugar together on medium speed until fluffy. Add eggs and vanilla and continue mixing until well combined.
Add half of dry ingredients to the wet ingredients and mix on low speed until the flour just starts to incorporate. Add half of the milk mixture followed by the rest of the dry ingredients and the rest of the milk. Do not overtax batter.
Drop batter by tablespoon into the prepared muffin tin, filling each well evenly. Bake cupcakes in the oven for 8 minutes, or until a toothpick inserted into a center cupcake comes out clean. Remove cupcakes from oven and transfers for a baking rack. Cool completely.
Just before serving (or no more than 8 hours before serving), combine the Pop Rocks Candies and sugar sprinkles in a small bowl. Use a cupcake corer or a small spoon to carefully remove the center of each cupcake. Fill the hole with a spoonful of the candy mixture. Replace the top of the cupcake (you may need to cut the cake plug in half).
Frost the cupcakes as follows, using the icing recipe below:
Frost 12 cupcakes in blue frosting and add white stars at random using a small white star tip.
Frost 20 cupcakes in red frosting using a blunt tip.
Frost the remaining cupcakes with white frosting using a blunt tip.
Arrange cupcakes in a flag shape on a large platter or tray.
Super SImple Vanilla Frosting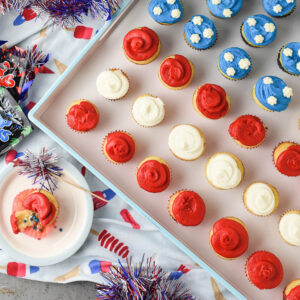 INGREDIENTS
1 cup unsalted butter, softened (2 sticks)
4 cups confectioner's sugar
¼ teaspoon salt
1 teaspoon vanilla extract
2 – 3 tablespoons whipping cream or half and half
Food coloring of your choice
INSTRUCTIONS
Combine butter, confectioners sugar and salt in the bowl of a stand mixture. Starting on low speed, use the whisk attachment to slowly incorporate the sugar into the butter.
Once incorporated, add the vanilla and whipping cream and beat on high speed until the mixture is light and fluffy, about a minute.
Remove a quarter of the mixture and place in a separate bowl for the blue frosting. Remove one third of the remaining frosting and place in another bowl for the red frosting. The remaining white frosting will be used to frost the white cupcakes. Place a small about (about 1/4 cup) of the white frosting in a piping bag set with a small white tip. Transfer the remaining white frosting to a piping bag fixed with a large blunt tip.
Dye the red and blue frosting as follows:

For Blue Frosting: Mix 12 - 14 drops of Wilton Color Right Food Coloring System Blue into the icing and mix until completely combined. Transfer frosting to a piping bag with a large blunt tip.
For Red Frosting: Mix 14-16 drops of Wilton Color Right Food Coloring System Red into the frosting and mix until completely combined. Transfer frosting to a piping bag with a large blunt tip.