Halloween Cake Push Pops for Every Monster, Witch & Wizard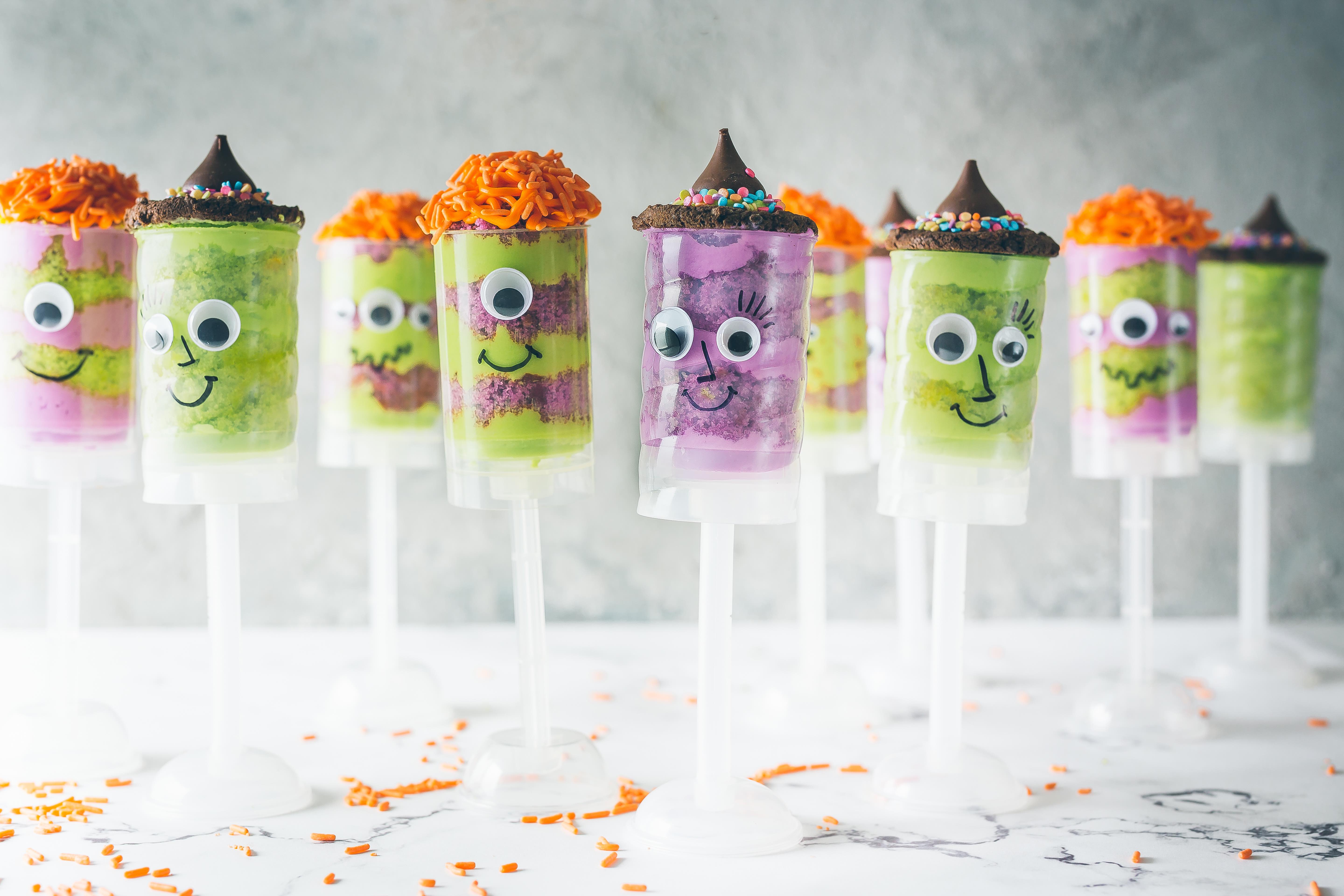 Bring some Monster Madness to your next Halloween party with this sweet little idea for cake-filled push pops. Neon colored cake and frosting are layered together to make some zany monsters. Plastic push pop containers are turned into cute and colorful cake witches. And you don't need to wave a magic wand to make a big batch.
Gather Your Supplies
To make this dessert recipe, you'll need adhesive google eyes, white cake mix, frosting supplies and push pop containers.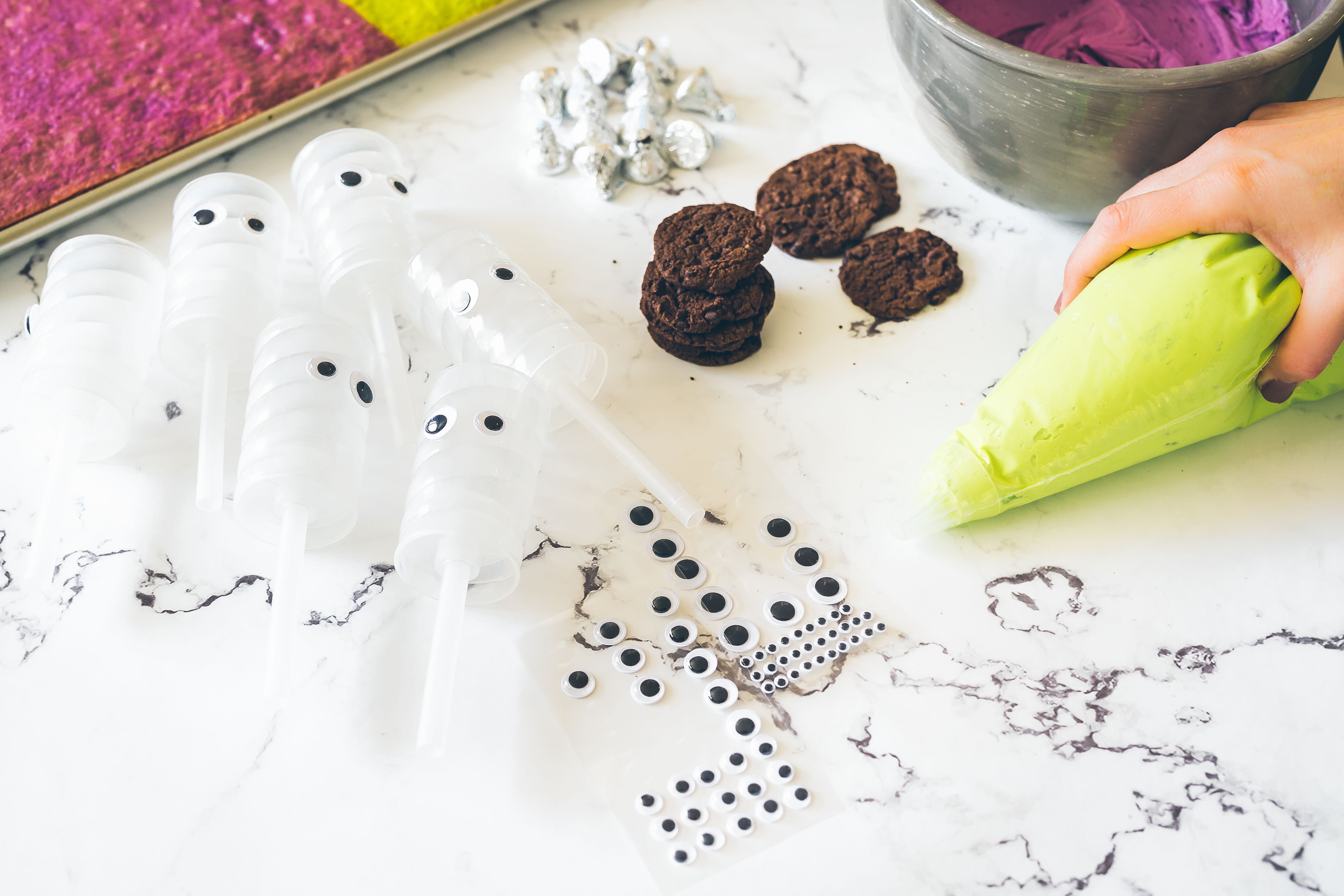 One cake mix and batch of homemade buttercream (recipe below) will yield about 6 cake push pops. If you're looking to create a whole table full of colorful beasts, this recipe is easy to double, triple or quintuple. Buy one box of cake, a bag of powdered sugar, and box of butter for every 6 monsters needed, and you'll have a gaggle of green & purple beasts and witches and wizards in no time.
Bake and Make
Though these pops can be prepared in a day, try baking the cake and making the frosting just before bed. Leaving them overnight gives the cake plenty of time to cool. Set the frosting covered on the countertop, and it will be ready to use in the morning. No need to refrigerate and wait for it to warm to room temperature if you'll be using it within 24 hours of making.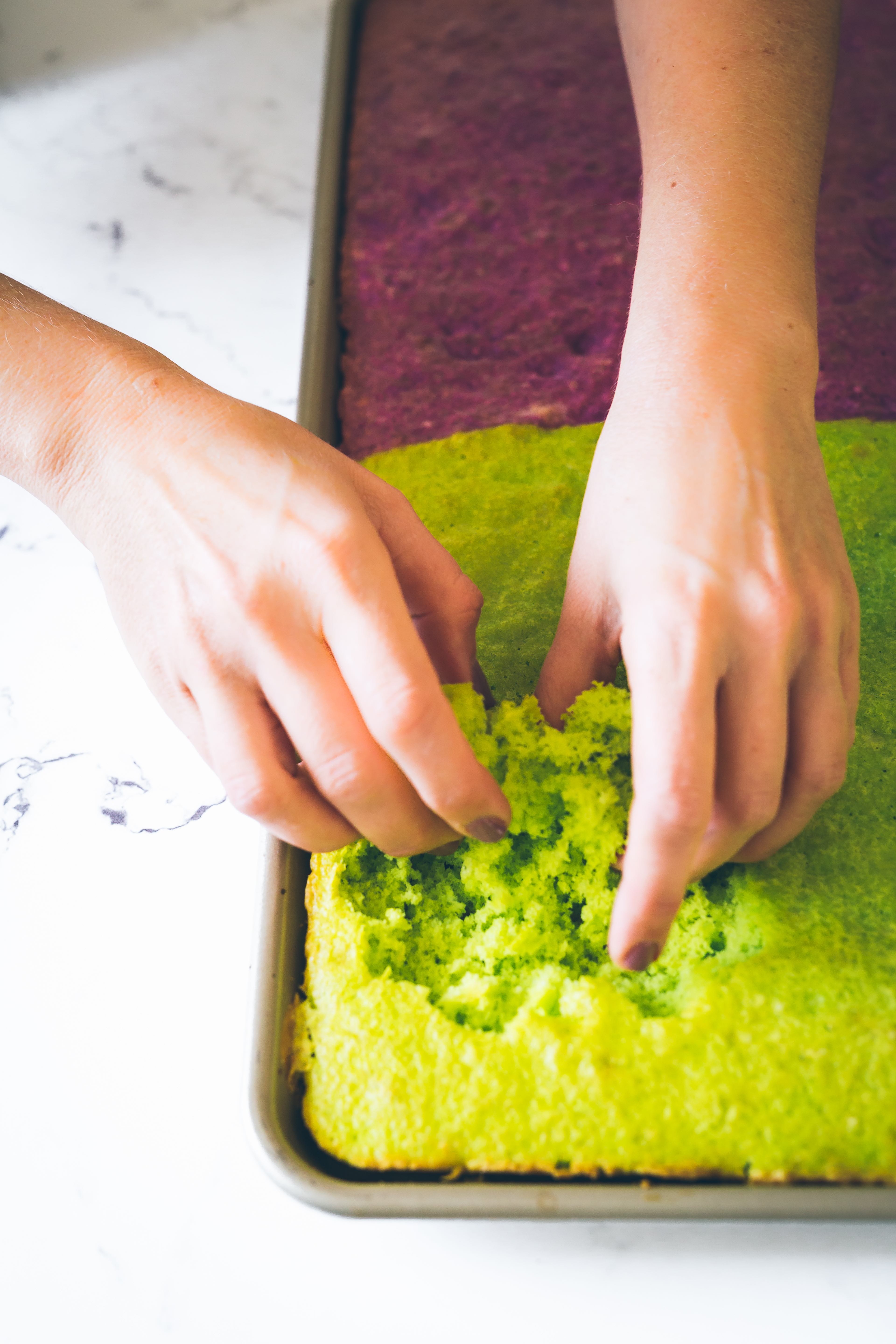 With cake and frosting ready, all that's left to do is assemble the cake pops. Grab some Bakelicious Swirl Push Pops, transfer the frosting to a Sweet Creations Piping Bag (the icing tip comes ready-to-snip in the bag, which makes the piping process so convenient!) and put your witch pops together. Cake, frosting, cake, frosting, cake, frosting.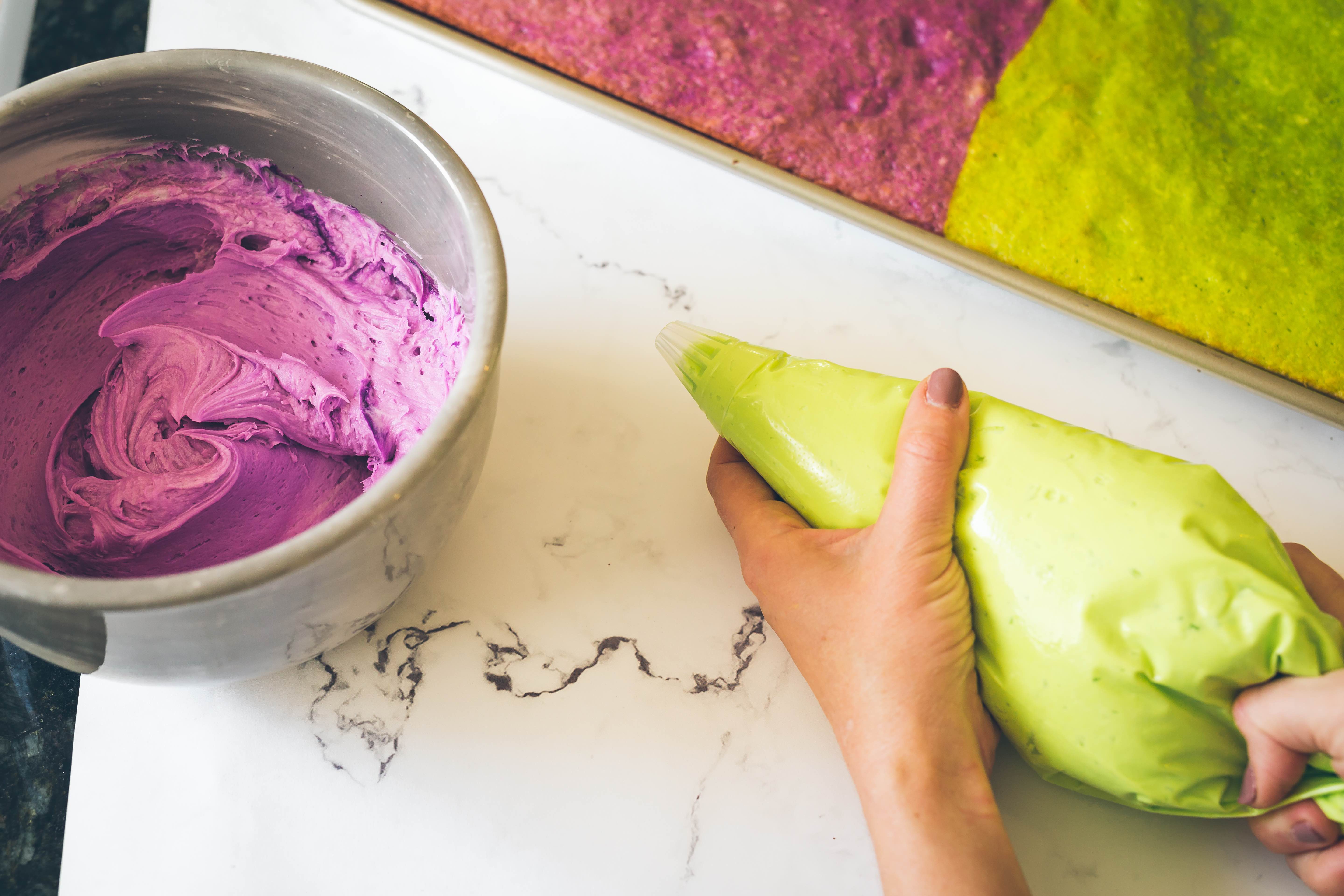 If you're making monsters, layer up and then top with some monster hair and googly eyes. Though green and purple are classic monster colors, these cute treats can be easily turned into whatever color combos you can dream up. Got a Cookie Monster Lover? Try blue cake and frosting. Love the Purple People Eater? Go for two hues of purple, and top your monsters off with purple or green hair. Or maybe Rainbow Monsters are more your jam, in which case, color away! These cute monster treats can be whatever you make 'em!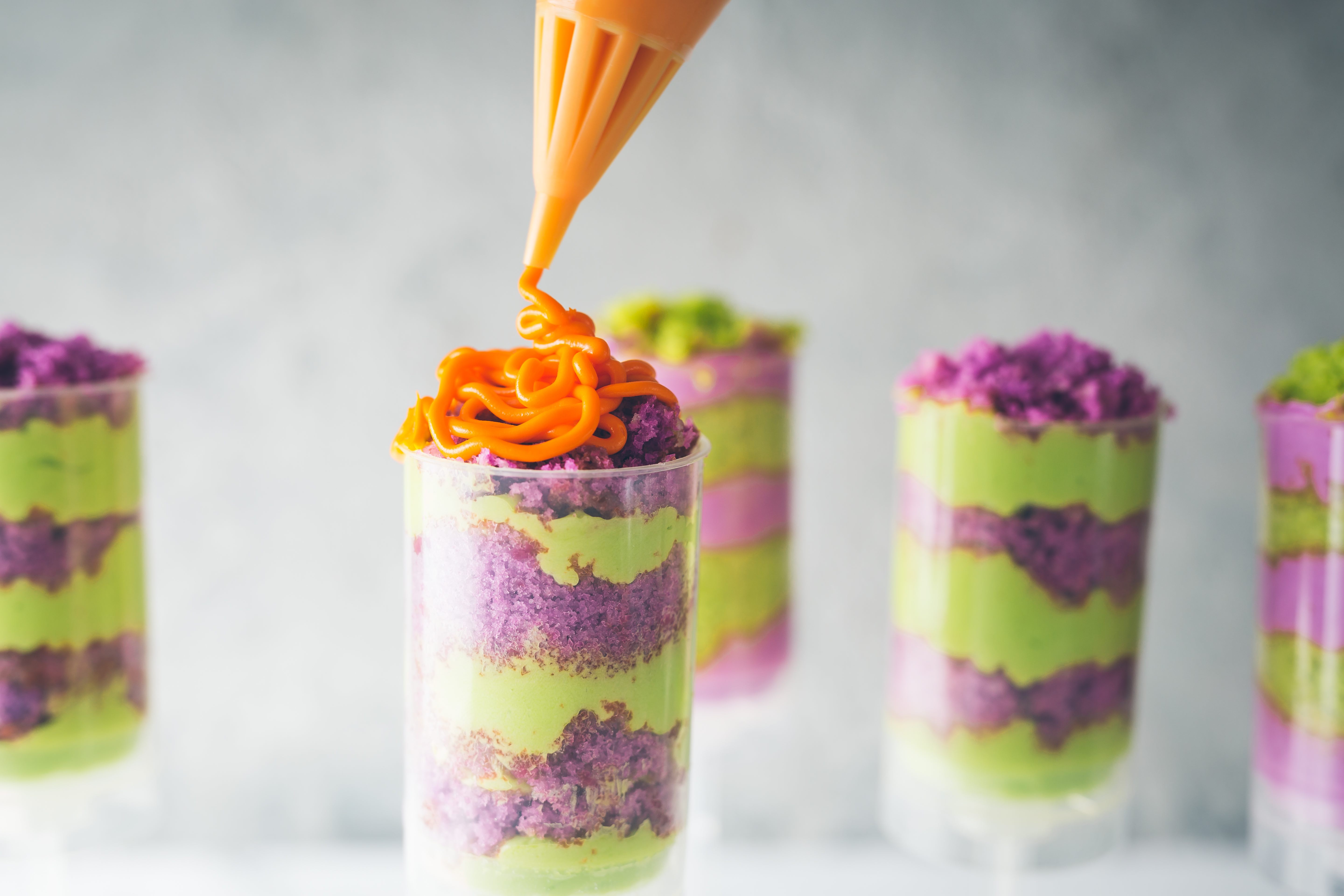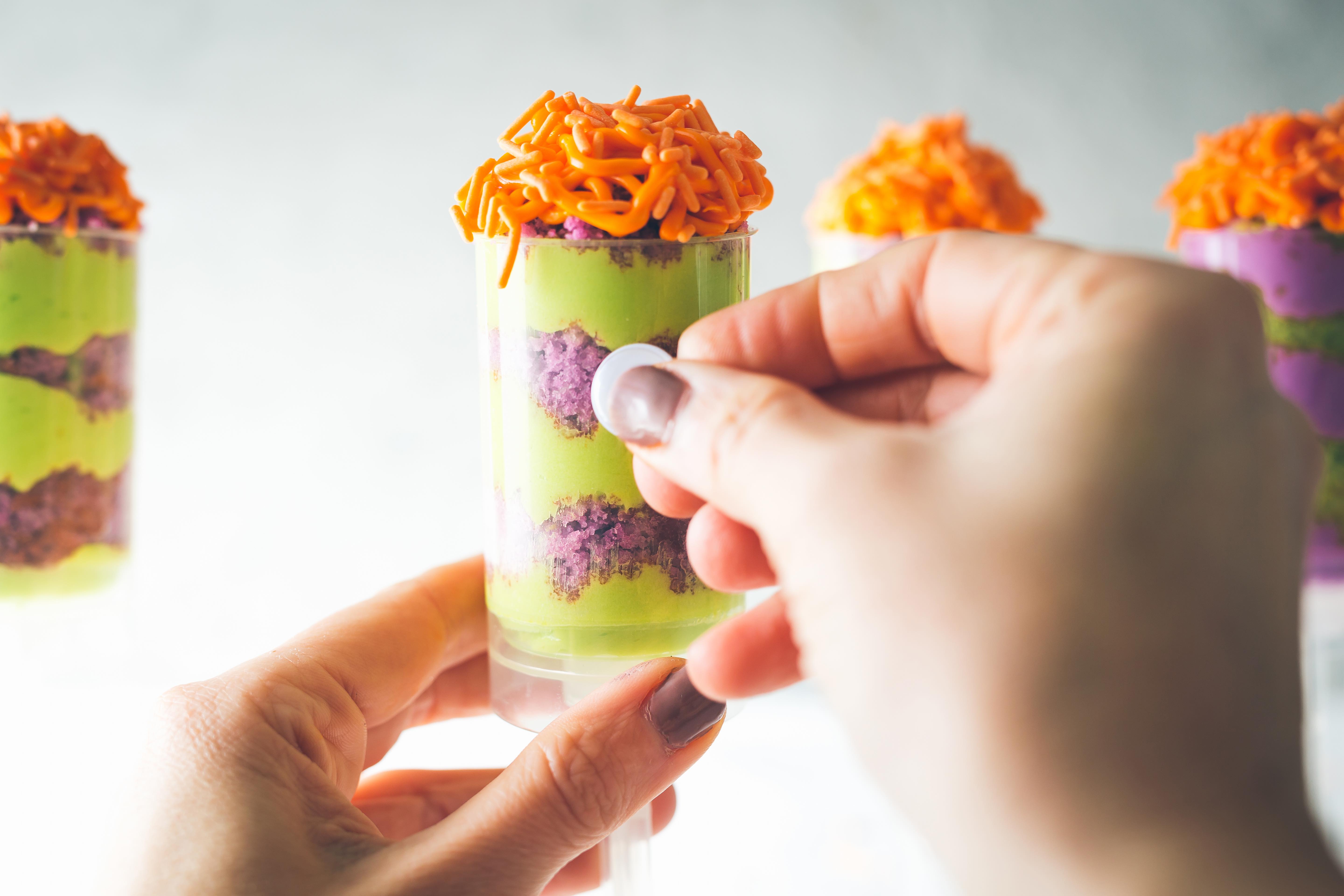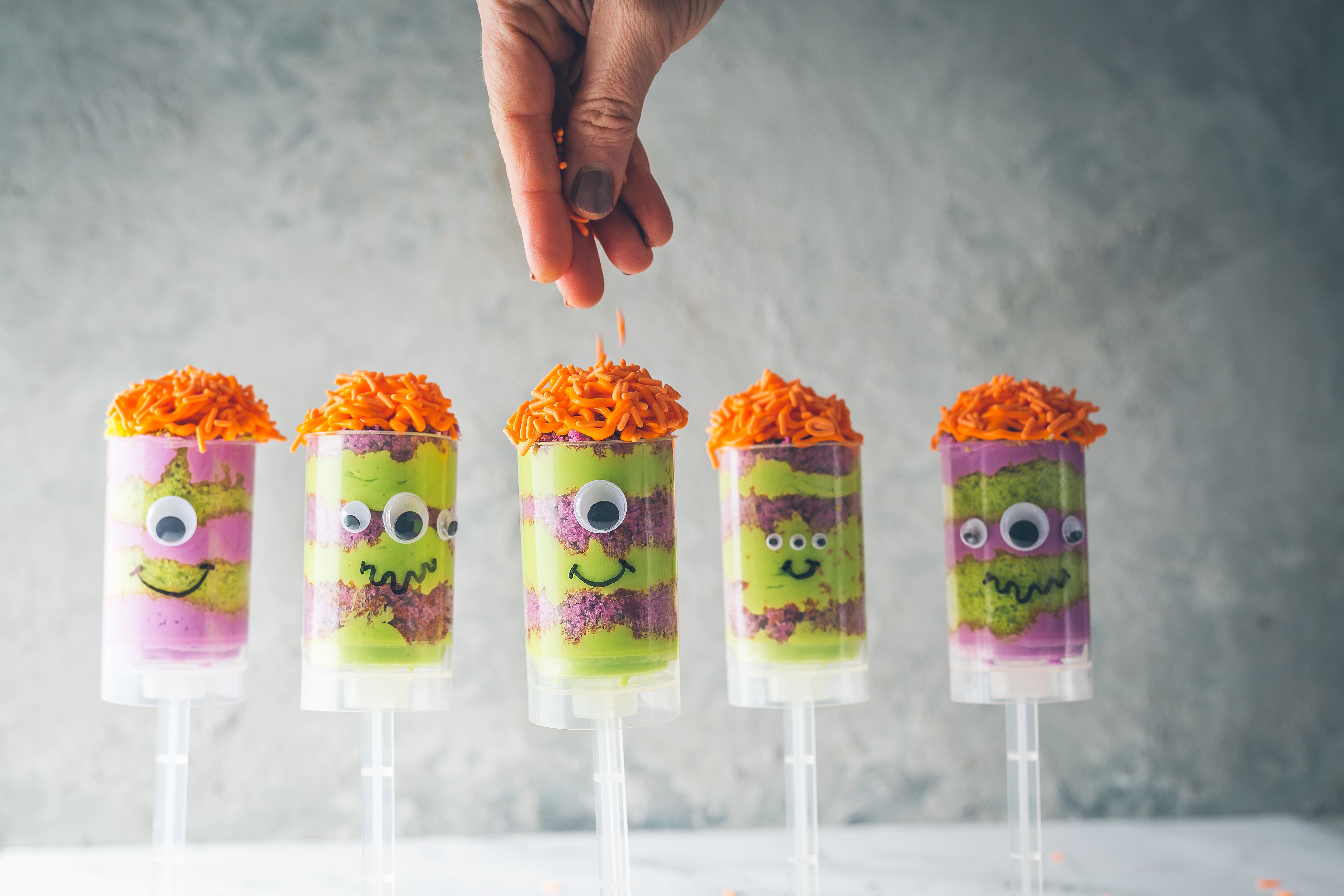 For the witches, a chocolate cookie and chocolate kiss on top make cute little witch hats. All that's left to do now is to affix the adhesive eyes and draw on a witchy smile. If you've got a house full of Harry Potter fans, these witch push pops can be easily turned into Potter pops! Instead of tinting the cake and frosting, keep it white. Then top with the witch hat (aka "sorting hat") and draw on Potter-style spectacles and a wry smile. Top with golden sprinkles and Alohomora! You've unlocked the cutest lil' wizards this side of Muggle town!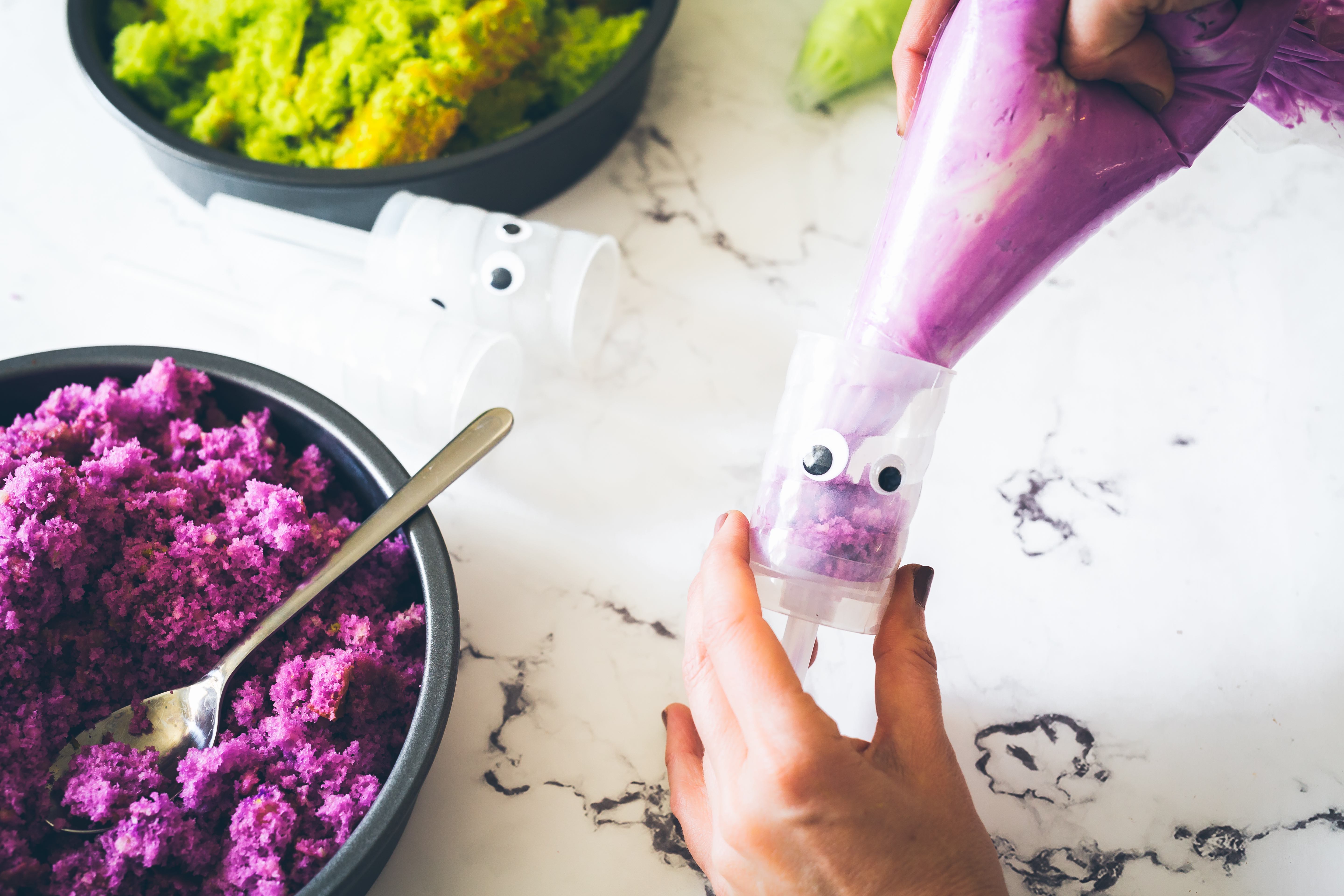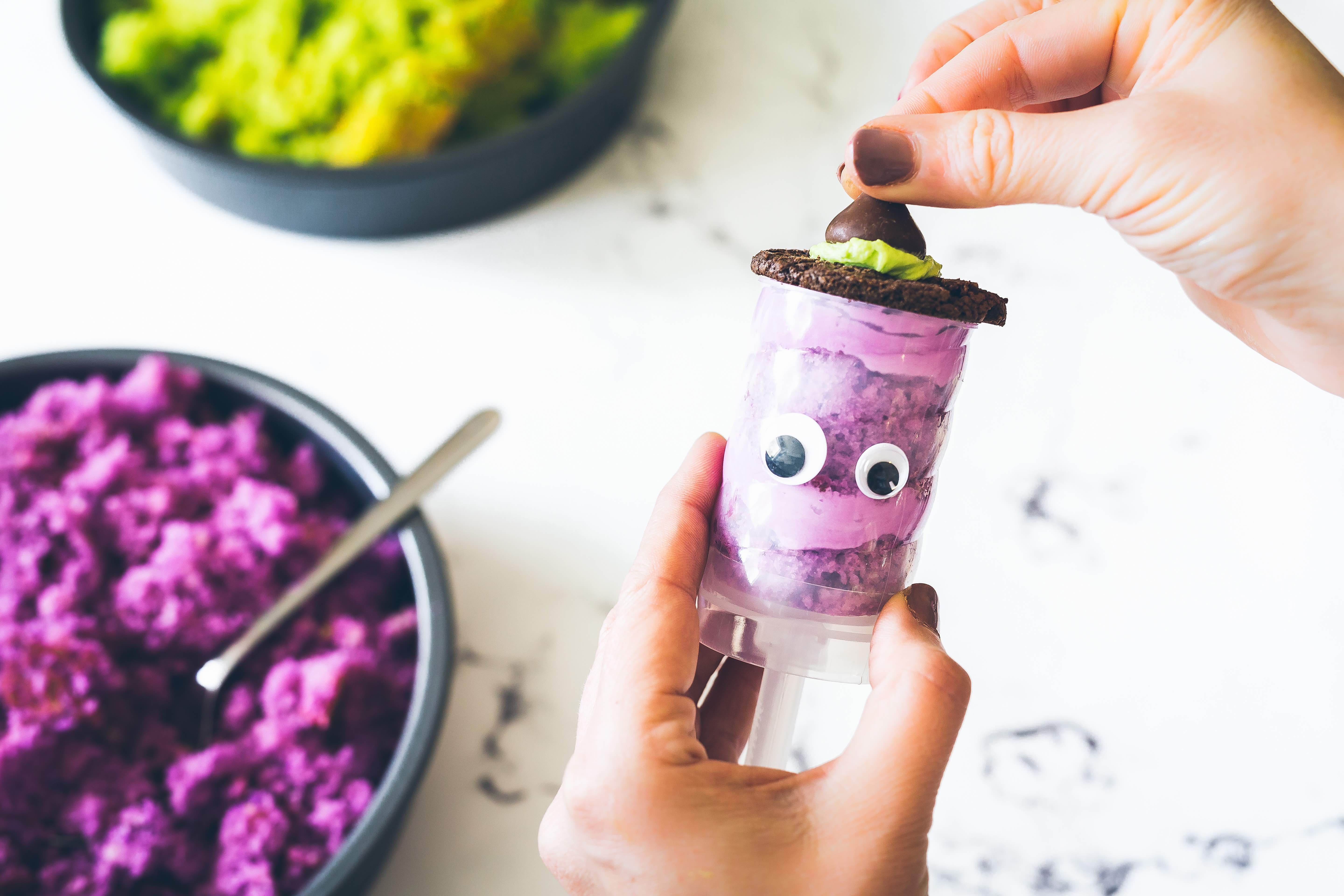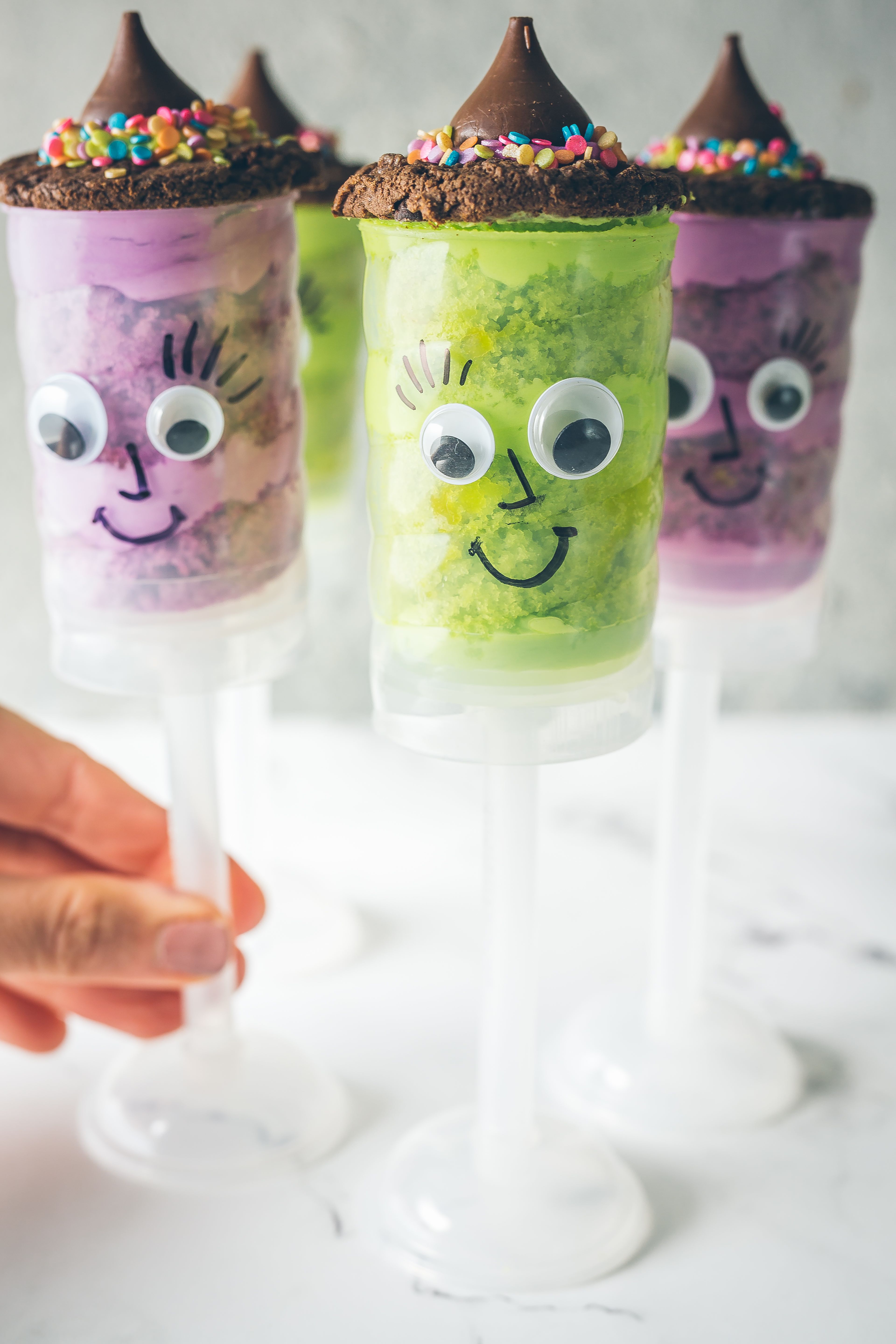 Make It A Party Game
Need to keep a crew of rowdy party goers busy? Prep the fixin's and invite everyone to a Monster Mash-Off. Let them build their own monsters, and parade them around for a "costume" contest. If you go this route, don't forget to snap photos. We'd love to see what your guests create! Upload to Instagram and tag us @theinspiredhome_com #INSPIREDhome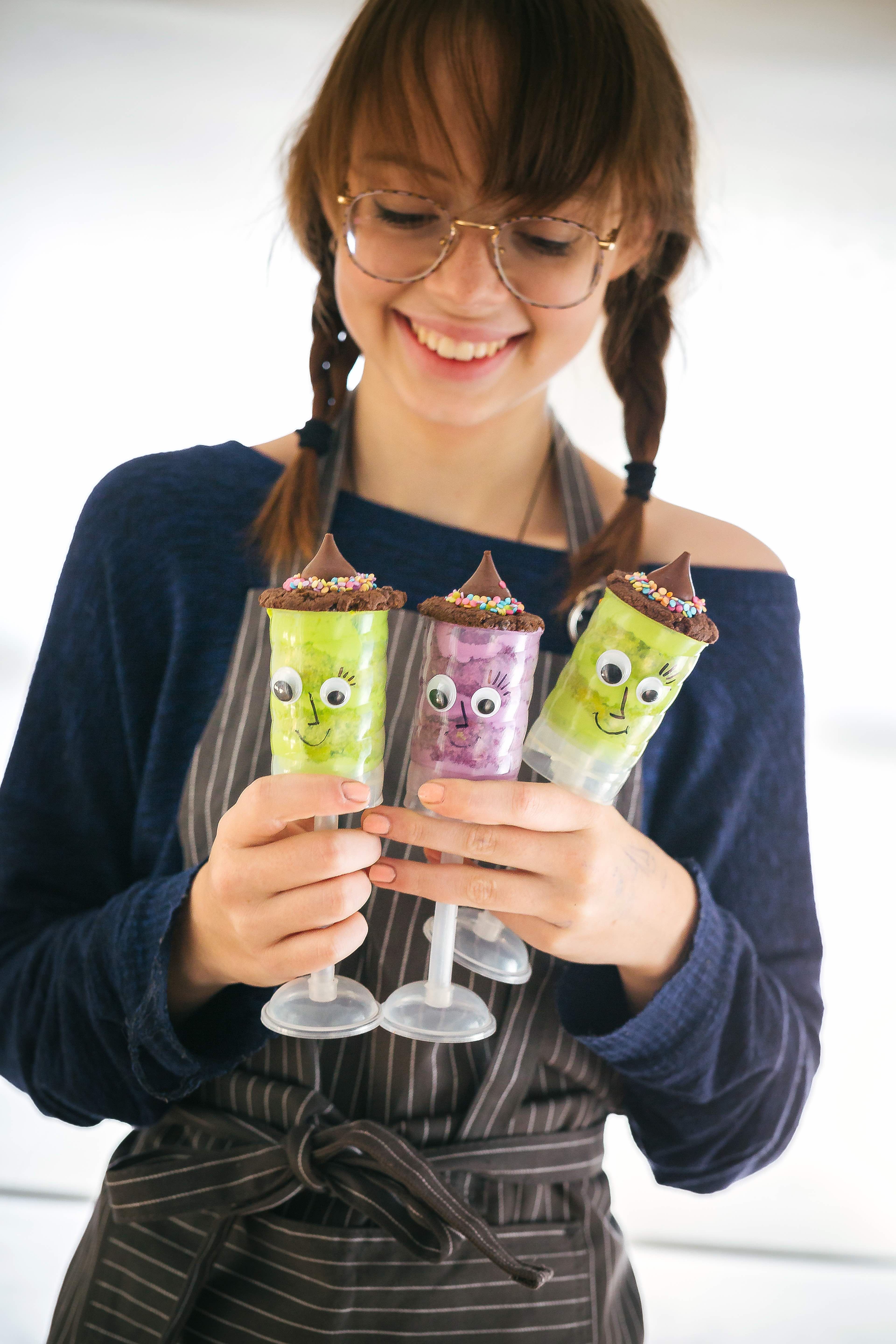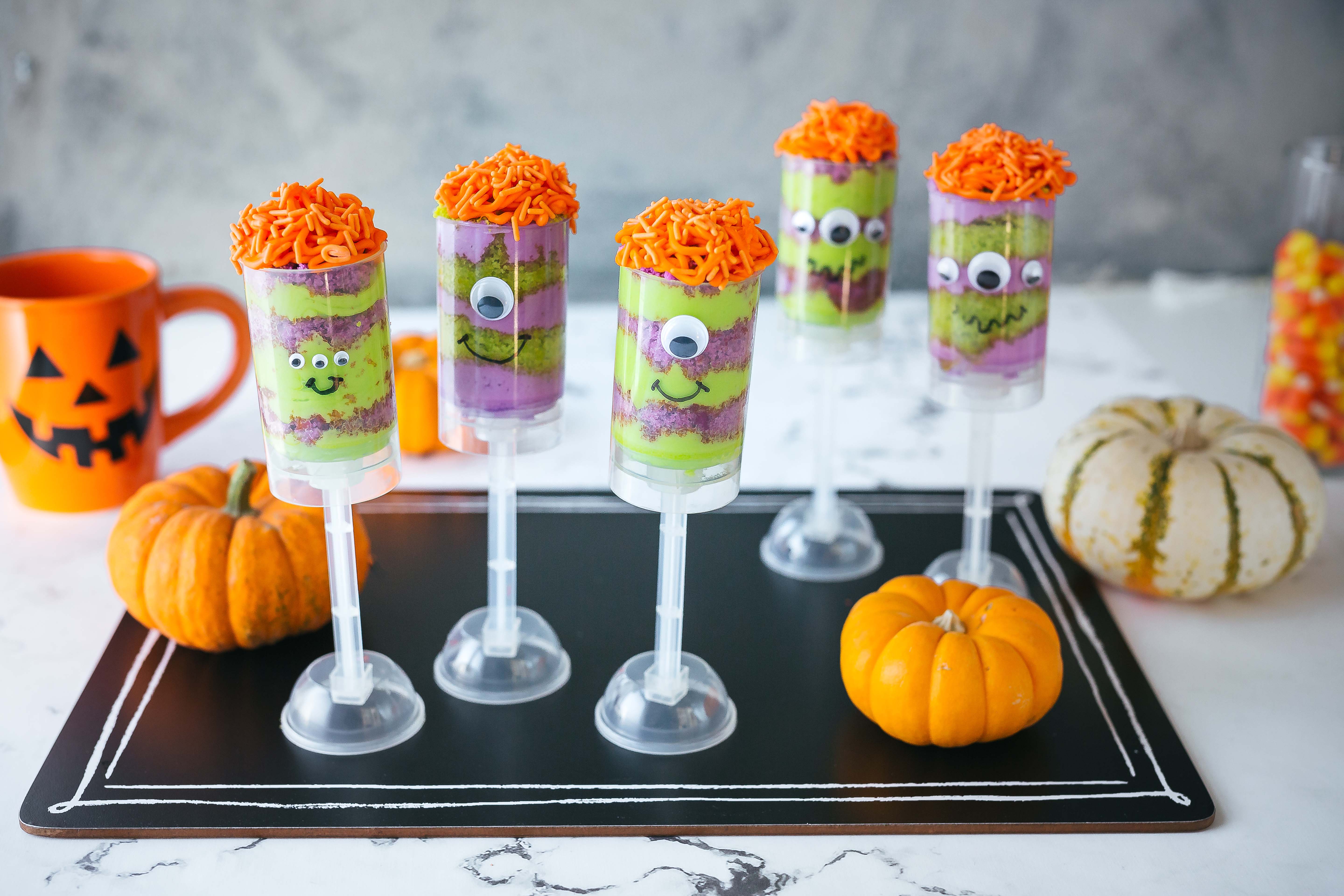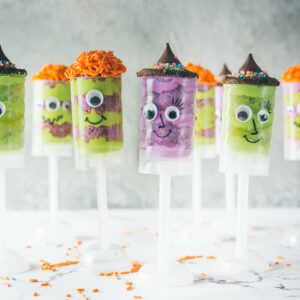 INGREDIENTS
1 white cake mix
1 cup water
2 eggs
¼ cup melted butter
Food coloring (in your choice of colors)
¾ cup butter, softened
6 cups powdered sugar
1 Tbsp vanilla
3-5 Tbsp milk
For the Monsters:
For the Witches/Wizards:
Chips Ahoy Chocolate Thins Cookies
Hershey's Kisses
Mini rainbow confetti sprinkles
INSTRUCTIONS
Heat oven to 350°F. In a large bowl, mix together cake mix, water, eggs, melted butter. Mix until smooth. Split batter into two bowls, tint one half purple and the other green. Spread onto a parchment-lined baking sheet or 9x13" pan, bake for 19-21 minutes, or until center of cake springs back when touched lightly. Remove from oven and cool completely.
In a stand mixer fitted with a whisk attachment, beat together softened butter, powdered sugar, vanilla and just enough milk to make a soft, fluffy frosting. Tint half purple and the other half green (or whatever colors you choose). Transfer into an icing bag, snip the tip toward the bottom to create a thin piping.
Tint remaining icing green or purple (to match the cake color). Transfer into an icing bag, snip the tip near the center to create a thick piping.
Crumble cooled cake. Mix a 2 Tbsp of frosting (the same color of frosting as cake) into the cake, use a fork to mix well. Open push pop containers, pull plunger to lowest position, set upright by pressing plunger sticks into the lids. Pipe a small layer of frosting in the bottom of each push pop. Press a thin layer of cake crumbs atop frosting, then pipe another thin layer of frosting, cake, frosting, cake, then a final bit of frosting, which peeks out over the top of the push pop container.
For the Monsters:
Top cake pops with a pile of orange frosting. Sprinkle with orange sprinkles.
Affix adhesive eyes to the front of the container. With a permanent marker, draw silly smiles and faces on the outside of the push pop container with a permanent marker.
For the Witches/Wizards:

Press a chocolate cookie atop push pop. Pipe a small amount of frosting in the center of the cookie, and press a chocolate kiss into the icing. Sprinkle with rainbow confetti sprinkles, if desired.
Affix adhesive eyes to the front of the container. With a permanent marker, draw on smiles and crooked witchy noses.