How to Make Homemade Pasta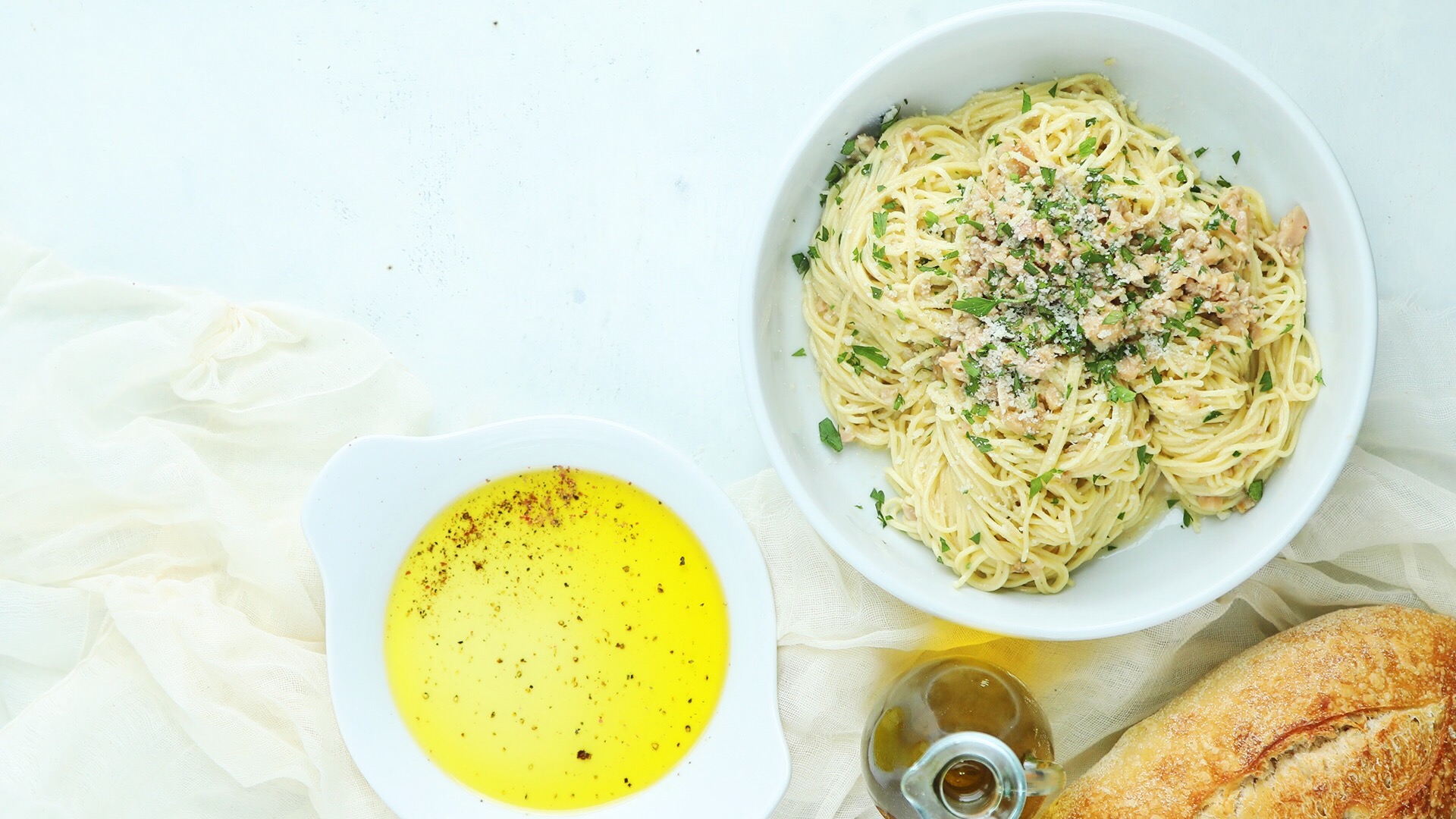 I have the fondest memories of my grandmother rolling pasta in her basement. I remember she had a hand crank very similar to the Marcato one I used in this video. I remember she'd lay out the pasta on parchment paper dusted with a little flour and leave it dry for a bit before cooking it. My grandmother was a phenomenal baker and always made the best spaghetti, ever! I usually like to roll my pasta by hand because I like to feel it underneath the pin, allows me to be in complete control. However after using a hand crank for the first time in ages, I think I'm ready to give up on rolling it out by hand.
Pasta could not have fewer ingredients or be more delicious. Pasta is a simple combination of flour and eggs, and if you want use semolina flour just like I did. A good rule of thumb is 1 egg per ¾ cup of flour, it's not perfect but it's a good start! Once you combine the ingredients you have to knead it for a good while before it rests in the refrigerator for 30 minutes.
After the dough is finished resting it's now time to roll it out. Usually at this point I'd be looking at a good 30-45 minutes to roll and cut by hand, but this time took 10 minutes total! I mean that is an insane amount of time saving and for literally the exact same results as when I roll it by hand. Honestly at this point I'm probably not going back to the rolling pin. Once your pasta is rolled out you want to hang it out to dry for 30-45 minutes before cooking. If you don't plan on cooking immediately then I suggest making little noodle balls that are dusted with flour and placed in the refrigerator on parchment paper. The pasta will last about 3 days in the cooler until it needs to be cooked up.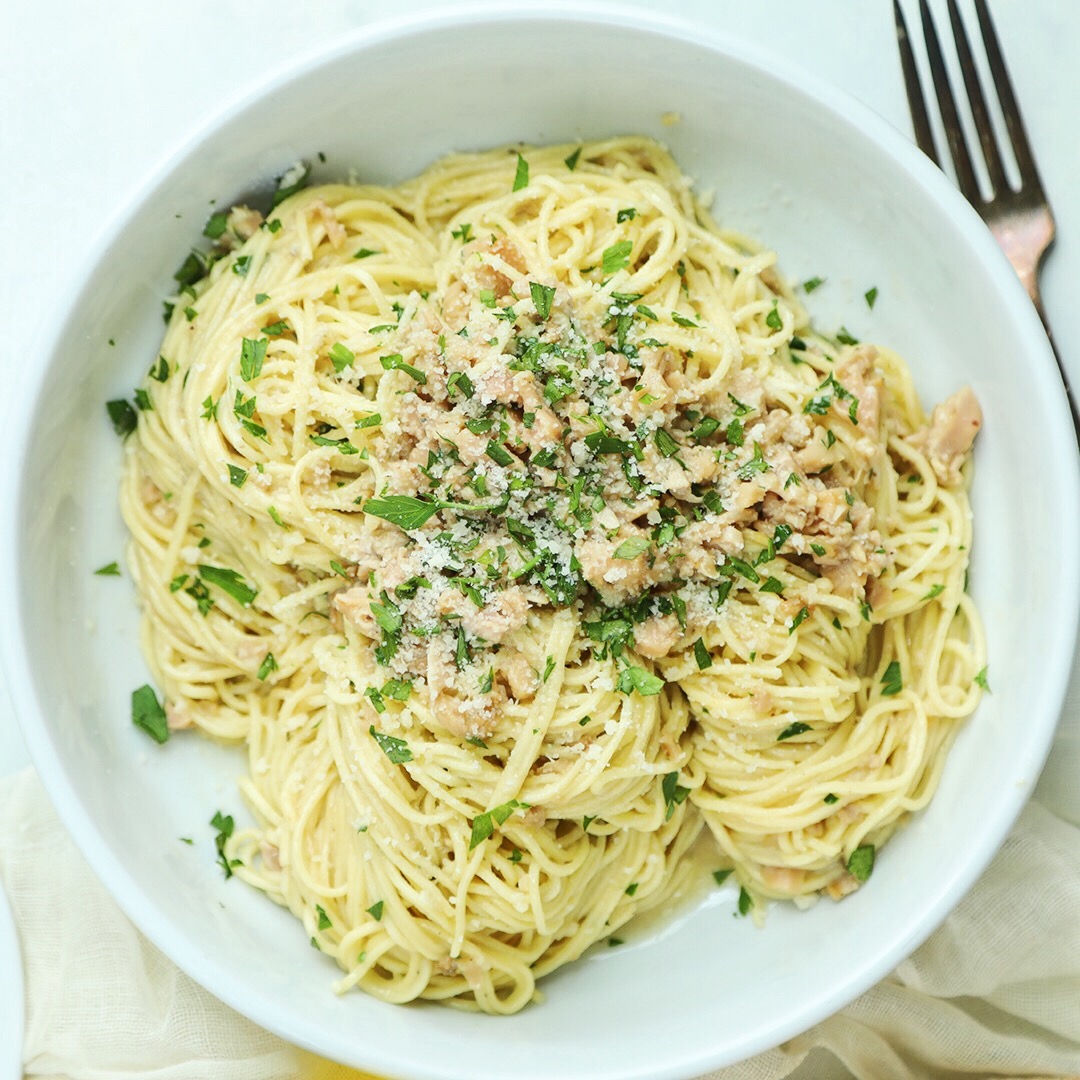 I hope you get to make pasta soon, because there is nothing like it and you never know what kind of memories you'll create with loved ones.
Need sauce to put on your homemade pasta?? Check out these three classic pasta sauce recipes!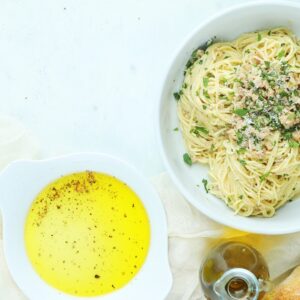 INGREDIENTS
2 ½ cups of all purpose flour
2 ½ cups of semolina flour
7 eggs
INSTRUCTIONS
Sift together the flours onto a clean surface and then form a well with it.
Next add the eggs to the center of the well and whisk with a fork until combined and then slowly begin to add in the flour from the edges.
Once the egg and flour are combined used a pastry knife to scrape the surface to bring it all together to form a dough.
Knead for 6 to 8 minutes before wrapping in plastic and chilling in the refrigerator for 30 minutes.
Remove the plastic from the dough and cut it into ¼'s.
Lightly flour ¼ of the dough and lightly roll it out. Run it through the hand crank pasta maker on the 0 setting.
Fold the dough into 1/3's and then run it through the hand crank pasta maker again. Repeat 1 more time.
Change the setting from 0 to 5 and then run it through the hand crank pasta maker.
Cut the dough ever 15"-18" inches long, dust it with flour on both sides and then run it through the tagliolini attachment.
Hang the pasta to dry for 30-45 minutes before boiling in salted water.
Refrigerate for up to 3 days.