The Ultimate Southern Fried Chicken Recipe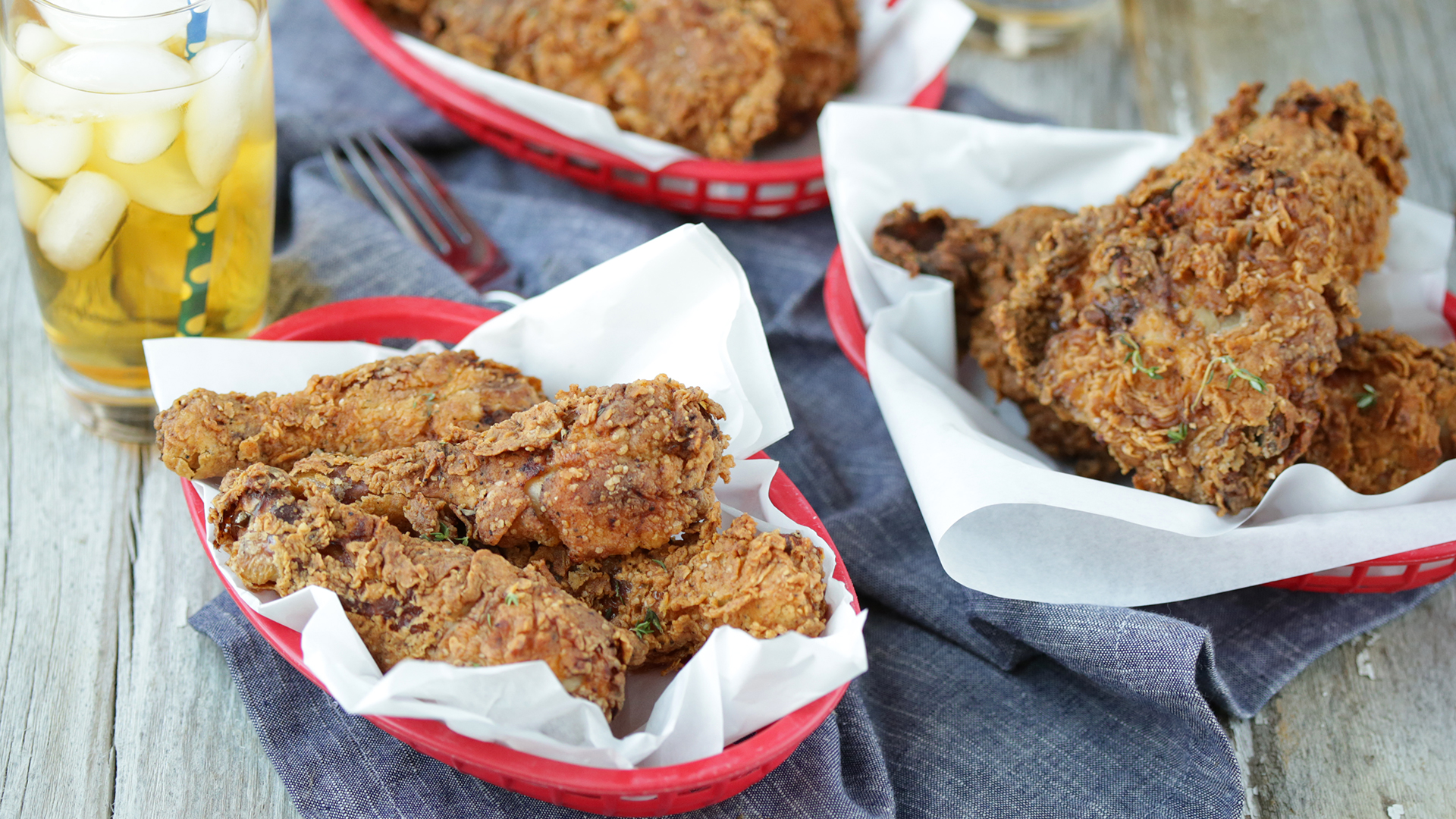 For some reason, it's hard to find humbleness when you feel you are one of the best when it comes to making a specific recipe. It could be that I'm a legend in my own mind, or that I make a mean fried chicken.
As an Italian family, it was guaranteed that fried chicken would be on the menu at our holiday get-together every single time. Believe it or not, it's as important to us as turkey is on Thanksgiving! I've made fried chicken a few different ways, but my recipe for Southern Fried Chicken is the best in my opinion, or in the whole world if you ask my egotistical inner-self. I digress…
There are a few tricks that I've learned along the way when it comes to frying chicken. Mostly by testing and tuning, but also by receiving some very important advice from some of the best: the folks down south.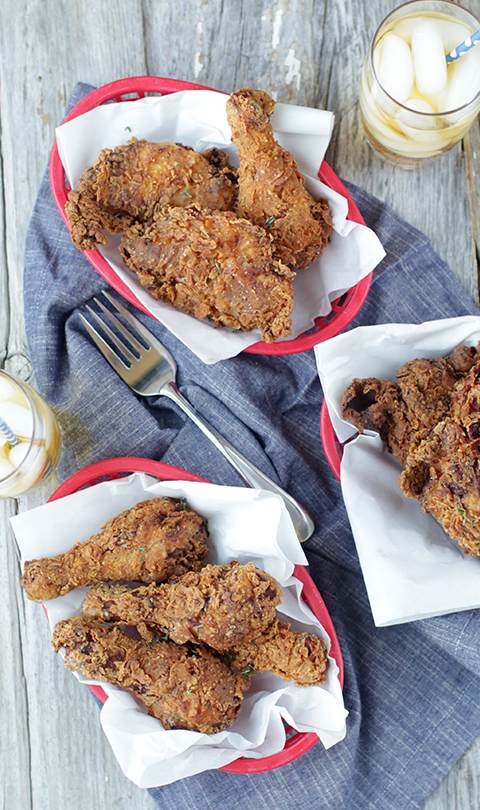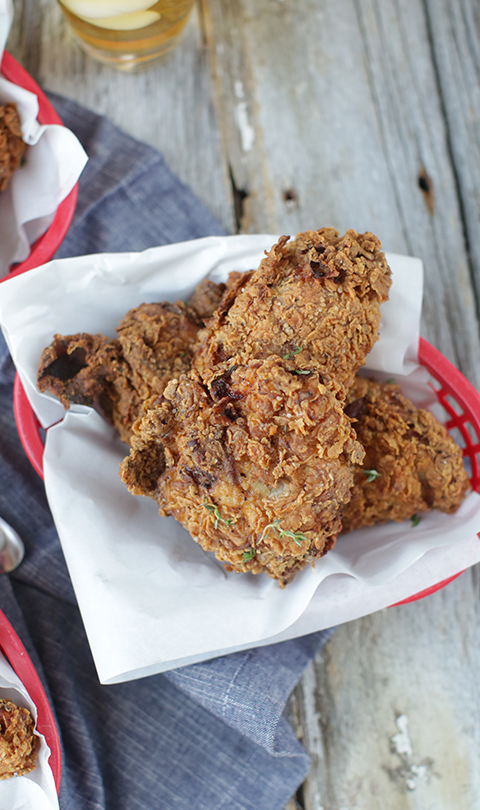 The first part to any fried chicken recipe is selecting which parts of the chicken you want to use for frying. I like a combination of thighs, drums and breasts so that there is something for everybody. There are folks out there who only like dark meat and some others who only like white meat. I'm in the dark meat camp because I think it's so much more flavorful and tender due the meat being wrapped around the bone and with a little more fat in those areas.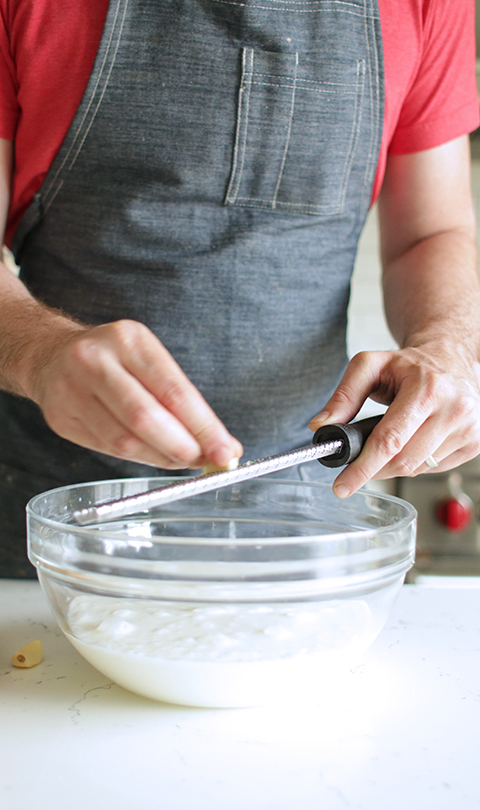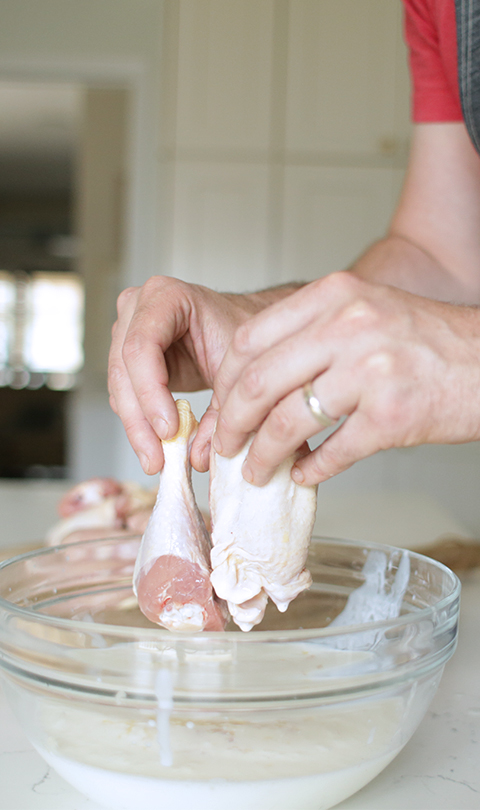 I believe it is essential to soak the chicken for 24-48 hours in buttermilk. This will help flavor and tenderize the meat which will make it that much better. I also like to finely grate in some fresh garlic cloves and a little shallot for a little more love into the recipe. I'm Italian, so if you ask me there should be garlic and onions in everything; my wife, however, would disagree.
Regardless, it's a perfect "brining" solution to help season up your chicken. If it's a must, then yes, you can do this just overnight, but the longer the better.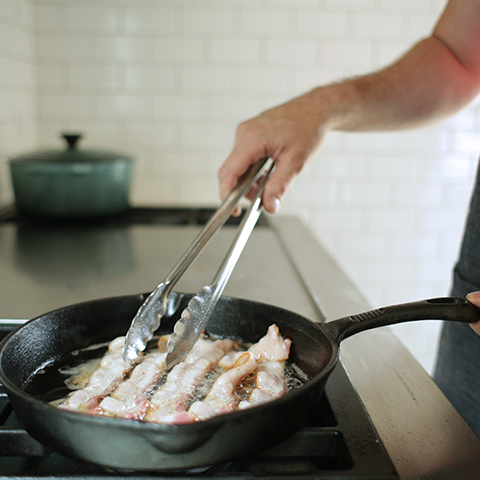 One of the most important aspects of a fried chicken recipe is what you are frying it in. You can use canola oil or vegetable oil, but to further enhance it I recommend cooking off and rendering bacon fat to put in there. You can simply strain the rendered bacon fat into the oil and boom you've got a little more flavorful and salty frying liquid which is going to make your chicken amazing. Learned that trick from a chef down in North Carolina!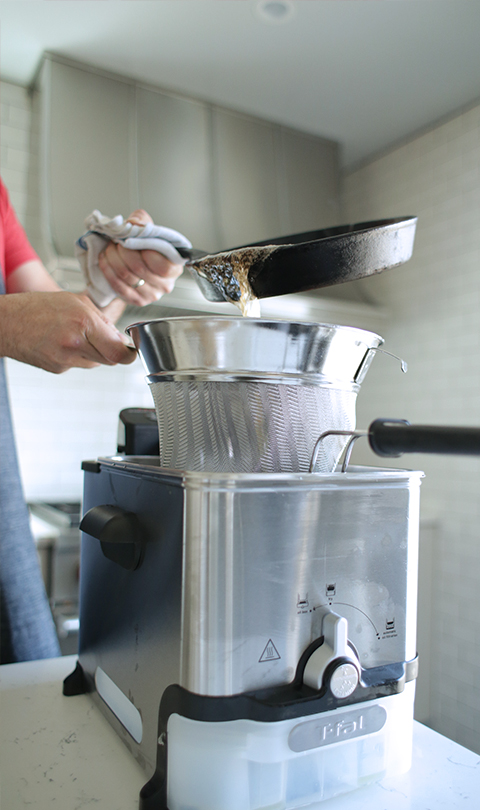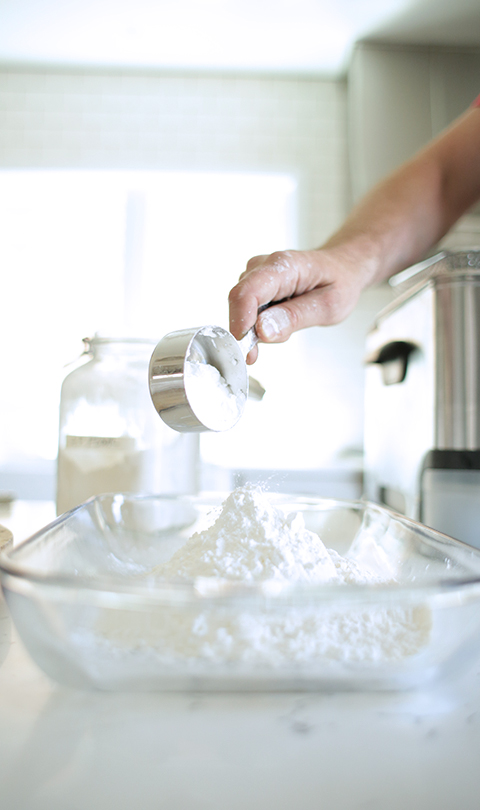 The last thing to consider is the breading on the chicken. There are several ways to do this, as well, from the old school tossing it around in a brown paper bag to a simple flour and fry. I like to use a combination of flour and cornstarch so that the breading becomes incredibly light and fluffy, kind of like tempura minus the liquid.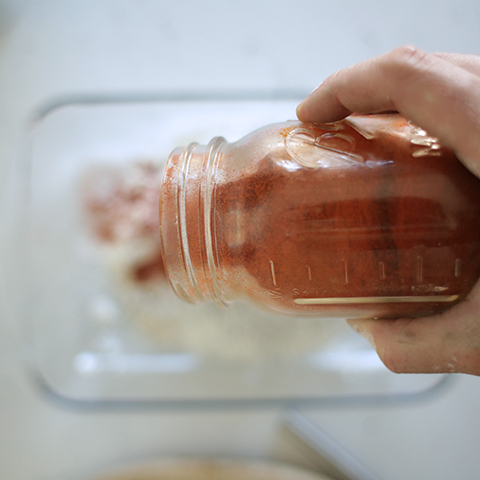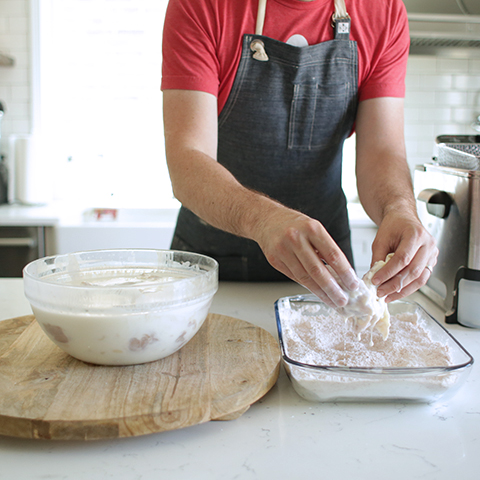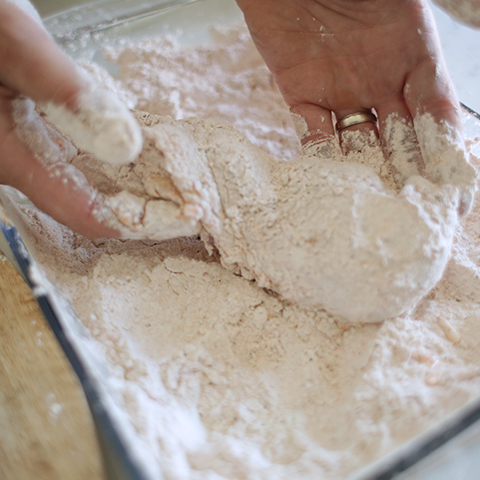 In addition, I season it very well with salt and pepper, and I add in a little paprika for color. Be sure to taste the batter before putting the chicken in to ensure it is flavorful because you are banking on it to season your chicken.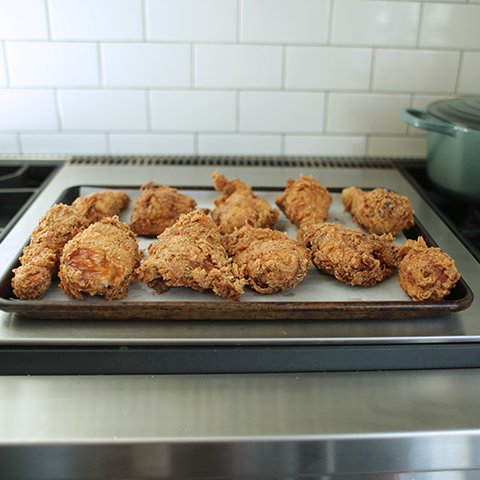 You can fry the chicken all the way through or you can take it out halfway throughout the cooking process and bake it on sheet tray until it's done. I fried the chicken (using my T-Fal EZ Clean Fryer) all the way through. Either way works fine and both are delicious in the end!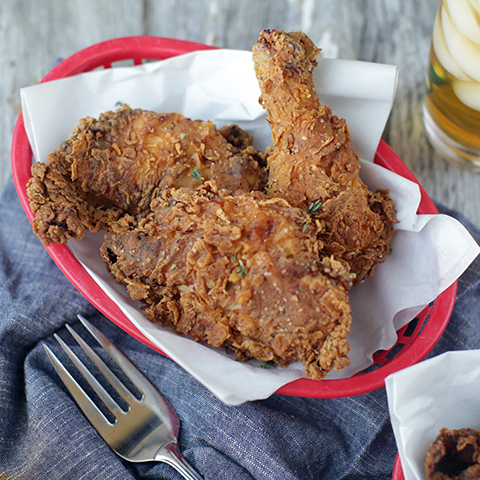 Happy Chicken Frying!
Southern Fried Chicken Recipe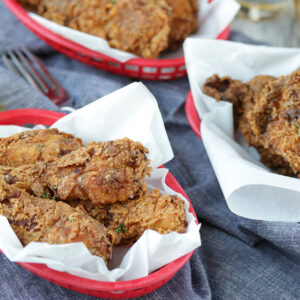 INGREDIENTS
3 cups of butter milk
8-10 finely grated cloves of garlic
½ peeled and finely grated shallot
4 each chicken thighs, drums and breasts
2 cups of all-purpose flour
2 cups of cornstarch
1 tablespoon of paprika
Strained and rendered bacon fat from 2 pounds of bacon
Oil for frying
Kosher salt and ground pepper to taste
INSTRUCTIONS
Whisk together the buttermilk, garlic and shallot, in a large bowl and submerge the chicken parts in it. Refrigerate for 24-48 hours.
To make the batter simply whisk together the flour, cornstarch, paprika, salt and pepper and set aside.
To prepare the fryer add in the oil and rendered bacon fat and turn it to 350°.
Next, remove the chicken and dredge each part in the flour coating it on all sides and place in the fryer. Note that there will only be enough room in the fryer for 4 parts at a time.
Fry until the chicken has reached an internal temperature of 165° and it is golden brown on the outside.
Remove the chicken from the fryer, strain and serve.