Make Ahead Superfood Power-Up Smoothie Cups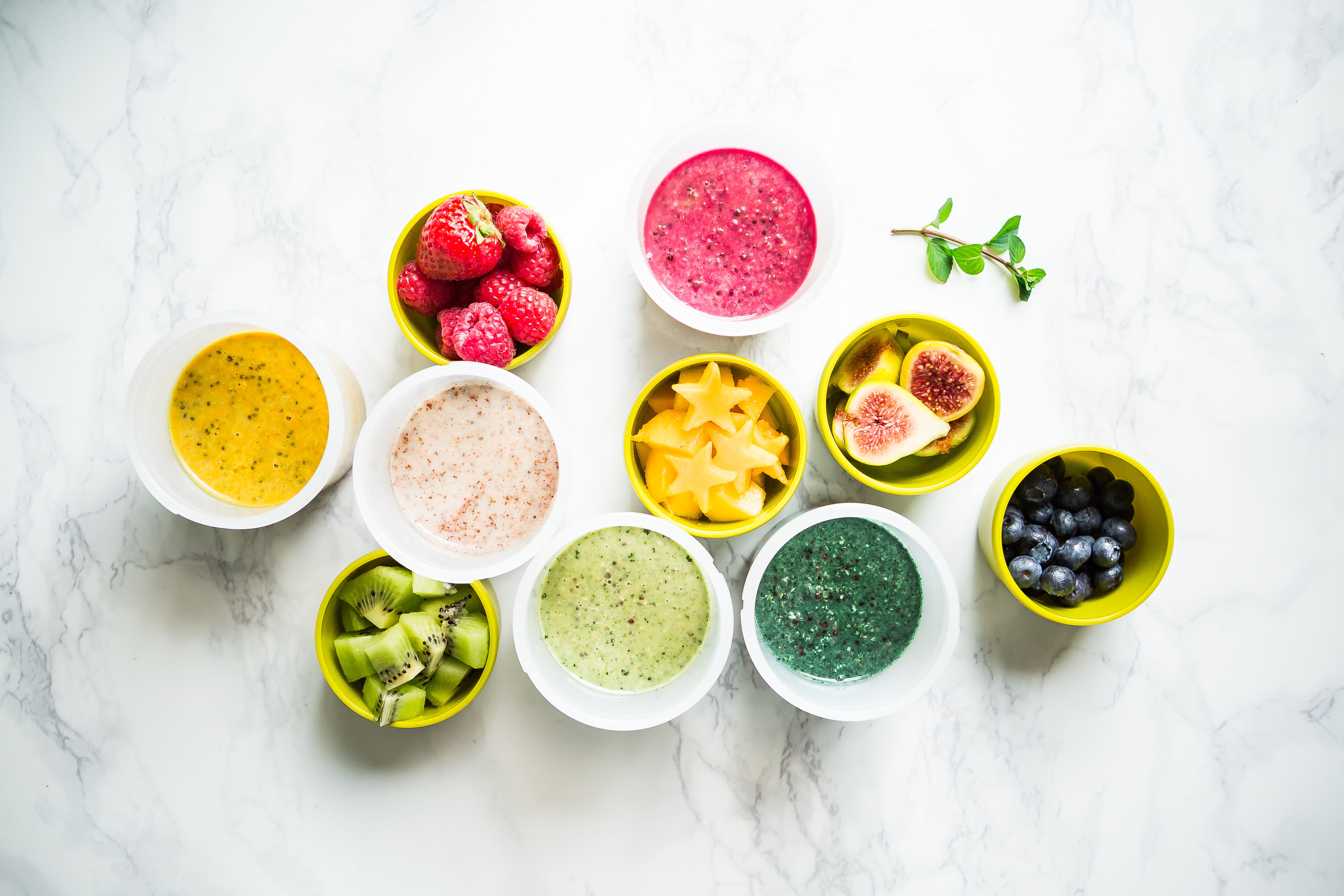 You lead a busy life. Work life, home life, life life, yoga. And somewhere in the middle of it all, you're supposed to find time for high protein, superfood, plant-based eating, too. What's a gal to do?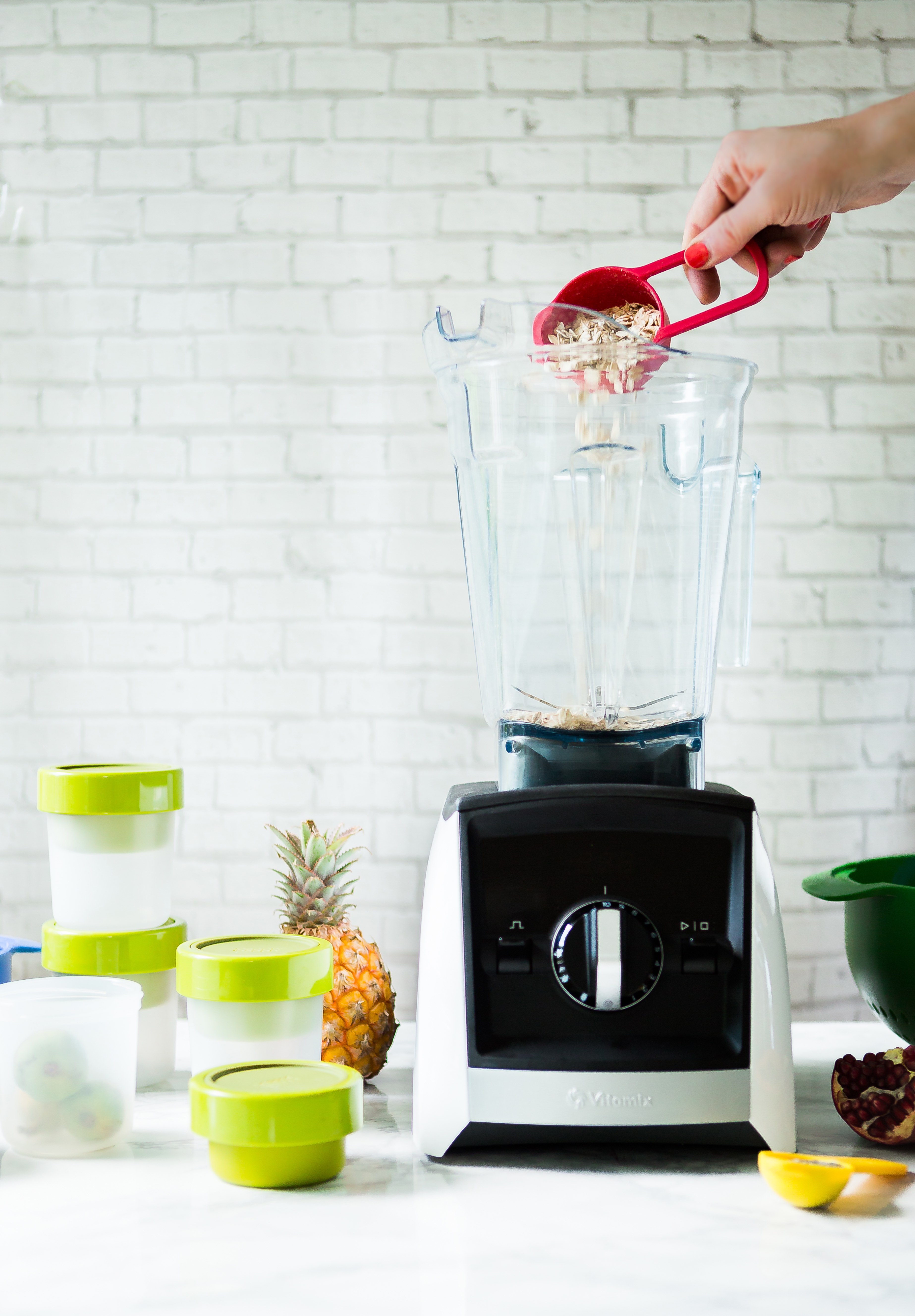 Well, if you're like us, you grab a package of Joseph Joseph Go Eat Snack Pots, plug in your blender, and prep a week's worth of high-protein, superfood, plant-based Power-Up smoothie cups. Plus, you make a different color of the rainbow for every day of the week. Because you just rock like that.
The best part of these yummy little smoothies is how quickly they come together. Just mix, blend, add superfood powder, then spoon into the bottom portion of your jar. The top portion can be filled with fresh fruit. Then seal the lid and keep in the fridge. Whether you need breakfast on the run, or a quick and healthy afternoon snack, simply grab and go. You'll have a whole week's worth of sweet, satisfying spoonfuls, made in 15 minutes or less.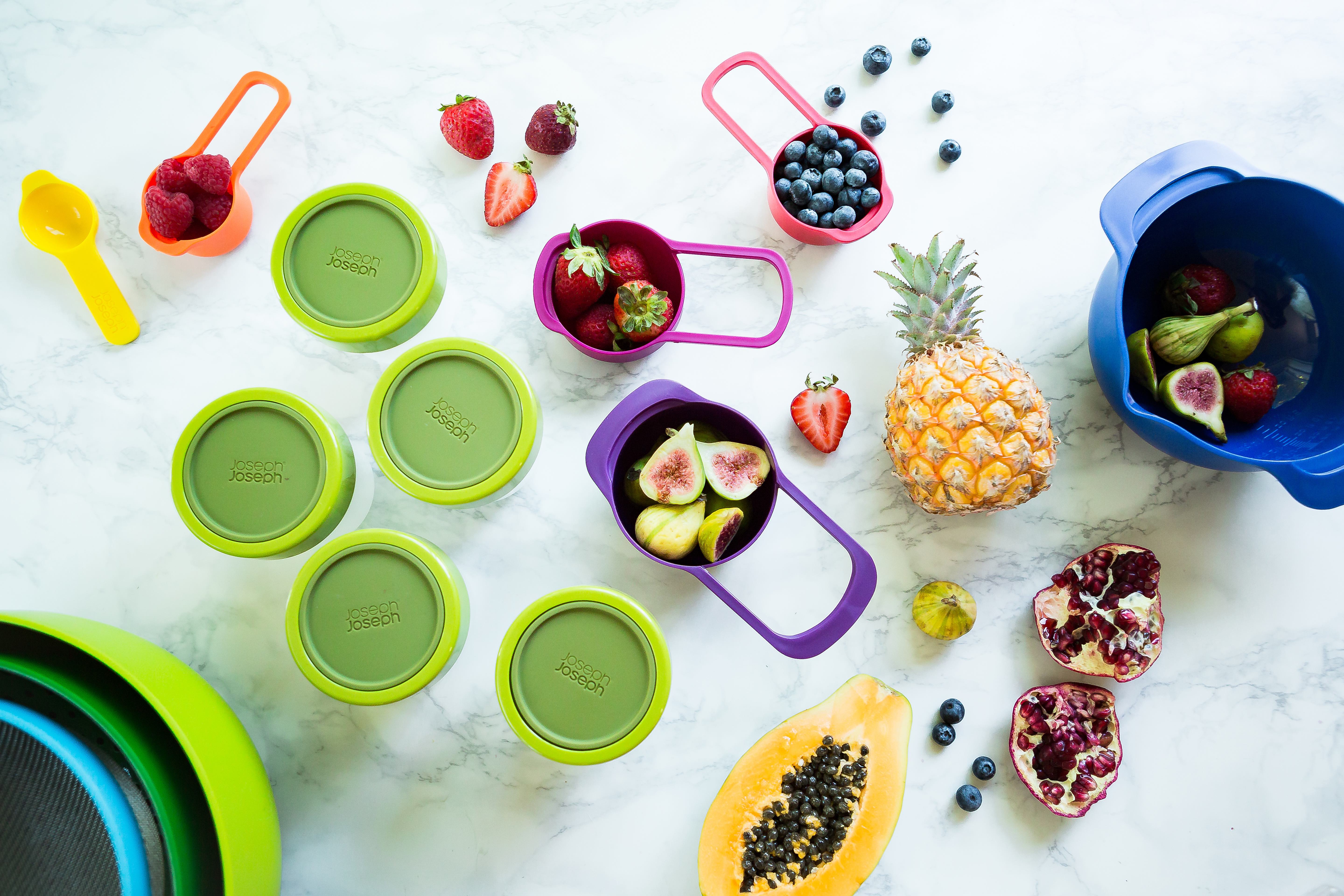 Protein Packed
Part chia pudding, part smoothie, part porridge, it mixes together oatmeal, chia, quinoa, raw honey, vanilla and coconut milk for a hearty vegan-approved base. Need more protein? Feel free to stir in a plant-based vanilla protein powder.
The cups are delicious eaten cold. But if you prefer warm cereal, feel free to zap in the microwave until warm. (Just make sure you remove the fruit bowl from the top of the pot before cooking!)
Superfood Colors
Since superfood powders are now so plentifully available in health food stores, we figured our smoothie cups deserved a rainbow boost. Beet powder, turmeric, cinnamon, matcha and blue matcha (or spirulina) give pretty pastel colors to each bowl. You'll get a pinch of added health benefit, plus the superfood colors make it easy to know which fruit topping you'll be grabbing when you pick your cup for the day.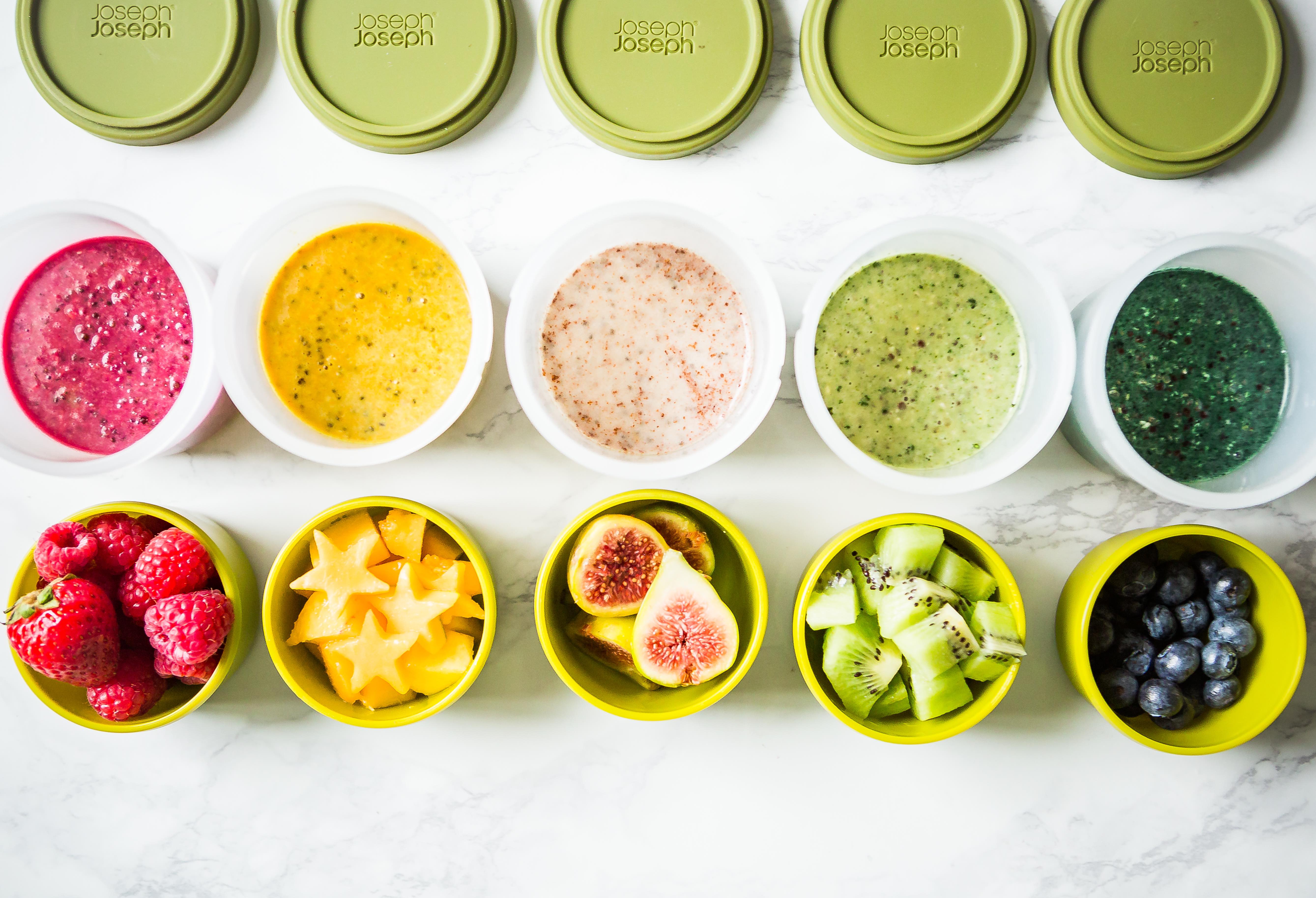 For prep, the Joseph Joseph Nest 9 Plus Bowl Set is a must-have. Enough bowls for stirring all smoothies together, straining and cleaning fruit and berries, and measuring out all ingredients. We love having this versatile, vibrant sent in the kitchen.
Fresh Flavors
Kept in the refrigerator, these smoothie cups can be enjoyed for 5 days. We've picked fruits that won't wilt as they sit, and offered a few additional ideas, should you want to mix up the topping options.
Grab and Go
Pack your cup for breakfast, lunch or snack. The seal-tight lids make it easy to toss them into a lunch tote, or carry them with you in the car. Don't forget to pack a spoon!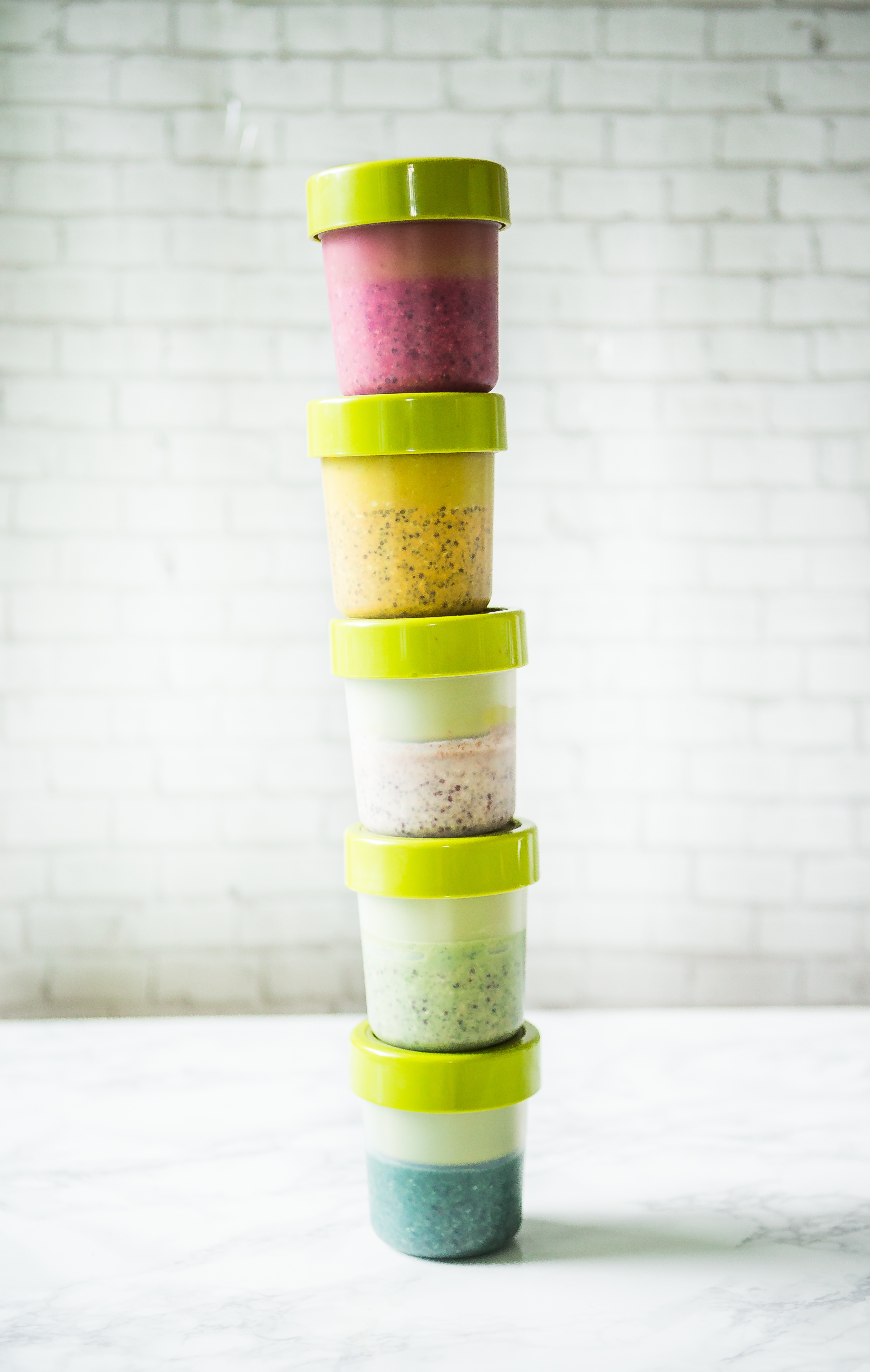 Make Ahead Superfood Power-Up Smoothie Cups Recipe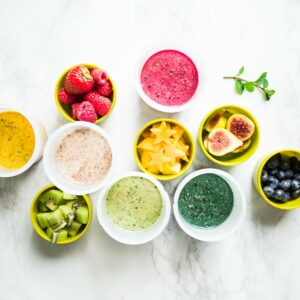 INGREDIENTS
1 (15 oz) can coconut milk
¾ cup old-fashioned oatmeal
1/3 cup raw honey or pure maple syrup
1 Tablespoon chia seeds
1 Tablespoon vanilla
Pinch sea salt
1 ½ cups quinoa
¾ teaspoon each of beet powder, turmeric, cinnamon, matcha and spirulina
¼ cup each of raspberries, diced mango or pineapple, figs or peach, diced kiwi, blueberries
INSTRUCTIONS
In a blender, combine coconut milk, oatmeal, honey, and chia seeds, vanilla and sea salt together until very well blended, pour into a large bowl. Stir in quinoa.
Tint ½ cup of smoothie to desired color (with beet powder, turmeric, cinnamon, matcha and/or spirulina). Spoon into jars.
Fill top cup of each cup with desired diced fruits. Twist lids on to seal. Store in fridge until you're ready to eat! Enjoy within 5 days.