Best Ever Make-Ahead Breakfast Sandwiches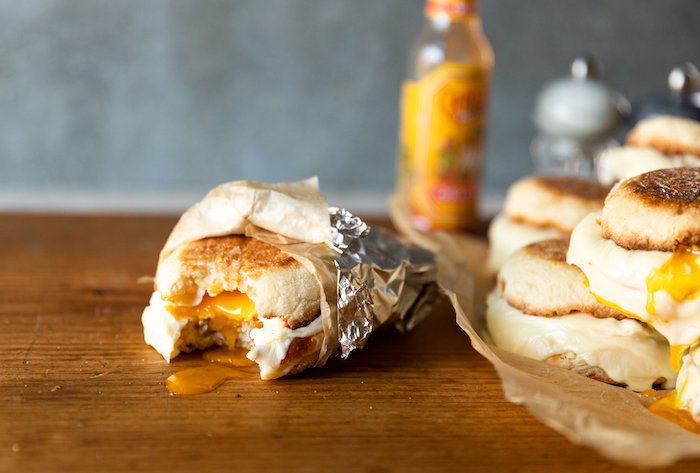 If you know anything about my husband, it's that he is the breakfast sandwich king. Not only is he an incredible cook, but he also happens to have expert "brekkie sammie" radar when we are out and about. He is always sure to find the best sandwiches in town, no matter where we are.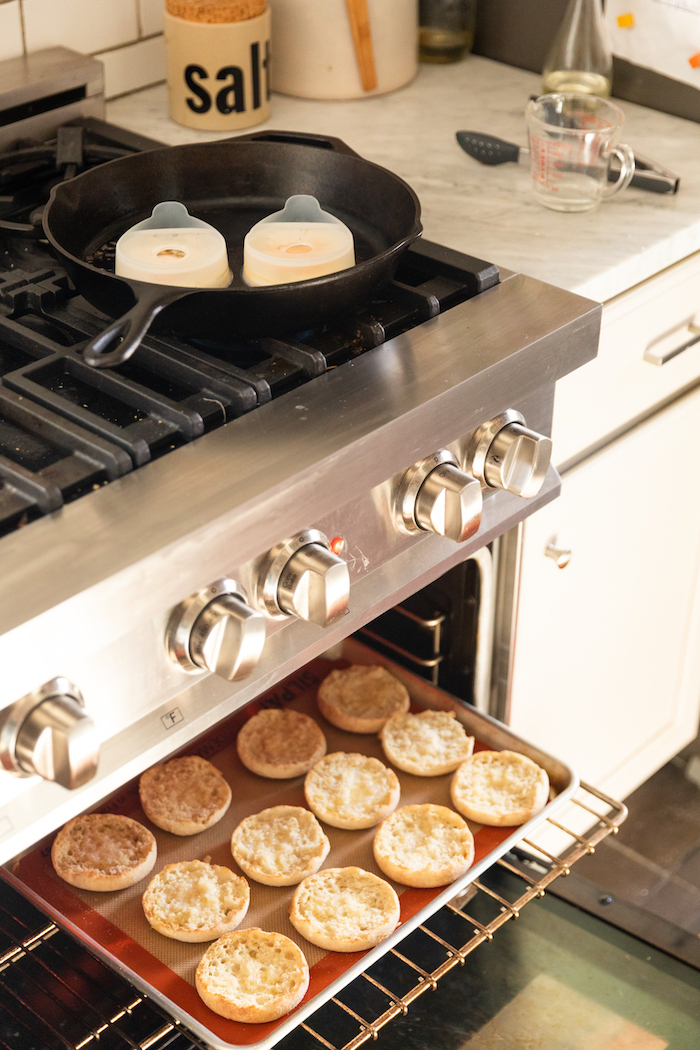 Naturals Baker's Half Sheet 2 Pack

By Nordic Ware

Shop Now
While I am normally the master of cooking in our house, this is an honor and title I am usually happy to yield to my husband. But, as a sweet gesture to my hunnie who leaves the house before 6 am every morning for work, I wanted to make weekday friendly breakfast sandwiches that he could grab and go with him every morning.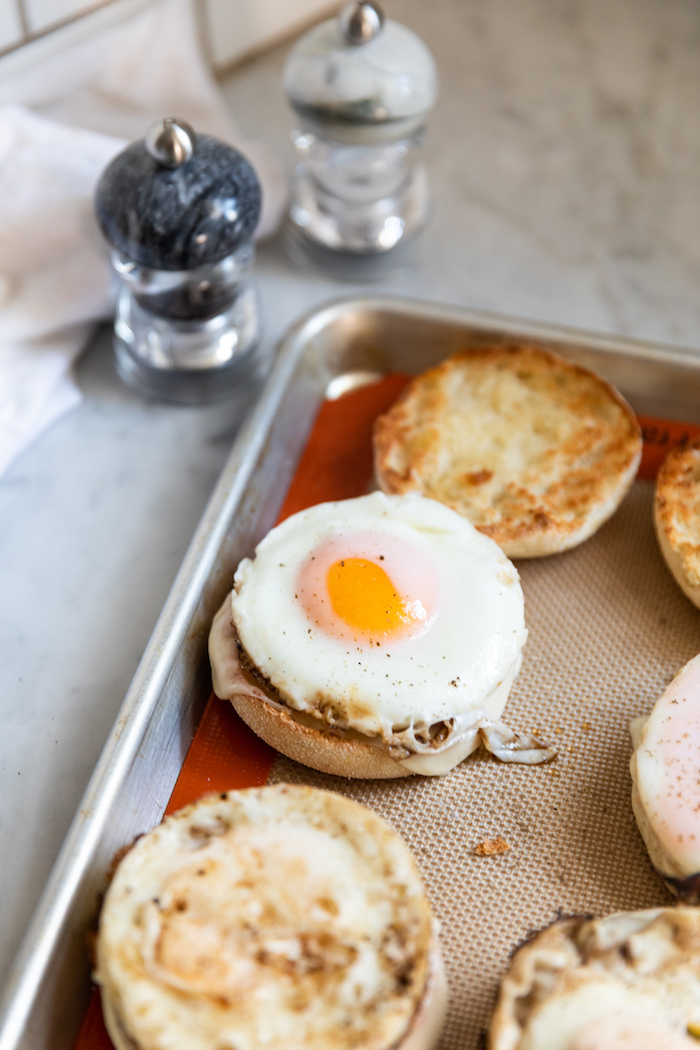 Salt and Pepper Mill

By Swissmar

Shop Now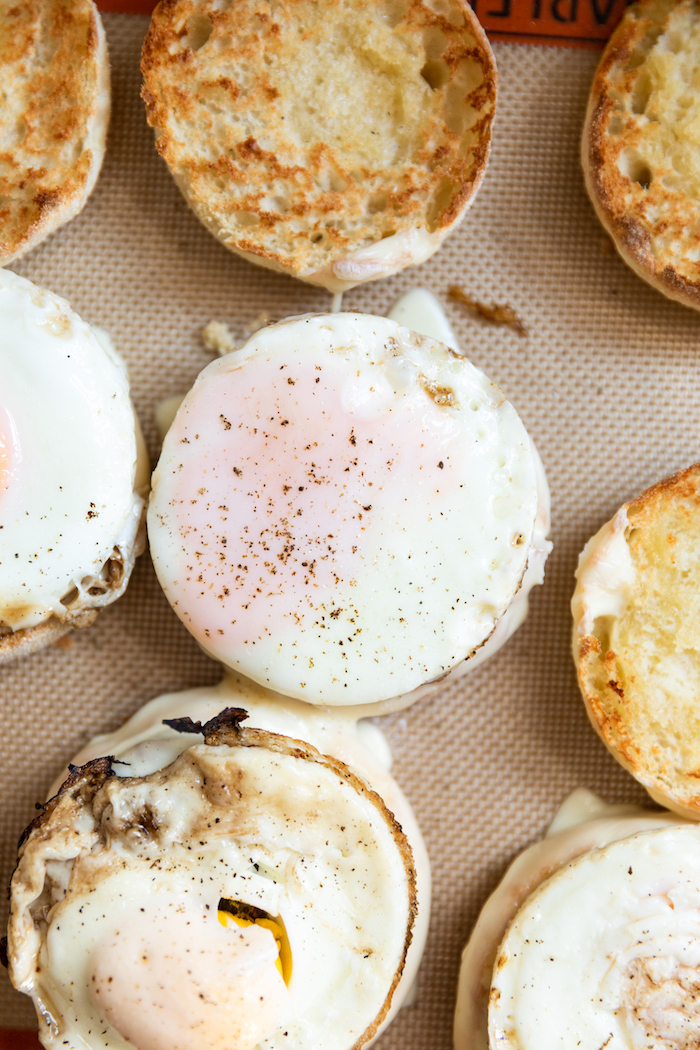 This meal has serious staying power is tastes just a little better than other fast breakfast options. Especially as we enter the cooler temps and darker mornings.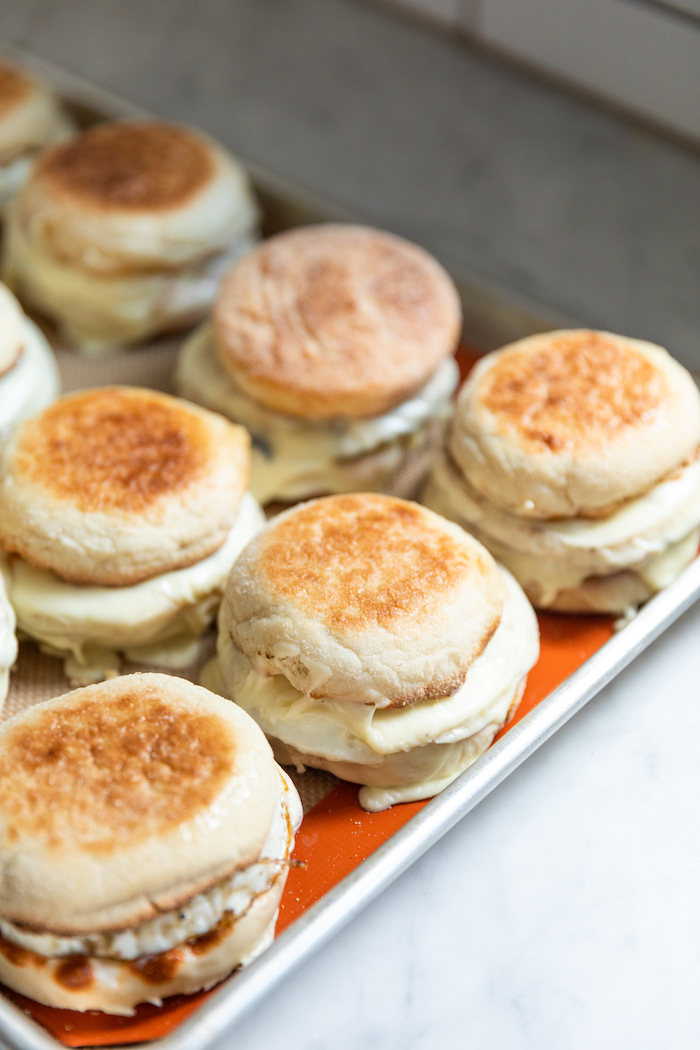 This recipe is perfect for busy families, especially kids and teenagers, who are always hungry and always on the run. Plus, make-ahead and freeze meals take the guesswork out of weekday snacks and meals, and who doesn't love a breakfast sandwich?? This one is going to win you major brownie points in your household, I promise.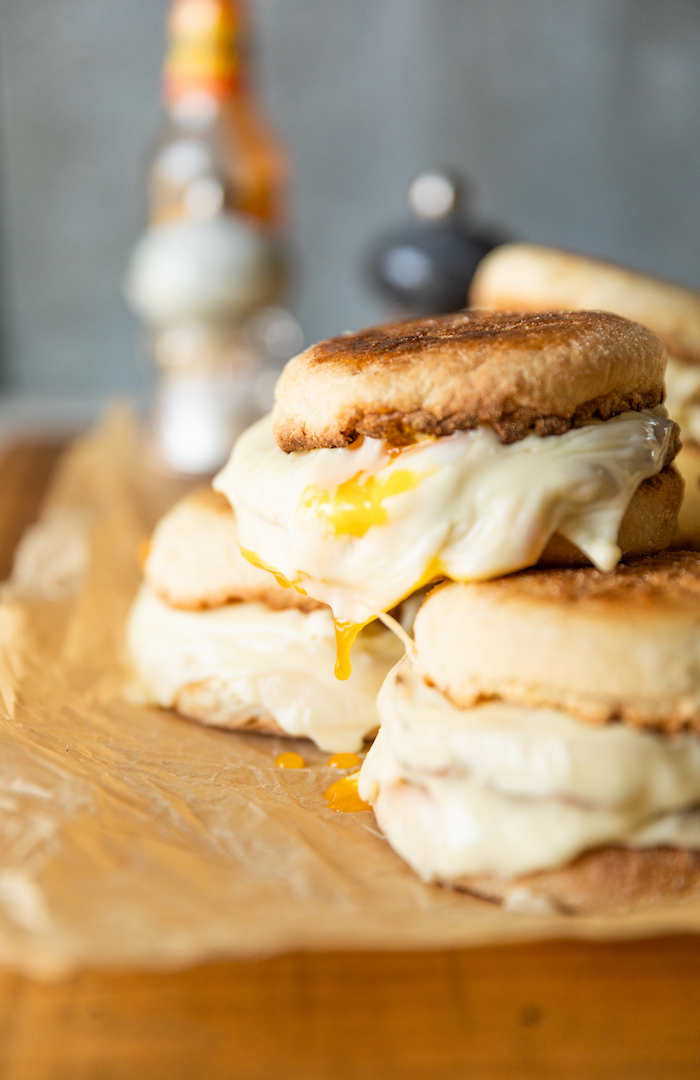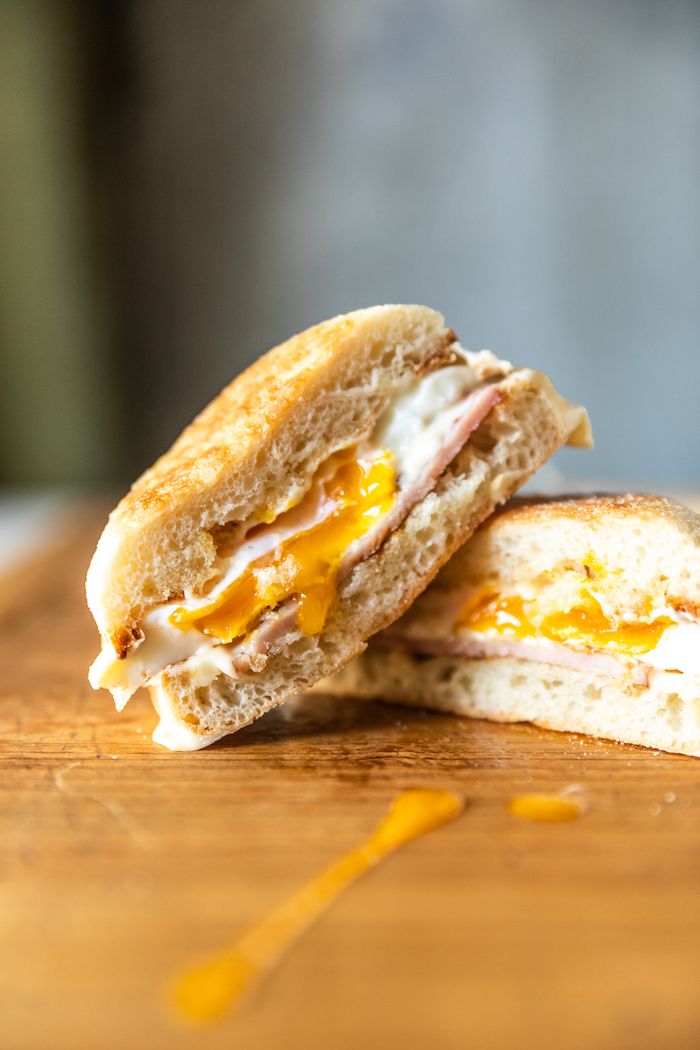 Enjoy this one, my friends!
Best Ever Make-Ahead Breakfast Sandwiches
This recipe is perfect for busy bodies, especially kids and teenagers, who are always hungry and always on the run. Plus, make-ahead and freeze meals take the guess work out of weekday snacks and meals, and who doesn't love a breakfast sandwich??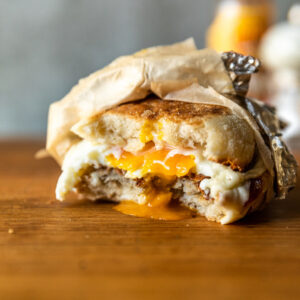 Ingredients
12

English muffins or Croissants

.5

cups

butter

12

pieces breakfast sausage patties or Canadian bacon, or a mixture of both

24

slices of white American cheese

12

large eggs

Oil for cooking

salt

pepper
Instructions
Heat a cast iron skillet over medium heat and cook the sausage patties with a touch of oil. While the sausage cooks, turn the oven on and to high broil.

Line a half sheet pan with a silicone mat, such as a Silpat, and split the English muffins. Spread a smear of butter over each side of the English muffins and place under the broiler until just melted and hardly browned. Please note that the English muffins will go under the broiler a total of 3 times, so they will get nicely browned by the end of the cooking process.

Take the English muffins out of the oven and layer with a cooked sausage patty and 1 slice of American cheese. Place back under the broiler to melt the cheese. Remove and begin to cook the eggs.

In the same cast iron skillet that was used to cook the sausage, layer a very thin coat of oil and cook each egg individually, using the Joseph and Joseph silicone egg mold. This mold will create a perfectly sized egg patty with a runny yolk.

Salt and pepper each egg and place them onto the melted cheese and sausage patty side of the English muffins. Layer on another slice of American cheese and place back into the broiler. If the empty English muffin tops are getting too browned, you can leave them out of this step.

Once the cheese is perfectly melted and has encased the egg and sausage, place down the English muffin top and press lightly to seal the sandwich. Either serve immediately, or let cool completely before wrapping individually and storing in the refrigerator or freezer.
Nutrition
Serving:
1
g
Calories:
486
kcal
Carbohydrates:
29.3
g
Protein:
24.8
g
Fat:
29.8
g
Saturated Fat:
15.5
g
Cholesterol:
239
mg
Sodium:
1450
mg
Fiber:
2
g
Sugar:
5.7
g
Recipe Notes & Swaps
English Muffins. I ask for English muffins in my recipe below, but croissants would be absolutely excellent as well.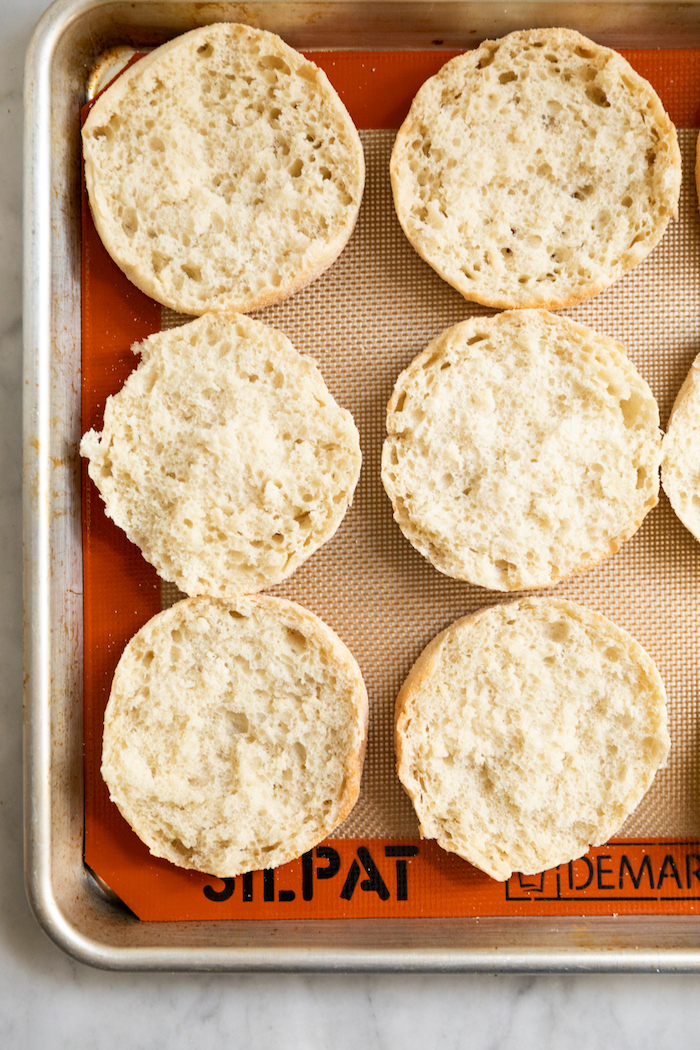 Meat. In my photos for this recipe post, I include both Canadian Bacon and Breakfast Sausage Patties, to give some options. However, feel free to use bacon, meatless alternatives, or omit them altogether.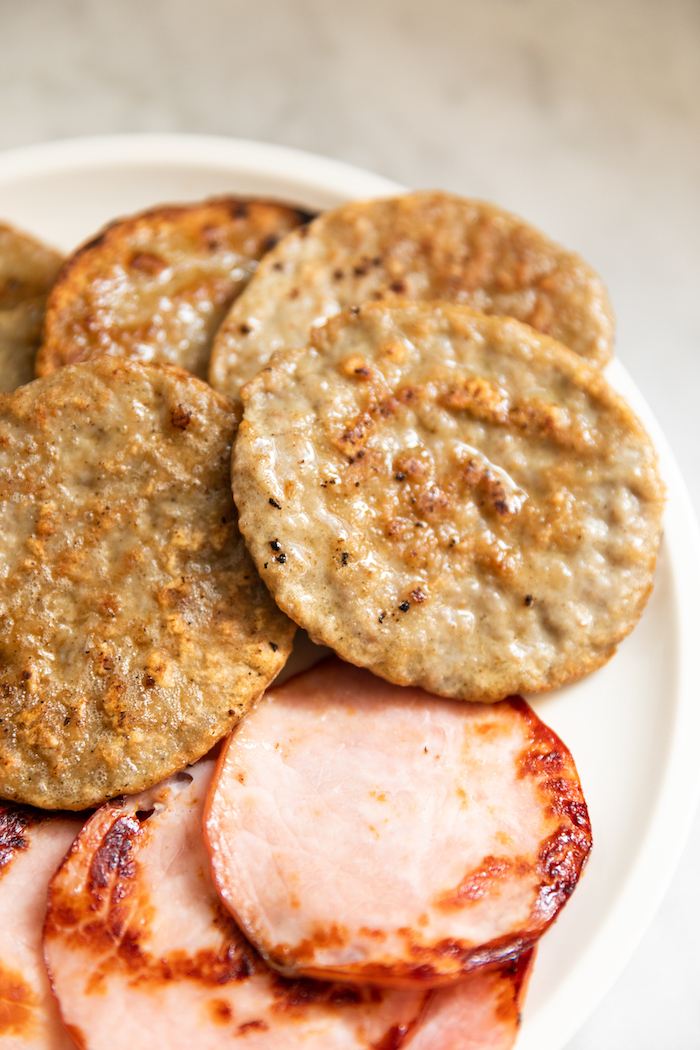 Eggs. Another thought is, use the Joseph and Joseph egg cooking pods as directed, or you could create a scramble with lots of yummy veggies and onion and garlic, and pour it right into the molds just the same.
Froach Egg Pods

By Joseph Joseph

Shop Now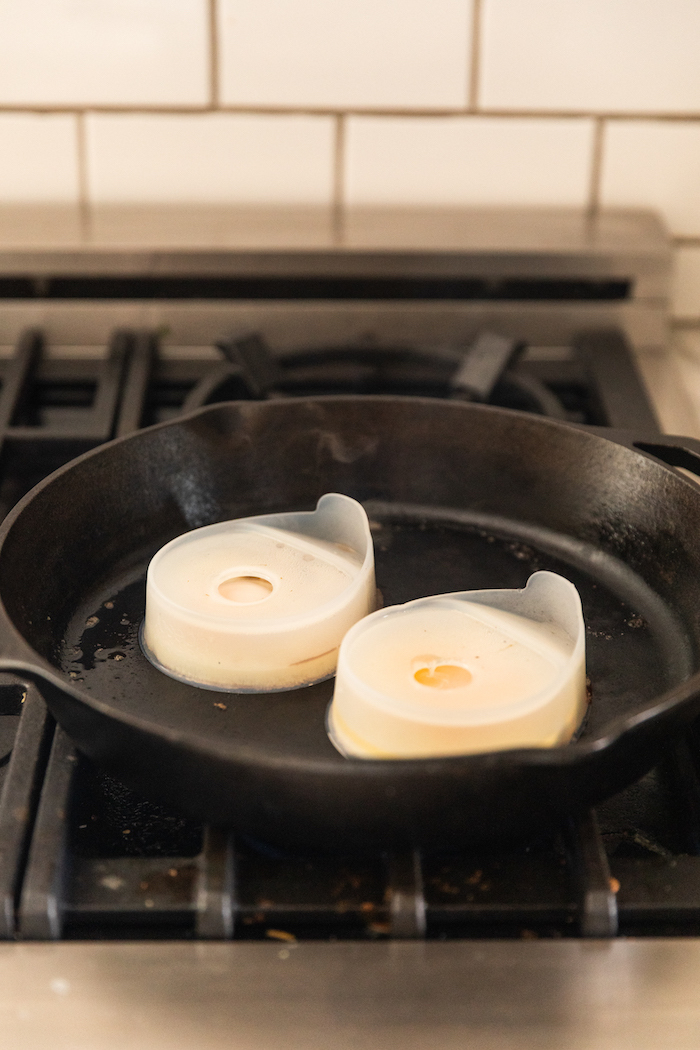 15-inch Cast Iron Skillet

By Lodge

Shop Now
Cheese. Feel free to swap the American cheese for cheddar slices, if you so desire, but note that I used this specific white cheese to create a classic gooey, stick to the top of your mouth breakfast sandwich that we've all come to know and love.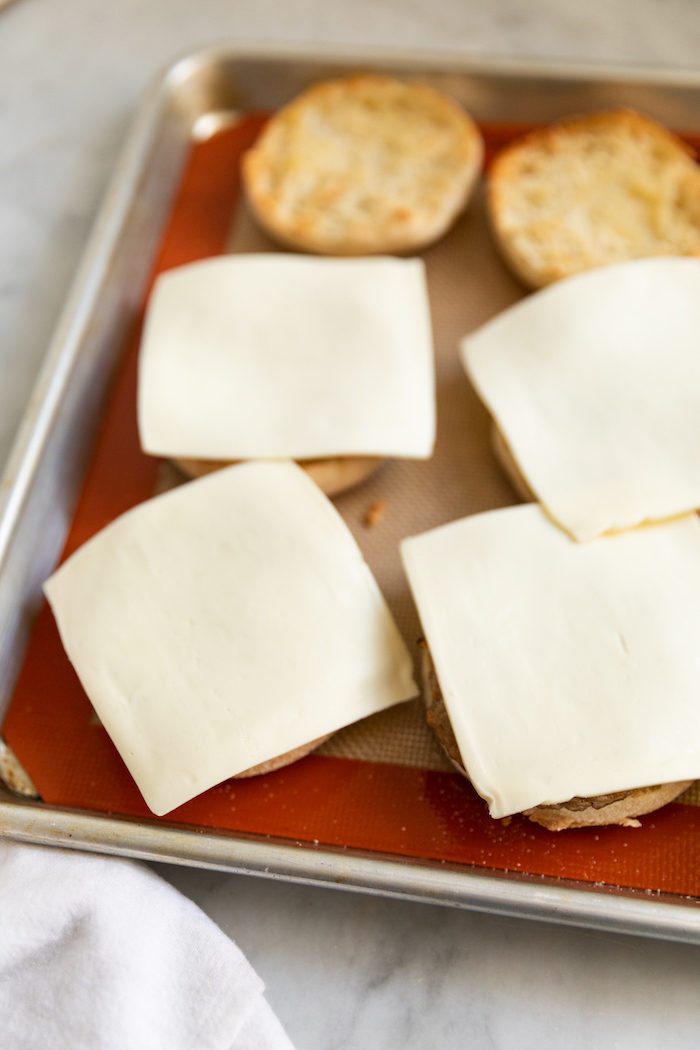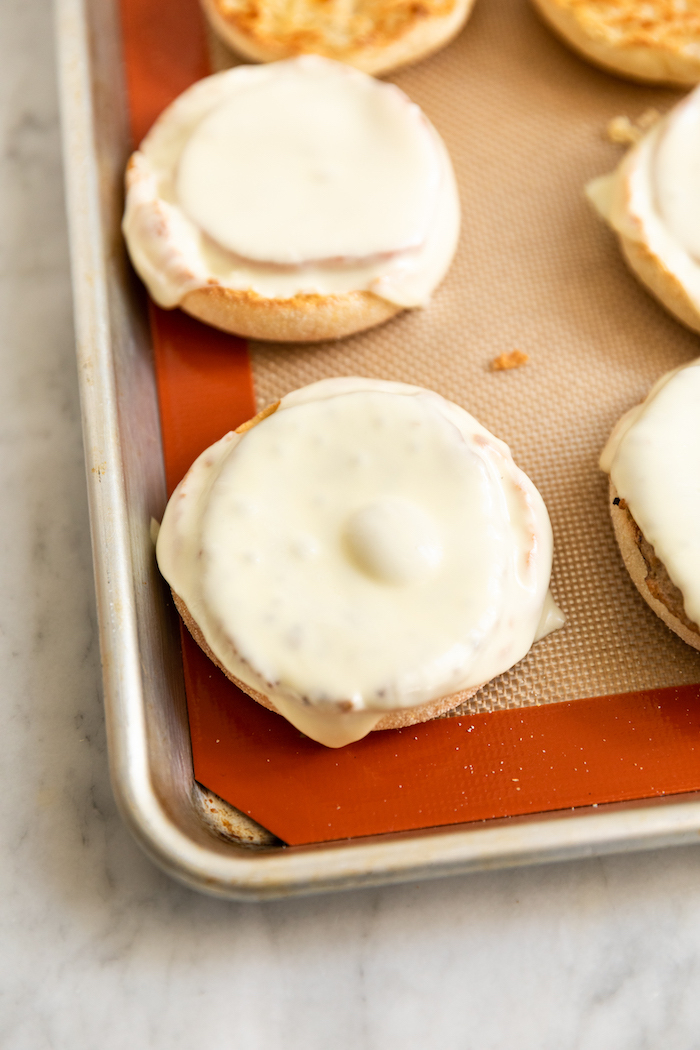 Storage. Store them in the fridge if you think your family will go through them all in a week, or store half in the freezer for a rainy day. Just be sure that if you want these as "make-ahead" to make the full batch and store individually in aluminum foil or reusable sandwich bags.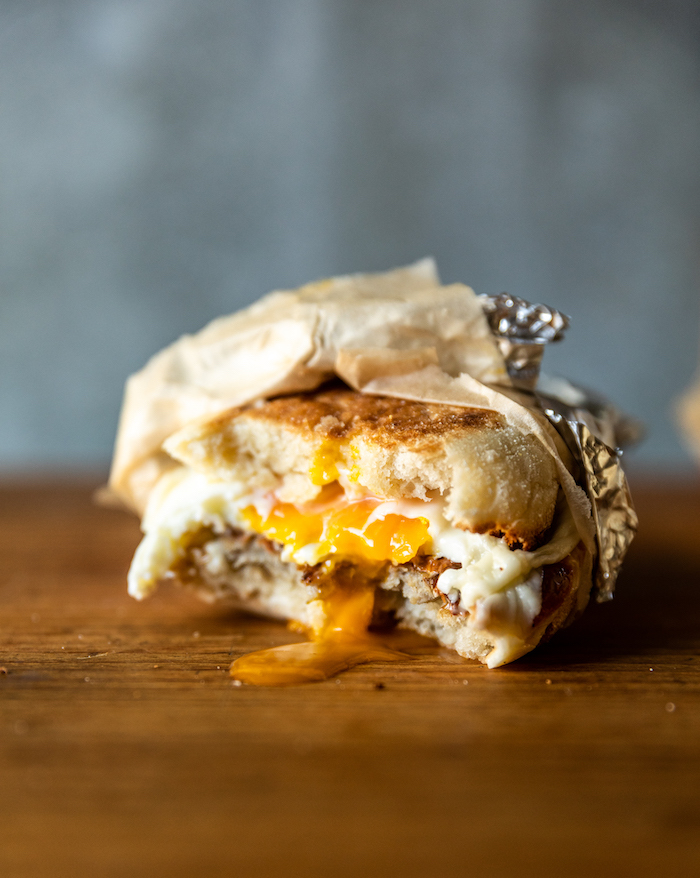 Additions. Get creative and add layers of veggies, swap in cream cheese, dip in sriracha or hot sauce, and have fun!