Burrata, Prosciutto & Basil Slab Quiche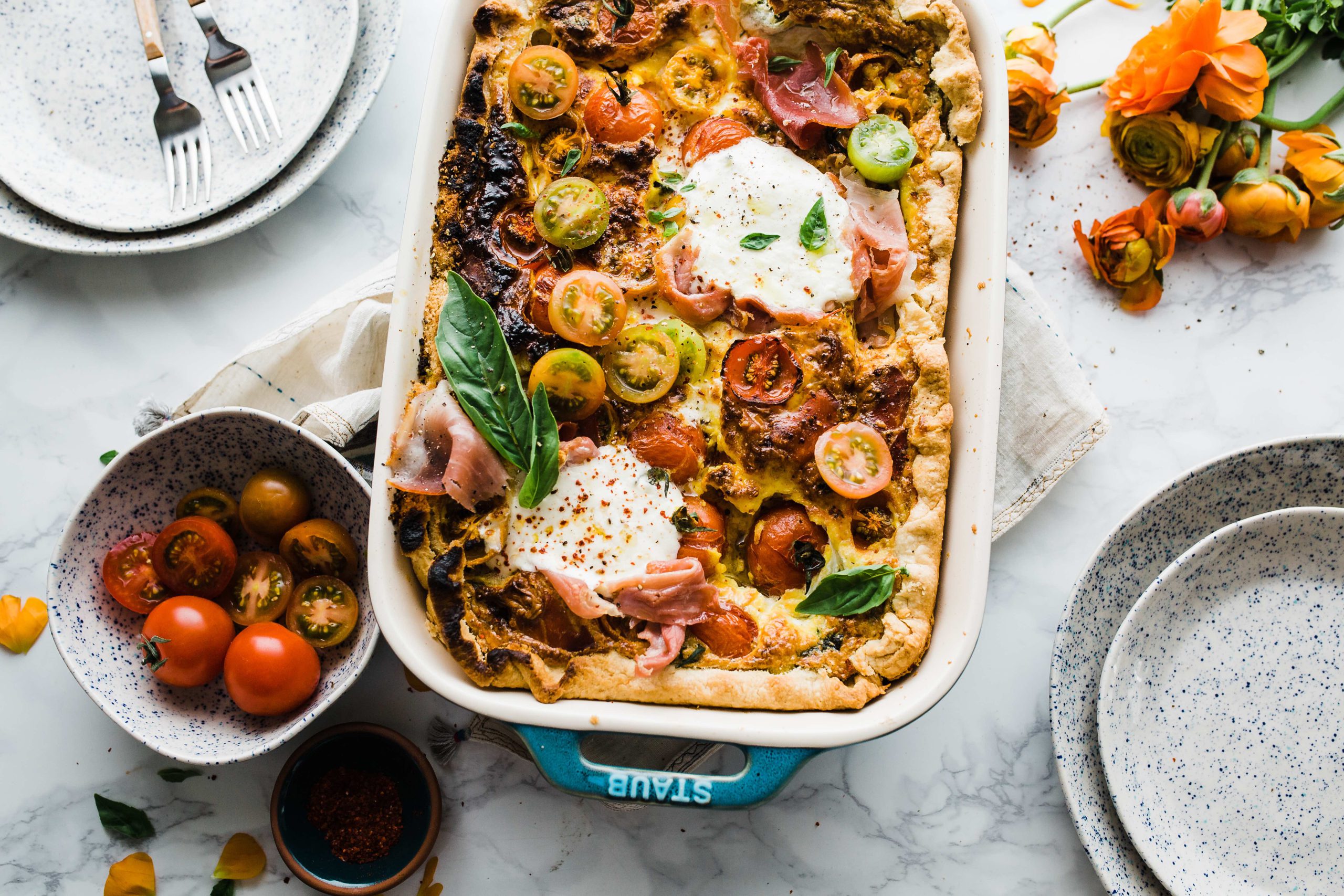 She asked if I'd pick her up after school and as I slid into the carpool lane at the high school, five giant teens emerged.
"Forgot to tell you! These guys are coming over." A whole gaggle of humans. A house full of hungry bodies, all wanting to hover around the kitchen island, talk and eat. My favorite kind of afternoon.
I try not to make rules about the things that make me feel like a successful human. Over the years, I've learned it's best to let go of the best laid plans, to allow yourself the gentleness of just a few important expectations.
But one of the skills that makes me feel like a fully functioning and entirely awesome human is the ability to conjure up a Salvation Army sized meal for a room full of happy faces. I may not fold laundry like a Martha, I may be vaguely uninterested in gardening, but I will 100% own the day with a home cooked dish the size of Texas, a kitchen table full of food and warmth, and endless conversation.
So that's where Slab Quiche comes in. It's this incredible art for foodies who love to party, but don't want to be in the kitchen all day.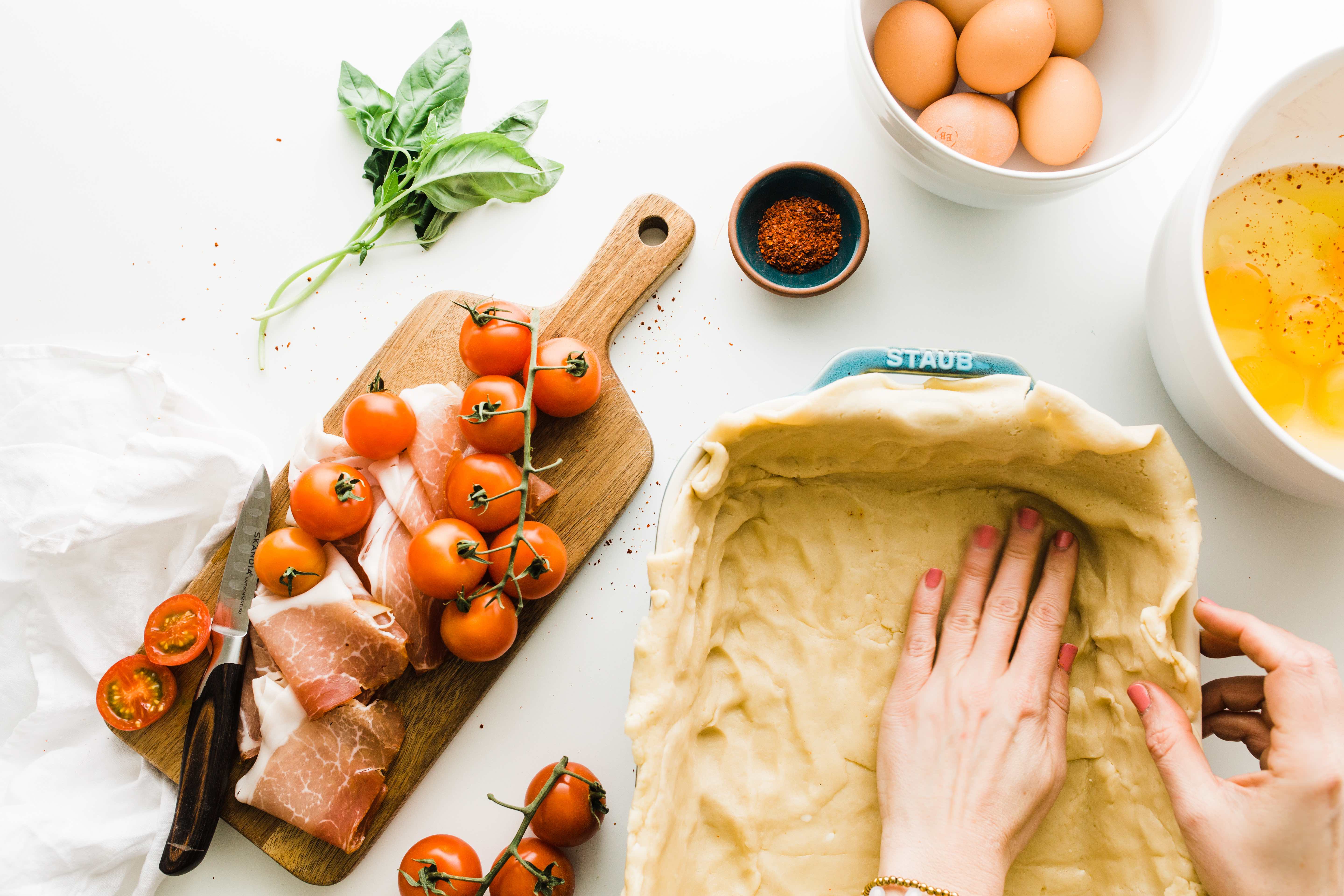 A giant sized quiche, cooked in a 9×13 pan; you'll have enough to feed 12. Add sliced oranges and a side of beermosas (for the adults, of course), and watch your people enjoy the dickens out of life.
Easy Peasy
As with any quiche, this one starts with a pan lined with pie crust and filled with a simple egg batter. Give yourself a perfect moment in the kitchen. With mellow jazz on fleek, crack 18 eggs into an Emile Henry mixing bowl and whisk in the half and half and flour by hand. Don't be in a hurry. Sip coffee, look out the window, embody your inner French farmer. Toss in some basil, a pinch of salt, and fresh cracked pepper.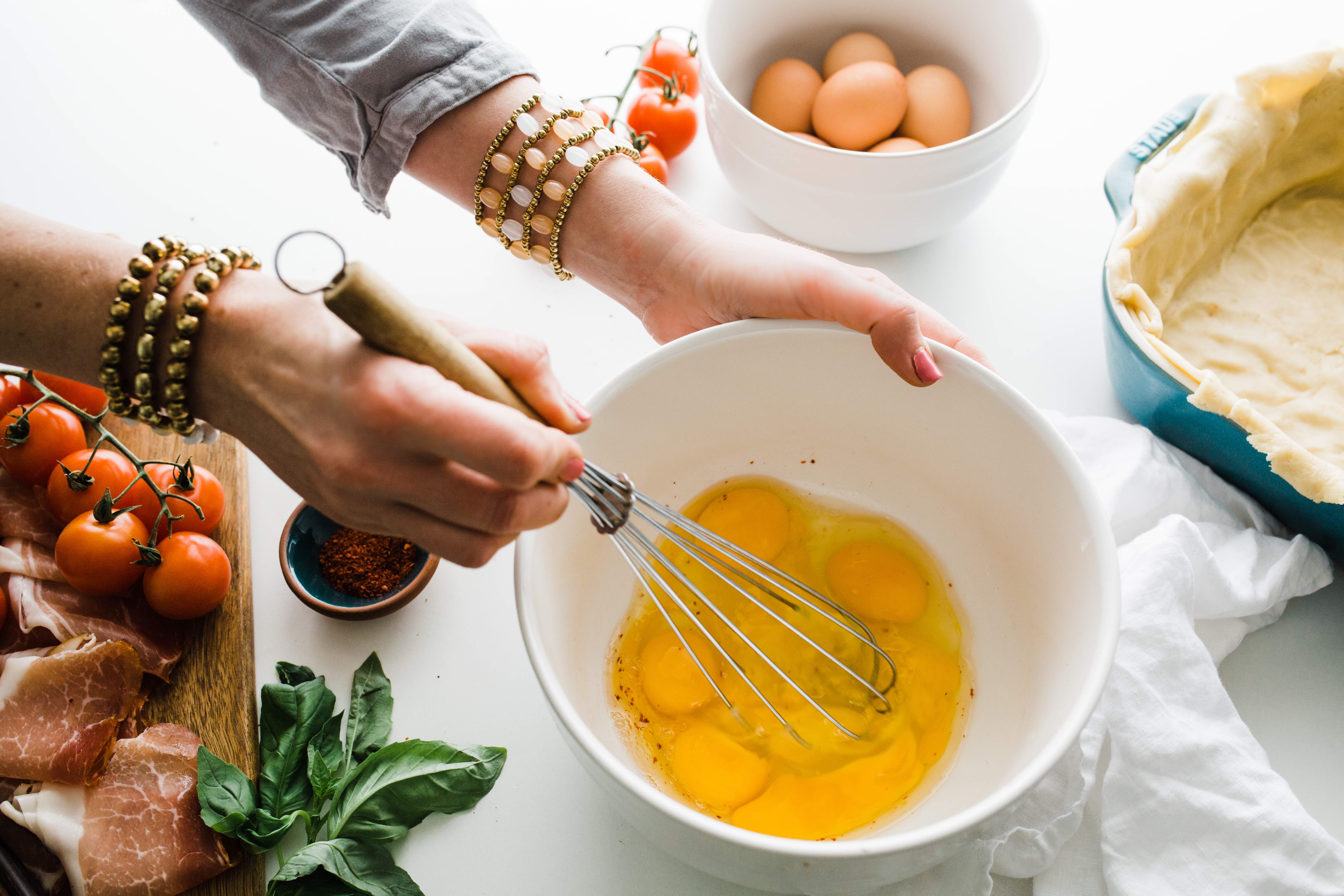 Then pull out a Staub 9×13" Pan. Deep dish sides and a rustic turquoise finish will melt everything in your soul. You can't be sad when you're cooking with Staub. You can only just stand there and be glad for the gentle perfection of pie crust and life.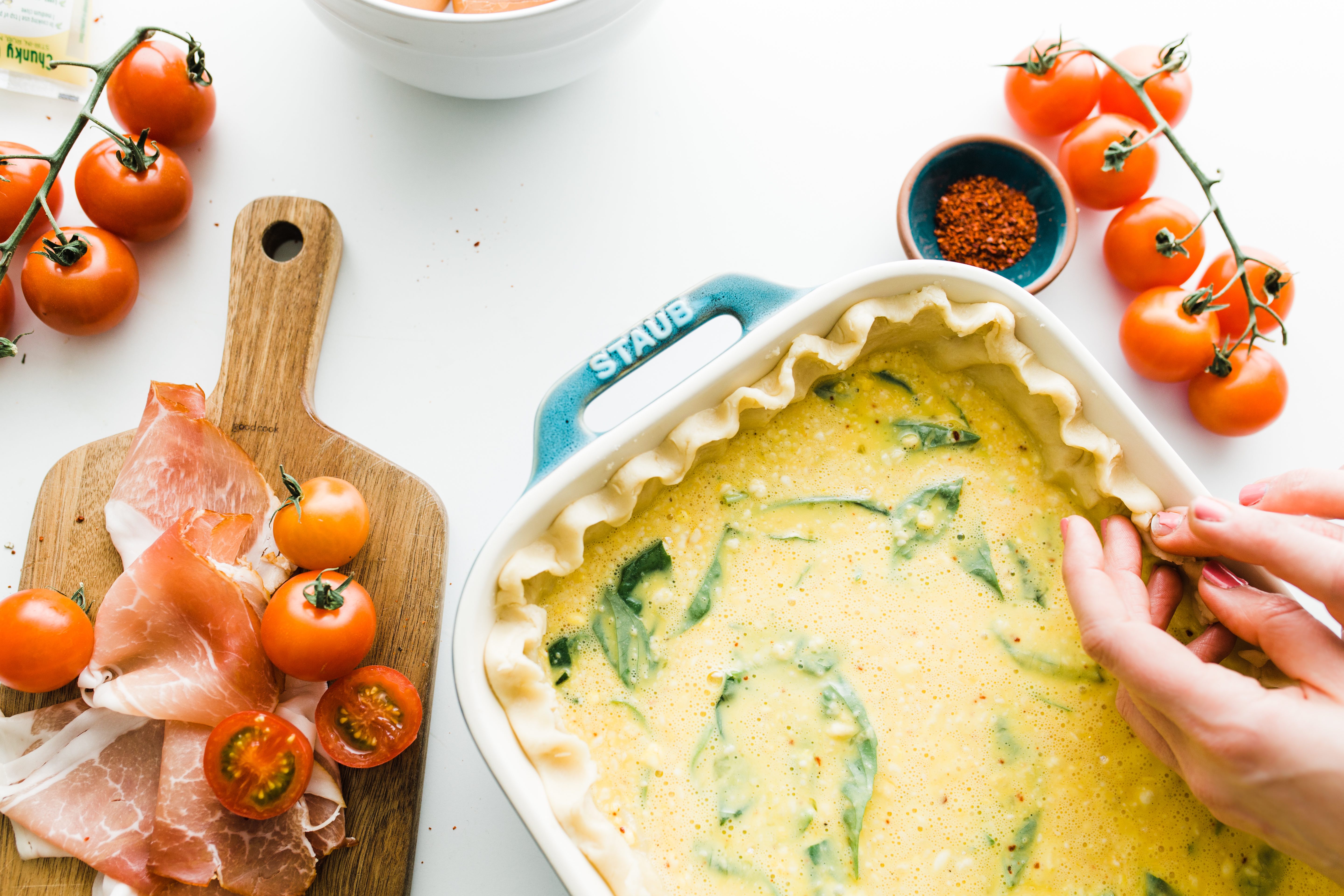 Think Like a Pizza
Go classic quiche and toss in desired ingredients. Or invite the dreamy food stylist in you to come play. Rather than stirring all the parts and pieces into my quiche, I love gently arranging the toppings like a pizza. Tucking cheese and prosciutto and fresh sliced tomatoes here and there. Creating a masterpiece, instead of just a quiche.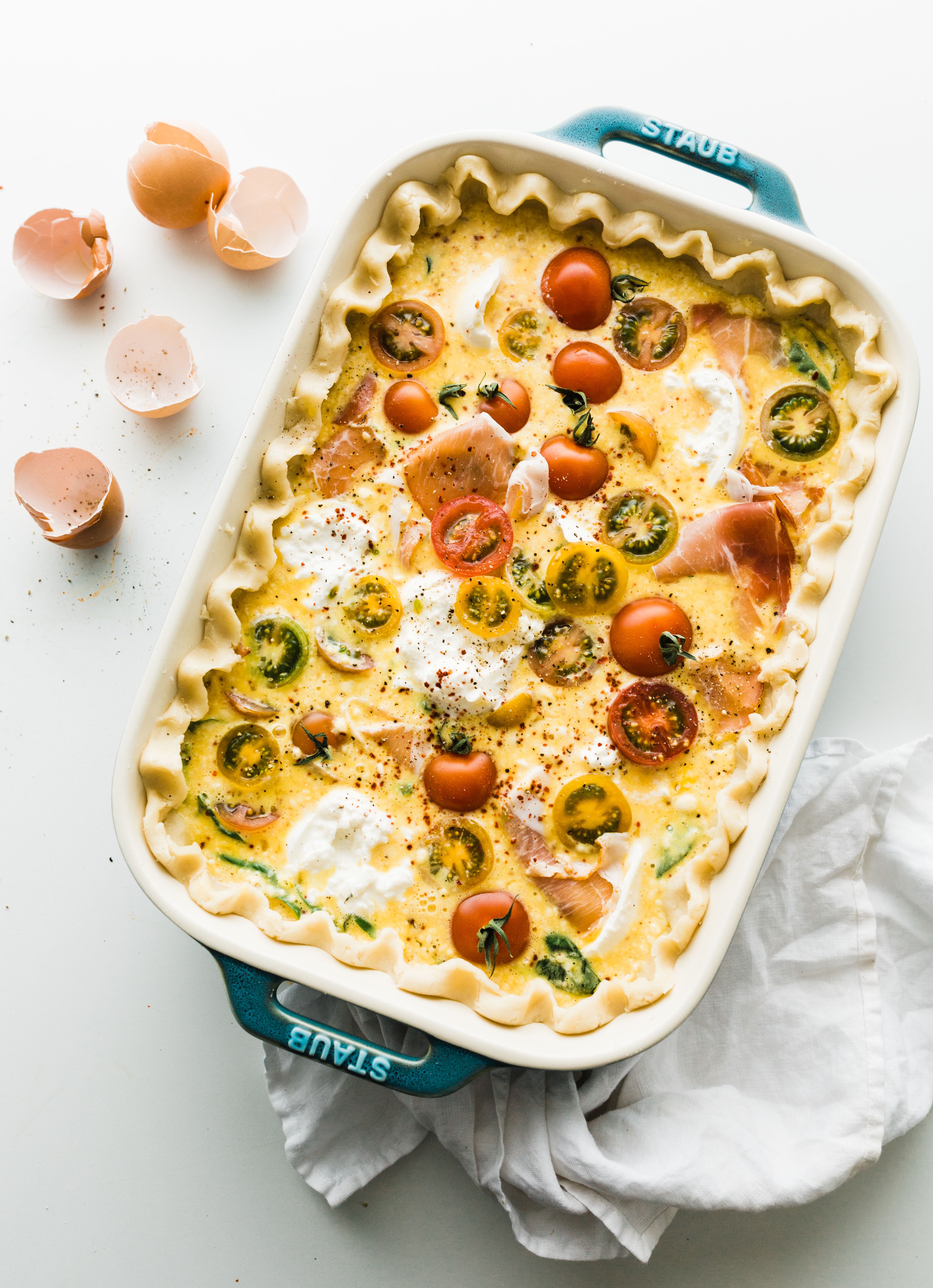 For this recipe, I pulled out all of my spring/summer obsessions. Salty pork and creamy burrata. But you can be far more budget-conscious, if you please. Sliced zucchini, ham, swiss, peppers, corn, sausage. Whatever ingredients you like in a quiche, generously tuck these ingredients atop your quiche. Then toss it all in the oven and bake.
Breakfast Is Served
You'll need just about an hour for your quiche to cook. While you can do anything with this wait time—read a book, pet the cat, water the succulents–what I really love to do is get the party guests (or, you know, the fam) involved by setting the table. Some of our best morning moments are when we all simmer into the meal prep and table prep together. Everyone huddled, clinking plates and filling glasses, dancing around chairs and kitchen island, counting down the minutes until we can fork into the fresh cooked meal.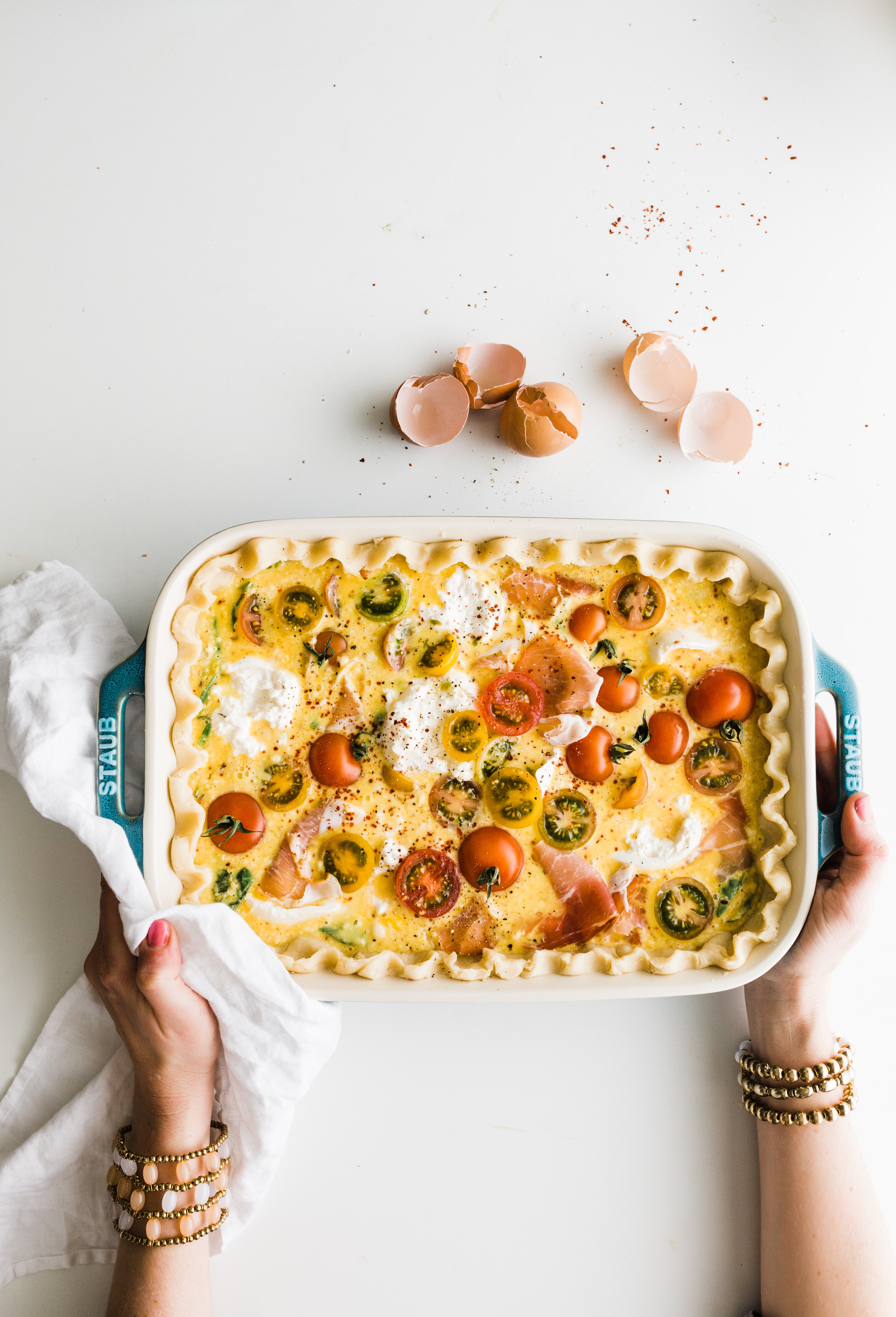 Which is exactly what we did 20 minutes after our quiche emerged from the oven. Table full of chatty teens, passing around the pan. One mom looking proudly on.
She may not do everything right, but darn if she doesn't know how to feed her people.
Get the Look!
Love those pretty blue speckled plates? Me too. Those uneven edges, that hand-made look. Gah, it's all the heart emojis. If you want to add them to your kitchen, too, head on over to Now Designs and grab a set or two for your kitchen cupboards. You will want to pet them on the daily. Not that I do that. Except, that I totally do. So pretty.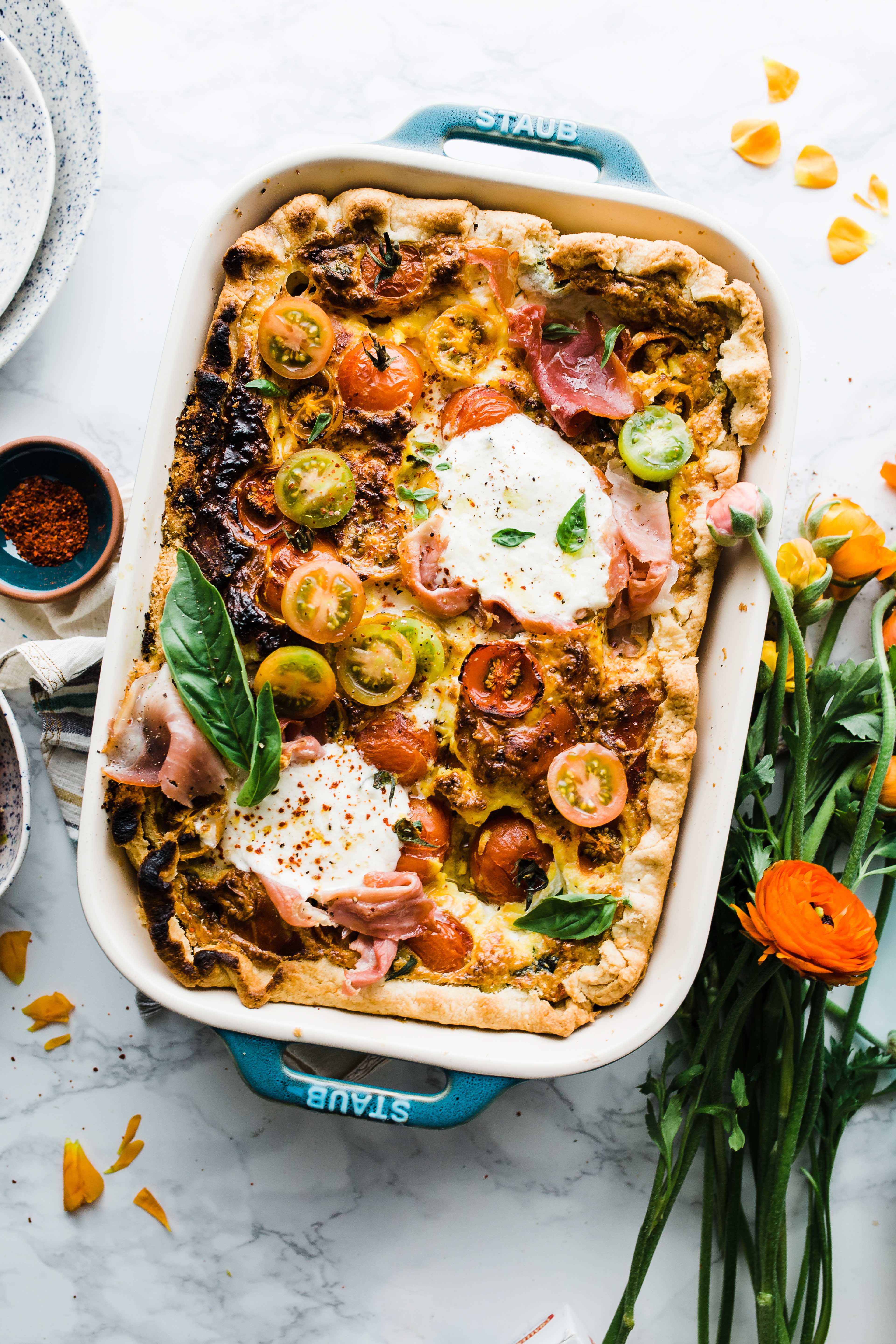 Burrata, Prosciutto & Basil Slab Quiche Recipe
A giant sized quiche, cooked in a 9×13 pan; you'll have enough to feed 12. Add sliced oranges and a side of beermosas (for the adults, of course), and watch your people enjoy the dickens out of life.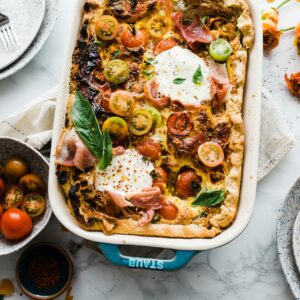 Ingredients
2

pie crusts rounds

18

eggs

.75

cups

half and half

.75

cups

flour

1

tsp

salt

Fresh ground pepper

1

cups

fresh basil leaves, loosely packed

2

cups

cherry tomatoes, some halved

12

oz

burrata, sliced

6

oz

prosciutto, torn
Instructions
Preheat oven to 400 degrees F.

Line the bottom of 9×13" pan with parchment paper. Line with pie crusts, cutting excess dough with a sharp knife. Ruffle top edges of dough by pinching every 1/2 inch or so together with fingers and indenting with a thumbprint.

In a large bowl crack eggs, whisk in half and half, flour, salt and pepper. Toss in 3/4 cup of basil leaves. Pour into prepared pie crust.

Arrange tomatoes, 3/4 of the burrata and 3/4 of the prosciutto atop egg mixture. Use a knife to gently tuck some of the toppings below the surface of the quiche.

Bake for 50 minutes, the top with remaining burrata and prosciutto. Return to oven and cook 10-15 minutes, or just until the center of the quiche is set. Remove from oven and cool for at least 20 minutes. Top with fresh basil leaves. Serve warm, or at room temperature.
Nutrition
Serving:
1
g
Calories:
347
kcal
Carbohydrates:
19
g
Protein:
18.8
g
Fat:
23.1
g
Saturated Fat:
8.4
g
Cholesterol:
279
mg
Sodium:
686
mg
Fiber:
0.8
g
Sugar:
1.4
g