Loaded Slow Cooker Chicken Nachos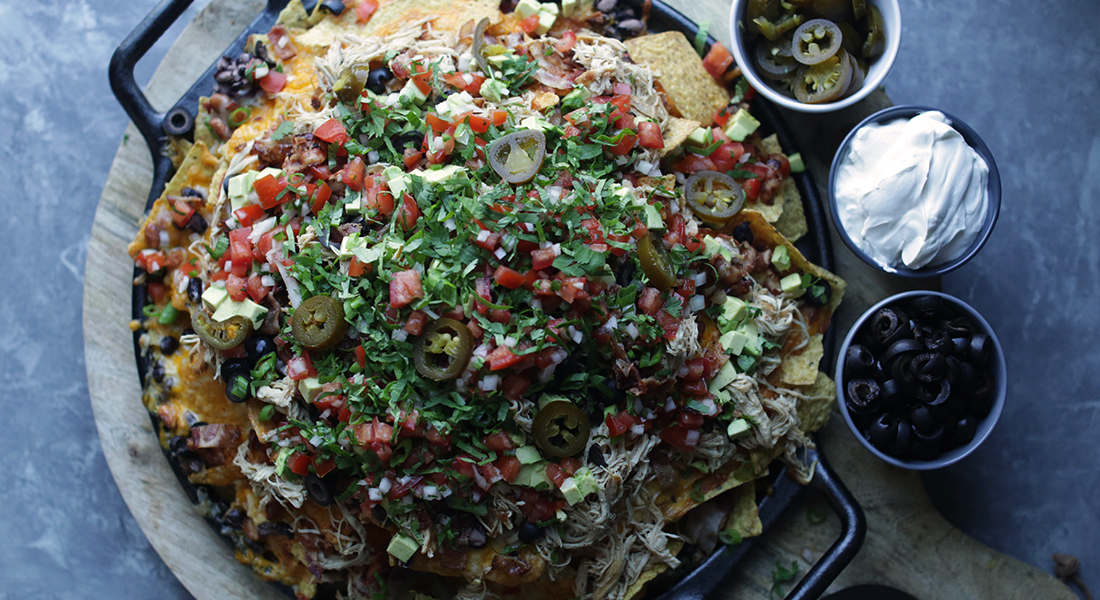 March Madness is easily one of my top 5 favorite times of the year. I mean where else can you watch 32 college basketball games during the course of 2 days? You can't!
I can't even imagine how many people call into work sick on those days. I'm guessing the number is exceedingly high because I may or may not have done at a few times 🙂 SHHHH don't tell my former employers!! The first few days or March Madness usually consist of hanging out with a few friends and eating myself into a food coma. Because there are so many games on you can literally drift in and out of sleep and you don't have to worry about missing games since there are so many on during the 2-day span. On second thought, I may actually like the food more than all the basketball games.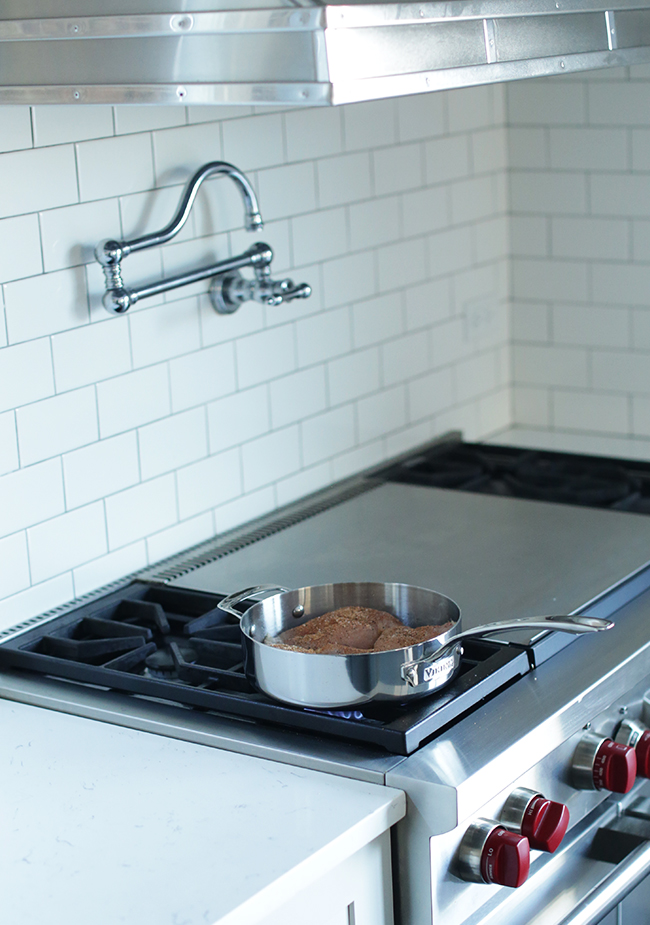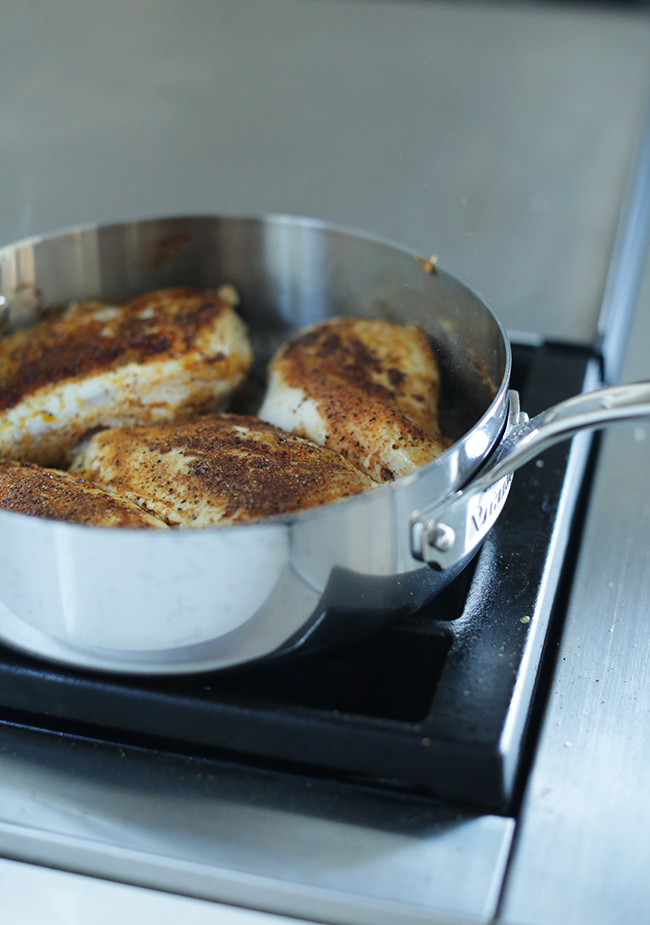 When it comes to making nachos, the more things piled up on top, the better! That doesn't mean that I like 25 ingredients, it just means I like a lot of whatever those ingredients are so when I get down to the bottom of the pile of chips there are still toppings left. Yes, you can get crazy with all the different flavor combos and end up with quite a few ingredients and the beauty is that it's totally up to you. I really like trying different themes when making nachos or poutine for that matter. There, of course, is the traditional nachos, similar to what I did in this recipe, and then you can try things like BBQ pulled pork nachos, Greek gyro nachos, cheeseburger nachos, literally the possibilities are endless.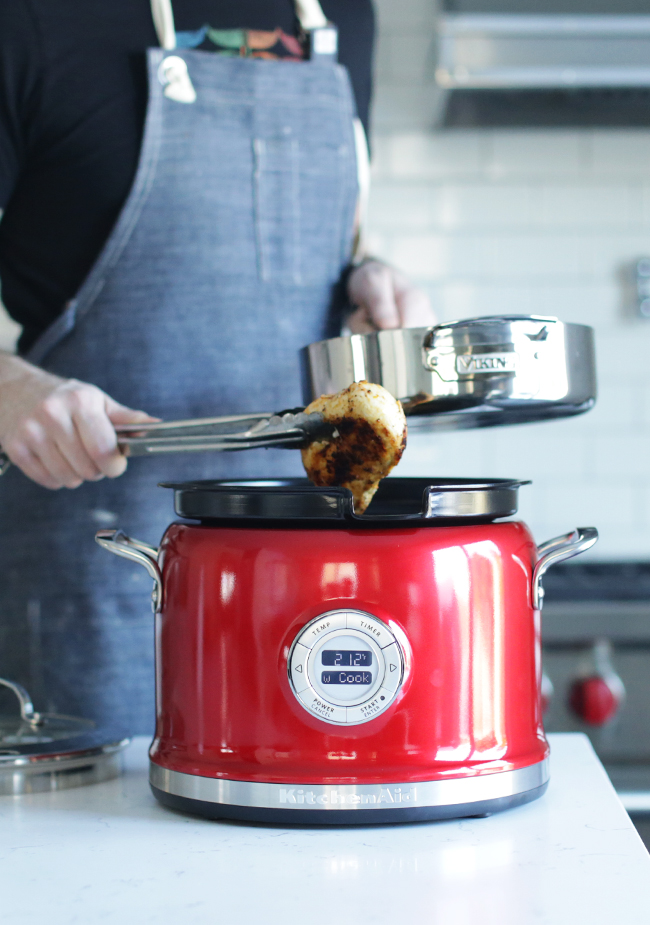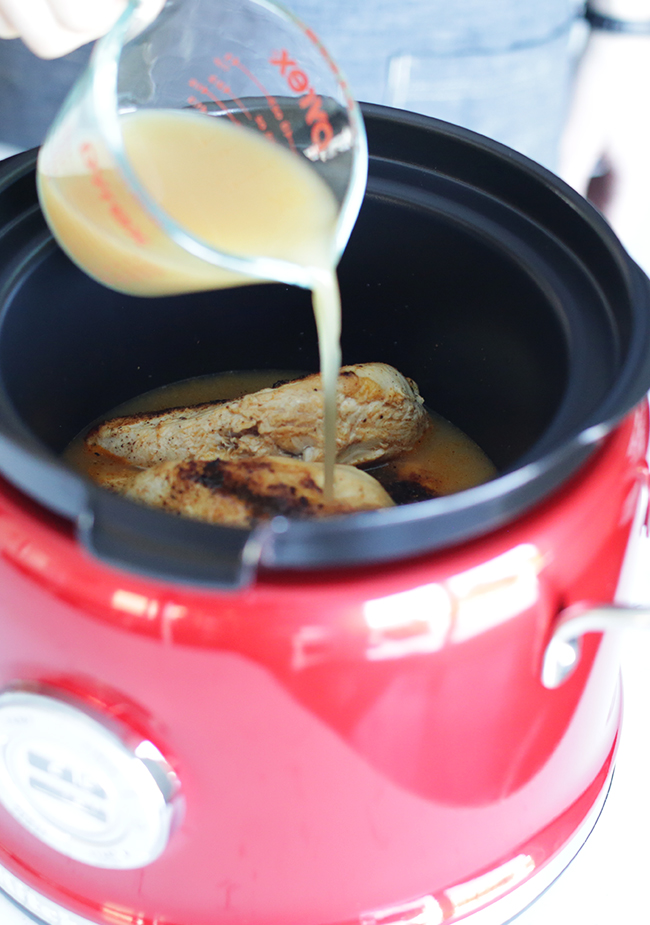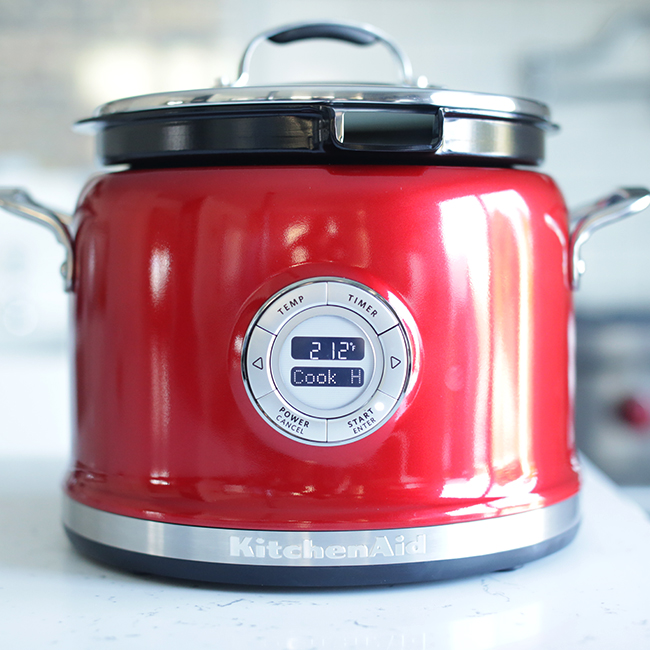 I tweaked a few things in this more traditional nacho recipe like making my own pico de gallo instead of popping a jar, I added a few different beans and slow cooked the chicken instead of chopping it up after cooking. Not drastic changes, but it was enough to show that I took some time to make these extra tasty.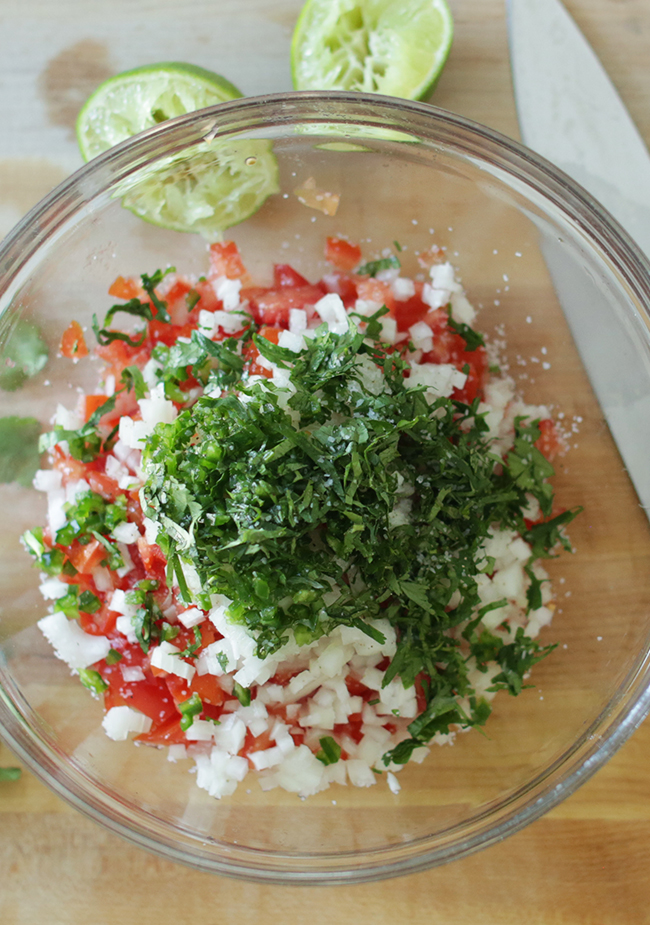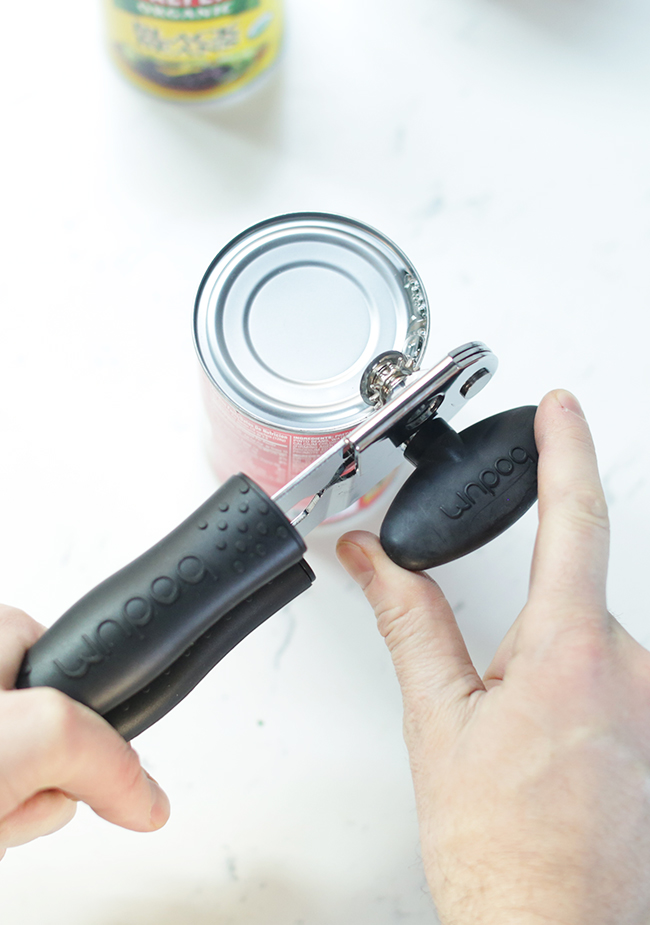 The one thing that I thought about doing but ended up not was making some sort of nacho cheese sauce. I LOVE nacho cheese sauce, but more often than not it really makes the chips soggy and if I plan on grazing all day long I'm not looking to eat mush. However, if you want a cheesy sauce and plan on tearing these up in one sitting, then all you really need to do is to thicken some whole milk with a roux over medium-high heat and stir in a ton of shredded American or cheddar cheese and then pour it over top.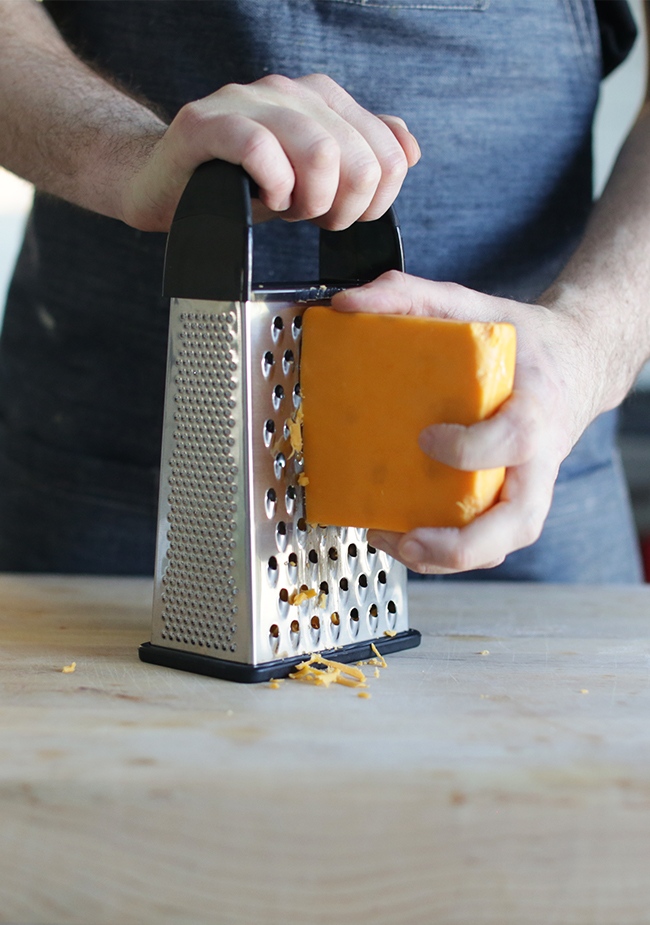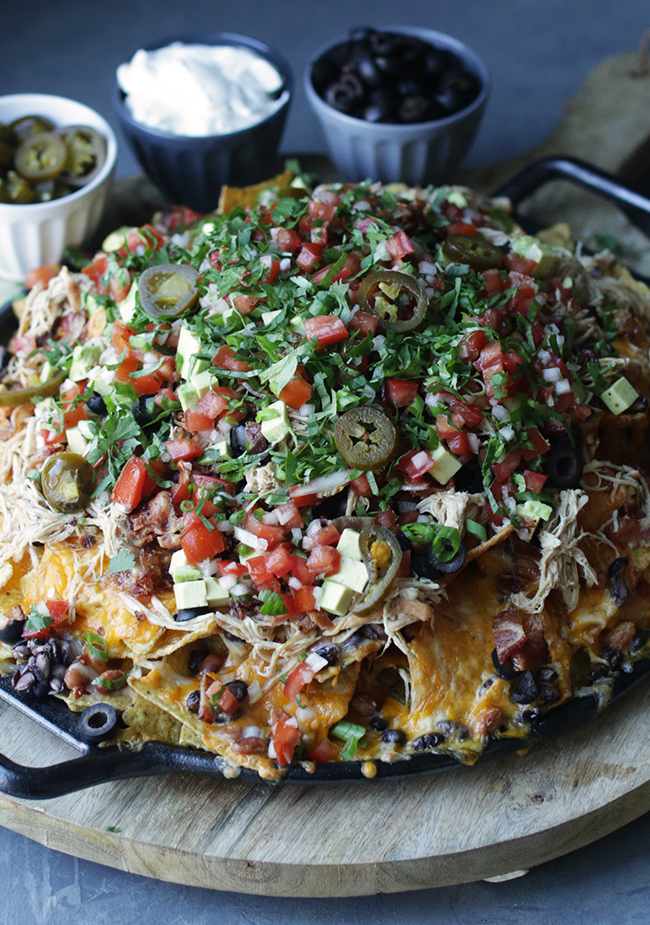 Another way to spice up your nachos game while watching all the games is to have them represent cities from schools that are playing. For instance, you can make Philly Cheesesteak nachos for Villanova, or perhaps make Cuban Pork nachos for Miami, or maybe try doing Turkey Avocado Club Nachos for UCLA. The whole point is to have fun doing it and have an even better time eating great food, watching great basketball and spending time with friends and family!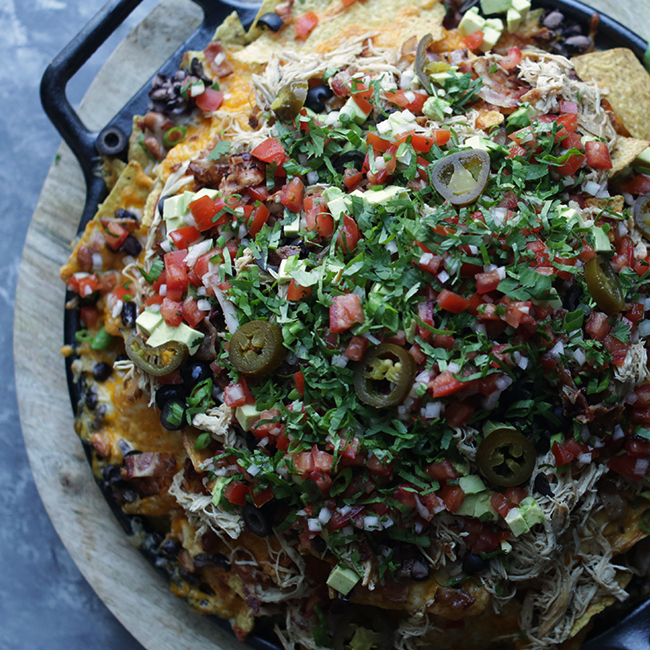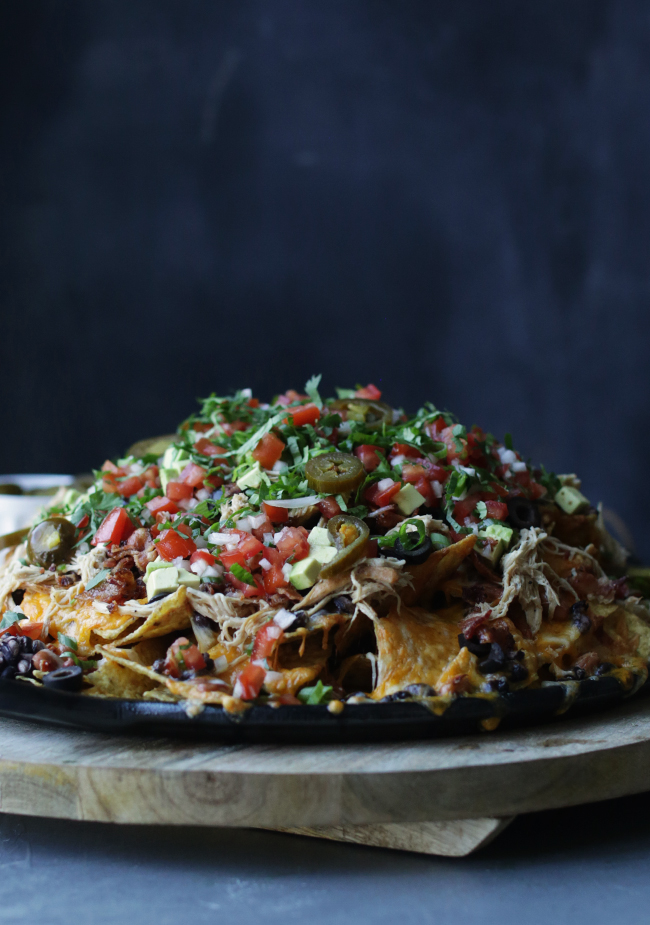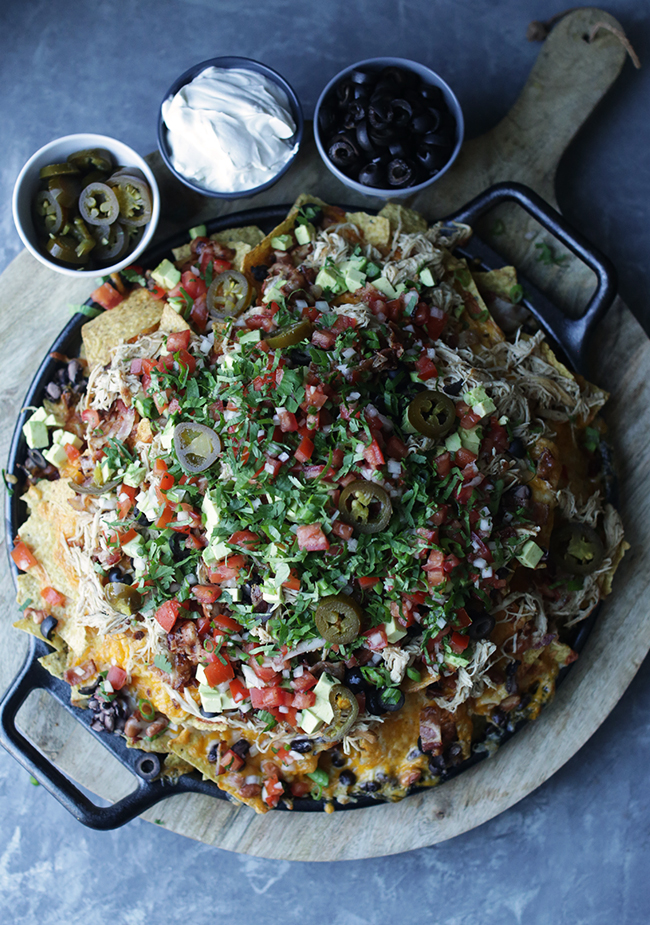 Loaded Slow Cooker Chicken Nachos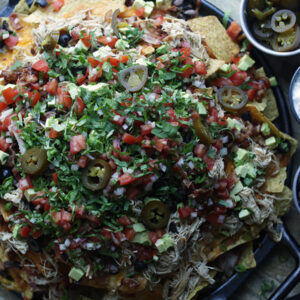 INGREDIENTS
For the Chicken:
1 teaspoon of garlic powder
1 teaspoon of onion powder
1 teaspoon of chili powder
1 teaspoon of cumin
½ teaspoon of ground black pepper
2 teaspoons of Kosher salt
4 small chicken breasts
1 tablespoon of olive oil
2 cups of chicken stock
For the Salsa:

6 small seeded and small diced vine ripe tomatoes
½ peeled and small diced yellow onion
2 seeded and small diced small jalapeños
2 tablespoons of chopped fresh cilantro
Juice of 1 lime
Kosher salt and fresh cracked pepper to taste
For the Toppings:

2 bags of corn tortilla chips
1 ½ pounds of shredded cheddar cheese
1 15-ounce can each of pinto and black beans, drained
1 cup of sliced black olives
½ cup of sliced green onions
½ cup of chopped fresh cilantro
1 peeled, seeded and medium diced avocado
1 cup of sour cream
1 cup of nacho jalapeños
1 cup of chopped crisp cooked bacon
INSTRUCTIONS
Preheat the oven to 400°.
Chicken: Combine the spice in a small bowl and then use it to season the chicken generously on all sides.
Heat the olive oil in a frying pan over medium-high heat and sear the chicken for 3-4 minutes on each side or until golden brown.
Transfer the chicken to a slow cooker on high heat along with the chicken stock and cook for 4 to 6 hours or until the chicken easily pulls apart. keep warm.
Salsa: Combine all of the ingredients in a large bowl and keep cool before serving.
To Plate: Place the chips in a large oven safe platter and then sprinkle on the cheese and beans and then place it in the oven and cook for 10 to 15 minutes or until the cheese is completely melted and lightly browned.
Remove the platter and top off with shredded chicken, additional toppings, and the chilled salsa.