Crab Cakes with Lemon-Garlic Aioli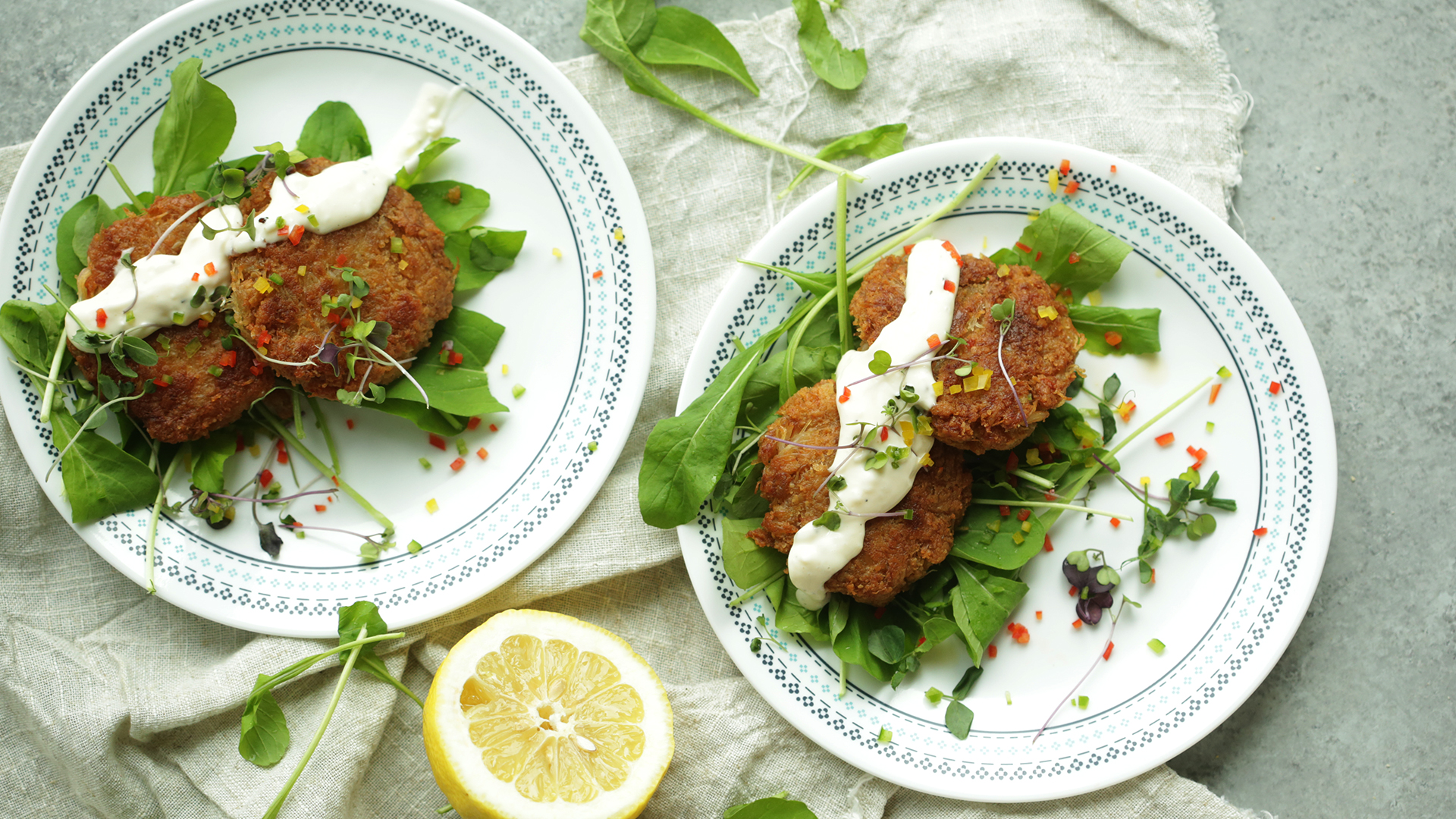 "Crab Cakes and Football, that's what Maryland does!!!"
Sorry, this was the first thing that came to mind when making this crab cake recipe (Quote from Wedding Crashers).
Believe it or not, the crab is from Maryland and this time it's fresh for these crab cakes, not from a can. While crab legs are delicious consumed by themselves with a little drawn butter, they're even more fantastic when packed into tight little crab cakes!
I know I always say when I make something it brings back fond memories, and the same rings true for these tasty little appetizers. I feel like we used to serve crab cakes at just about every restaurant I've ever worked at. I've made them simple to intricate to all the way in between, but one thing I've never done is used fresh boiled crab legs. Don't get me wrong there is nothing wrong with using jumbo lump crab meat for crab cakes, but once you try them fresh you will never go back!
Fresh crab legs are already pre-steamed so you really need to just heat them up. You can steam them, grill them or boil them. I think boiling and steaming is the best way because you get hot liquid running through them which helps keep them moist.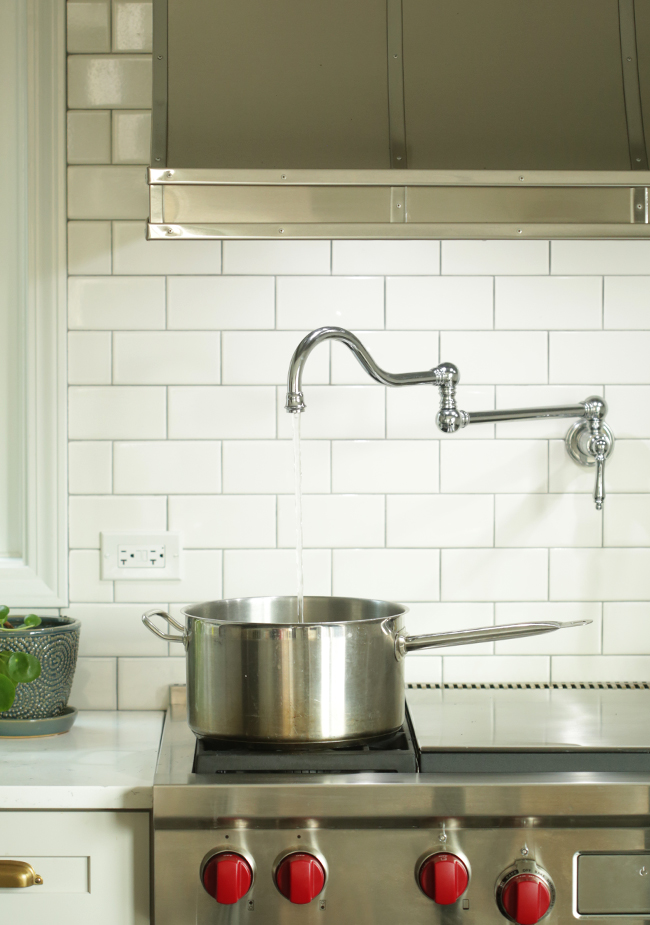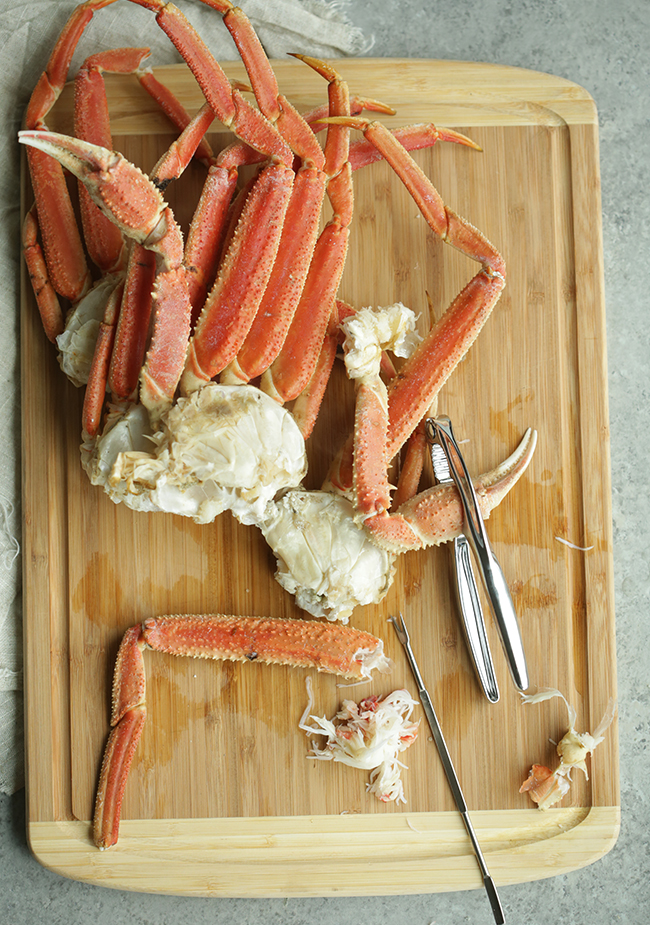 Simply bring a large pot of boiling salted water to a boil and cook for 6 to 7 minutes. When I say salted water I mean that the water should literally taste like the ocean! Next, use some crab leg crackers and crab forks to help get all of the meat out of the legs. Be sure to pick through it to get out all of the shells before chilling completely in the refrigerator.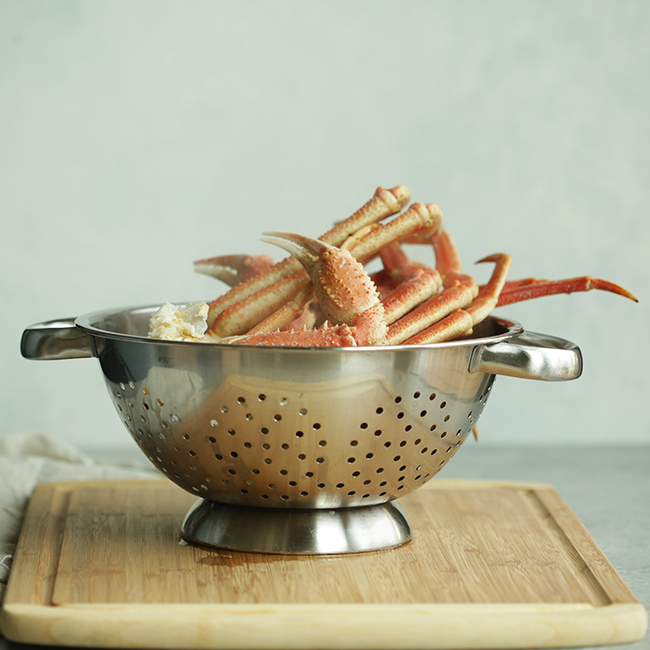 Once the crab is chilled it's now ready for mixing. As I said earlier I've tried all types of crab cakes and to me the simplest ones are the best. With just a few ingredients in them, it allows that delicious crab flavor to come through front and center. Don't forget to chop up the ritz crackers in a food processor until they're smooth before adding it to a bowl with all of the other ingredients.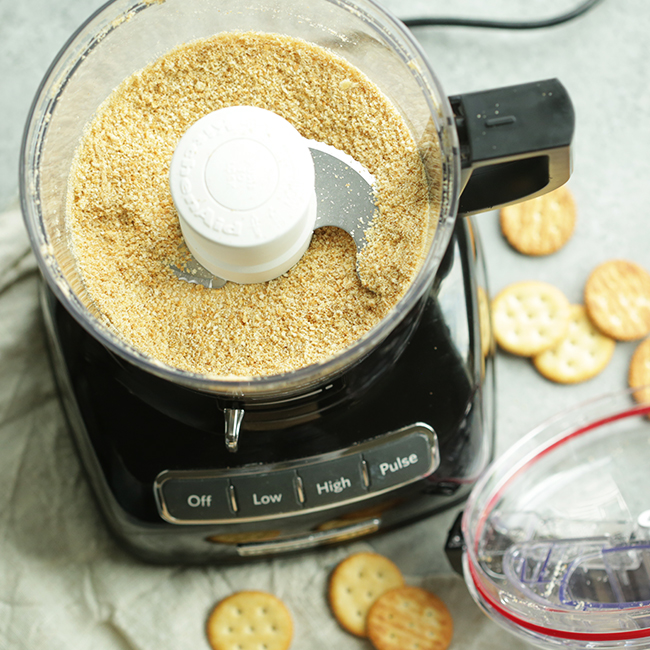 Once everything's combined, form little crab cake patties. You should get about 8 crab cakes.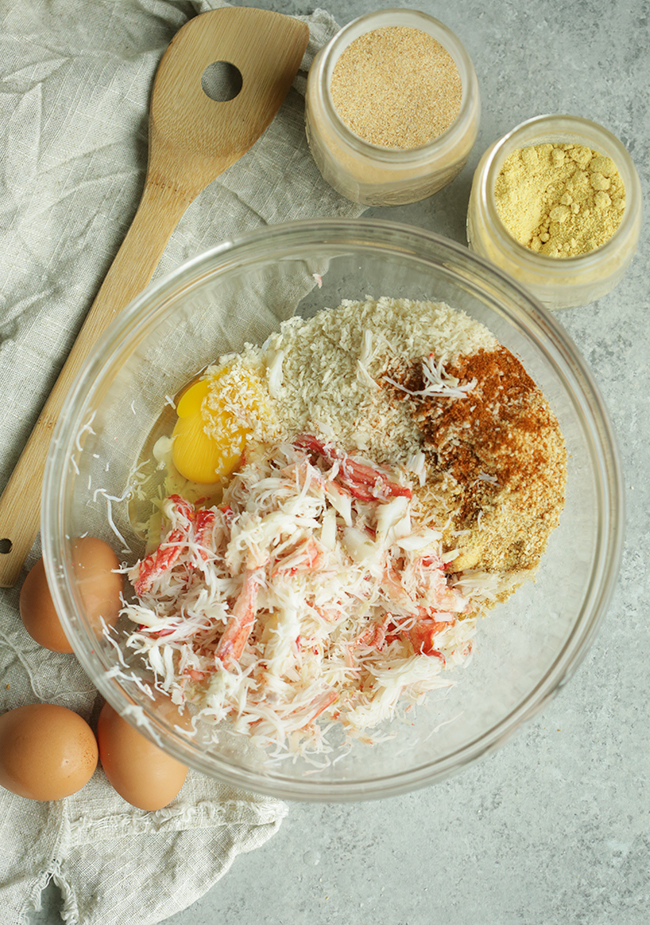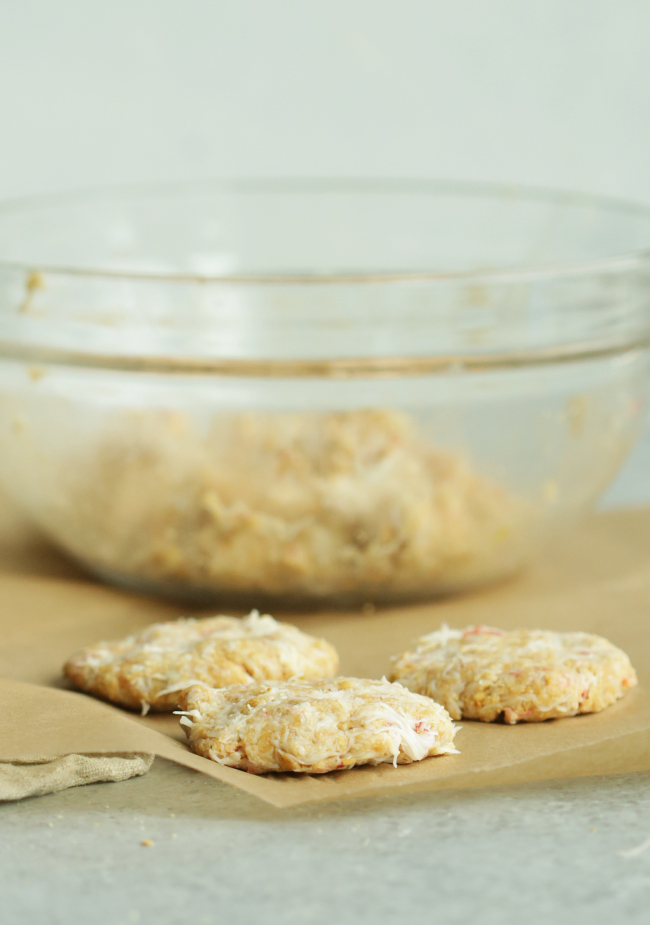 Don't worry if you think these cakes are small, we're serving them up over a bed of fresh Arugula leaves. Remember to always wash and spin your lettuce leaves before serving, and if you need a reason why, just look at how funky the water is after you get done spinning it. Do it!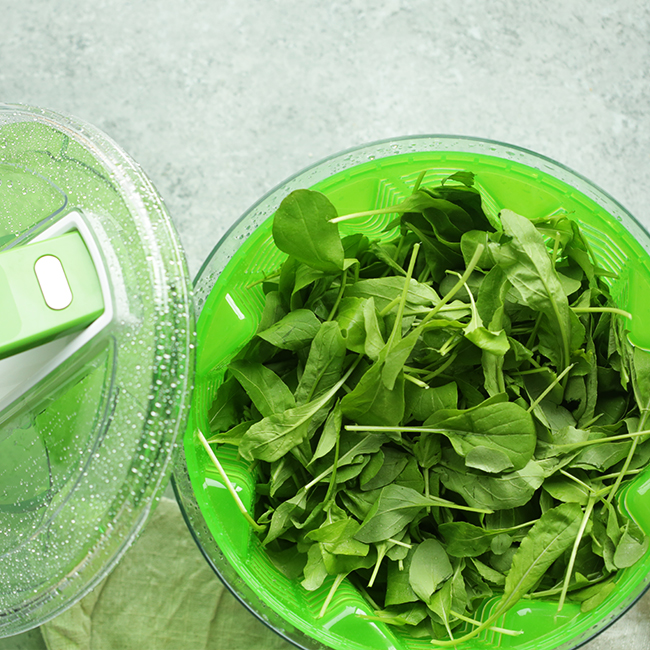 Let the cakes rest in the refrigerator just for a few minutes while you prepare the ridiculously easy lemon-garlic aioli. This aioli is not only going to compliment the crab cakes but also will act like a dressing for the fresh arugula leaves.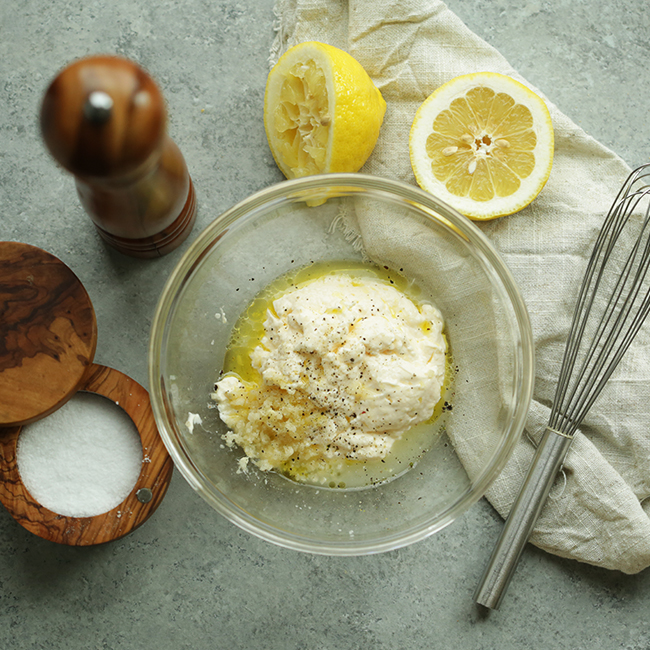 If there are any left-over ingredients or sauce, be sure to wrap them up as it will hold well in the refrigerator for a few days.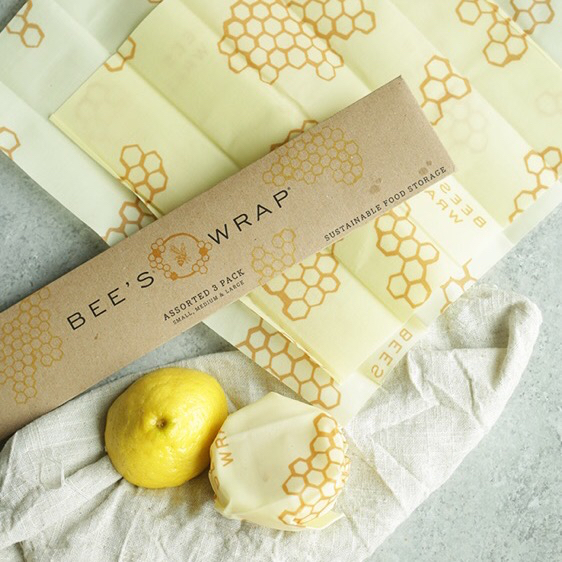 When it's time, sauté the crab cakes being sure that your pan is hot on medium-high heat and your oil is cold. Once the oil begins to lightly smoke then it's time for sautéing. Place in your crab cakes and cook them for about 3 to 4 minutes on each side or until they're golden brown. Remember you don't need to cook the crab; You are just crisping up your cakes to enhance the flavor of them.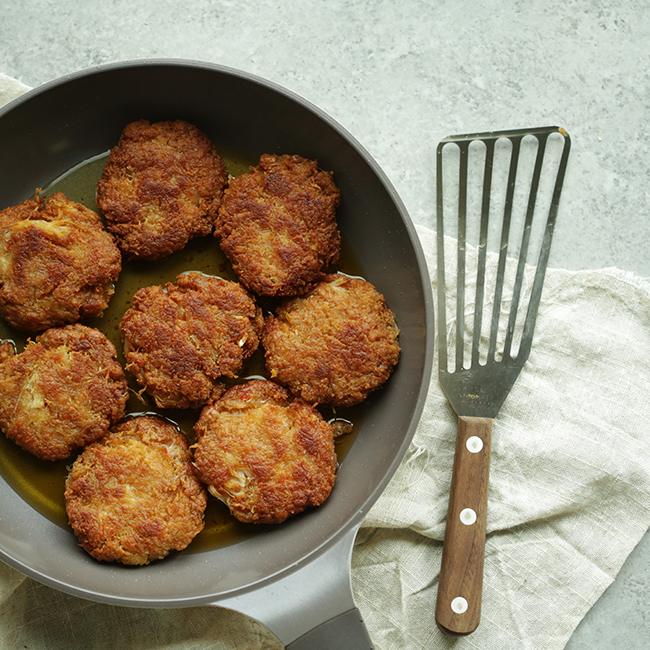 Lastly, serve these cakes over the arugula and drizzle on some of the lemon-garlic aioli. I garnished with some microgreens and finely minced tri-colored peppers to give it a little more color. I love serving most of my food on white plates because nothing can set off the color of food like white. Enjoy!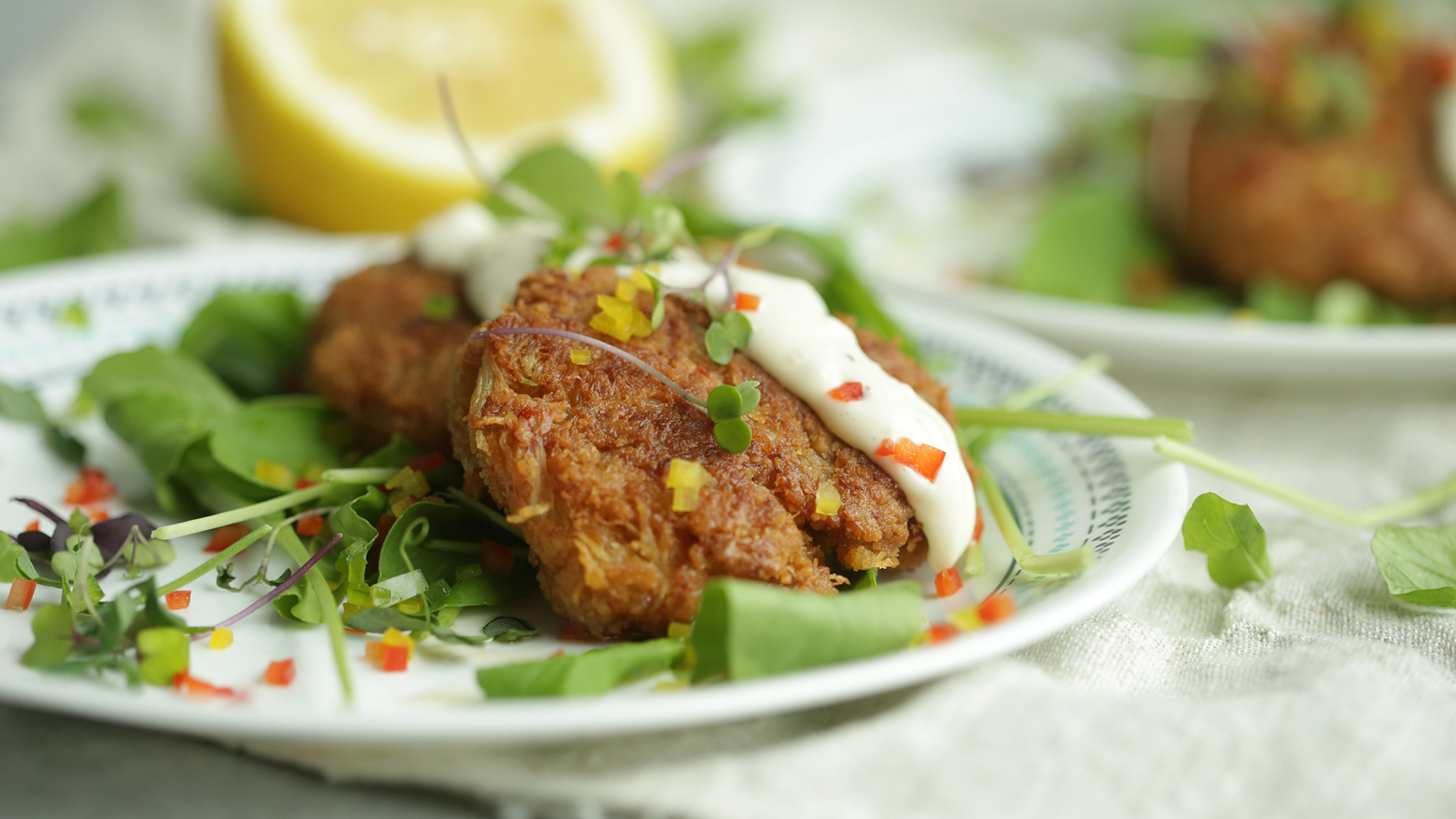 Crab Cakes Salad with Lemon-Garlic Aioli Recipe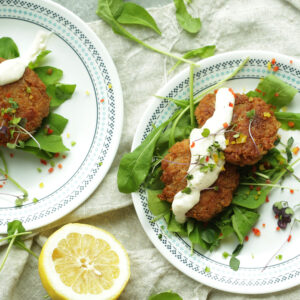 INGREDIENTS
For the Crab Cakes:
2 pounds of fresh crab legs
1 teaspoon of garlic powder
1 teaspoon of dry mustard
¼ cup of mayonnaise
1 egg
1/3 cup of crushed Ritz crackers
1 teaspoon Worcestershire sauce
1 cup of Panko bread crumbs, for coating
½ cup canola oil
Kosher salt and fresh cracked pepper to taste
Fresh Arugula greens
For the Aioli:
4 very finely minced cloves of fresh garlic
½ cup of mayonnaise
Juice of 1 lemon
Kosher salt and fresh cracked pepper to taste
INSTRUCTIONS
Boil the fresh crab legs in a large pot of boiling salter water for 6 to 7 minutes or until cooked through. Remove all of the meat and chill. In a large bowl thoroughly mix together crab meat, garlic powder, dry mustard, mayonnaise, egg, Ritz crackers, Worcestershire sauce, salt and pepper. Once mixed form individual patties, about 3 inches in diameter.
Once formed, coat them in the Panko bread crumbs. In a non-stick pan with a ½ cup of canola oil on medium-high heat, cook the crab cakes on each side for 3 minutes and then place the pan and finish in the oven on 350° for 6 to 8 minutes. Once cooked removed them from the oil and set aside.
For the Aioli: Place all ingredients in a bowl and whisk together until combined. Set the crab cakes overtop of the arugula leaves and drizzle on the aioli.