Avocado & Strawberry Guacamole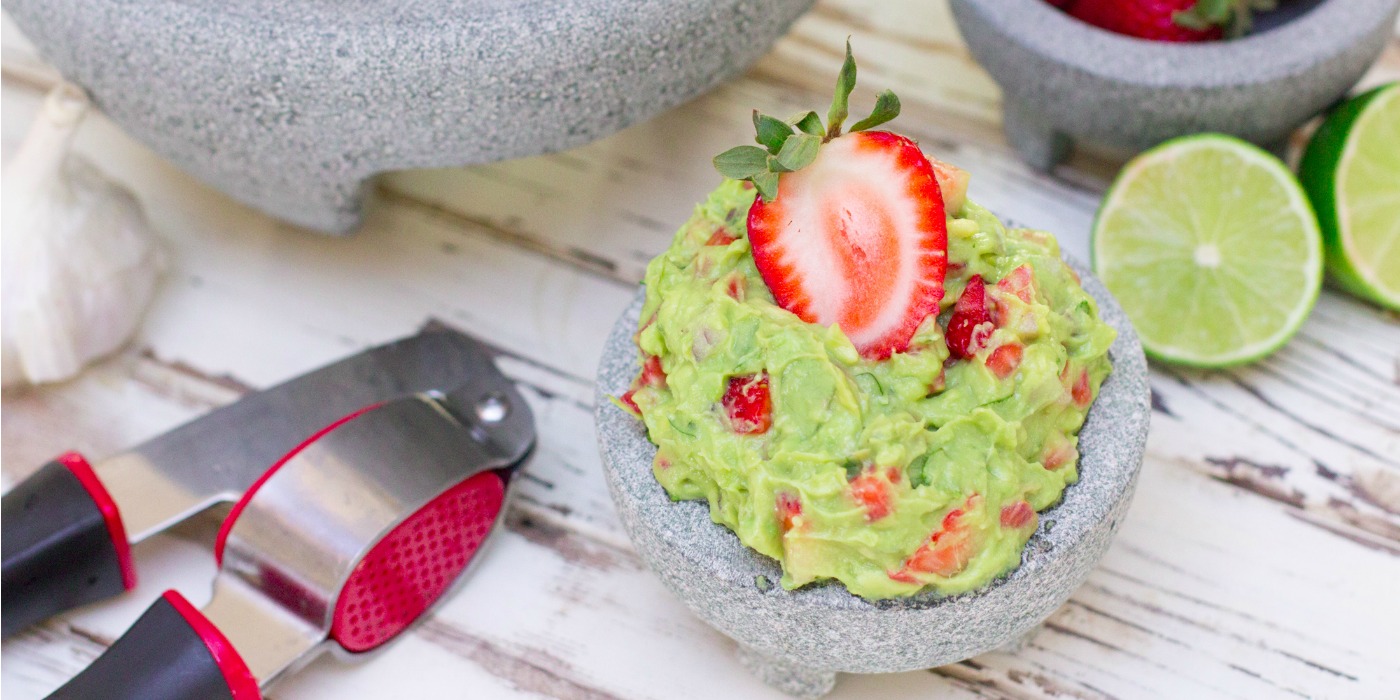 Is there anything better than guacamole? Made with ripe strawberries, fresh lime juice, and buttery avocado, this is the appetizer your friends will be asking for over and over. It's okay… you can tell them you came up with the idea yourself. We won't tell!
Now, replacing tomatoes with strawberries in guacamole might make you a bit suspicious but trust me, it's amazing! Besides, both the strawberry and the tomato are fruits. So is the avocado. So nothing too weird going on here except for some crazy tasty food.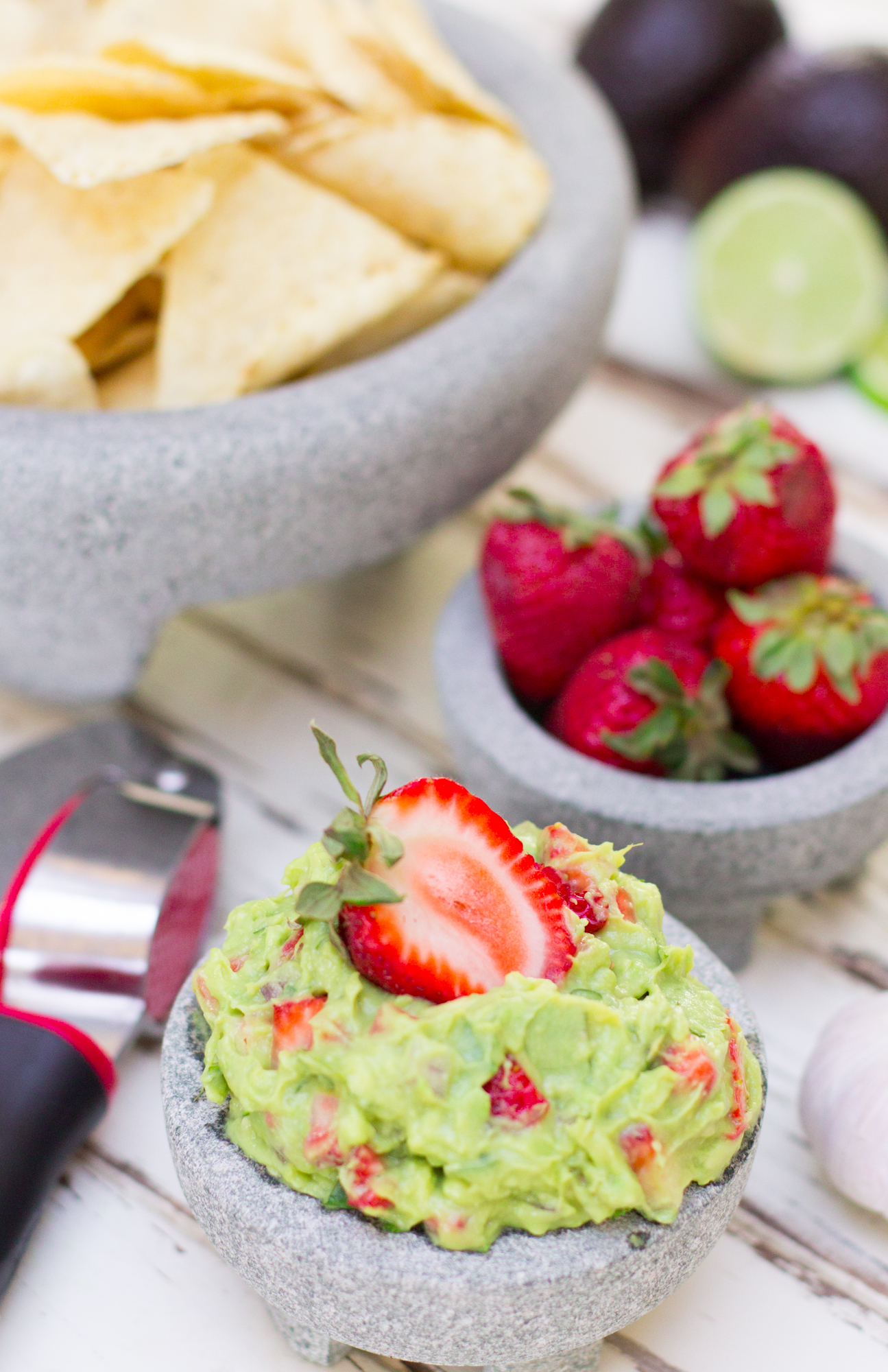 Guacamole, any guacamole, comes down to good avocados. It really doesn't matter what else you are adding to it. Without a good foundation, it's going to be bland. So choose avocados that are free from dark spots, or any sun spots. When they are ripe, the avocado's skin will darken, and they'll give with just a little bit of pressure. But they shouldn't be too soft. They should push back a bit
And if you're just starting to add avocados to your diet, I suggest checking out the Trudeau 2-N-1 Avocado Slicer. It's definitely safer than using a chef's knife. Instead of slinging a sharp blade towards your open hand, in order to dislodge those pesky pits, the cutter pops them out with ease. And there's no risk of cutting yourself!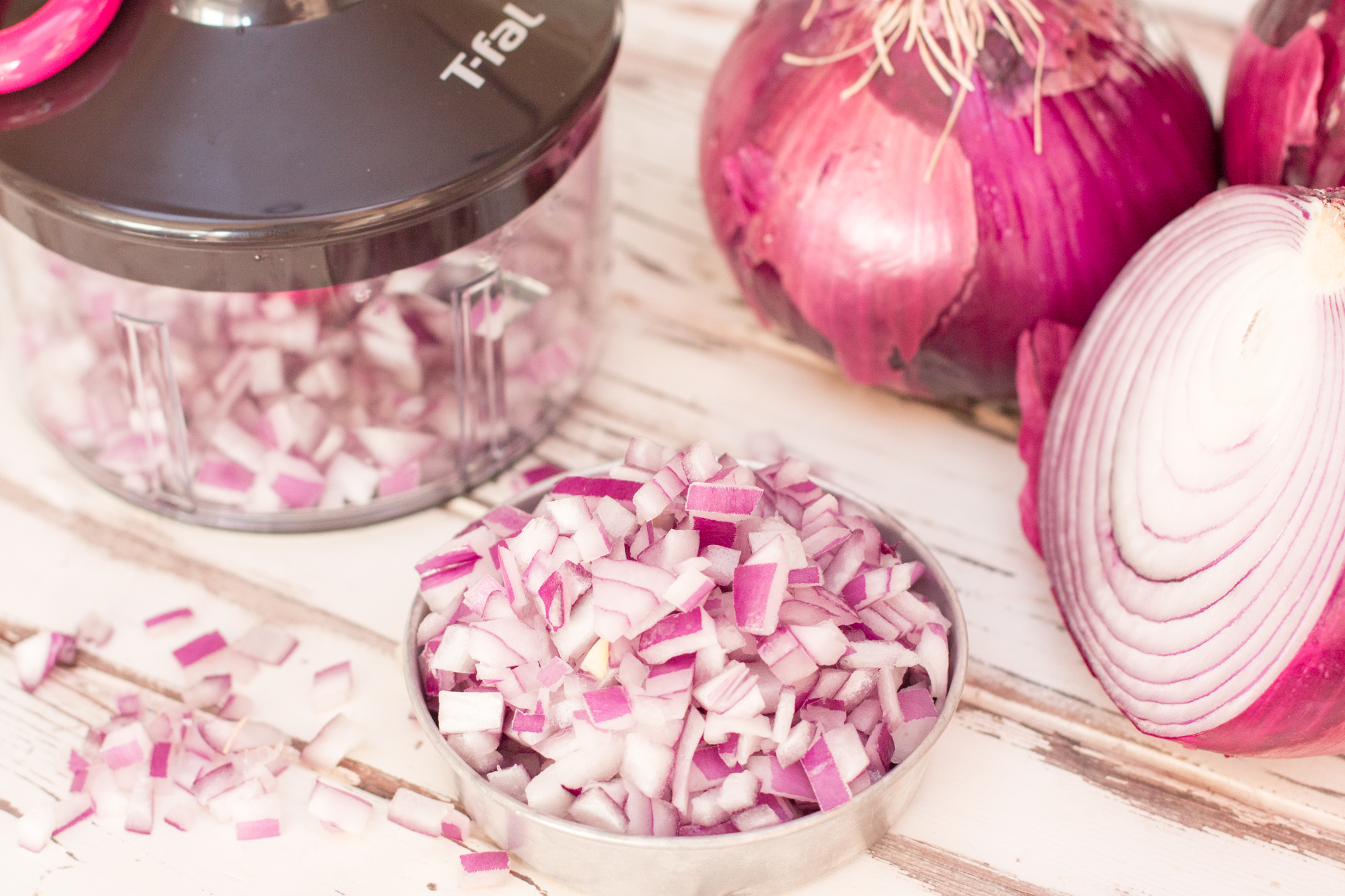 So you get to eat more and more avocados and, well, not bleed everywhere. It's a win-win! Now go ahead and prep the three avocados, scooping out the flesh, and add them to a large mixing bowl. Then mash it all up with a fork. Of course, good guacamole is made with a lot of fresh ingredients, which is why I am thankful for the T-fal Excite Hand-Powered Rapid Food Chopper!
I used it to chop up both the red onion and the cilantro. What I like about it, compared to an electronic processor, is that it chops but doesn't pulverize. I want chopped onions… not onion soup!
You've had that happen, right? You're processing an onion and by the time it's the right size, it's also wet and beaten up. Not with the manual chopper! And it is so easy to clean too. Go ahead and add the onion, cilantro, garlic, and strawberries to the mixing bowl. Now one of my favorite things about any kitchen tool is when I can use it outside of it's intended use, like this T-fal Garlic Press. I simply love a good kitchen hack and it was perfect for also juicing the lime. I simply had to cut it into wedges… and look at that, less stuff to clean!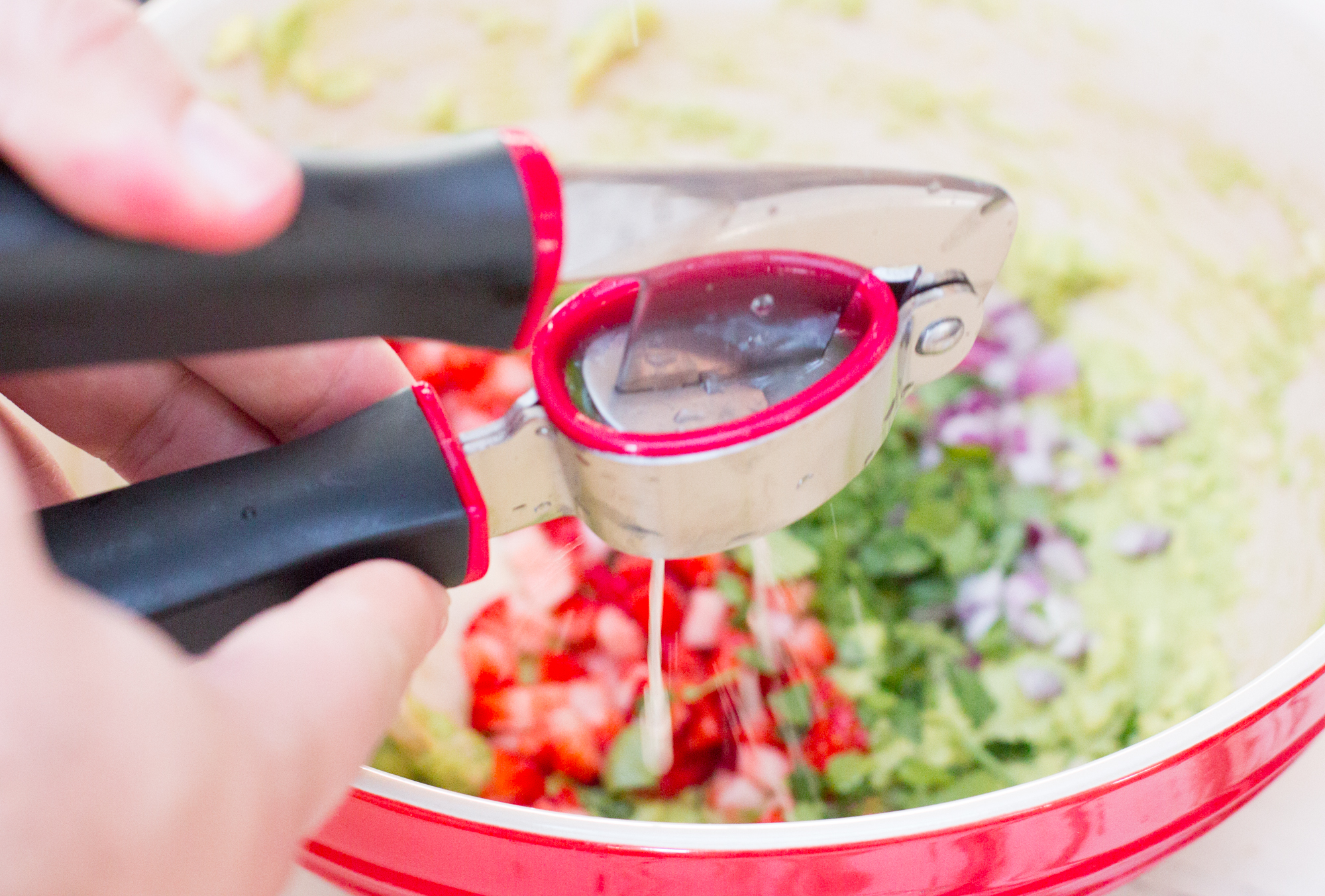 Add some salt and mix it all together. You don't want the strawberries to end up all mushy like the avocado so be gentle here.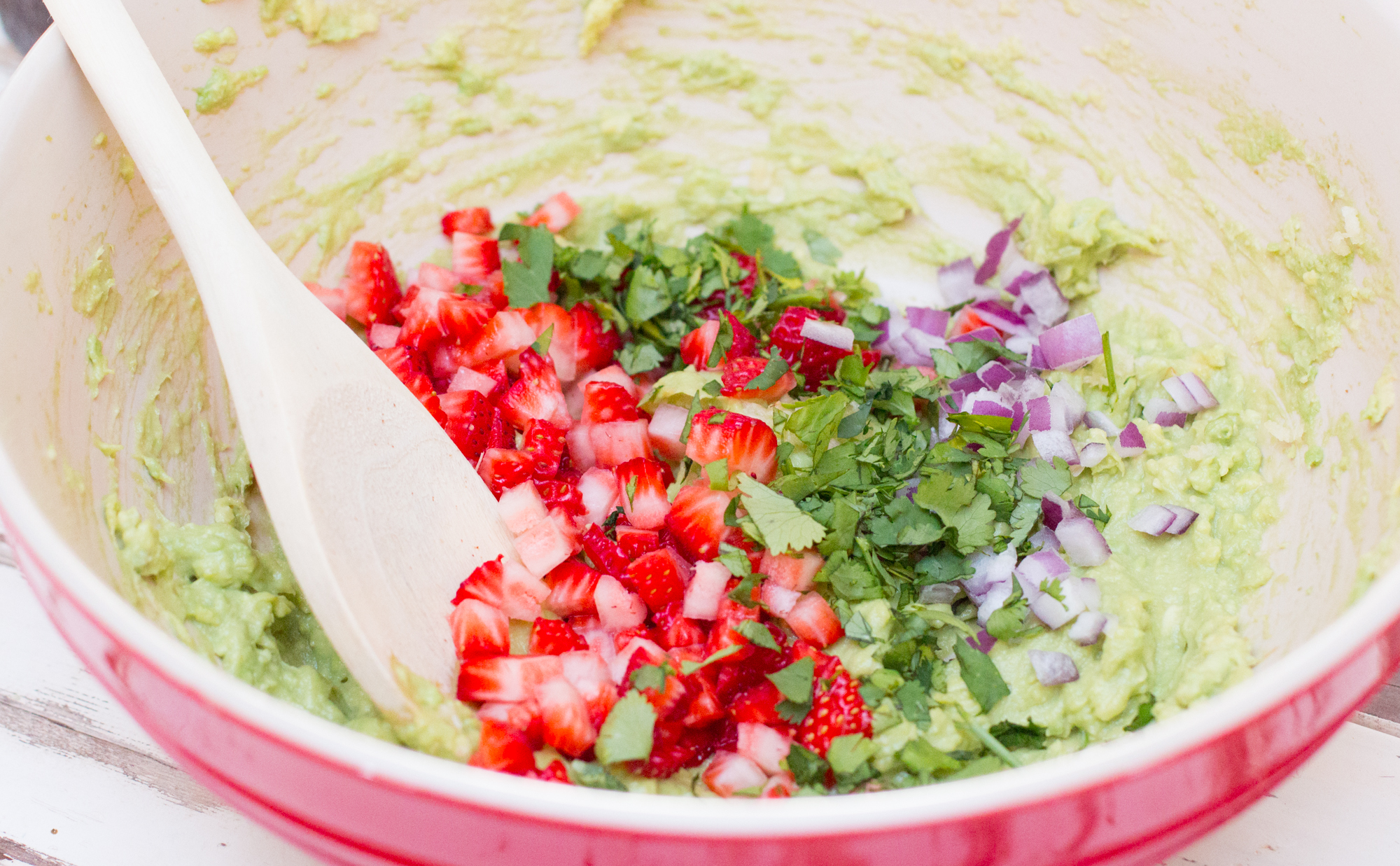 Transfer the guacamole to a bowl, like this gorgeous IMUSA Granite Molcajete Guacamole Set, garnish it with a sliced strawberry and enjoy! For your chips, spritz them with a bit of lime juice and sprinkle them with salt.
Now dig in!
Avocado + Strawberry Guacamole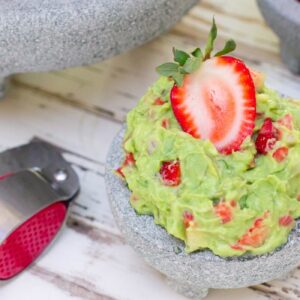 INGREDIENTS
3 ripe avocados
5 ripe but firm strawberries
1 tablespoon chopped red onion
1 tablespoon chopped cilantro
1 minced clove of garlic
Juice from ½ of a lime
Salt to taste
INSTRUCTIONS
Prep the three avocados, scooping out the flesh, and add them to a large mixing bowl.
Then mash it all up with a fork.
Add remaining ingredients and mix gently until well blended.
Transfer to serving bowl and add sliced strawberry for garnish.
Serve with clips spritzed with lime juice and sprinkled with salt.