Korean Fried Chicken Bowl with Stir-Fry Vegetables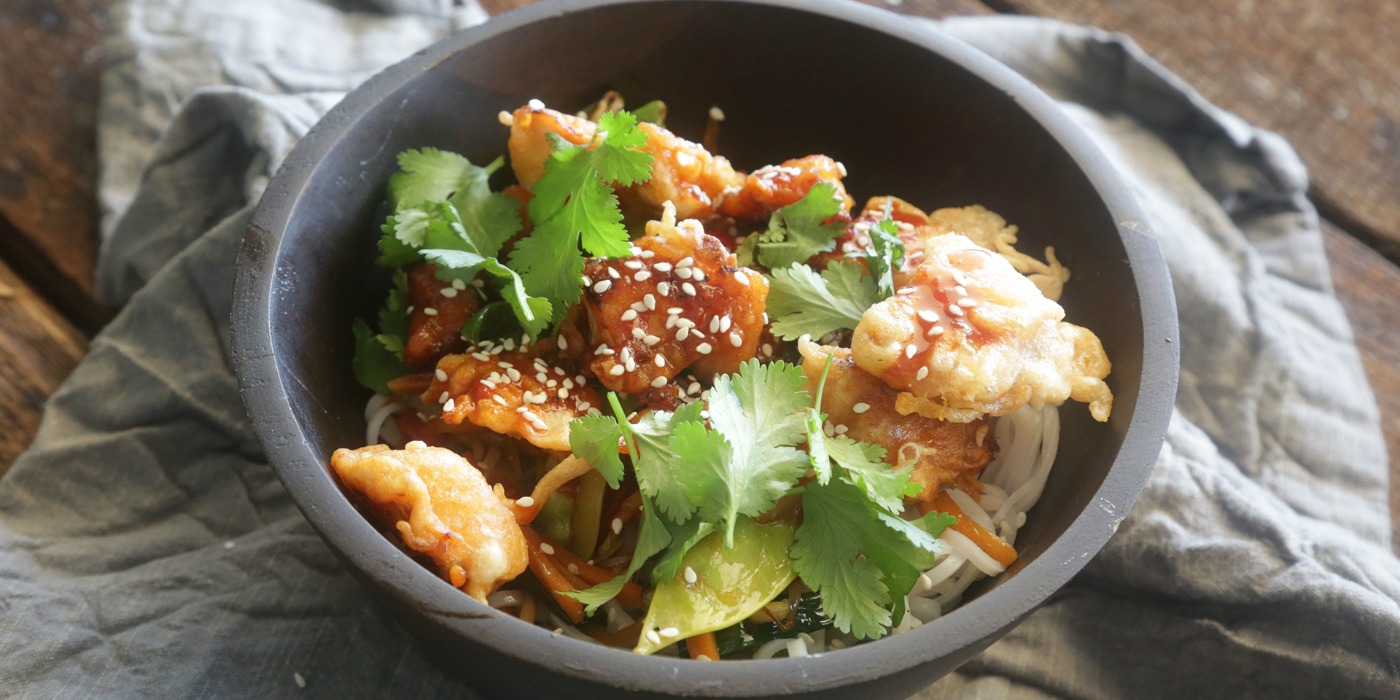 If you've been paying attention to food trends, then you may have noticed the trend in bowls. Whether It's a tuna poké bowl or a soba noodle bowl, people are going crazy for bowls. They are easy to make, versatile and always packed with flavor. In this Korean Fried Chicken Bowl, I use the ever popular Gochujang which is rice, fermented soybeans and chile peppers all ground up into one delicious paste. It goes great on just about anything, but if you don't like heat then I'd back off a bit. This recipe is totally changeable so have fun and mix it up when making this Korean Fried Chicken Bowl.
Korean Fried Chicken Bowl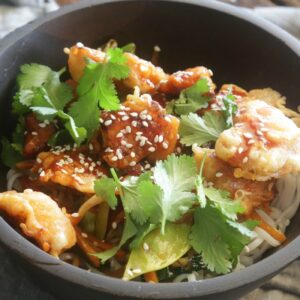 INGREDIENTS
For the Chicken:
3 tablespoons Gochujang
3 tablespoons soy sauce
2 teaspoons rice vinegar
2 teaspoons honey
2 tablespoons sesame oil
1 teaspoon grated ginger
1 teaspoon grated garlic
3 boneless skinless chicken breasts cut into 1" pieces
1 cup peanut oil
1 cup flour
1 cup corn starch
2/3 cup water
For the Vegetables + Noodles:
8 ounces thick rice stick noodles
1 tablespoon of sesame oil
1 seeded and sliced red bell pepper
1 bunch green onions sliced in 1" long slices
1 cup snow peas
1 cup matchstick carrots
1 cup sprouts
1 tablespoon rice vinegar
2 tablespoons soy sauce
Sesame seeds and cilantro leaves for garnish
INSTRUCTIONS
For the Chicken:

In a large bowl, whisk together the Gochujang, soy, vinegar, honey, oil, ginger and garlic until combined and then add the chicken. Reserve some of the sauce before the chicken is added.
Mix and refrigerate for 30 minutes.
Heat 1 cup of peanut oil in a large frying pan to 350°.
In a separate large bowl, whisk together the flour, corn starch and water until combined and add the marinated chicken to the mixture and toss.
Shake off any excess batter before placing in the hot oil and cooking for 4 to 5 minutes or until golden brown and cooked throughout.
For the Vegetables + Noodles:
Cover the noodles in boiling hot water in a large bowl and cover with a towel and let stand for 20 minutes. Strain and excess water before serving.
In a large saute pan on high heat add in the sesame oil and add in the vegetables and stir-fry for 3 to 4 minutes.
Deglaze with vinegar and soy sauce.
To Plate:
Serve the stir-fried veggies over top of the noodles. Top off with the fried chicken and garnish with the remaining sauce, sesame seeds and cilantro leaves.