Creamy Shrimp & Cheddar Grits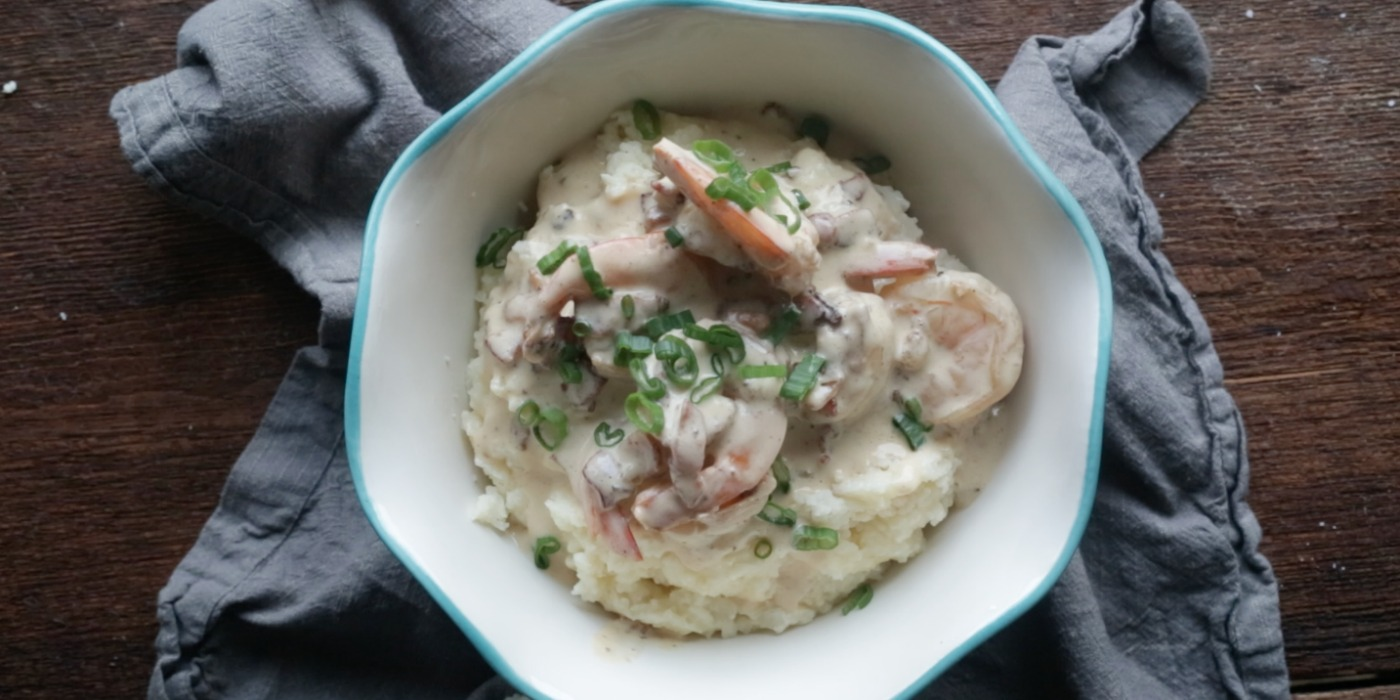 If you've never traveled to the south or have had the opportunity to eat shrimp and grits, then, man, have you been missing out. Shrimp and Grits are probably my most favorite thing to eat. The delicious combination of sweet sherry infused creamy shrimp with the buttery cheddar spiked grits is bar none the best! Now there are a few states that will claim to have the best shrimp and grits but North Carolina is where it's at! In addition, there are many different styles of shrimp and grits, for instance, I made this Asian infused Teriyaki Shrimp with Brown Farina Grits. The possibilities are literally endless.
Creamy Shrimp + Cheddar Grits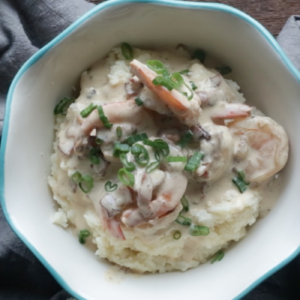 INGREDIENTS
For the Grits:
1 tablespoons of olive oil
1 small diced yellow onion
2 cups of white grits
6 cups of chicken stock
4 tablespoons of unsalted butter
8 ounces of shredded white cheddar grits
Kosher salt and fresh cracked pepper to taste
For the Shrimp:
1 teaspoon of olive oil
6 strips of bacon thinly sliced
5 minced cloves of garlic
1 pound of peeled and deveined shrimp
¾ cup of cream sherry
1 ½ cups of heavy whipping cream
Kosher salt and fresh cracked pepper to taste
INSTRUCTIONS
Grits: Add the olive oil to a medium size pot on medium heat and cook the onions for 6 to 8 minutes or until lightly browned.
Next, add in the grits and chicken stock, stir and cover for 20 to 25 minutes or until the grits are al dente.
Finish the grits with butter, shredded cheddar, salt and pepper and keep warm.
Shrimp: In a large saute pan on high heat with 1 teaspoon of olive oil cook the bacon until it is crispy.
Once cooked, remove the bacon and the shrimp and garlic to the pan with the rendered bacon fat and saute for 3 to 4 minutes or until the shrimp is done.
Once the shrimp is cooked, remove them from the pan and deglaze with cream sherry and reduce until there is 2 tablespoons of liquid left.
Add the cream and cook over medium heat until it becomes very thick, think alfredo sauce.
Add the shrimp, bacon, salt and pepper to the cream mixture and mix.
Serve the creamy shrimp over the cheddary grits!