Superfood Breakfast Cookies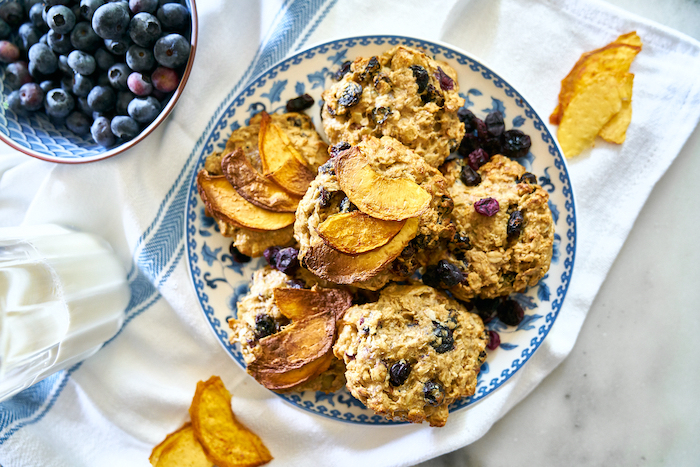 In peak produce season (for those of us not in California), I have an intense need to experience as much in-season fruit as possible. Can I buy peaches, berries, and tomatoes in December in Virginia? In the words of Jonathan from Queer Eye, "Just because you Ameri-CAN, doesn't mean you Ameri-SHOULD".
Let's hypothetically say you purchased a rather large quantity of fruit – possibly an "unreasonable amount"- and you're wondering what to do with it besides baking another pie or freezing it for smoothies. Might I suggest breaking out a dehydrator?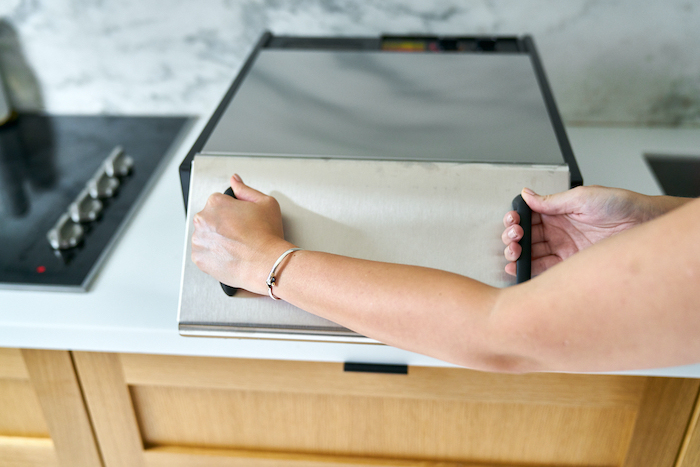 Stainless Steel Dehydrator

By Excalibur

Shop Now
For those short on freezer space, dehydrating fruit can be a fantastic way to preserve the season in a shelf-stable way. Not only can you dry fruit for mixing into trail mix or eating plan, but you can also make your own healthier fruit leathers, baked goods, and even superfood powders (just place it in a high powered blender after!).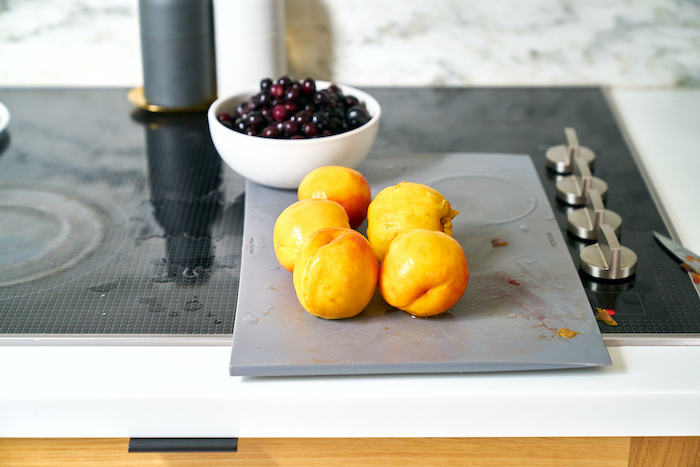 Baking with dried fruit is so much easier than fresh fruit because you don't have to account for the moisture content. Sometimes cooking with fresh fruit causes unbaked areas and inconsistency in muffins, bread, etc. It also makes for highly concentrated flavor!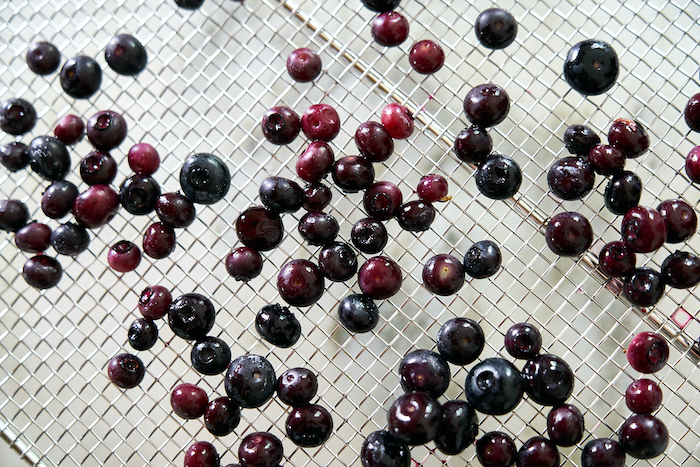 A dehydrator is also a fantastic investment if you have a garden, CSA subscription, or know someone who is especially generous with their fruit trees. I personally feel like preserving seasonal produce makes me appreciate it more (rather than trying to eat as much of it as possible before it goes bad to the point where you truly do not want to see another zucchini for another calendar year).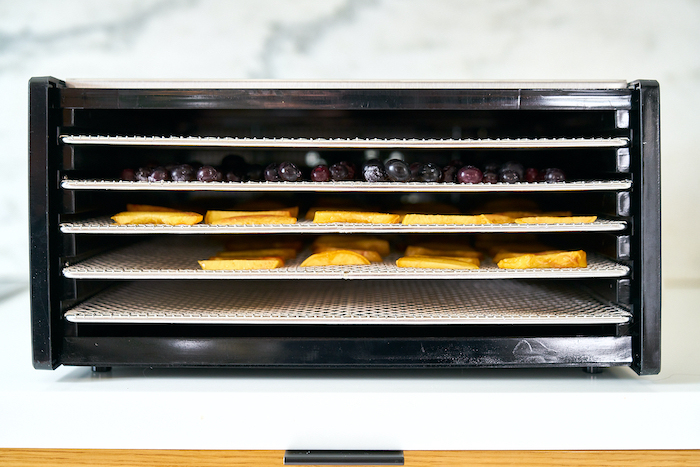 While some ovens do go low enough in heat settings to have a dehydrating-like function, a dehydrator has smarter rack space to allow for maximum usage (and better, more even airflow).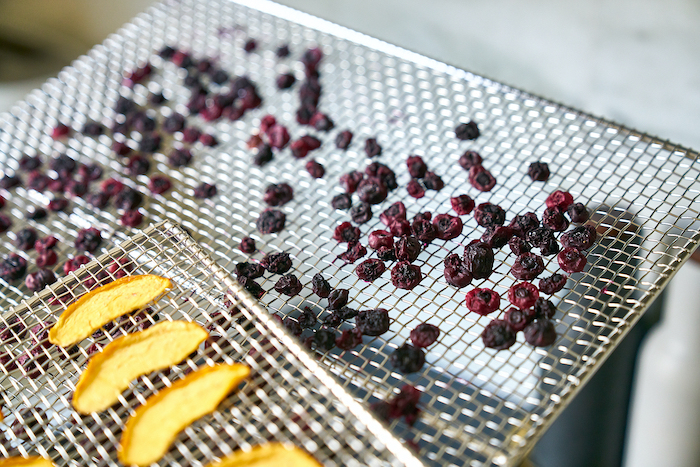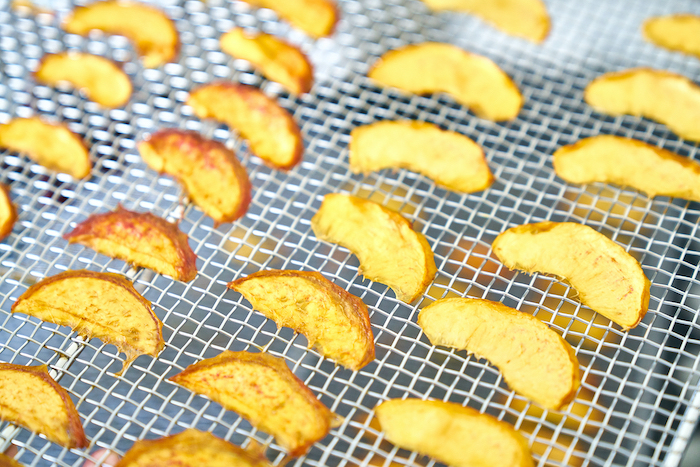 There are so many great recipes for everything from watermelon jerky to spicy pineapple chips available, but today I want to look at a realistic baking situation that's family-friendly: breakfast cookies. Or, to be honest, because who doesn't want to be flexible with kids…thanks to the depth of this pan you could switch them to breakfast bars.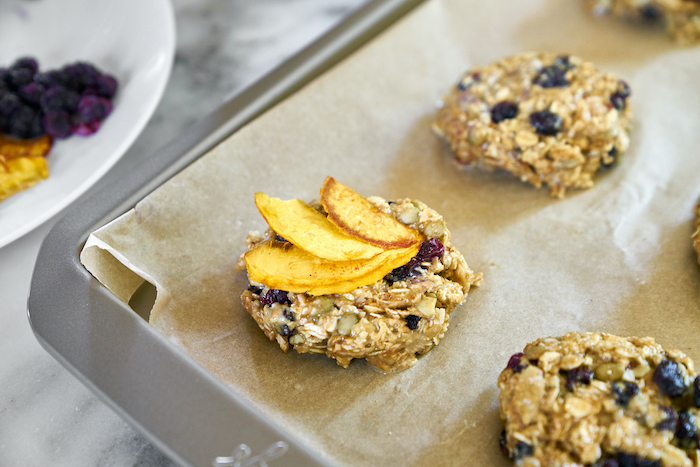 3-PC Bakeware Set

By Cravings by Chrissy Teigen

Shop Now
It's also the time for the dietitian in me to mention superfoods. Legally, superfood doesn't really mean anything. It's just a marketing term that means "lots of nutrients with a markup". Fruits and vegetables are honestly all pretty much superfoods (albeit some 'better' than others if you want to side by side compare).
If you want to add a superfood powder to these cookies, make sure you double-check to make sure it's not heat-sensitive and is safe for kids. But to be on the safe side, let's cook with simple dehydrated fruit!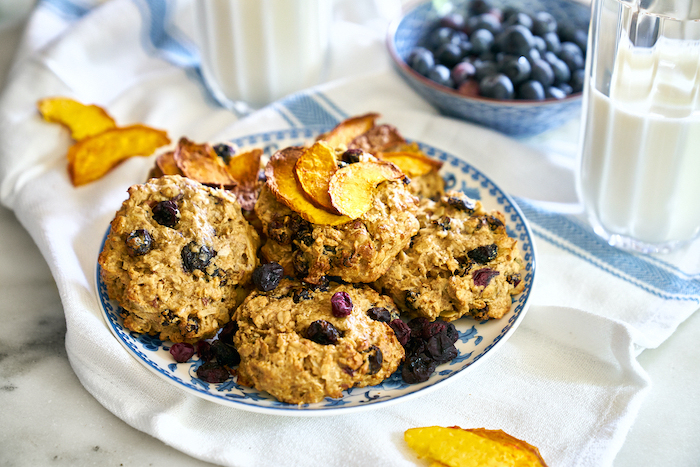 Brooklyn Stripe Dish Towels

By Now Designs

Shop Now
And in the event you want to make these quickly, yes you can absolutely use dried fruit you did not dry yourself. This is not "Little House on the Prairie".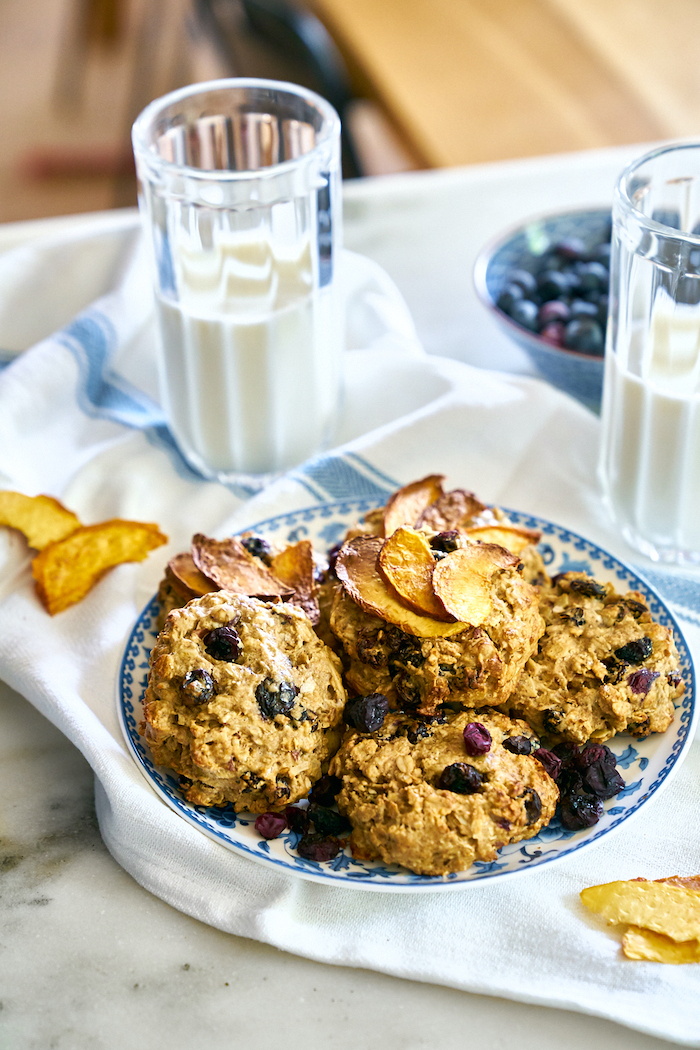 Superfood Breakfast Cookies
Using a dehydrator, these tasty breakfast bars will be the most energy-packed bars using your favorite in-season fruits!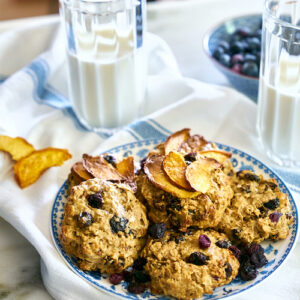 Ingredients
2

cups

blueberries, punctured

5

peaches, skin and pit removed, thinly sliced

1

cups

old fashioned oats

.33

cups

whole wheat flour

.25

cups

raw pumpkin seeds

.75

cups

dried blueberries

.33

cups

dried peach slices (chopped in cookies, or whole on top)

2

tbsp

flaked coconut

.5

tsp

baking powder

2

oz

honey

.33

cups

Nut butter

.5

cups

milk or milk alternative

1

large egg

1

tsp

vanilla extract

.25

tsp

kosher salt

*If desired- add superfood powder of choice (make sure it's not heat sensitive and is safe for children)
Instructions
Prepare and dehydrate fruit per manufacturer directions. (Or buy dried fruit).

In a large bowl, mix all ingredients.

Use a 1/4 cup dry measure and drop 6 cookies onto a parchment lined baking sheet.

Preheat the oven to 325 F convection.

Use damp hands and shape cookies into pucks.

Bake for 15 minutes or until golden brown.

Cool and store up to 4 days.
Nutrition
Serving:
1
g
Calories:
455
kcal
Carbohydrates:
64
g
Protein:
12
g
Fat:
17
g
Saturated Fat:
4
g
Cholesterol:
33
mg
Sodium:
121
mg
Fiber:
9
g
Sugar:
35
g
Other great superfood recipes to try:
Get Cozy with This Superfood Latte
Make-Ahead Superfood Smoothie Power-Up Cups