The Spring/Summer Issue of The Inspired Home Journal Has Arrived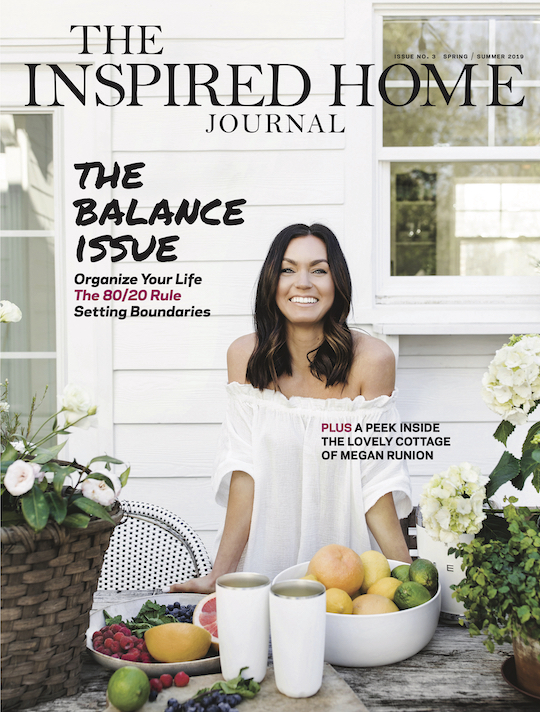 Look for this issue on newsstands beginning May 1st at Barnes & Noble, Whole Foods, Books-A-Million, Walmart, Chapters Indigo, and select local grocery stores!
In this issue, we explore the idea of balance. In a quest to better understand and achieve balance, we recognized the role our homes can play in helping us find that elusive balance. Your home can be your sanctuary; a shelter from the storm and a refuge from the pressures and obligations that a busy life brings. Whether it is connecting around the dinner table, hosting friends, or simply relaxing and taking time for yourself in a space that feels calm and comforting, your home can play a central role on your journey to attaining balance.
For inspiration, we turned to people who have dedicated their personal and professional lives to self-discovery in the search for overall well-being and ultimately, balance. Our cover star, Megan Runion, brought us inside her beautiful Greenville, South Carolina home and sat down with us to talk about her signature French Farmhouse style and what balance means to her.
You also can't miss our article from Nitika Chopra about creating boundaries for balance, as well as Carlene Thomas's unique perspective about additive wellness, and Food Network's Molly Yeh invited us into her sunny, happy kitchen to share some of her delicious recipes.
It's no coincidence that we are exploring this theme in our Spring/Summer issue. This is a time for renewal. So whether it's creating self-care routines, drawing wisdom from successful women entrepreneurs, or whipping up killer margaritas and tacos to unwind with friends and family, we hope that throughout these pages you might just find the perfect recipe fo you own version of balance.
You'll also be able to purchase this issue on our site beginning May 7th, as well as some of our past issues you may have missed. Until then, check out the digital version on Issuu!