Apple Chai Bread Pudding Bundt Cake with Vanilla Bean Caramel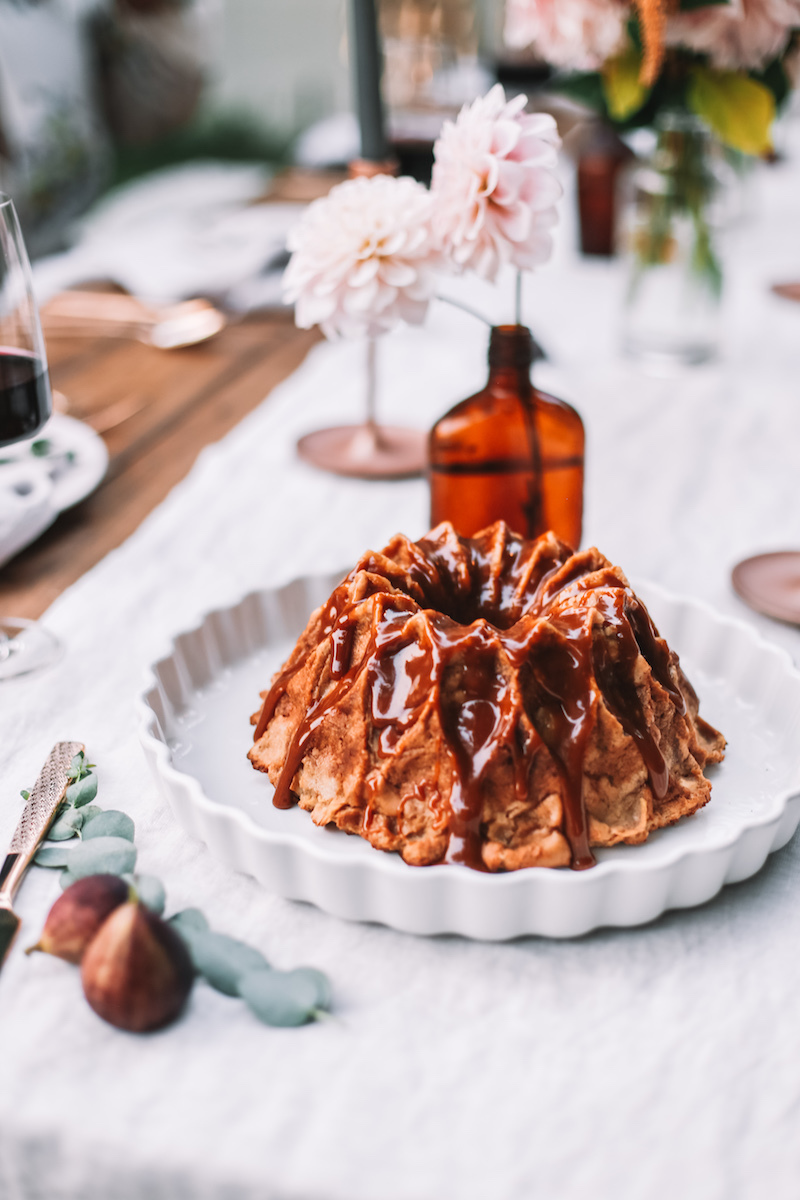 For a fall celebration like a Friendsgiving, it's great to have one delicious dessert that can also serve as a gorgeous centerpiece for your table. This Bread Pudding Bundt Cake does just that.
This dessert has all the flavors of fall wrapped into one: apples, caramel, cinnamon, cloves, vanilla, cardamom. The gang's all here!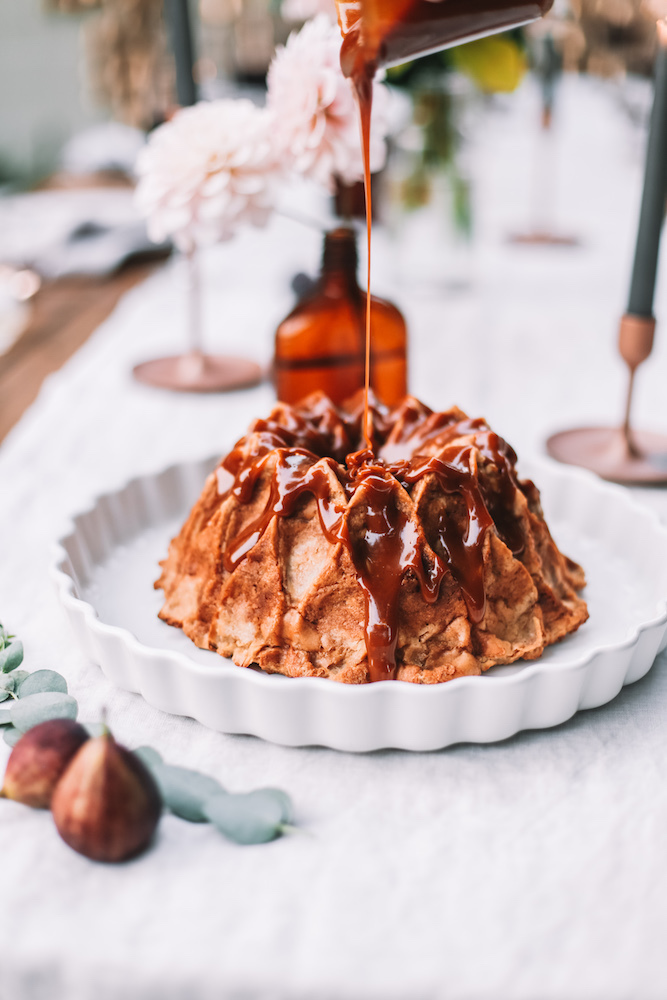 Apple Chai Bread Pudding Bundt Cake with Vanilla Bean Caramel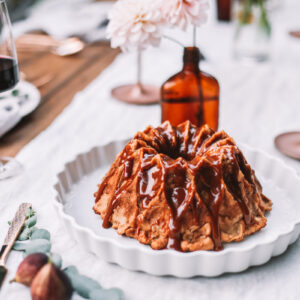 INGREDIENTS
For Vanilla Bean Caramel:
1 cup granulated sugar
½ cup heavy cream
6 Tbsp unsalted butter, diced
1 vanilla bean pod, scraped
¼ tsp flaky sea salt
For Apple Bundt Cake:
Unsalted butter for greasing
14 cups stale French bread, cubed
1 pink lady apple, grated
3 large eggs
3 egg yolks
2/3 cup heavy cream
3 cups whole milk
½ cup honey
¼ cup vanilla bean caramel
2 tsp vanilla extract
2 tsp ground cinnamon
½ tsp cardamom
¼ tsp ground cloves
¼ tsp sea salt
INSTRUCTIONS
For Caramel:
In a heavy bottom saucepan, heat one cup of sugar until melted, 5-10 minutes. Stir consistently with a wooden spoon and be VERY careful not to burn. The color should be amber brown. Any darker and you have burned your sugar. Add in butter slowly and stir until melted.
Very slowly add in heavy whipping cream.
Continue to boil and stir for another 30 seconds to 1 minute. Remove pan from heat. Add in salt and vanilla beans from pod.
Transfer caramel to a glass jar to cool completely and thicken.
For Cake:
Preheat oven to 350 F.
Grease 10-cup bundt pan well with unsalted butter and set aside. Fill a separate 8-inch cake tin with ¾ cup of water and place on the bottom rack of oven. The steam will ensure a moist bundt cake.
In an extra large bowl, toss together bread cubes and shredded apple. In a separate bowl, whisk together eggs, egg yolks, cream, milk, honey, caramel, vanilla extract, salt and spices until smooth. Pour egg mixture over bread cubes and stir mixture to coat evenly. Let mixture soak for 15 minutes.
Press the soaked bread mixture into greased bundt pan in three increments. Press each layer down into the bundt pan. Place bundt pan in the middle of the oven above water filled cake tin. Bake cake for 50-55 minutes or until top is golden brown.
Remove the cake tin with water. Turn the oven off and open the door to vent. Keep bundt pan in the oven until cake has cooled completely. Flip the cake onto a serving platter and drizzle with remaining vanilla bean caramel.
Photography by Abagail Halstead & Elizabeth Van Lierde / Recipe by Elizabeth Van Lierde
This recipe originally appeared in the Fall/Winter 2018 issue of The Inspired Home Journal, in the article "Boho Bash."