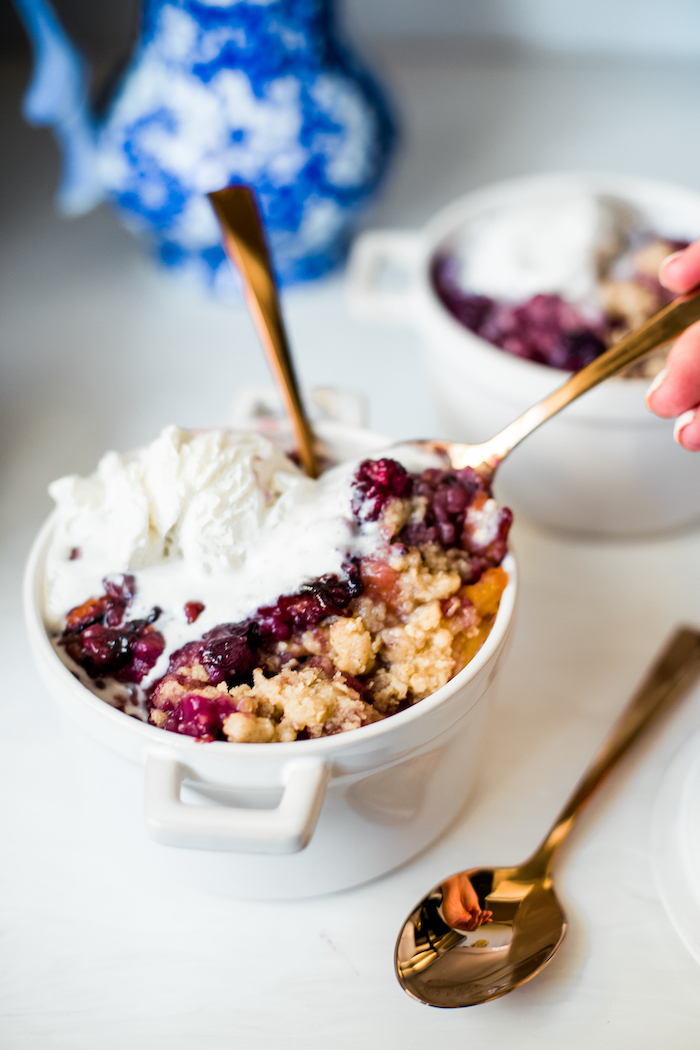 It's no secret that the Instant Pot has clearly taken a permanent residence in millions of America's kitchens. When I found out that my Nanna had ordered one from QVC (she's a tv shopping addict) I knew that I needed to stay up to trend and get one of my own. I've definitely played with a sous vide machine and I was a veteran with a slow cooker so the Instant Pot was unknown, but exciting territory.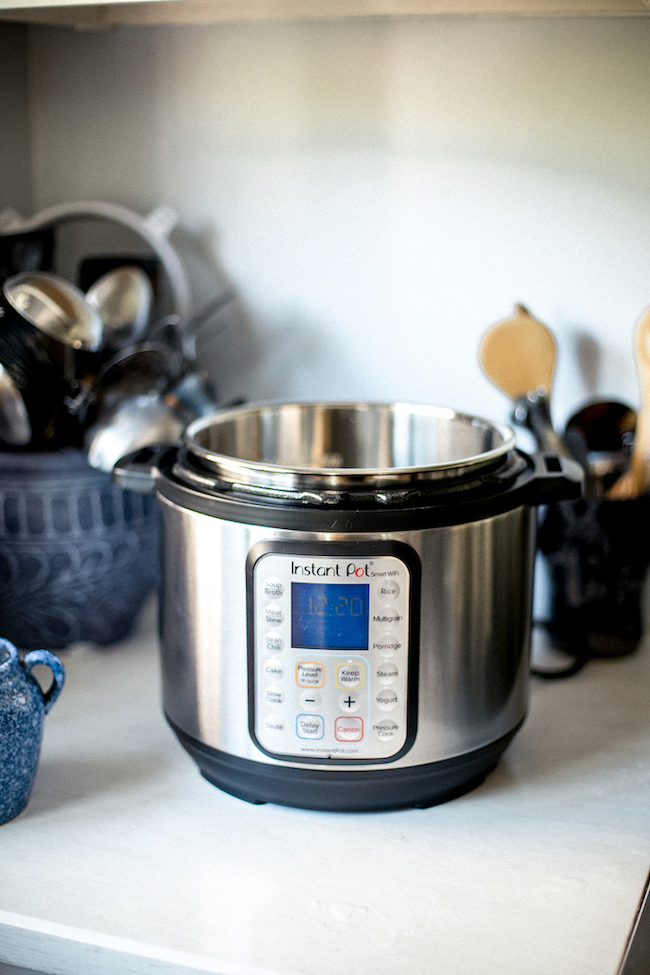 While I'm thrilled to play around with lots of savory stews and juicy Mexican meats this fall, my first thought was: dessert!
I have seen countless dessert recipes for the Instant Pot. Everything from cheesecake to cobbler and this really got my wheels turning. After a few tries I finally cracked the dessert code for the Instant Pot and I was pleasantly surprised. Not only was it the fastest fruit crisp I had ever made but it tasted just as delicious as it would out of the oven. I now understand why busy moms fall deeply in love with their Instant Pots.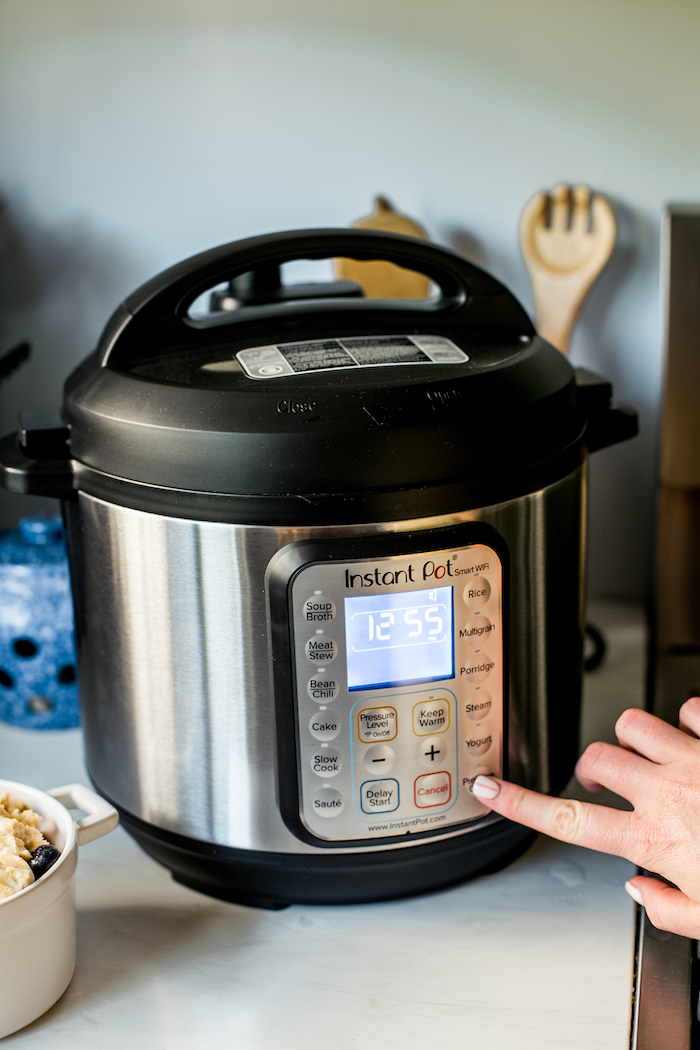 Multi-Use Programmable Pressure Cooker

By Instant Pot

Shop Now
Can I use different kinds of fruit?
Uh YES! Highly recommend.
We're in that weird stage of late summer/early fall so naturally I'm in a stone fruit phase but I can't WAIT to go apple picking and work up a fall harvest.
Fall: Apples, pumpkin, & cranberries
Winter: Persimmons, pomegranates, & pears
Spring: Strawberries, apricots, & cherries
Summer: Peaches, blueberries, & blackberries
Whichever fruit combo you go with, just know that a healthy scoop of vanilla ice cream is not optional!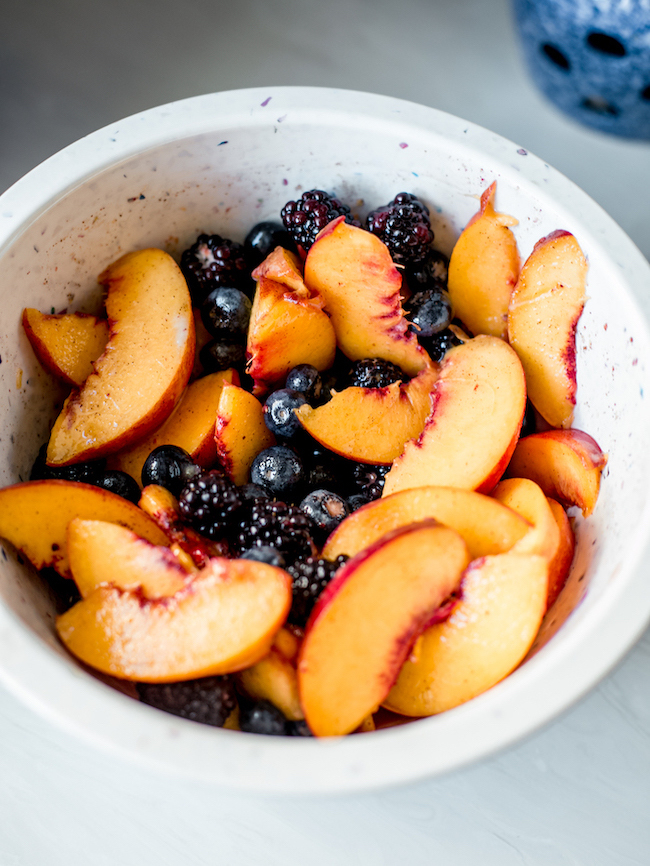 Confetti Mixing Bowl Set

By Zak Designs

Shop Now
How do you cook a fruit crisp in an Instant Pot?
There are two different ways you can cook the crisp!
In Ramekins: The first time around we cooked the crisp in two small white cocottes. Just be sure to place the steamer trivet rack and a little bit of water on the bottom of the Instant Pot so that there is steam circulation. If you love a really nice presentation this is the way to go.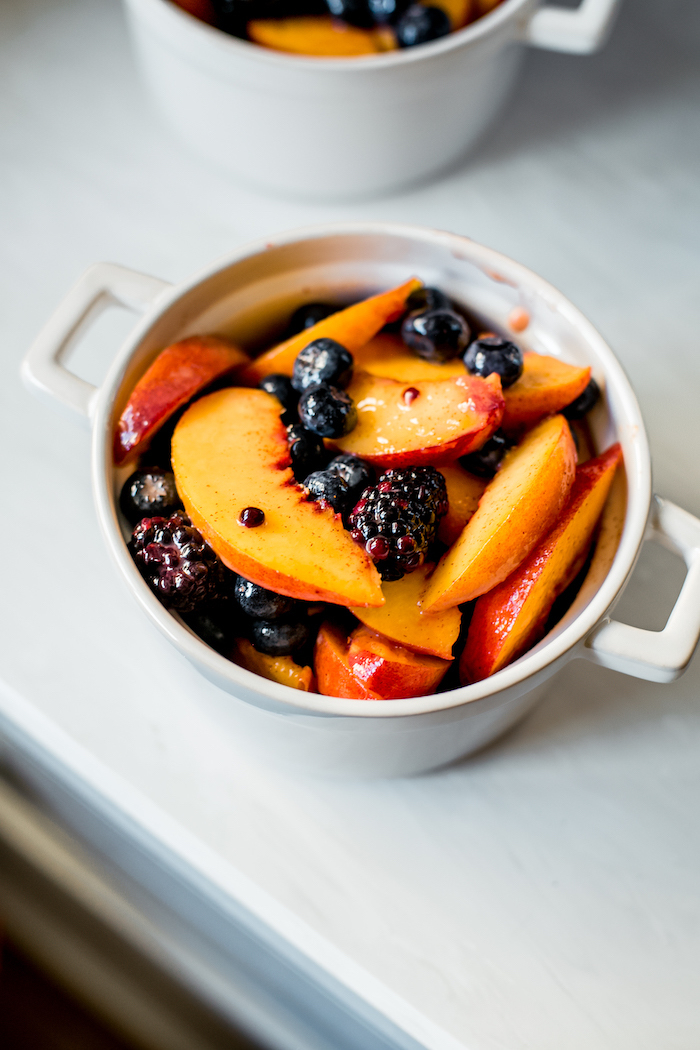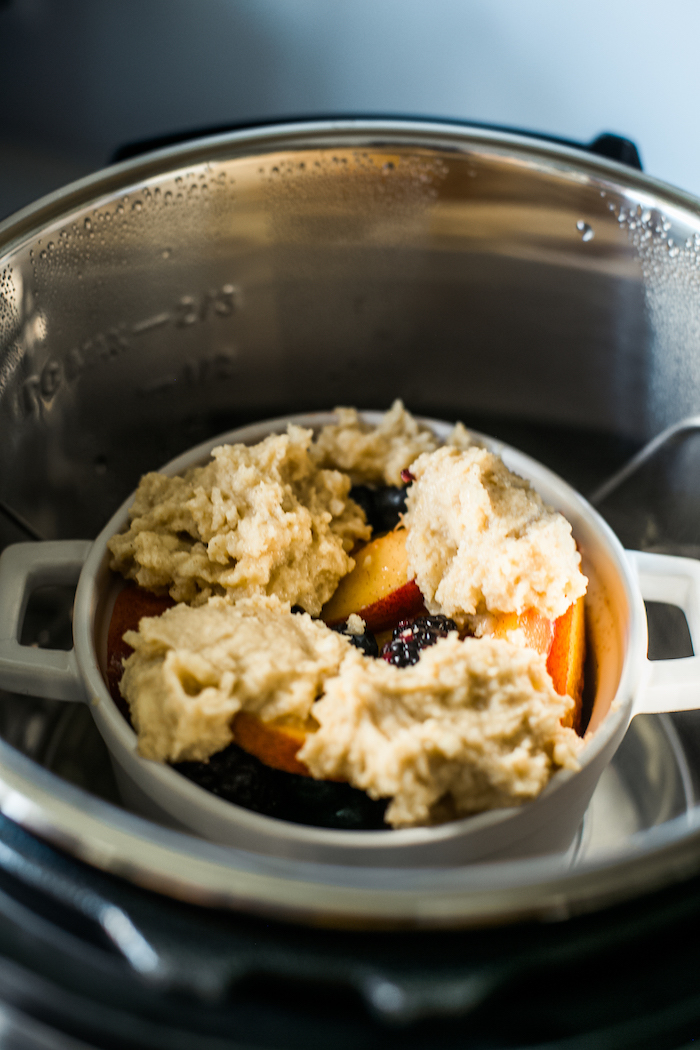 Right in the Instant Pot: You can place all of the ingredients directly into the bottom of the Instant Pot. Just be sure to let the crisp cook before serving (it's going to be piping hot!)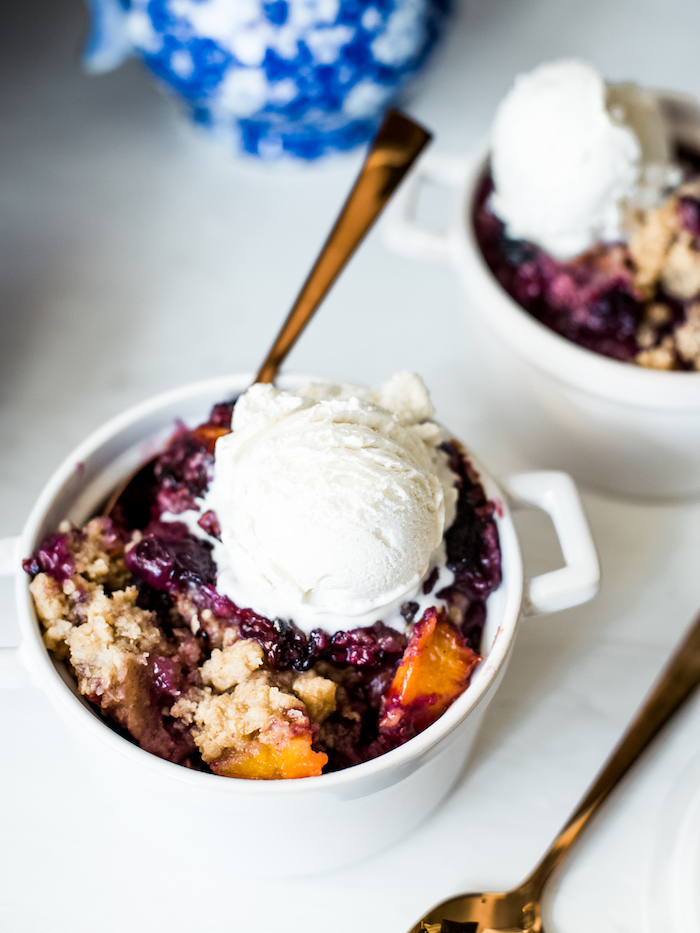 How long do I cook a fruit crisp in an Instant Pot?
The time might vary depending on your fruit but we have found 15-17 minutes on manual to be a sweet spot. Delicate fruits like berries, might cook for a little less time to avoid being mushy. Fruits like apples and pears are a bit sturdy and can go a little longer for more in depth flavor.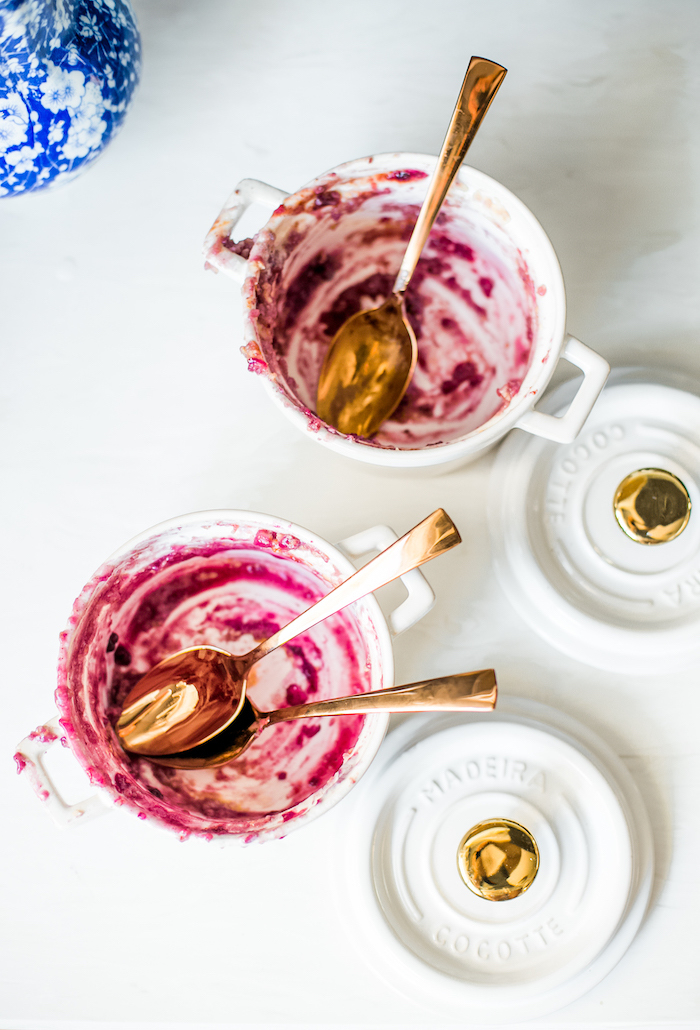 Bellasera Rose Gold Flatware Set

By Zwilling

Shop Now
Instant Pot Fruit Crisp with Peaches & Blackberries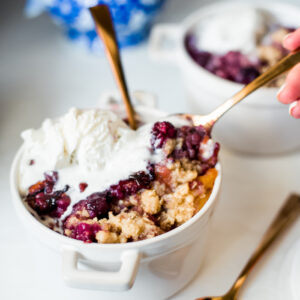 INGREDIENTS
For the Fruit:
3 large peaches, pitted and sliced into ½" wedges
1 cup of blackberries
Juice of 1 lemon
1/3 cup of granulated sugar
2 tablespoons cornstarch
2 teaspoons pure vanilla extract
½ teaspoons cinnamon
2 tablespoons of whiskey (optional)
Pinch of kosher salt
For the crisp:

1/3 cup of sugar
2/3 cup of all-purpose flour
½ cup of oats
1 Teaspoon of cinnamon
1 Teaspoon of kosher salt
½ cup of cold butter, shredded
Vanilla ice cream to top

INSTRUCTIONS
In a large bowl, toss together peaches, blackberries, lemon juice, sugar, cornstarch, vanilla, cinnamon, and a pinch of salt. Pour mixture into an Instant Pot.
In a new bowl combine ingredients for crumble: sugar, flour, oats, cinnamon, salt and shredded butter. Crumble together with your hands of pastry blender until mixture is sandy and crumbles are about a nickel size. Top evenly on top of fruit mixture.
Place ramekins on top of grate with one cup of water in the instant pot or the mixture directly onto the bottom of the instant pot. Seal the lid on and place the pressure valve to seal. Cook on manual high pressure for 17 minutes.
Quick release the pressure and allow crisp to cool for five minutes. Top with vanilla ice cream just before serving.
*Note: you can replace the peaches and blackberries with 5-6 cups of your desired fruit.