Instant Cocktail Infusions: A New Way to Use Your Cream Whipper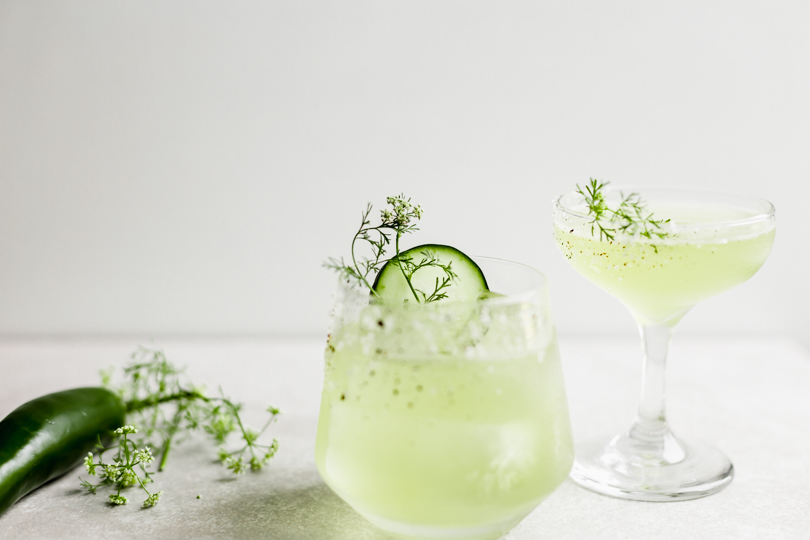 Directly infuse your spirits with fresh, seasonal ingredients in seconds, not days, with this easy cream whipper hack!
Ever since I first read Dave Arnold's cocktail bible Liquid Intelligence, I've been dying to try out a technique he pioneered specifically for the iSi cream whipper. No, it has nothing to do with whipped cream, or even foam (the other culinary trend these whippers are responsible for). It's called a rapid infusion, and it means you can infuse liquids with flavor in minutes, not weeks. Pretty cool, right?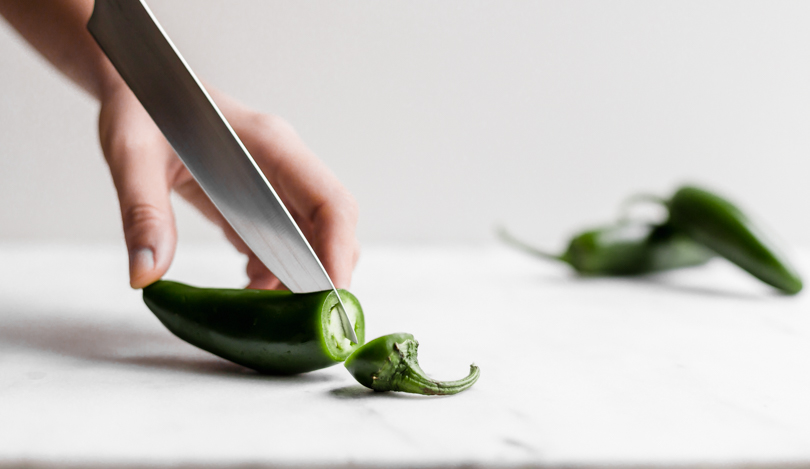 Well, I can report that the process is even less intimidating and even more rewarding than I anticipated. First, some basics on the science of what's going on here and why it works (skip this part if you're just like tell me how to do this already!). Nitrous oxide, the gas in iSi cartridges usually used to whip cream or foam liquids, can also be used to to infuse them. In rapid infusion, nitrous dissolves into the liquid and forces it into a solid (your fresh ingredient!) under pressure. After it spends some time (again, minutes, not weeks) inside that solid, you release the pressure and the nitrous bubbles out, forcing the flavor of the solid into the liquid as it goes.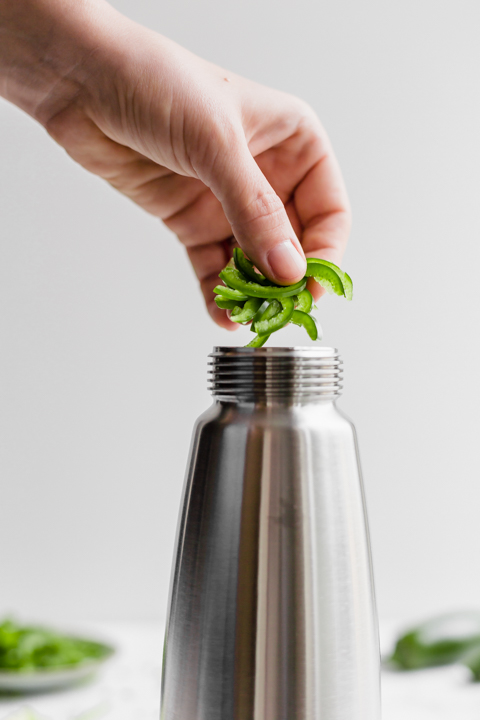 If that sounded too technical and you're thinking '"no thank you, I'll just do things the traditional way," just keep in mind that the instantaneous-satisfaction-factor of these infusions is not their only benefit. Rapid infusion doesn't capture as many of the bitter, tannic, or spicy components that traditional infusions do, making it possible to make very flavorful infusions out of ingredients that would typically be too bitter or spicy in high amounts — like the jalapeño I'm using here.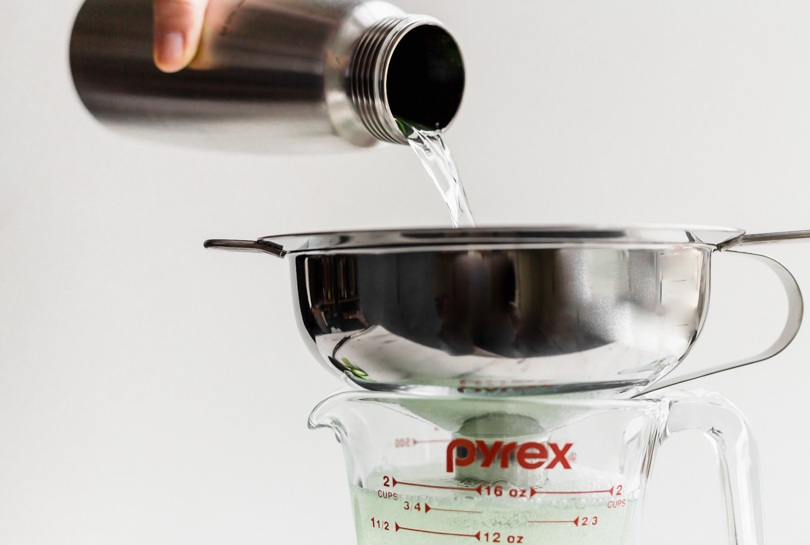 Most hot pepper infusions are spice bombs, so much so that you can't perceive the actual pepper flavor. This jalapeño infused tequila has the tiniest of kicks, but packs a wallop of vegetal flavor — it's smooth, complex, and honestly hard to describe until you try it yourself.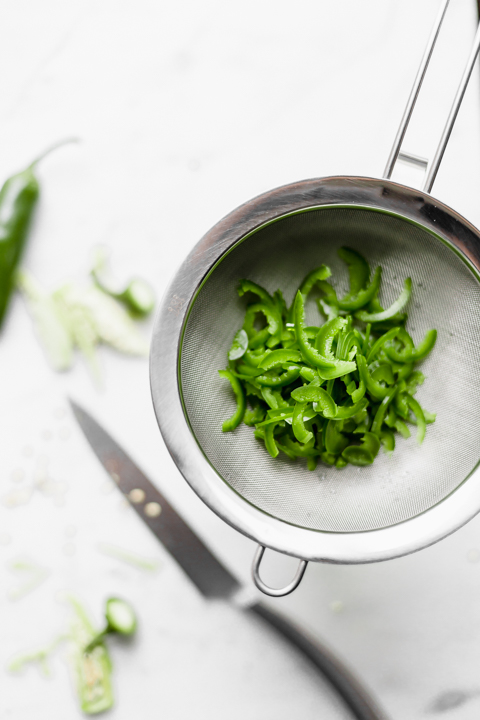 If you're ready to join me on the rapid infusion boat (it's a very lovely boat to be on!), you are of course going to need your own iSi whipper. They also make a Rapid Infusion 5-Piece Tool Kit that makes the process even easier (and less messy) which I highly recommend. Once you've got them and have read the manual, here are some of Dave Arnold's tips for the process itself:
Cutting your ingredients down into thin slices (or grinding them in the case of certain spices) increases surface area, which translates to more flavor.
Temperature drastically affects infusion rates. I'll spare you the details, but make sure your ingredients are all room temp unless a recipe specifically calls for something different.
You need to be more careful than usual to follow your recipe exactly and use the right amount of each ingredient — if you don't, the final pressure in the whipper will be off and so will the balance of flavor.
Since the process is so fast, it's also important to get the timing right. Seconds matter, so use a timer and don't go on your gut.
Vent (the part of the process where you squeeze the trigger on your whipper to release pressure) fast. The faster you vent, the more flavor-generating bubbles will be formed.
Okay, now ready for some recipes? I followed Dave Arnold's recipe for Jalapeño Tequila exactly (you can find it both in his book and in the free iSi infusion booklet on their website or in your infusion kit), then used it to make a wonderfully pepper-forward, herbaceous take on a margarita. It has the kind of fresh flavor punch that you can only get with a rapid infusion, and it's one of my favorite things to make right now.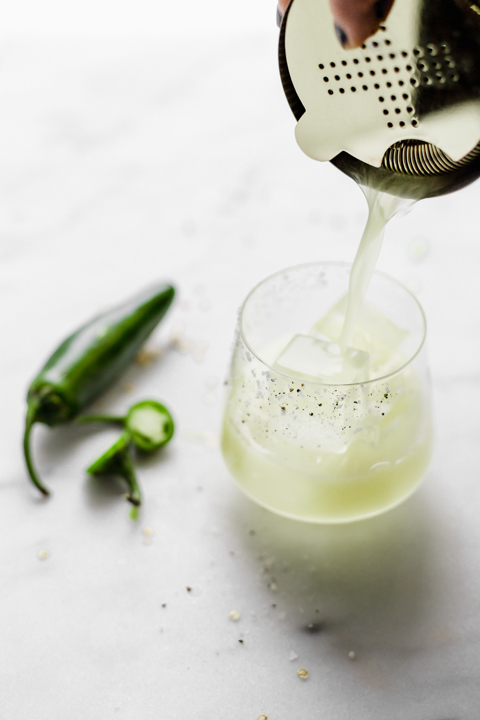 If you don't want to try the rapid infusion process, you can swap out the Jalapeño Tequila with St. George Spirits' Green Chile Vodka, which uses a variety of peppers to achieve a similarly layered, pepper-forward heat. Like a traditional margarita, you can serve this up or on the rocks depending on your preference, and with or without a salt rim. I like to garnish with a cucumber slice and a sprig of flowering cilantro, but you can skip both or use regular cilantro if you can't get your hands on the flowering stuff (I grow mine in an indoor Miracle Gro Aerogarden).
Jalapeño Tequila Margaritas
Directly infuse your spirits with fresh, seasonal ingredients in seconds, not days, with this easy cream whipper hack!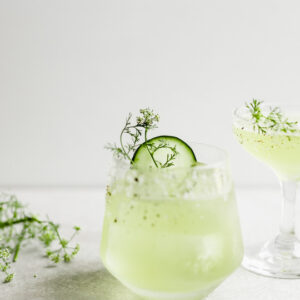 Ingredients
For the Jalapeño Tequila:

45

g

green jalapeño pepper seeded, deveined, and very thinly sliced

500

ml

blanco tequila

For the Jalisco Garden:

1

oz

jalapeño tequila (alternate: St. George Spirits Green Chile Vodka)

1

oz

green chartreuse

.5

oz

honey syrup

.5

oz

fresh squeezed and strained lime juice

For the Honey Syrup:

64

g

very hot water

100

g

honey
Instructions
For the Jalapeño Tequila: Combine the ingredients in a half liter whipper.

Set timer for 1 minute 30 seconds. Start the timer, then quickly add one nitrous charger and shake. Quickly add a second nitrous charger and shake.

When the timer is up, vent quickly. Allow the mixture to bubble for one more minute.

Strain through a fine mesh sieve, pressing on the pepper to extract as much liquid as possible. Let rest for 10 minutes before using, then store in the fridge.

For the Jalisco Garden: Combine in a cocktail shaker with ice. Shake for 12 seconds, then pour into a chilled coupe or into an ice filled rocks glass.

For the Honey Syrup: Stir rapidly until completely combined. Store in the fridge.

*(from Dave Arnold's Liquid Intelligence)
Nutrition
Serving:
1
g
Calories:
139
kcal
Carbohydrates:
9.8
g
Protein:
0.1
g
Sodium:
1
mg
Fiber:
0.2
g
Sugar:
9.6
g