How to Throw the Ultimate Hallmark Christmas Movie Night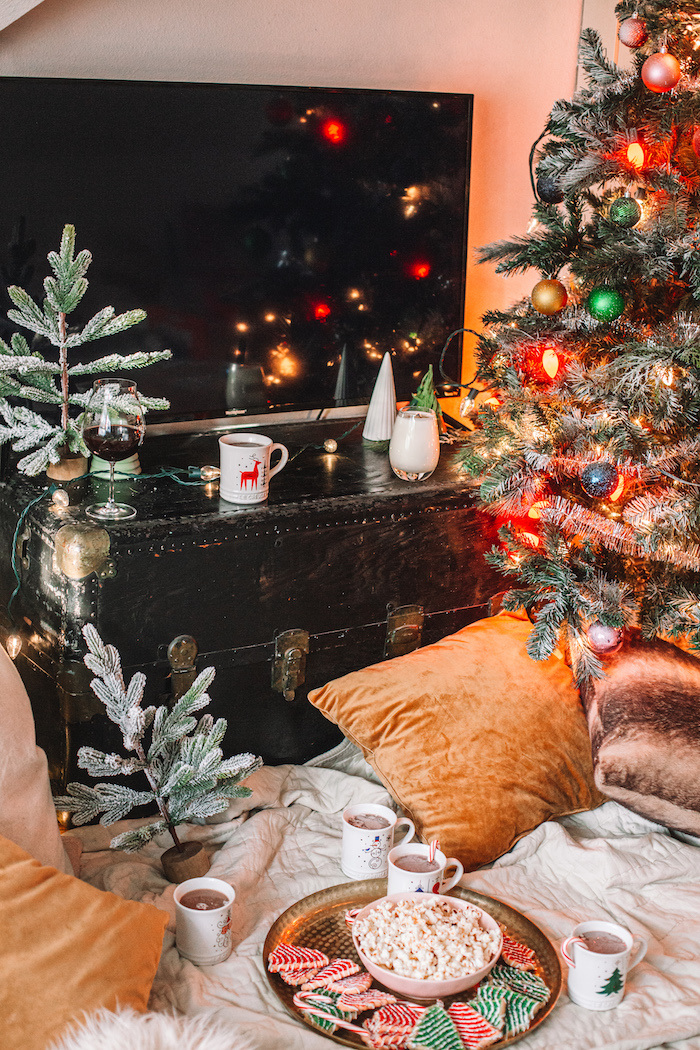 We've thrown more 'themed movie nights' at home this year than ever before. It was easily the safest and most exciting thing we could do at home. We pulled out the projector during the summertime for outdoor movie nights and themed dinners based on that night's featured flick.
Now that we are headed into the holiday season we can finally have my most anticipated movie night: Hallmark Christmas Movie Night!
This year turn your living room into a cozy, Christmas oasis. Invite your pals to join you virtually in creating their own cozy space into the ultimate winter movie experience. Plan for a mutual movie time take a vote on what you'll watch beforehand.
Hot cocoa bar is a must!
First things first, you're going to need some good quality hot cocoa. This year I turned to Le Creuset to get super festive with a set of their holiday mugs.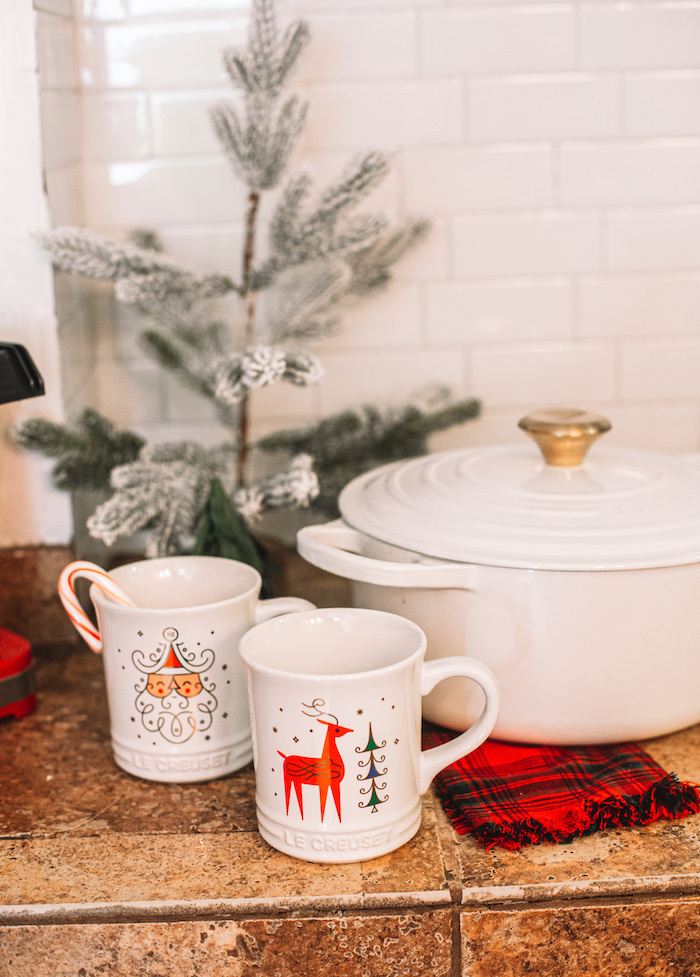 Noel Collection Reindeer Mug

By Le Creuset

Shop Now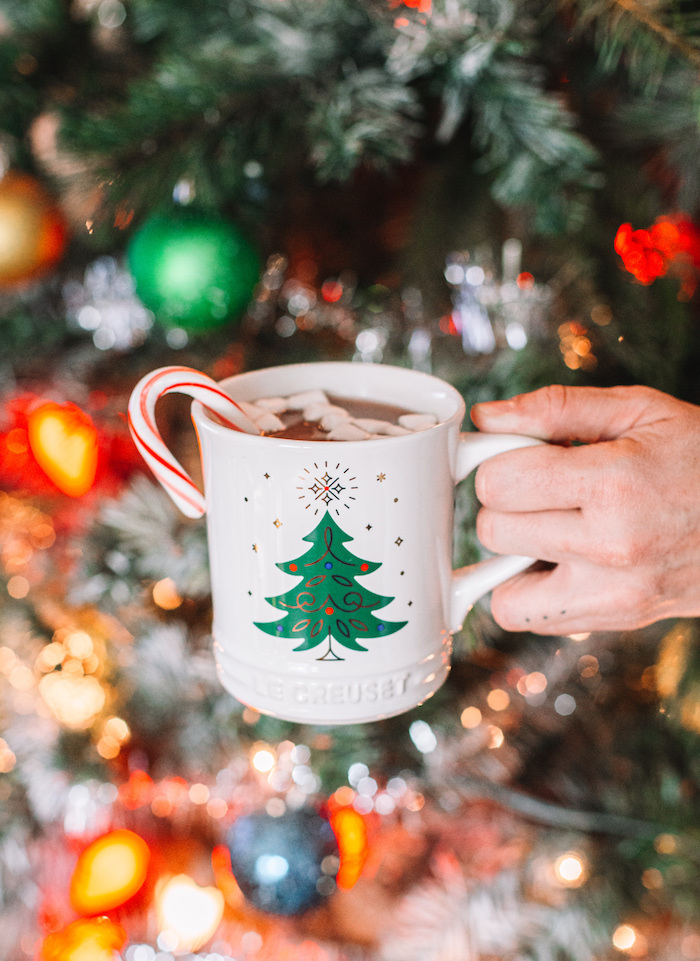 A good quality Dutch oven is the perfect vessel to keep a large batch of hot cocoa warm. Be sure to put out lots of toppers like marshmallows, candy canes, and syrups, even if it's just for the fam. Touches like this make a regular night feel really special.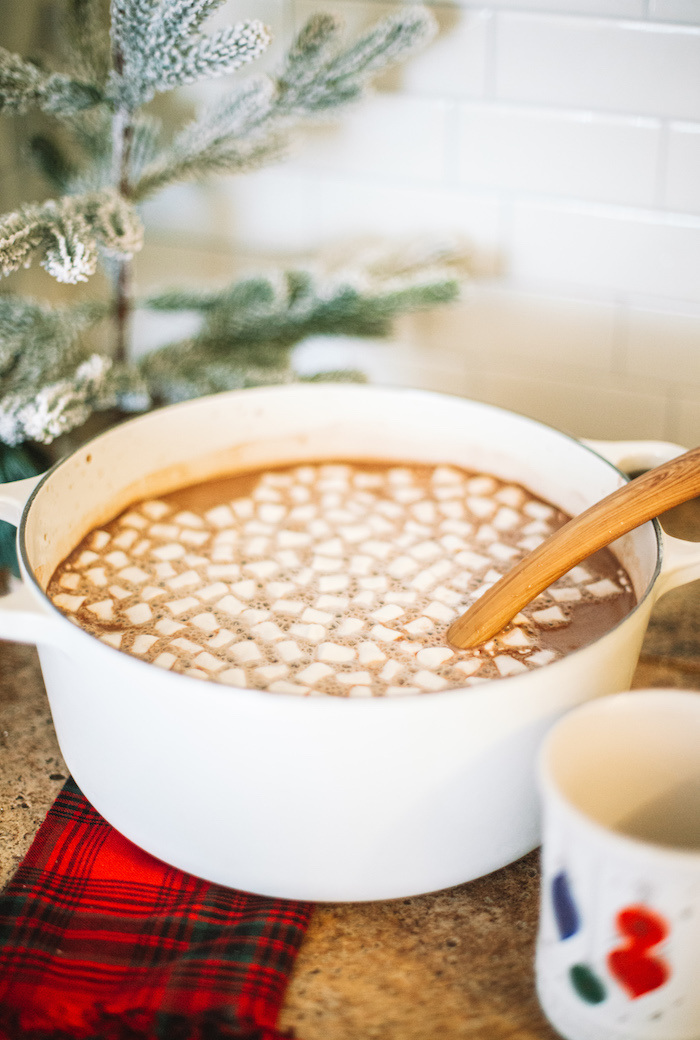 Round Dutch Oven with Gold Knob

By Le Creuset

Shop Now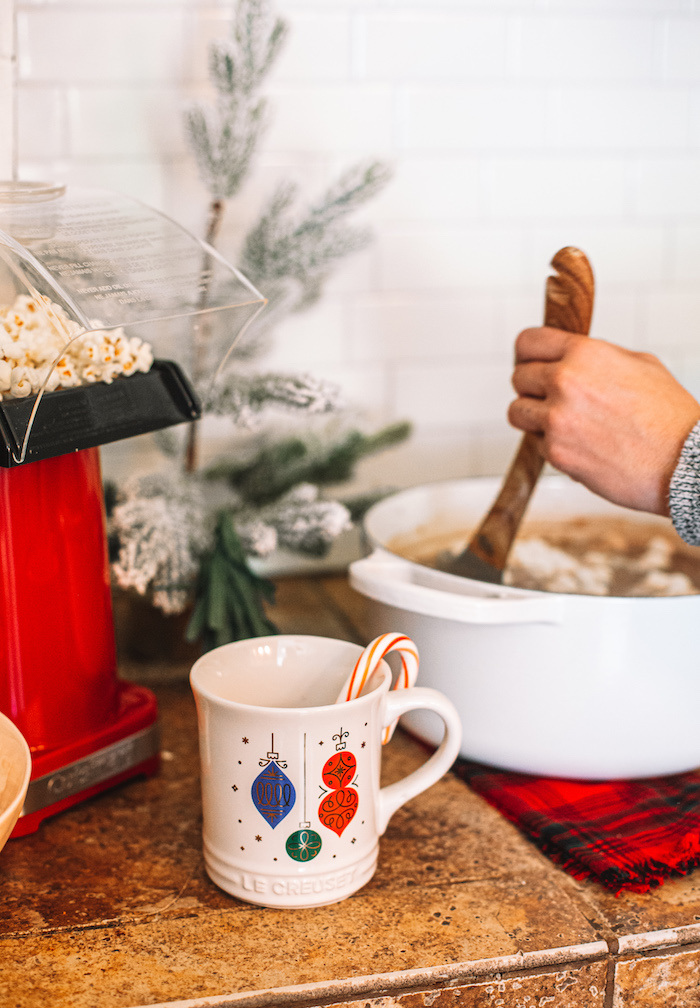 Did someone say snacks?
A trip to the movies isn't complete without fresh popcorn. Ditch the microwave this year and opt for popcorn kernels. This Cuisinart popcorn maker is counter friendly and perfect for whipping up a few batches of fresh, buttery popcorn.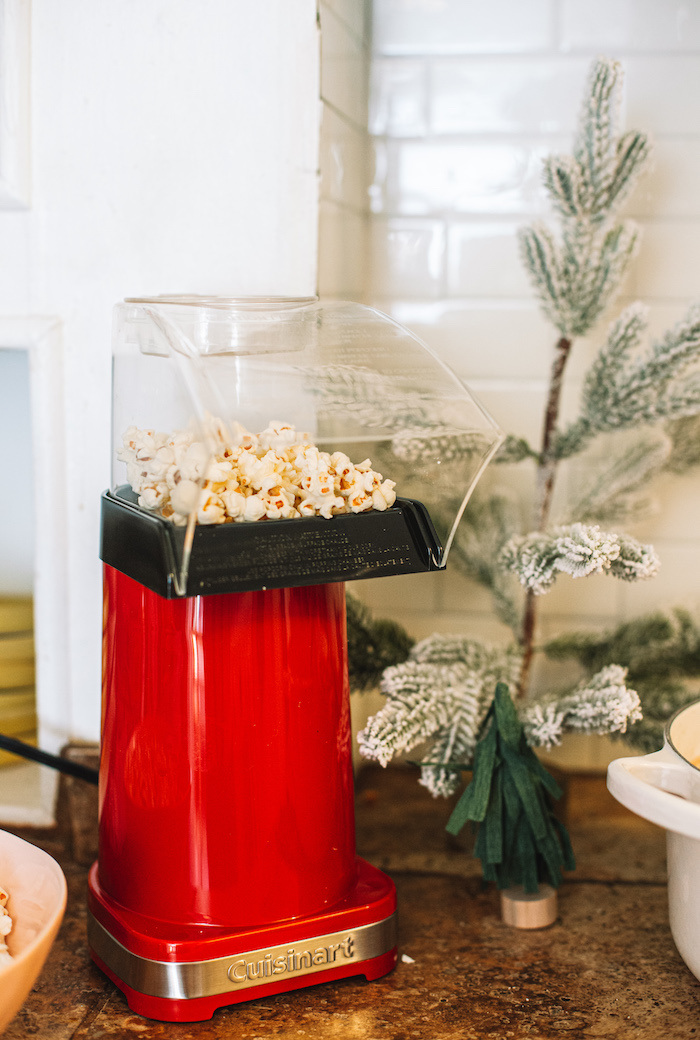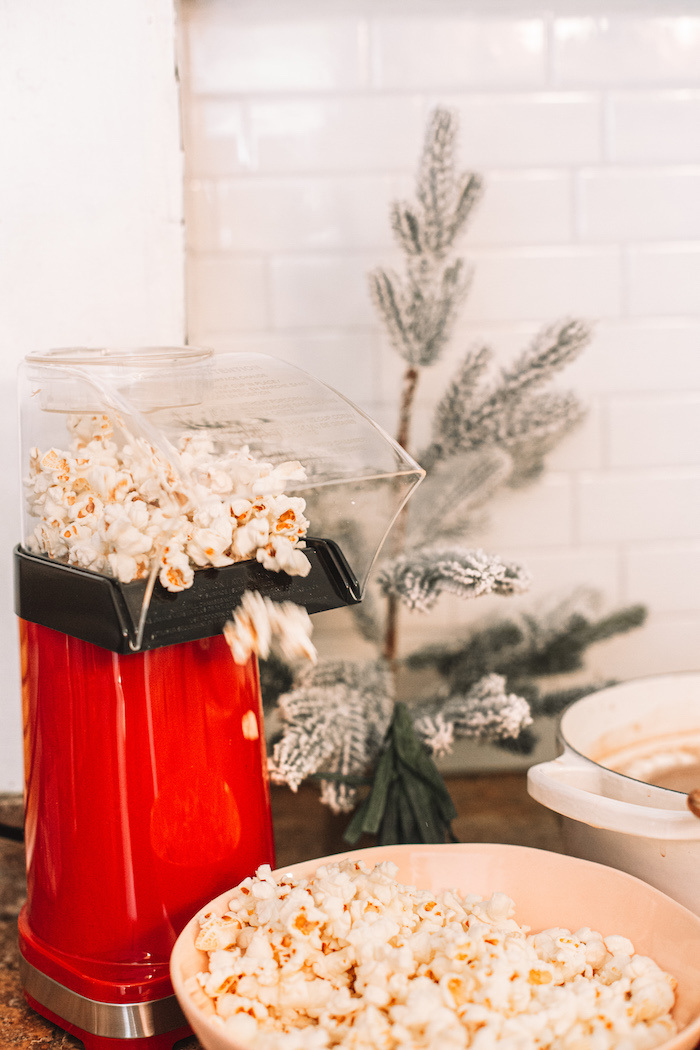 EasyPop Hot Air Popcorn Maker

By Cuisinart

Shop Now
Don't forget the Christmas sugar cookies for the full array of snacking. For the adults, be sure to stock up on plenty of red wine, a Hallmark movie night must.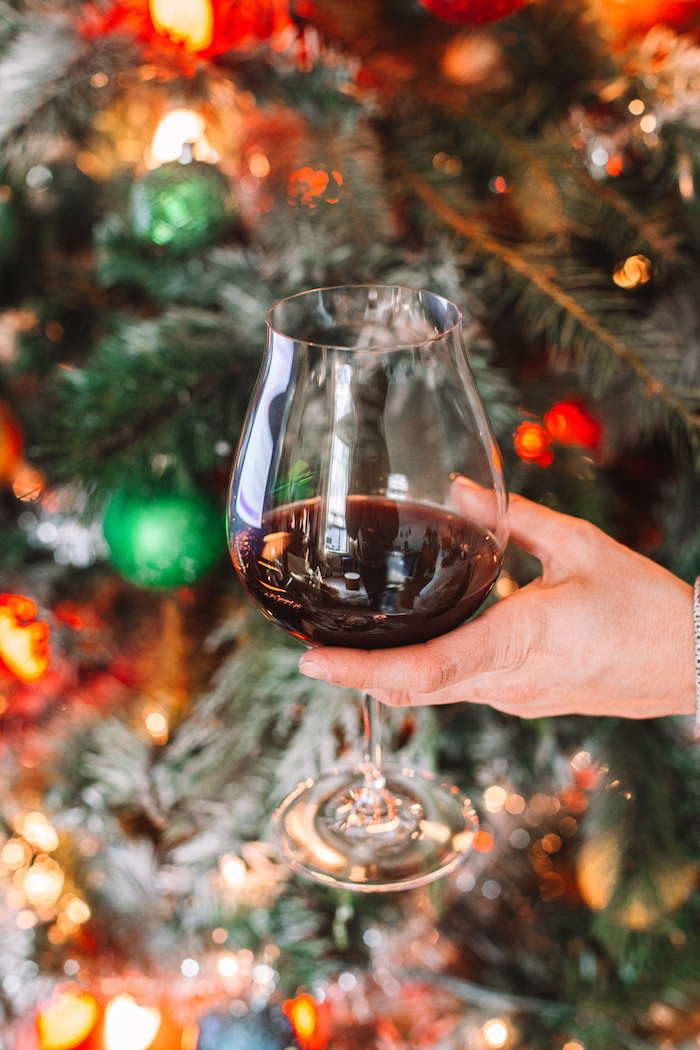 Vinum New World Pinot Noir Set

By Riedel

Shop Now
The Big Screen.
There is something so cozy and childlike about throwing all of the fluffiest cushions and blankets onto the ground for a movie night. Ditch the couch this year and pull out every blanket you've got. An easy switch like this will make the night feel extra cozy and special.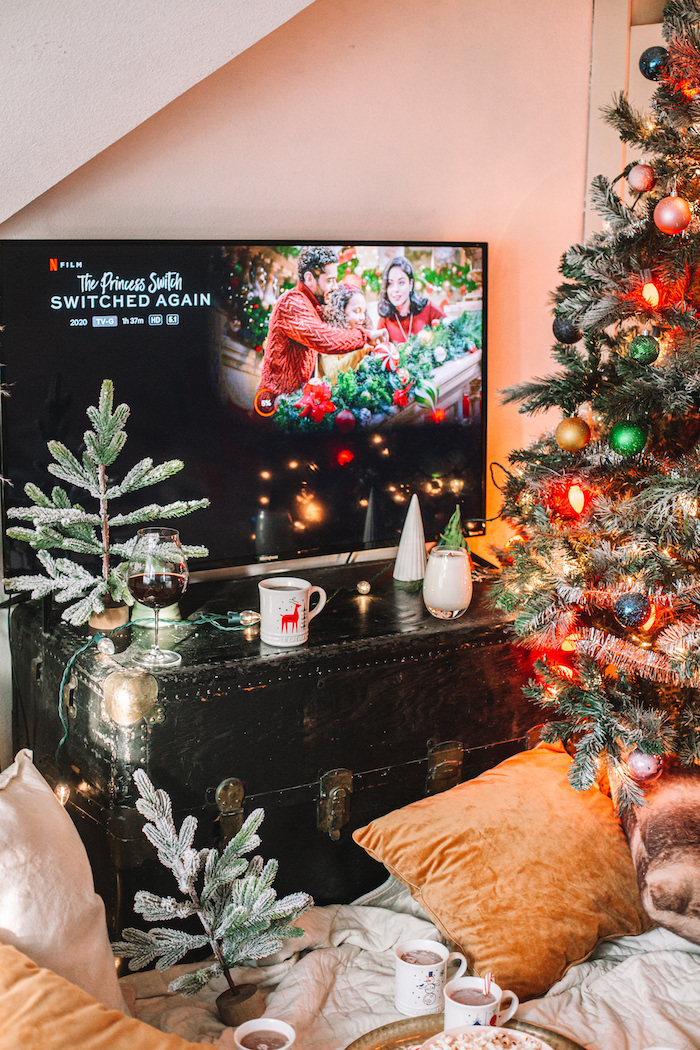 Plus, the TV will seem that much larger from a lower angle. We're viewing all of our favorite movies from a Westinghouse 50-Inch with 4K because Christmas movies need the best quality! I love how this Smart TV has all of our favorite apps built-in for easy show finding!
50-Inch 4K Ultra HD Smart Roku TV

By Westinghouse

Shop Now
Ultra Cozy!
There are a few ways you can turn your living room's cozy level up a few notches. Before we turn everything on for a movie night I always light a few scented candles for perfect lighting and cozy seasonal smells. Ditch any overhead lighting and opt for something cozier. In this case, lights from the Christmas tree or extra twinkle lights work perfectly.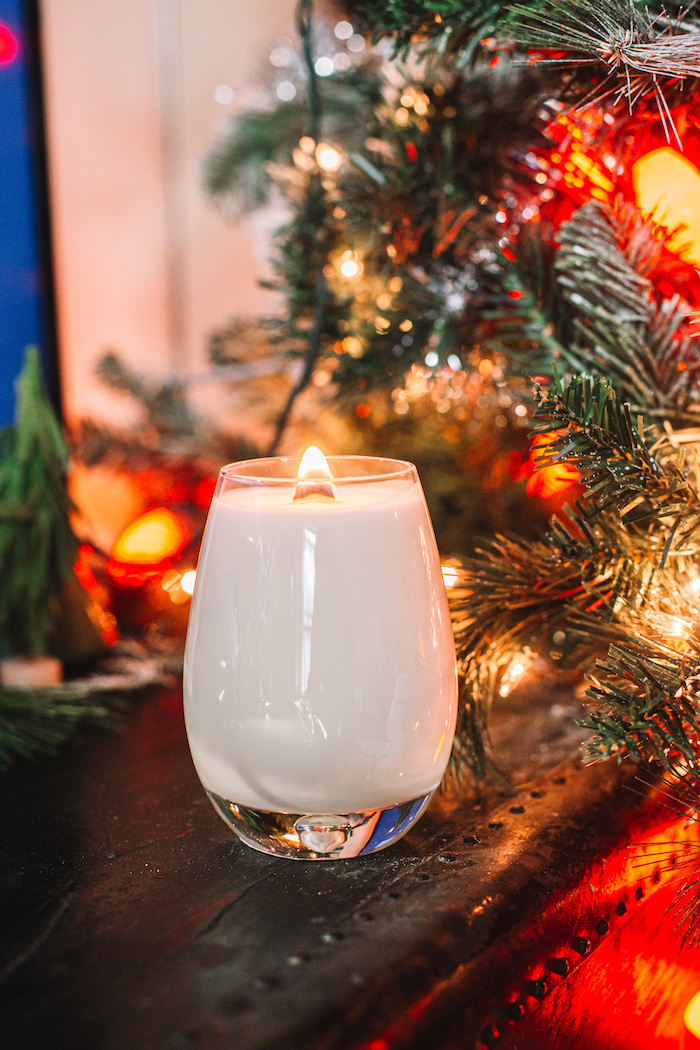 Memories Candle

By Gratitude Glass Jars

Shop Now