How to Organize Your Creative Office & Finally Tame the Clutter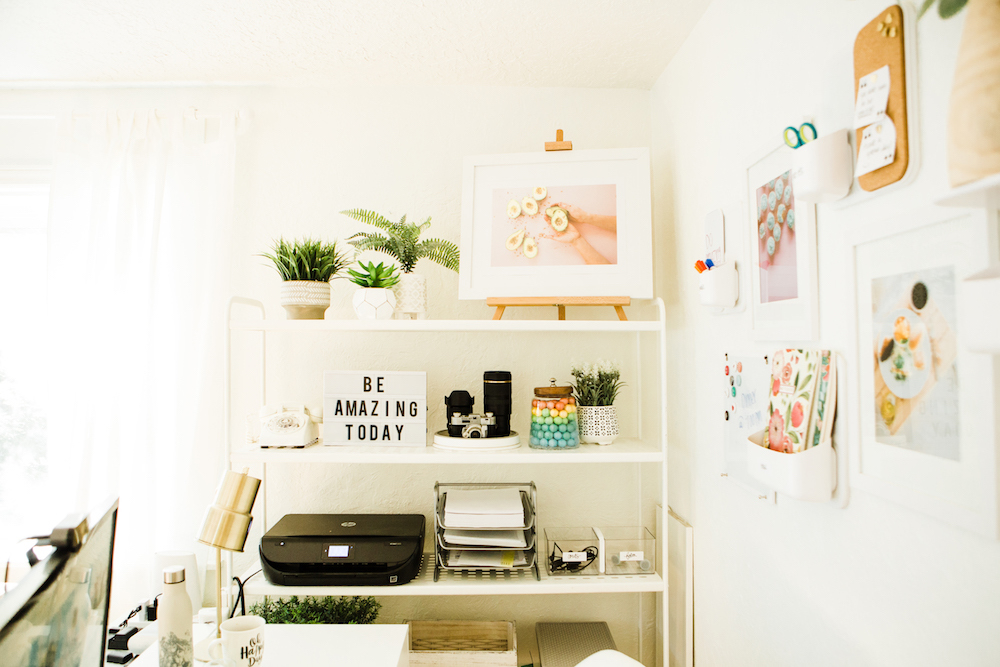 Easy tricks for wild-haired creatives, guaranteed to tame the clutter and give you space for your best ideas.
While standing in the studio, surrounded by half-full boxes, piles of paper, odds and ends strewn about, I sent the cry out on Instagram stories: help me organize.
I do not love organizing.
Give me baseboards that need to be cleaned. A sink full of dirty dishes that need to be done. A floor begging to be vacuumed. I will clean until the end of time.
But organizing? I do not love organizing.
Answers started flooding in from IG friends. And I was shocked to discover nearly everyone had the same reply.
Organize to quiet music. Organize to classical music. Organize to music without lyrics.
Like, what?
I'd always cranked up the show tunes, the pop music, trying to get myself pumped for a task I utterly dreaded.
But no, my Instagram peeps were telling me I was doing it all wrong.
Organizing requires focus, attention, problem solving. To hack that headspace, you've got to mellow out, find your Zen, get into a place of peace and mindfulness.
Whoa, mind blown.
So I tossed on a Chill Beats playlist and got to work. 3 hours later, I emerged with a clean, quiet studio, sorted out stacks and a sorted out heart. Not a bad way to spend a day.
Calming Your Creative Space
If you're a right-brained creative like me, chances are your space reflects the wild madness that is your wonderful mind. Too many ideas, not enough time. Yes?
I used to think I needed a bit of clutter, everything out and visible, ideas hung everywhere, to keep my flow going. Truth is, madness begets madness. And a well-organized space will actually help you find and stay in the flow. Don't have to dig through piles to find your scissors? Markers? Notes? Camera? You'll find you have far more time to settle in, make, shoot, create.
The trick, then, for right-brain thinkers like us to organize in a way that put everything in a place. With each of those places being easy to access and simple to maintain.
A few tricks I've learned as I've tried to tame my own creative spaces:
1. Clean Out Everything
A good organizing session always starts with a blank palette. So pull everything out of drawers, from shelves. Doing so will help you sort through what you have, purge what you don't need and approach your space with fresh eyes.
2. Think Outside the Box
Pull all of your items out in plain sight, organize in like piles, then hit the store to find storage pieces that will house the items you have. While shopping, don't just stick to the office section. Check out the storage units in kitchen, bathroom, etc. and find a perfect for your personal storage needs, no matter what aisle it's in. Two kitchen items currently making magic in my photo studio? The MadeSmart Portable Tote and Short Fridge Turntable proved perfect for camera and lens storage.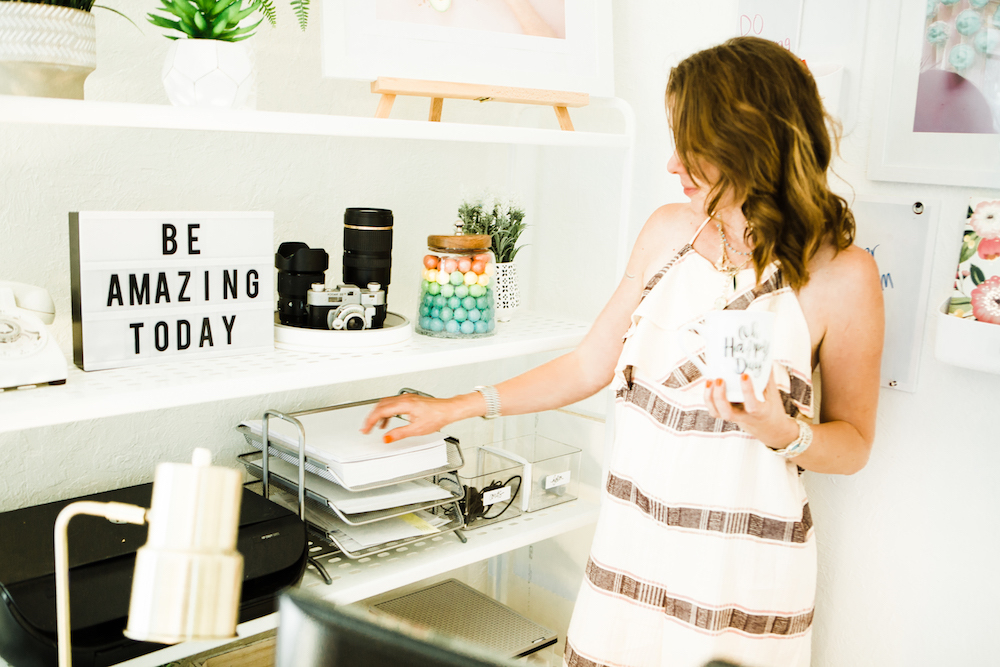 3. Store Things In Plain Sight
If you have to dig through piles, move boxes, hunt through drawers, you're going to get frustrated. So simplify the process here and place your most used essentials where you can see them. The Honey-Can-Do Perch Vertical Wall Storage is my all-time favorite storage system. Initially created to be a space-saving unit for vertical gardens, the sleek and modern magnetic units also make an ideal wall-hanging space for creative trinkets. Easy to hang, easy to customize, this may be the simplest way I've ever found to organize my creative space quick.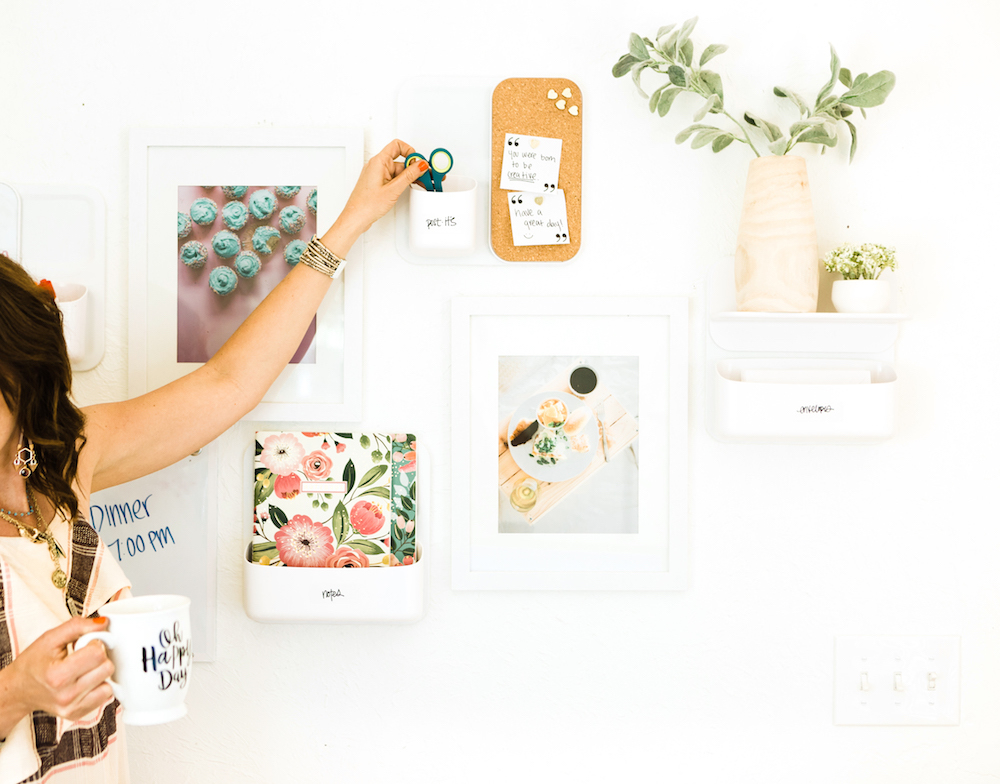 4. Label Everything
No matter how organized you think your organization is, things will get moved around, you'll forget where they go, or one of your kids will borrow something and it'll be lost forever. Add labels to each of your spaces, however, and you have an instant visual reminder of what goes where, what is missing, and can quickly return things to their well-coordinated spaces.
I prefer handwriting my labels on reusable file stickers. But you can also use a label maker or printer to make custom tags.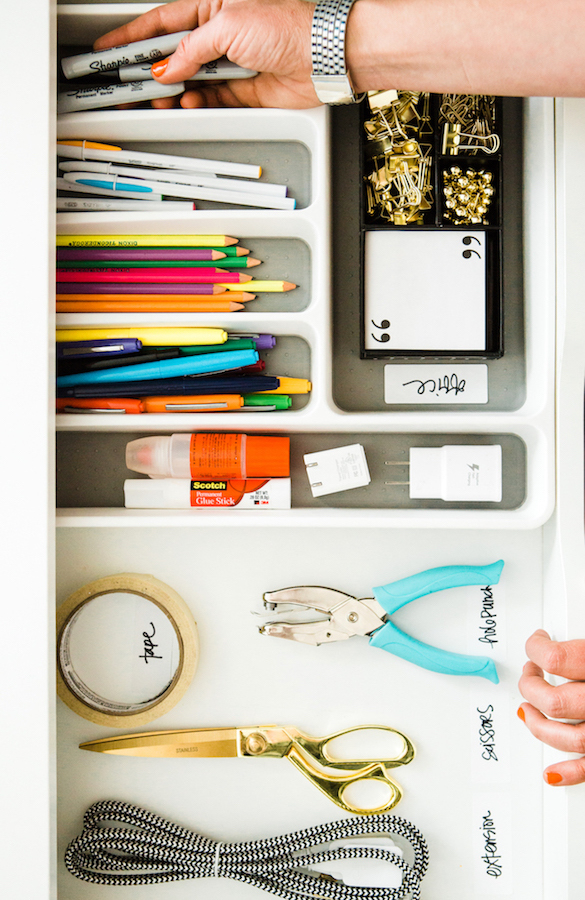 5. Add Pieces of You
A well-organized space doesn't have to be stark. It should be a comfortable, clutter-free space that makes it easy to find what you need and reflects who you are. Once you've got your essentials clean and coordinated, add in items that simply make you happy. A stylish lamp, a jar full of bubblegum, quotes and notes to keep you motivated. Whatever it is that makes you happy, add that to your space, and you'll always be happy to spend time there.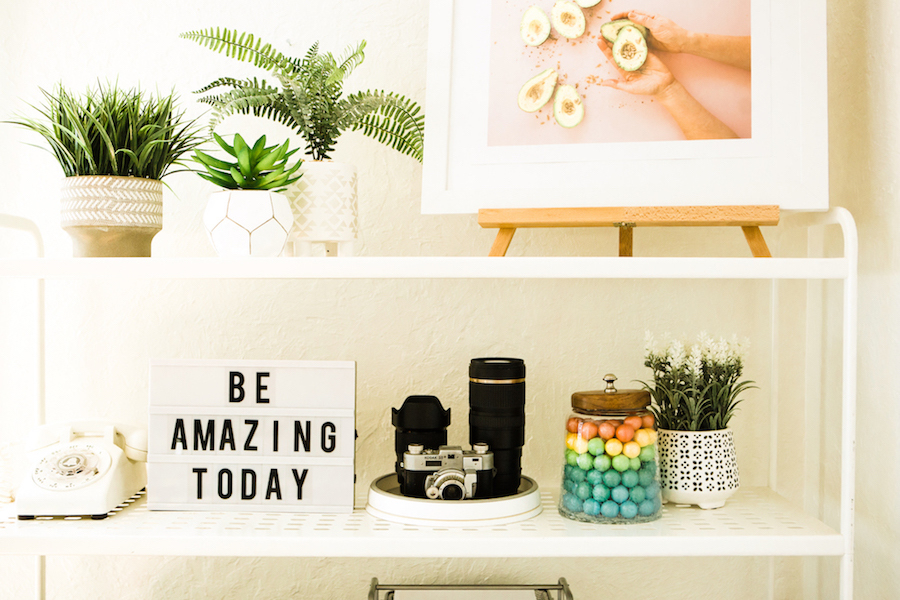 Have an organizing trick that always works for you? We'd love to hear! Better yet, we'd love to see how you've organized your own creative space. Snap a photo and tag up on Instagram @theinspiredhome_com