4 Smart Ideas for Organizing Your Kids' Closets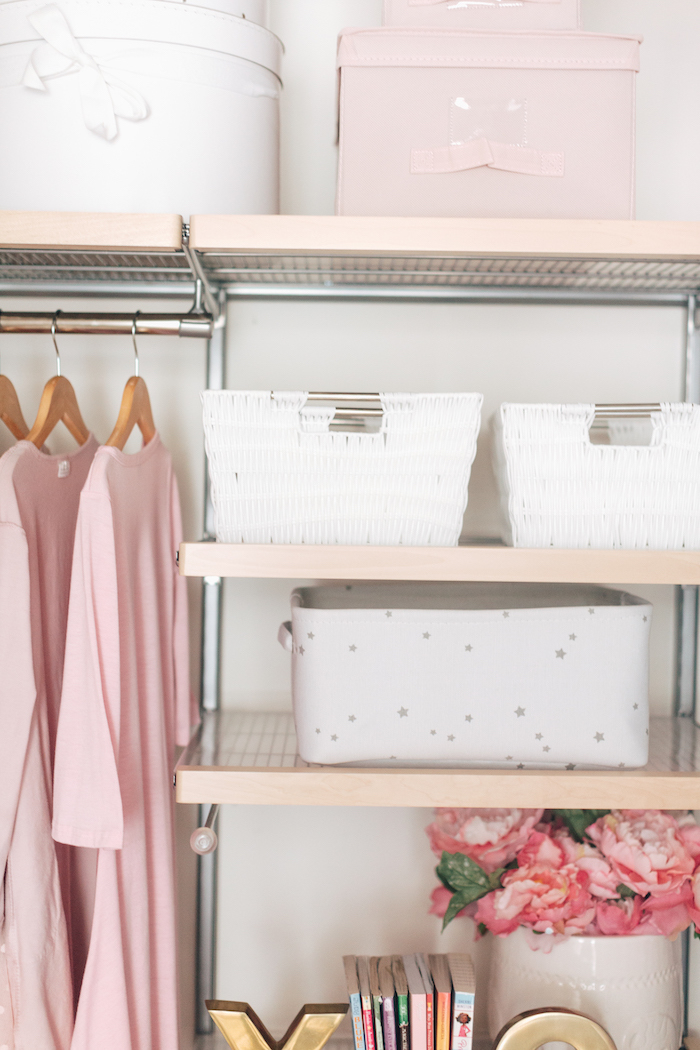 Here on The Inspired Home we're all about giving you inspiration to create a beautiful and functional life! Recipes, entertainment ideas, how-tos and product education are just some of our specialties. We also love giving you practical ideas that you can take and make as big or as small as you like.
It's no secret that I love to make spaces functional, as seen in my post on utilizing the space under your sink. But today, we're talking about how to organize your kids' closets to make them super functional, and how to set the closet up to grow with your kids.
From the moment we moved into this home, I knew I wanted our closets to be more functional. Our closets originally came with the standard rod/shelf combo that made for a very lackluster closet space, and we knew we were going to have to change them up.
Closet Pick: Shelving System
For my little girl who is heading into her pre-teen years pretty soon, I wanted something that had more storage and the ability to grow and change with her! So I ripped out the standard shelf and installed an whole new closet system!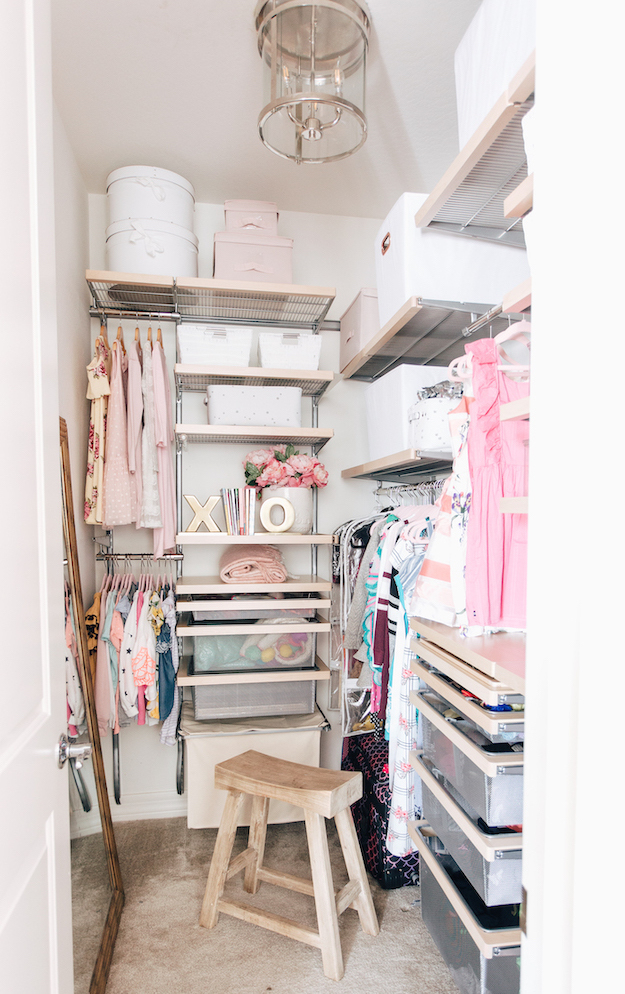 If you're thinking, "WOW, this doesn't look like something I can do!" I'm here to tell you that you can! I opted for a custom made closet from The Container Store but you can opt for something similar from Rubbermaid or neatfreak!.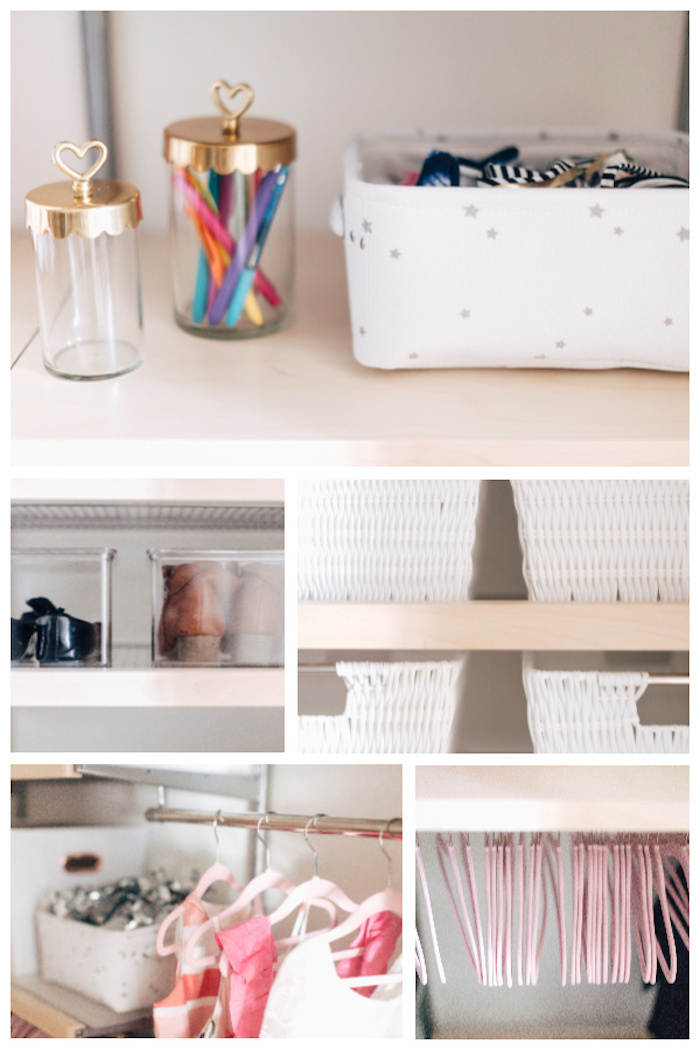 With a little DIY knowledge, you can make it happen in a weekend or have one installed at your home.
Closet Pick: Bins and Totes
I've said it before, but I LOVE baskets and storage bins. They really are an organizer's best friend. I installed shelves at different heights so that I could accommodate seasonal items. This also offers a potential space she can store her jeans and sweaters as she gets older. These items seem to be a bit bulkier, so it will be nice to have a place for them.
Rattique Storage Baskets

By Whitmor

Shop Now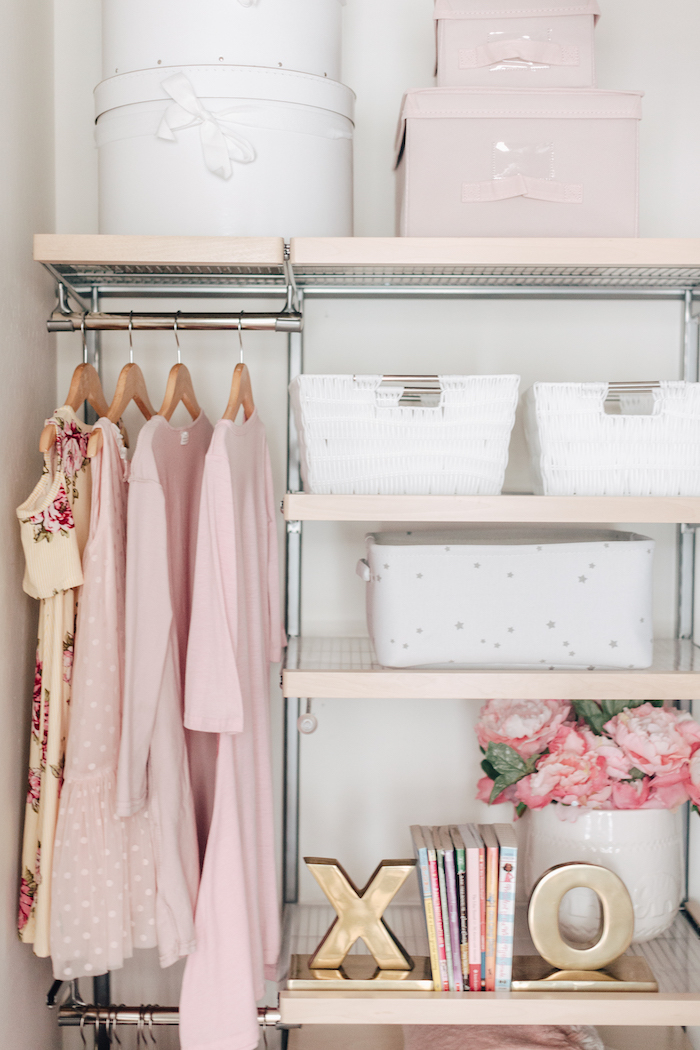 Large Storage Box

By Honey Can Do

Shop Now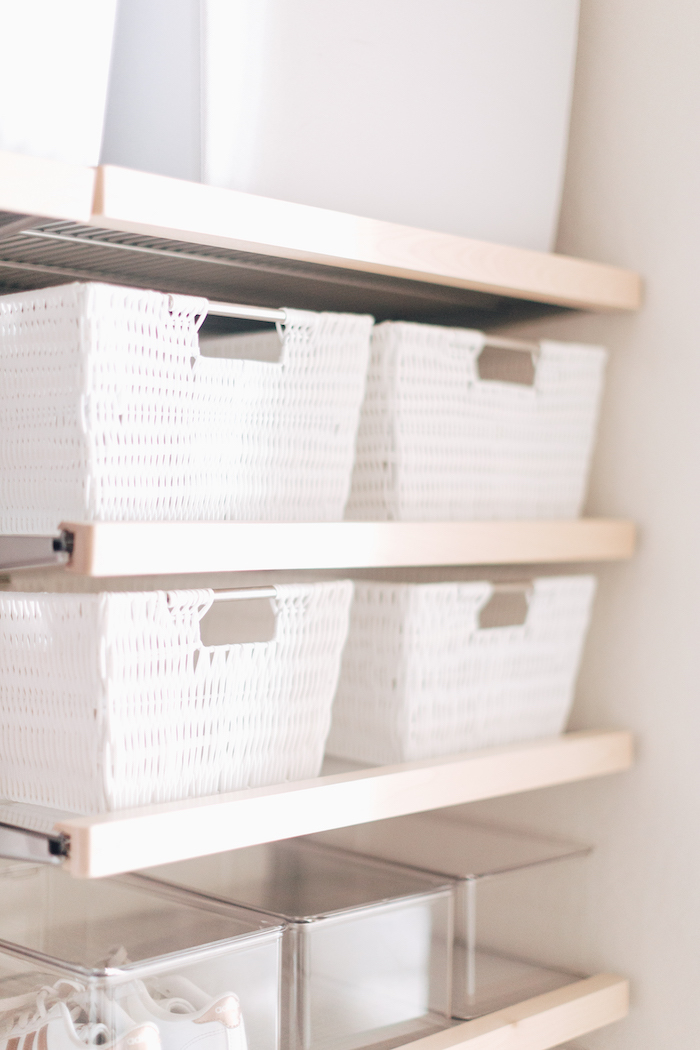 Large lidded boxes are at the very top of her closet and take advantage of the vertical space that was gained! From the floor to the ceiling, her closet really takes advantage of every square foot.
White Classic Hat Box Set

By Bigso

Shop Now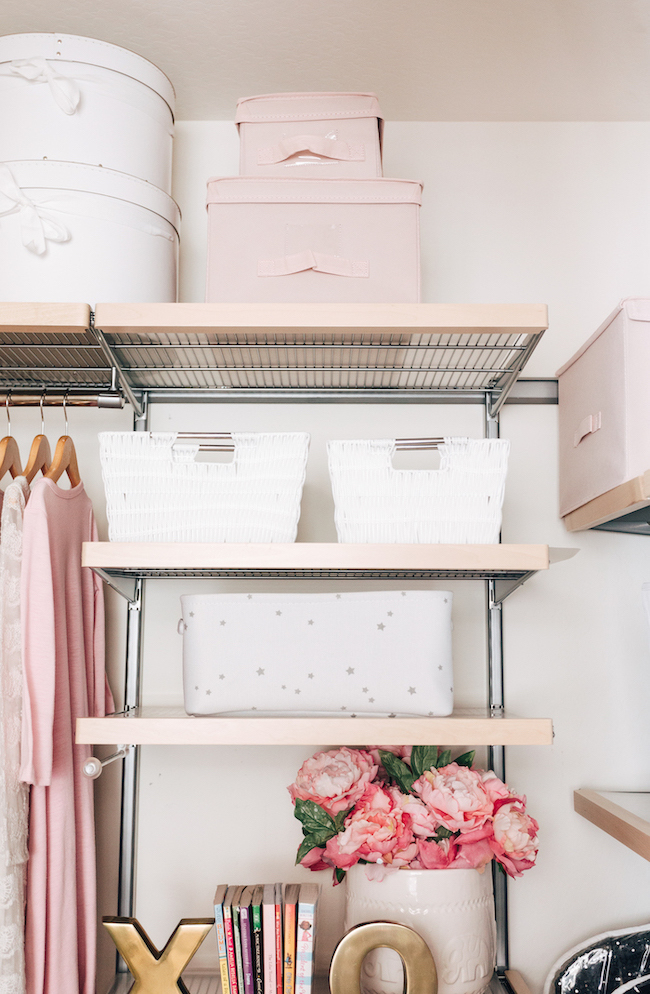 Closet Pick: Velvet Hangers
For the past decade or so, we've seen velvet hangers hit the market in so many different colors! Velvet hangers take up less space in your closet and last longer than a plastic hanger. Also, velvet hangers allow your clothes to hang more naturally which prevents wrinkles. These pretty pink ones are made just for kid-sized clothing!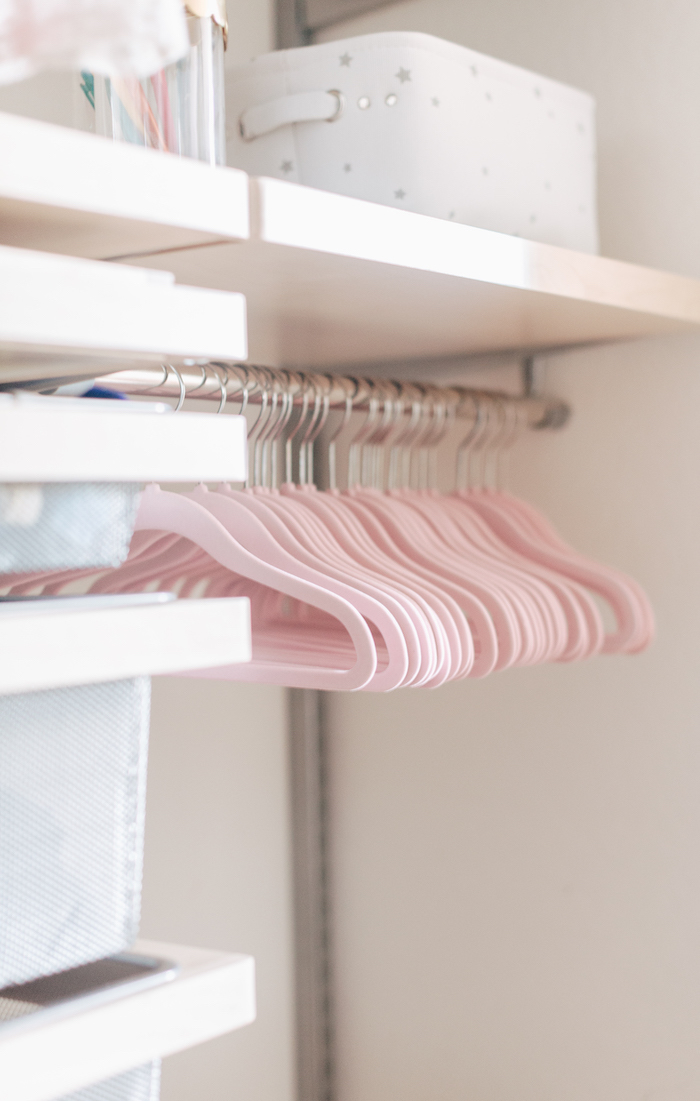 10-Pack Velvet Kids Hangers

By Honey-Can-Do

Shop Now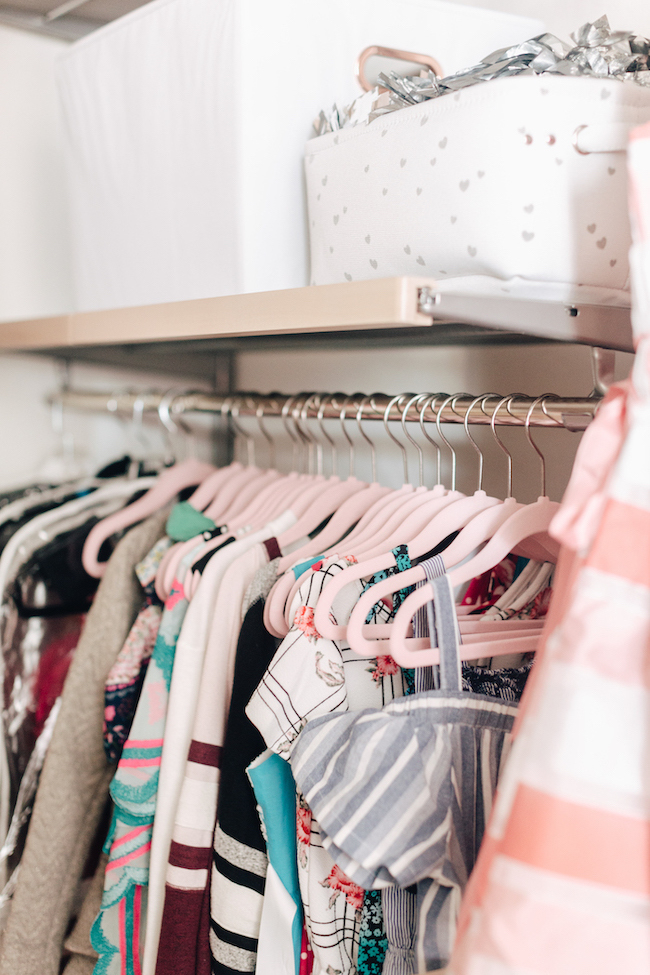 Closet Pick: Shoe Storage
Because the kids are so young, I keep most of their shoes downstairs. But I made a place in the closet for shoes that are not used every day. These clear shoe bins from iDesign are the perfect size for her now and later! Clear bins are always a great option because they allow you to see what you have right away.