5 Simple Rules to the Perfect Cup of Coffee (and Coffee Bar)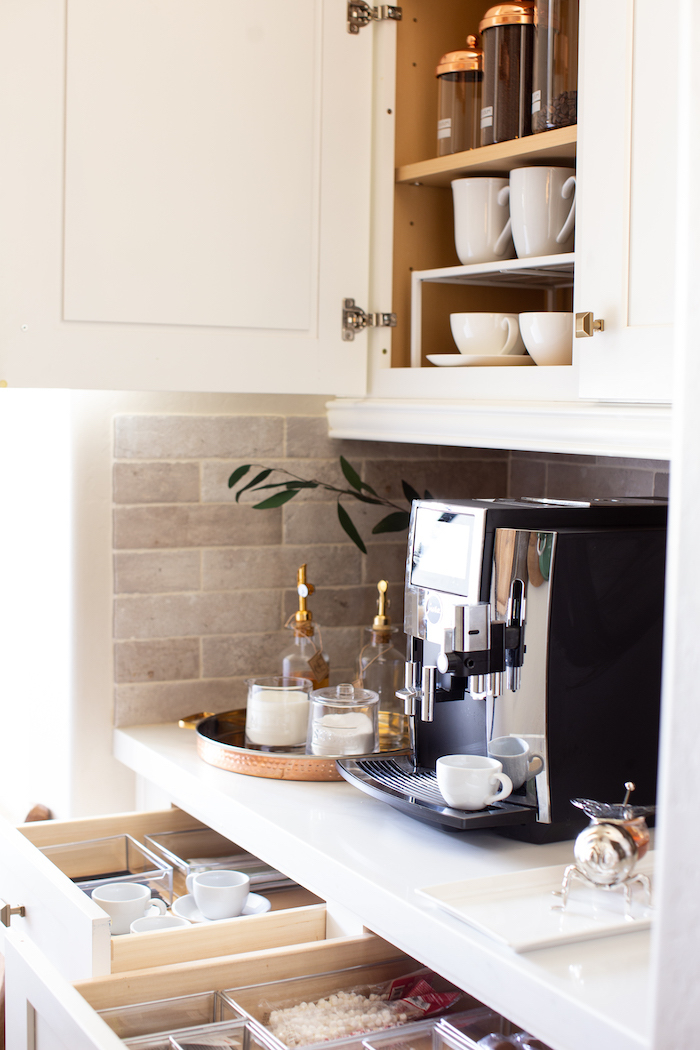 Coffee is infused within so many cultures around the world and with brewing styles, coffee lingo and cafes being just as diverse as the coffee lovers who consume it, we are always paying attention to our coffee. There are tons of ways to prepare it to perfection and there are even professionals called baristas who specialize in making our cup of joe perfect.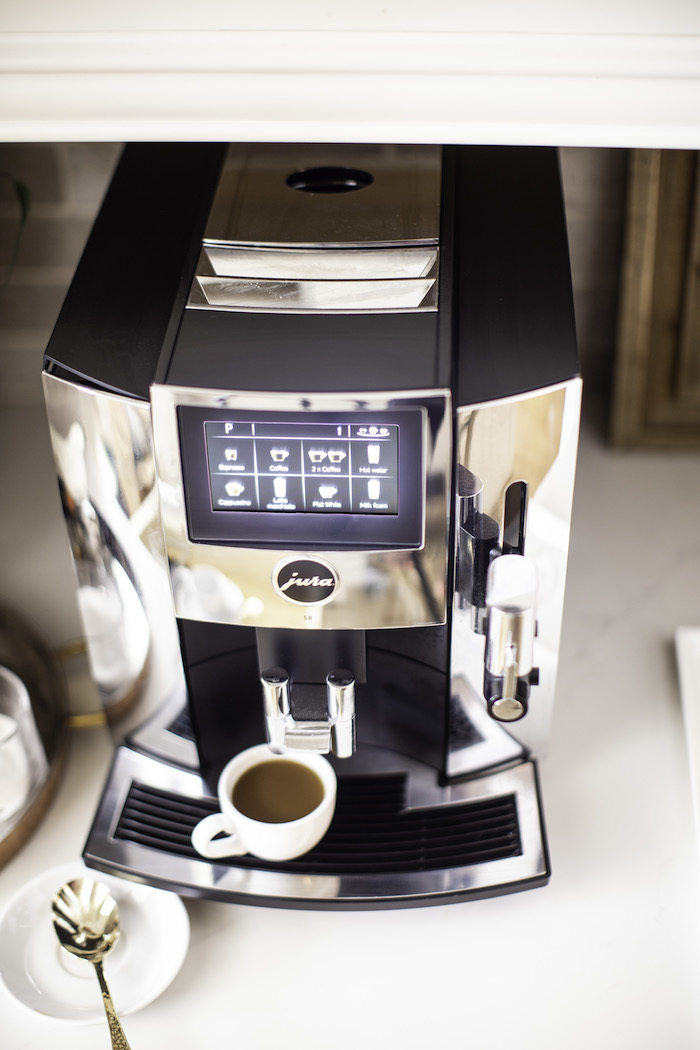 I just got done reading The New Rules of Coffee by the founders of Sprudge, a website dedicated to coffee culture, and landed on a few coffee rules that we all should be using to keep our coffee life thriving.
Read below and be on your way to an amazing cup of coffee, espresso, cappuccino or whatever your little coffee heart desires.
Rule #1
Store your coffee correctly.
It's a fact that freshly grounded coffee will give you the best cup of coffee, but if those coffee beans aren't properly stored, then you are selling yourself short.
Invest in a tightly sealed container like these stylish copper topped ones from Bodum and keep your coffee behind closed doors in a cool dark place. Doing this will help your coffee beans stay fresher longer.
The rule of thumb is to try to get the "roasted by" date on the bag and note that. Your coffee should be ok a month or two after that date. Anything longer than that and your coffee will ended up tasting stale, even when you freshly grind it. As soon as you open it, write a little expiration date on the front of the jar! It's made specially for that!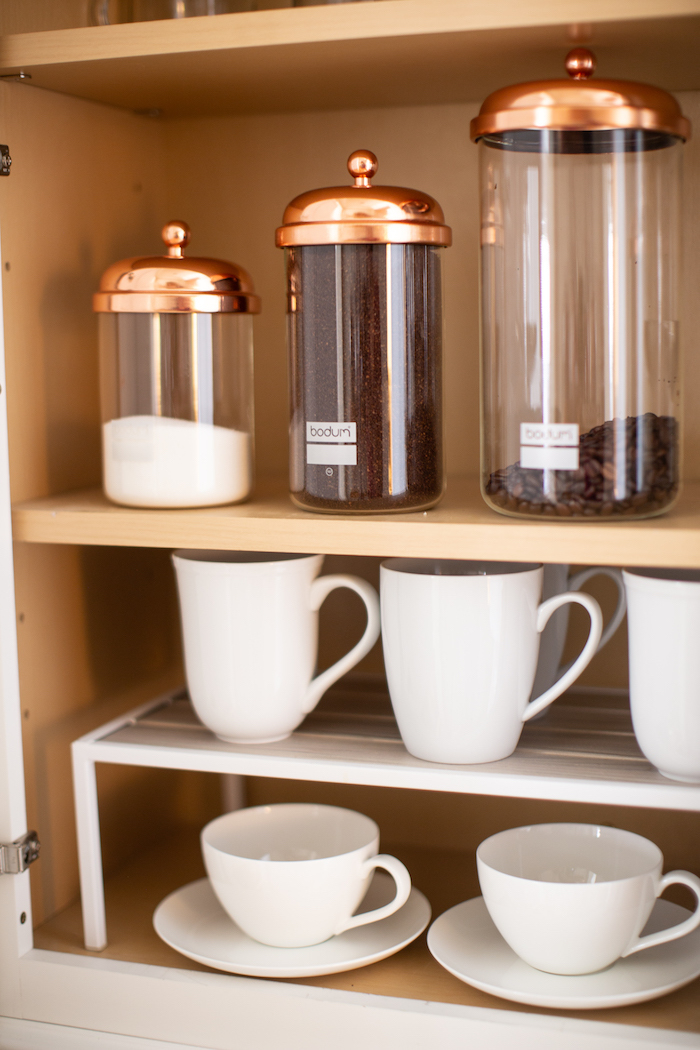 Rule #2
Fresh is best.
Having the option to grind your own coffee with a built-in coffee grinder, like the one on this Jura S8, is any coffee lover's dream! Grinding your coffee on-site gives you the best tasting coffee for that particular bean.
But we won't judge you if you still love and appreciate the convenience of pre-ground coffee! I mean, when you've stayed up late working, coffee is coffee and the caffeine kick will get you moving again! Thankfully the Jura also used pre-ground coffee too!
Rule #3
Wait to add the cream and sugar if you're trying a new type of coffee.
Taste it before you add anything. You might be surprised at how it tastes. If you're anything like me, you might live for a sweeter cup of coffee, so milk or creamer are your friends. But I just recently found a coffee that hardly needs ANY sugar! So I add just a touch of almond milk for a smoother taste and that's it.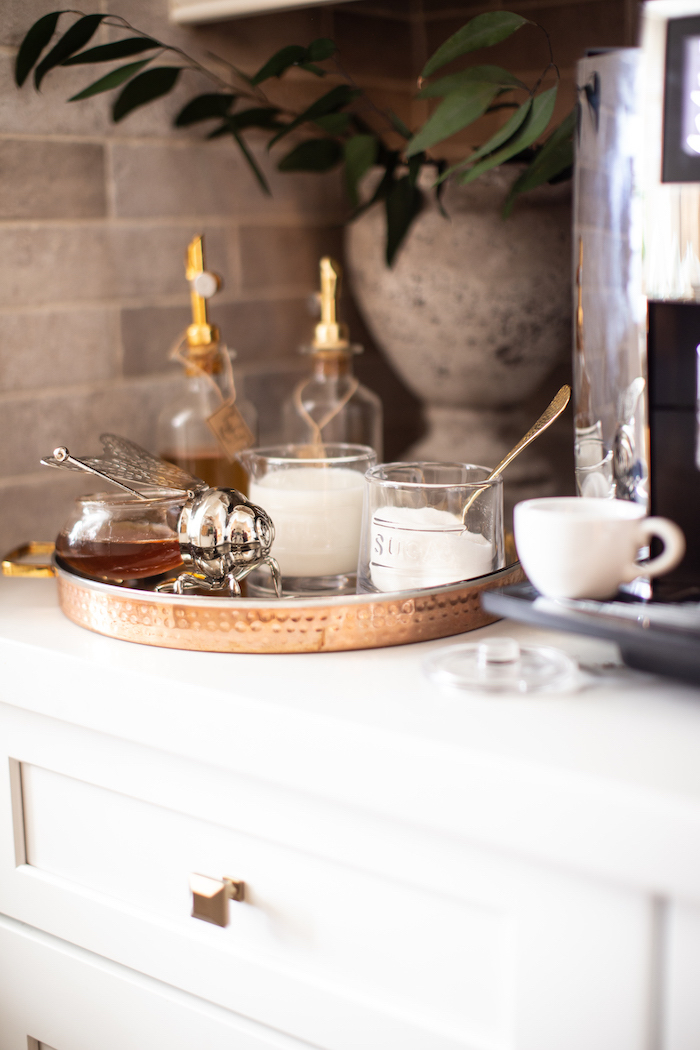 While you're at it, set up all your barista essentials like sugar, cream, honey, syrups, and spoons by using a tray. Something that's easy to clean with a deep lip will contain everything and if you ever need to transport it to a table, this will make things a lot easier. Hello coffee with friends!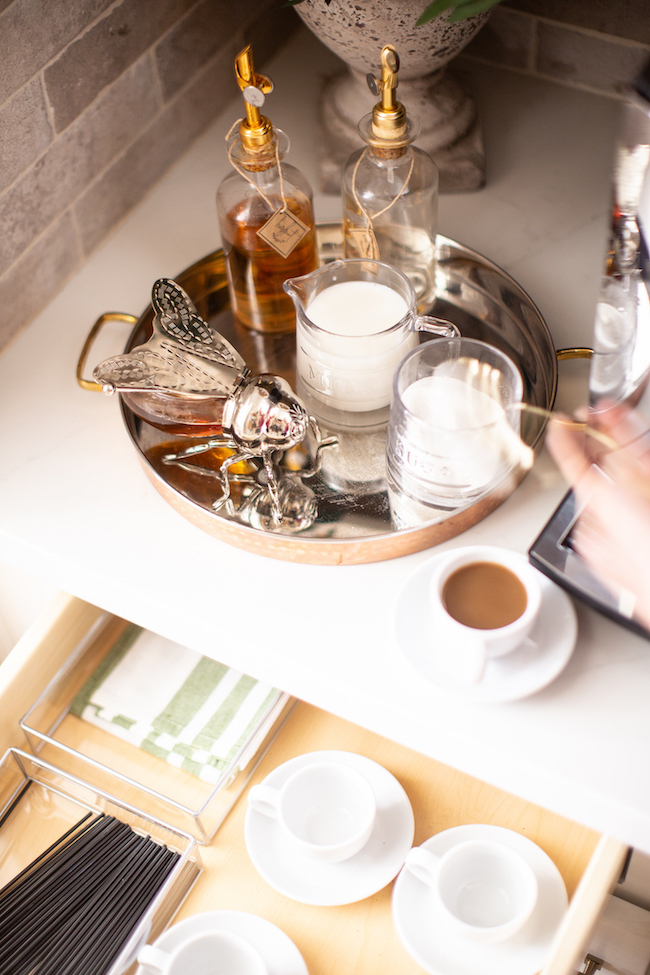 Rule #4
Speaking of friends… coffee is better with friends.
Throw on some good music, brew a few cups, and invite your friends over. Just like cheese and wine, coffee and pastries are a match made in heaven. If you're lucky enough to have some storage near your coffee machine use the space to store coffee cups in different sizes for different types of coffee.
In the drawer I keep small straws along with cappuccino cups and saucers. These are the perfect serving size for a shot of espresso!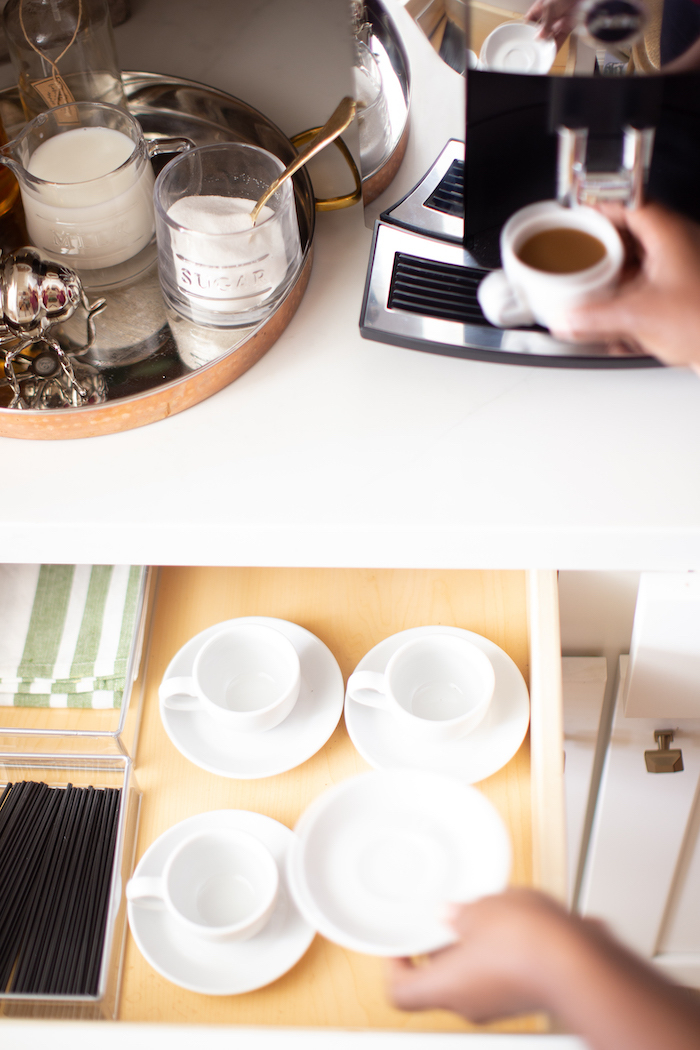 Up top I have a set of white mugs for regular coffee and a set of breakfast cups and saucers for sharing! For some reason coffee just tastes better when it's plated!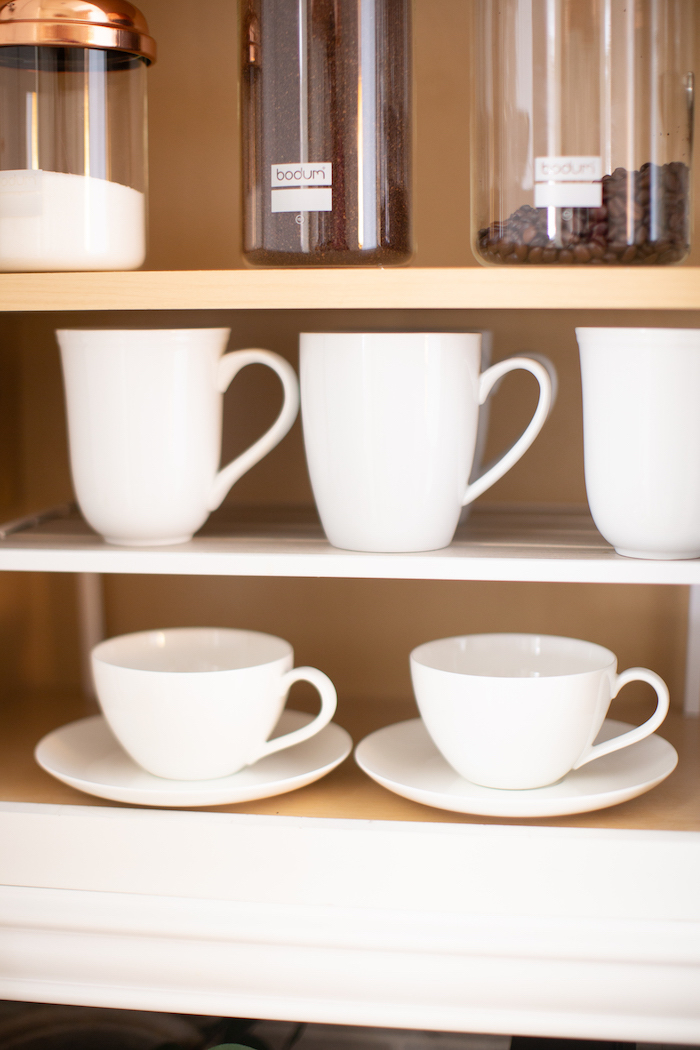 Anmut Breakfast Cup

By Villeroy & Boch

Shop Now
A get together centered around a good cup of coffee may not be the norm but it's definitely always needed! Give it a try!
Rule #5
Clean your coffee machine.
Making coffee is better when your machine is clean! Old milk, hard water build-up and coffee grind residue are all issues when you don't take care of your machine. Our Jura coffee machine comes with a few different accessories that helps turn this machine into a workhorse of a coffee machine. It also has built-in features that rinse out the machine before each use, a water filter and even a hard water tester.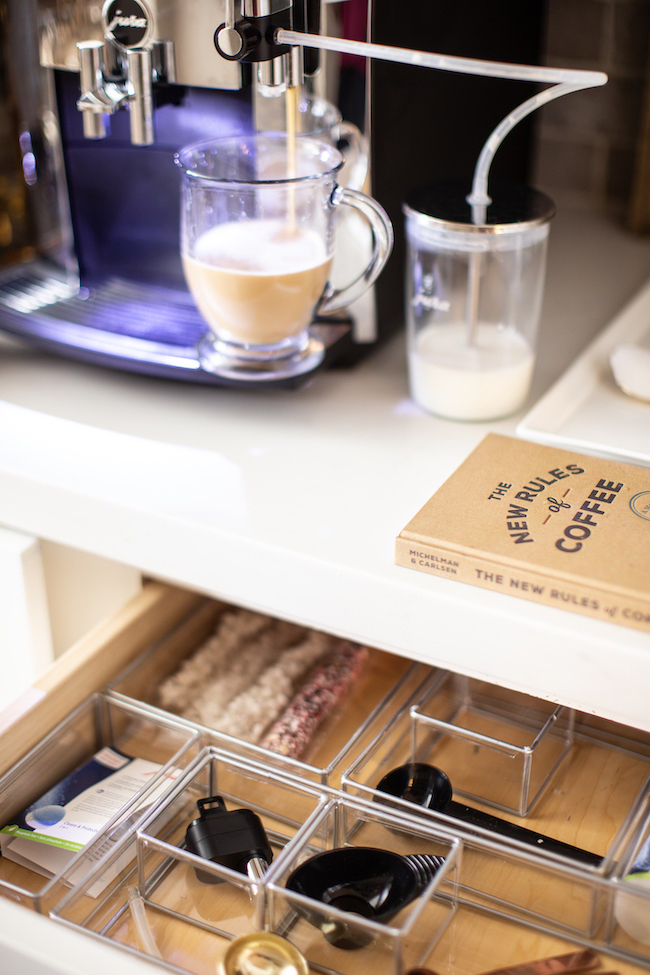 The milk frothing feature is cleaned in 2 minutes using the automatic cleaner! So I keep things like cleaning solutions, cups, spoons and even a hot water spigot in the drawer next to it. I used some clear drawer separators to help me keep things from shifting when we open and close the door! Just a few organizational solutions help me clean my machine in about 5 minutes after I brew coffee in the morning!
Are you ready to brew a better cup of coffee?