Upgrade Your Old Fashioneds with This Fall Produce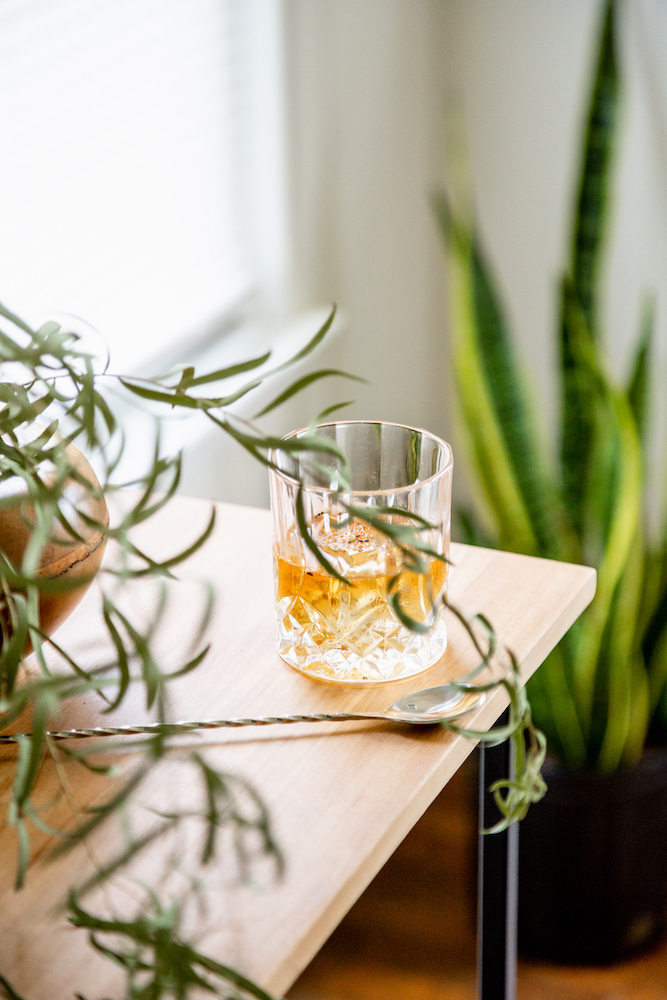 Fall produce lends itself to savory profiles, and Japanese togarashi spices bring a touch of drama to the table. Don't ignore seasonal vegetables like parsnip when reaching for cocktail ingredients this autumn.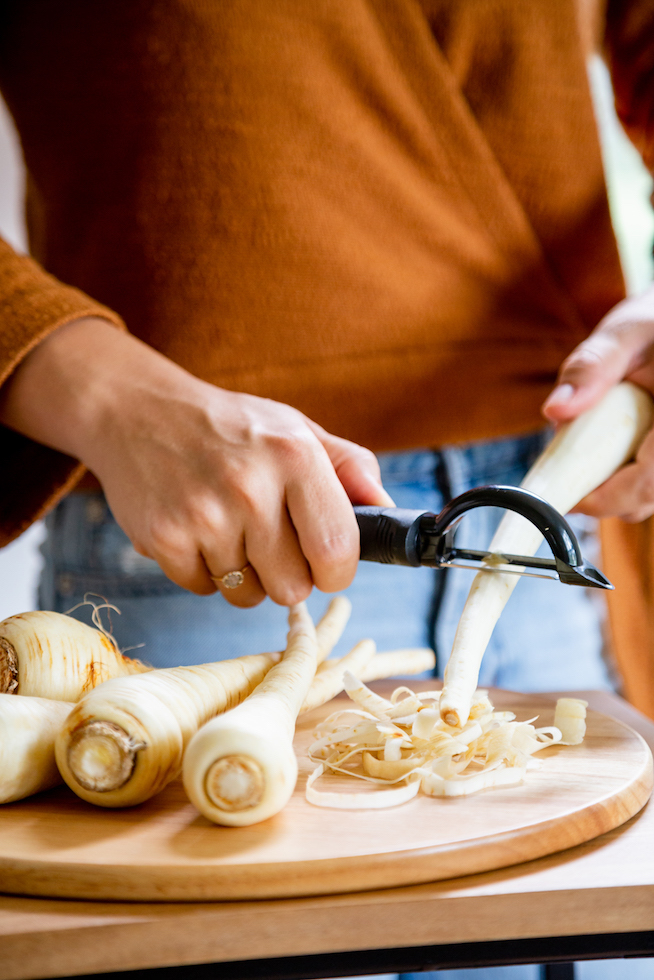 The parsnip may not seem like an obvious choice for a cocktail, but like its cousin the carrot, this vegetable's uniquely earthy-but-bright flavor plays very well with the sugar-acid combos required by most drinks. There are quite a few ways to get fresh parsnip flavor into your drink — juicing and sous vide come to mind — but I decided on a simple shelf infusion (aka leave it on the shelf) for this recipe, since you can get great results in just 24 hours.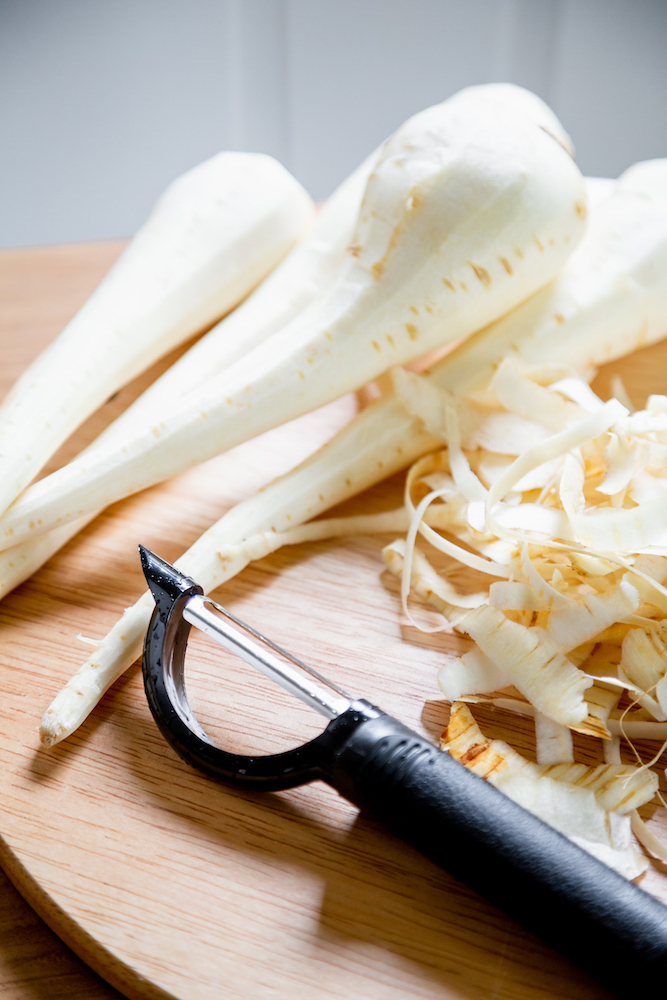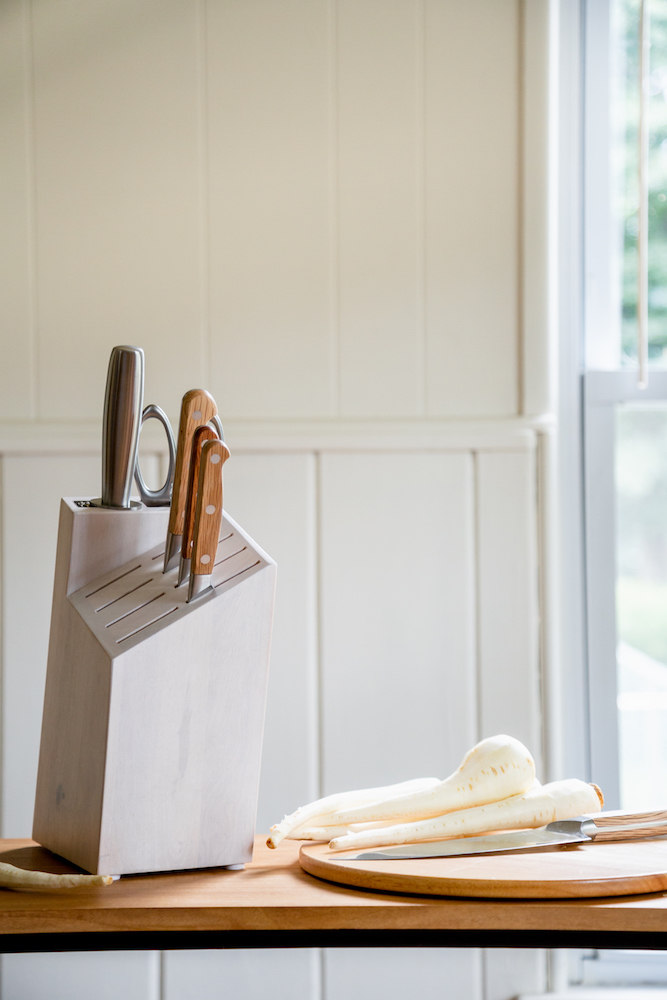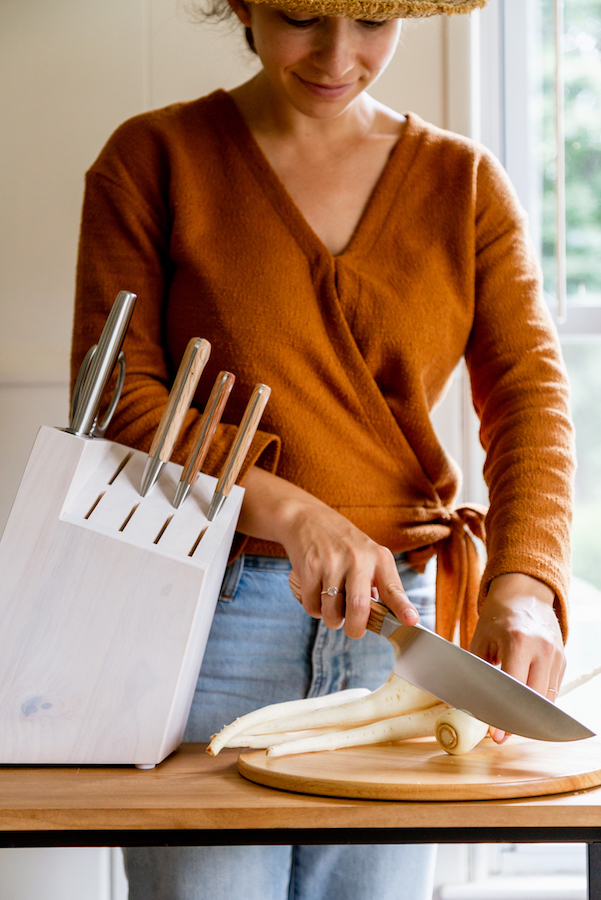 Roasting the parsnips first and tossing them in shichimi togarashi seasoning achieves a few things. (1) Roasting brings out caramelized notes that, to me, perfectly embody fall. (2) Olive oil residue from the parsnips will make it into your infusion, the droplets of which act as little parsnip-flavor-vehicles straight to your tongue. (3) Shichimi togarashi balances the sweet, roast parsnip with spicy heat and an additional layer of umami.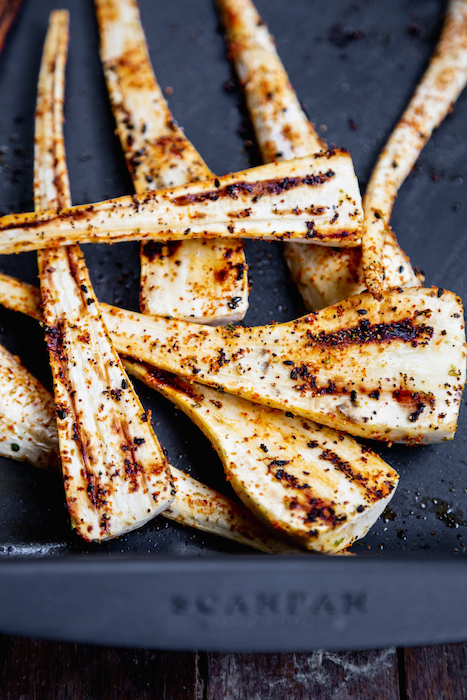 If you've never used shichimi togarashi before, it might just become your new favorite condiment. A Japanese spice blend that typically includes red chile flakes, dried orange peel, white sesame seeds, black sesame seeds, nori (seaweed) flakes, poppy seeds and ginger, you can find it in most gourmet markets, spice specialty stores, Asian markets, and of course online. Sprinkle some on your morning eggs or avocado toast and never look back.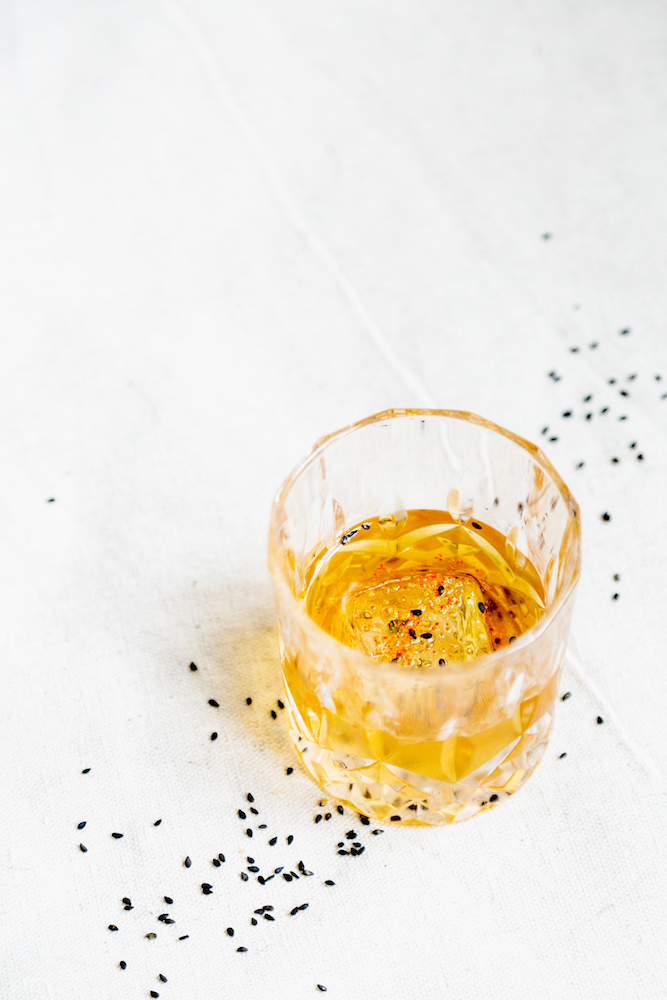 I chose applejack for this infusion, but you can also use rye if you prefer. If you caught one of my previous posts on applejack cocktails, you know that since applejack is a liquor distilled from — drum roll — apples, it's one of the easiest ways to add an autumnal note to any drink. Apple brandies like Calvados are unarguably smoother and more refined, but don't have the same bold backbone as applejack, which can stand up to the addition of unique flavors, like the parsnip I use in this recipe.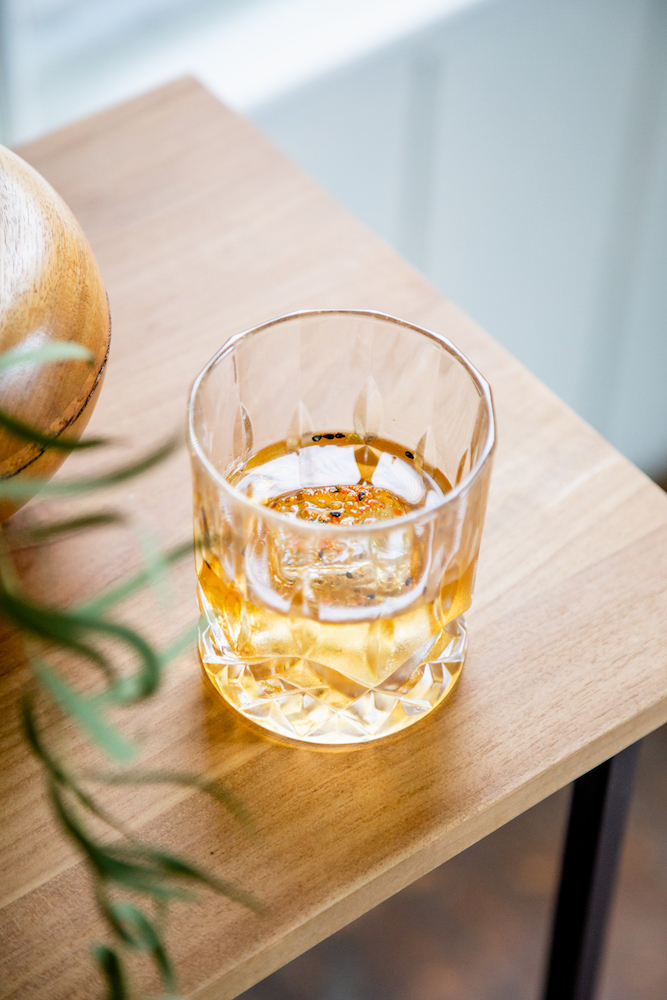 Once you've made this infusion, you're going to want to try it in everything. I'm sharing a maple Old Fashioned here because it expresses the parsnip togarashi flavor best, but I absolutely loved it in a simple maple sour as well.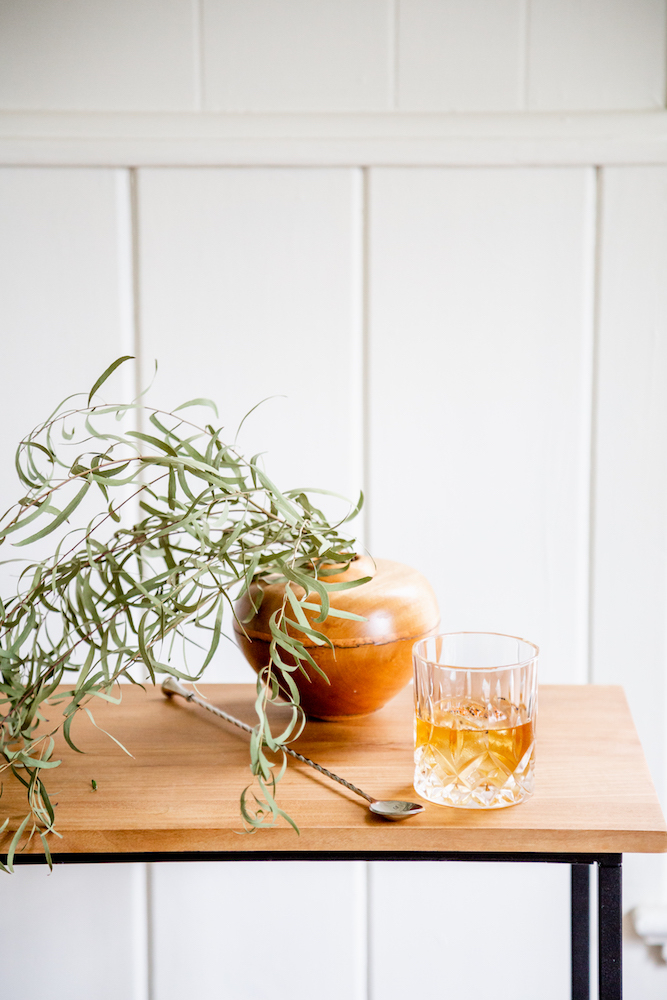 Savory Roasted Parsnip Cocktails with Shichimi Togarashi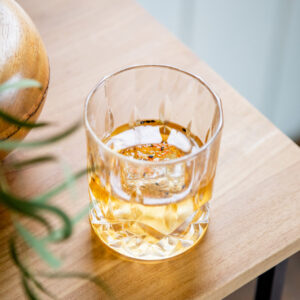 INGREDIENTS
Parsnip Togarashi Old Fashioned:
2 oz infused applejack (see below)
.5 oz (or less) real maple syrup
2 dashes angostura bitters
Shichimi Togarashi Roasted Parsnip Applejack:
1 bottle of applejack
1 bunch parsnips
Olive oil
Shichimi togarashi
INSTRUCTIONS
For the Old Fashioned:
(1) In a rocks glass filled with one large ice cube, pour the infused applejack, bitters, and maple syrup (in that order). Stir briefly (5-10 seconds) and serve.
Optional: sprinkle additional shichimi togarashi on the ice cube to garnish.
For the Applejack:
(1) Preheat the oven to 425. Peel the parsnips and halve them lengthwise. Toss in olive oil and shichimi togarashi, then arrange in roasting pan cut side down.
(2) Roast for 20 minutes, then toss and broil under high heat for an additional minute or two, until lightly charred but not shriveled.
(3) Remove from oven and let cool. Chop roughly into french fry sized pieces, then combine with applejack in a sealed container (pour applejack until it just covers the parsnips).
(4) Let stand in a cool dark place for 24 hours, then strain through a fine mesh sieve or cheesecloth into a bottle or decanter. Store in the fridge.