How to Make Smashed Parmesan Purple Potatoes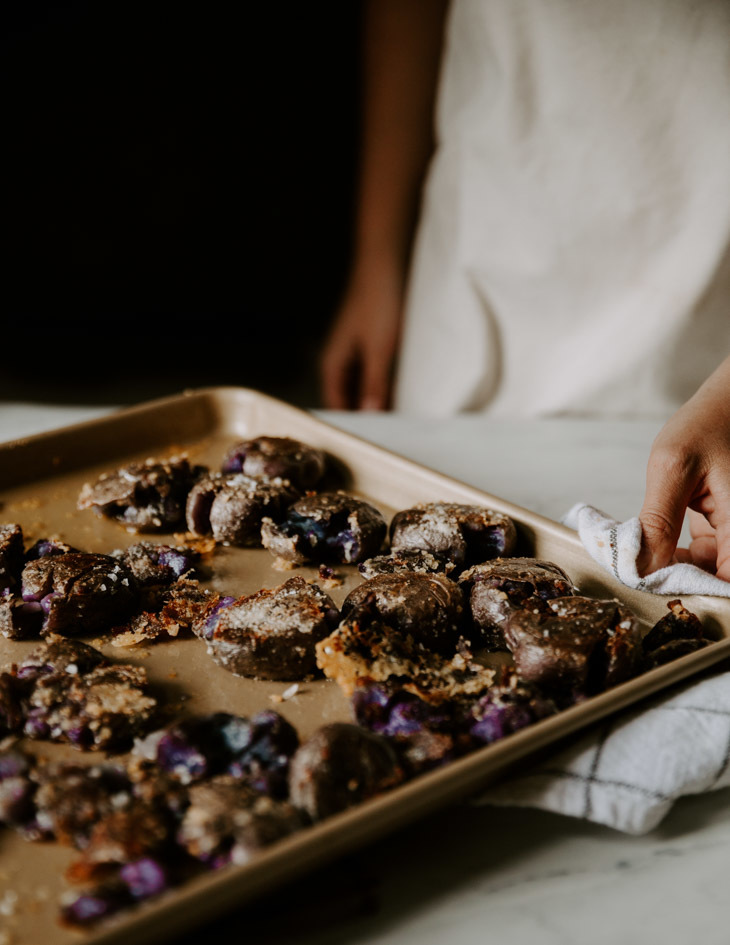 I love potatoes oh so much. Mashed, roasted, baked. Purple, red, russet. You name it, I'll eat it. This smashed potato recipe has me seriously ready for the cooler months. It's just the ultimate comfort food that make this time of year a little easier.
Comfort food, and especially potatoes, get so demonized in mainstream health media. It's a shame because potatoes are a great vegetable that are rich in vitamins and minerals. Not to mention it's totally okay to genuinely enjoy and find comfort in the food we eat. The more we let ourselves explore the satisfaction factor, the greater peace we can find with all foods. The more peace we have with all types of food, the less bingeing and preoccupation we will have.
Smashed Purple Potato Recipe Notes
Potatoes.
I particularly love waxy potatoes because they are so much more tender and fluffy than the standard workhorse potatoes that we see most often, like a russet. For this recipe pick purple, red bliss, or young yellow. Try to grab only small, round, and relatively uniformed potatoes to guarantee even cooking.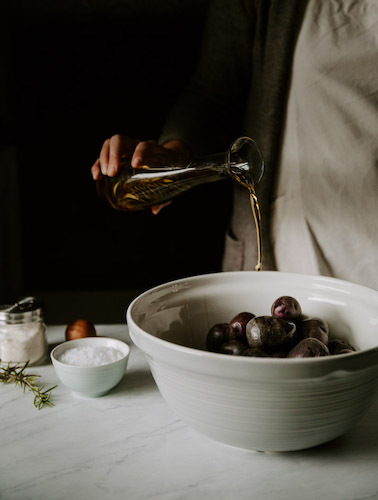 Steaming. This is the technique. This will get you a tender on the inside, crispy on the outside roasted potato, every time. It's because steaming, versus boiling, will prevent a waterlogged potato, an important detail that will help the potatoes crisp up in the oven. Plus, the gentle nature of steaming will keep the shape and skins of the potatoes intact.
Smashing. This informal technique is basically just applying a little pressure via a flat-bottomed vessel of some sort to slightly flatten each potato into a disc. The potato will burst a bit and create lots of surface area to roast evenly and produce plenty of crispiness. Yum!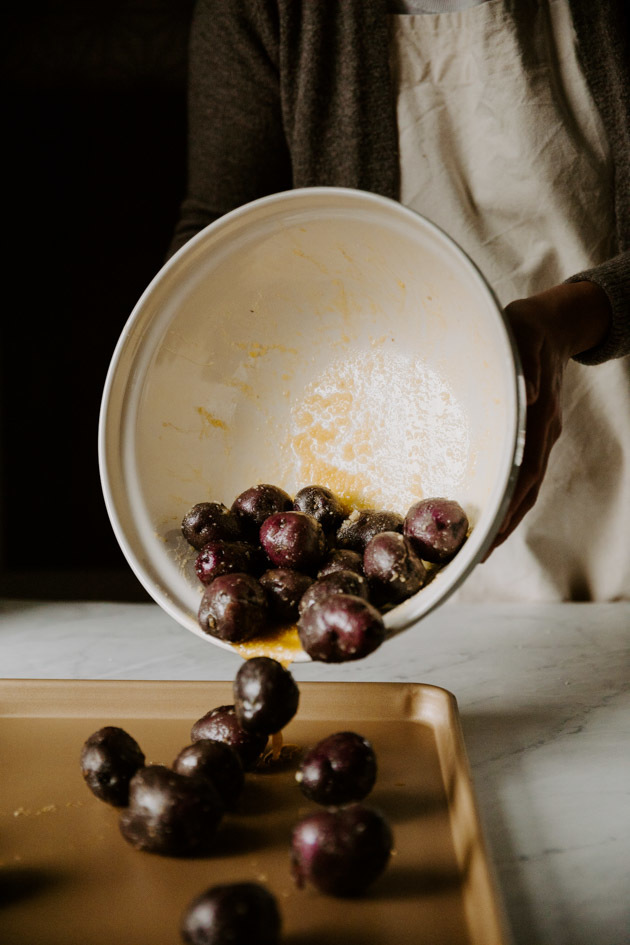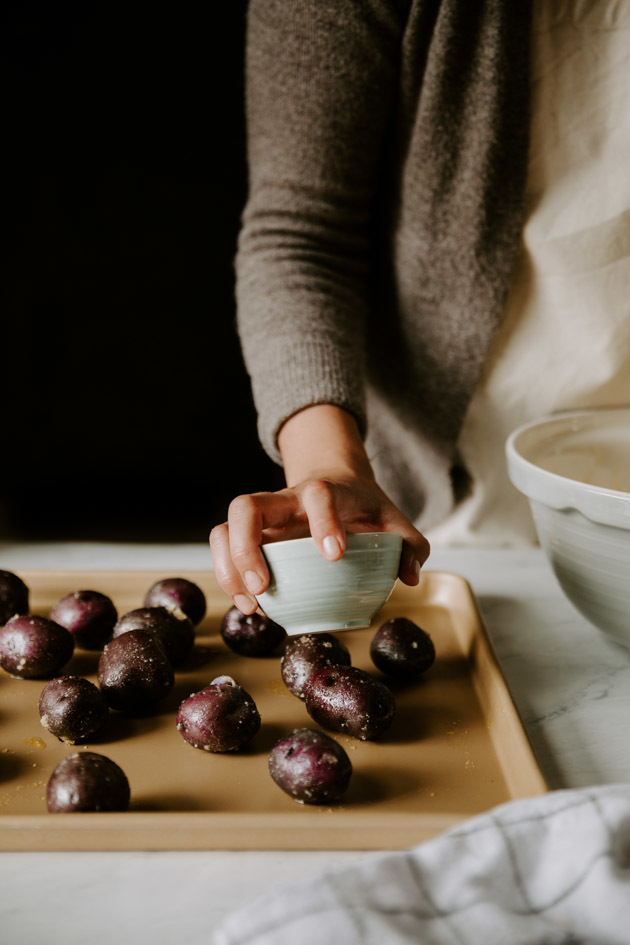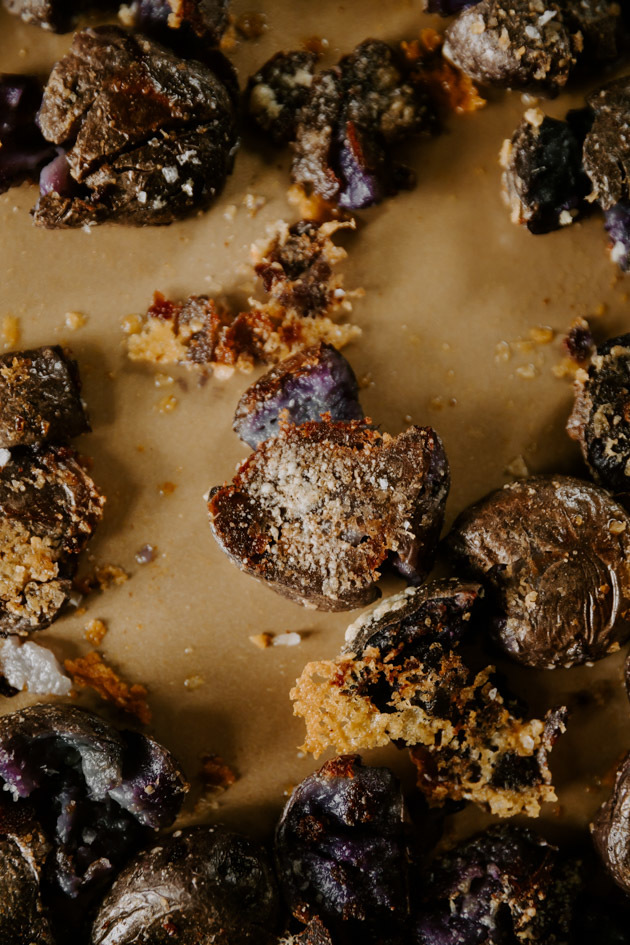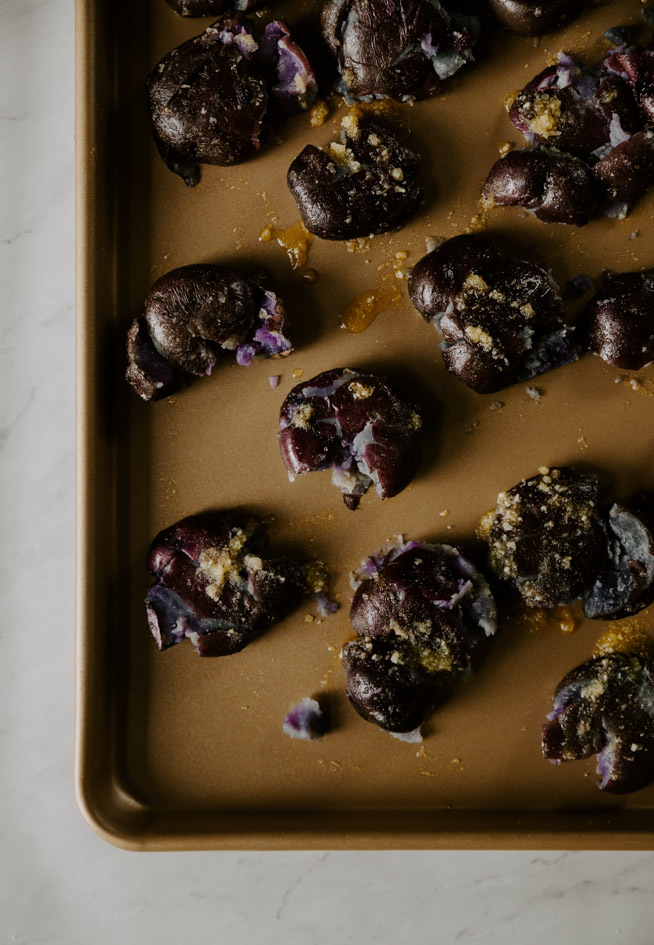 Gold-Coated Nonstick Sheet Pan

By Nucu

Shop Now
Parmesan.
Randomly add more parmesan to a few of the smashed potatoes. The cheese will melt and cook like a parmesan chip. Such a yummy flavor and added texture.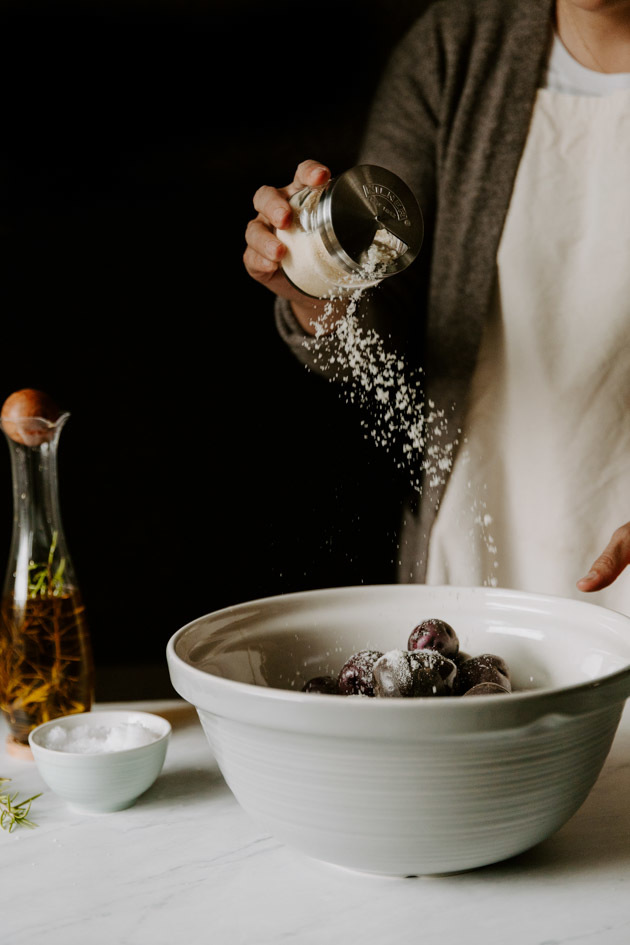 Seasoning. The reason additional oil and seasonings are added throughout the cooking process (at 3 points to be exact) is to avoid drowning the potatoes from the start. As more moisture and seasonings are needed, eyeball the addition so that you get a good browned crisp instead of oily and soggy potatoes. It also helps carry the flavor as it all cooks. Don't fret, it sounds complicated but it's really more instinctive than precision cooking.
Storage Jar & Shaker Lid

By Kilner

Shop Now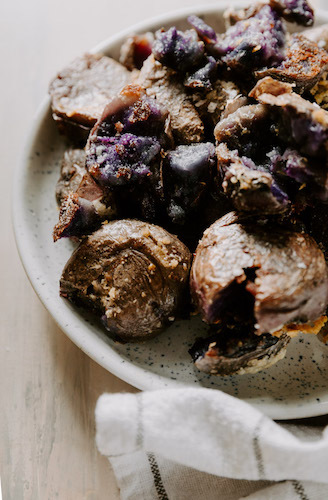 Dairy Substitution. If parmesan won't work for you, don't skip this recipe by. The technique can be applied without the use of parmesan. Instead, substitute dairy for dried herb mixtures like an Italian blend or Herb de Provence. Or, try nutritional yeast!
Mixing & Prep Bowl Set

By Typhoon William Mason

Shop Now
Smashed Parmesan Purple Potatoes
Find ultimate comfort in this easy to follow smashed parmesan purple potato recipe!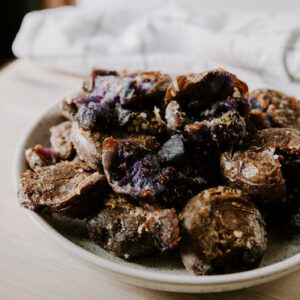 Ingredients
2.5

lb

Young purple potatoes, washed

.5

cups

Herb infused oil such as rosemary or oregano, plus more for cooking

.25

cups

Parmesan, grated, plus more for cooking

1

tbsp

Flaked finishing salt, plus more for cooking
Instructions
In a medium pot, steam potatoes using a metal steamer insert, until just tender. About 15-20 minutes. Place potatoes on a large baking sheet and let cool slightly. Preheat oven to 400 degrees.

In a large mixing bowl, combine oil, parmesan, and salt with slightly cooled potatoes. Mix gently to coat. Spread seasoned potatoes back onto a sheet pan and pour any remaining oil back over top.

Using the bottom of a sturdy object such as a small bowl, apply light pressure to "smash" potatoes into discs. Careful not to over press, as the potatoes may fall apart. If one does smash and separate too much, tuck it back together and in the next seasoning step use a little extra parmesan on each over-smashed potato. This will help keep the pieces together.

Sprinkle more oil, parmesan, and salt to eyeball and coat potatoes generously. They will seem "thirsty" so you may need to coat again halfway through cooking.

Roast potatoes for about 30 minutes, flipping halfway through, until crispy and browned. Serve with favorite fish or a bit of herby sour cream for dipping!
Be Inspired to Find More Comfort Food