How To Make Homemade Biscuits and Berry Jam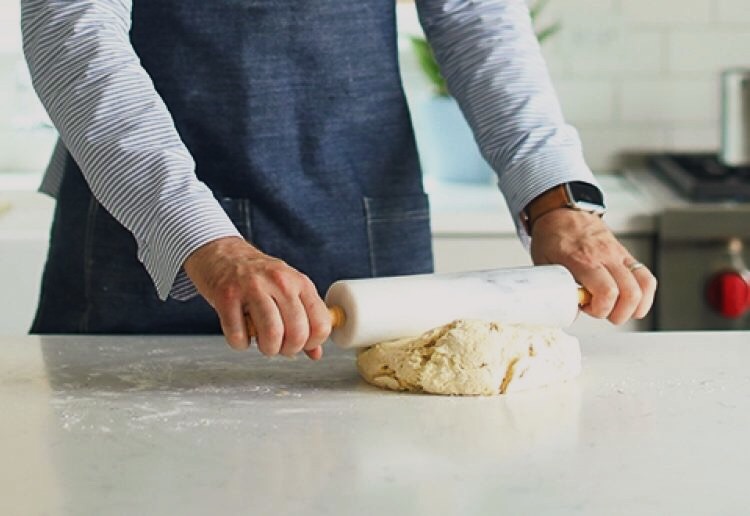 I remember one of my first experiences eating a Southern biscuit while down south when I was a kid. It. was. huge. I was sort of used to those pre-made biscuits my mom would whip up before school. They always came out of the oven looking good but about 30 seconds later they fell pretty flat. These Southern biscuits though are like 3" inches tall, golden brown, flaky, and nice and tender in the inside. Honestly, they are everything that is right in the world.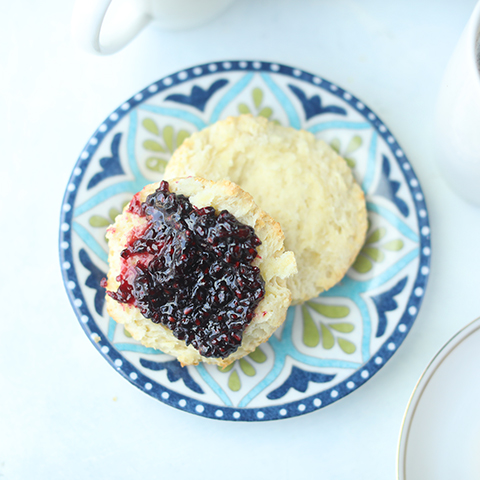 What would a big thick flaky biscuit be without jam? Or for you true Southerners, gravy! It's been some years since I made a homemade jam and every time I do it I'm always in awe at how easy it is to make. I always think after making it that I should do it more often because it's so simple and so delicious. I decided to make a raspberry and blackberry jam, and for me the seeds must stay in. I suppose it makes this jam recipe more like preserves, but whatever, I like the seeds!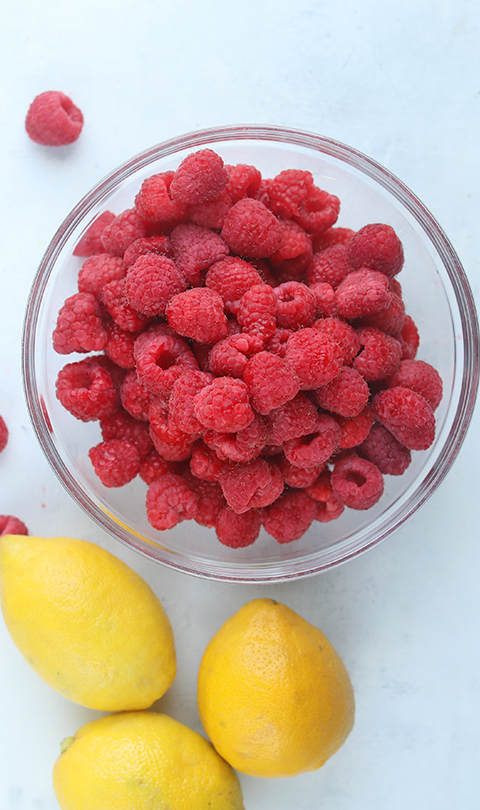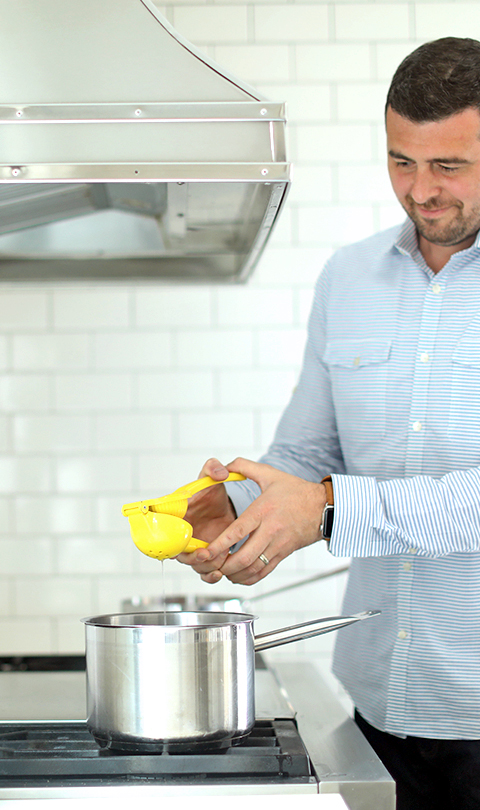 Making jam, or preserves, is as simple as cooking together fresh berries, lemon juice and sugar. The key is to cook the mixture over low heat until it reaches 218° to 220° before removing it from the burner. Anything past this temperature raises the risk of scorching the sugar in the jam, making it taste burnt.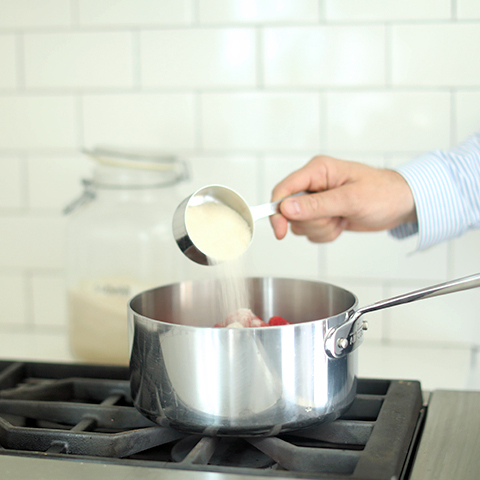 Be sure to mash the berries using a potato masher so that the mixture appears smooth with the exception of seeds and maybe some very small berry pieces. From there you can either add gelatin or not, I chose not to, and then jar 'em up and place them in the refrigerator until cool and set.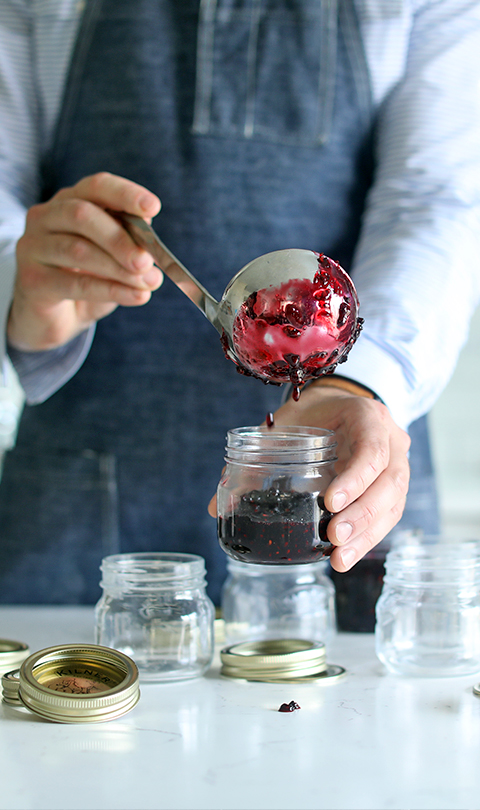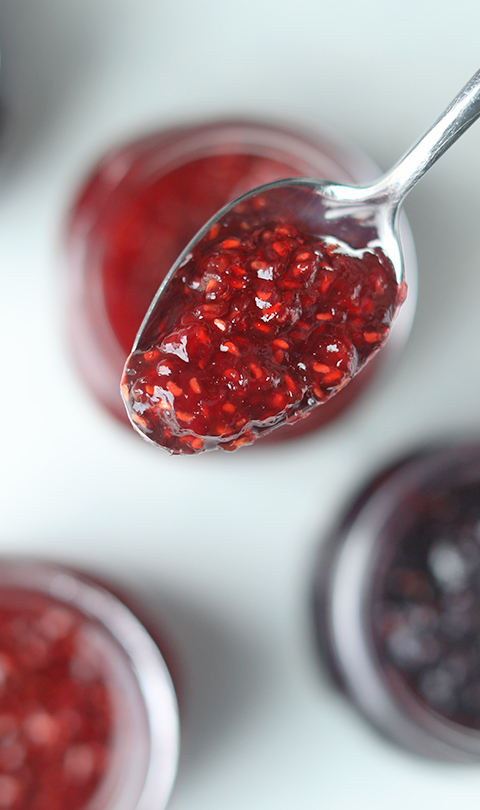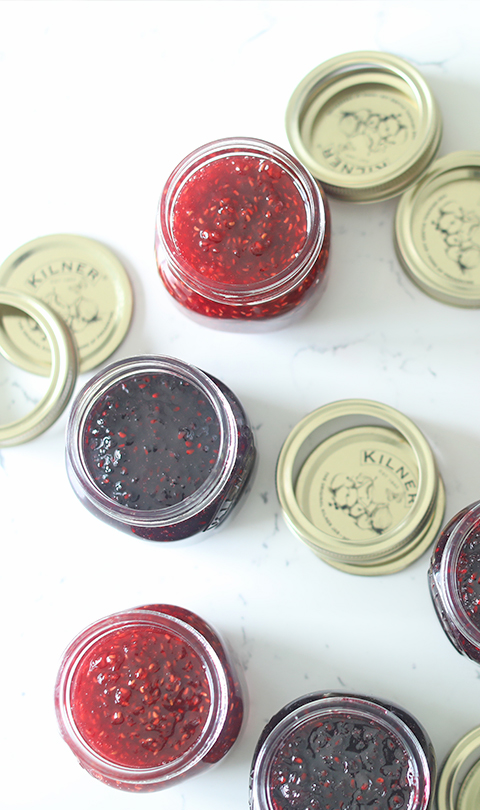 When I went to attempt to recreate those same delicious Southern style biscuits I had eaten years prior, I made sure that the dough was super thick before taking a cookie cutter to them. Even though there is baking powder in it you have to give them a chance, so starting them off about ¾" to 1" inch thick is where you should be. However, we need to start with the dough because that's what's important into the success of making big fluffy flaky biscuits.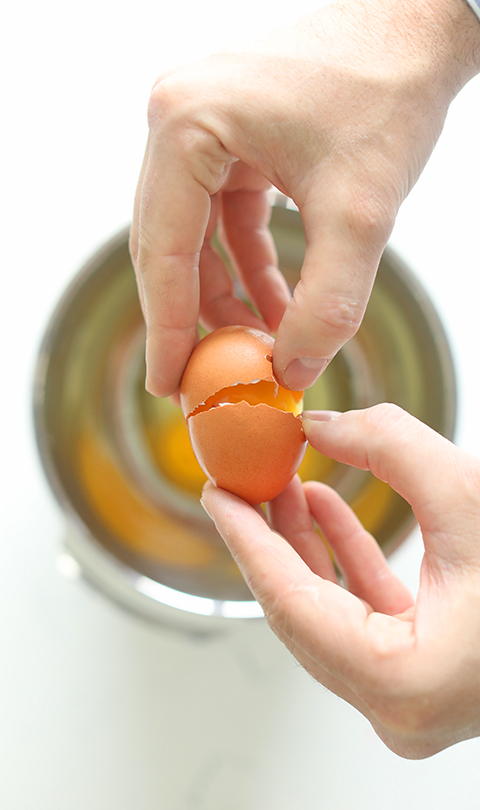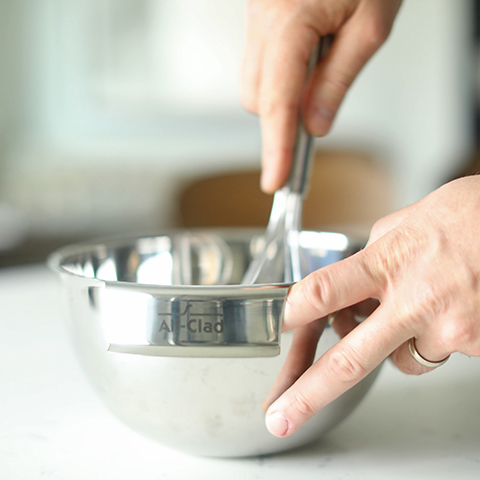 The key to the flakiness and tenderness in a good biscuit is the butter, and for me, it's how you incorporate the butter into the dough. You want the butter to be ice cold and about the size of rice as you cut it into the flour and for me the best way to do that is by shredding it on a cheese grater.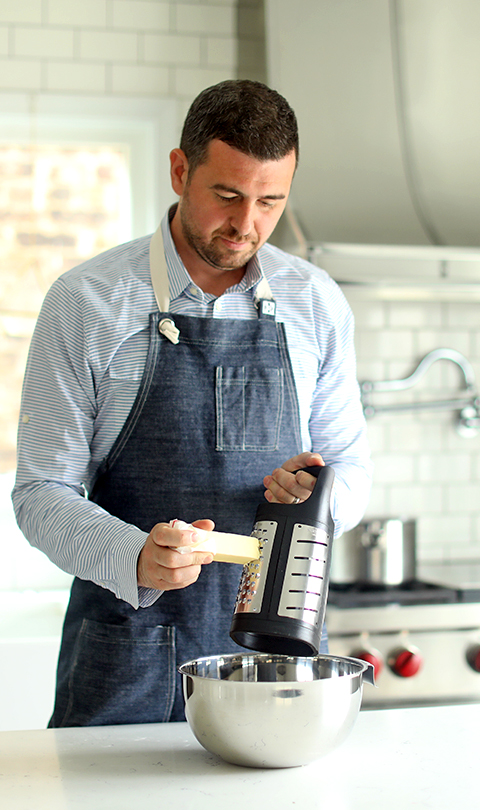 It seriously makes it the exact size you need for it to be evenly distributed throughout the dough. It's also incredibly important not to overmix the dough, because it needs to stay cold to ensure it is standing up when it's baking rather than falling down because the butter has melted.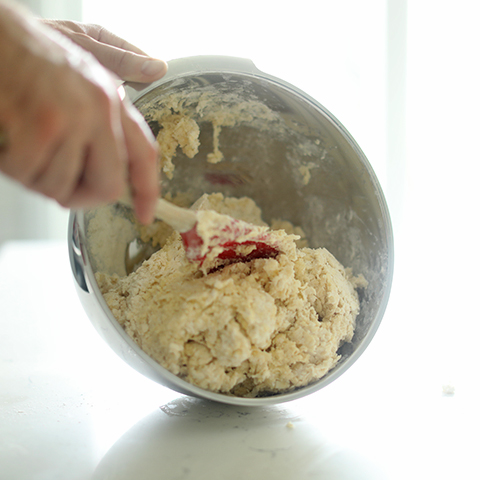 Once the dough is rolled out to about 1" thick you then use a circle cutter to create your biscuits. This recipe makes 12 biscuits and extra big biscuit that I put in a frying pan separate the sheet tray lined with dough biscuits. It's just a fun extra thing to make and looks funny when it comes out because it's so big.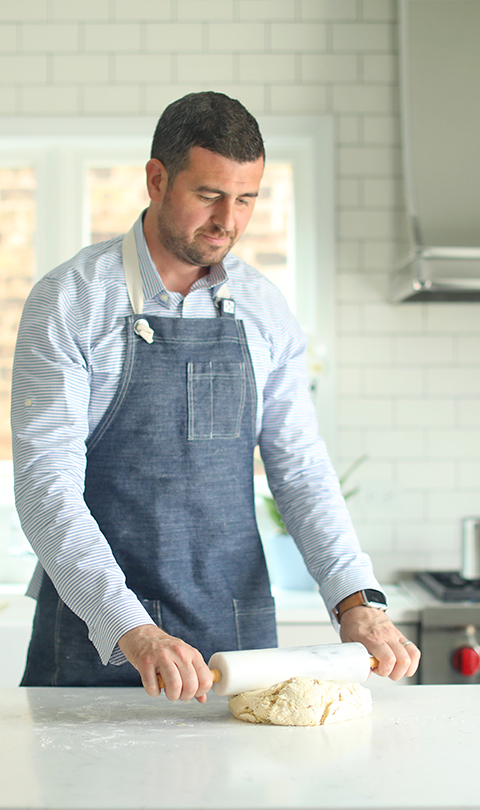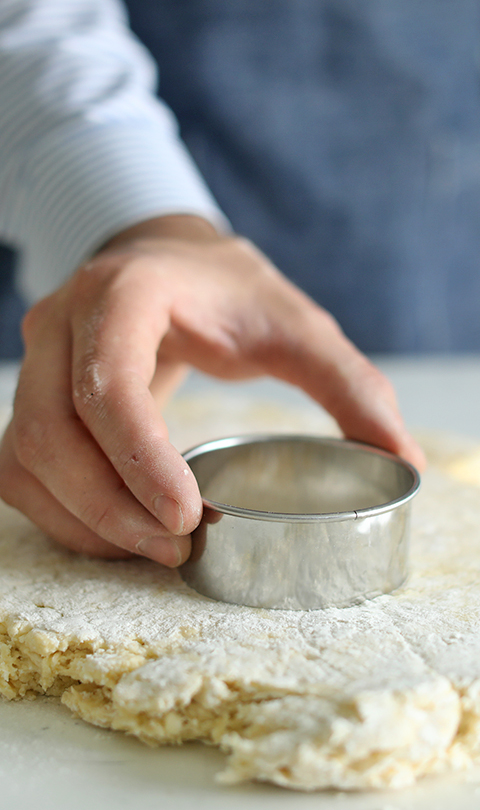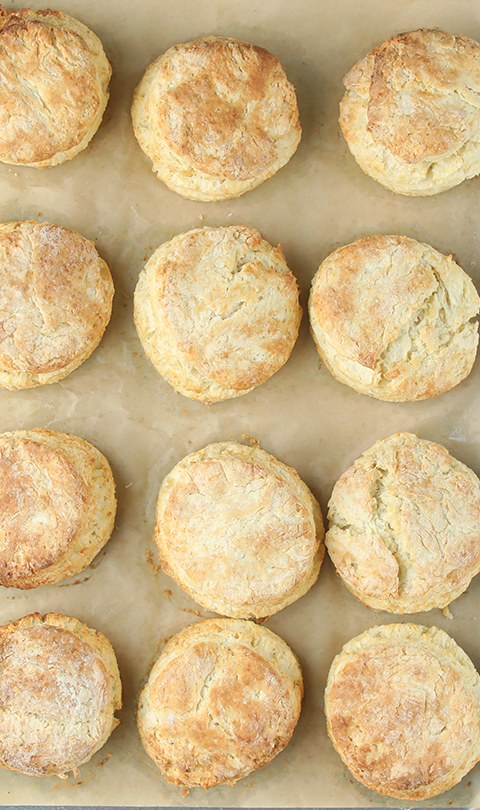 If you're looking for the most perfect biscuit recipe, then this is it, so be sure to pair it up with a delicious homemade berry jam! Happy baking!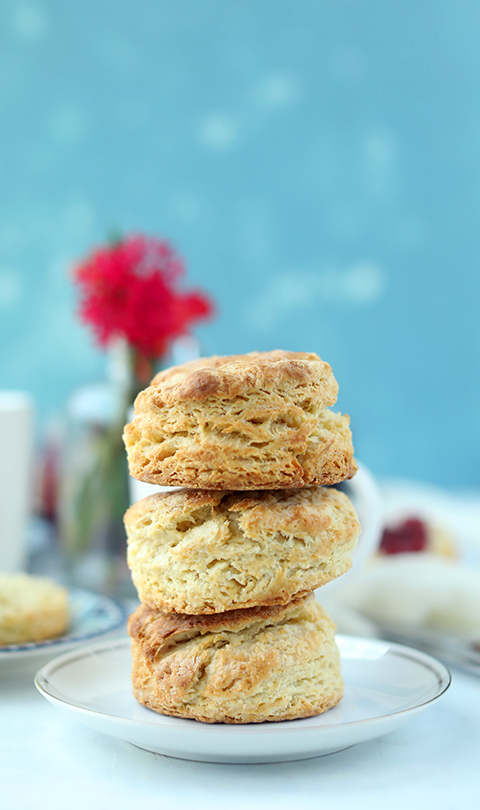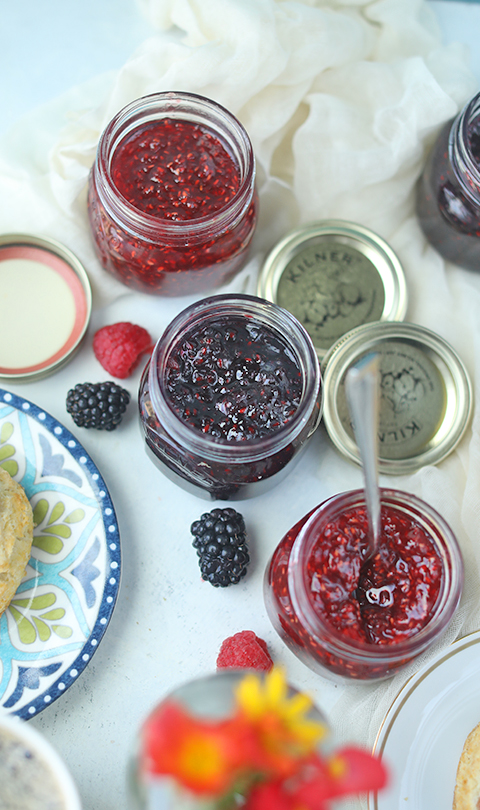 Homemade Biscuits and Berry Jam Recipe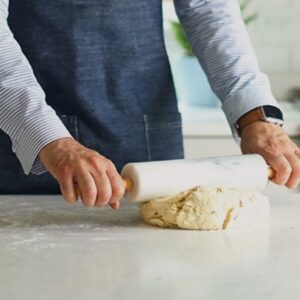 INGREDIENTS
For the Biscuits:
4 ½ cups of all-purpose flour
3 tablespoons of baking powder
1 tablespoon of salt
¼ cup of sugar
2 ice cold sticks of unsalted butter, grated on a cheese grater
4 eggs
1 1/3 cup of heavy cream
For the Jam:
4 cups of fresh raspberries
juice of 2 lemons
4 cups of sugar
4 cups of fresh blackberries
INSTRUCTIONS
For the Biscuits:
Preheat the oven to 375°.
In a large bowl mix together the flour, baking powder, salt, sugar and butter until combined and then form a well in the center.
In a separate medium size bowl whisk together the eggs and cream until combined and then pour into the dry mixture bowl.
Mix with a spoon until combined and transfer to a clean surface lightly dusted with flour. Dust the top of the dough with flour and roll it out until it is 1" thick. Use a circle cutter to make rounds and then transfer them to a sheet tray lined with parchment paper. Note: you will have to reform the dough after cutting it out with circles in order to get to 12 biscuits.
Bake in the oven for 18-20 minutes or until lightly browned and cooked in the center.
Serve immediately!
For the Jam:
In a medium size pan add in the raspberries, juice of 1 lemon and 2 cups of sugar and cook to 218° to 220° degrees. Mash with a hand masher and transfer the mixture to jars. The jam will stay good for up to 3 weeks.
Repeat the process with the blackberries.
Looking for more biscuit recipes?