How to Host an Awards Party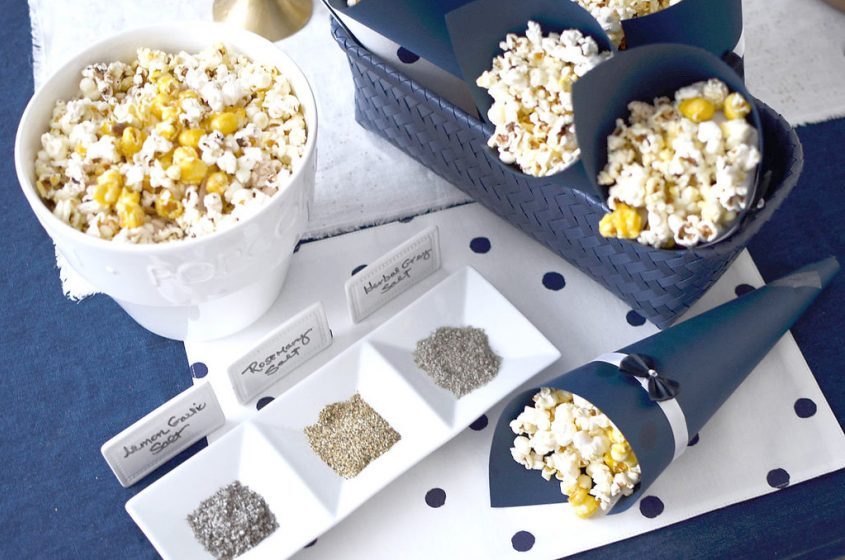 Throw a party with all the glitz and glam of the red carpet.
Get ready for your viewing party! Can't wait!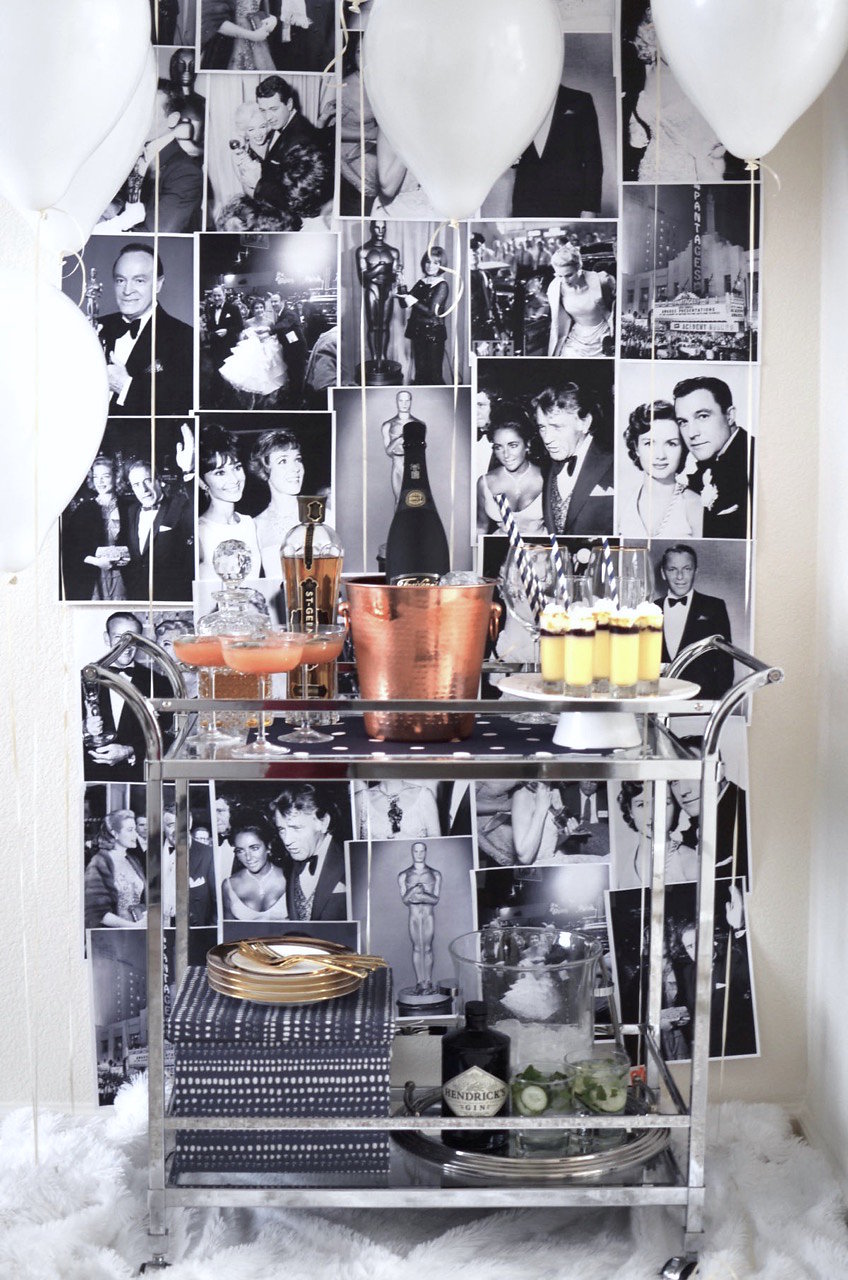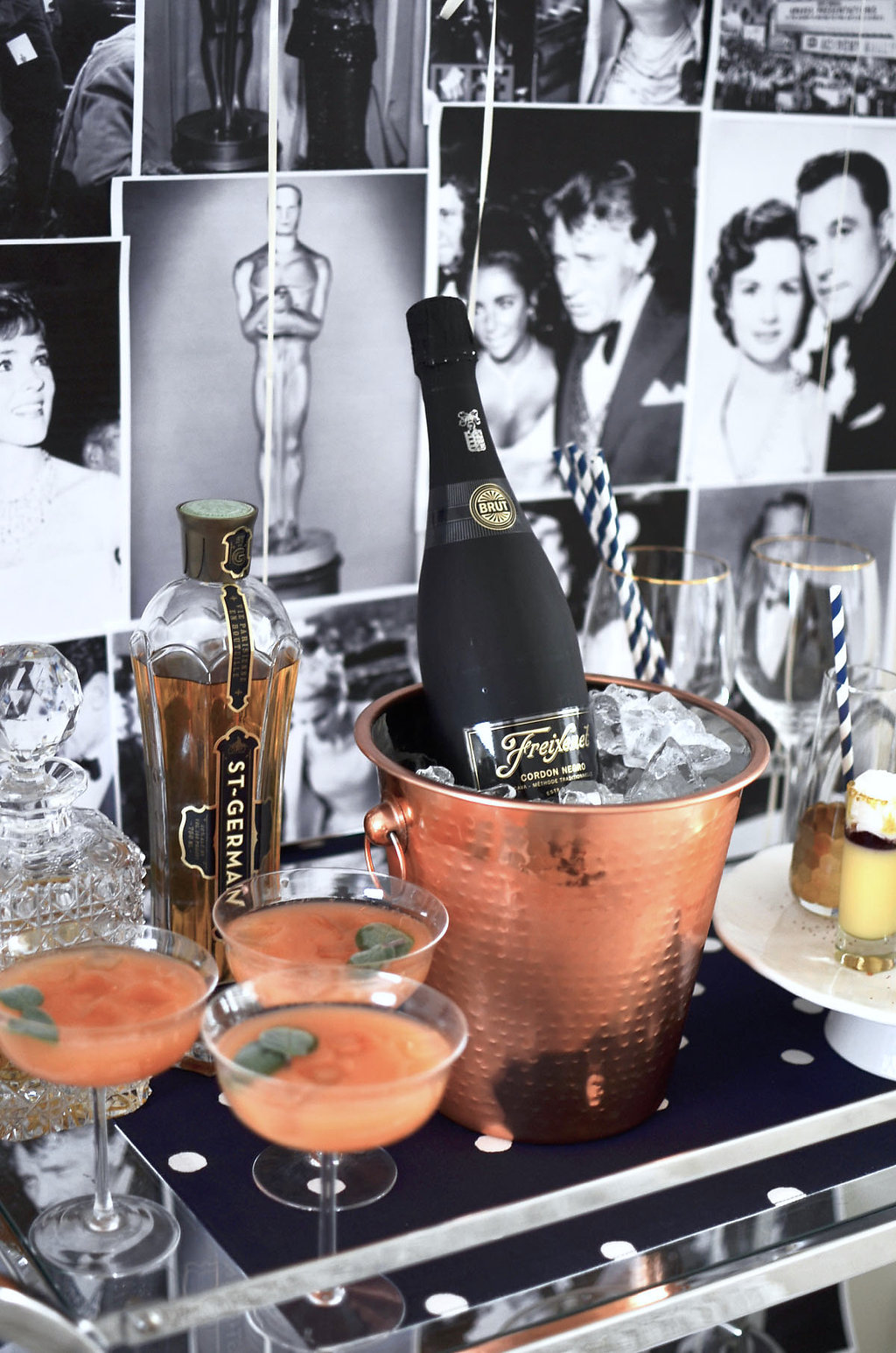 Are you throwing a party with your closet friends, strolling the red carpet or haven't given it a thought yet? Don't sweat it. Whether you're hosting the Golden Globes, Academy Awards, the Emmy's or the Grammy's, I've put together a few of my favorite Award party ideas to inspire you.
Step One: Pick a color scheme + plan your decor. I went out of the black, white, red and gold box this year, pairing navy and copper for a new take on Awards night. To take it up a notch, I created a black and white photo wall of some of my favorite iconic Hollywood stars, which added to the decor and the fun. Add balloons and you've set the stage for a great party.
Photo Wall Recipe: For this sized background and photo wall, I printed about 40 black and white 8.5″ x 11″ vintage images and hung them five across and eight down with double face tape. It's super easy, inexpensive and a great old Hollywood look.
Note: It's perfectly okay to double up and print more than one of each image.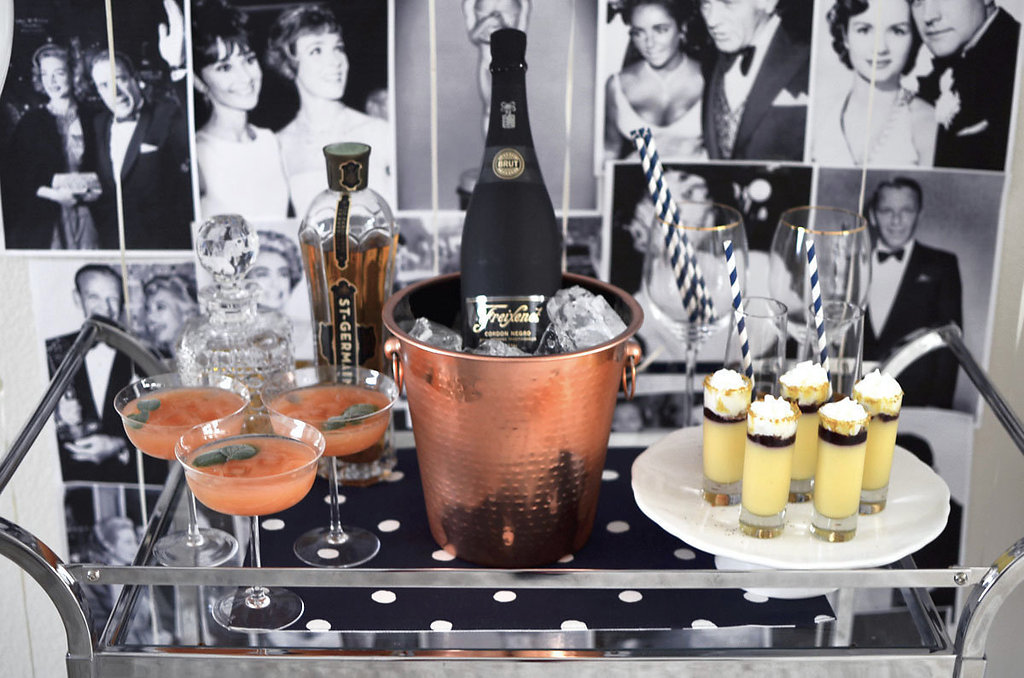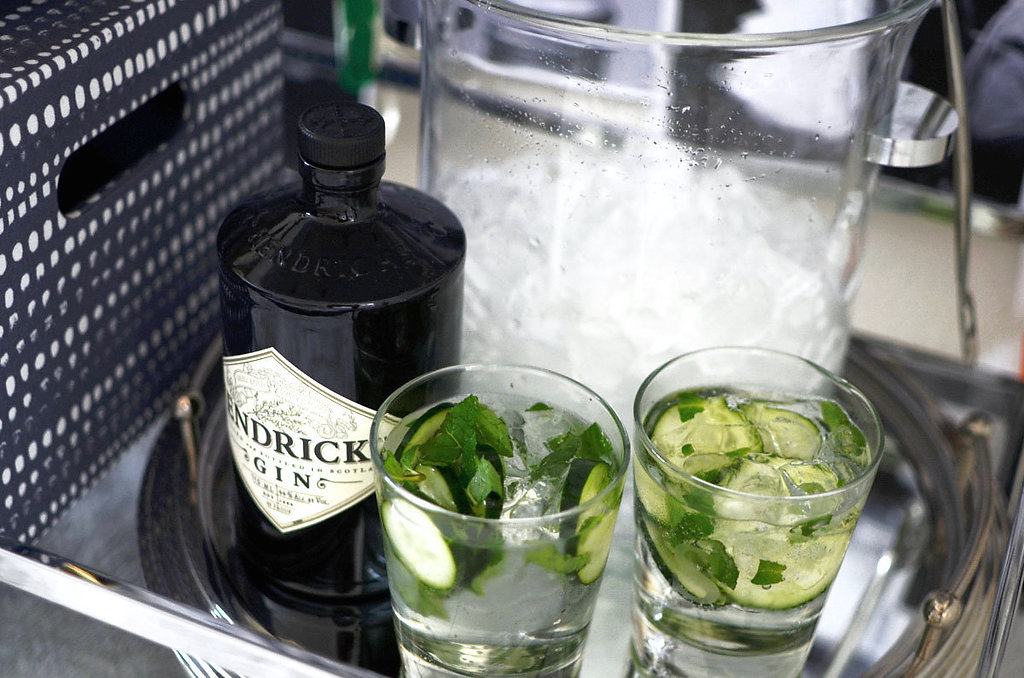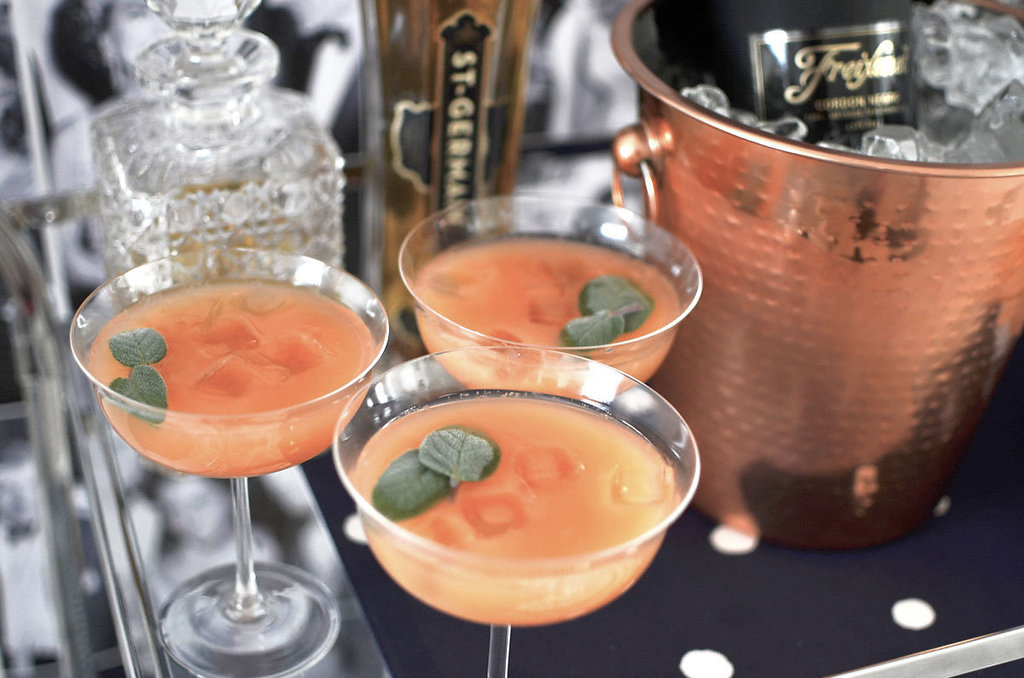 Step two: Stock the bar (and cart!). First, I lined the top of the bar cart with a kate spade new york navy and white reversible dot placemat to add a pop of color. Since copper was the center of attention (and stage!), I used a Twine Living copper ice bucket to keep the champagne cold on ice, and filled the cart with a variety of bar and wine glasses, including my favorite cocktail coupes from Mark and Graham and gold rimmed wine goblets from Lenox. Add straws, napkins and few sweets and your cart is D.O.N.E.
Cocktails: Mix up a signature drink, have some of your favorite wines on hand, add mixers, garnishes and of course, you can never have too much champagne on ice. After all I had to eat over the holidays, I knew any cocktails I served needed to be (a-hem), 'healthy'. I'm thinking grapefruit fits the bill, am I right? Without hesitation, I opted for Grapefruit and Sage Champagne Cocktails (see recipe below) as the signature drink of the day. 'Tis the season for grapefruit and let me say, the ruby reds are gorgeous right now. And, if you don't feel like squeezing your own juices, store bought work just fine. And remember, a perfect Gin + Tonic is always a good idea.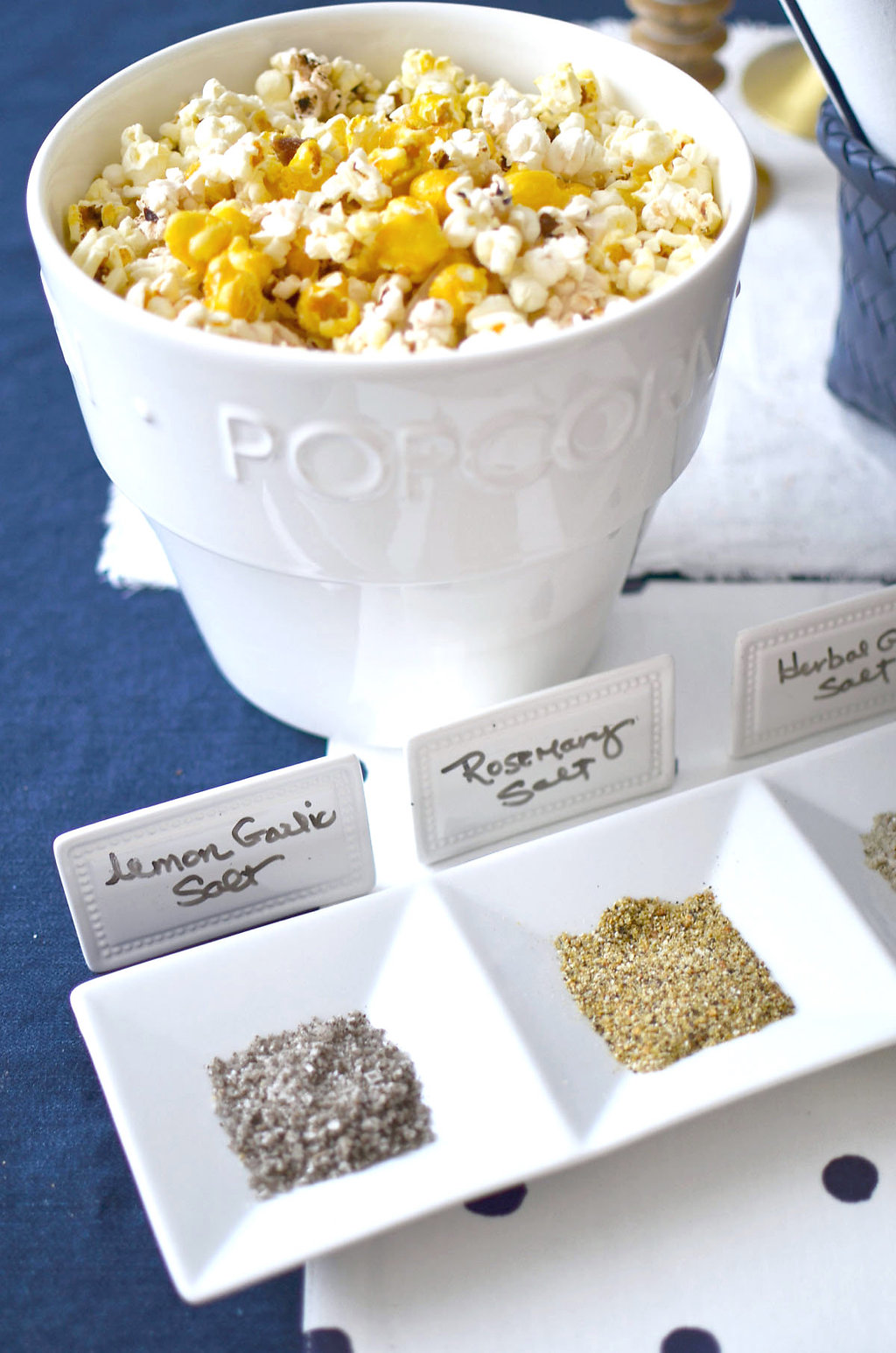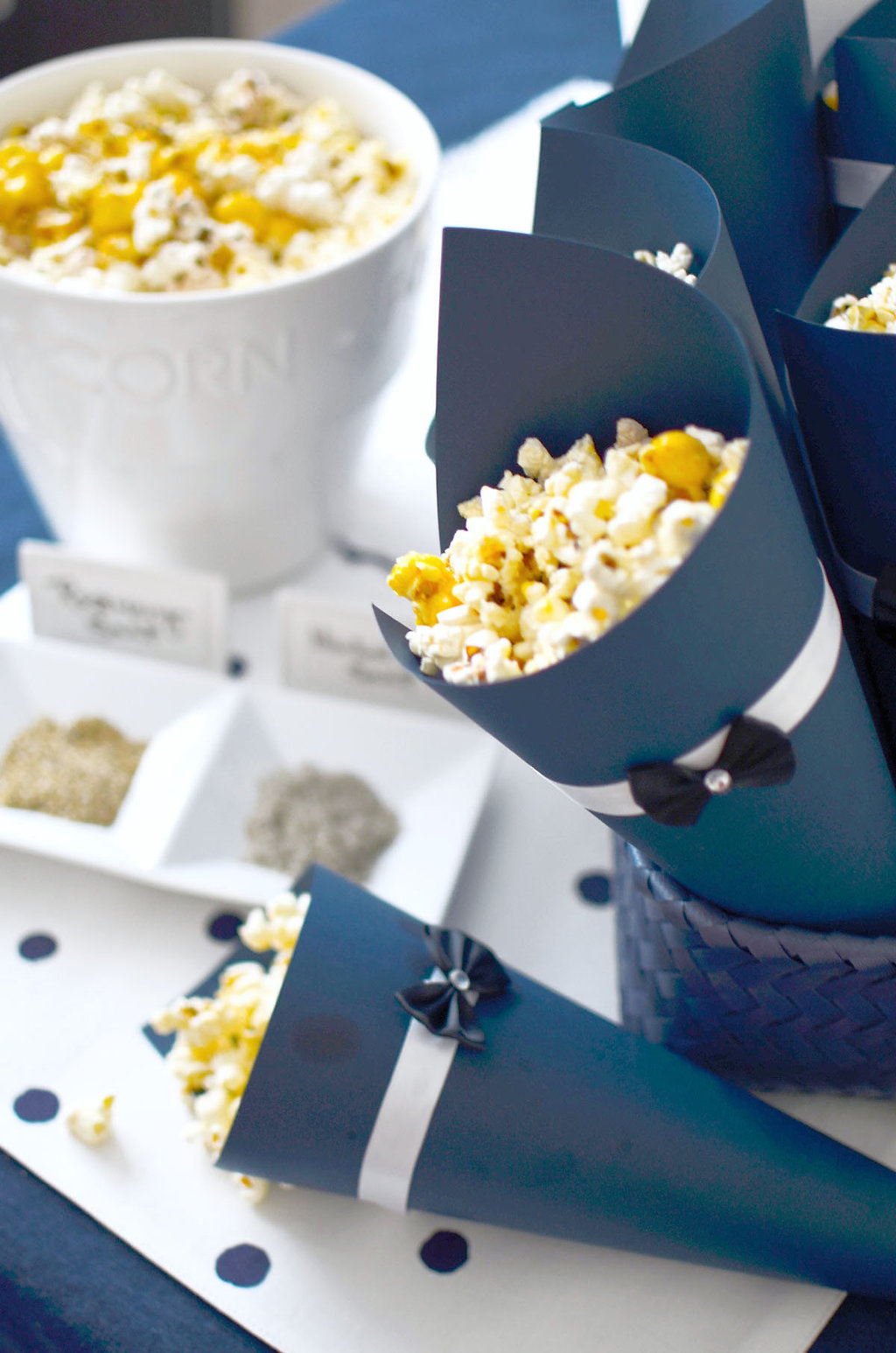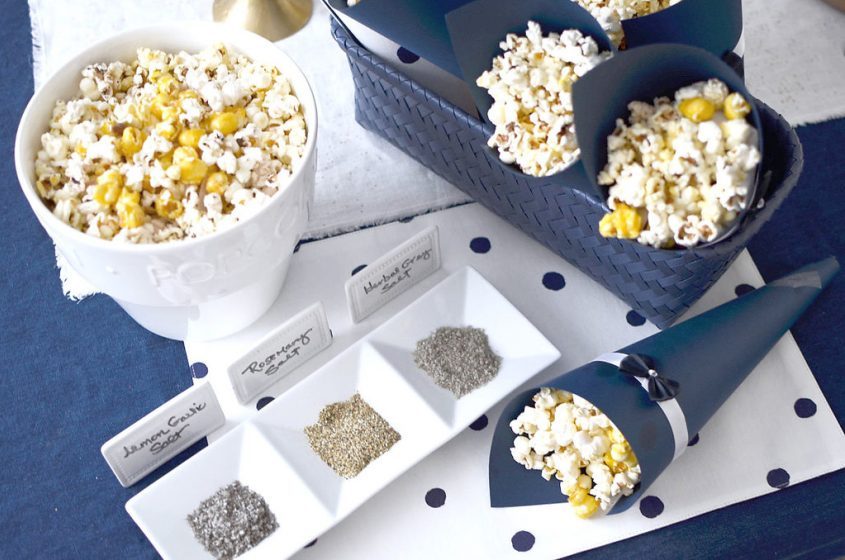 Step three: Appetizers! My friends love to "bring" (lucky for me), but I always start with one or two easy apps in case of early and late arrivals. What could be more fitting on Awards Night than a popcorn bar with a variety of salt options? I served the popcorn in a family sized popcorn bowl and made individual "cones" out of scrapbook paper, wrapped it with white ribbon and added a black satin bow with a rhinestone center for an Award style look. To hold the cones, I picked up a navy storage basket at Target.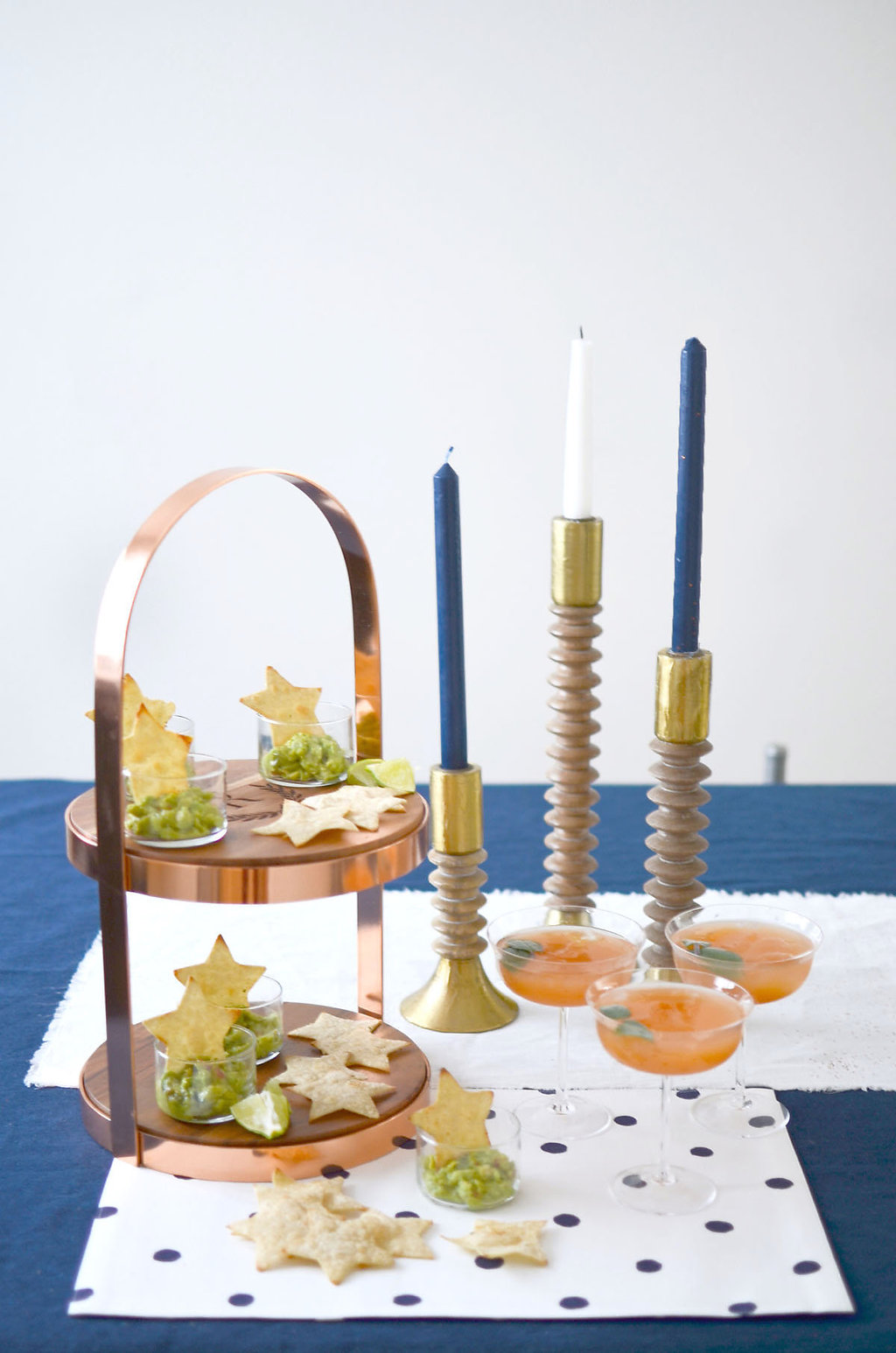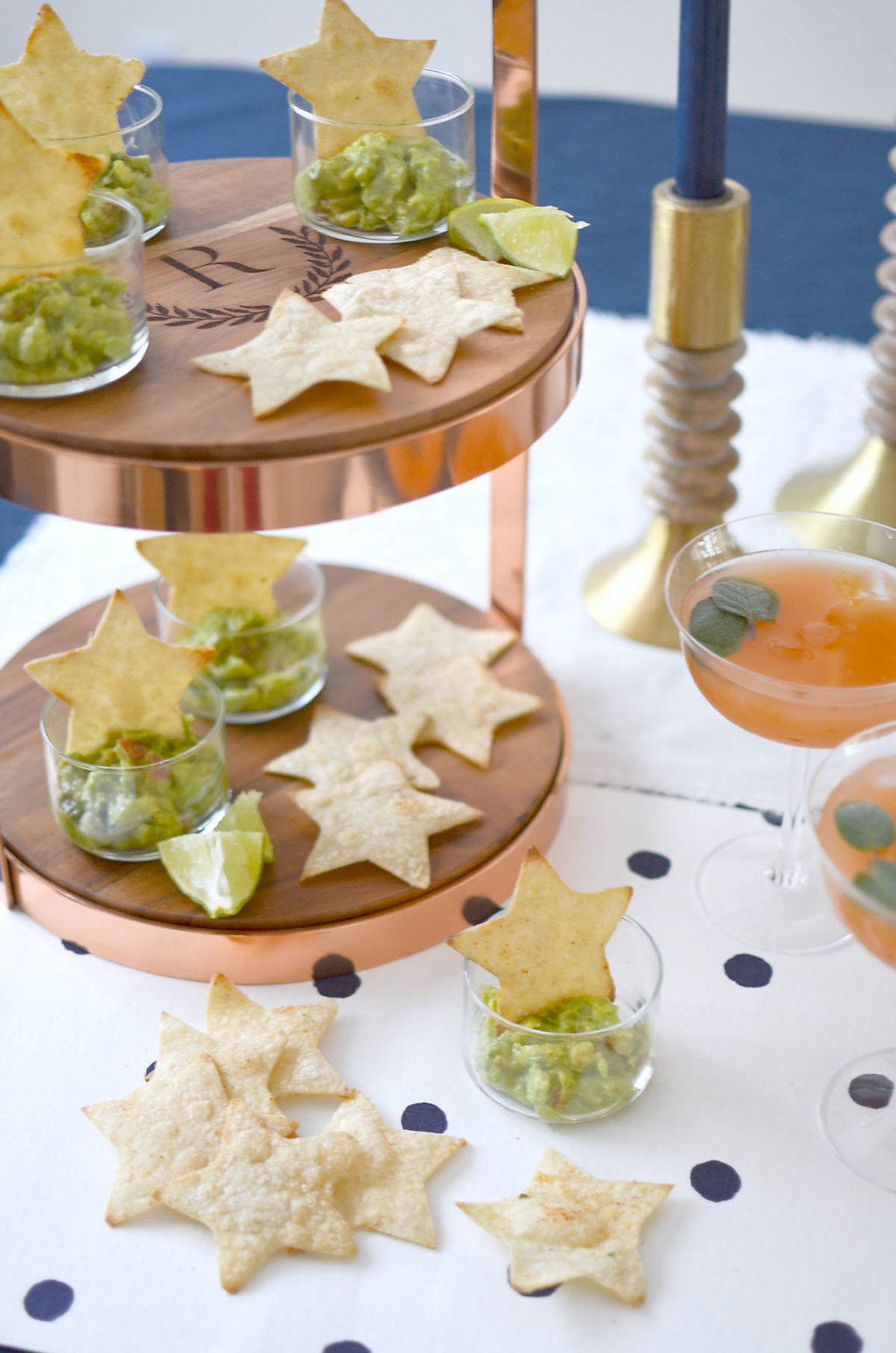 I'm enamored with this monogrammed copper tiered serving stand from Mark and Graham. It's perfect to serve just about anything and makes such a statement on the table. If you're a bride-to-be, you'll want this on your registry!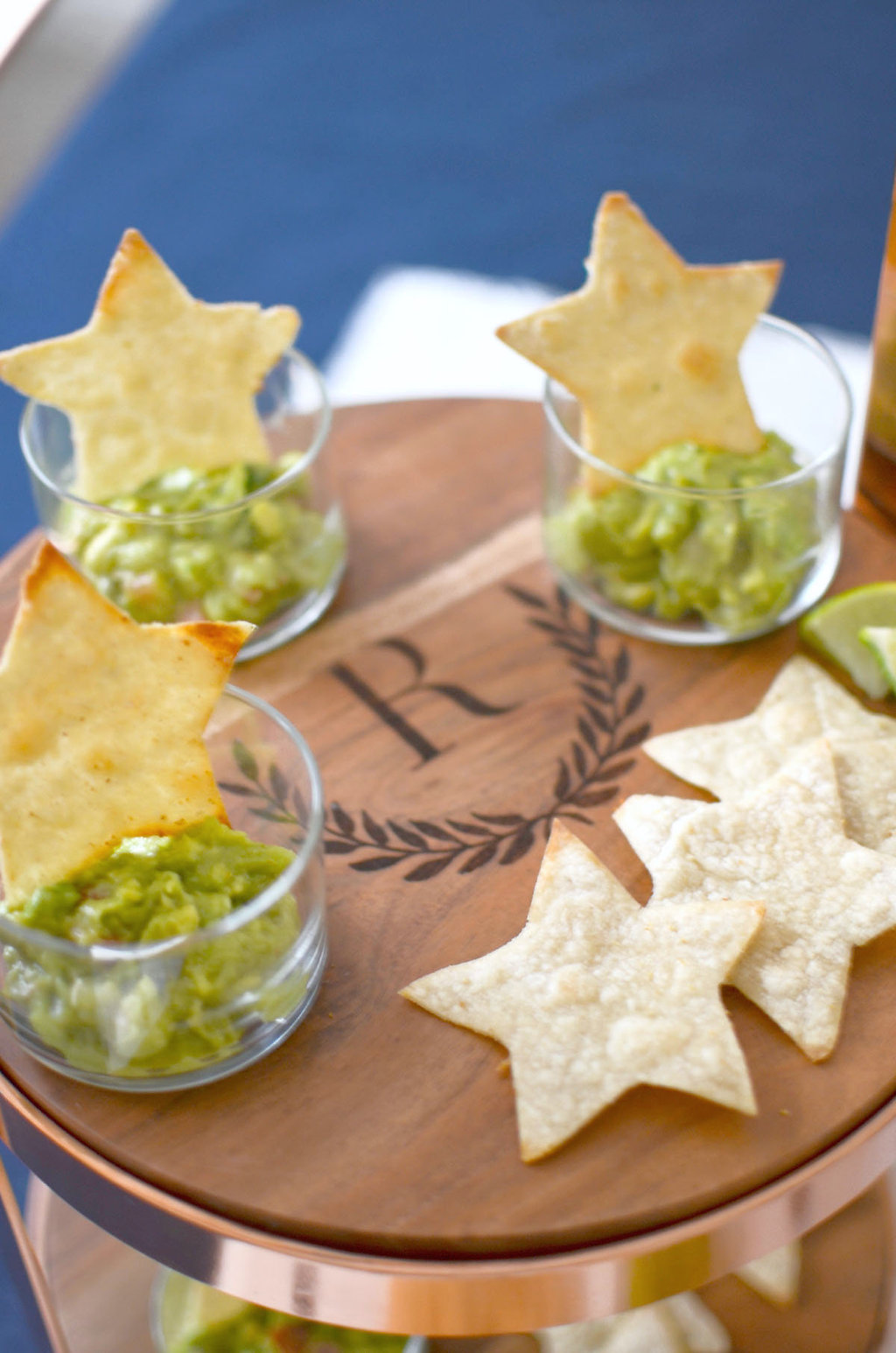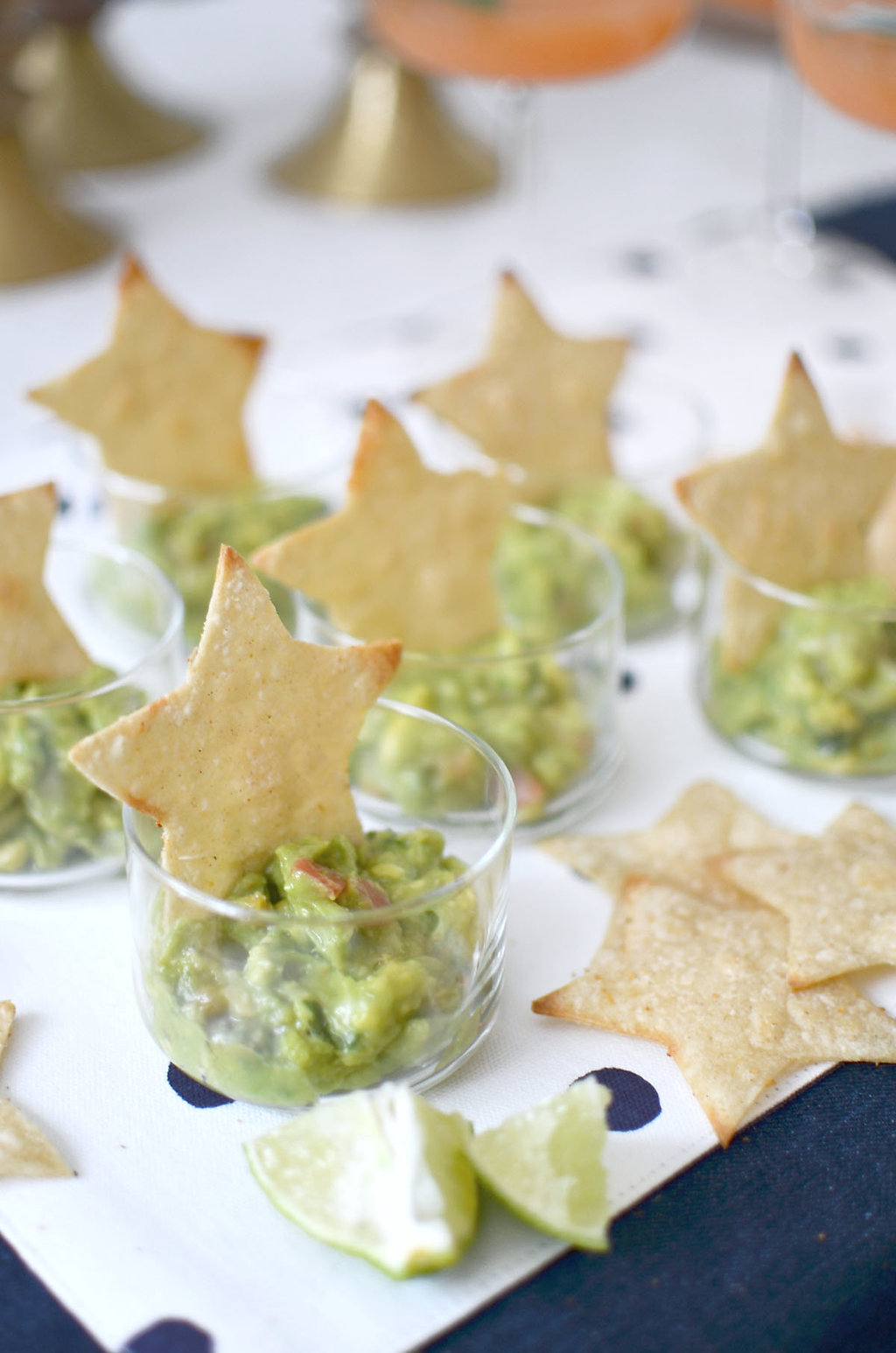 Now can we talk about the individual (homemade!) star shaped garlic tortilla chips (recipe below!) and Guac apps? I got the idea from Courtney at Pizzazzerie and the recipe from Sweet Savory Life. Just my opinion, but I think they steal the show. The chips are super easy to make and I know you have your own favorite guacamole recipe or your local market does! Serve in a mini dessert bowl with extra chips on the side for some show stopping style.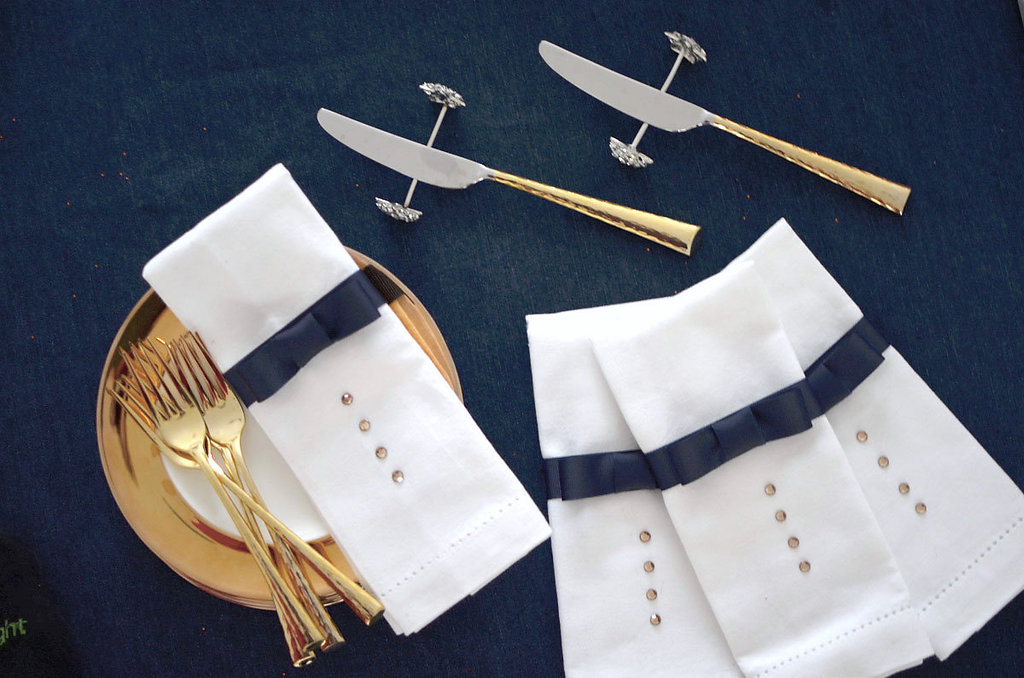 As a finale, I made tuxedo napkins by adding a navy grosgrain ribbon 'neckband' and layered it with a handmade bow tie, using Aleene's Clear Tacky Glue (it's washable). I centered four copper rhinestones for tuxedo buttons, again using clear tacky glue. Cute, right? The tuxedo napkins, CRU Monaco gold luncheon plates and Marchesa by Lenox gold flatware were just the right mix of metals. To make it easy for guests to serve themselves, I had a stack of plates, napkins and forks on the bar cart, on my dining room table and on the coffee table.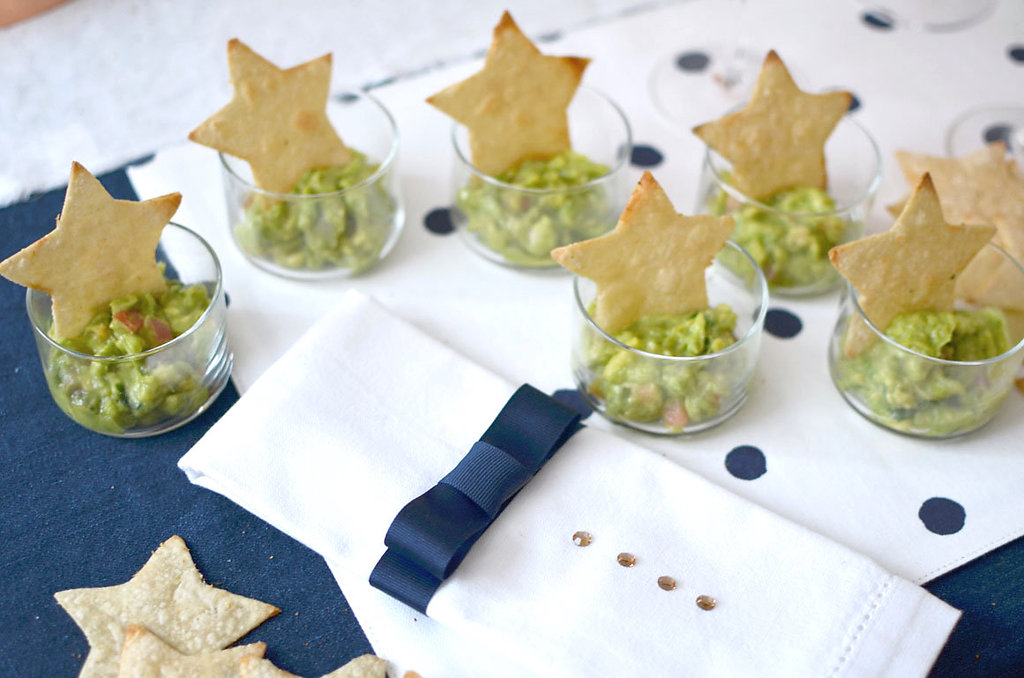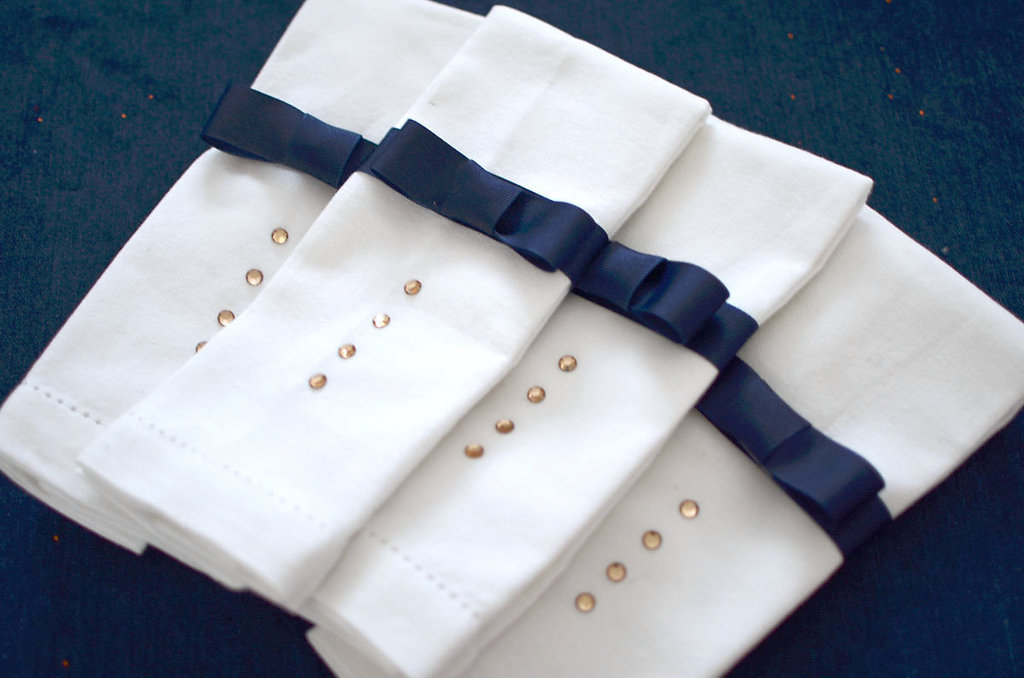 Step four: Add something sweet! I opted for mini Champagne Trifle desserts. So easy! Fill Libbey mini parfait glasses with vanilla pudding and swirl with a bit of champagne to taste. Once it sets up, add layers of boysenberry jam, crushed biscotti and top with fresh whipped cream just before serving.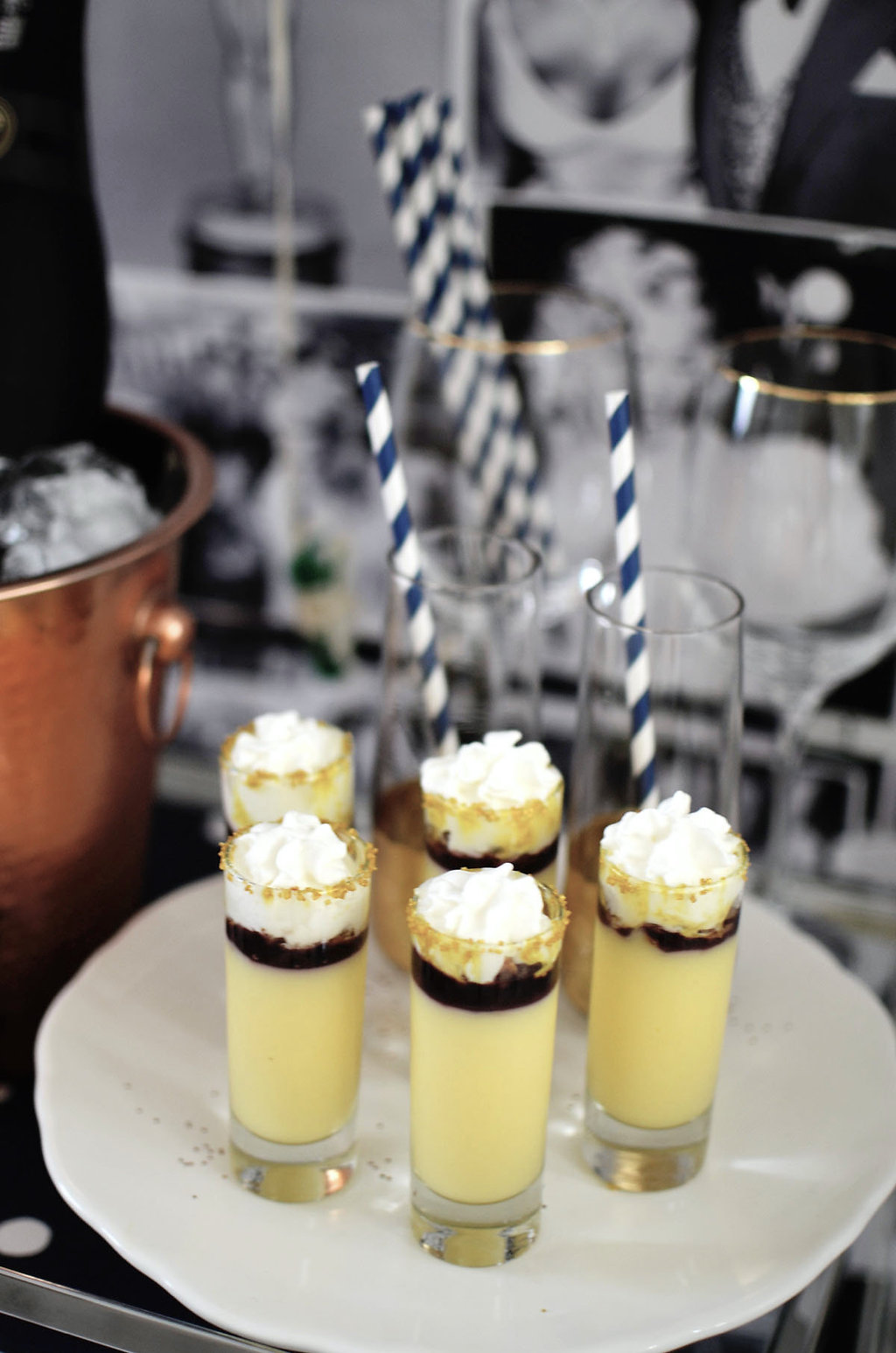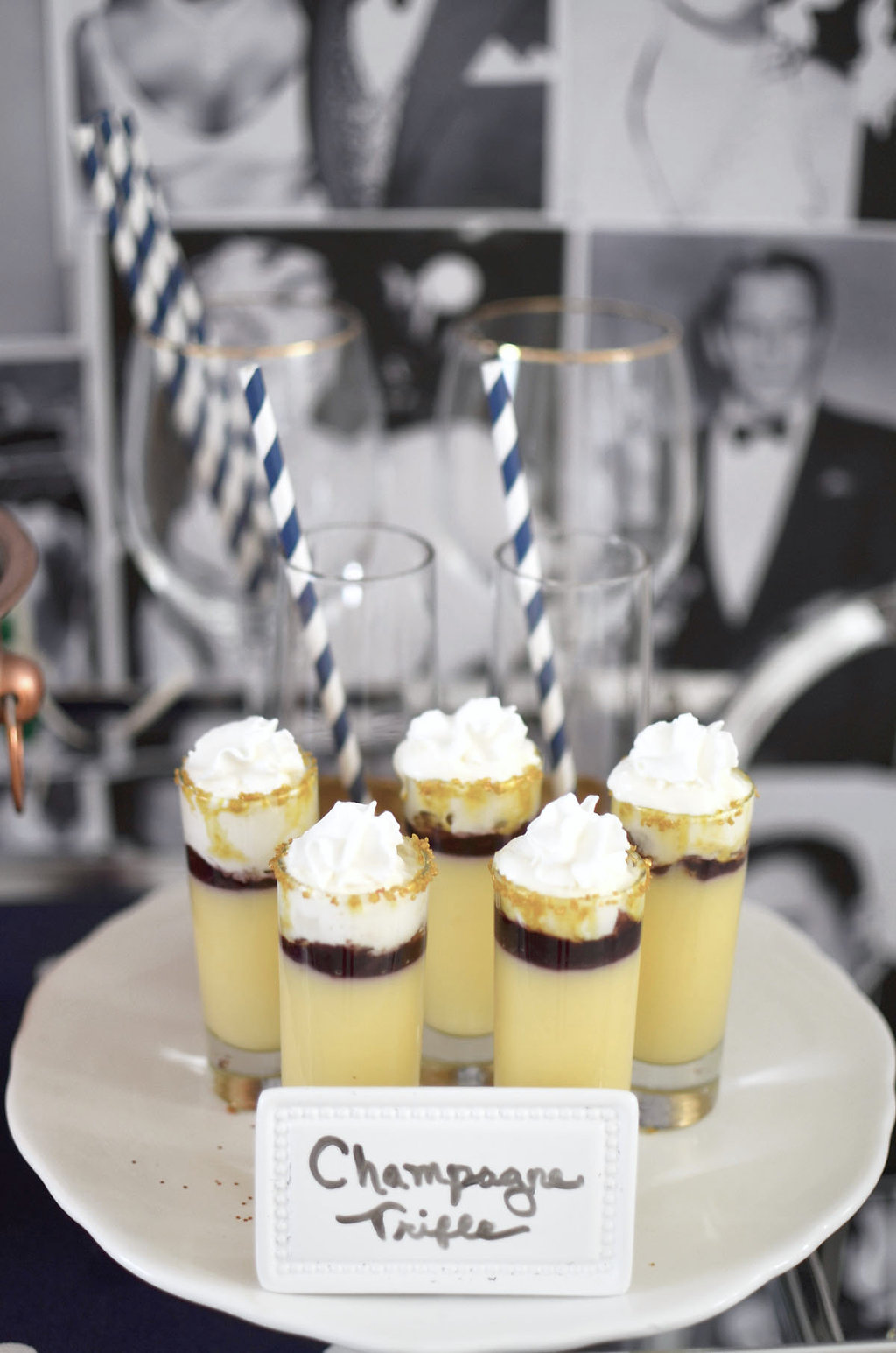 So, what do you think? Are you ready to throw the best Award party ever? I'm pretty sure whatever your party direction is, your critics will approve.
xx, Deborah