How to Host a Holiday Meal Without Freaking Out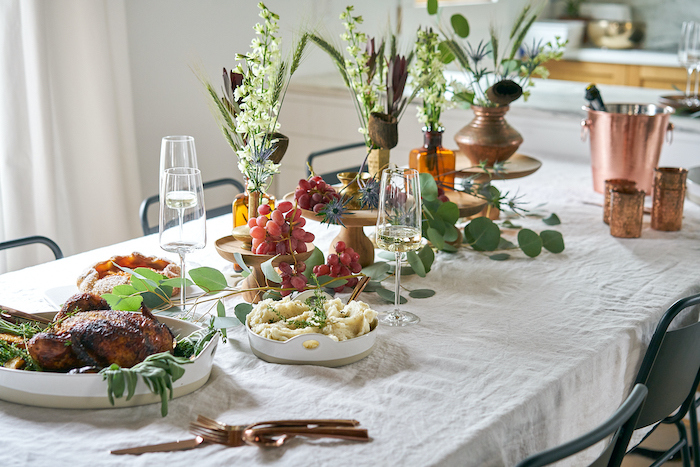 There comes a time in which you, yes you, somehow end up hosting a meal during the holidays. Generally, this time realization of how you were in fact, bamboozled into such a task causes shortness of breath, a palm to the face, or maybe a trip to go buy wine (cases of wine). But fear not! If you have ended up with the job of hosting a holiday meal, here's your guide to not freaking out and not hating hosting forever.
First, remember why you are hosting this meal. It shouldn't be to look impressive or to prove "you have it together" to your friends or family. On some level, you agreed or volunteered because you want to spend time with people you like (or tolerate…there's always that one person) and make them feel happy and cared for. And that is not contingent upon whether or not you have place settings for twelve.
1. Pick a theme and inspiration and then dial it down 20 notches.
We all have those screenshots on our phone or photos we've always loved for gatherings. Pull lots of images and define the elements you love. Is it the unusual botanicals (dried grass over poinsettias perhaps)? Is it the color combination of bottle racing green and brass?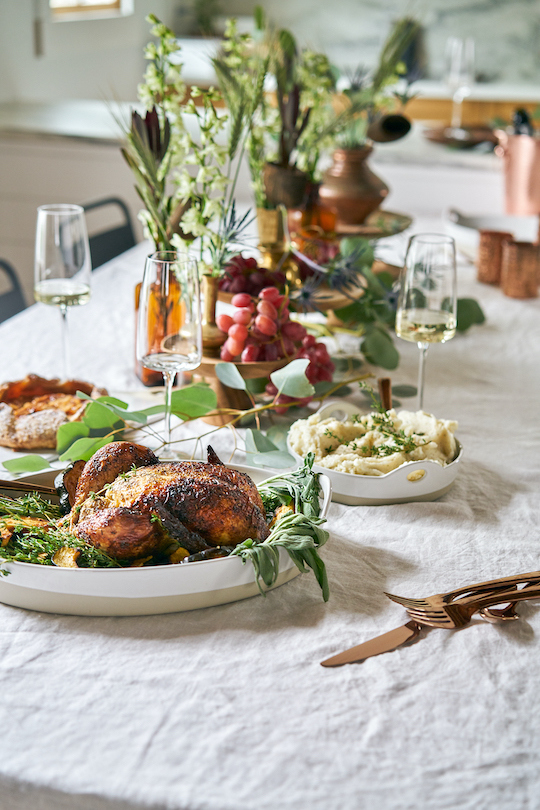 Or is it the fact that this dinner party in the photo is hosted in a Parisian apartment with parquet floors? Because now it's time for an expectation reality check. Inspiration images should be used only for ideas and concepts, not to feel bad you do not have a multimillion dollar apartment in Europe.
ED Ceramic Large Serving Bowl

By Royal Doulton

Shop Now
2. Use simple décor that's impactful.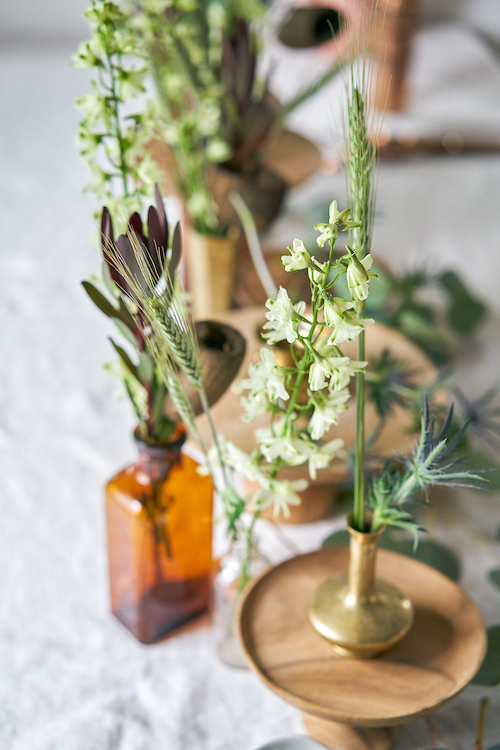 In general, we all overestimate how fast we can accomplish something. Don't count on having hours to make an arrangement or custom table runner. Use big impact items like branches or produce or greenery that last a long time and you can use again later. Create levels and layers with pedestals that catch the eye at multiple heights.
Brindisi Pedastal

By Design Ideas

Shop Now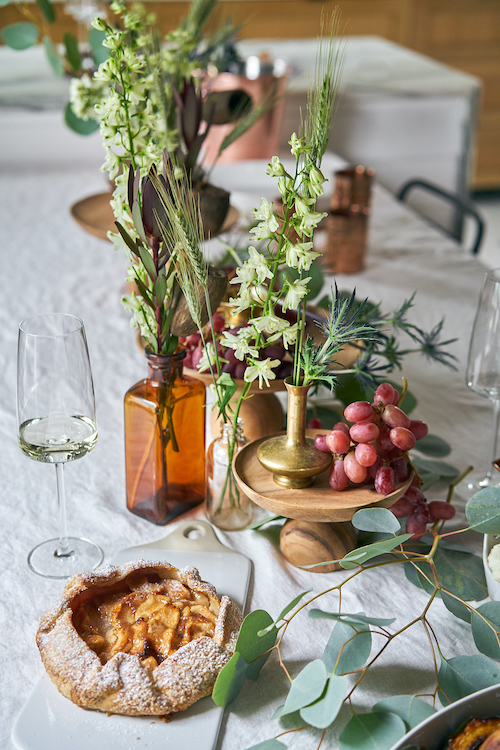 3. Delegate. Don't do it all alone.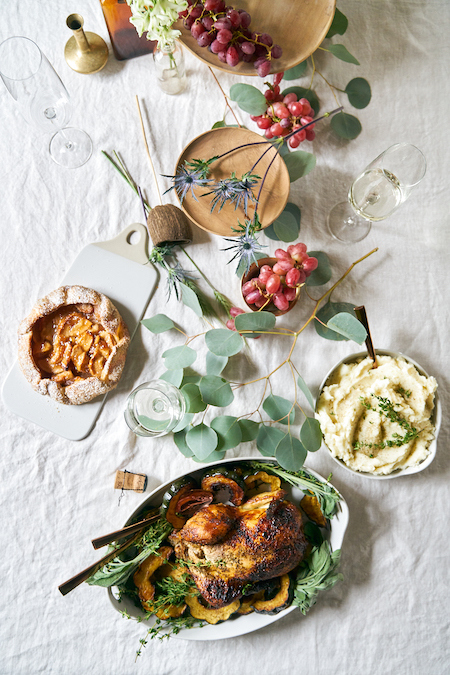 You are not Martha and you do not have her team of 100 people. When people ask if they can do anything, say "yes"! Some people truly feel guilty if they're doing nothing, so accept assistance. Have people bring sides, drinks, desserts or salad. Get a group text going and don't feel the slightest bit bad if you put out a "Hey can someone grab ice on the way?" text. You are having everyone use your space. They don't mind a five minute detour.
4. Pull platters ahead of time and label them on the table.
My grandma taught me this trick and I can only assume it's because she hosted massive parties overseas with my grandpa's political job. On your buffet or table of any size, pull out the dishes you're using for serving (and the utensils) and space them out. Use paper or sticky notes to label exactly what's going where.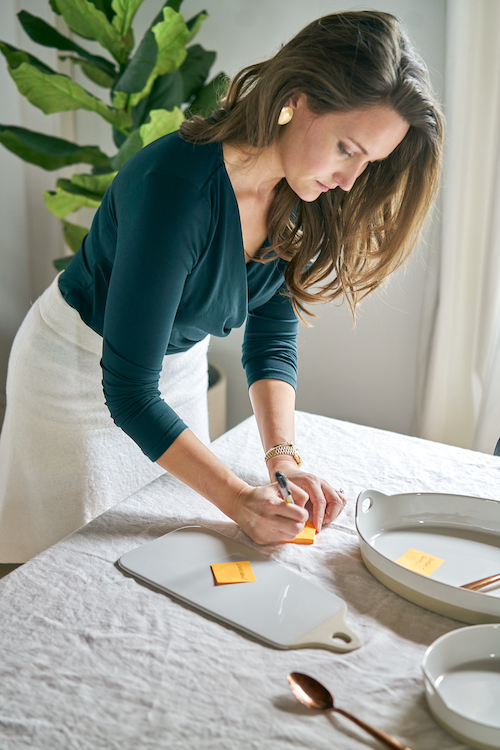 Remember to leave space for extra dishes if someone is bringing the salad. Sometimes when we're stressed, our brain empties of all the 'obvious'. Having this laid out ahead of time makes it an easy task list rather than a decision.
5. Set up a drink area.
We love to make cocktails at our house. But we've made the mistake before of serving custom cocktails instead of batch cocktails or pre-bottled items. You don't have time for this, so stop it. Set up a drink area of your choice. Get an ice bucket so no one is coming into your cooking or prep space and they're not taking up valuable fridge real estate.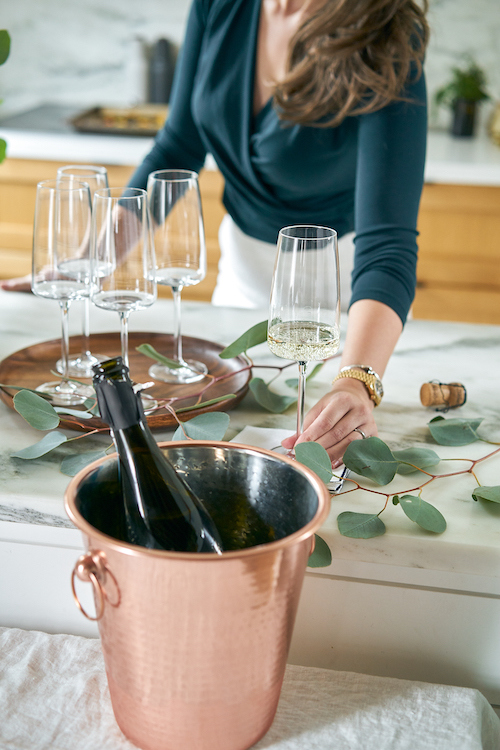 Copper Ice Bucket

By True Brands

Shop Now
6. Prep as much as you can ahead of time.
Make salad dressing, cut produce, make potatoes… do whatever you can in the days leading up to the gathering to space out your time.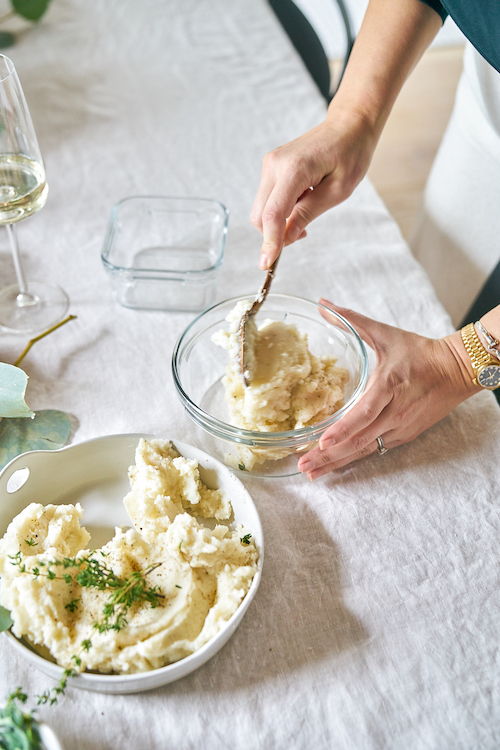 Food Storage Containers

By Glass Lock

Shop Now
7. Find a playlist
There are plenty of pre-curated stations and playlists on the streaming channel of your choice. You don't have to build it from scratch because someone has truly already made a 'yacht rock my parents are coming over' playlist.
8. Breathe and remember no one cares as much as you do.
Stop being so hard on yourself. What do you remember about going over to someone else house? It's probably not the fact you ran out of beer. Or that the casserole needed an extra twenty minutes in the oven. You likely remember the way you feel. So introduce people to each other. Assign a good friend or sibling to check in on everyone periodically to refill drinks or open a window.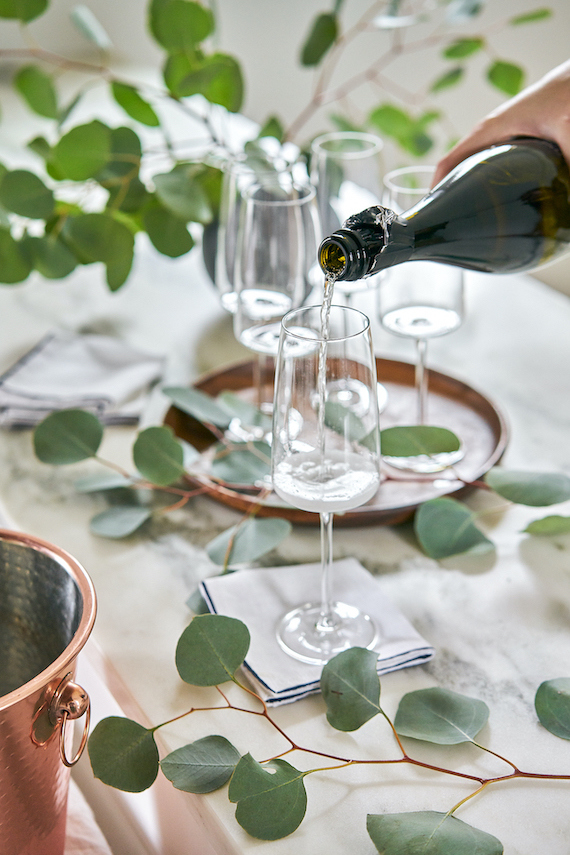 Sensa Champagne Flute

By Schott Zwiesel

Shop Now
No one is expecting a perfectly executed luxury event so stop acting like you need to produce one! Enjoy the season, enjoy the company, and most importantly remember that if it's a disaster they're leaving in a few hours anyway!