Host a Cozy Friendsgiving with This Gorgeous Tablescape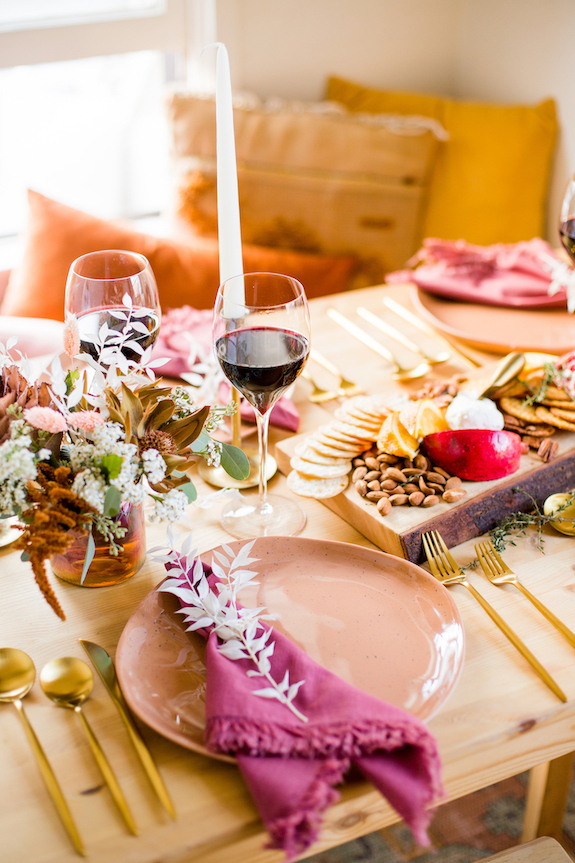 We are officially in entertaining season people! Friendsgiving is the perfect chance to try your hand at a fun tablescape! No matter if you have a grand dining room that fits 12, or a cozy kitchen nook for 4, I promise you can deck out your dining space to be beautiful and feel special for the holiday.
This year, my girlfriends, Abbie and Alex, are hosting a small Friendsgiving for our close group of girlfriends and tasked me with outfitting their extremely small breakfast nook. Challenge accepted!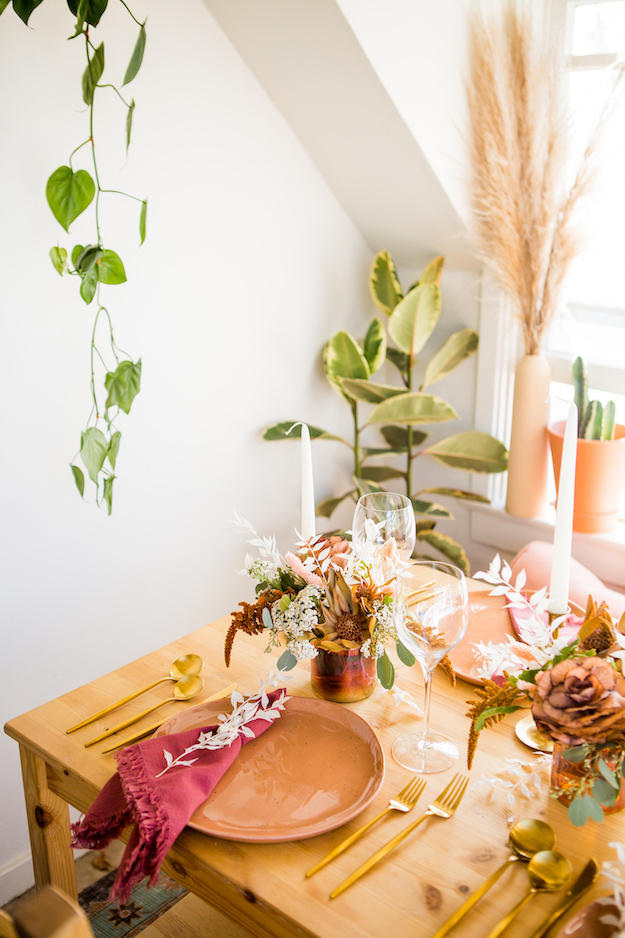 The key to outfitting a small tablescape is to think small. Literally. Shrink everything down from your glassware, to your plates, and especially added items like flower vases and décor. We went with a mostly dried look for flowers and used these tiny primrose vases from Design Ideas.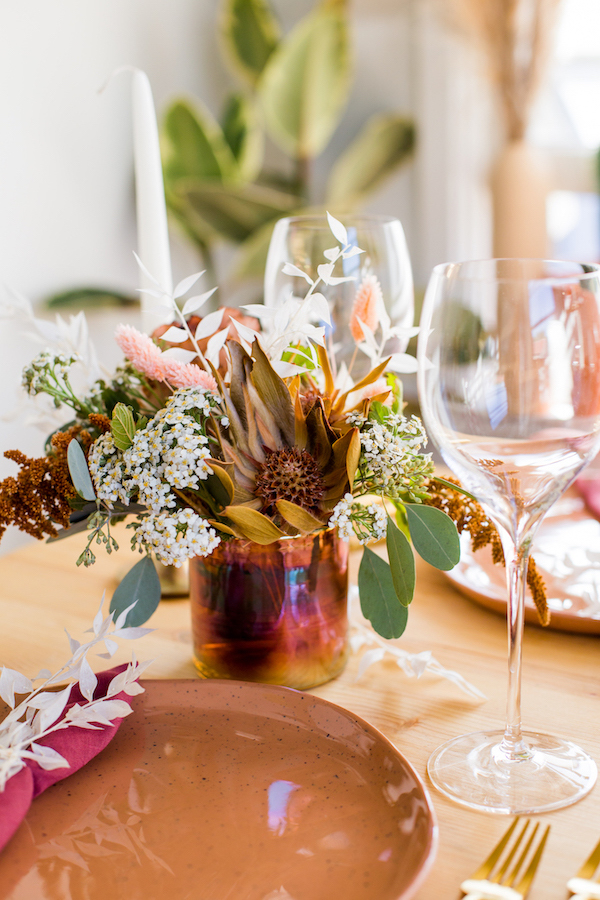 I love a huge cheese board spread but I knew my large canvas board would overpower Abbie's table, so I'm using a smaller guy for appetizers.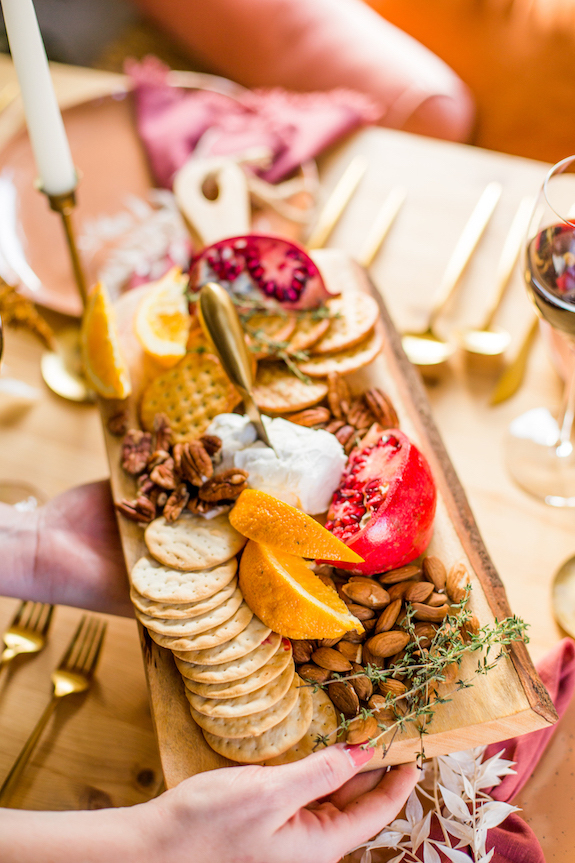 Mango Wood Paddle Serving Board

By Küchenprofi

Shop Now
I love bringing out a warm, funky color palette during Friendsgiving. Colors like:
Mauve
Rose
Terracotta
Mustards
Golds
Wood textures
These are my jam this season. This year we decided to go naked and skip the tablecloth to show off the warm texture of Abbie's tabletop. Plus, this is less to set up/clean up and more time for dessert. I am absolutely loving the mauve and mustard trend this holiday season. The two colors together instantly feel like you've turned your kitchen into an Anthropologie table set up. I could not be more obsessed with Food52 x Staub collaboration on their Turmeric line. The color was perfect for the Friendsgiving table setting but I know I'll be using this Dutch oven All. Year. Long.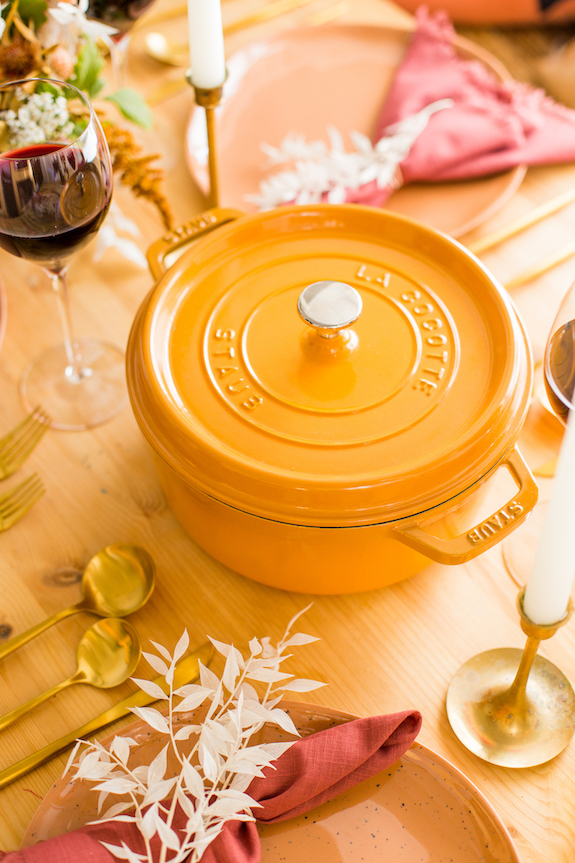 Round Cocotte in Turmeric

By Staub

Shop Now
If you Google "formal place setting" like most people do around this time of year, the results are ENDLESS and overwhelming. No, you don't need 3 different glasses and 4 different kinds of plates for salad and bread. IF you do have the space, no stopping you sister!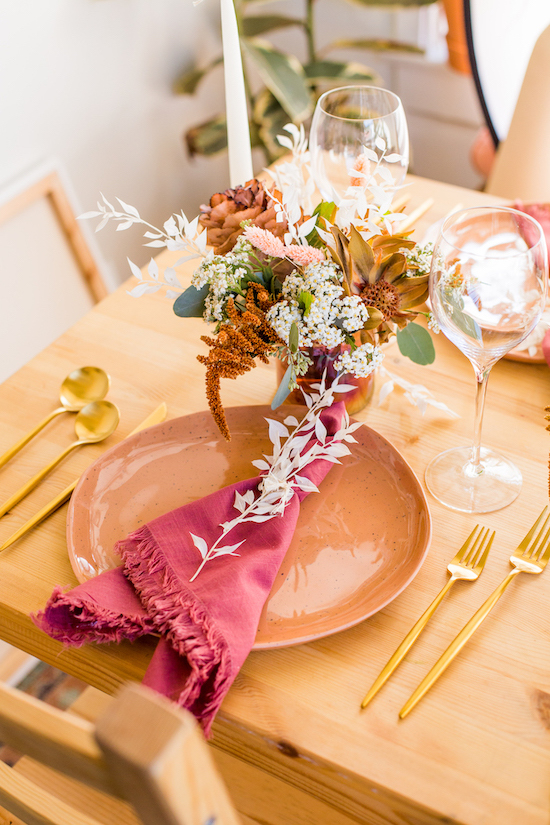 But, if you're scaling down, pick one nice glass (I love breaking out my Waterford glasses for special occasions) and a simple, sleek place setting. I'm using Hampton Forge Zephyr collection because it takes up hardly any space on the table and is beyond stylish for any dinner party. I wanted the plate to feel really warm and cozy (just like Friendsgiving should be!) so I went with this Fortessa terracotta colored plate to round out the table setting.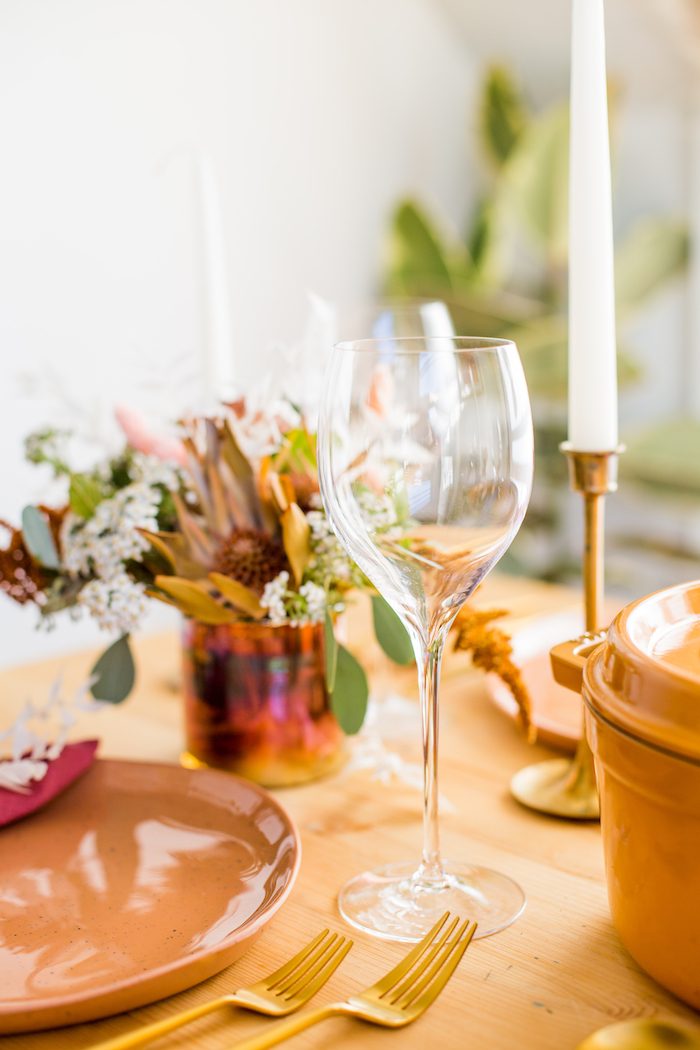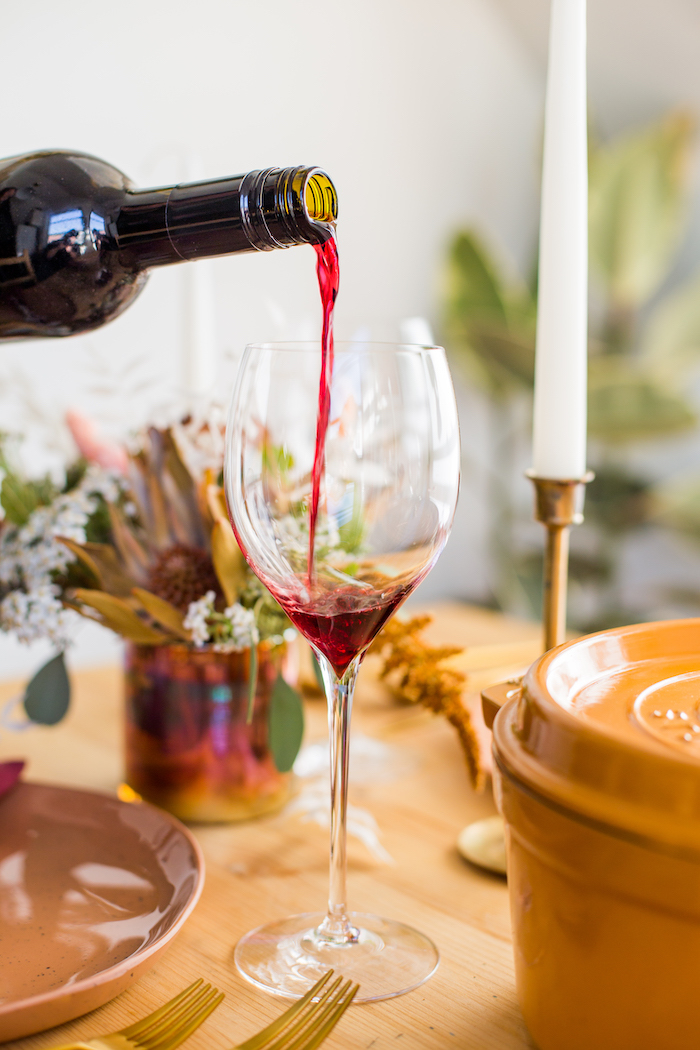 Elegance Sauvignon Blanc Wine Glass

By Waterford

Shop Now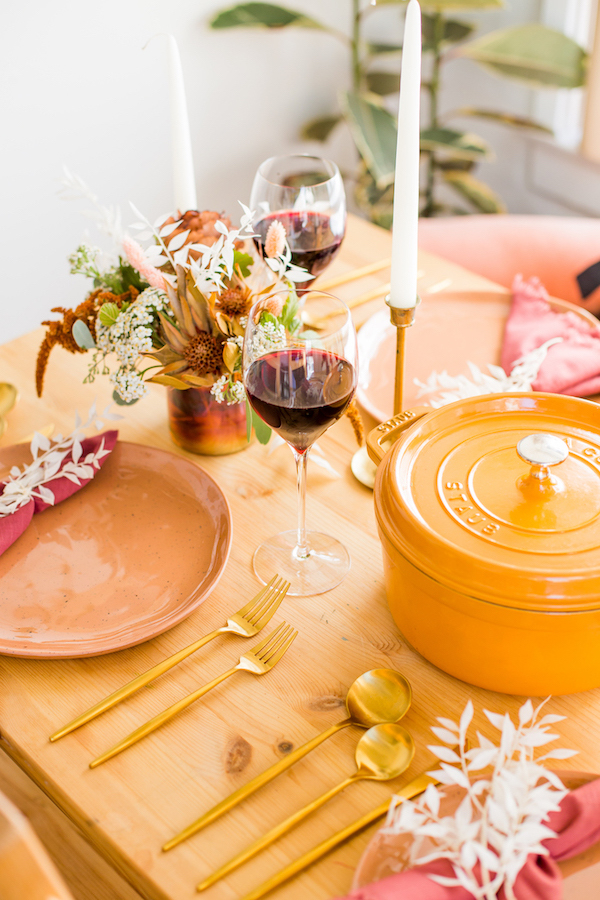 Skandia Zephyr Satin Gold Flatware

By Hampton Forge

Shop Now
Small and cozy never has to mean simple. Feel free to make something a little more special for everyone's setting. Things like a mini pie, an elaborate name card or a picture of you and your guests can feel beyond heartwarming on everyone's plate.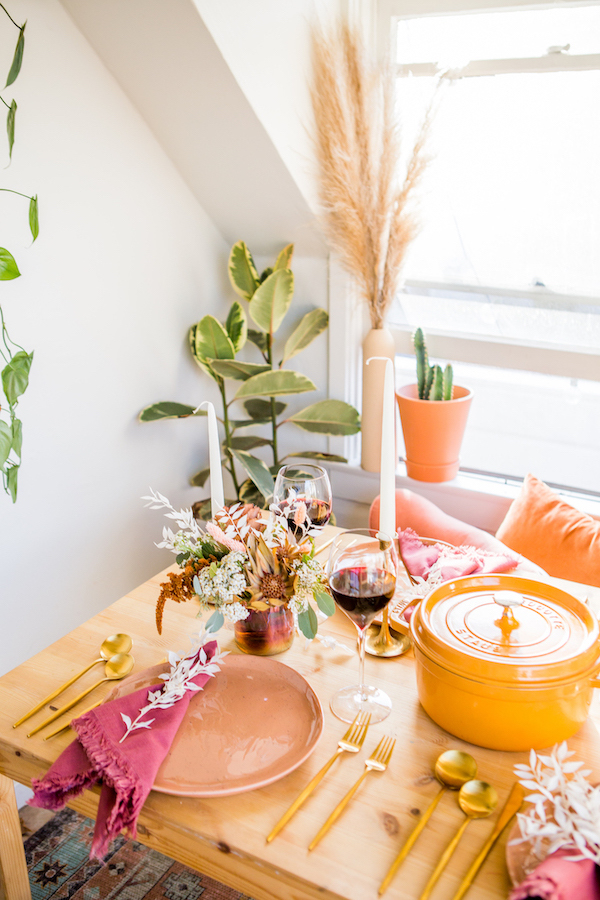 Sandia Melamine Dinnerware

By Fortessa

Shop Now
For an extra momentous touch I wrote a little something about each guest and why I was grateful for them on a little note. I tucked it under everyone's plate and we all read them at the end of dinner. Corny, I know, but it is the time to be extra grateful!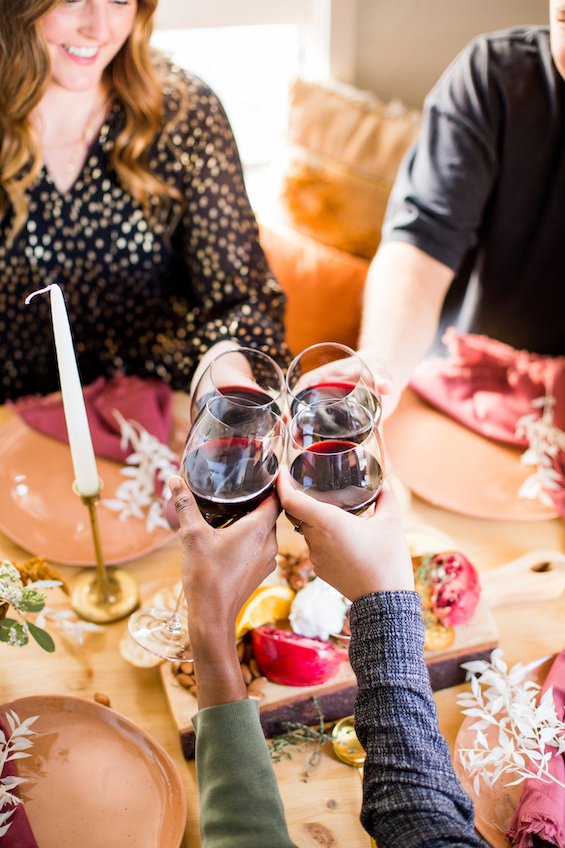 Happy Friendsgiving everyone!