How to Throw a Raclette Party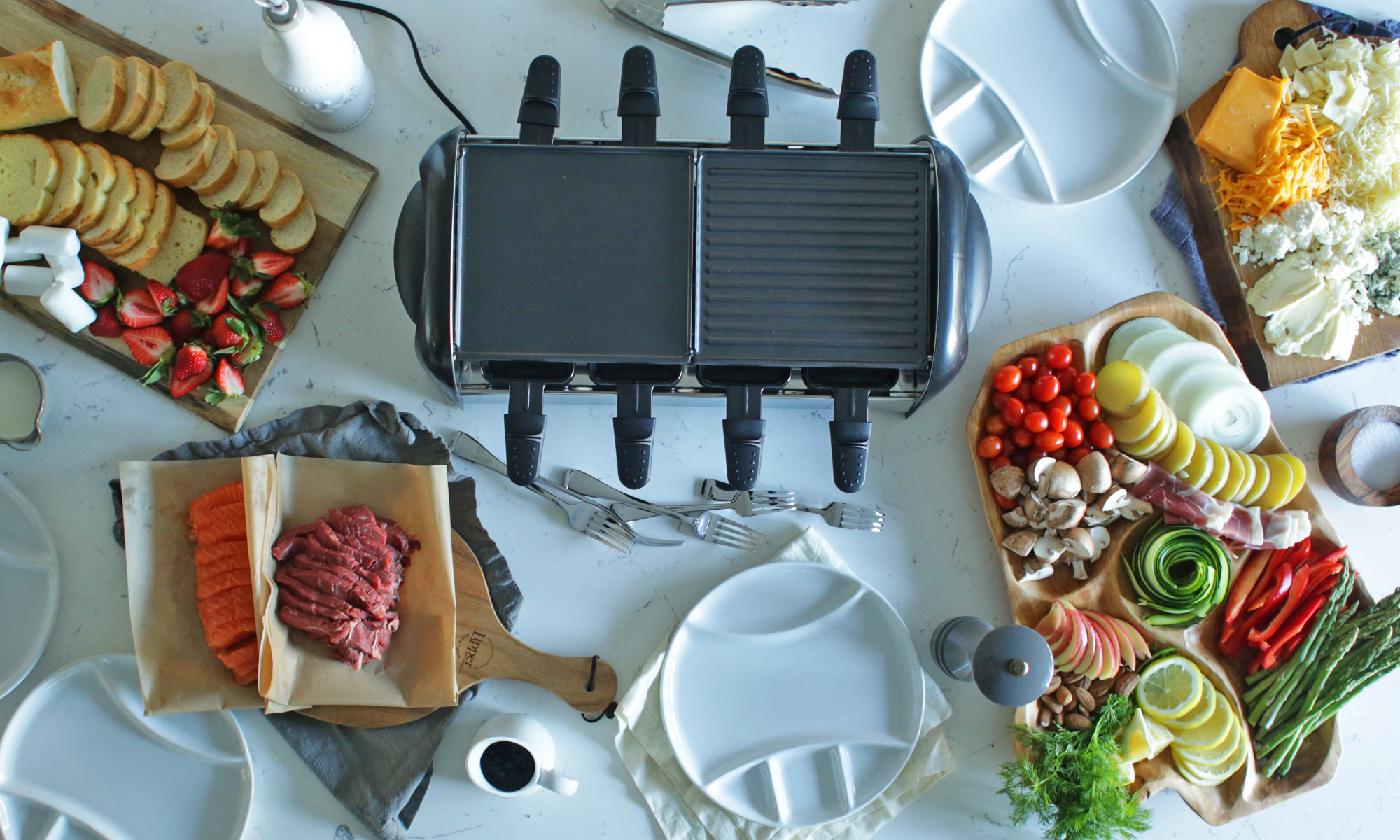 I have to admit, this was my first experience using a raclette dish and the rules are: there are no rules for cooking the perfect raclette meal.
The need to use raclette cheese. I did a bit of research and even talked to my parents whose neighbor was from Switzerland, where all of this goodness was founded, and had had my parents over for a dinner party to cook on a raclette dish a few times. The recurring theme I kept running into is that everyone uses different ingredients and cooks whatever they want. Online I found nachos raclette recipes, simple skewered recipes, seafood recipes, etc. which led me to believe that you truly can serve whatever you want with raclette
My suggestion if this is your first time using a raclette cooker is to keep the ingredients simple and provide 3 to 4 options for everyone. I tried to use tons of fresh ingredients and 2 different proteins to give a few choices so that surely someone could find something that they enjoy.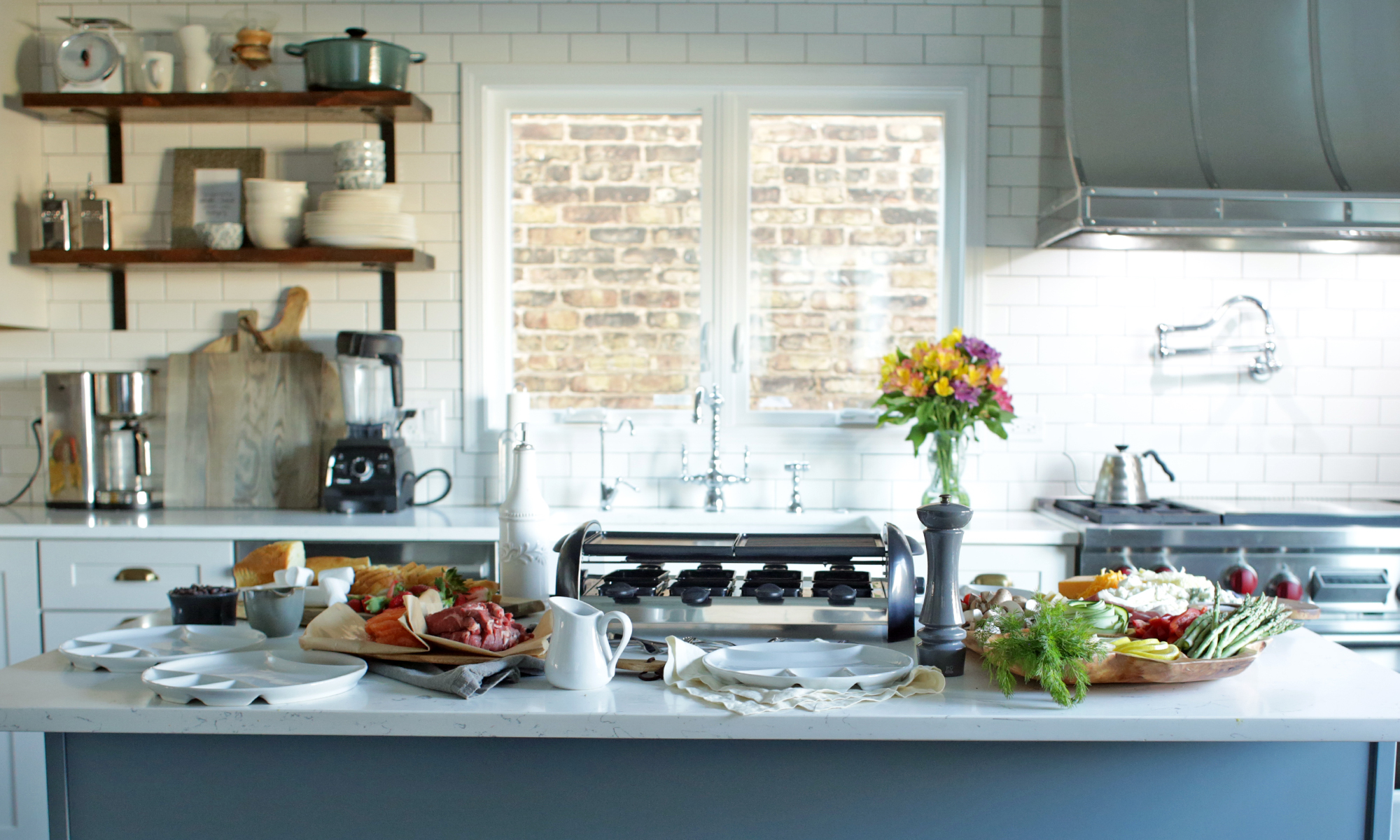 It was the end of the week, and my parents-in-law were over and thought, "What a perfect time to pull out the raclette dish and make a feast!" Truth be told, I only prepped for about 60 to 70 minutes slicing up veggies, meat and par-boiling the potatoes, because almost all of the cooking is done right on the raclette dish.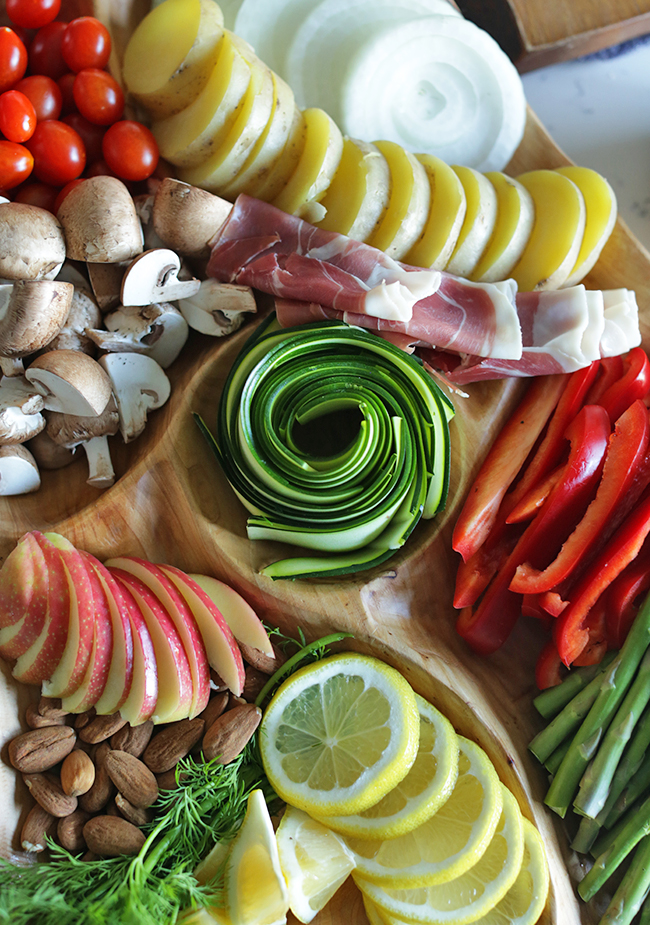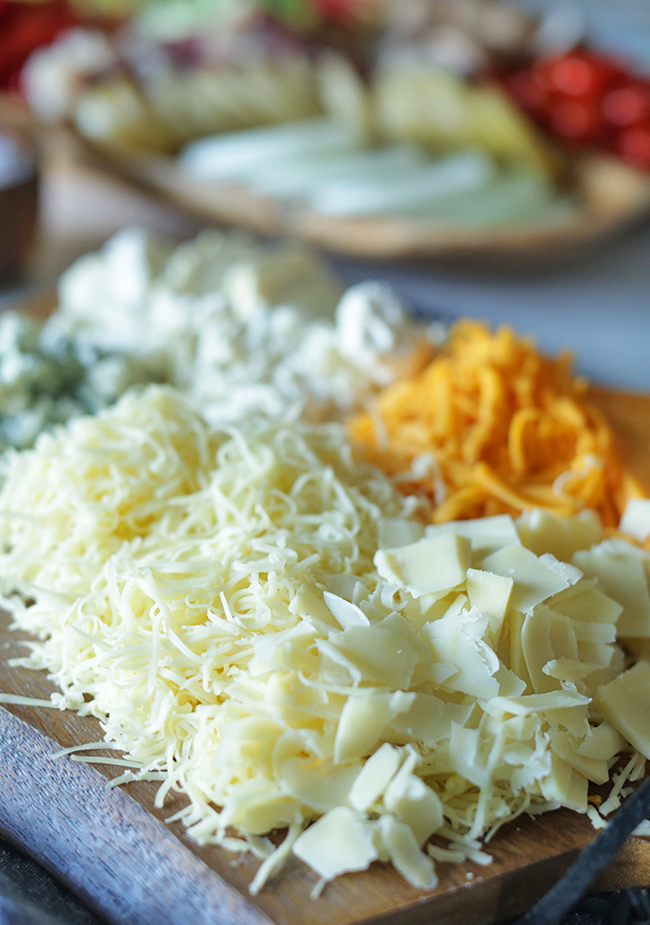 I knew when I was gathering my ingredients that I wanted to provide at least 1 thing that everyone would like, so having an assortment of vegetables is crucial. Even if someone doesn't like beef or salmon, which were the proteins I went with, you could at the very least whip up a vegetarian meal with ease. If you happen to like both proteins and vegetables, then you are in for a serious treat!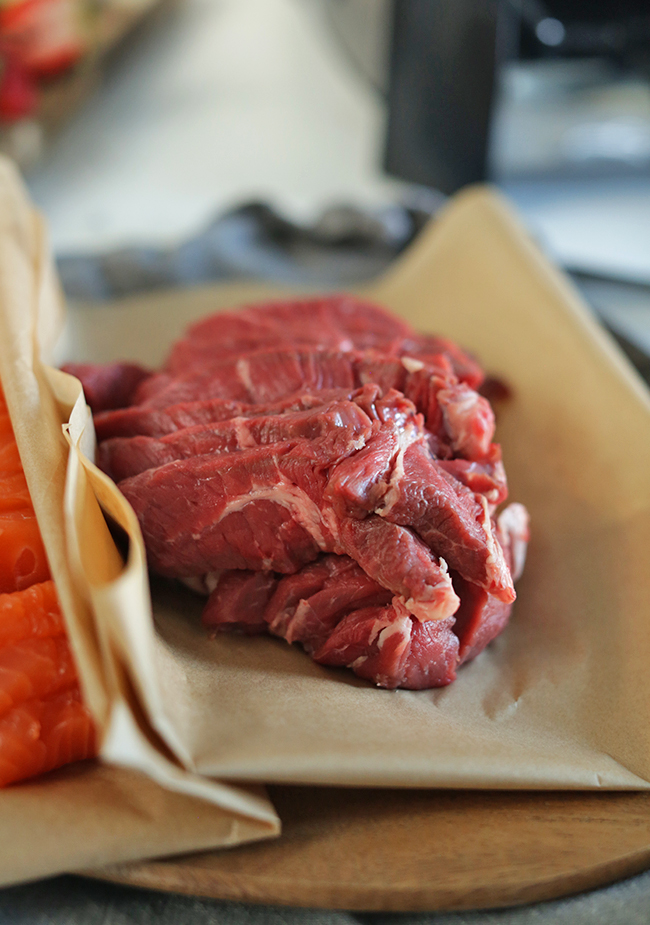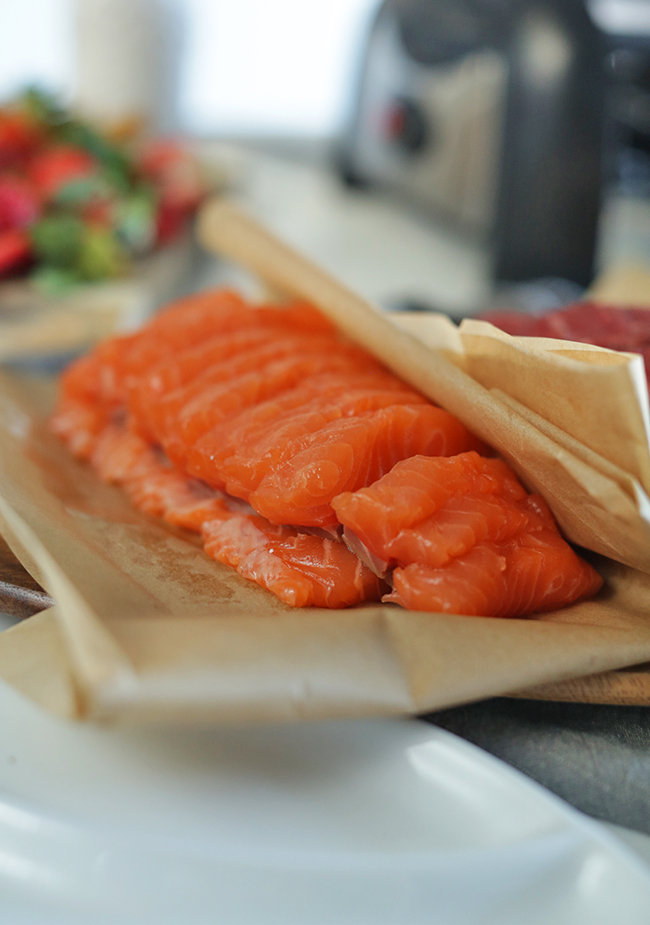 I considered having a food theme, but thought that there wouldn't be enough options if people didn't like some things, like having a nacho-only raclette. My only goal was to provide a balanced meal with a few courses. Again, the rules are wide open so you can certainly eat dessert while cooking up steak on the raclette dish. I don't hate, so do what you'd like!
One of the most important aspects of throwing a Raclette party is of course the cheese. You can find Raclette cheese at just about any grocery store. I would say it's a flavor and texture combination of gruyere, Swiss cheese and mozzarella all wrapped into 1. It's ridiculously creamy and has a nice strong cheese flavor at the front and the end of consuming it. However, you don't have to stop there. In fact, I think it's beneficial to provide as many options as possible.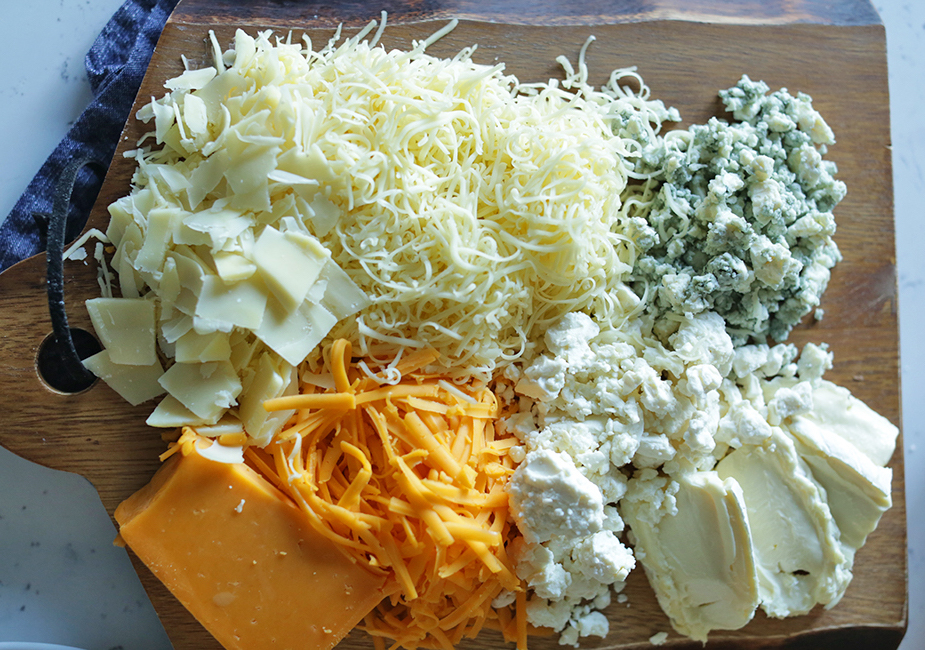 I went with Raclette, gruyere, blue, feta and cheddar cheese, and found that there was something for everyone. The reason I believe in mixing up the cheese options as well, is because Raclette cheese costs in between $18 and $20 per pound which is pretty pricey. In the end, do yourself and your pocket book a favor and mix up the cheeses!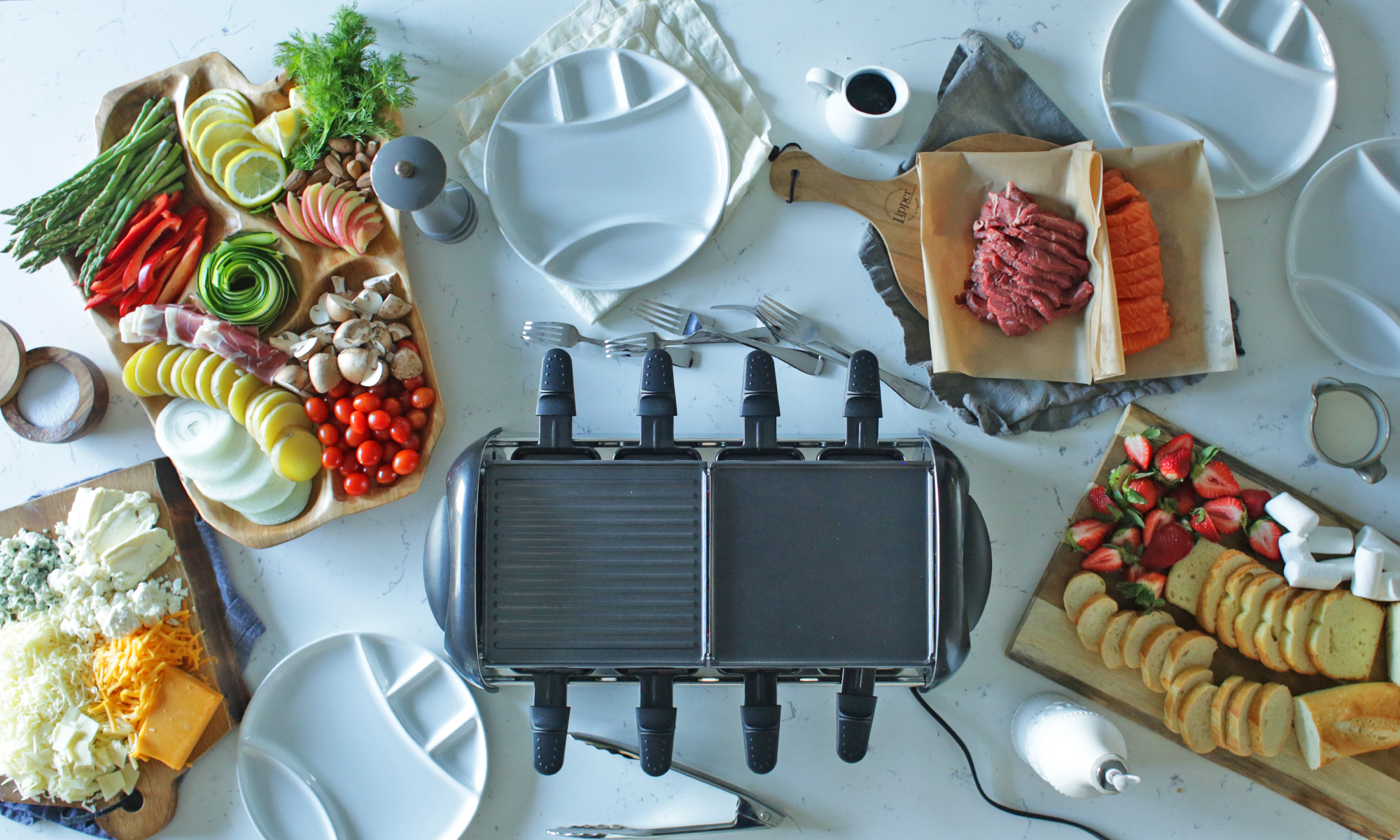 The courses went as followed: Apples with melted brie and toasted almonds on a baguette with sour cherry jam. First let me say, DUDE! You want to talk about a flavor combo, this appetizer was ridiculous! You can sub the cherry jam for any jam and it would still be insane.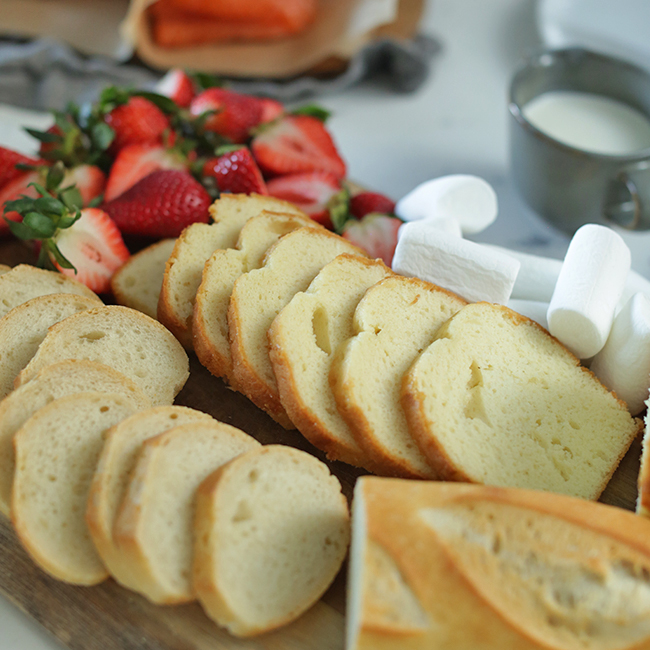 The main course was all about options. I had sliced sirloin, salmon, prosciutto, asparagus, onions, mushrooms, tomatoes, sliced Yukon potatoes, red peppers and zucchini. Literally something for everyone. The coolest part about the main course is being able to mix and match flavors with cheeses to get exactly what you like, plus new flavor combos. The gruyere melted on the salmon with some lemon and fresh dill… DANG!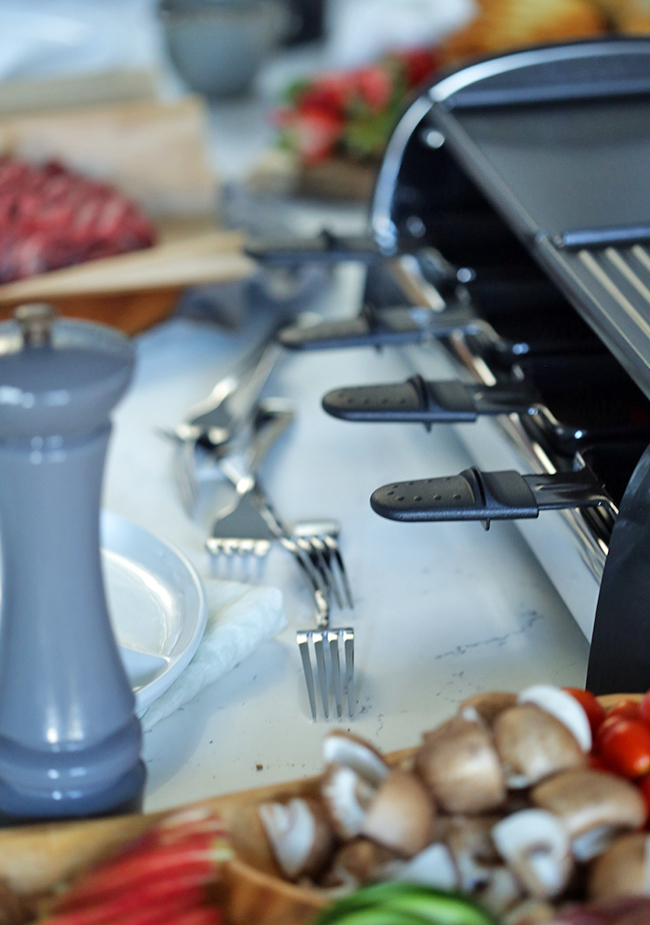 A couple other things I added in, just in case someone wanted some greens, were arugula and kale micro-greens. I just thought it would be a nice option for someone looking to get those leafy greens in there.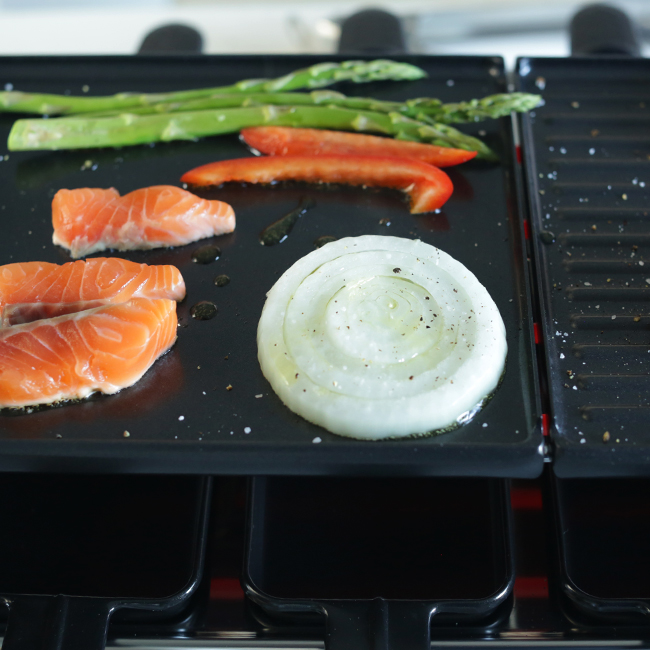 Lastly, I sliced up some pound cake and strawberries and through those on the raclette dish grill along with some marshmallows and toasted all of it. In the meantime, I put some semi-sweet chocolate in the raclette dish under the burner for it to melt and then drizzled it all over the cake, strawberries and marshmallows for a killer dessert.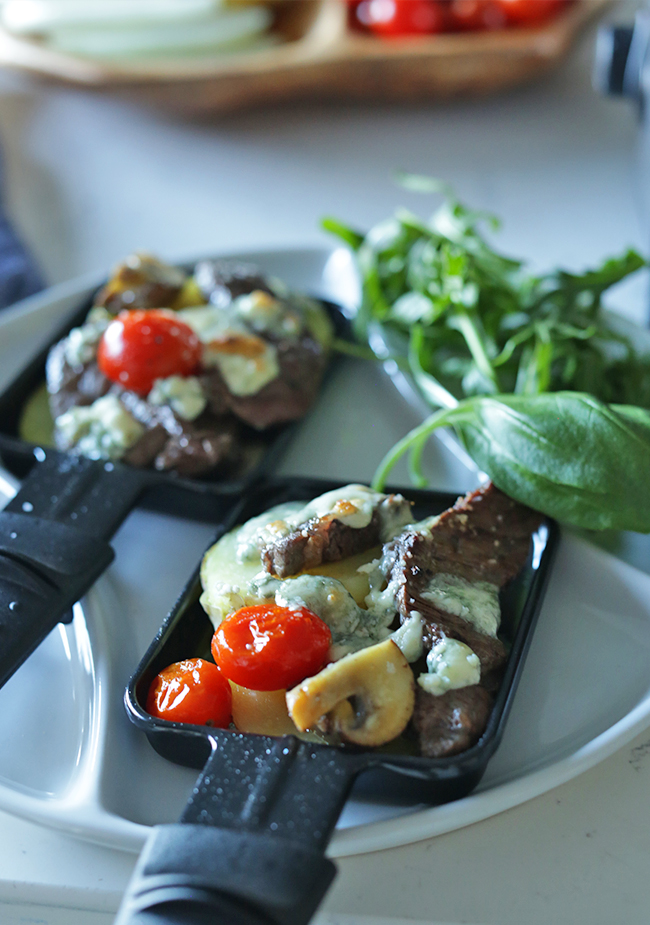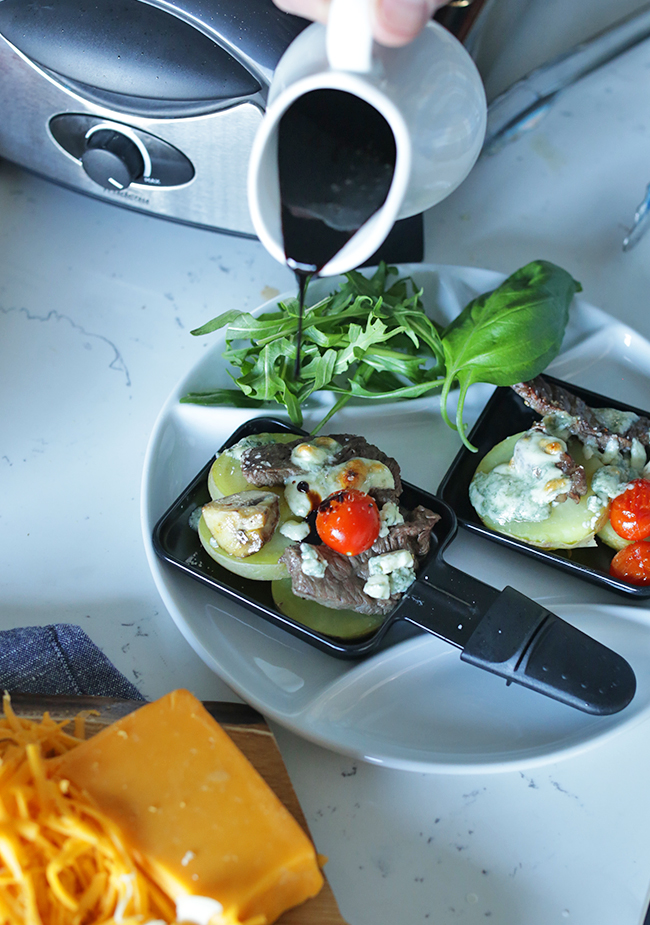 Honestly everything was super good, and more importantly it allowed us to slow down over a meal while everything was cooking to enjoy each other and talk about life. I feel like that has been missing in my own life. Just the ability to slow down and pause and enjoy one another's company because the family dinner table is slowly fading away and I for one would love to see it come back with a bang!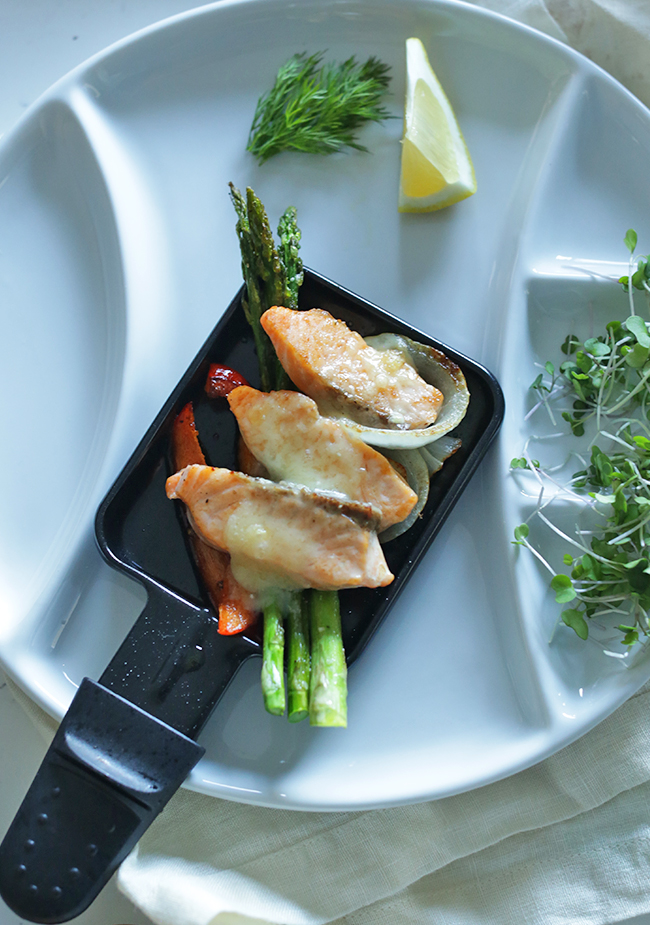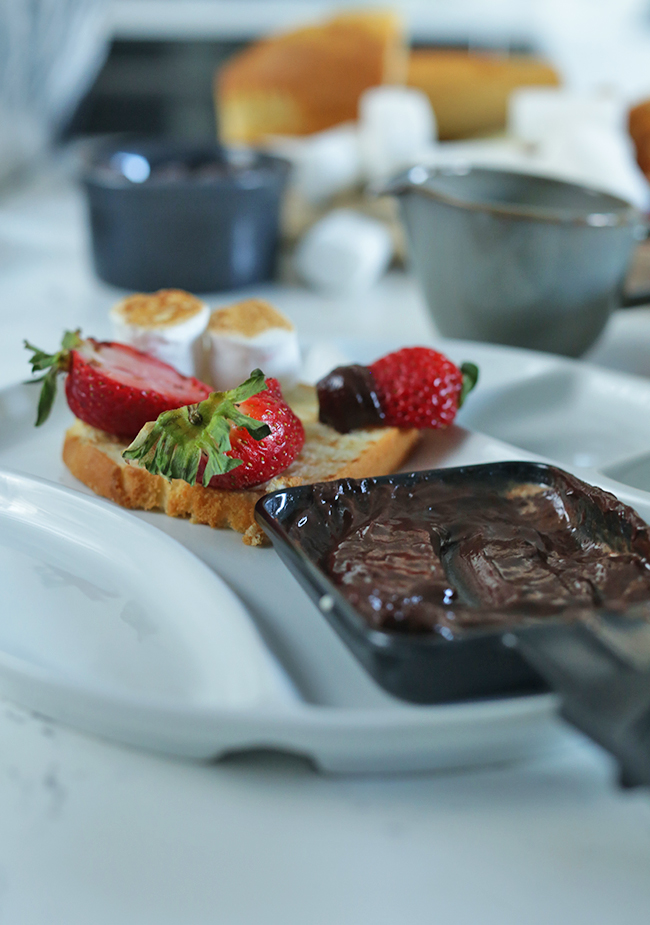 Happy Cooking you guys!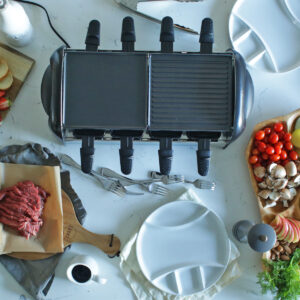 INGREDIENTS
Appetizer:
Sliced Honeycrisp apples
Raw almonds
Sliced baguette
Assorted jams
Main:
Sliced fresh salmon
Sliced fresh sirloin steak
Parboiled and sliced Yukon gold potatoes
Sliced red bell peppers
Asparagus
Cremini mushrooms
Sliced yellow onion
Cherry tomatoes
Sliced zucchini
Sliced prosciutto ham
Lemon wedges
Fresh dill
Arugula
Kale micro greens
Olive oil
Kosher salt and fresh cracked pepper to taste
Cheese:
Shredded raclette
Crumbled blue cheese
Crumbled feta cheese
Shredded cheddar cheese
Shaved gruyere cheese
Dessert:
Sliced pound cake
Fresh strawberries sliced in half
Marshmallows
Semi-sweet chocolate chips
INSTRUCTIONS
Cook in olive oil, season with salt and pepper, and mix and match flavors and melt cheese over top underneath the raclette dish burners.
Serve hot!
Looking for an alternative date night idea? This Beer Cheese Fondue Recipe is to die for.