Homemade Hazelnut Milk Chai Lattes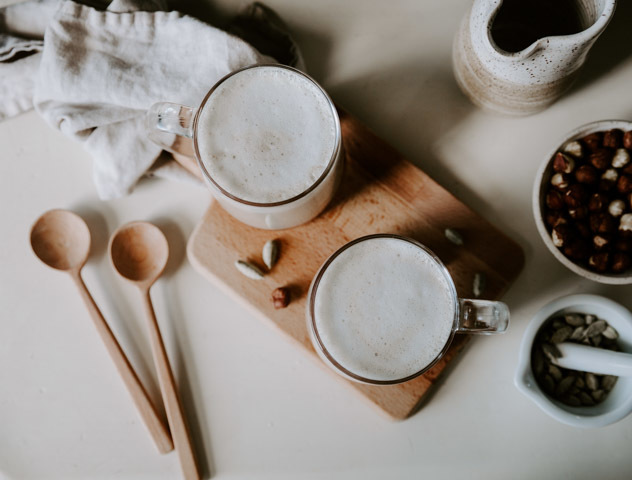 There's something so special about a chai latte, don't you think? Something grounding and delicious, warming and fulfilling. Something about it just makes you feel at peace.
The funny thing is, I never used to make a chai latte at home. It just seemed like something to order for a semi-special occasion or when the hankering hit. But the thing is, a chai latte is the perfect drink to have a mug of when you call a friend over to gather. It takes just a little extra effort, which always feels special to do for a friend, and warms the heart and soul unlike anything else.
In fact, this recipe came to me when I was thinking about the changing season, and ways in which to slow down so that I could spend more quality time with the people in my life. I'm a huge fan of pairing food with company and if there's ever something to do for your health, it's to spend ample quality time with loved ones.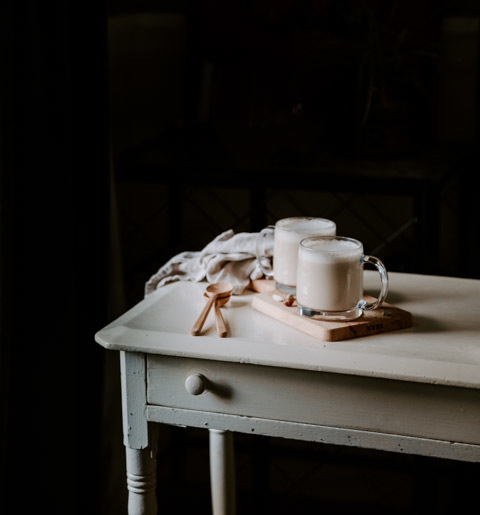 This recipe is really healthy for just that. Sure, there are some wonderful health benefits to ginger, dates, hazelnuts, cinnamon, maple syrup, etc. But finding an excuse to gather is by far the thing we need to give more attention to, and this Chai Latte definitely calls for a friend to enjoy it with.
Recipe Notes
Of all the nut milks I've ever made or tried, sweetened hazelnut milk is by far my favorite. The hazelnut flavor is just so delicate and delicious, it's hard not to love. This recipe is surprisingly easy and just take a little extra planning (and a cheesecloth). Nut milks are only complicated because the nuts need to be soaked overnight. If you want a time saving trick, simply prepare the milk ahead of time and store in the fridge for up to one week. When you're ready to make the Chai Latte, just add the ginger, cardamom, cinnamon stick, and tea, and it'll take no time at all.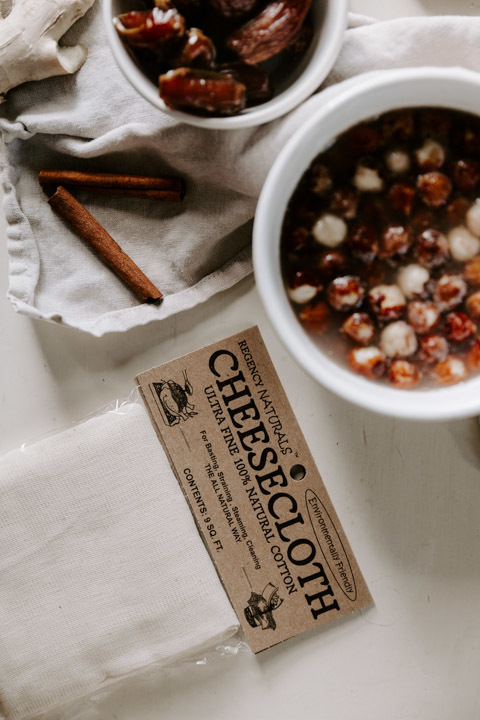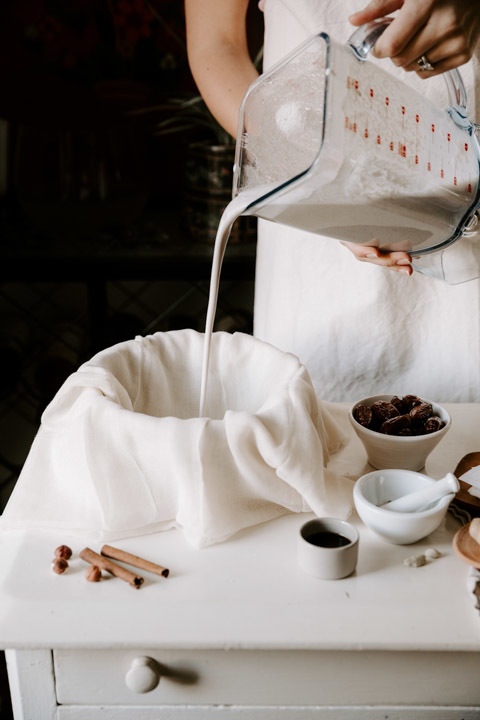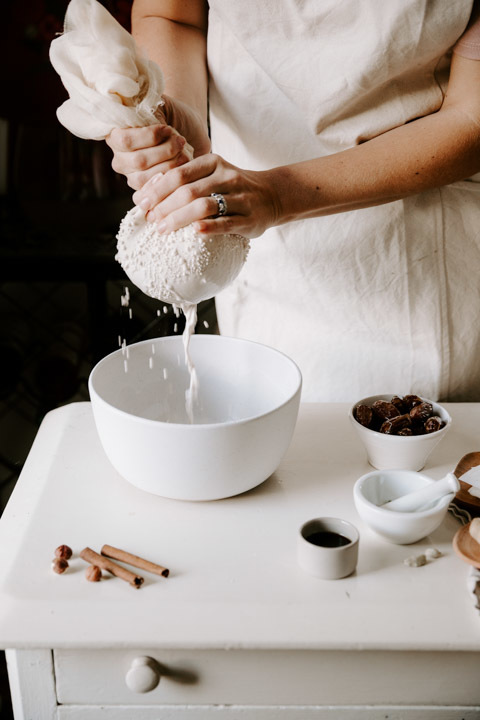 Hazelnut flour. Once the hazelnut milk has been drained and squeezed, what's left is a cakey, flour-like substance. In culinary school we used to make hazelnut cookies with the remaining hazelnut flour to reduce our waste. Another idea is to add it to oatmeal.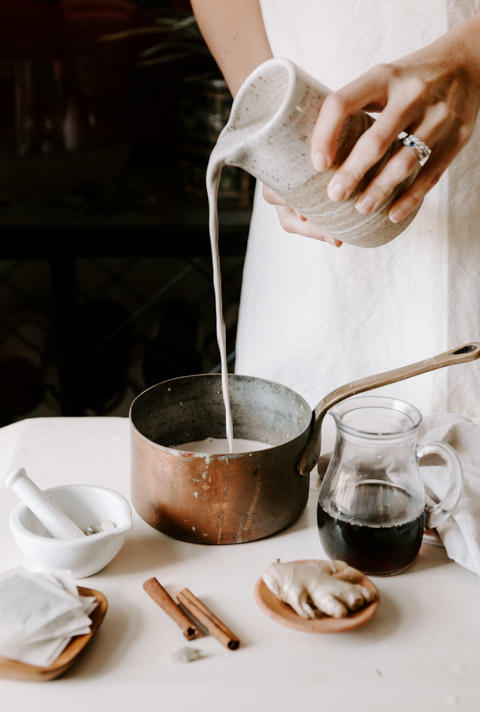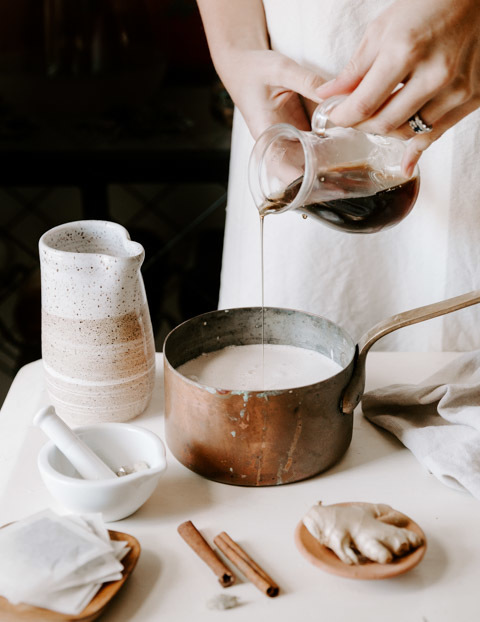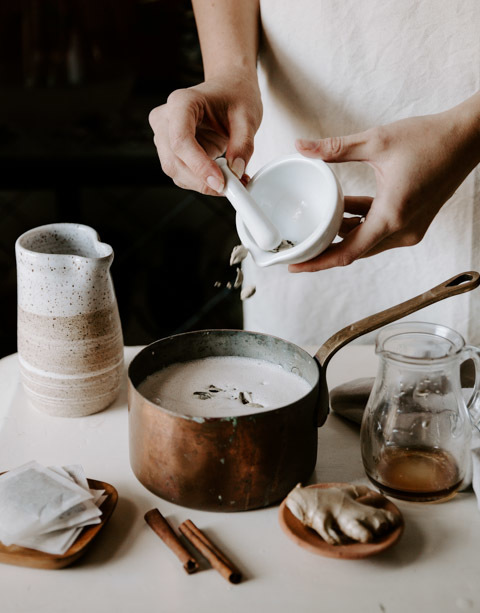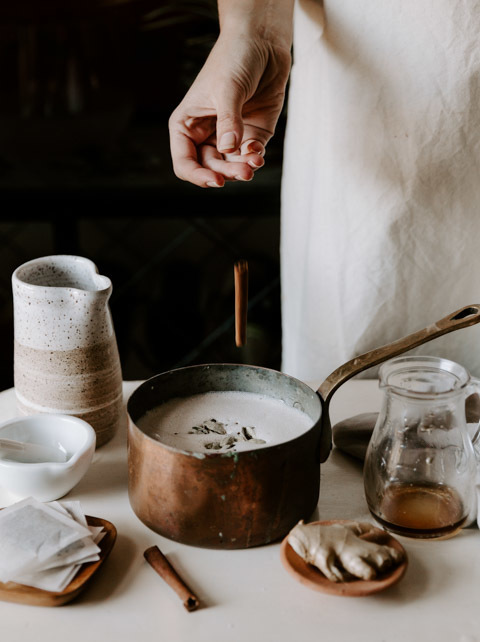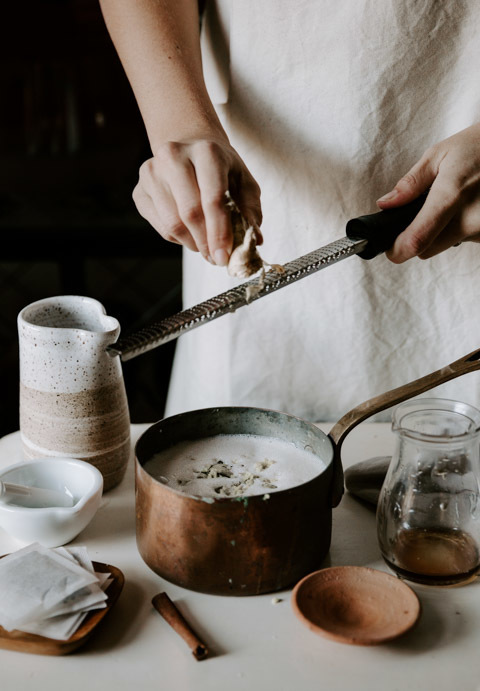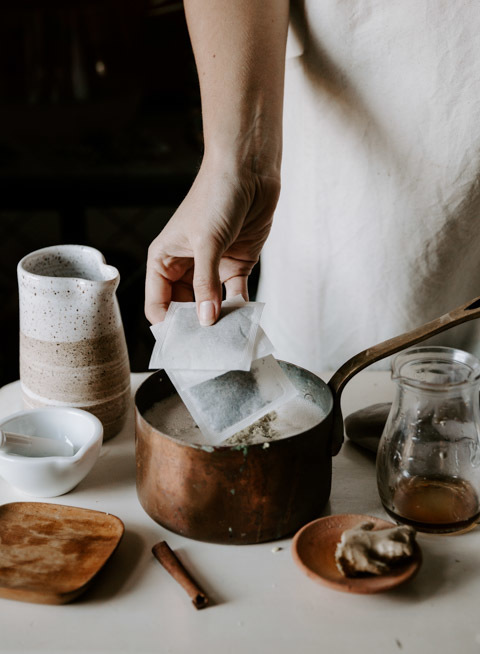 Taste, taste, and taste again! Continue to try this recipe as you go. Adjust the sweetener if you'd like, or cut back on the ginger if that's more your taste preference. Sometimes I'm in the mood for more of this and less of that, or more of that and less of this.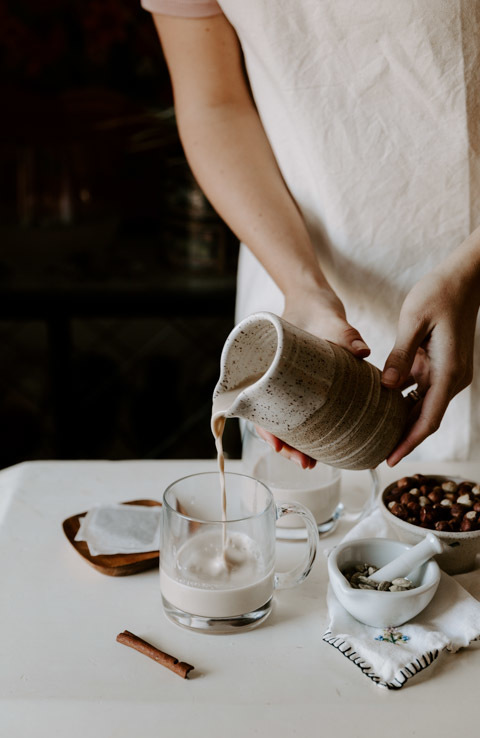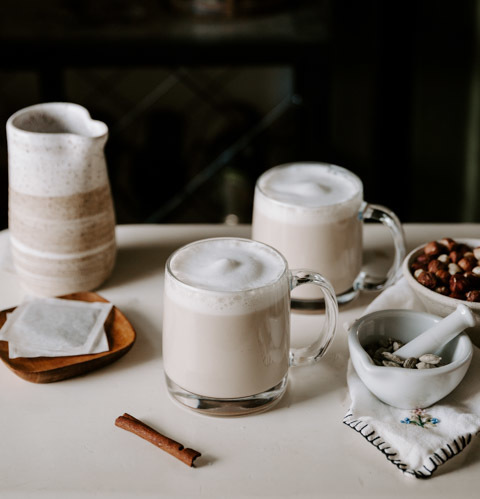 Homemade Hazelnut Milk Chai Lattes
This drink warms the heart and soul unlike anyone else. With homemade hazelnut milk, ginger, dates, cinnamon and maple syrup, this cozy Chai Latte calls for a friend to share it with.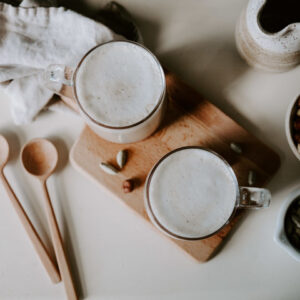 Ingredients
1

cups

dry hazelnuts, soaked overnight and drained

2

cups

water

6

pitted dates, soaked in warm water for 5 minutes and drained

.5

tsp

vanilla

.5

tsp

ground cinnamon

2

tbsp

maple syrup

1

1" piece of ginger, grated

1

cinnamon stick

12

cardamom seeds, crushed

3

bags of black tea
Instructions
Blend together soaked hazelnuts and water for 4 minutes. Strain into a nut bag or cheesecloth, squeezing out as much liquid into a bowl as possible. Discard or save dried hazelnut flour.

Put hazelnut milk back into the blender and blend with dates, vanilla, ground cinnamon, and maple syrup. Blend for 2 minutes or until the dates disappear into the milk.

In a small saucepan, bring hazelnut milk mixture, ginger, cinnamon stick and cardamom seeds to a low boil. Turn off the heat and add black tea and steep for 5-7 minutes.

Strain into a fine mesh strainer and serve immediately. Optional garnish includes frothed milk, whipped cream, or a sprinkle of cinnamon.
Nutrition
Serving:
1
g
Calories:
202
kcal
Carbohydrates:
23.9
g
Protein:
3.8
g
Fat:
11.9
g
Saturated Fat:
0.9
g
Sodium:
6
mg
Fiber:
4.7
g
Sugar:
14.8
g