Seasonal Rhubarb Juleps for Derby Day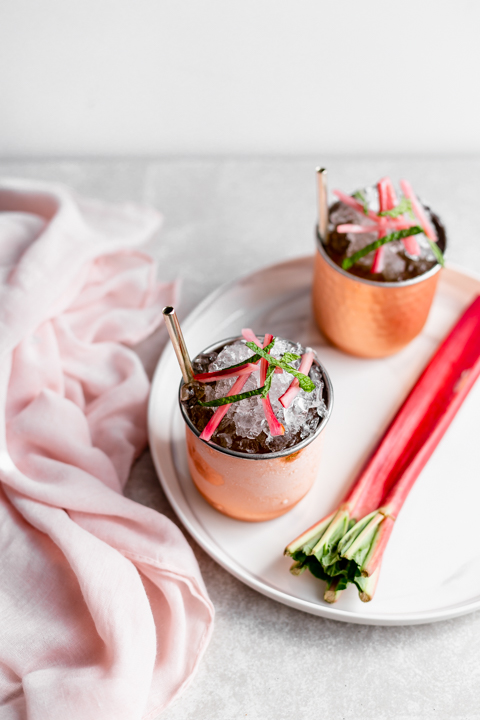 Horses, fancy hats, pearls, and juleps — these are what Derby Days are made of. There's nothing wrong with the classic julep, but this seasonal twist makes for an extra special sip.
A good julep is both deceptively easy drink to make and drink. As with any simple cocktail (this one calls for only a few ingredients), it's all about nailing the details — you don't want your final sip to be too sweet, too boozy, or over diluted. The perfect julep is a study in balance, so you're going to need to start with the right tools and quality ingredients.
First: the metal cup. It isn't optional — it has a different thermal mass than glass, which means you can't swap in just any glassware (sorry, pretty rocks glasses) and end up with a drink of the same temperature and dilution (these things are key!).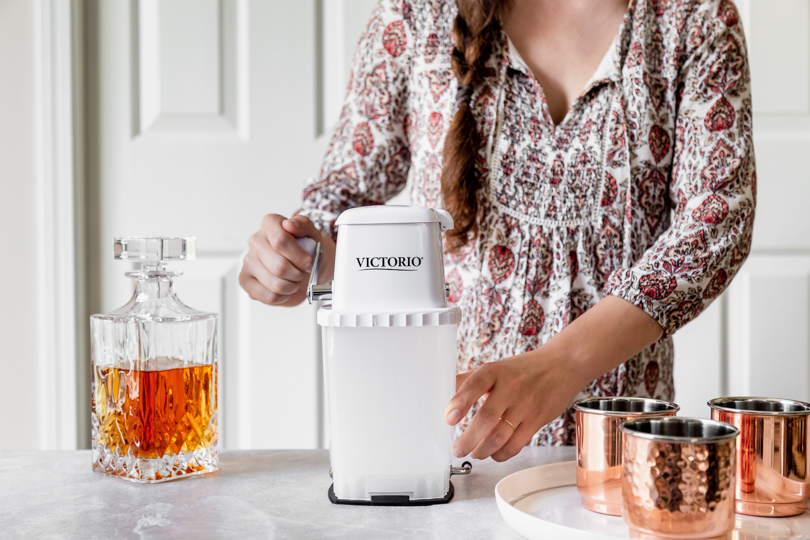 Second: Don't skimp on the mint. One of the most frequent problems I see with julep making is when a tiny bit of mint is muddled into oblivion, exposing the delicate flavors of the mint to all sorts of oxidation issues — you don't want swampy, bruised mint notes. Use a lot of mint (when in doubt, just use more — you really can't overdo it), and muddle delicately with your fingers instead of a muddler.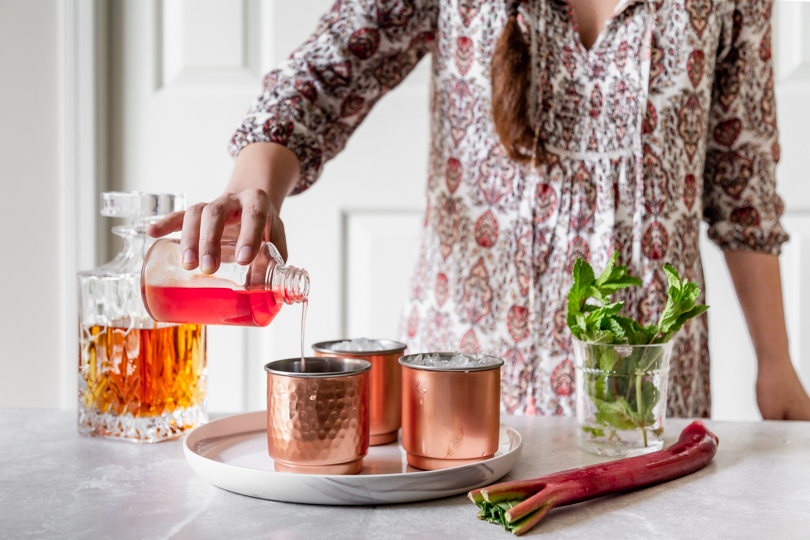 Third: Crushed ice! I love ice crushed with a mallet in a cloth bag, but that can be very messy and labor intensive, especially when entertaining. My go-to ice crushing method for a drink that requires
a lot of crushed ice (like this one) is hand cranking with my Victorio Ice Crusher. It's fast, it produces the perfect size ice shards, and you won't annoy your neighbors with the extremely loud banging required by the mallet method. Just make sure you crush your ice right before you build your julep, or else store the container in the freezer — don't let your ice sit out and get melty. It should be 'dry' when it hits your metal cup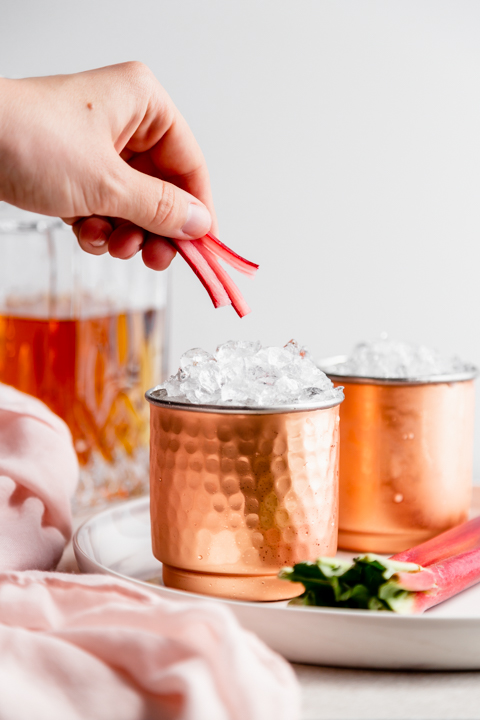 Finally, use a good quality bourbon (duh). A true julep requires more than a standard pour of whiskey, so it's only going to taste as good as what you pour out. It doesn't have to be your secret reserve special occasion bottle, just something smooth that didn't come from the bottom shelf.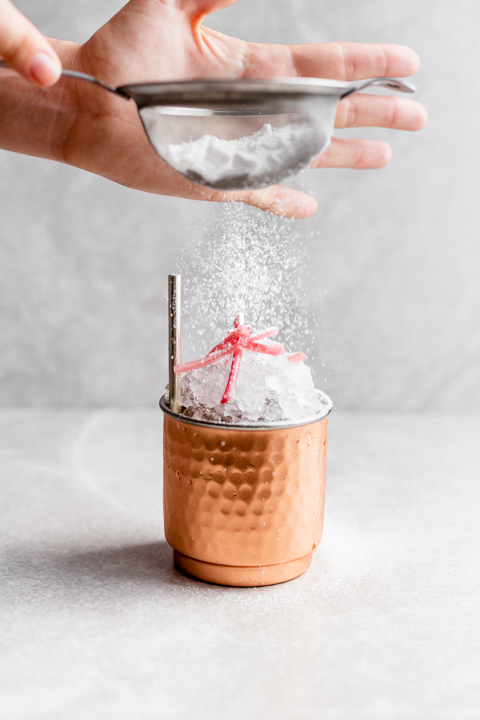 When it comes to the syrup, I love swapping in a seasonal flavor. My favorite spring syrup is this gorgeously hued rhubarb version, and its vanilla notes make it a no brainer for pairing with bourbon. I especially love the way the tanginess of the rhubarb highlights and brightens up the fresh mint.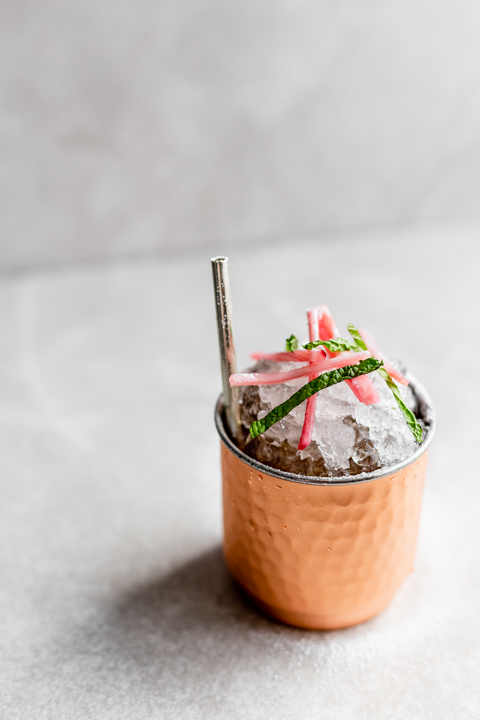 One more tip: Juleps are layered in the cup, not shaken or stirred, so you can easily alter the balance if you find the drink too sweet or too boozy — just pour in another splash of bourbon or syrup until you find your happy place.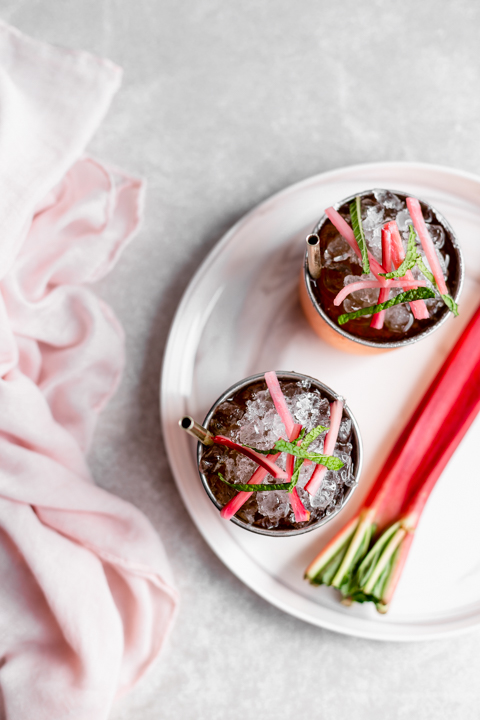 Horses, fancy hats, pearls, and juleps — these are what Derby Days are made of. There's nothing wrong with the classic julep, but this seasonal twist makes for an extra special sip.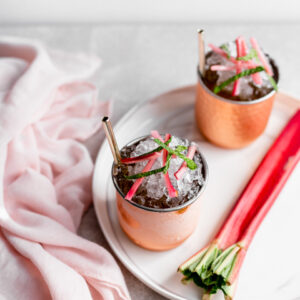 INGREDIENTS
For the Drink:

2.5-3 oz bourbon
1 oz rhubarb syrup
3 sprigs fresh mint
For the Syrup:
¾ lb chopped rhubarb
1 cup water
1 cup cane sugar
1 vanilla bean, split lengthwise (or 1 tsp good vanilla extract)
½ tsp orange blossom water
INSTRUCTIONS
For the Drink:
(1) Splash the tiniest bit of rhubarb syrup into the bottom of a metal julep cup. Using your (clean) fingers, gently press the mint sprigs into the bottom and sides of the cup (the syrup will coat the mint leaves and help spread their oils).
(2) Fill the cup completely with crushed ice. Pour the bourbon evenly over the ice. Pour the remaining syrup over the bourbon soaked ice.
(3) Top with additional crushed ice, using your clean hands to pack a snow cone-like mound on top. Serve with straw. Optional: top with powdered sugar, chopped rhubarb matchsticks, and additional mint.
For the Syrup:

(1) Combine the chopped rhubarb in a saucepan with water, sugar, and split vanilla bean. Bring to a boil over medium-high heat, stirring occasionally, then lower heat and cover. Let simmer gently for 5 minutes, then remove from heat.
(2) Stir in the orange blossom water, replace lid, and let cool to room temp. Refrigerate overnight, then strain with a nut milk bag or a cheesecloth-covered sieve. Reserve the strained, broken down rhubarb for use as a compote, and store both syrup and compote in the fridge.
[TIP: you can make the syrup without the orange blossom water — it will still be awesome.]