Holiday Soirée & Cocktail Party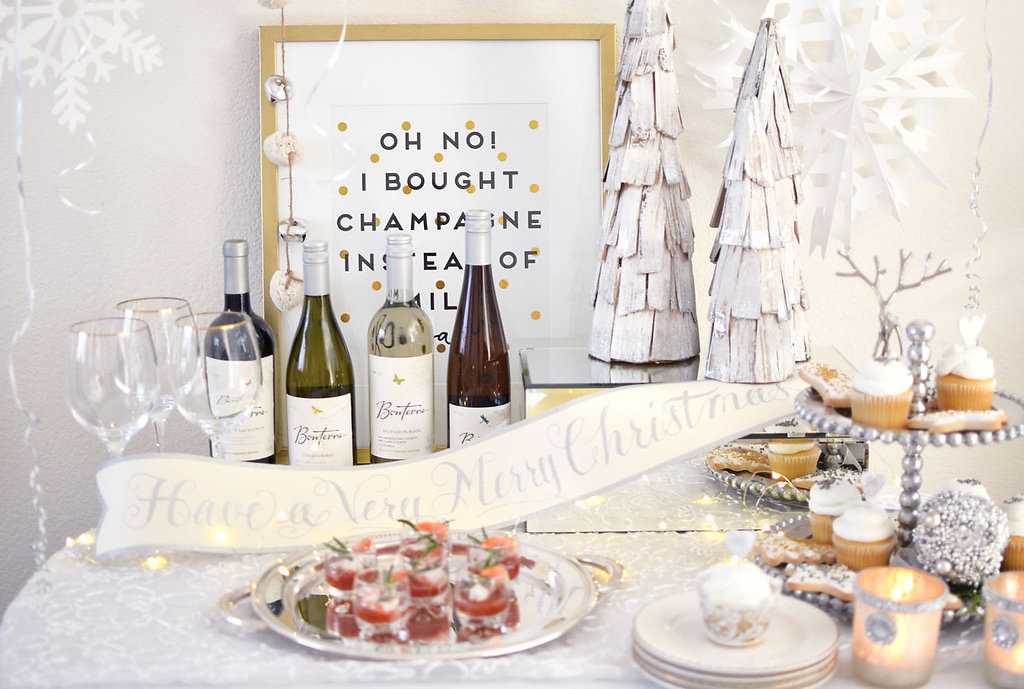 Y'all know I love to entertain and throw a party and I'll use just about any excuse to drum one up. The thing about the holidays is, that's the excuse and, well, getting together with friends to partake in some festive cocktailing shenanigans. It's only days before Santa comes to town, so let's get this holiday cocktail party started.
The holidays can be a little crazy, so this year I decided to host a party for my best girlfriends. I figured we could all use a "girl time" break and what's better for the spirit, then spirits with the girls? Plus, a girl party is a great excuse to get out of your yoga pants, put on your favorite little black cocktail dress, heels and the best red lipstick you own, to share some time with your nearest and dearest.
Cocktails:
For this year's cocktail fête, I decided to create holiday cocktail stations, along with serving wine and champagne. I liked the idea because it encourages guests to mix, mingle, meet new people from station to station and eliminates a line at the bar, because who likes that?
This year's specialty cocktails included White Chocolate Martinis served in mini-martini glasseswith gold sugared rims…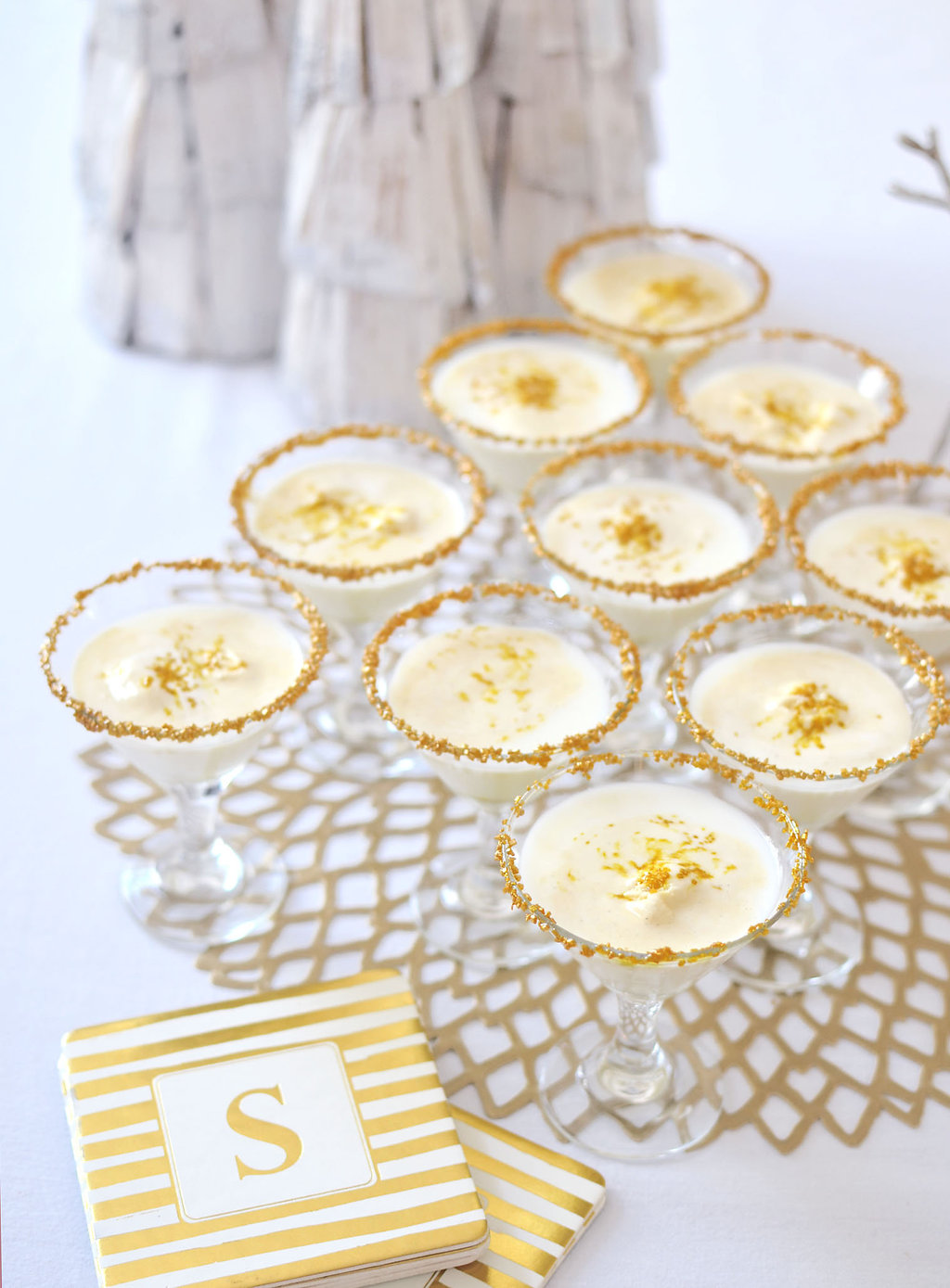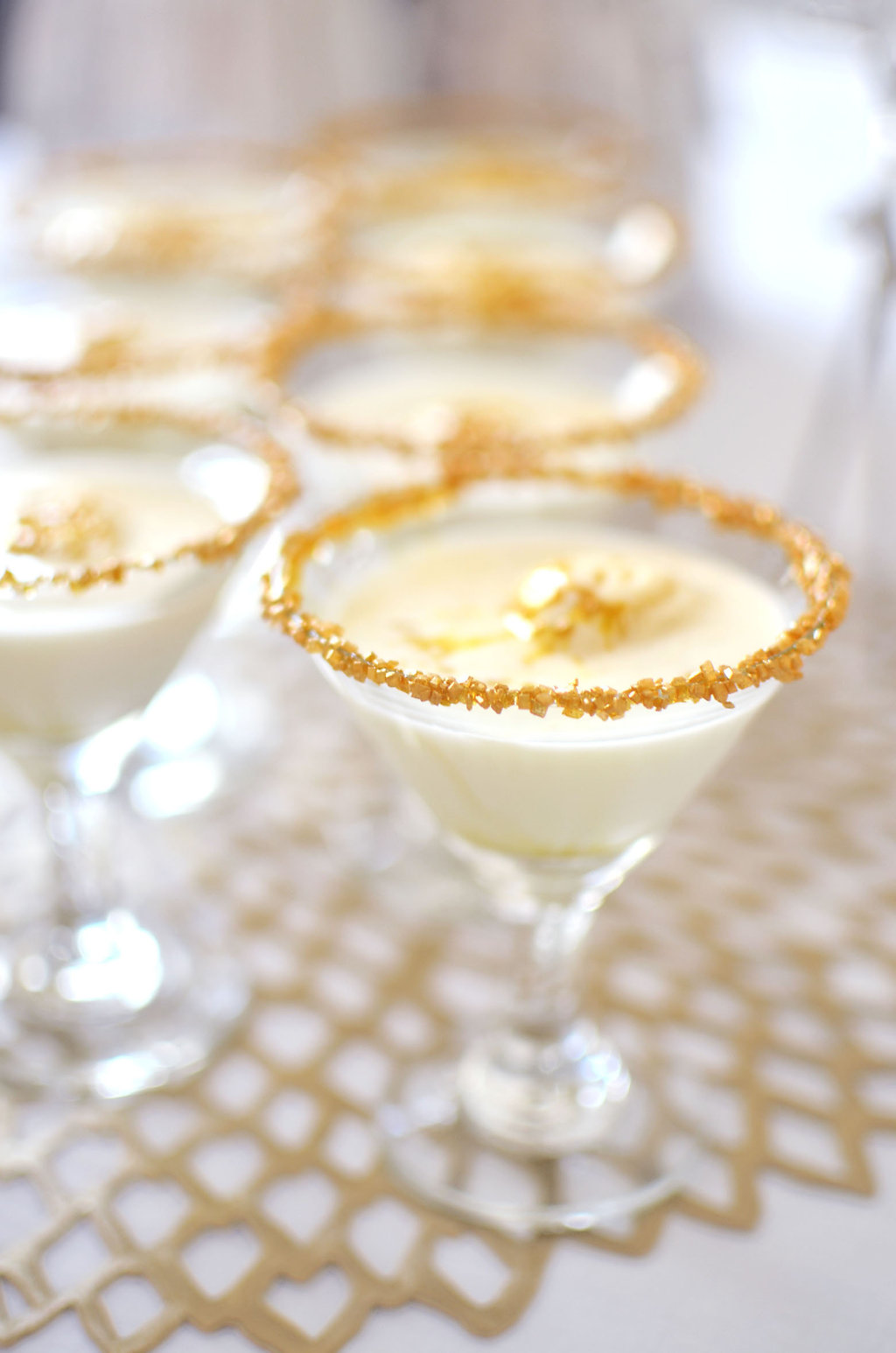 …and a Creamy White Peppermint Punch (ice cream included!), served in vintage champagne coupes with crushed peppermint candy cane rims. The mini-martini glasses are a little hard to find, but they're made by Libbey.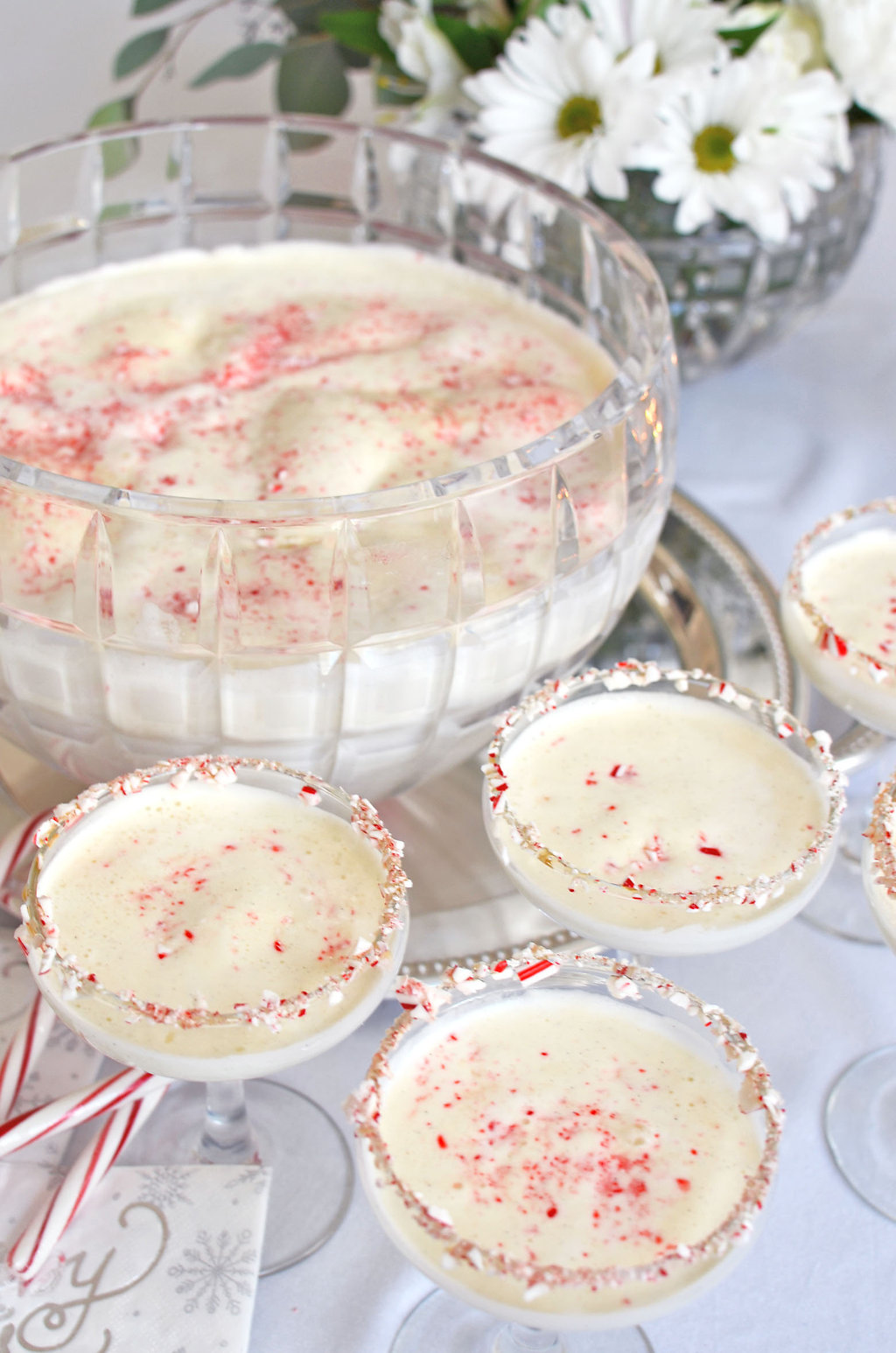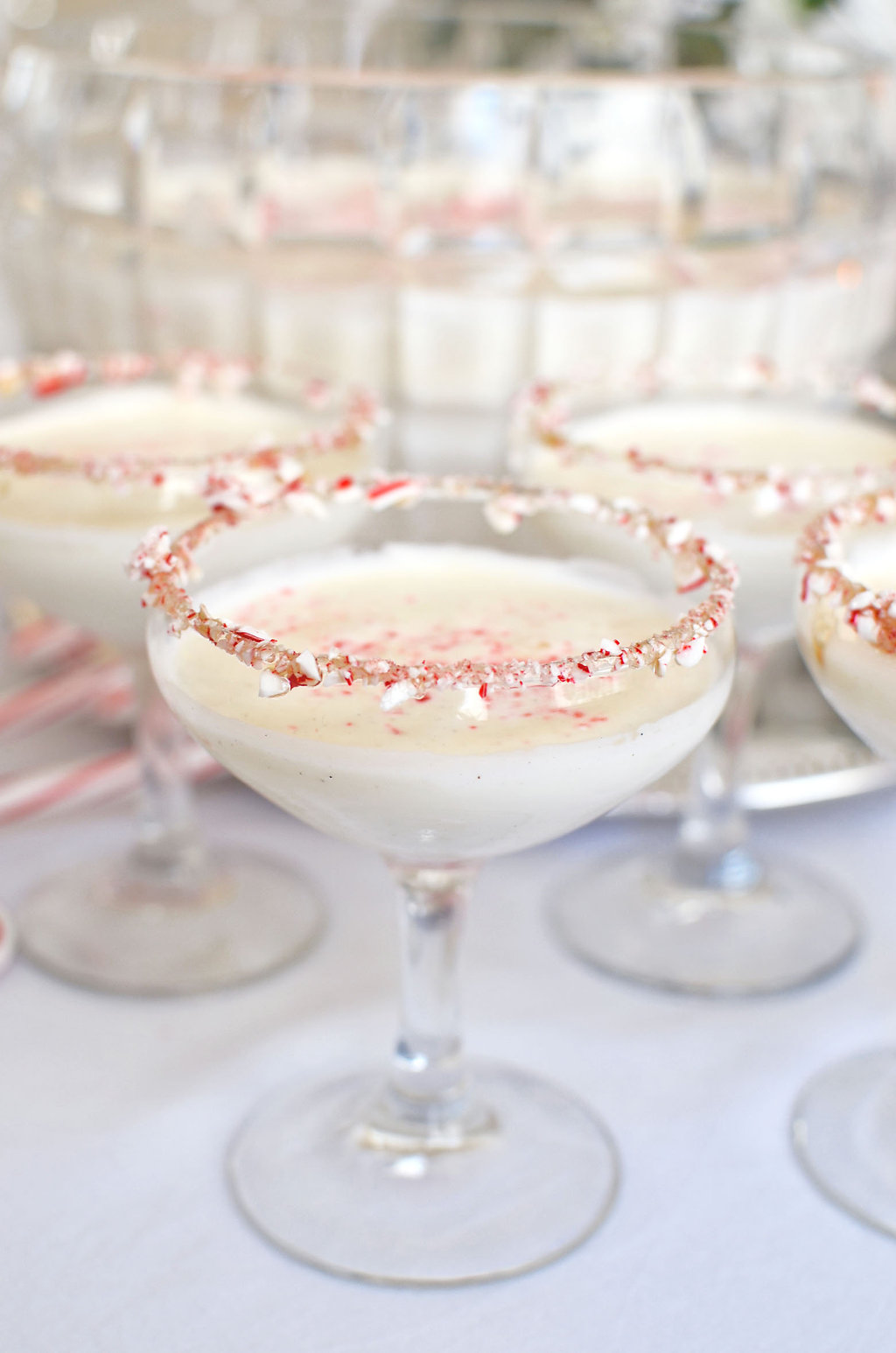 Head over to Pinterest for some pretty impressive list of cocktail recipes. Of course, there was plenty of champagne on ice, a variety of white and red wines and a fully stocked bar and aperitifs.
Décor:
By now, you've probably noticed I can't do anything in a small way. It's usually all or nothing for me, but that doesn't have to mean a big budget, it just means being creative and, let's be real, having fun doing it. The first thing I do when I plan or design any party or table is to hit Pinterest for inspiration and to spark my own imagination.
I'm love-struck with silver and white these days, can you tell? The idea of white and silver with hints of gold had me at "hello" and just like that, the décor for this party started coming together between what I had at home, and some of my new favorite things.
I found the white hanging snowflakes at Party City and hung them and the jingle bell garland from the ceiling with clear pushpins. To add to the holiday festivities, I used white curling ribbon streamers and white balloons. Don't forget the weights when you pick up your balloon order! A framed print is always a good idea and especially when it speaks to your girl gang.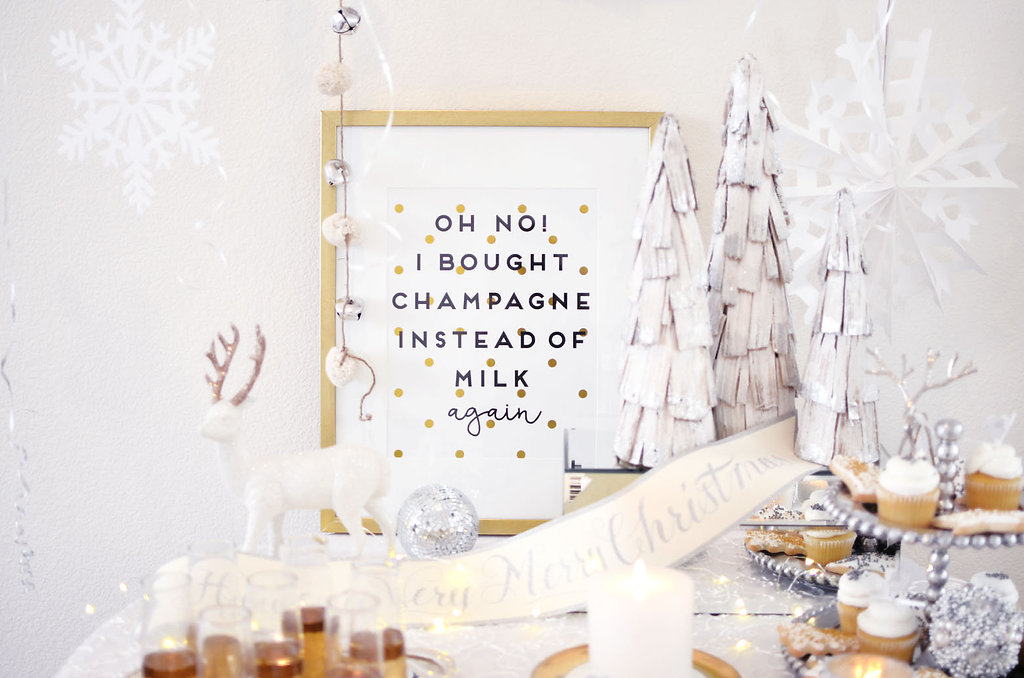 I found this one at HomeGoods for a ridiculous price, the white-washed wood wreath, trees and glittered white reindeer at Target, and my newest holiday décor addition, the paper Have a Merry Christmas paper tree garland from Pottery Barn, with thanks to my friend, Lauren! It's so-so pretty in person and can be used just about anywhere. Honorable mention goes to my silver reindeer.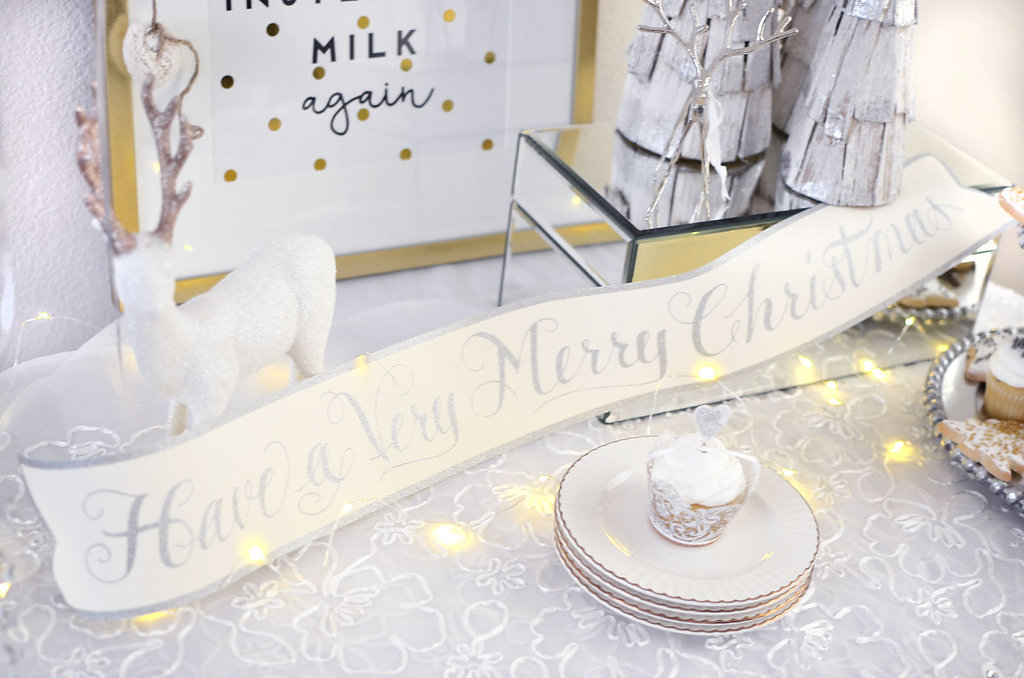 They're actually ornaments (yep, Pottery Barn!), but I've used them as décor pieces on the table and throughout my house, as well as for place card holders and to label whatever I'm serving on a buffet. Mercury glass votive holders and jingle bells always elevate a winter scene, and as you can see, I put them everywhere.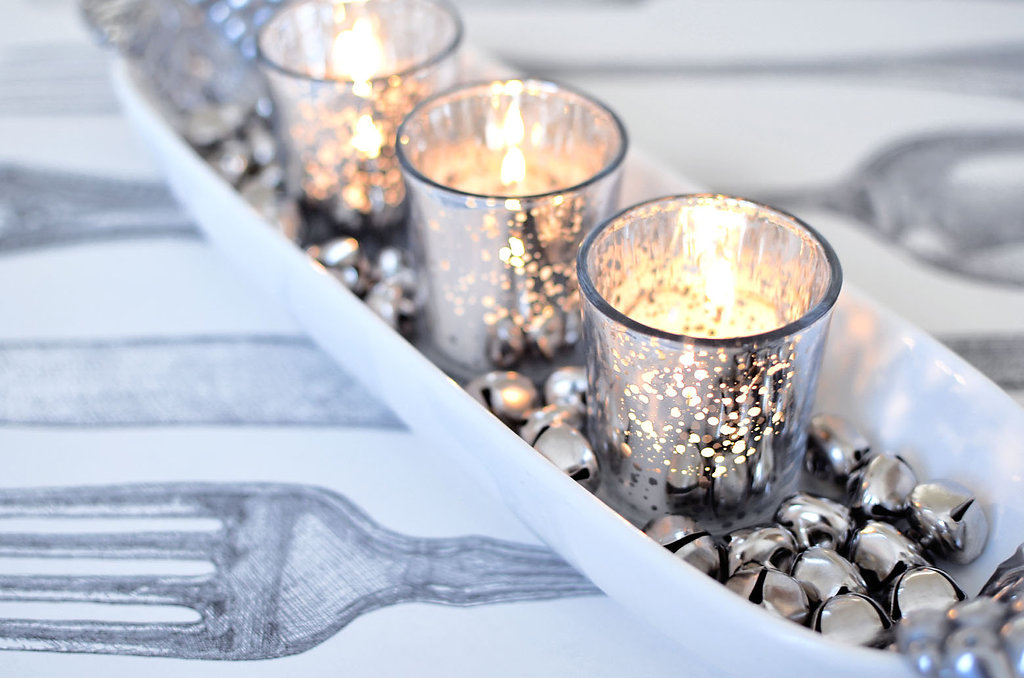 Tables:
Since I'm a firm believer in greeting your guests with a cocktail as they arrive, I prepared a tray of ready to serve champagne cocktails and set them on the cocktail table, along with some cookies and cupcakes.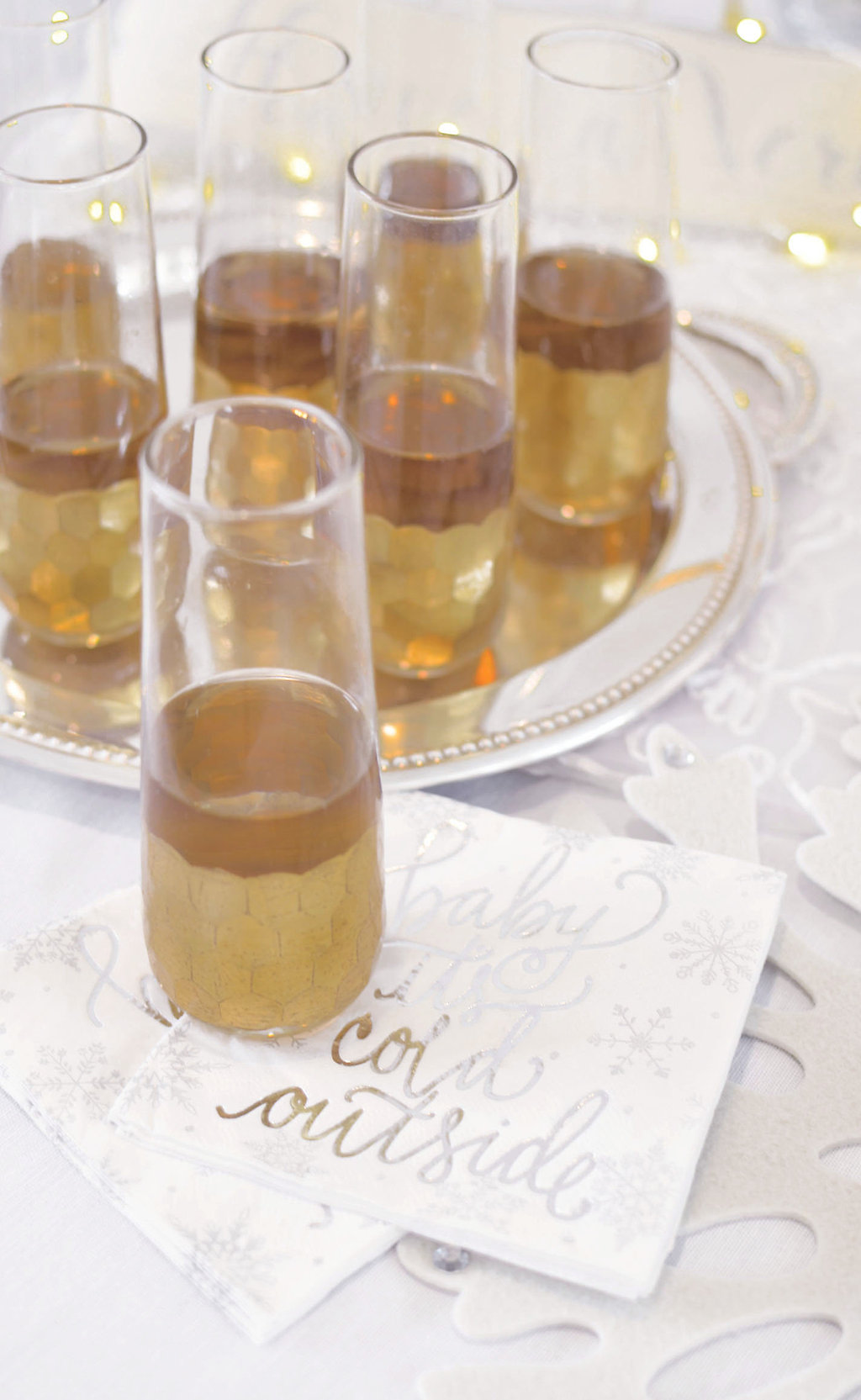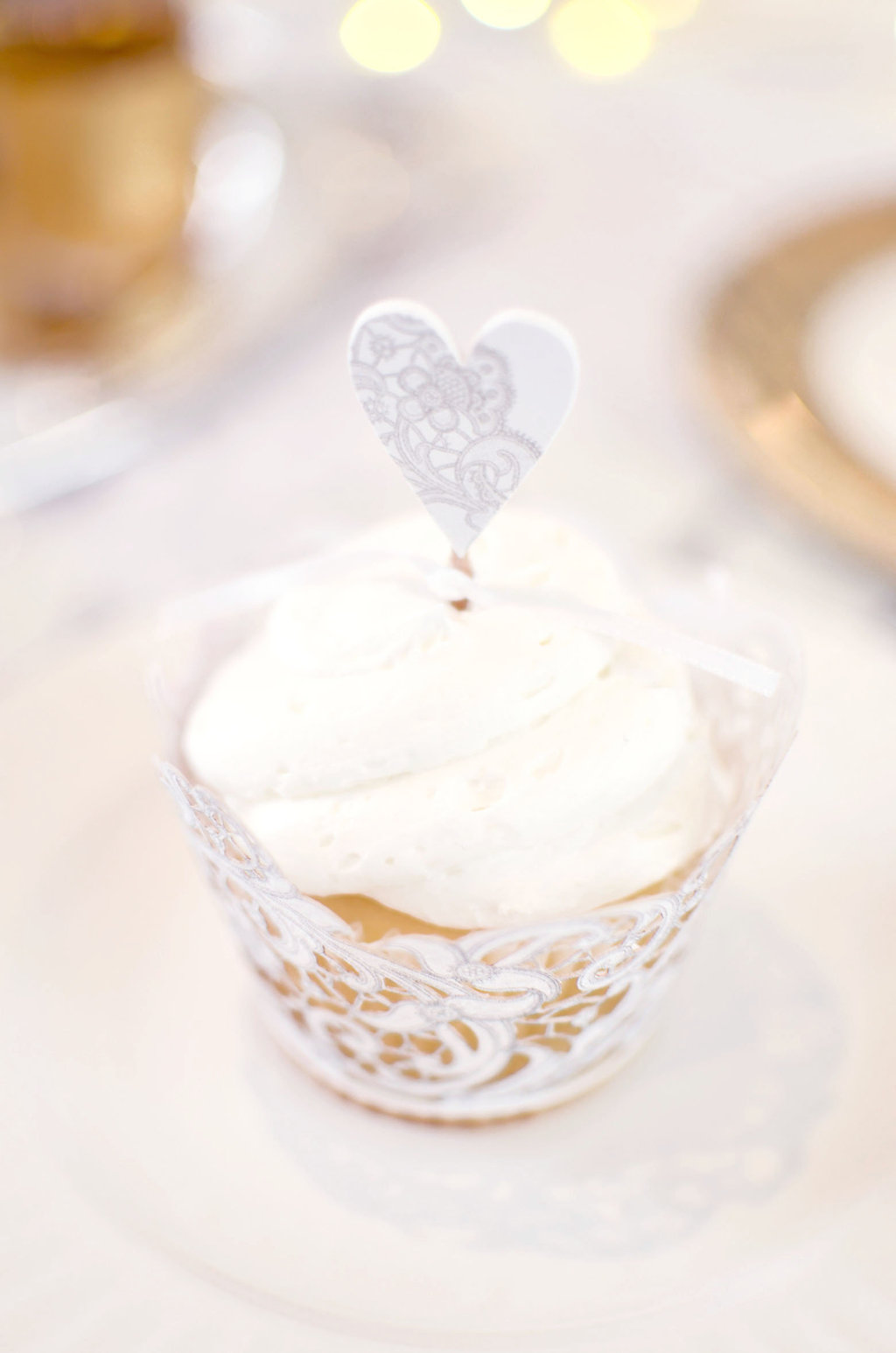 I love how it all looked with the snowflakes, wreath and balloons behind the table and this kind of a setting also makes a great background for pictures with friends.
Since cocktail parties are about sitting where you like, enjoying those you haven't seen for a while or spending time with a new friend you just met, you don't always need formal seating. I set my dining room table with a white tablecloth from Design Imports (they have loads of colors and prints!), and topped it with a Cutlery Paper Runner from Hester & Cook, my favorite go-to for making any table extra-special.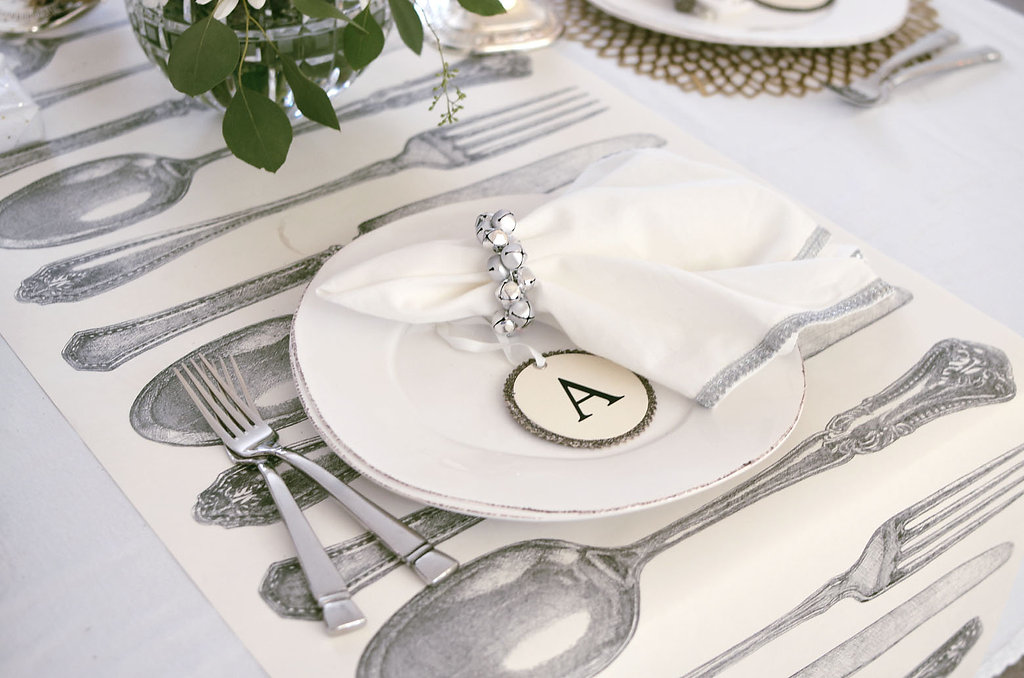 The runner was exactly what I was looking for, it's sophisticated, coordinated with my color scheme, décor and most of all, says "sit here, eat and enjoy!"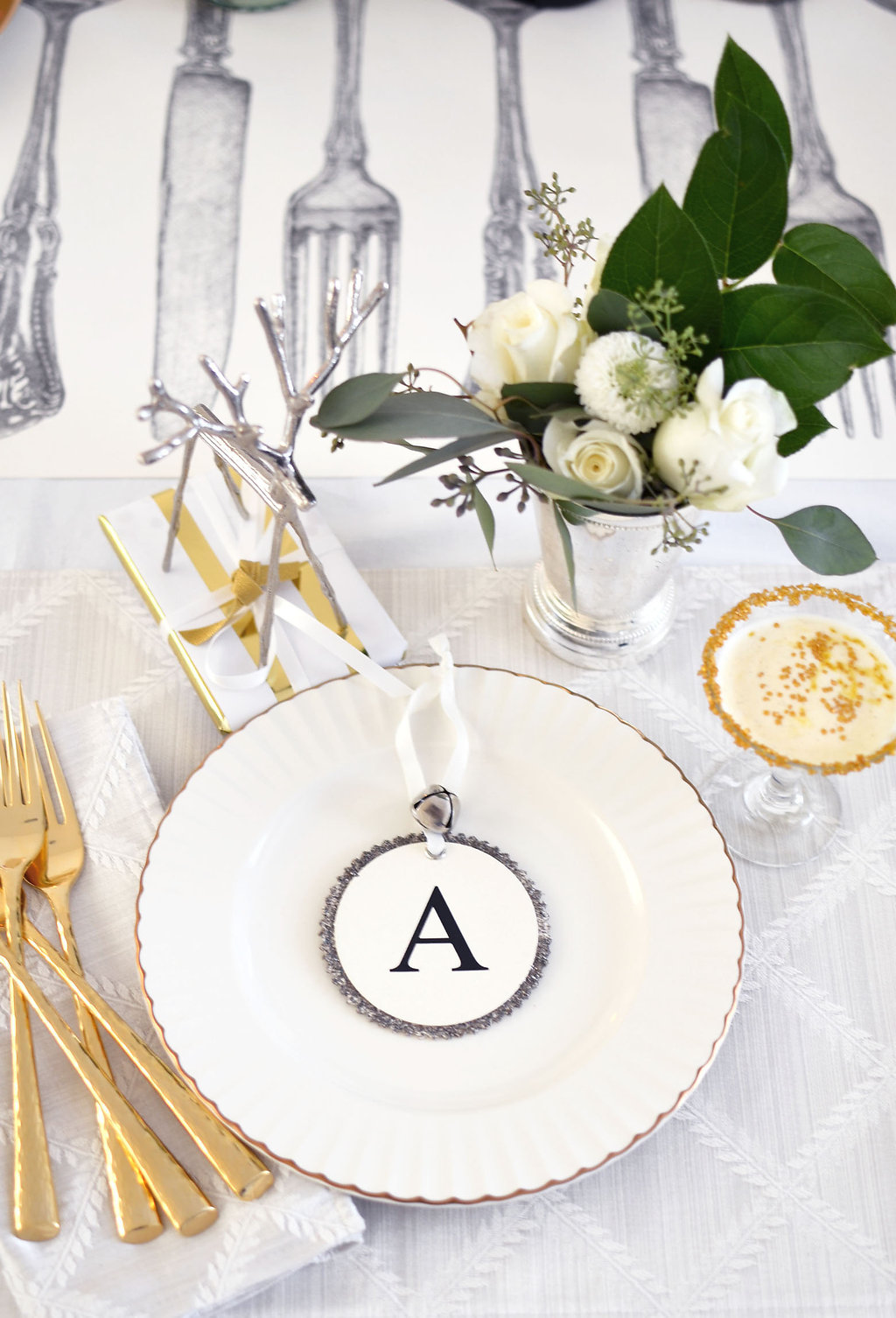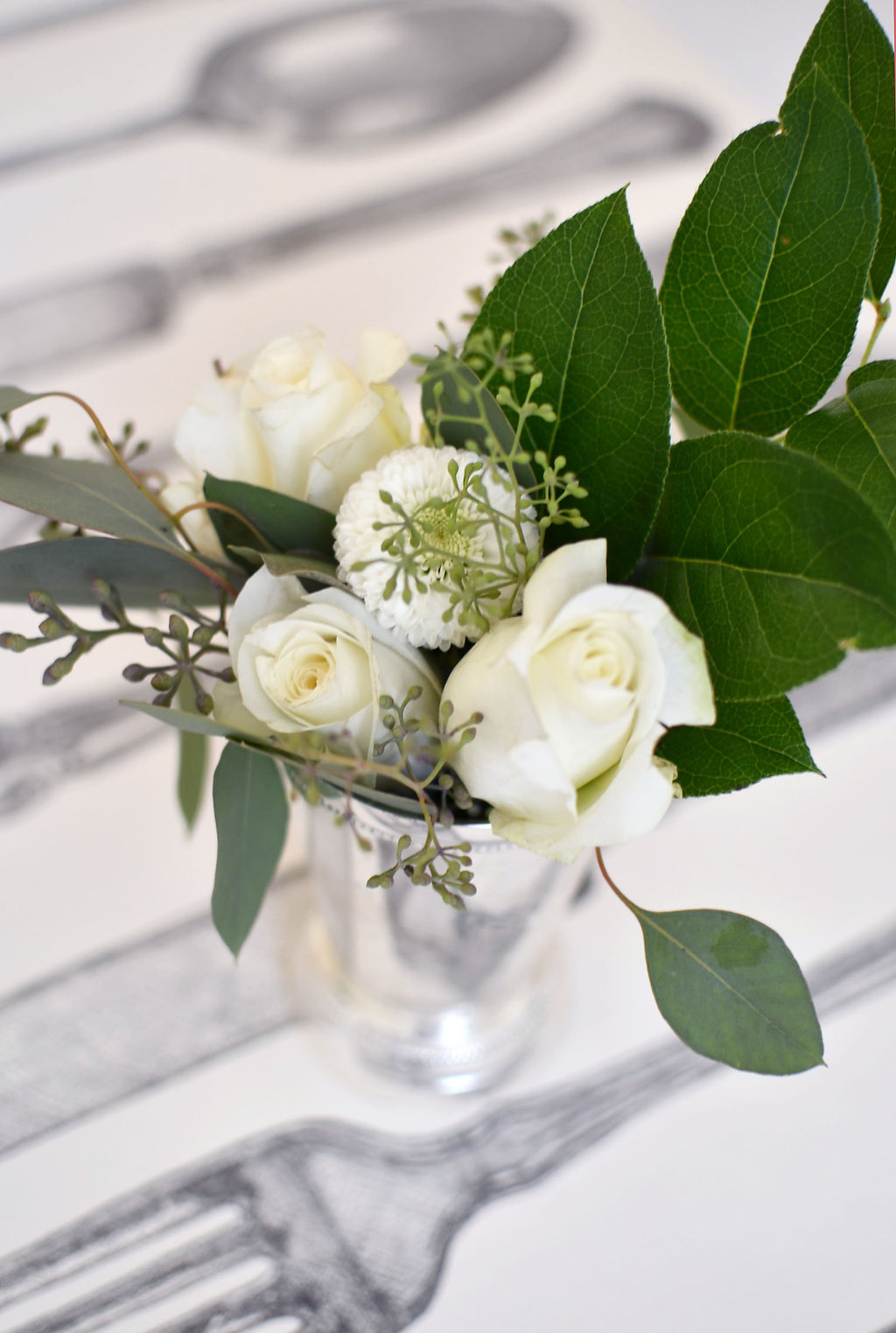 I added a bowl of fresh white flowers to the center of the runner, mini white bouquets in mint julep cups, a few of my reindeer, candles and small favors wrapped in gold and white striped paper, for each of my friends.
Serveware:
Since apps and dessert were on the menu and in with keeping my informal setting in mind, I stacked 4-5 Marchesa by Lenox white and gold trimmed accent plates, along with white napkins with gold flatware and scattered the stacks down the table so that my guests could pick up a plate from wherever they stood or sat.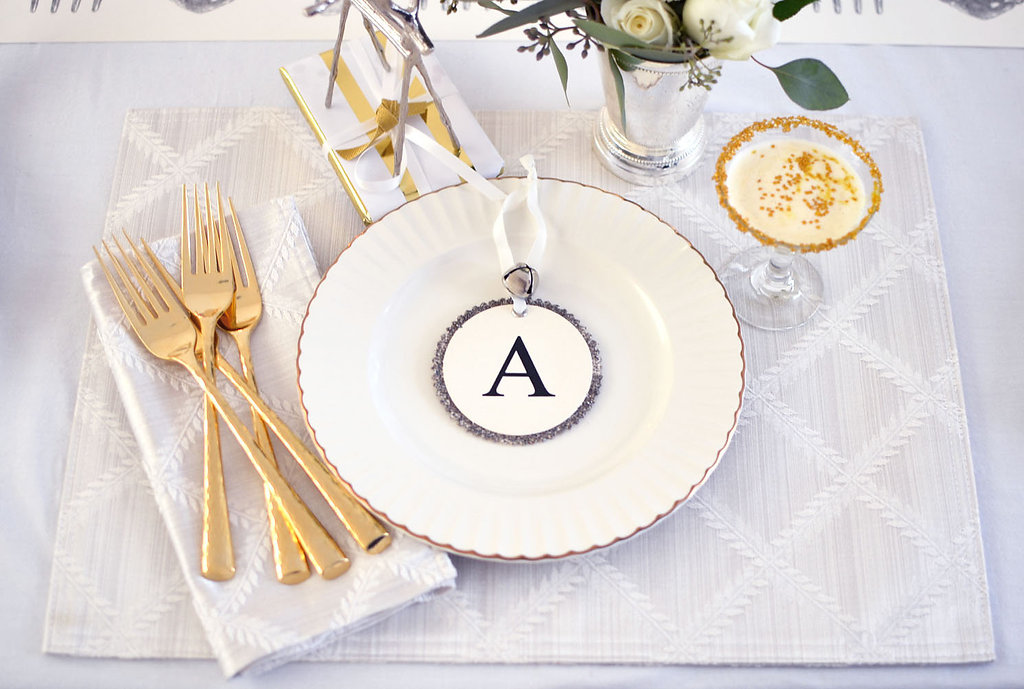 To accent all the silver and white, I used gold stemless champagne flutes, and gold rimmed stemware for a little variation. On one of my "three times a week" trips to Target, I found the two-tiered dessert stand, which I know will be put to use multiple times over the holidays.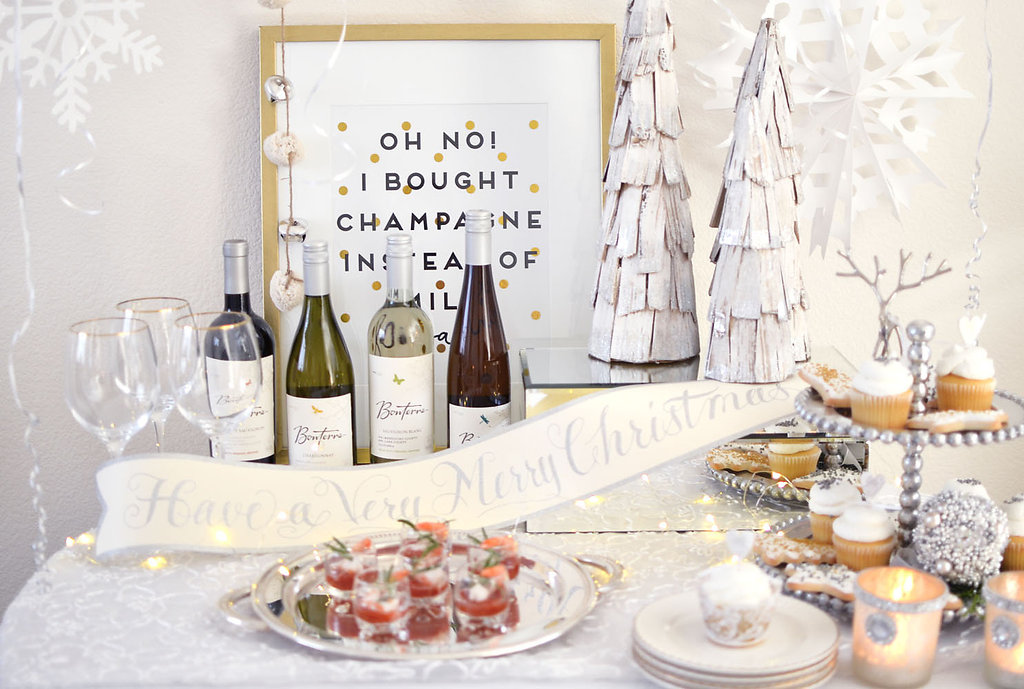 About the apps!:
Since I was hosting as well as decorating and my guests were all close friends, I asked everyone to bring an appetizer. Sometimes you have to just do that, and it's okay. I got the app party started with individual shrimp cocktails using Bormioli Rocco Amuse Bouche Galassia shot glasses.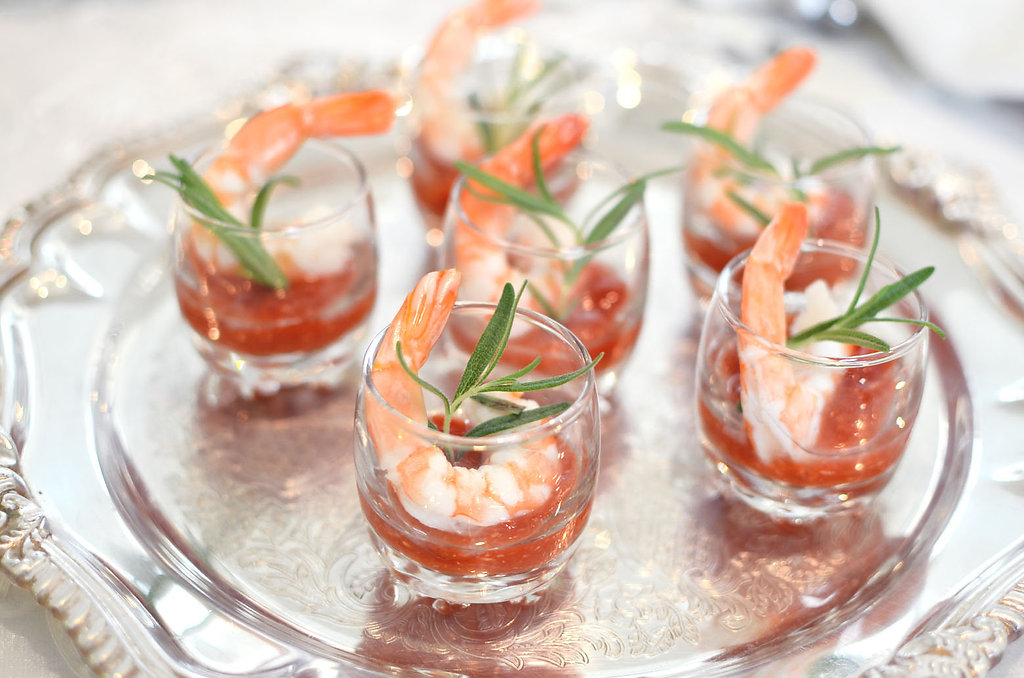 Aren't they the cutest? They are simple to make and you can assemble them the night before. Just add cocktail sauce to the bottom of the glass, a large prawn and garnish with your favorite herb. You can also add a slice of cucumber if you like. They're super easy and something so simple look so fancy.
Dessert:
No party is complete without sweets, and while I didn't have time to bake and haven't started my holiday baking, I did have time to order and add some of my own personal style.
I went with white-on-white cupcakes and cookies, and added some of my favorite cupcake decorations and wraps from Meri-Meri and silver pearls from Wilton. I think it all looked great and it was more about being together than the desserts I served.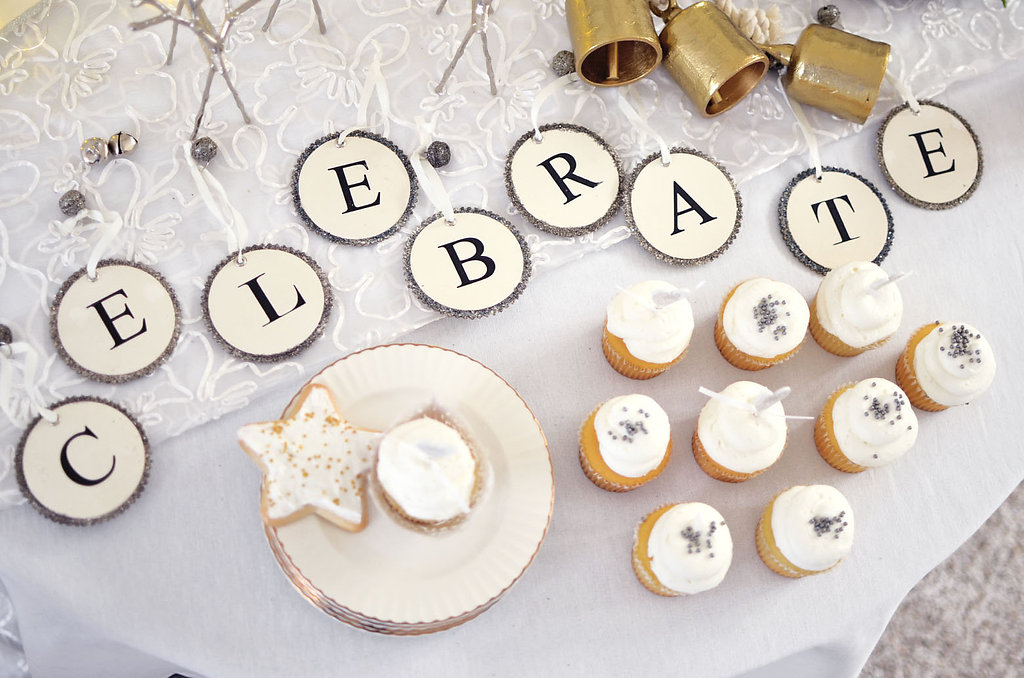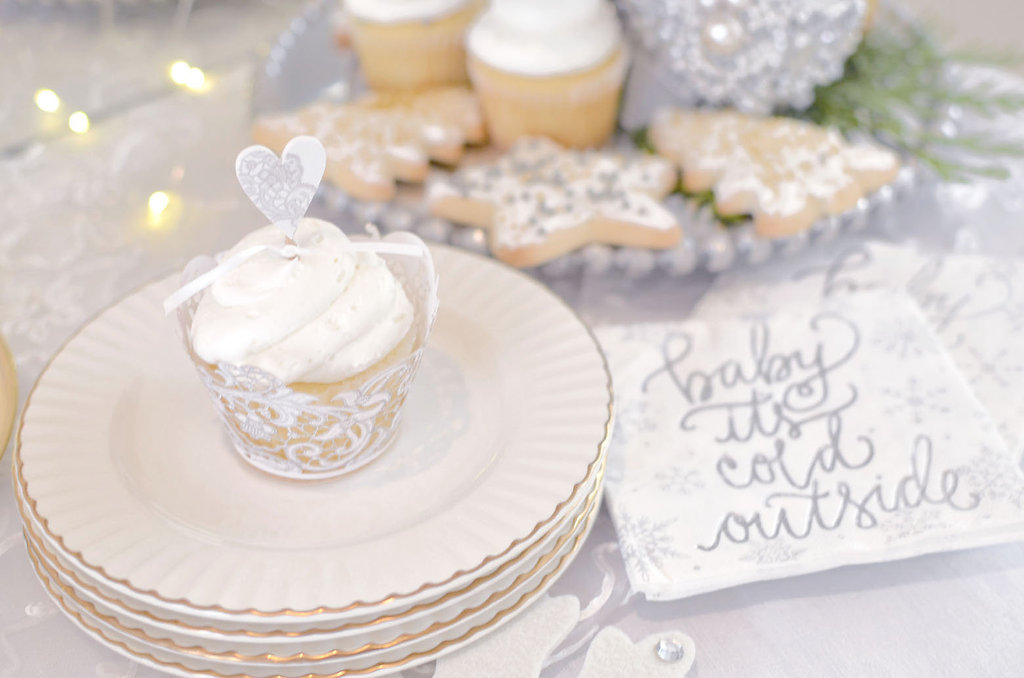 Party Tips:
No matter how simple or elaborate your party is (both are great!), remember these three really, easy party tips:
A bar or bar cart: Anyone who loves to host should have one and it should filled with the things you love. Keep it simple and easy for guests to serve themselves so you can have fun.
Lighting is everything. Adjust the settings; add tiny white seed lights or twinkling lights and loads of candles.
Flowers. I can't say enough and they don't have to break the bank. Keep colors to a minimum and when in doubt, go all white.
I think I could host a party every weekend and especially after this one. It was everything I hoped it to be and more. Remember, it's about doing what you can, and more importantly gathering with friends. And, if you don't have time to create crafted cocktails, a glass of champagne never goes out of style.
Happiest holidays!
xx, Deborah