Happy Hanukkah: A Festival of Lights Table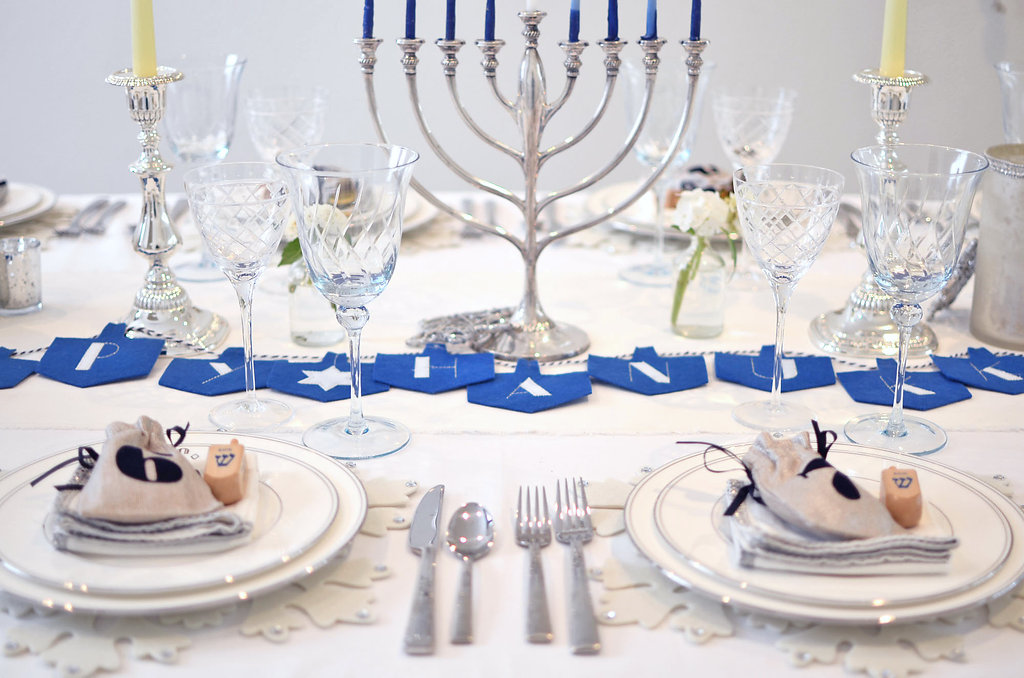 While Hanukkah is super late this year, the first night (Christmas Eve!) is practically just around the corner and before we know it, we'll be spinning dreidels with the littles and eating latkes for days. Bring on the applesauce and sour cream because I am SO ready for good food (latkes + brisket, yum!), family and friends around my table.
On the table:
For the main event and to remind us of the Hanukkah oil miracle, I placed three menorahs down the center of the table runner, including my traditional Menorah from Pottery Barn, Stefanie's (my photographer!) Tree of Life Menorah by Michael Aram (a wedding gift!) from Bloomingdale's, and my newest Hanukkah addition, a gold modern day kate spade new york oak street menorah.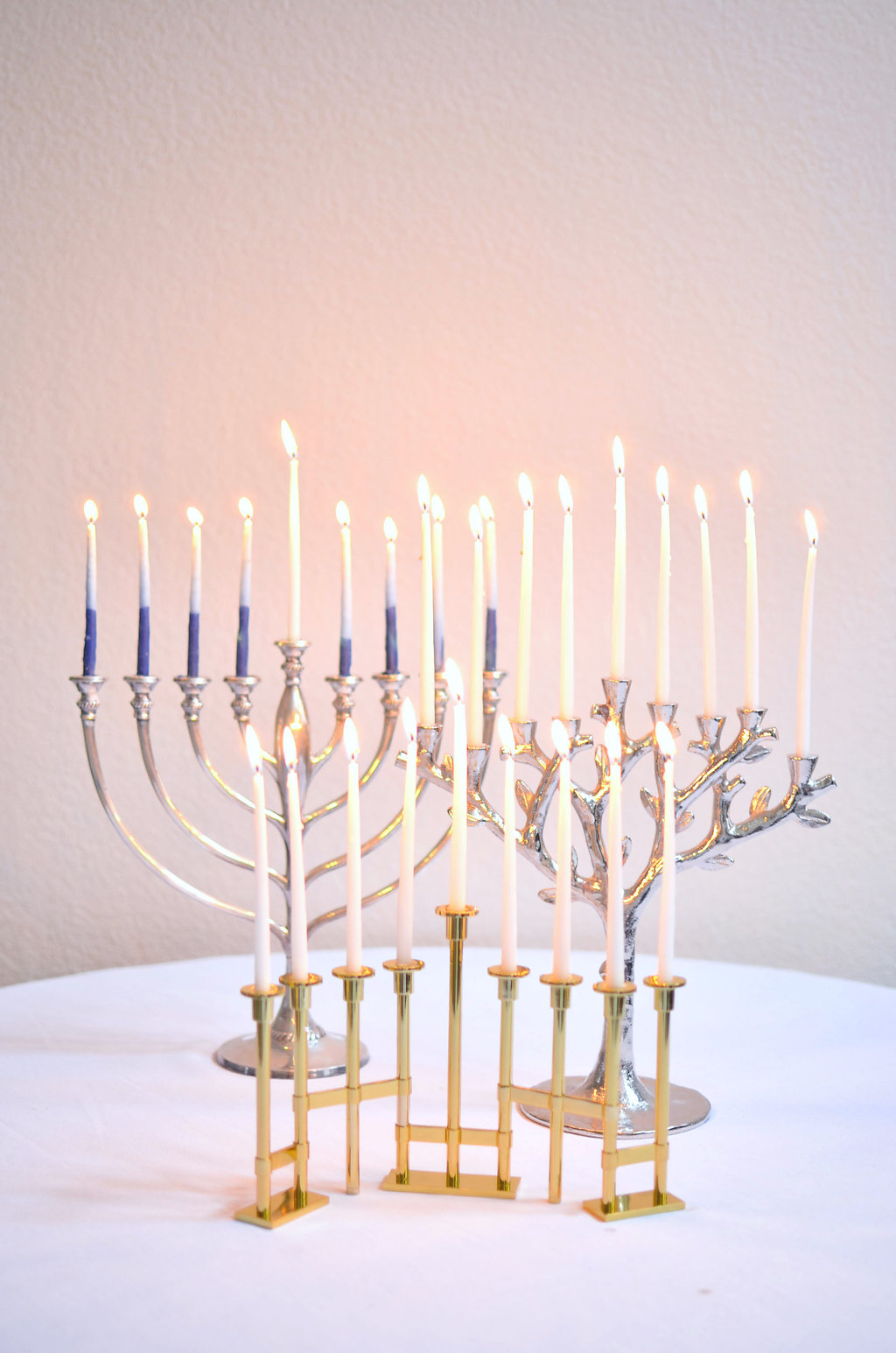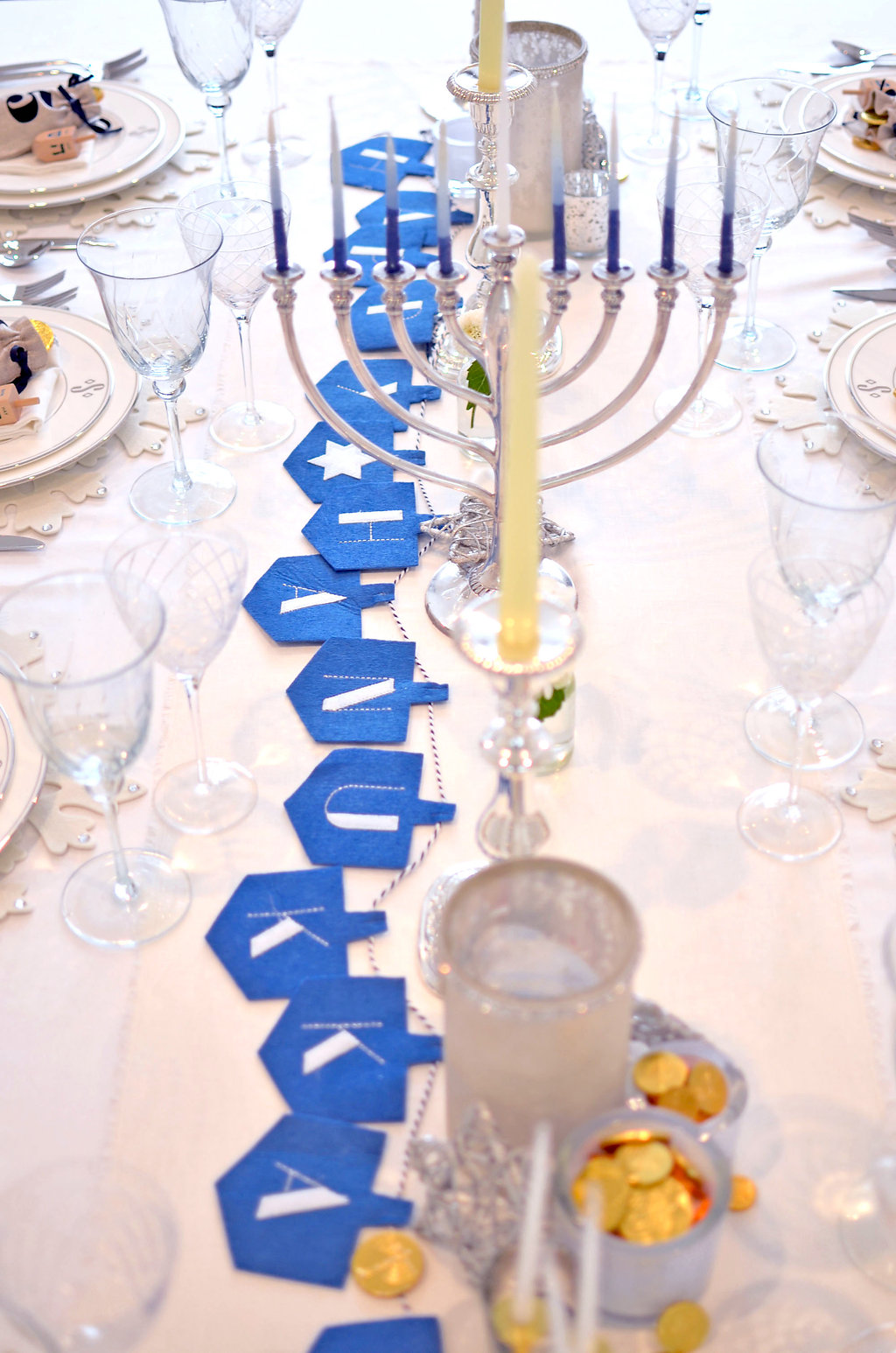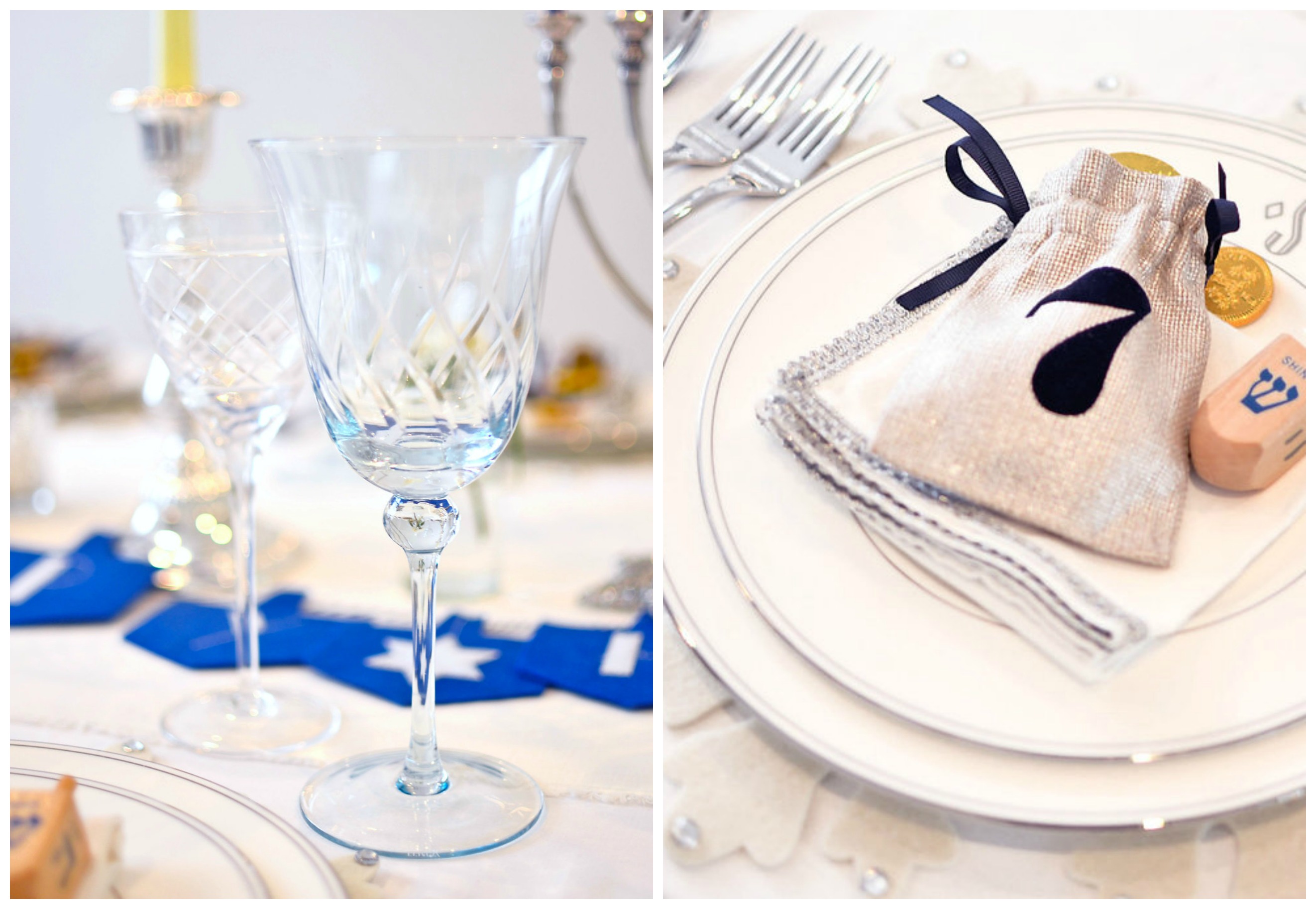 Let me just say, I am absolutely charmed by it! What makes it a little more interesting is, it's hinged in two places to be flexible. You can position it to display like any other menorah or move the hinges to change the angle of one or both ends into different positions. I added my silver candlesticks to the table, and a royal blue felt Happy Hanukkah Dreidel banner I found at Target for a coordinating pop of color. I filled different size baby blue votive holders from Design Imports with gelt, letting it spill over onto the runner for a fun little accent.
To set the table, I used a color scheme of silver and white with touches of gold and light blue, medium blue and navy. I started with a bright white tablecloth and layered it with an off white natural linen runner for dimension. What I love about this runner are the frayed edges.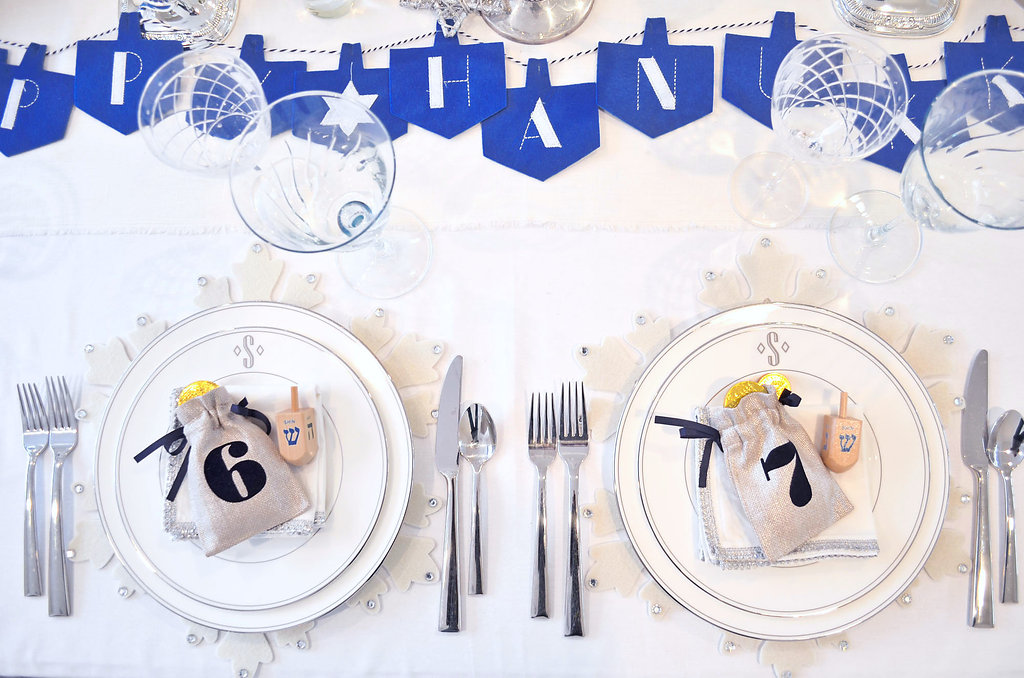 I set each place setting with an off-white felt snowflake placemat from Pier 1, a Lenox Federal Platinum Dinner Plate, a Lenox Federal Platinum Monogram Accent Plate (it's all about the monogram!), and a white napkin with silver beaded edges, folded in a square cocktail napkin size.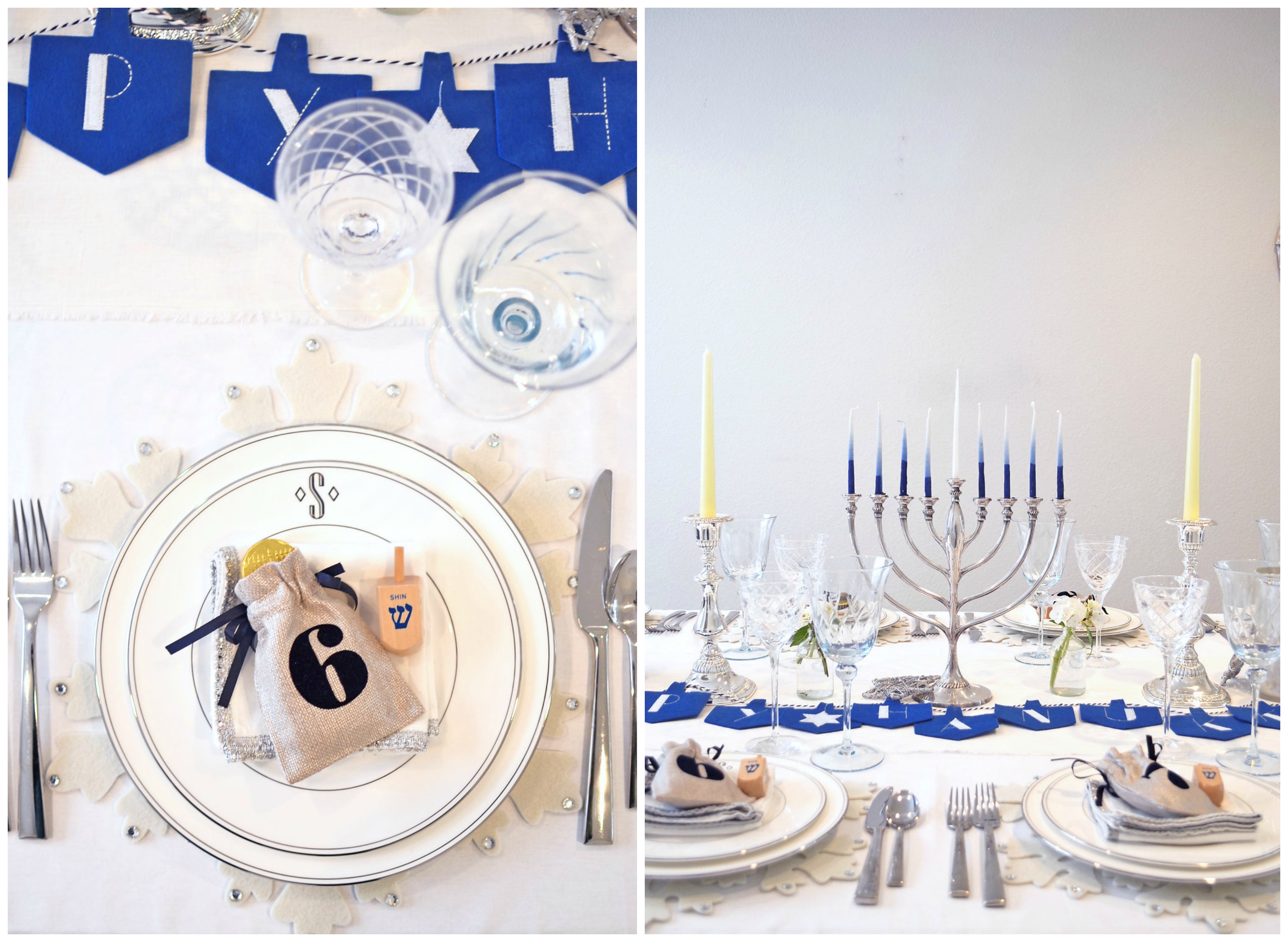 I found these adorable numbered Hanukkah Gelt Bags from Mark and Graham made of metallic linen. They're finished with navy blue grosgrain ribbon and are seriously the cutest Hanukkah table accent EVER. I filled them with gelt, and set a wooden dreidel next to each bag so that everyone can play.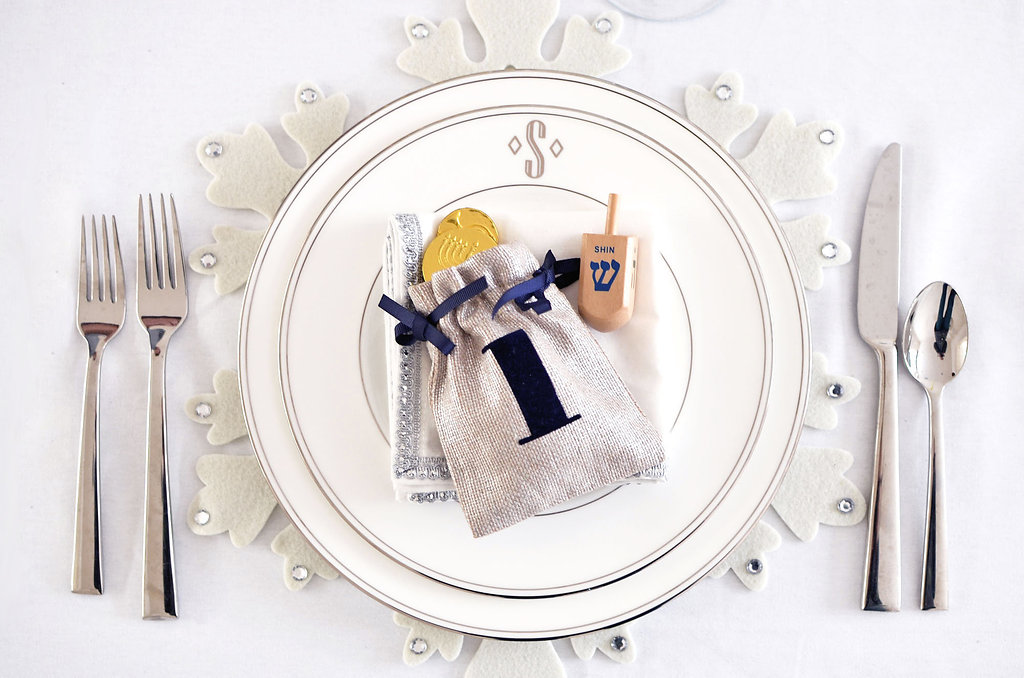 To complete the setting, I added light blue Etched Footed Wine Glasses by Lenox. They have a vintage feel to them and are just the right shade of blue. I complimented the silver edged dinnerware with Lenox Continental Flatware. It's a simple pattern that adds a modern accent to a classic style.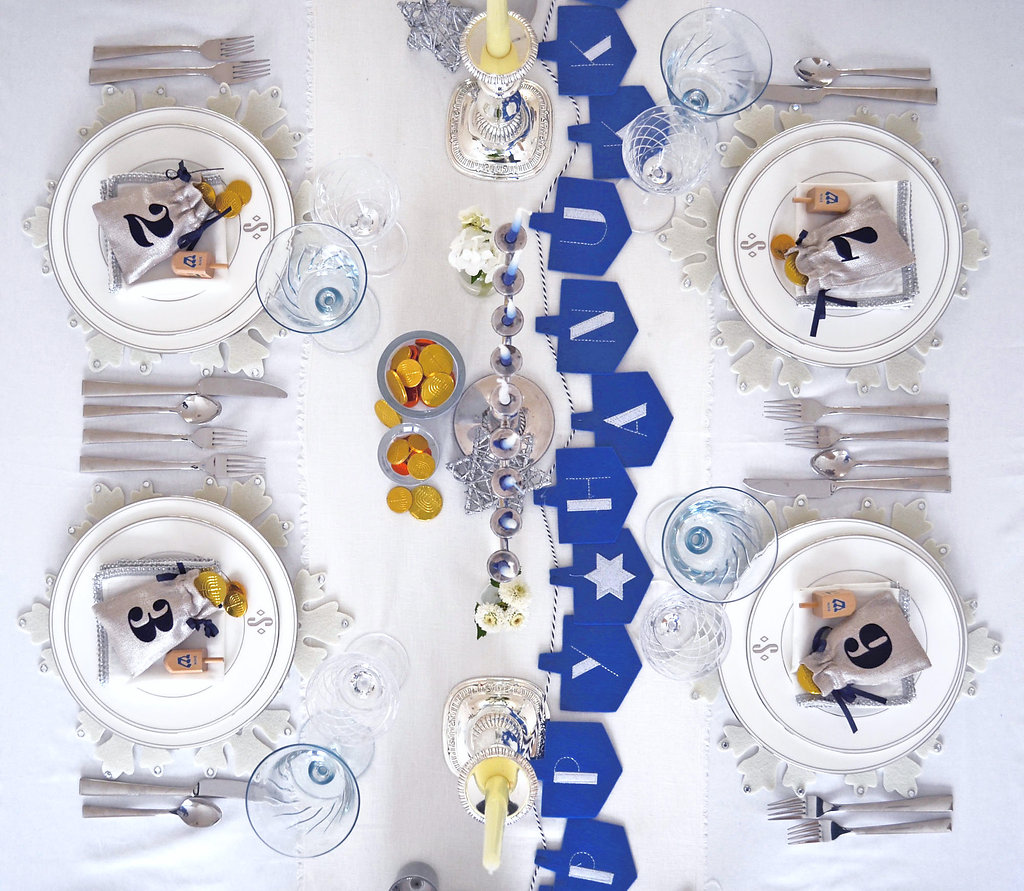 Serving:
The Eight Nights, Eight Lights kitchen towels (I folded as napkins!) coordinated with my dreidel serving platter and plates and we all know, a good hostess is never short on napkins. I always serve the applesauce and sour cream in something pretty, because if you have, use it!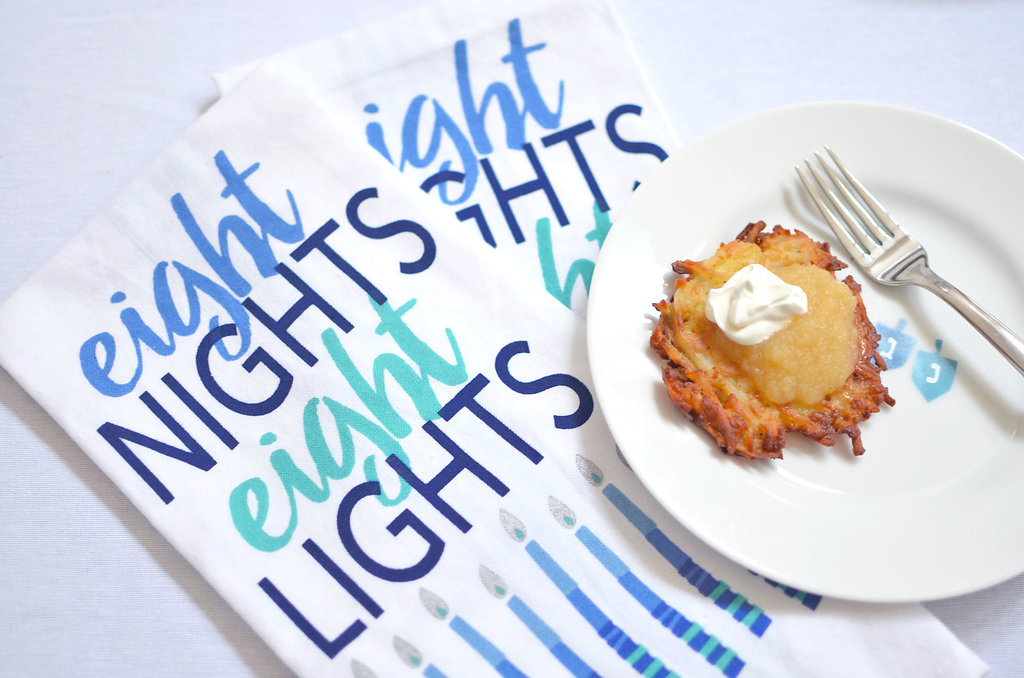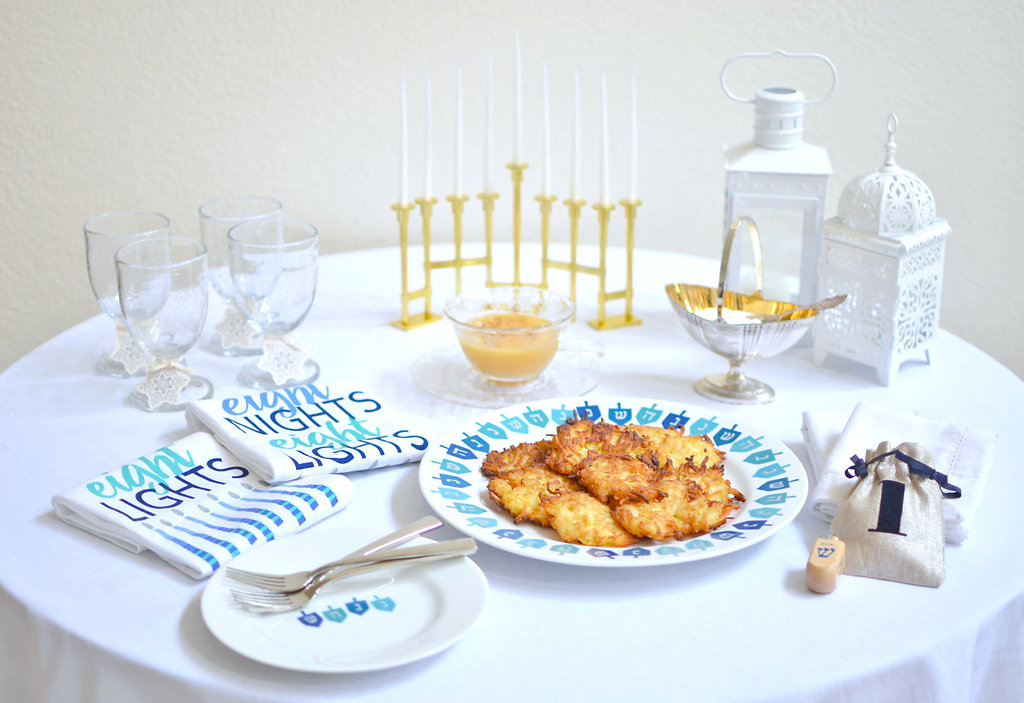 If you love the look but are a busy mom trying to do it all, are having a big crowd or just prefer easier entertaining, remember you can create it with Sophistiplate.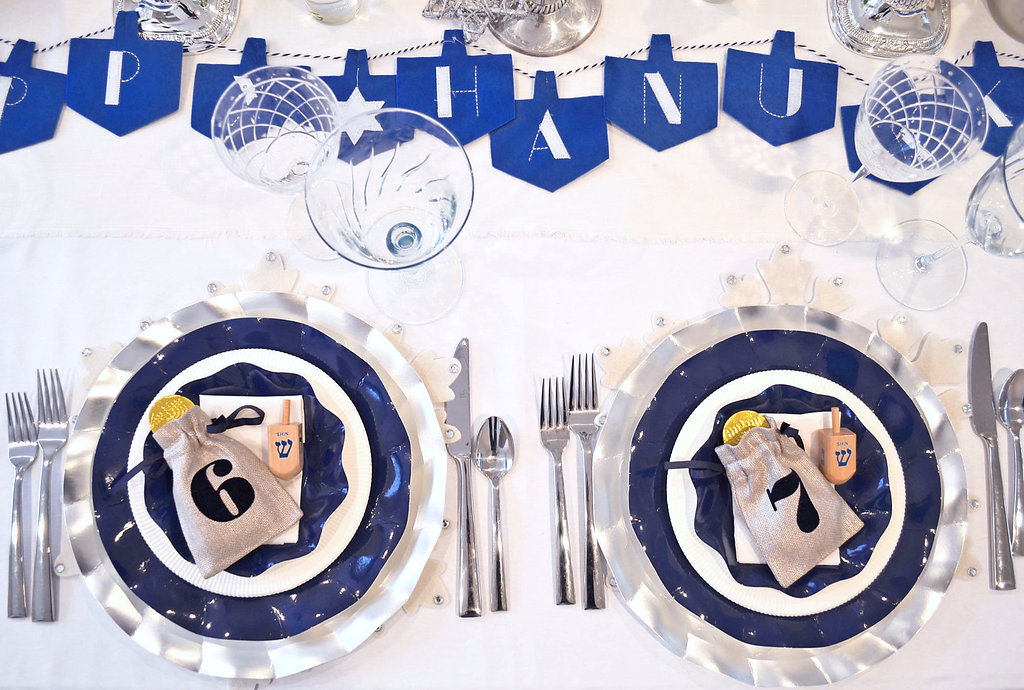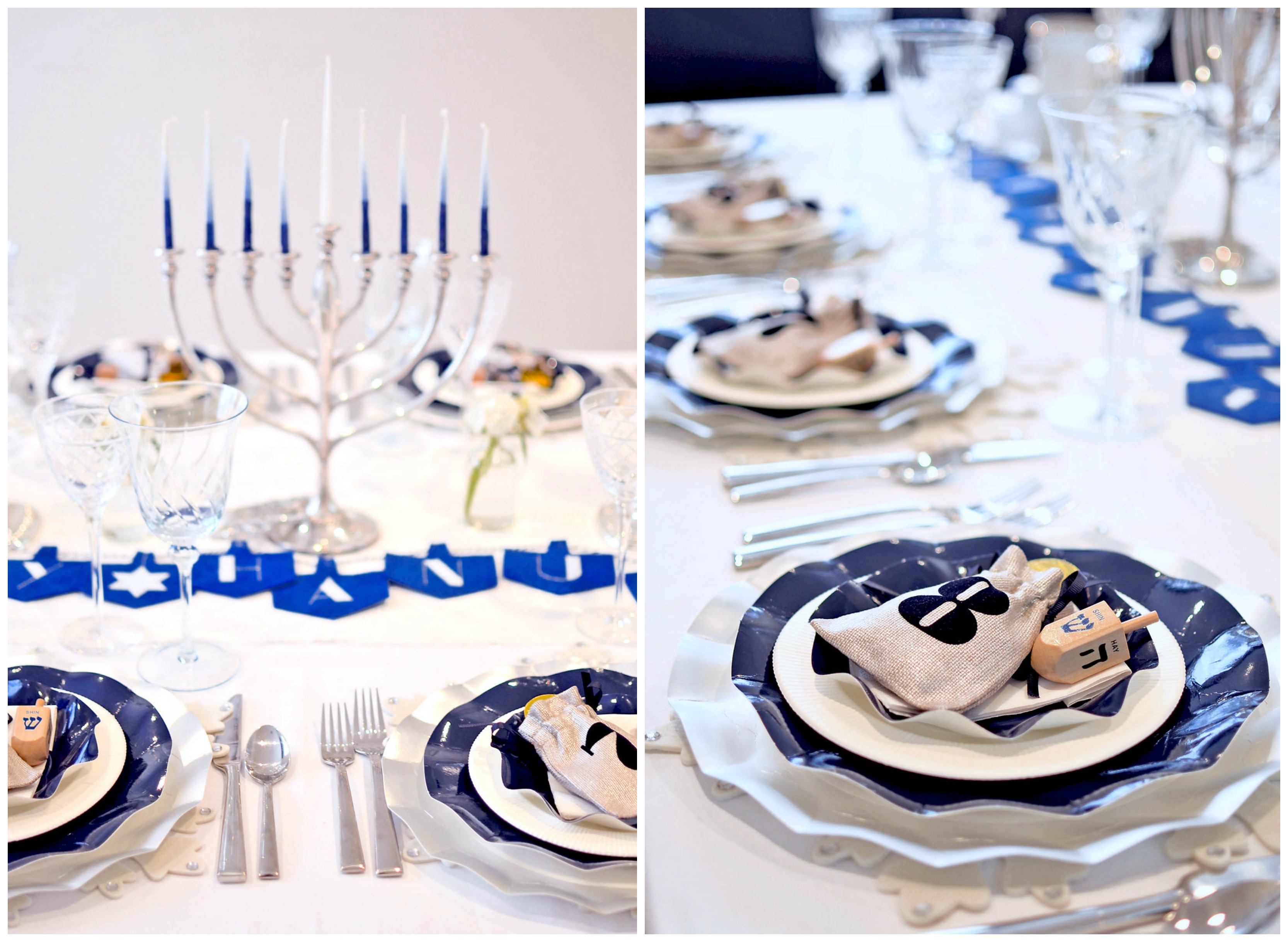 It's that pretty paper from Italy I've been talking for a couple months now and it's fabulous. I approach setting my table with paper by doing exactly what I would do with my fine china, layering it, accessorizing it and using the same décor and accents. Shown here is the navy and silver Hanukkah Dinner Set.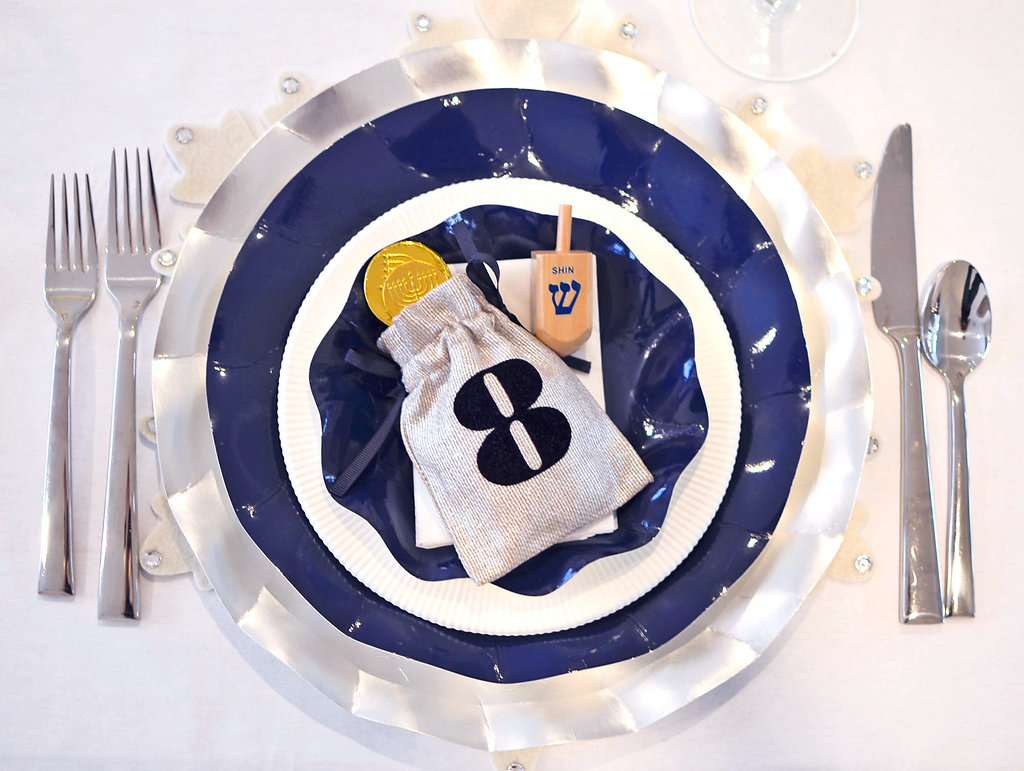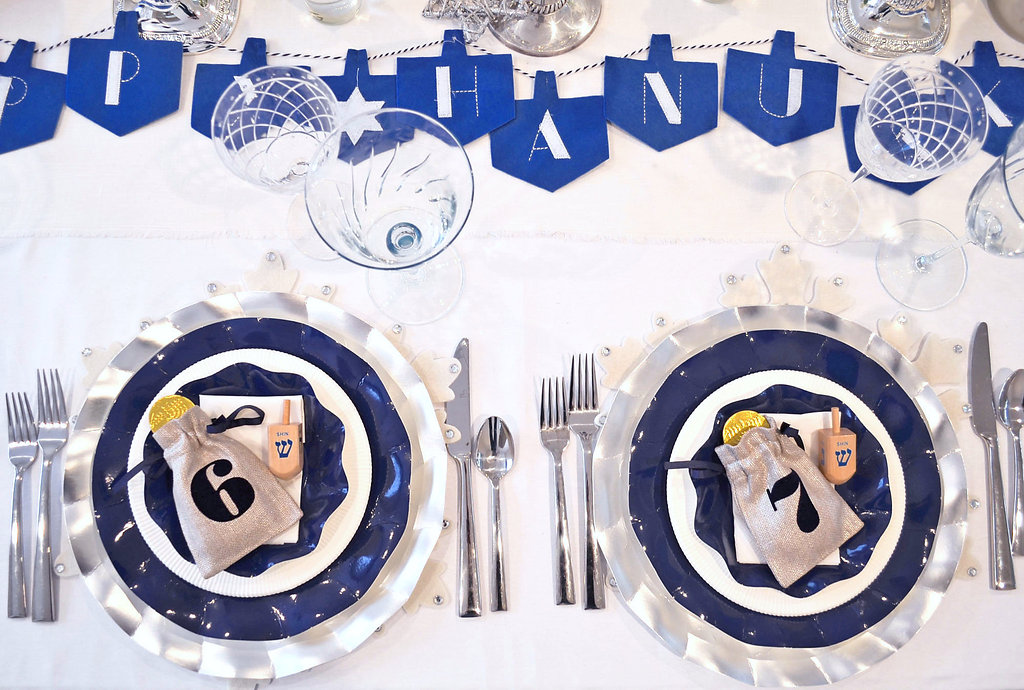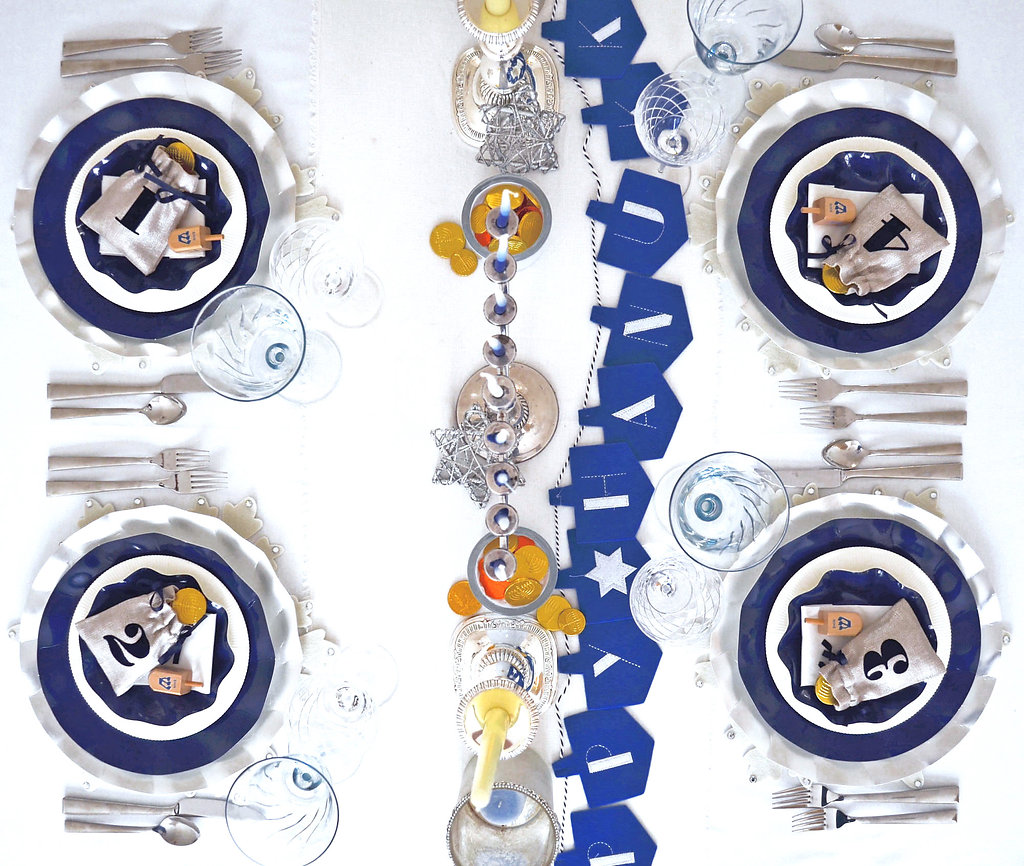 On the night we get together with our gang, everyone brings their menorah, we say a special blessing and make the magic happen as we light the candles.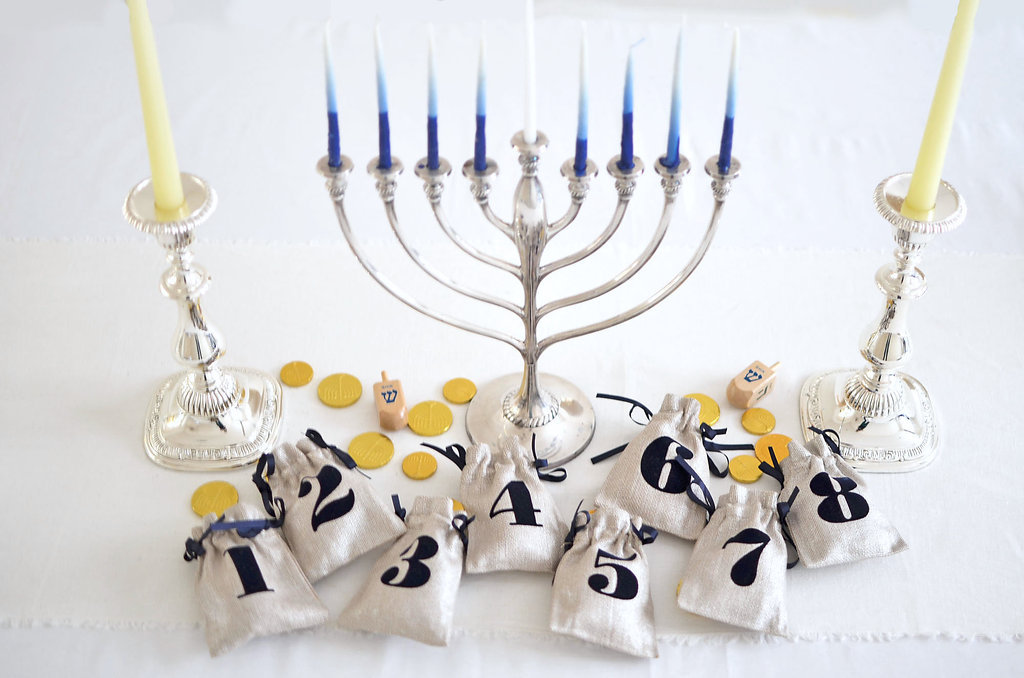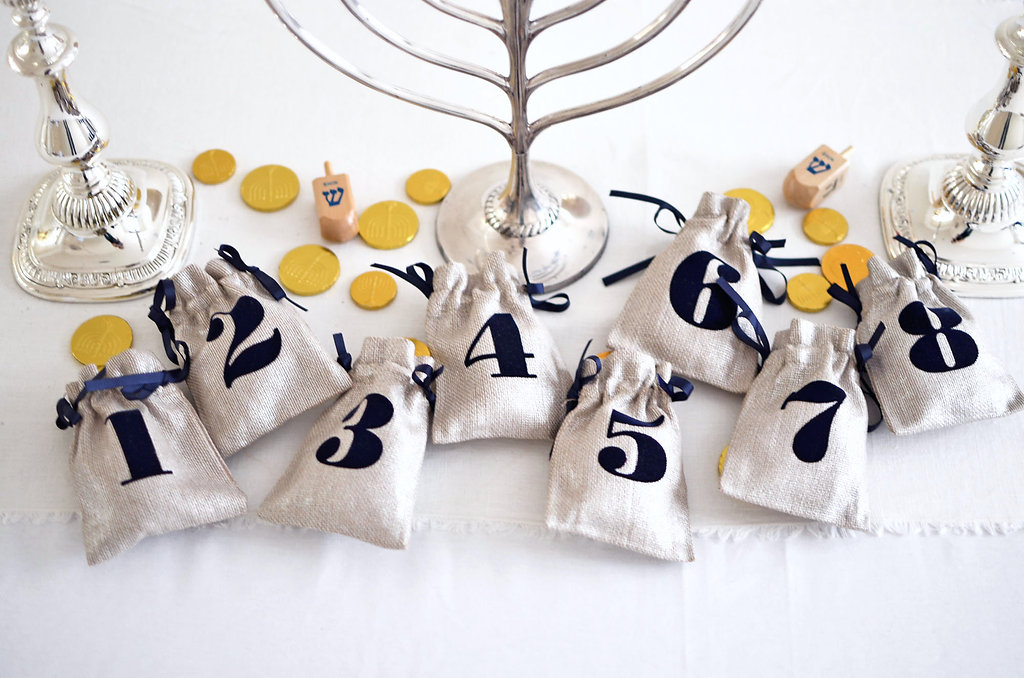 No matter what your family traditions are, from our Hanukkah table to yours, may your Festival of Lights be unforgettable for you and yours. And one more thing, it's a season for giving. Remember to do a mitzvah!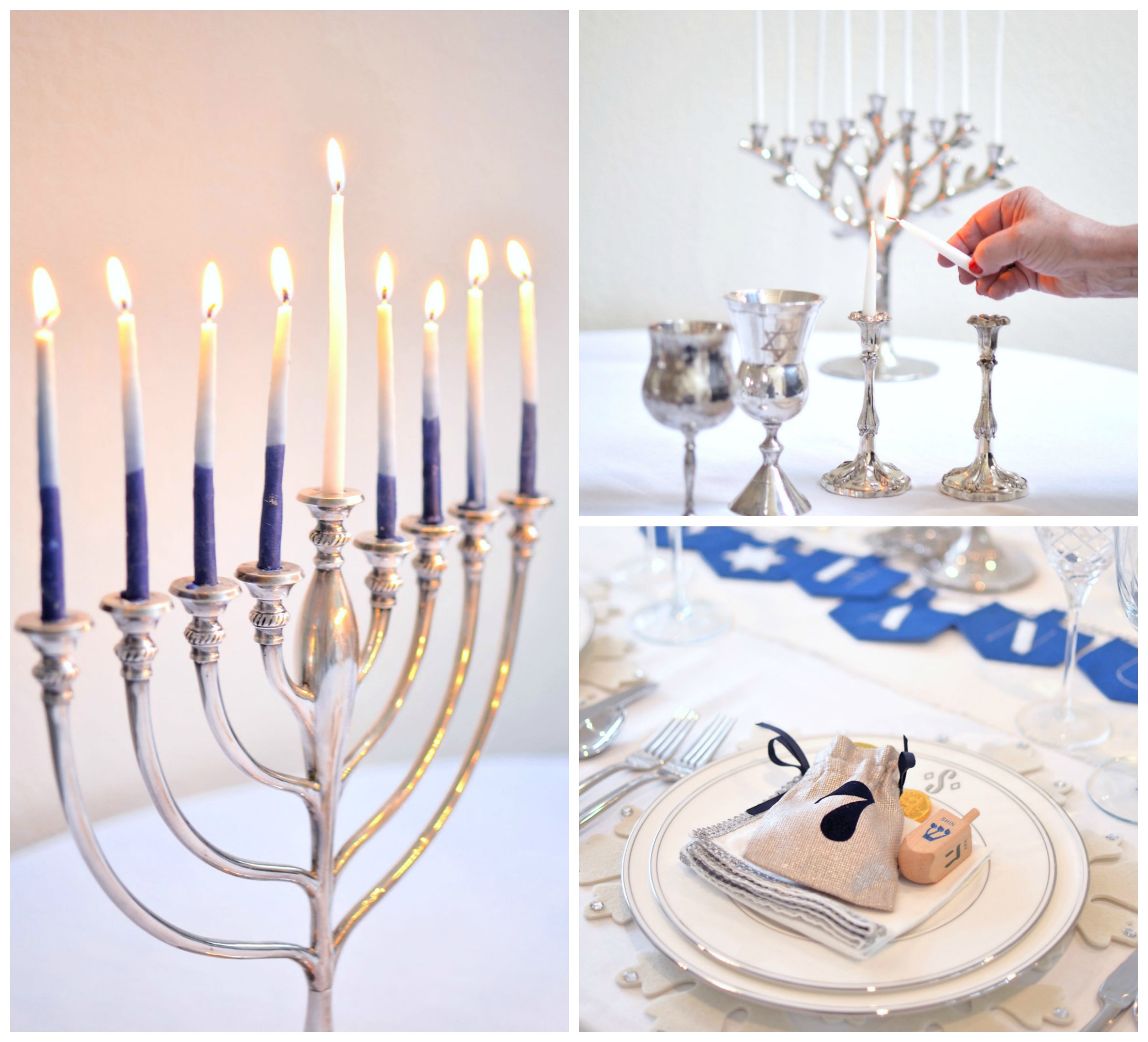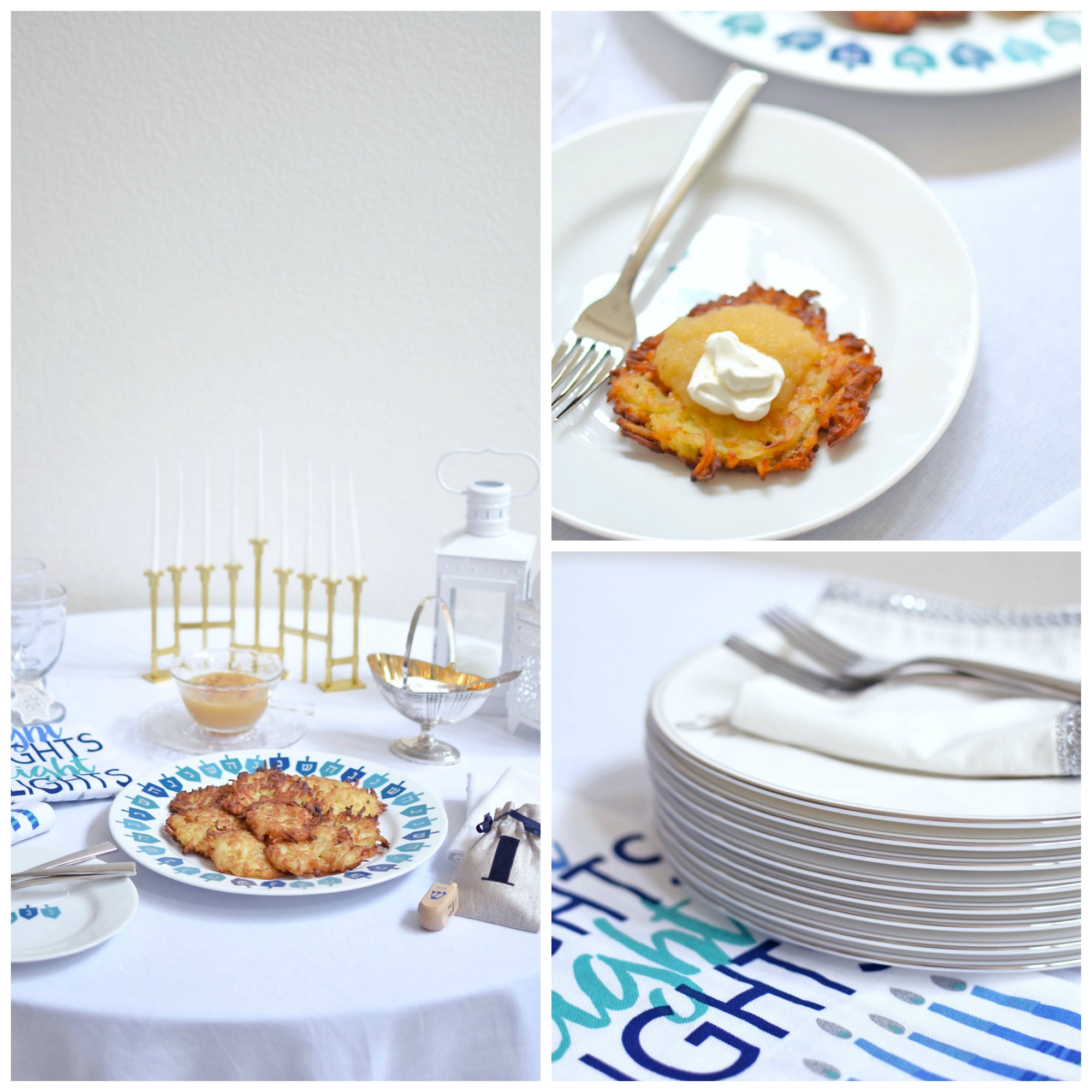 xx, Deborah