Host an Amazing Pre-Fireworks Get Together in the Backyard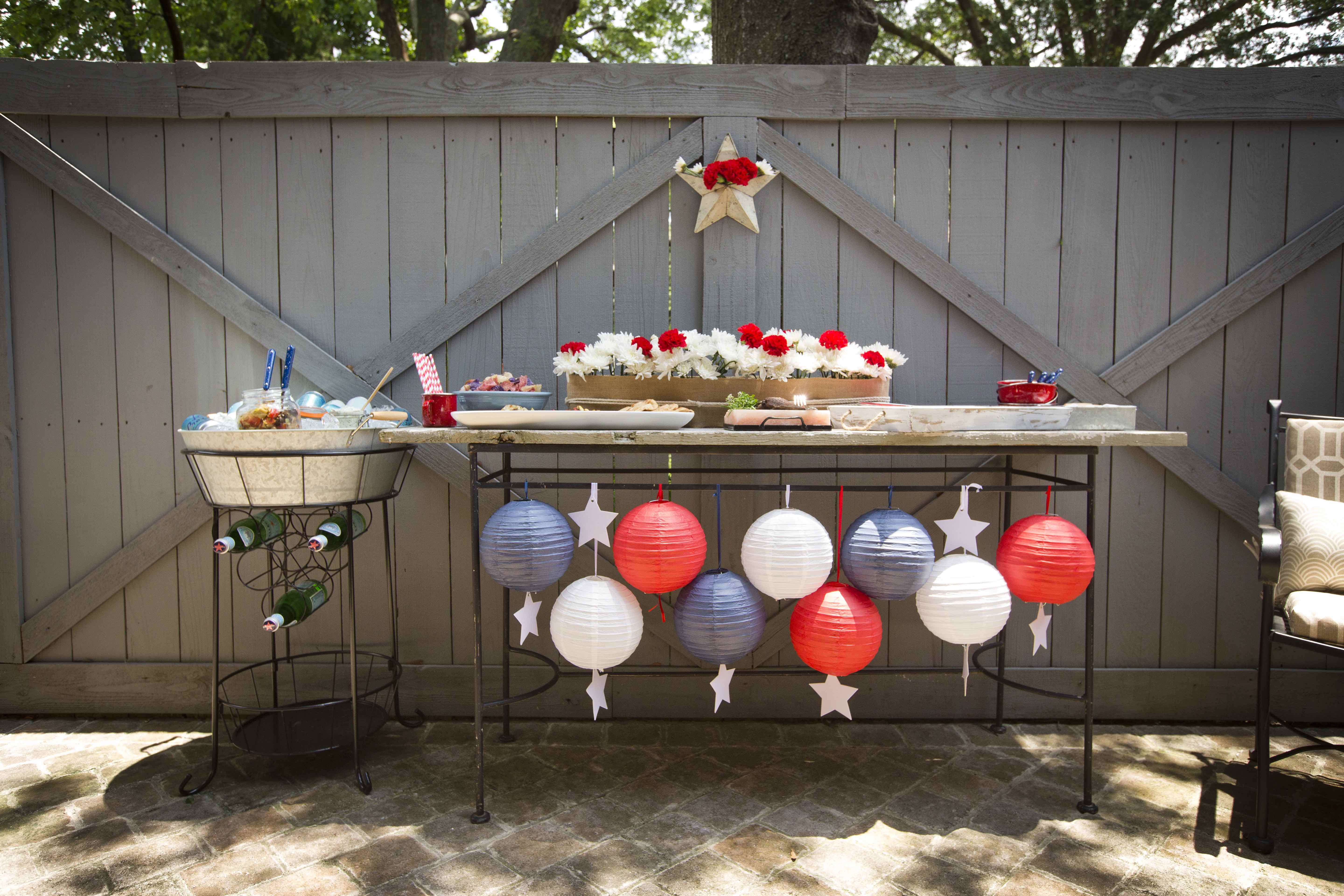 We love to host a low-key celebration at lunchtime on July 4th before we roll out later in the evening to catch the fireworks in the suburb where we both grew up.
We try to keep it simple and divide the day into two separate events so we're able to relax and recharge in-between.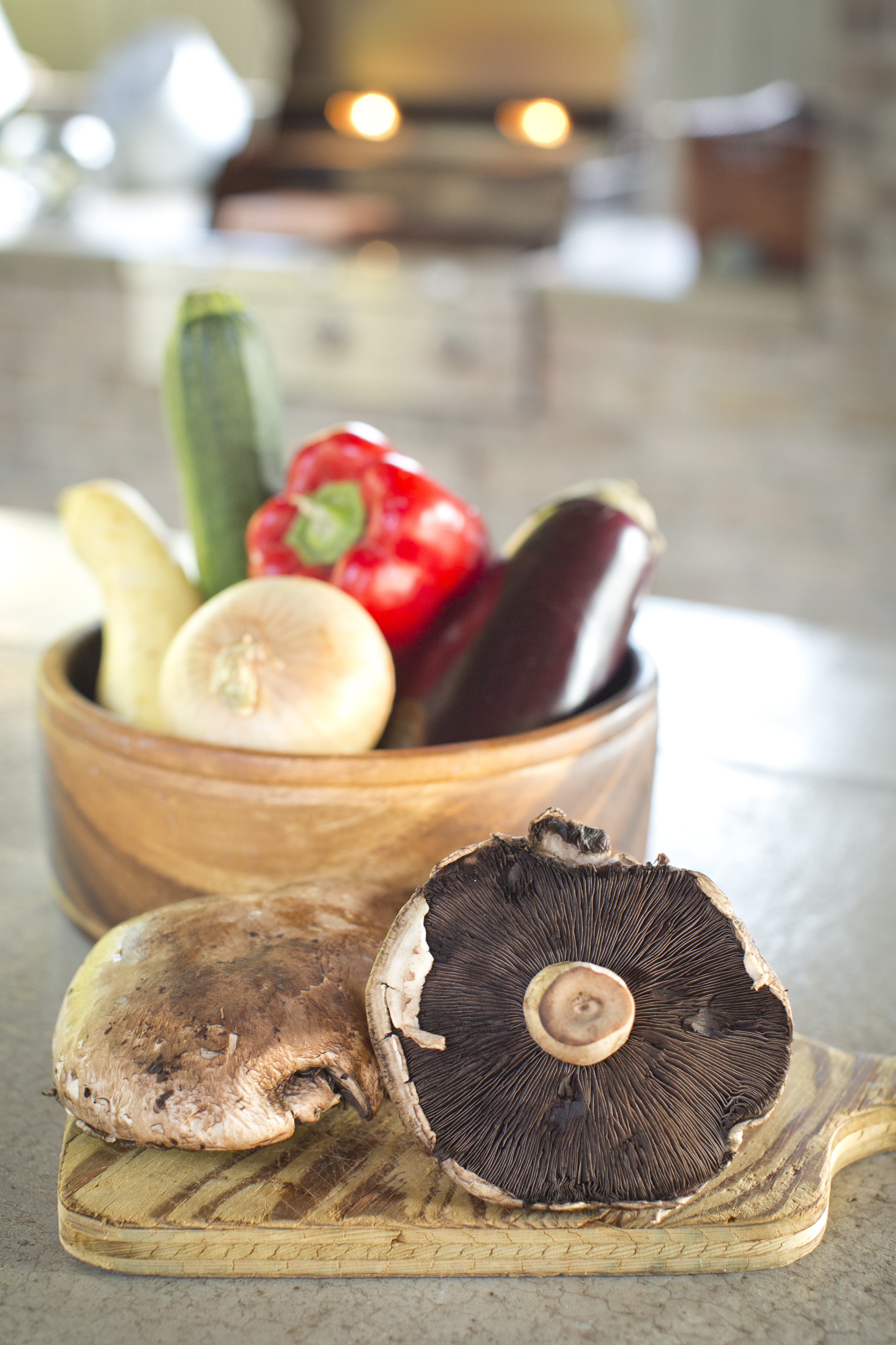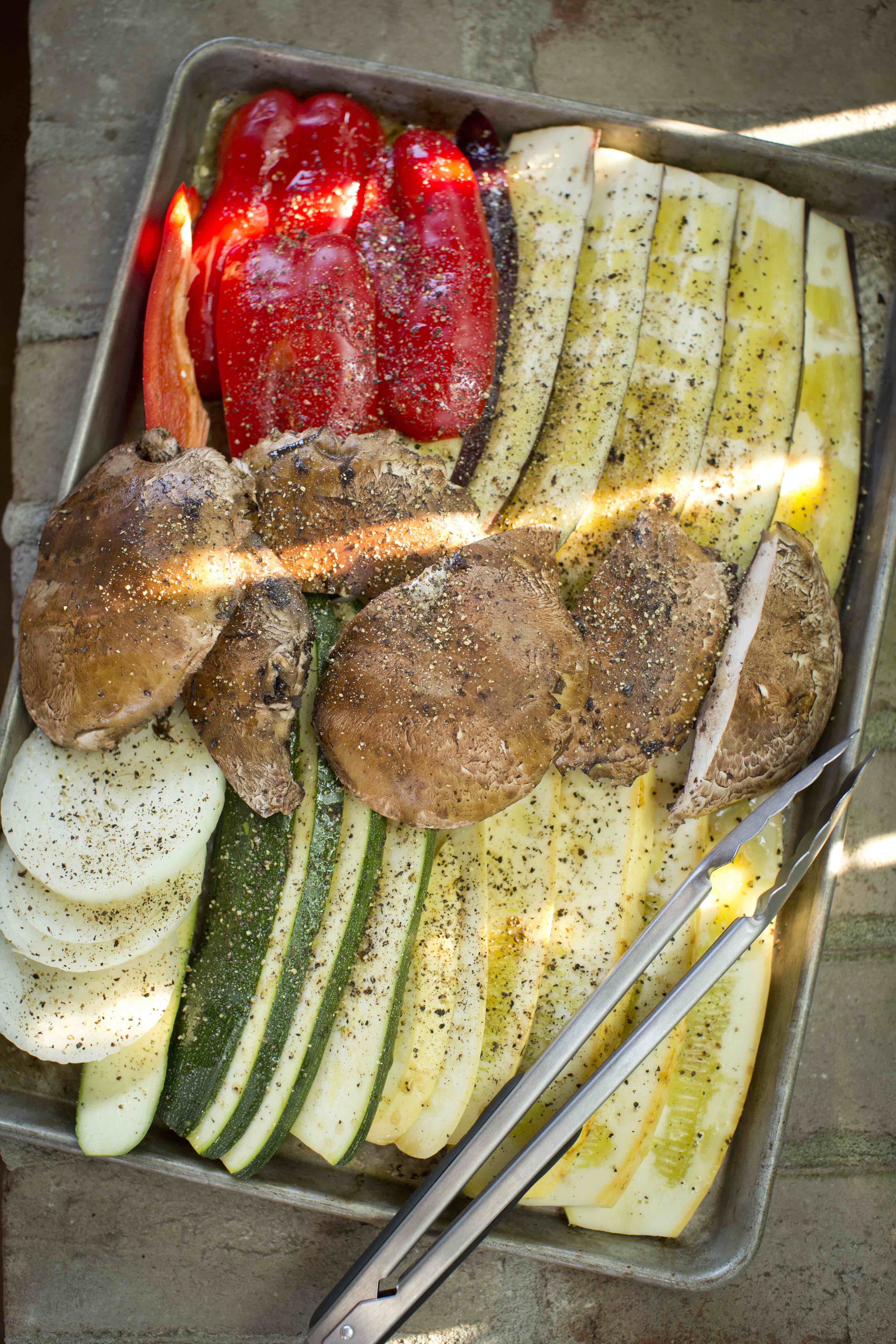 This 4th of July, we wanted to highlight as many different vegetables and herbs as we could in our party menu. Our idea was to top whole wheat naan flatbread, which is available at most natural foods grocery stores, with a basil-and-goat cheese spread plus grilled peppers, onions, yellow squash, and zucchini.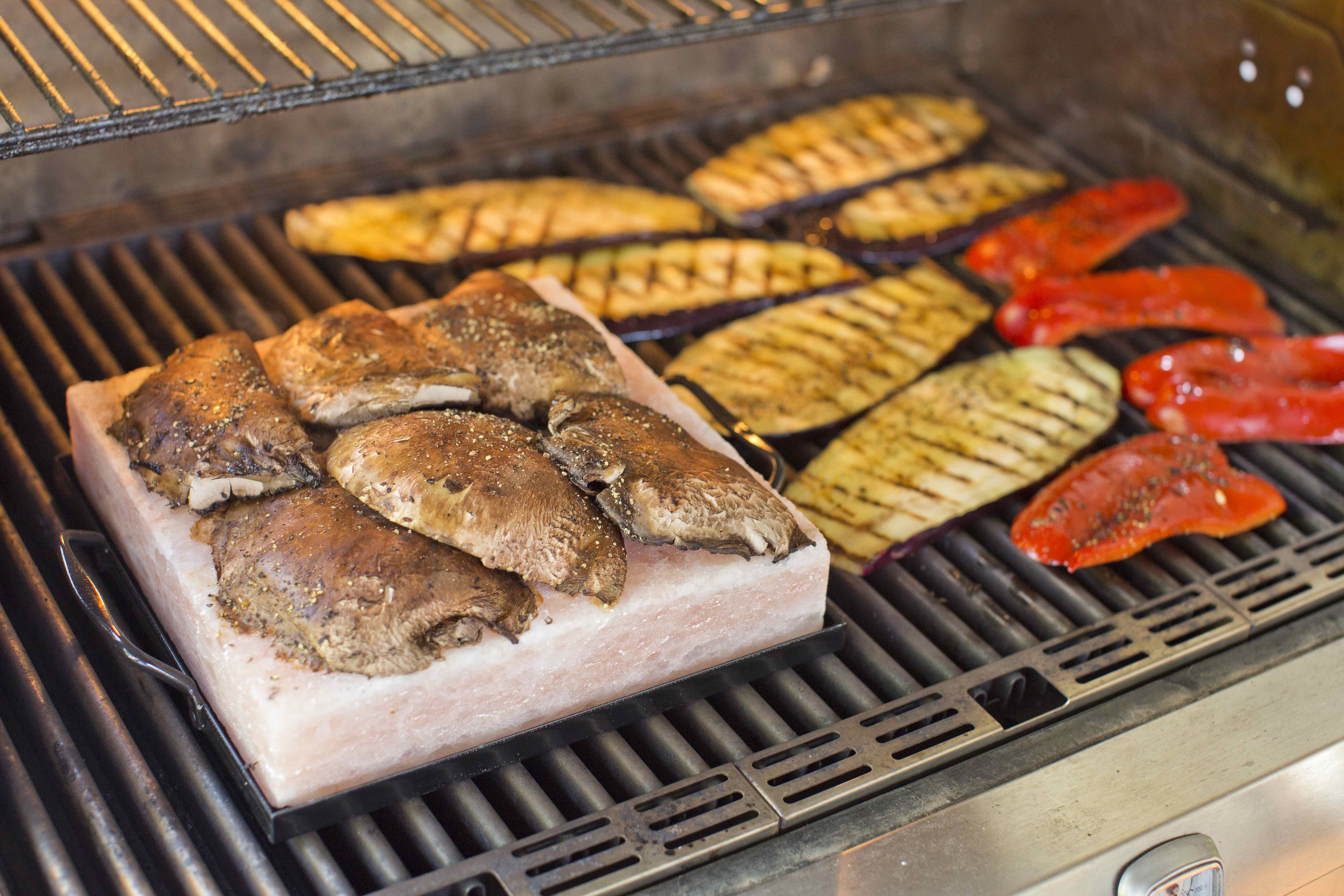 We also used Charcoal Companion's Himalayan Salt Plate to flavor portobello mushrooms on the grill for this dish because the block of salt imparts an almost impossibly savory flavor that a sprinkle of salt just can't accomplish on its own. The salt plate includes an enameled metal holder that makes it easier to move onto the table for a nice presentation. You'll want to show this thing off at the party! It's a conversation starter.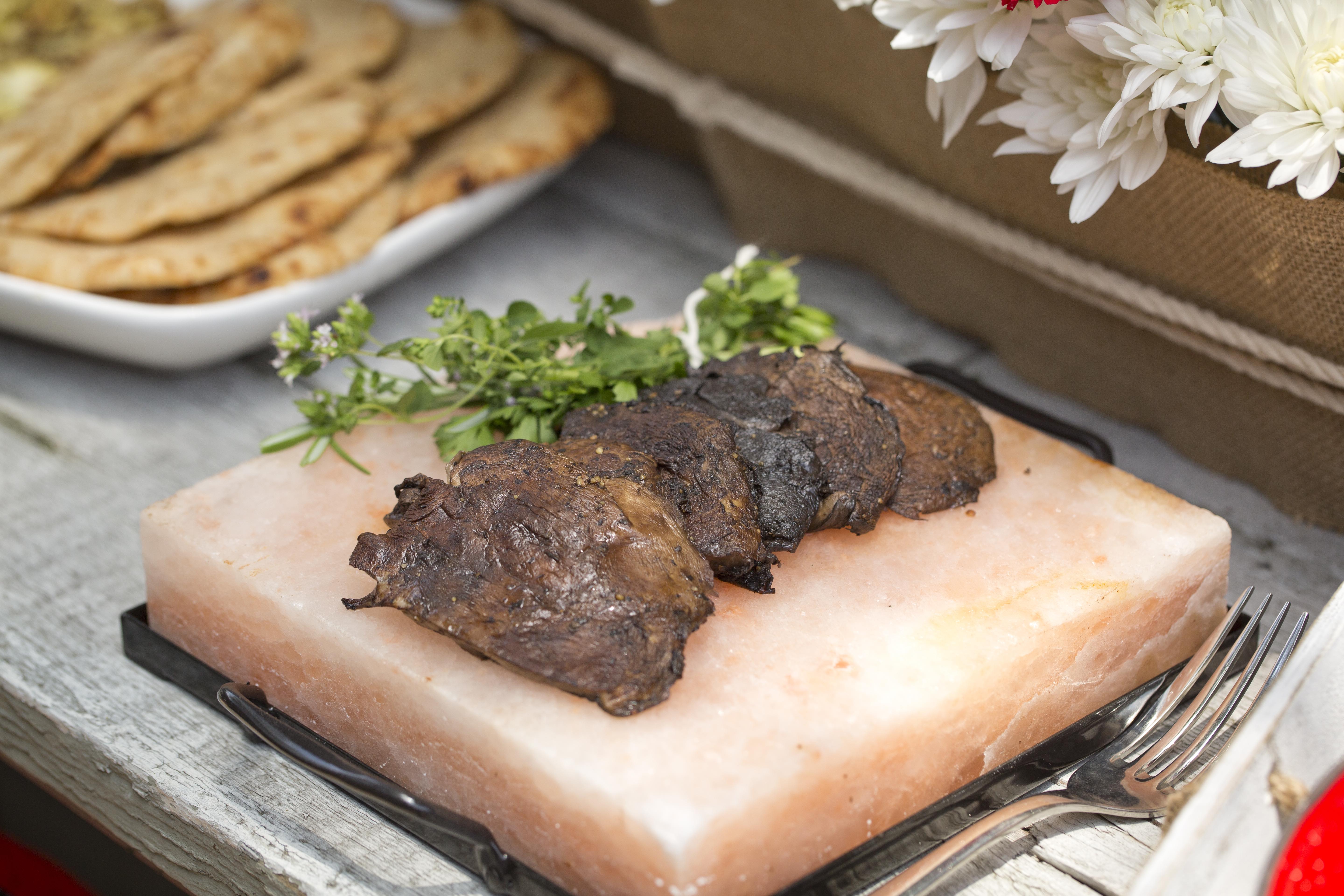 The accompanying Basil Cheese Spread goes on the naan first, and a little extra can also do excellent job as a dip for red, white, and blue potato chips on the side.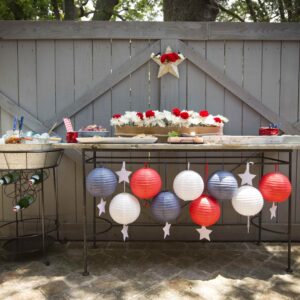 INGREDIENTS
7 ounces whole milk ricotta cheese
5 ounces soft goat cheese
1 large bunch basil (about 2 cups; stems removed)
Juice from 1 lemon
1 clove garlic
INSTRUCTIONS
Add the ricotta, soft goat cheese, basil leaves, lemon juice, and garlic into your food processor and blend until basil is finely chopped and the mixture is smooth.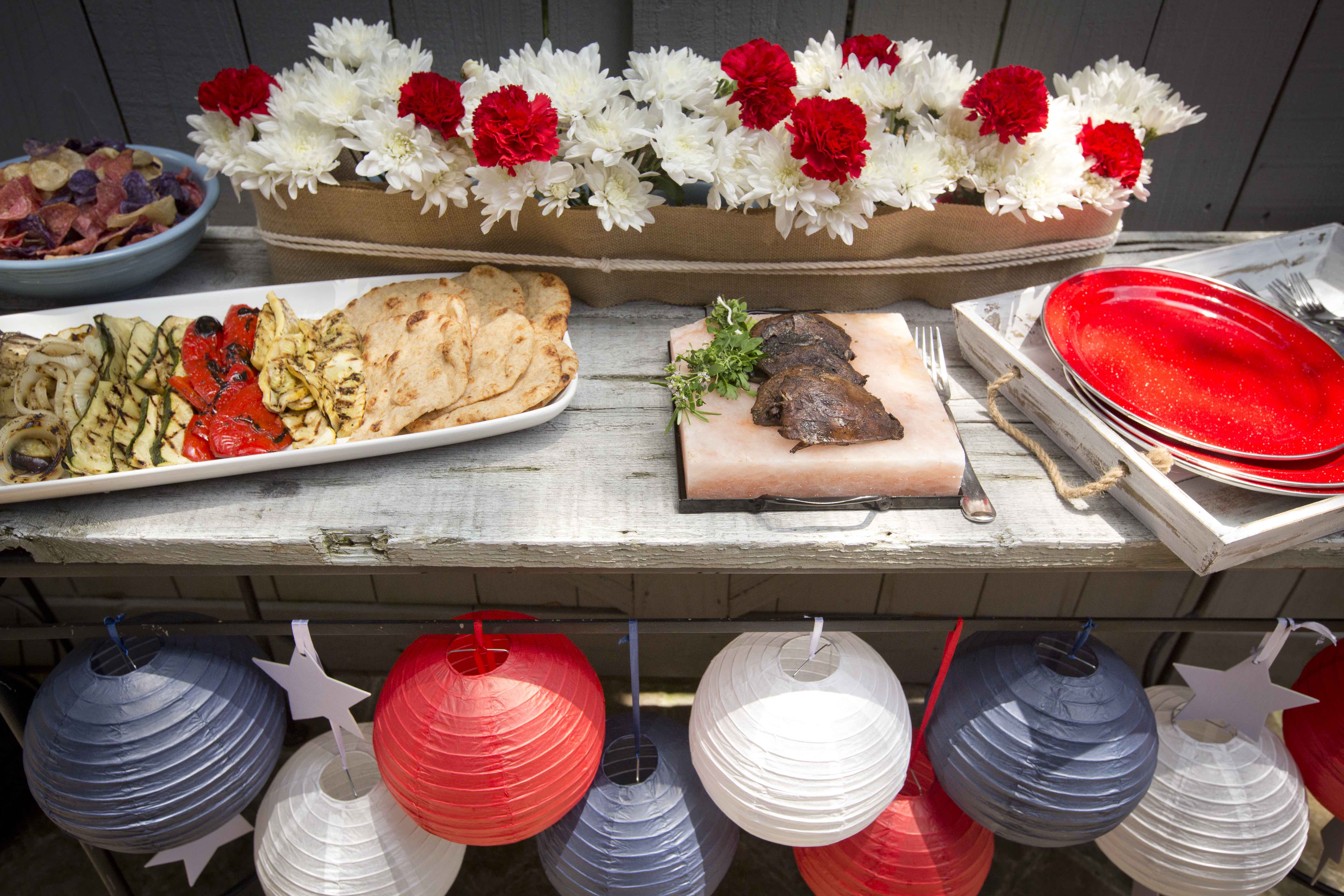 Party Planning Tip: It's great to have a drink stand loaded with ice and beverages instead of bothering with a cooler. We set ours up a little bit away from the action to keep the party flowing. The Artland Oasis Galvanized Steel Party Station provides plenty of room for everything you need to drink—we make sure to include regular water and seltzer along with juice boxes or lemonade for the kids—and it does double duty since we use it as a way of keeping a couple of small dishes at the proper temperature once we're ready to have lunch.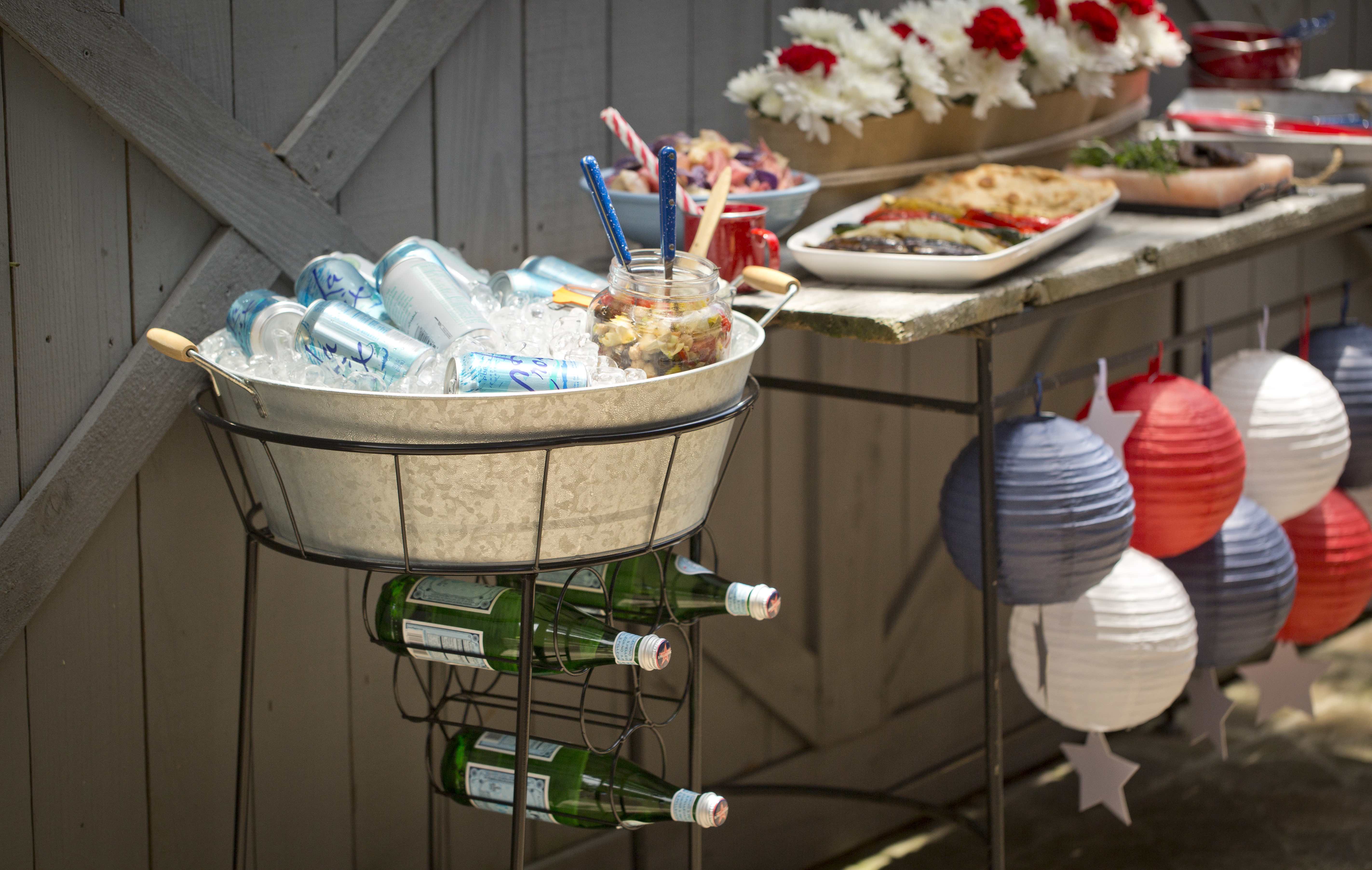 Just set up the dishes in bowls or shallow jars, nestle them in the cool depths, and have everyone serve themselves. Hungry guests can pile their sandwich as high as a mountain while lighter eaters can grab a few grilled vegetables and keep chatting.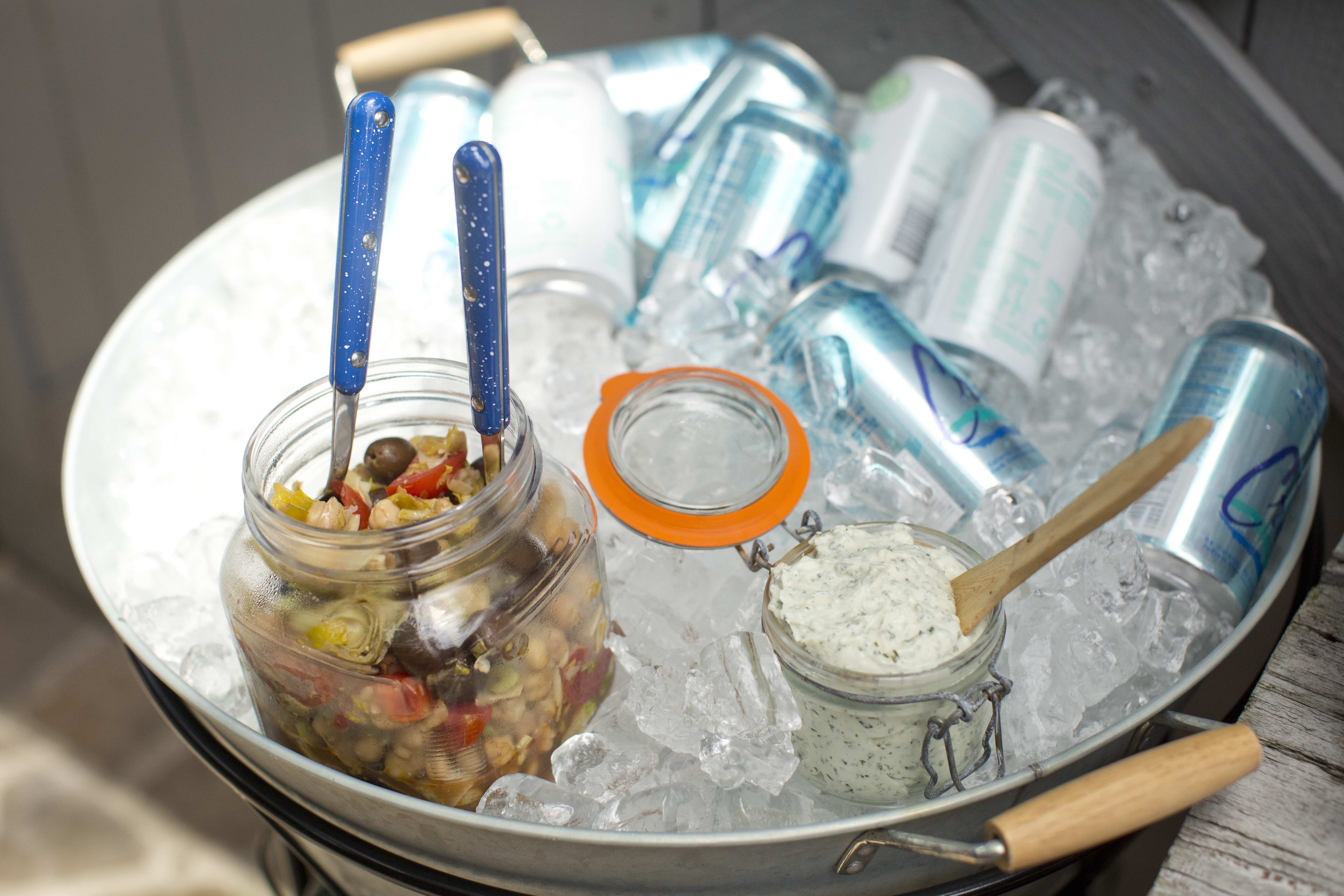 Mediterranean Mixed Salad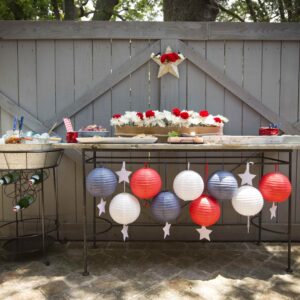 INGREDIENTS
1 can black olives (drained)
1 can chickpeas (drained)
1 can artichoke hearts in water (drained, roughly chopped)
4 to 5 medium pepperoncini peppers (de-stemmed, roughly chopped)
1 cup sliced celery (2 small ribs with leaves)
5 small tomatoes (cut into eighths)
1 tablespoon balsamic vinegar
1 tablespoon olive oil
1 teaspoon finely chopped fresh chopped rosemary
Kosher salt and cracked black pepper (to taste)
INSTRUCTIONS
Into a large bowl, add the olives, chickpeas, artichokes, peppers, celery, tomatoes, vinegar, olive oil, and rosemary.
Add Kosher salt and cracked black pepper to taste.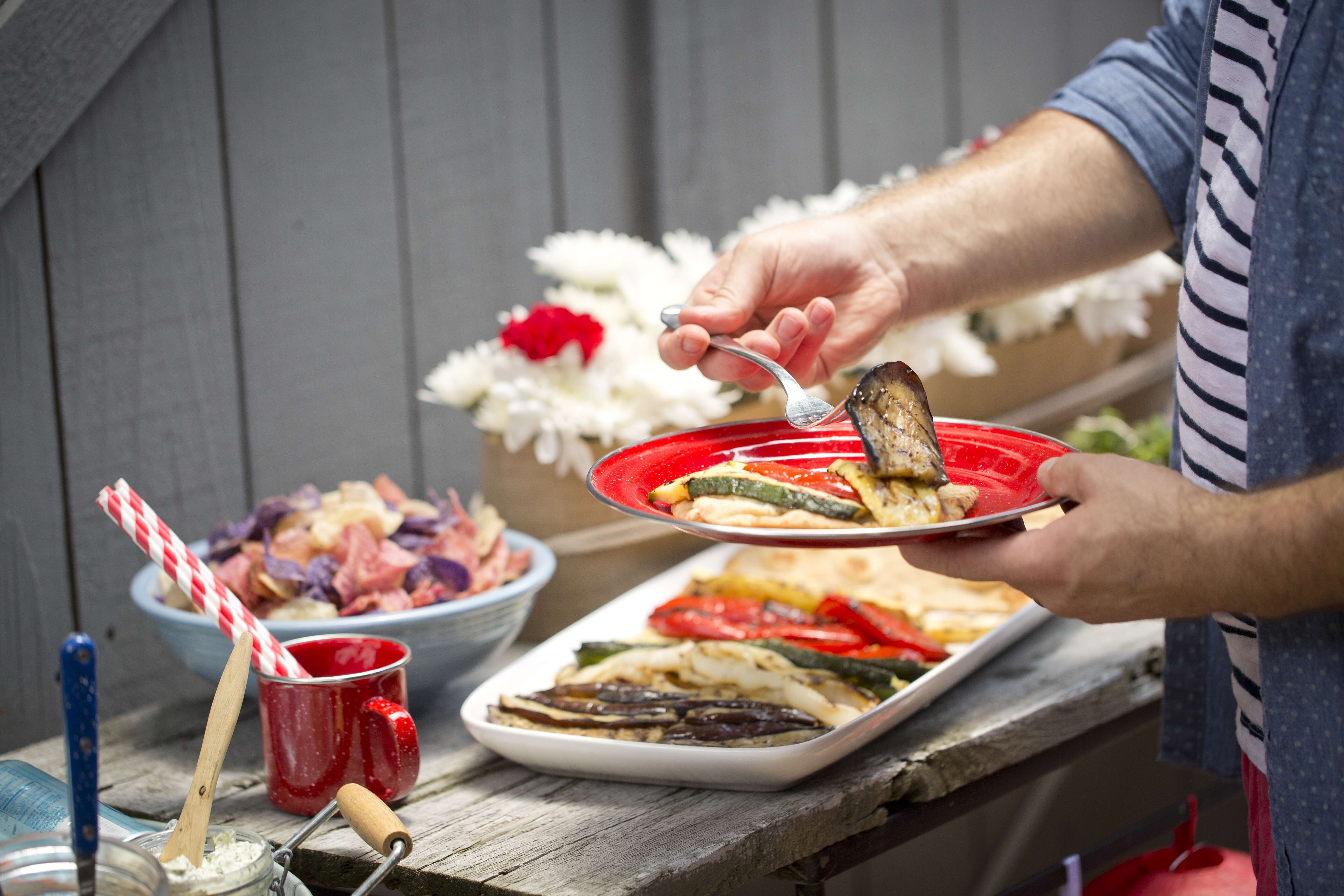 We sometimes use ceramic plates for meals outside and occasionally use compostable items if we're hosting a large crowd, but at a small gathering, it's nice to have something in-between the two that's also festive. A 12-piece Red Enamel Table Set from GSI Outdoors along with the GSI Outdoors Pioneer Blue Cutlery Set offer a jaunty nod to the holiday, and we were thrilled that everything's dishwasher safe. We like to choose items that can be used apart from just one single occasion, and the red plates will make their way into regular rotation as we entertain throughout the warmer months.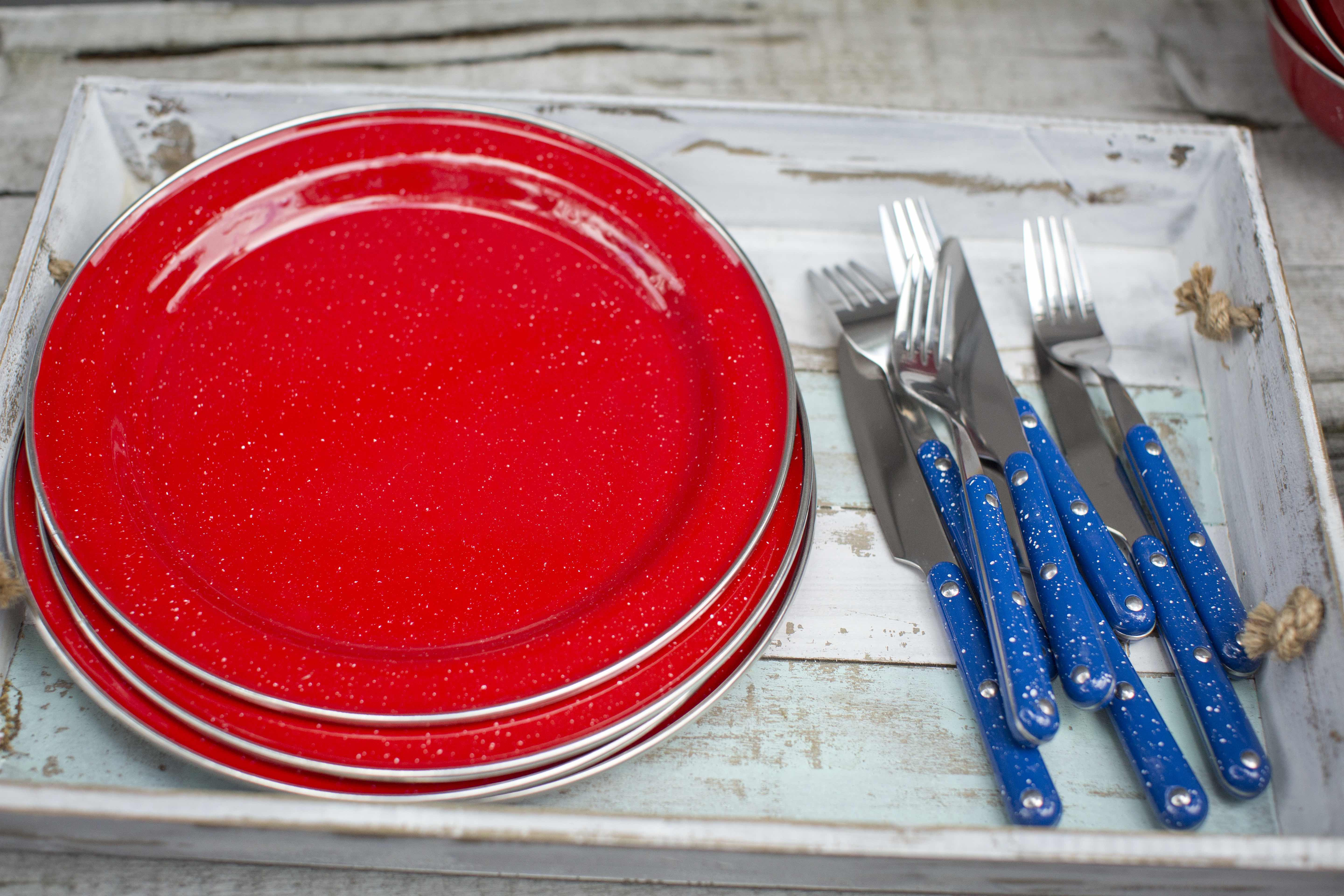 Artland Oasis's Galvanized Steel Napkin Holder with handles that fold in ensures a gust of wind or the multiple fans we keep going won't let the napkins blow away and make a mess of things.
Aside from cooking and prepping ahead of time, there's one more task that will ensure an easygoing, carefree vibe: tackle the bug issue in a multitude of ways. We live in the South, and while we always lament the mosquitos and flies, we don't want to resort to using harsh chemicals to fight them off. Whenever we have folks over in the summer, we light citronella candles and place some natural bug spray in a prominent place so everyone who needs it knows it's around.
A couple of new things we're adding to the battle this year are applying a thorough covering of lemongrass yard spray an hour or two before the party and then hanging up Pic Pest Free Living's Mosquito Repellent Lanterns with geraniol, lemongrass, and citronella. The lantern sets include ribbons for hanging and white paper stars that hook onto the bottom of them, details we hadn't seen before. This four-pronged approach has made it easy for our guests to enjoy the meal and the company without being bothered by mosquitos, so we'll stick to this plan throughout July.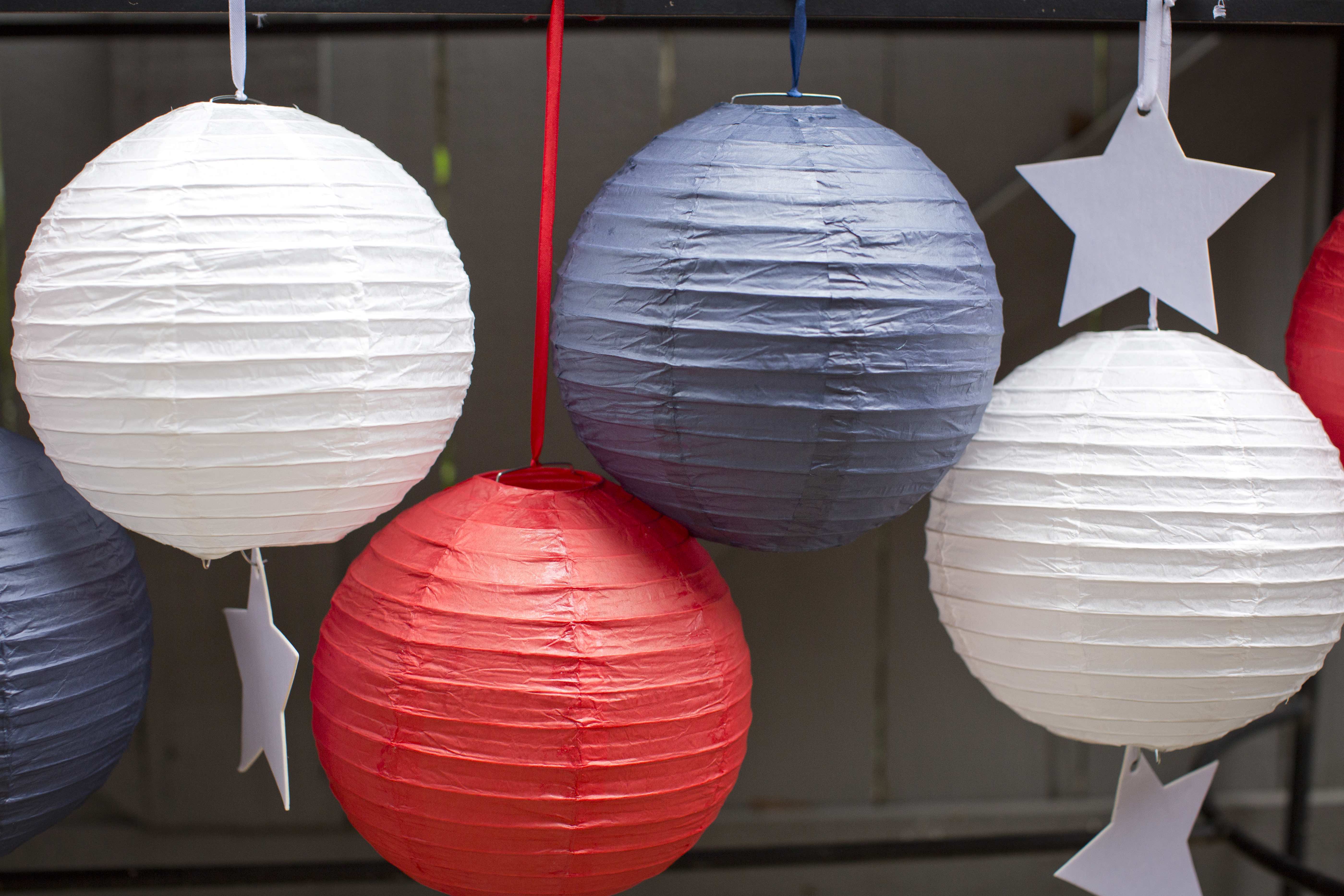 Our Open-Faced Grilled Vegetable Sandwiches with Salt Block Portobellos, Basil Cheese Spread, and Mediterranean Mixed Salad can easily be prepared ahead of time and kept refrigerated so that a casual gathering for the 4th goes smoothly from start to finish.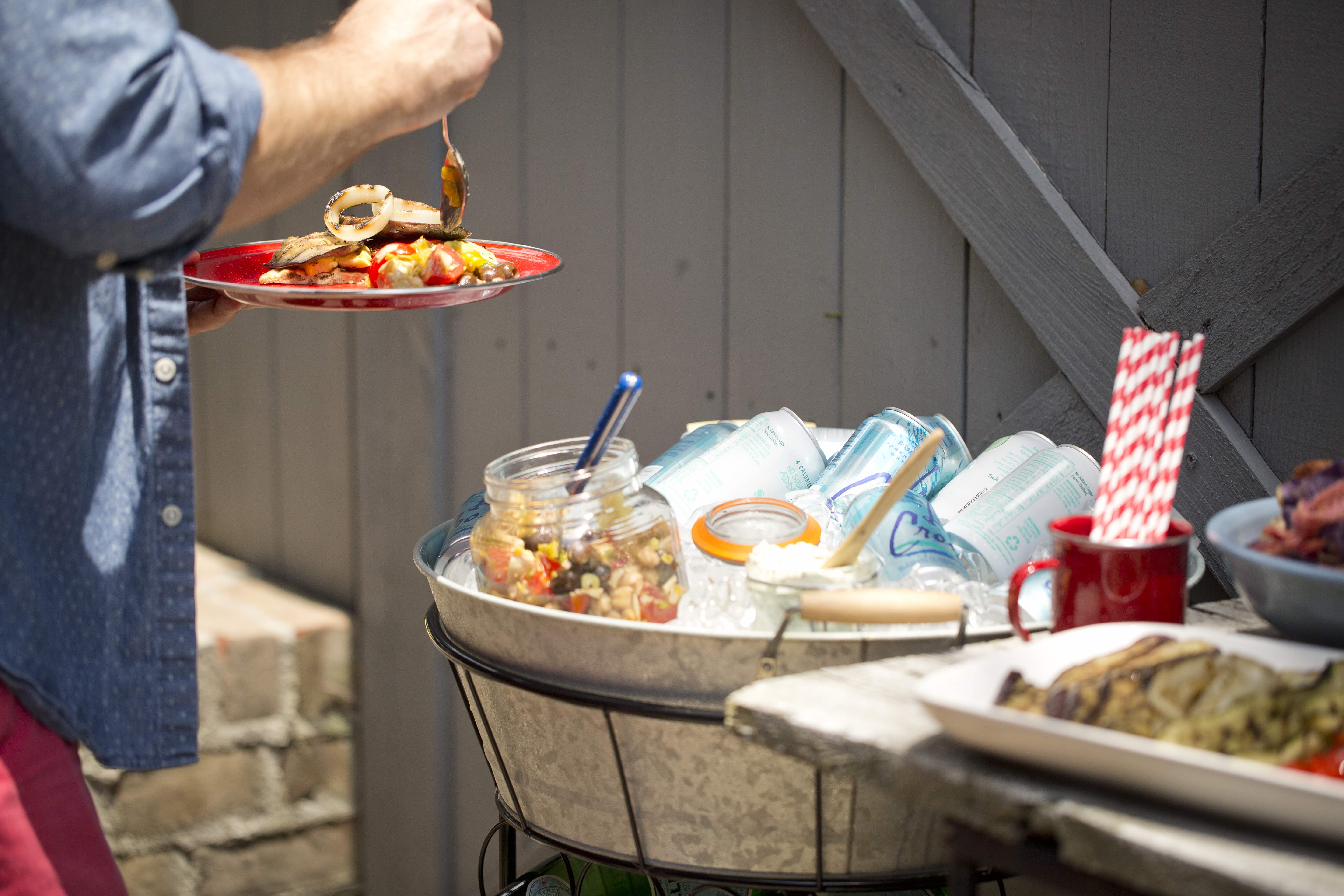 Open-Faced Grilled Vegetable Sandwiches with Salt Block Portobellos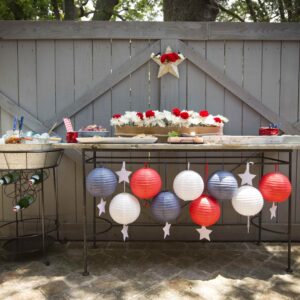 INGREDIENTS
3 large portobello mushrooms (stems removed, gills scraped out)
1 medium eggplant (sliced lengthwise into 1/4-inch slices)
1 large yellow squash (sliced lengthwise into 1/4-inch slices)
1 large zucchini (sliced lengthwise into 1/4-inch slices)
1 medium white onion (peeled, sliced into thirds)
2 tablespoon olive oil
1 tablespoon sherry vinegar
Kosher salt and cracked black pepper (to taste)
4 pieces whole wheat naan bread
Basil Cheese Spread (recipe follows)
INSTRUCTIONS
Place prepared vegetables on a large rimmed baking sheet and drizzle with the olive oil and vinegar. Add salt and pepper to taste to everything except the mushrooms. They will pick up flavor for the Himalayan Salt Plate, so there's no need to add salt to them.
Place the Charcoal Companion's Himalayan Salt Plate on your cold gas grill and set the heat to low. You want to bring the Himalayan Salt Plate up to temperature slowly so as not to crack it. After 10 minutes, increase the temperature to medium and finally after ten additional minutes, increase it to high. You will then be ready to cook on your Himalayan Salt Plate.
Place the mushrooms gill side down on the Himalayan Salt Plate for 10 to 12 minutes and then flip them and cook the other side for 10 to 12 minutes. While the mushrooms are cooking, grill the other sliced vegetables on the grill grates for 3 to 4 minutes per side.
Remove all vegetables to a serving platter with the naan and the Basil Cheese Spread. Allow your guests to create their own flatbreads or sandwiches by spreading 2 tablespoons of Basil Cheese Spread on 1/2 of a piece of naan bread and piling on as many vegetables as they'd like.
For an easy dessert, just slice peaches over vanilla ice cream, and you're all set.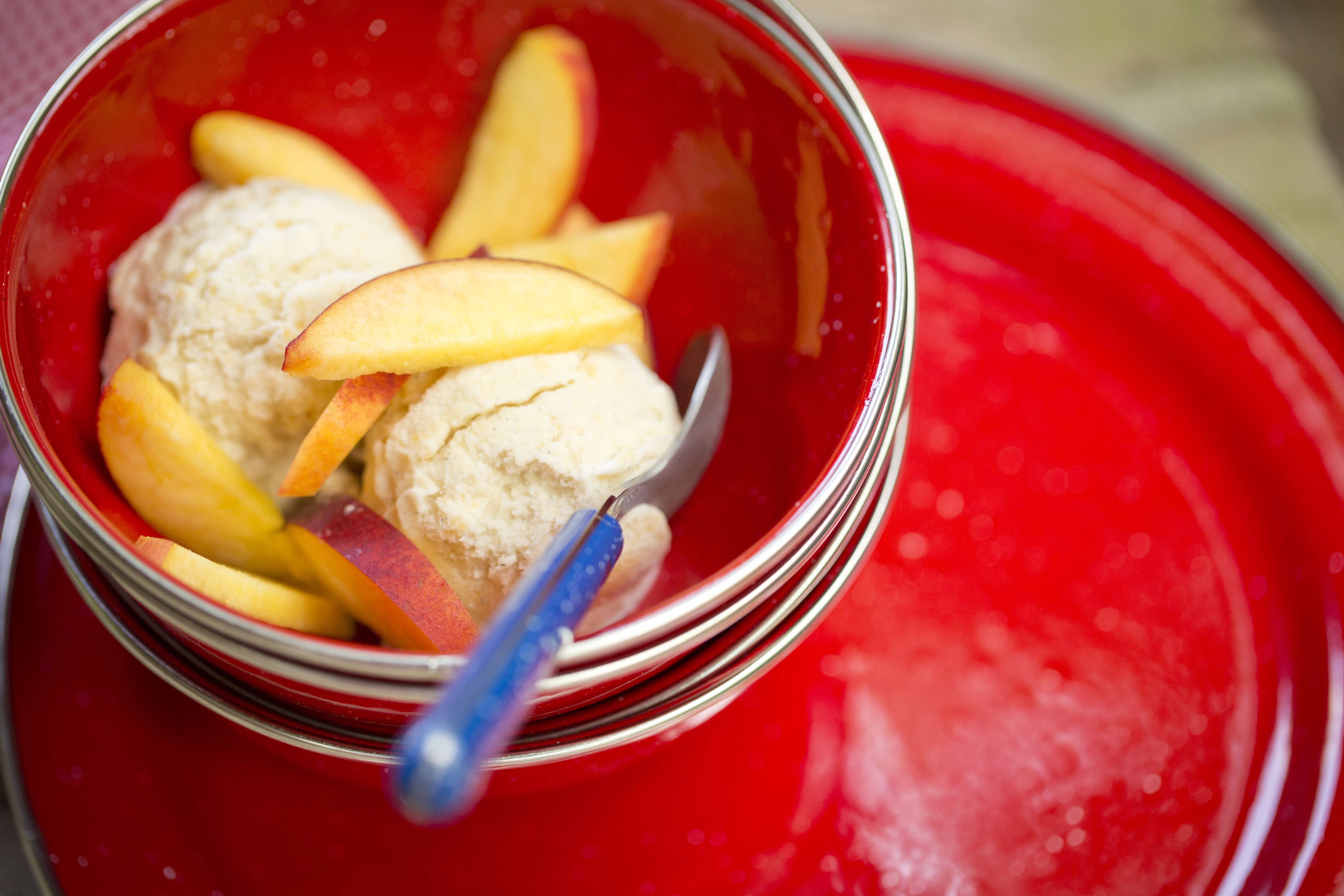 The only things left to do after that are to go all-out with red, white, and blue flower arrangements, cobble together your most patriotic outfit ever, and enjoy chillin' with your favorite folks.