Everything You Need to Throw an Amazing Al Fresco Summer Fiesta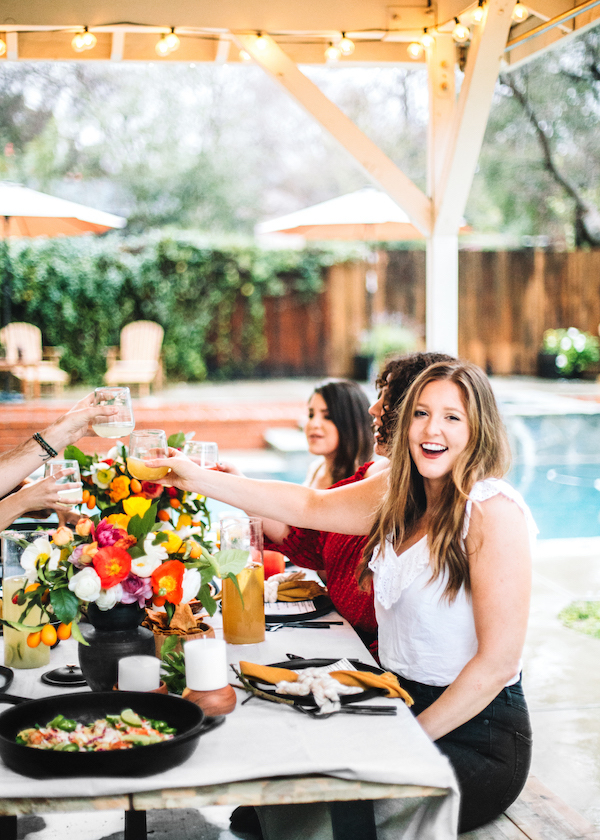 My three main philosophies in life: be kind to everyone, always put 100% into everything you do… and make time for a killer margarita. I repeat these three simple mantras to myself each week to try and find a little bit of calm and balance in my life.
Nothing brings balance like a dinner full of friends and family with Mexican flavors and vibrant colors abound, serving as inspiration for an al fresco summer evening.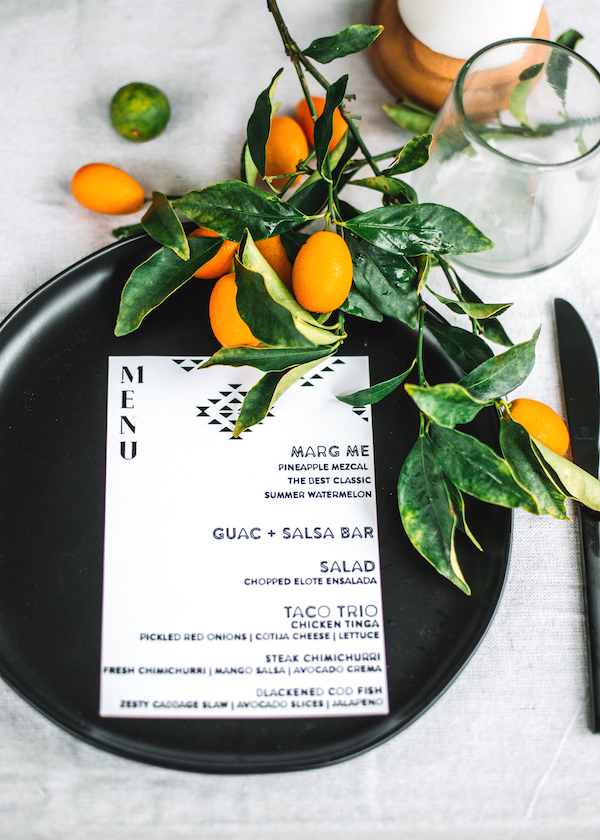 As a natural workaholic, I know how effortless it can feel to work Friday, Saturday, and even Sunday evenings to try and stay on top and get ahead. I am also all too aware of how quickly a day can pass without stepping away from screens. Most importantly, I have come to realize how vital it is to just stop and be present with friends and family.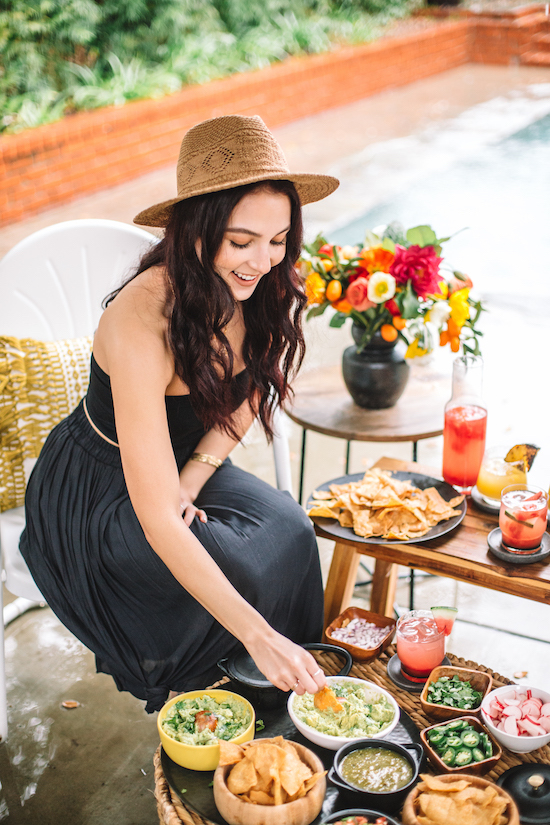 When I want to unwind, inviting a handful of close friends over for a dinner in the backyard always does the trick. There is something about having my people over for a casual evening that balances me out and forces me to be present for them and for myself.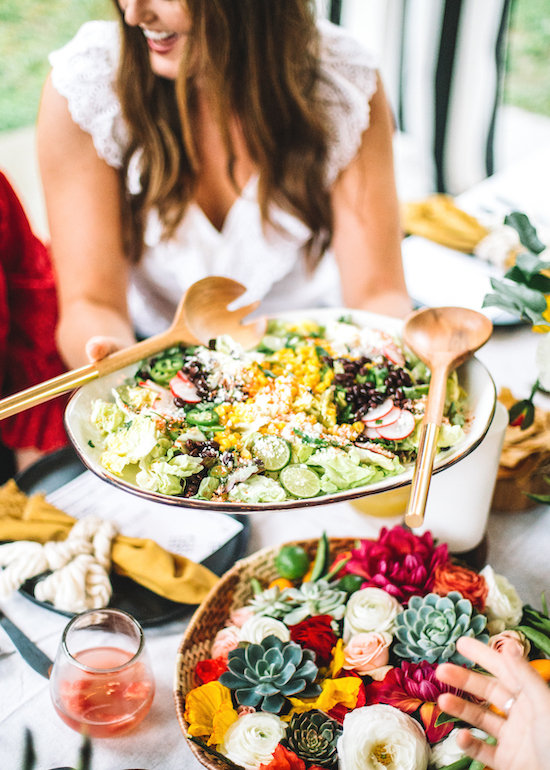 My go-tos for a night of personal harmony are ice-cold pitchers of margaritas and a trio of tacos. For me, nothing says "hot summer night" quite like revitalized street tacos and freshly squeezed pineapple mezcal margaritas. And of course, plenty of chips and guac to go around.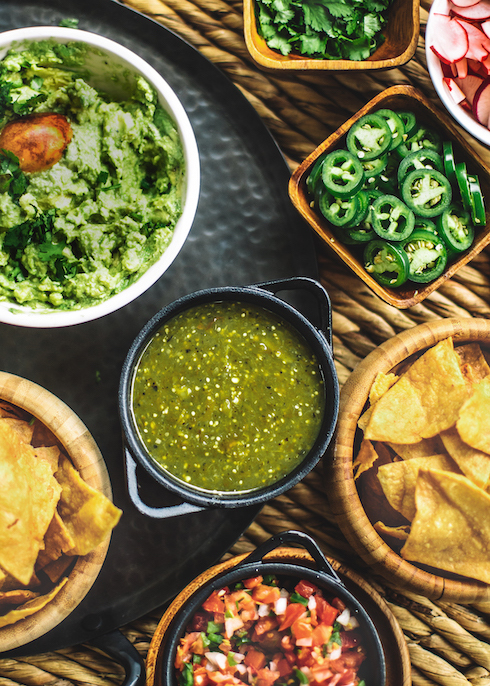 Making time to set a table, artfully arrange some blooms, and try a new taco recipe are playful activities I absolutely adore, and making time for them fosters my own personal symmetry after a hectic work day.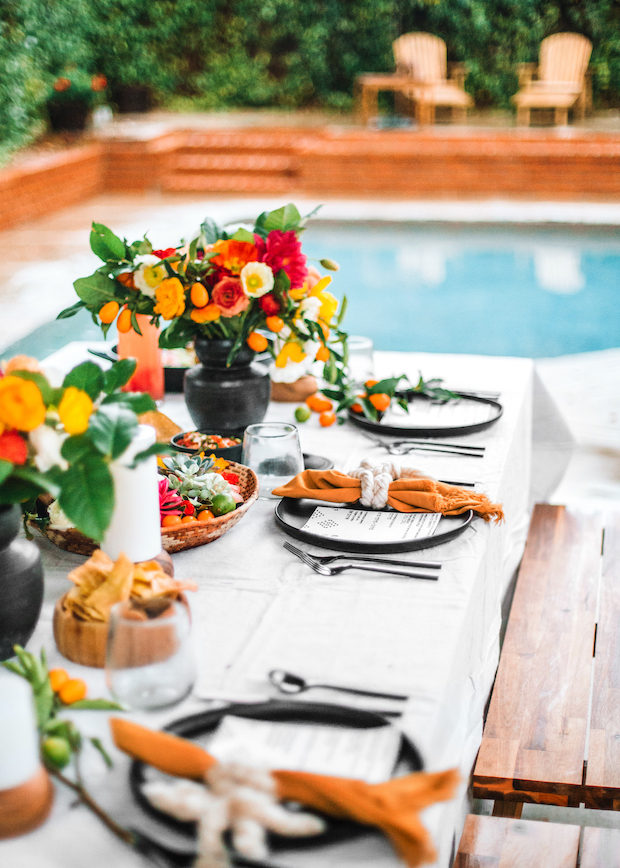 The Margaritas
While I love having a smoky, fruity margarita like this pineapple mezcal version, I know that's not everyone's cup of tea. So I love to also make up a pitcher of classic margaritas that everyone can enjoy.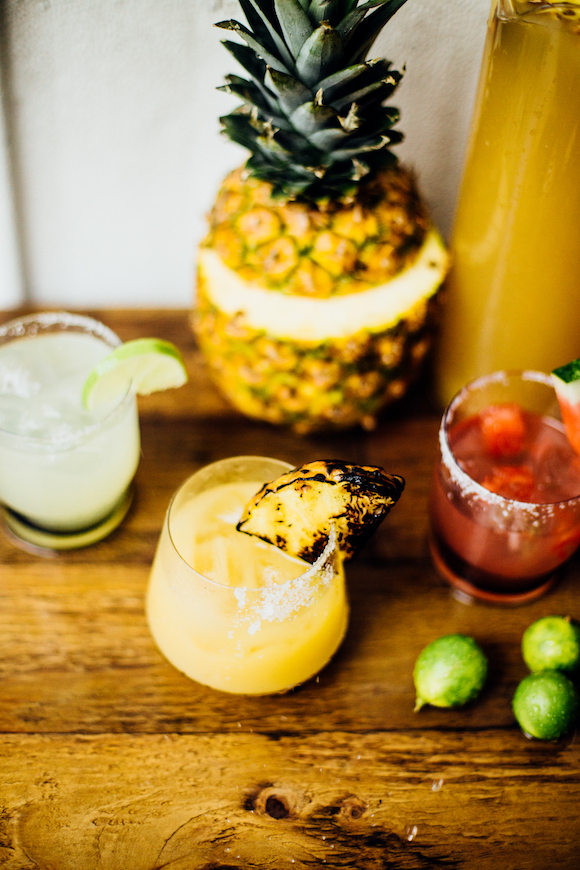 Pineapple Mezcal Margaritas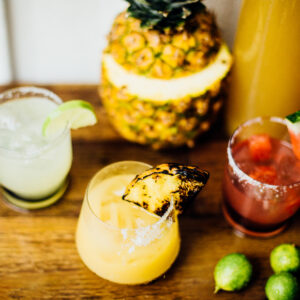 INGREDIENTS
2 thick slices fresh pineapple
2 cups diced fresh pineapple
6 tablespoons agave nectar
2 cups pineapple juice
½ cup orange liqueur
½ cup mezcal
Juice of 4 limes
INSTRUCTIONS
On a hot grill (we used a grill pan) cook the pineapple slices on each side for 1-2 minutes. You want the slices to be just charred and not burnt. Cut into wedges and reserve for garnish.
In a large cocktail shaker or glass beaker add in pineapple chunks and agave. Muddle together for a minute or until pineapple has been smashed and the juices released.
Add in pineapple juice, orange liqueur, mezcal, and lime juice. Stir or shake well (30-60 seconds). Strain cocktail into a glass filled with crushed ice. For extra pineapple flavor, strain 3⁄4 of the cocktail and leave the rest unstrained.
Garnish with charred pineapple slices.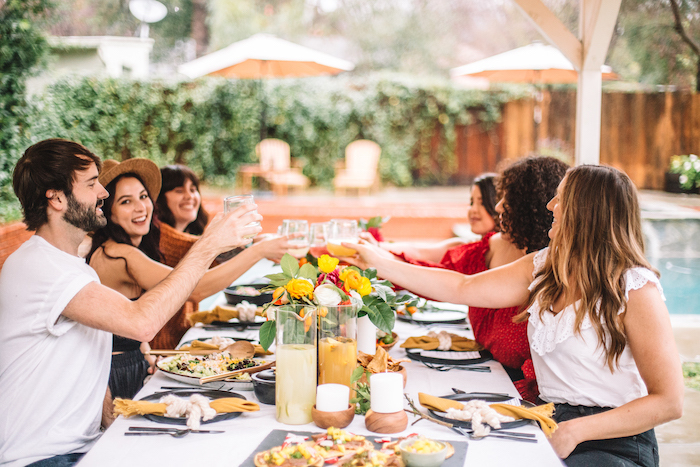 Pitcher of Classic Margaritas
Gather all of your friends for an evening of Mexican inspired street fare with this pitcher of classic margaritas.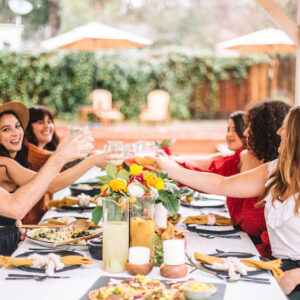 Ingredients
.5

cups

kosher salt

3.5

cups

reposado or añejo tequila

2.5

cups

freshly squeezed lime juice, strained

1

cups

Cointreau or orange liqueur

.5

cups

cup agave nectar

Crushed ice

Lime wedges
Instructions
Pour the salt into a shallow dish. Rim 6-8 lowball glasses with a lime wedge and dip into the kosher salt.

In a large pitcher add the tequila, lime juice, Cointreau, and agave to taste, and stir for 30 seconds. (Note: the agave nectar is totally to your preference! Some days I like a sweeter margarita and put the full cup of agave and other days I only like a small amount. Start out with 1⁄2 cup and taste test your way up.)

Place the margarita batch into the fridge for 1-2 hours before serving or fill glasses with crushed ice. Garnish with lime wedges and serve.
The Tacos
First up, we have the Blackened Cod Fish Tacos. This deliciously spiced fish can either be cooked on the grill or in a cast iron. Then you top with avocado, jalapeños, and a delicious and zesty cabbage slaw.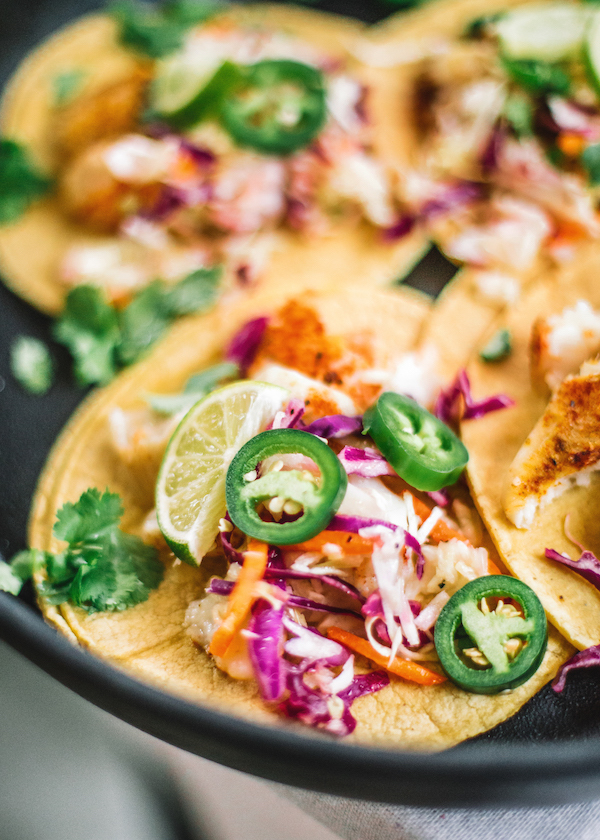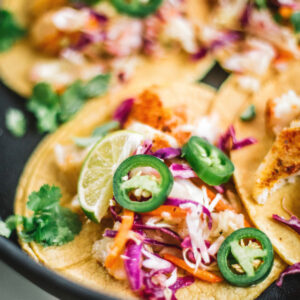 INGREDIENTS
For the Blackened Fish:
2 teaspoons smoked paprika
1 ½ teaspoons onion powder
1 ½ teaspoons garlic powder
1 teaspoon dried oregano
1 teaspoon brown sugar
1 teaspoon Kosher salt
½ teaspoon cayenne pepper
½ teaspoon ground black pepper
1-1 ½ pounds fresh cod fillets (or any white fish)
For the Zesty Cabbage Slaw:
2 cups cabbage blend, thinly sliced
½ cup chopped cilantro
1 teaspoon cumin
½ teaspoon salt
For the Toppings and Assembly:
1 avocado, sliced
2 jalapeños, thinly sliced
Zest Cabbage Slaw
Corn tortillas, taco size
INSTRUCTIONS
For the Blackened Fish:
In a small bowl, combine smoked paprika, onion powder, garlic powder, dried oregano, brown sugar, salt, cayenne pepper, ground black pepper, and mix to combine spices.
Rub cod fillets with blackened spice blend on each side of fish fillet.
Grease your grill well and turn to medium heat.
Note: you can also use a cast iron grill pan; just be sure it's well-oiled. Cook fish for 1-2 minutes on each side. Remove from grill and break into chunks.

For the Zesty Cabbage Slaw:
In a medium bowl, toss the cabbage, cilantro, lime juice, cumin, and salt.
Cover and refrigerate until tacos are ready to be assembled.
To assemble:
Heat corn tortillas on a gas stove top or cast iron skillet for 30 seconds.
Layer on chunks of blackened cod, a handful of cabbage slaw, avocado slices, and jalapeño slices.

Next up, for those meat lovers, the Steak Chimichurri Tacos. These delicious tacos have 4 parts: the steak, the chimichurri, a sweet & spicy mango salsa, and a creamy avocado crema.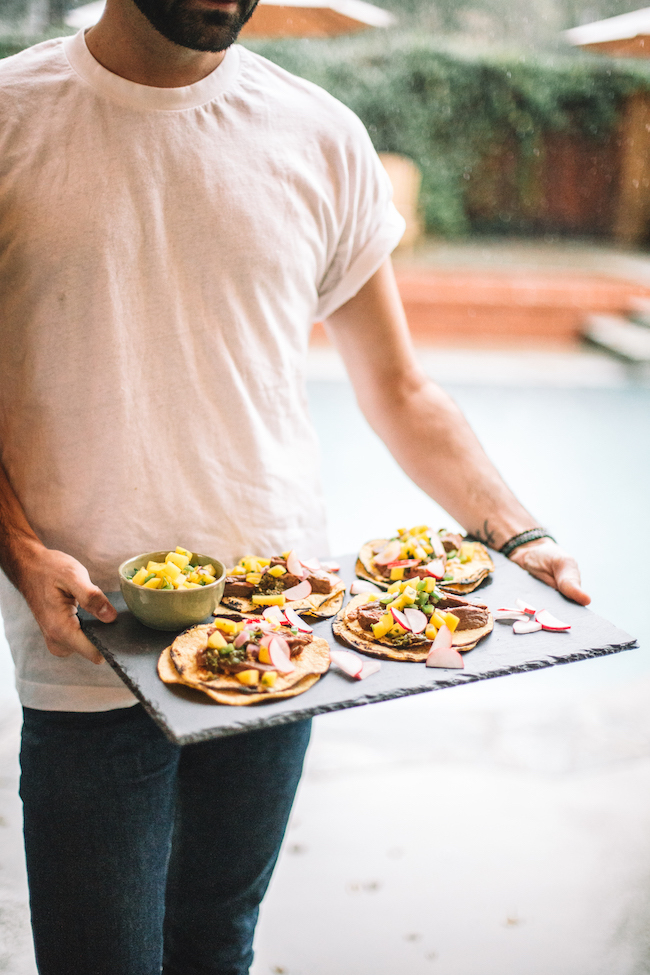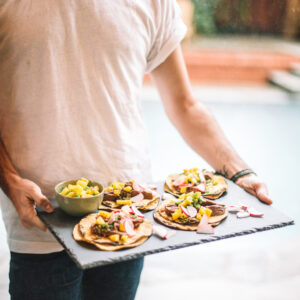 INGREDIENTS
For the Steak:
1 ½ pounds skirt or flank steak
2 teaspoons salt
2 teaspoons garlic powder
1 teaspoon ground black pepper
1 teaspoon chili powder
For the Chimichurri:
2 cups finely chopped cilantro
½ cup olive oil
¼ cup red wine vinegar
4 garlic cloves, minced
1 small shallot, finely diced
½ a jalapeño, finely diced (more if you like it spicy!)
For the Mango Salsa:
1 mango, diced
½ cup cilantro, chopped
½ red onion, diced
½ to 1 jalapeño, minced
Juice of 1 lime
For the Avocado Crema:
1 avocado
½ cup sour cream
2 teaspoons lime juice
½ teaspoon garlic powder
½ teaspoon salt
To top and assemble:
1 cup thinly sliced radishes
Corn tortillas, taco size
INSTRUCTIONS
For the Steak:
In a small bowl, combine the salt, garlic powder, black pepper, and chili powder. Rub the seasoning mixture onto both sides of the steak.
On a grill or grill pan, cook for 1-2 minutes per side.
If using a cast iron skillet, drizzle pan evenly with oil. Chop steak up into strips.
For the Chimichurri:
In a small bowl, whisk all the ingredients together.
Refrigerate until steak has finished cooking.

For the Mango Salsa:
In a medium bowl, combine all of the ingredients.
Refrigerate until ready to serve.
For the Avocado Crema:

Blend all ingredients in a blender or food processor until smooth and creamy.
Transfer to a bowl and cover until serving.
To Assemble:
Heat corn tortillas on a gas stove top or cast iron skillet for 30 seconds.
Layer corn tortilla with a spoonful of avocado crema, steak strips, a drizzle of chimichurri, mango salsa and radish slices.

Finally, these Chicken Tinga Tacos are everything. The adobo-based chicken is already delicious, but when topped with Cotija cheese and quick-pickled red onions, and served on corn tortillas with a layer of butter lettuce, these tacos are a great addition to your taco trio.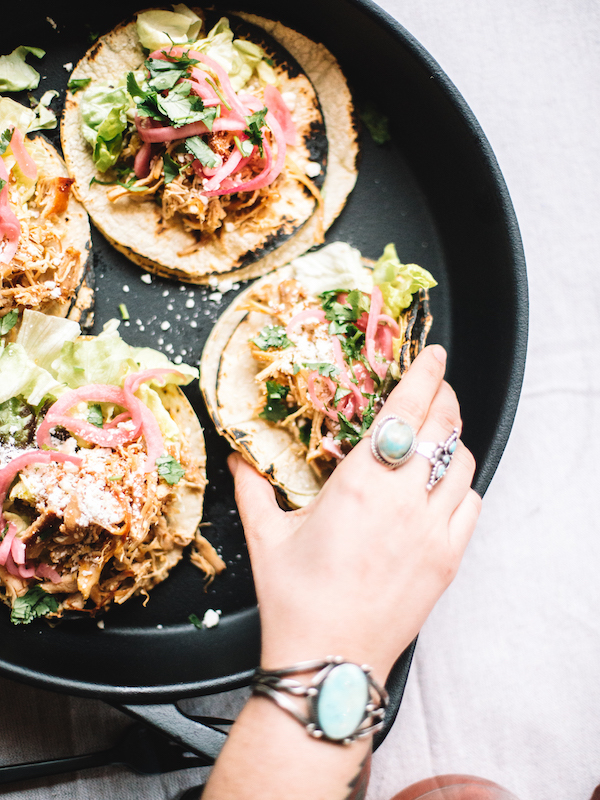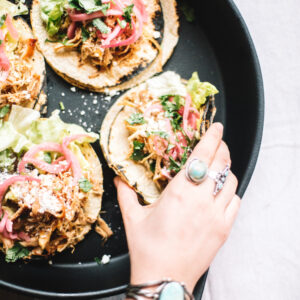 INGREDIENTS
For the Chicken:
2 pounds boneless, skinless, chicken breasts
2 tablespoons taco seasoning (you can use a store bought blend or mix 1 teaspoon each of chili powder, cumin, onion powder, garlic powder, salt, pepper, smoked paprika, oregano, and crushed red pepper)
½ yellow onion, diced
2 8-ounce cans green chiles
2-3 chipotles in adobo, chopped
2 tablespoons adobo liquid from the can or jar
3 garlic cloves, minced
Juice of 1 lime
½ jalapeño, minced
1 cup chicken broth, plus more if needed
½ bottle of light beer (we used Coors)
For the Pickled Onions:
1 red onion
½ cup apple cider vinegar
1 tablespoon sugar
1 ½ teaspoon Kosher salt
For Toppings and Assembly:

Pickled red onions
Butter lettuce leaves
Cotija cheese, grated
Corn tortillas, taco size
INSTRUCTIONS
For the Chicken:
Season chicken generously with taco seasoning on both sides. In a large Dutch oven or braiser over medium heat, heat the olive oil. Add the onions and cook until translucent, 3-4 minutes.
Remove onions from braiser and set aside in separate bowl. Sear chicken on each side for 3 minutes; chicken will continue to cook during braising time.
Return the onions to the pot and add the green chiles, chipotles, adobo sauce, garlic, lime juice, and jalapeño.
Cover with the chicken broth and beer, adding more broth if needed so the chicken is covered halfway with liquid. Gently stir and bring to a simmer. Cover and let simmer for 30-40 minutes.
Remove chicken and shred with two forks. Return chicken back to braising liquid and toss well.
For the Pickled Onions:
Thinly slice red onion and place into
a large mason jar.
Pour in apple cider vinegar, sugar, and Kosher salt.
Shake jar vigorously and refrigerate for 1 hour. Will keep for 2 weeks.
For Assembly:
Heat corn tortillas on a gas stove top
or cast iron skillet for 30 seconds.
Layer on butter lettuce, chicken tinga, pickled red onions, and cotija cheese.

Get the Look
No fiesta would be complete without a little pizzazz. Complete your fiesta vibes with some mini cast iron cocottes, sleek black silverware, and cool slate serving pieces.
Product Roundup
Fortessa Bouillon Spoon – https://shop.fortessa.com/catalog/product/view/id/3053/s/arezzo-brushed-black-bouillon-spoon-6-set-of-6/
Cravings by Chrissy Teigen Oval Stoneware Platter – https://www.target.com/p/cravings-by-chrissy-teigen-16-oval-white-stoneware-platter-with-brown-rim/-/A-53697429
Craving by Chrissy Teigen Mini Cast Iron Dutch Oven – https://www.target.com/p/cravings-by-chrissy-teigen-13-28oz-mini-cast-iron-dutch-oven/-/A-53699714
Fortessa Arezzo Brushed Black 5-Piece Place Setting – https://shop.fortessa.com/arezzo-brushed-black-5pc-place-setting-boxed.html
Prologue Haze Handblown Entertaining Set – https://www.amazon.com/Prologue-Handblown-Entertaining-Glasses-Carafe/dp/B07D32DFCP/ref=sr_1_3?keywords=Prologue+by+Libbey+Haze+Handblown+Entertaining+Set%2C+Smoke&qid=1556580201&s=gateway&sr=8-3-spell
Harman Slate Placemat – http://www.harmaninc.com/product/slate-placemat/
Cravings by Chrissy Teigen Cast Iron Everyday Family Pan with Handles – https://www.target.com/p/cravings-by-chrissy-teigen-2qt-cast-iron-everyday-family-pan-with-handles/-/A-53699691