Everything You Need to Give Your Kitchen a French Makeover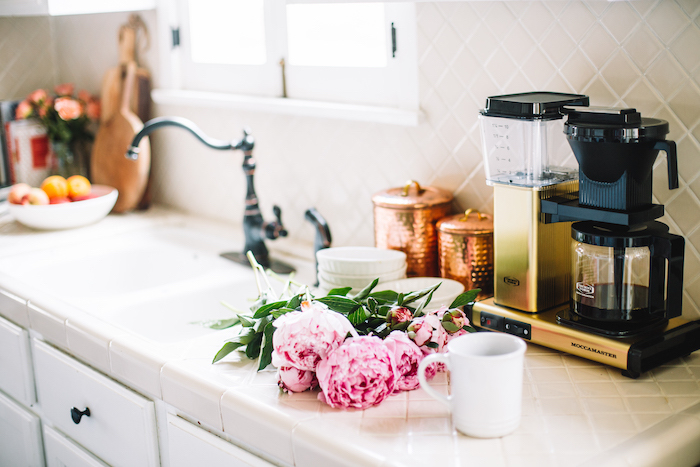 There is something uniquely charming about french kitchen décor. When I went to France two years ago, my most anticipated stop was E. Dehillerin. It's a grand French cooking specialty store lined with copper cookware, Dutch ovens, and every French pastry tool you can think of.
People from all over the world stop by this magnificent, yet chaotic, French specialty shop to bring home a French treasure for their own kitchen. The likes of Ina Garten, Julia Child, and more have all walked the aisles.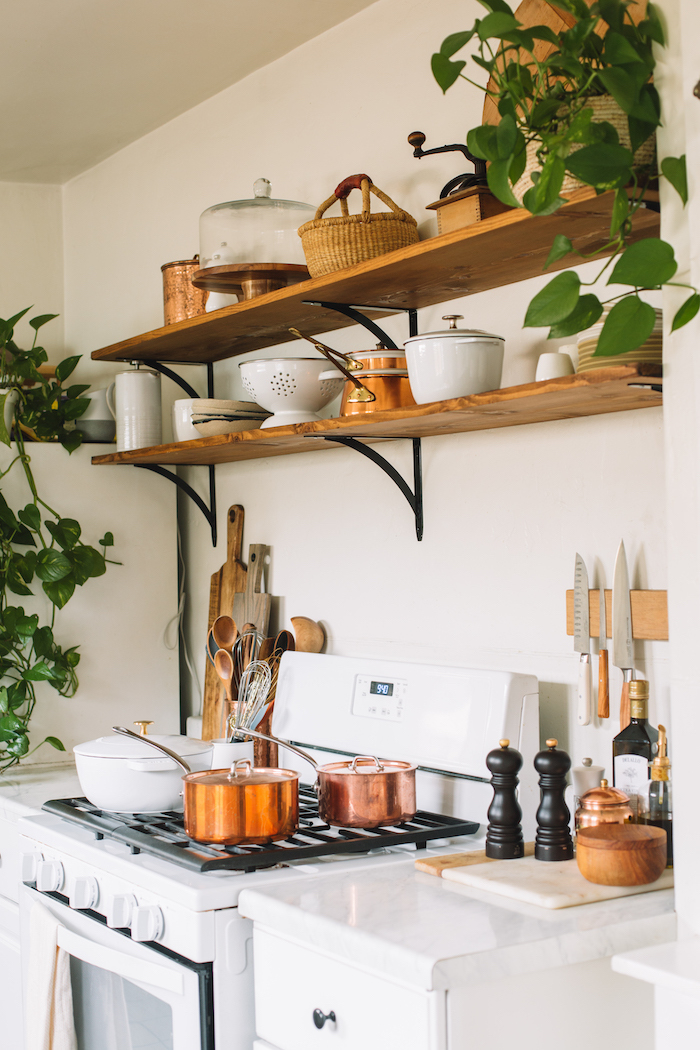 After spending what seemed like hours and way too much money, I was determined to bring a little slice of French kitchen décor into my own little rental kitchen. Being a renter, I love switching up my décor in small ways every few months, check out my pastel kitchen makeover.
Since we can't do any intense renovations I love swapping out different decor items to give my kitchen a refresh. Not only is french kitchen decor extremely chic, but it's also super functional when it comes to cooking. French kitchens are all about great functional cookware and an iconic je ne sais quoi.
Copper Everything
Your first step in adding in a bit of French flare: copper pots! Copper pans and pots are not only beautiful but they are some of the best to cook in. They hold and spread heat distribution evenly while cooking. It's an iconic sophisticated piece to have in your kitchen that will last you a lifetime. Follow this easy guide to keep your copperware in top shape.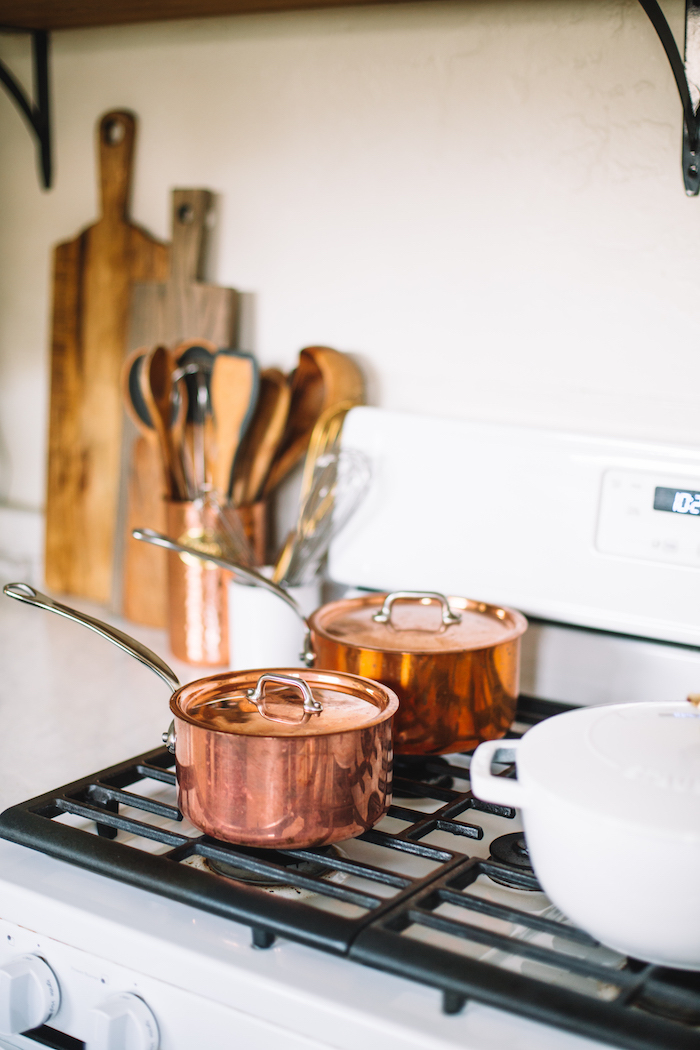 You can also add some copper with these hanging copper spice racks. How cute are these?!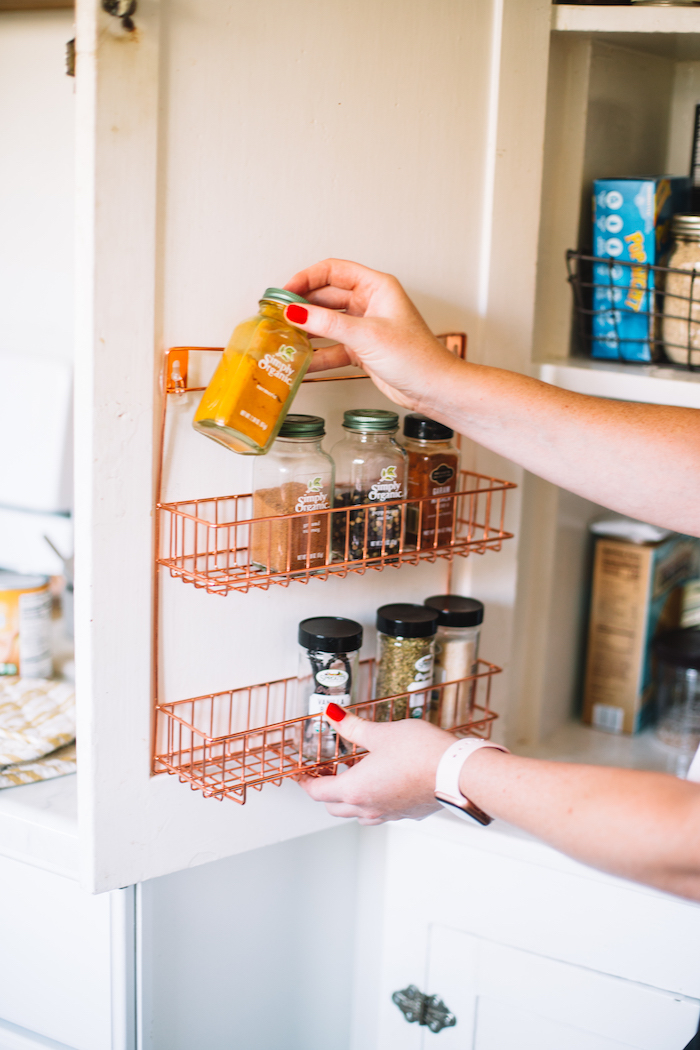 Copper Lincoln Spice Rack

By Design Ideas

Shop Now
Neutral Décor
While there are some more eclectic French kitchens, a vast majority of them are French-ified with neutral, farmhouse tones. Think taupes, creams, black, and white (and copper!). These wooden utensils are perfect to keep on the counter.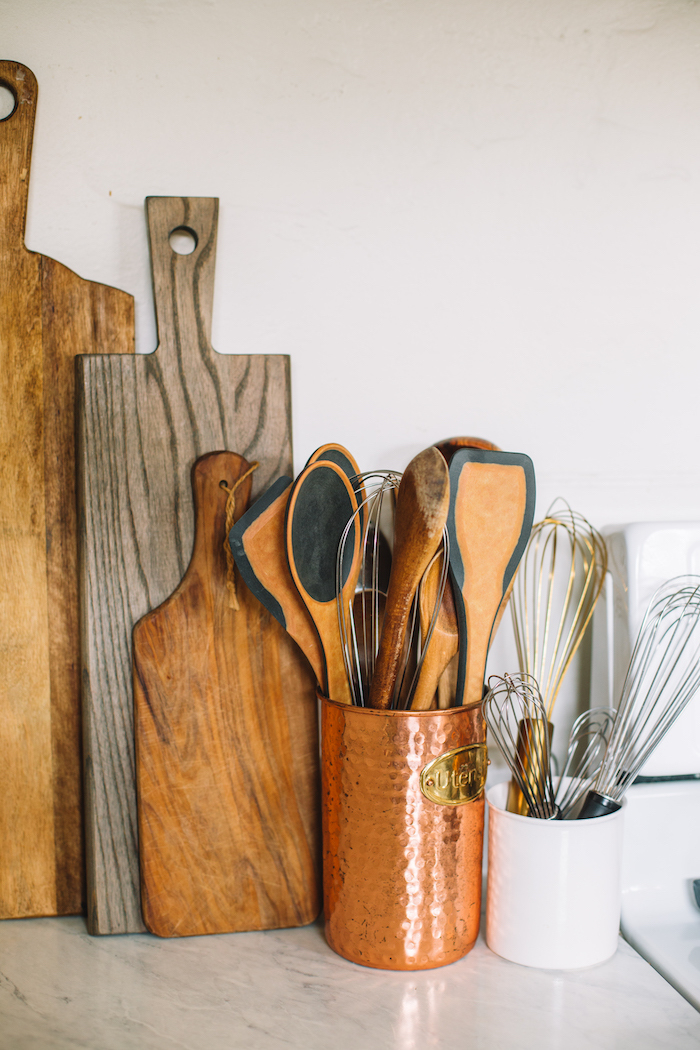 5-Piece Utensil Set

By Epicurean

Shop Now
For the most part, I love the neutral color palette but adding in a pop of color like my pink GreenPan set. If you love the look of hanging pots in your kitchen, use this tutorial.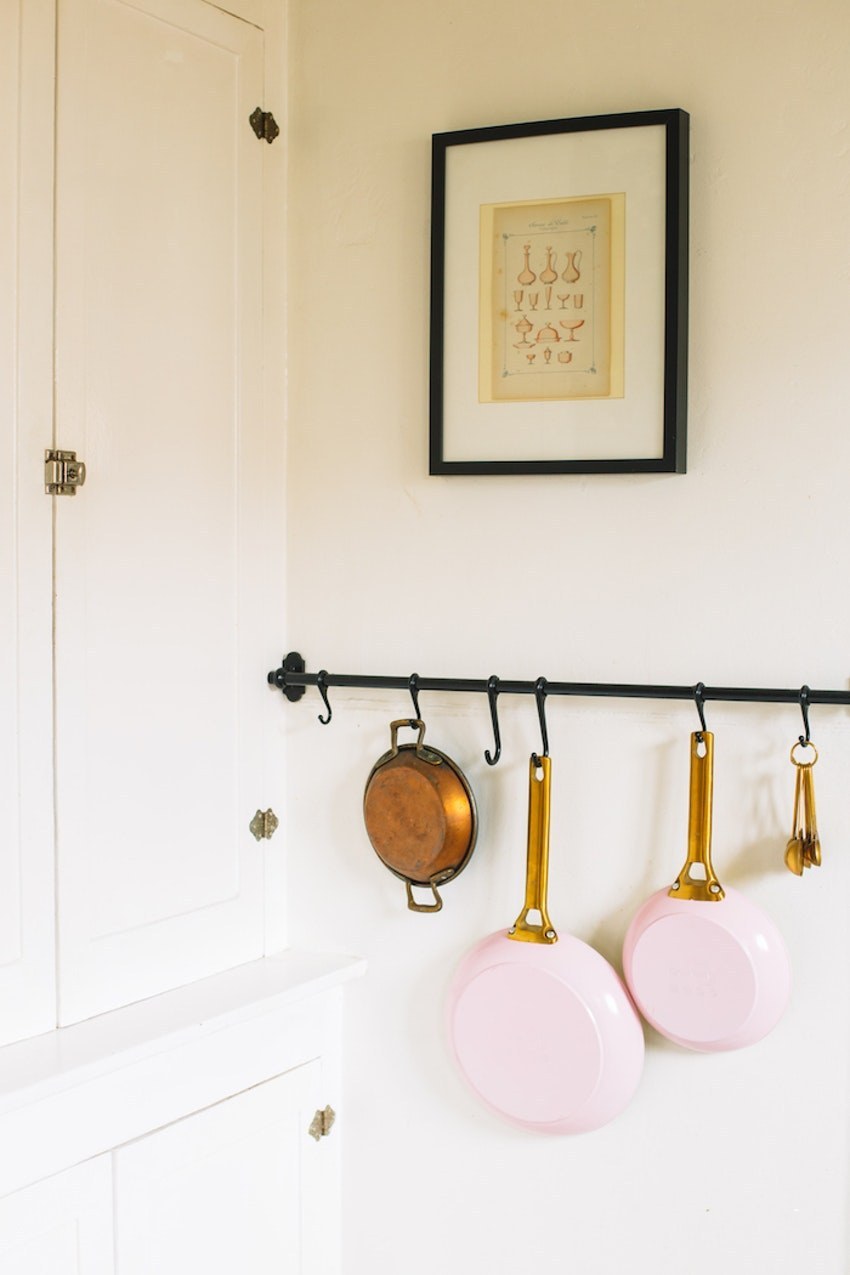 Blush Padova 10-Piece Set

By GreenPan

Shop Now
Baskets
Not only are straw baskets useful for trips to the farmers market, but they are a great décor item. Grab a few in different shapes and sizes and use them as plant holders, organization vessels, or even just hanging up on the wall as an artistic statement.
Maiz Baskets (set of 2)

By Design Ideas

Shop Now
Farmers Market Fresh
A simple way to add an extra French touch to your kitchen is having farmers market fresh flowers and produce. It's customary to stop by a market 1-2 a week in France for fresh ingredients and the flower selection is usually epic.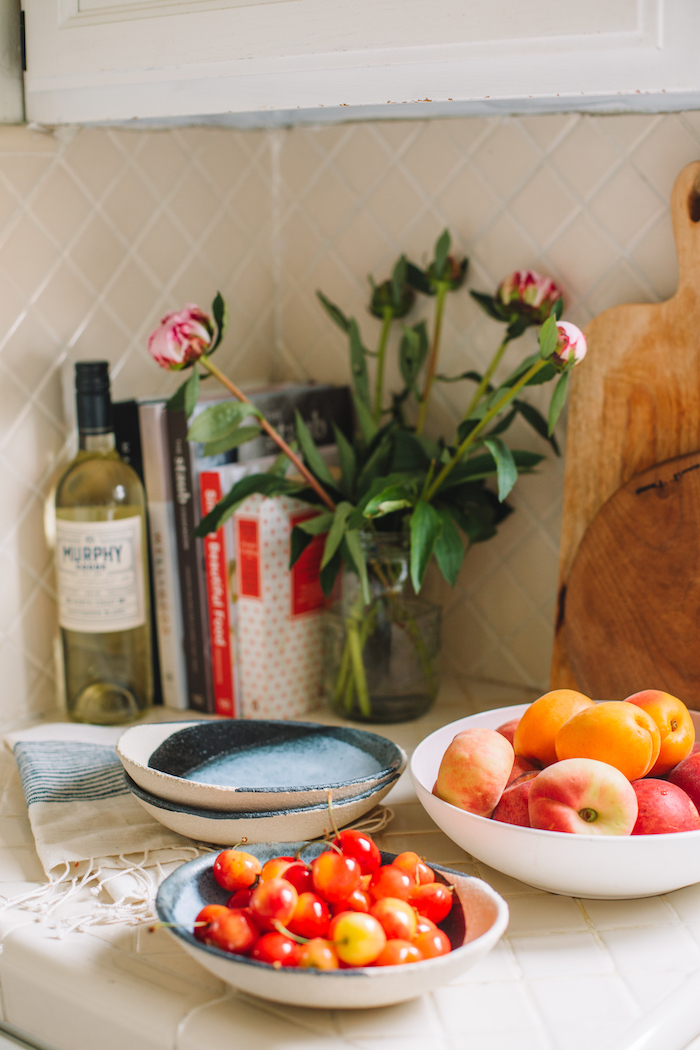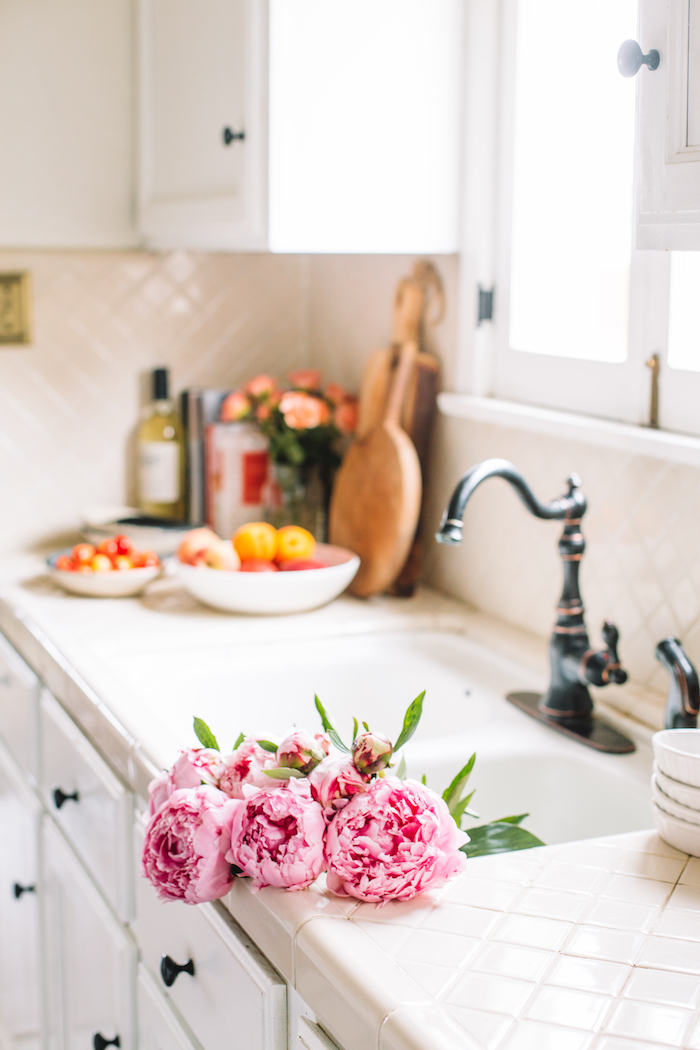 Timeless Pieces
In many French kitchens, you'll find timeless pieces like Dutch ovens, copper pots, and a set of Peugeot salt and pepper mills. Peugeot's intriguing design is iconic and it allows you to use them in the kitchen and bring them right to the table when serving.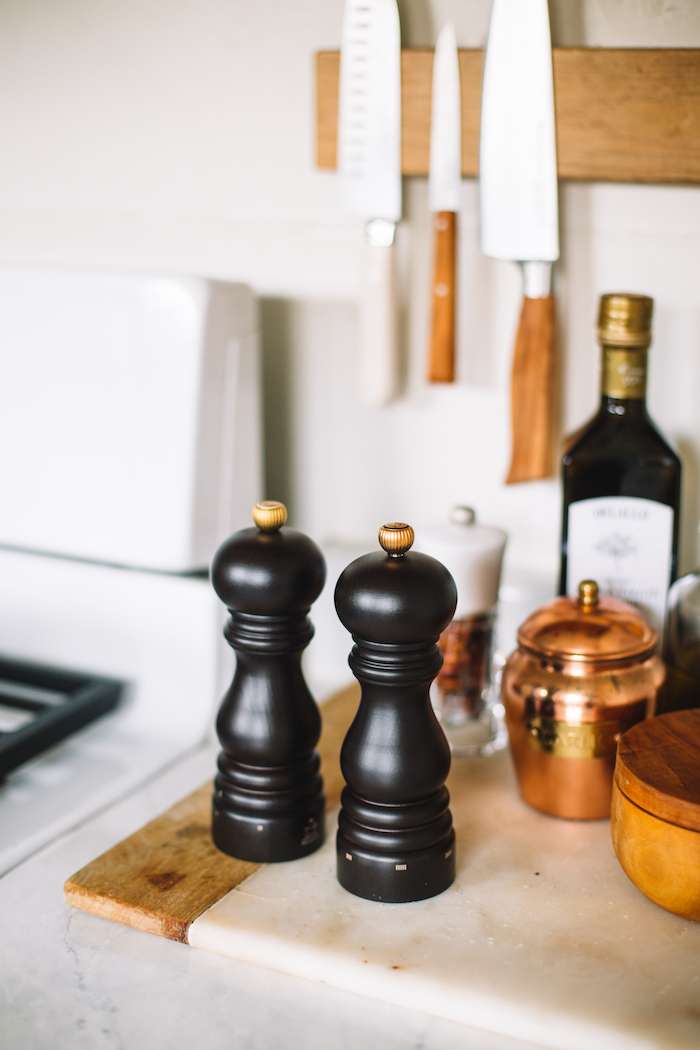 Paris USelect Pepper & Salt Mill

By Peugeot

Shop Now
Other timeless pieces include Staub French ovens. I have a variety from petite pieces for rice and sauces, to my 3.75-quart French oven for stews, braises, and soups. They last a lifetime and cook like a dream.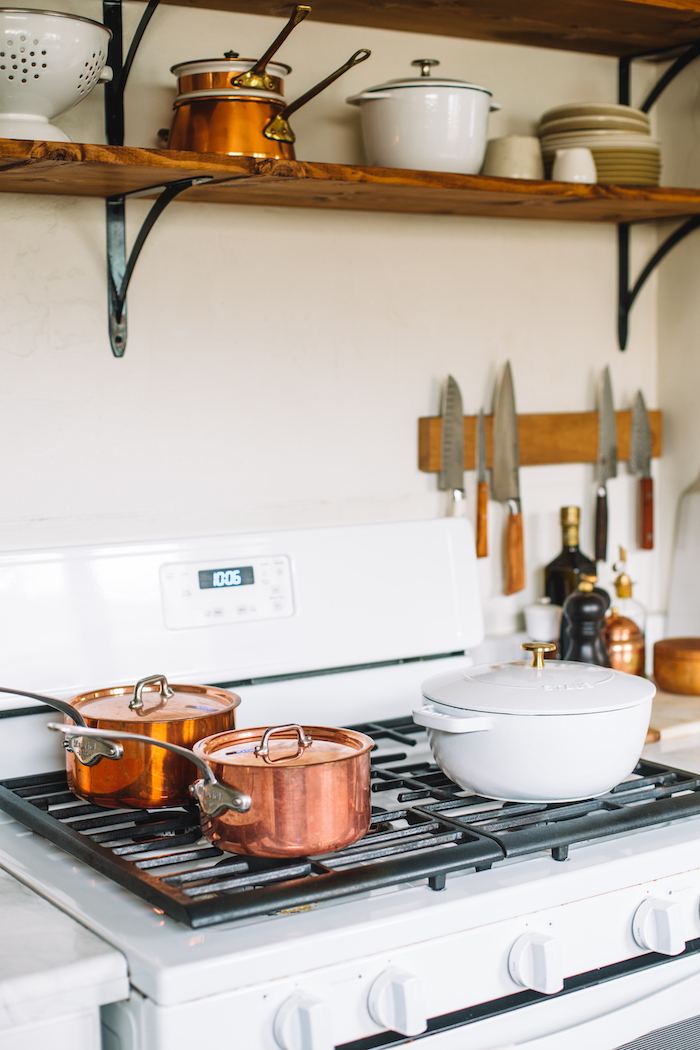 Petite French Oven Stovetop Rice Cooker

By Staub

Shop Now
Knives
One of my favorite classic knife brands happens to be French. Laguiole knives are perfect Parisian pieces to have in your kitchen. Laguiole knives are known for their amazing French craftsman and style; they are my go-to steak knives and make the most gorgeous gift set.
Jean Dubost Steak Knife Set

By Laguiole

Shop Now
Linen Striped Towels
One of the simplest ways to add some French into your kitchen is with a few linen striped towels. They add a nice farm-style neutral textile into your kitchen. Be sure to choose your favorite color stripe for a bit of personality.
Brooklyn Stripe Poppy Teatowels

By Now Designs

Shop Now
Coffee Maker
When you go to France, you'll be having delicious coffee and espresso at least twice a day. Pretty much all over Europe, the coffee culture is insane. There are so many different ways to brew a great cup between French presses, pour-overs, or even a regular cup of coffee.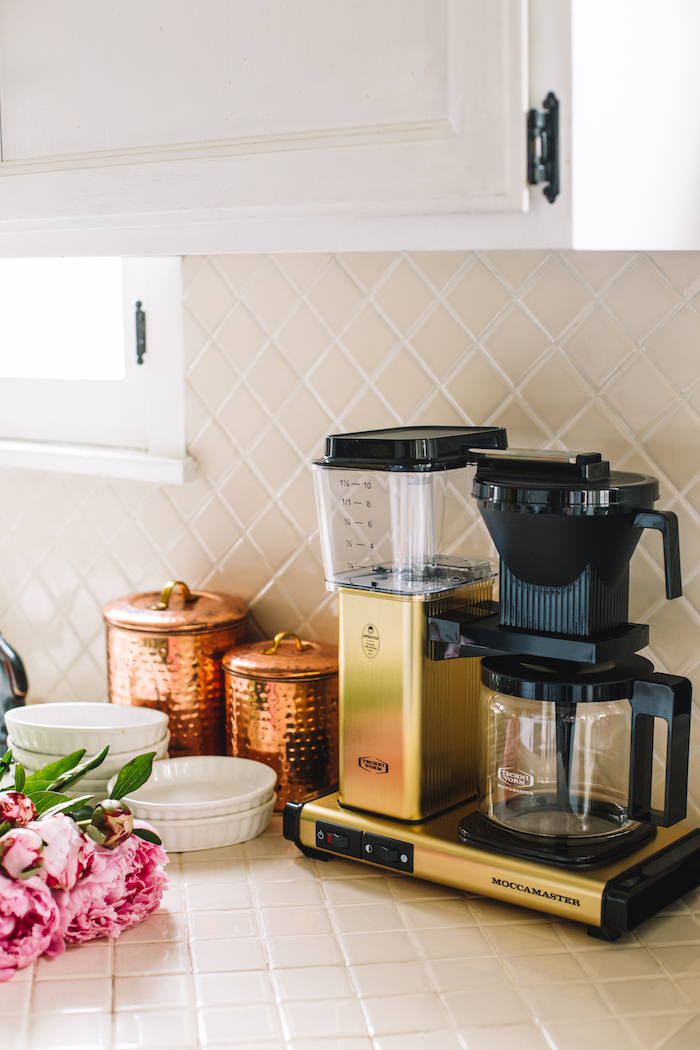 KBG Coffee Brewer in Brushed Brass

By Moccamaster

Shop Now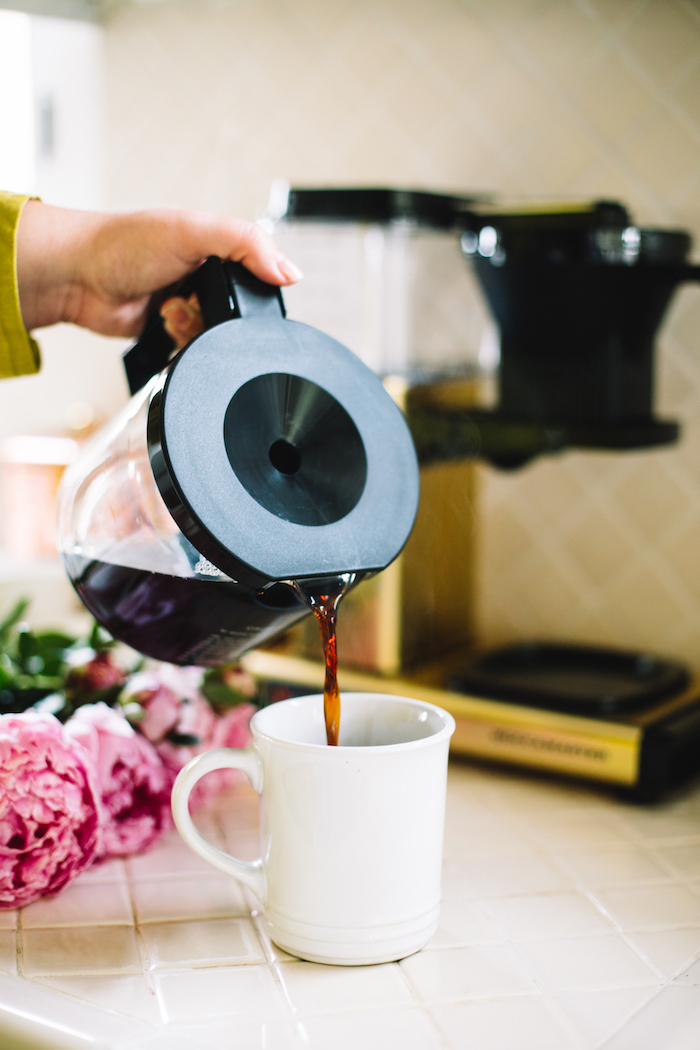 We like to keep it simple around here and switch between espresso and drip coffee but lately, I can't stop using my Moccamaster. It makes 10 cups of coffee in just 6 minutes and stays warm without burning on its unique hot plate. Perfect for an early morning cup or an afternoon pick me up.