Fried Pickle Chips with Homemade Ranch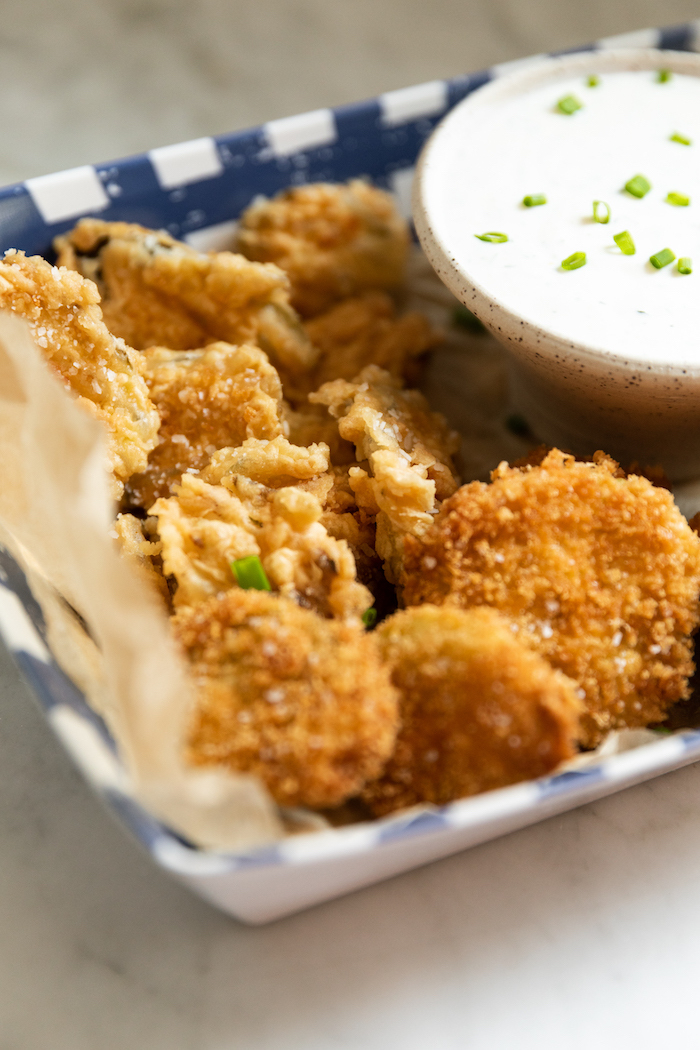 Fried pickle chips are my favorite "game-day snack". Yes, over wings. Yes, over nachos. I just love pickles any way I can get them, but fried creates such a great salty brine-y flavor, I can't resist! I love to dip them in ranch because the cool, zesty flavor pairs so nicely with the fried pickles.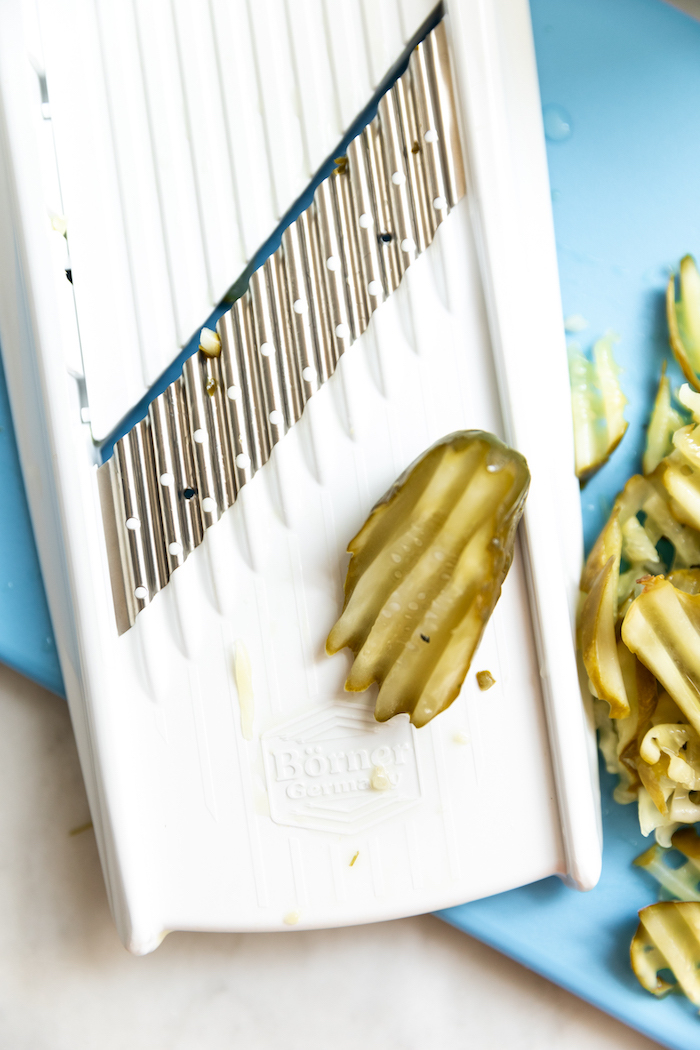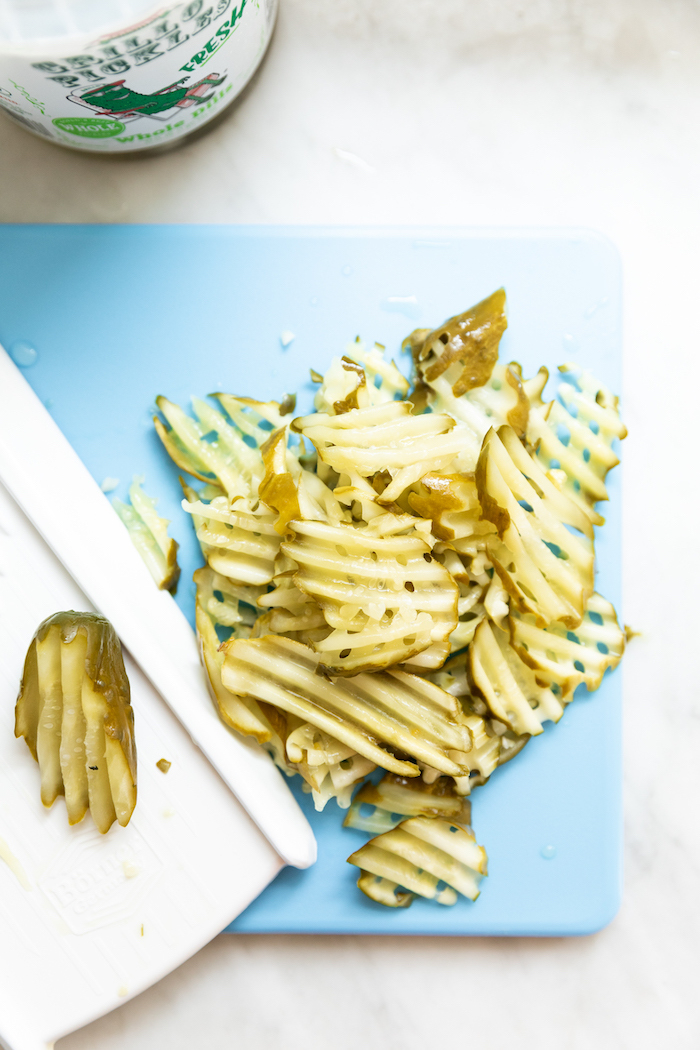 The Original Gripper Cutting Board

By Architec

Shop Now
I'm offering up a homemade version of ranch because it's ridiculously easy, and kind of fun to say you made it yourself. And once you make it once, you'll realize you probably already have the ingredients on hand to whip it up any time you want. So yummy!!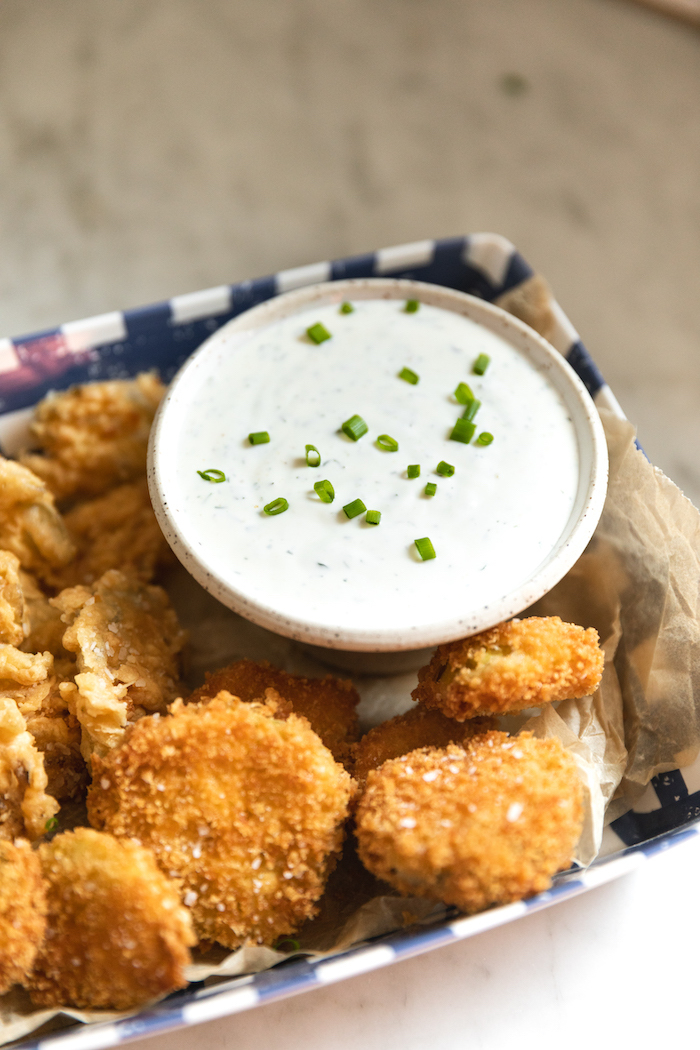 If you know me at all, you know I prefer to have alternate options for recipes. Substitutes, swaps, alternates, whatever you want to call them – I really appreciate that these options give you room to make a recipe your own with what's already in your pantry.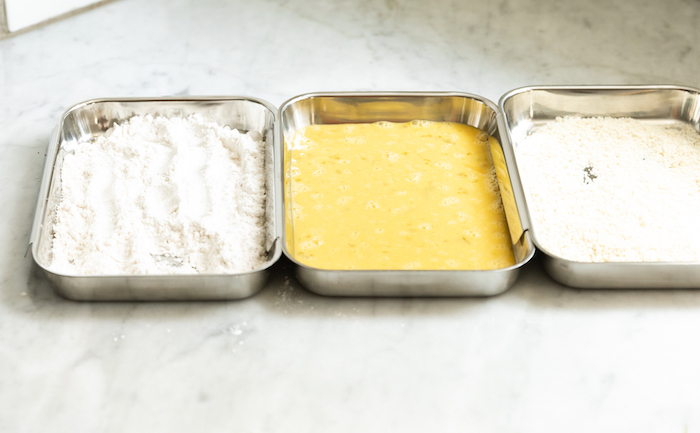 It's not about swapping to reduce calories or carbs but to empower you to feel confident riffing a recipe to make it your own. Plus, who doesn't love to know that they can use up something that they already have in their cupboard?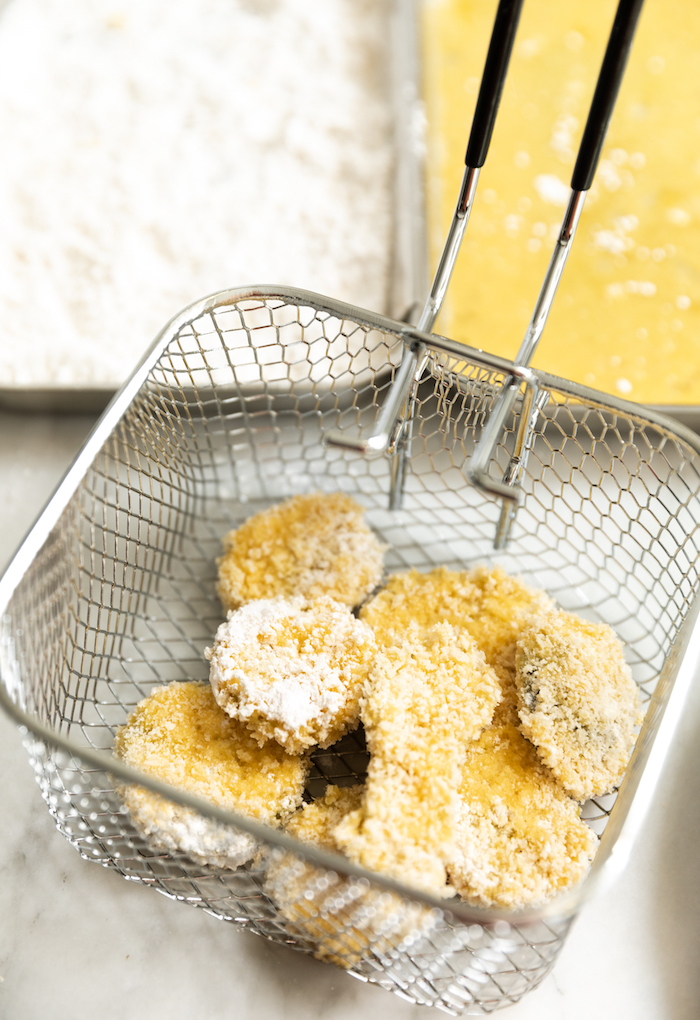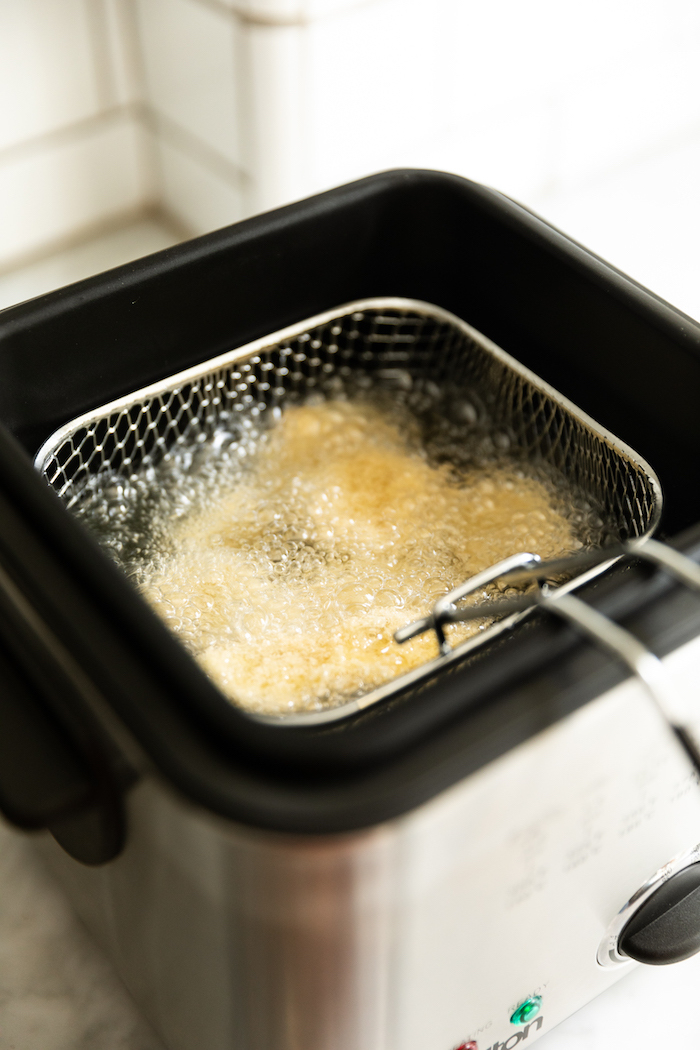 And I did just that with this recipe. While the ranch is customizable in how much of a measurement of each ingredient you prefer, that one is pretty set on the ingredient list. Now, the pickle chips… here's where you can get creative. While I call for a basic egg-wash coating, you can get creative with just how that looks for you.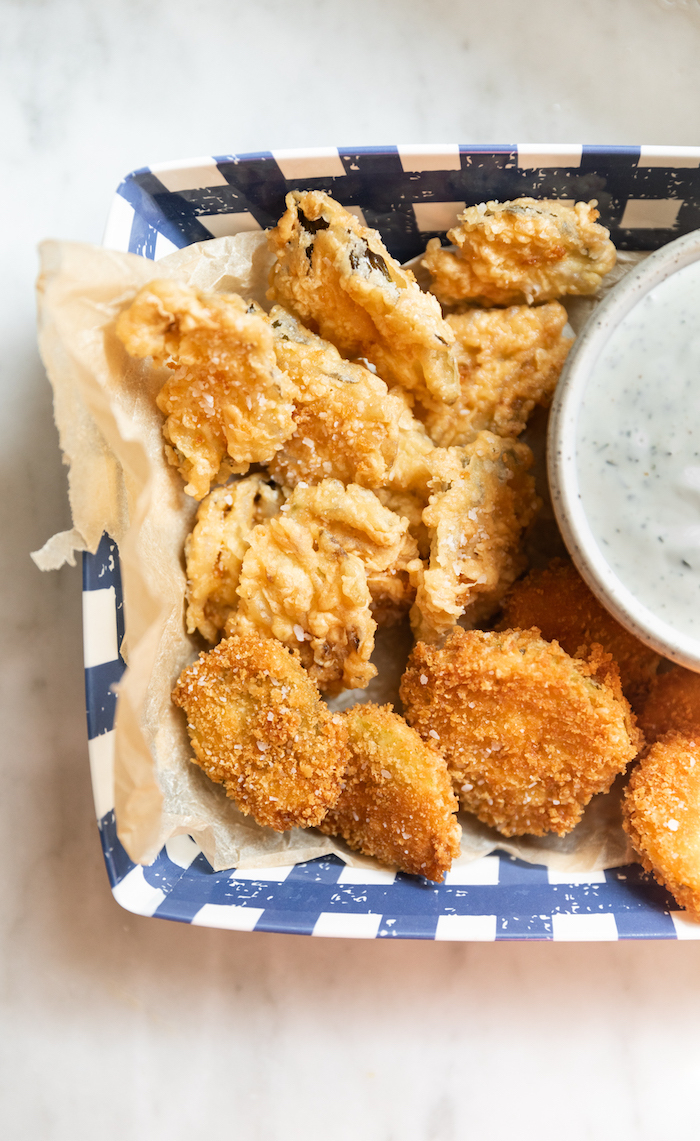 You can use panko, breadcrumbs, or just flour alone. Each gives a slightly different texture ranging from pillow-y to crunchy. I took pictures of these chips with a double coating of either flour or panko for you to see the difference in crunch. There's no right or wrong way to do them — just have fun and find what you prefer.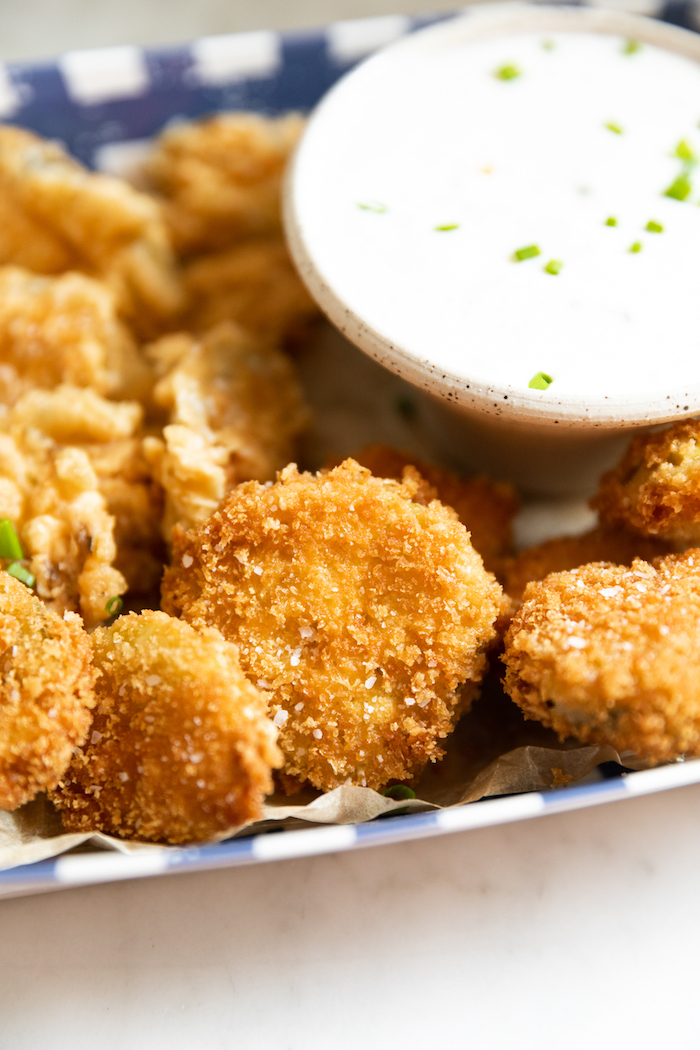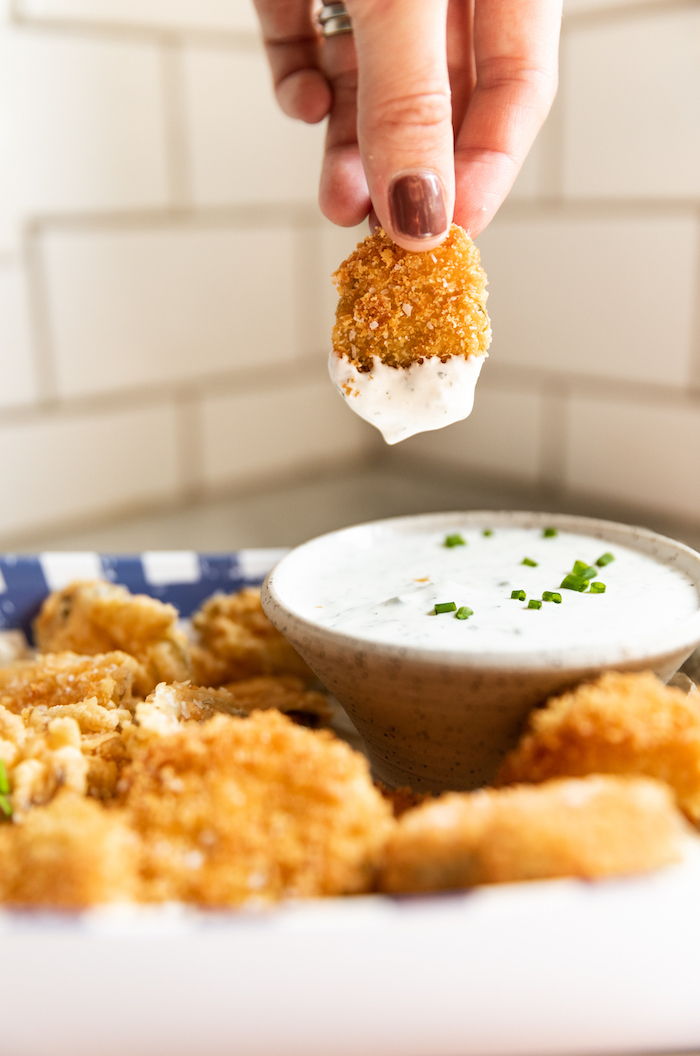 Fried Pickle Chips with Homemade Ranch
Fried pickle chips are an amazing "game day snack." Fry them up and dip them in this homemade ranch which is so easy to make the cool, zesty flavor pairs so nicely with the fried pickles.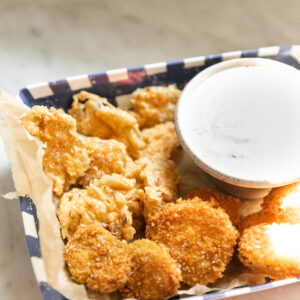 Ingredients
5

whole dill pickles, drained

1

cups

flour

2

eggs, scrambled

1

cups

breadcrumbs or Panko

2.25

tsp

salt, plus more for garnish

0.5

cups

mayonnaise

0.5

cups

sour cream

1

tsp

dill weed

1

tsp

garlic powder

1

tsp

parsley

handful fresh chives, chopped

freshly ground pepper, to taste

freshly squeezed lemon juice, if needed, to brighten
Instructions
Using a waffle cutter mandolin, slice the pickles into ridged chips. Dry on a paper towel until ready to coat.

In 3 different plates, line up the flour and season it with 1 teaspoon of salt, the eggs, and the breadcrumbs of your choosing. Following this assembly line, coat the pickles in flour, egg, and breadcrumb. Repeat once more for a double coating, making sure to shake off any access of each before moving down the line.

In the Salton mini deep fryer, heat 1 qt. of canola oil to 350 degrees. Place half of the pickles in the basket and fry for 3-5 minutes, until golden brown. Remove from the fryer and let cool on a cooling rack fitted over a baking sheet. Sprinkle with salt to garnish. Repeat with the remaining pickles.

Make the ranch by combining mayonnaise, sour cream, dill weed, garlic powder, parsley, fresh chives, ground pepper, lemon juice (if needed), and 1¼ teaspoon of salt together and mixing with a fork or whisk, refrigerate if you prefer your dipping sauces cold and slightly thicker. Plate the pickle chips and ranch, garnish with more freshly chopped chives, and enjoy!
Nutrition
Calories:
363
kcal
Carbohydrates:
45
g
Protein:
10
g
Fat:
16
g
Saturated Fat:
5
g
Cholesterol:
83
mg
Sodium:
2221
mg
Fiber:
3
g
Sugar:
5
g