Classic Pound Cake with Fresh Summer Strawberries and Homemade Whipped Cream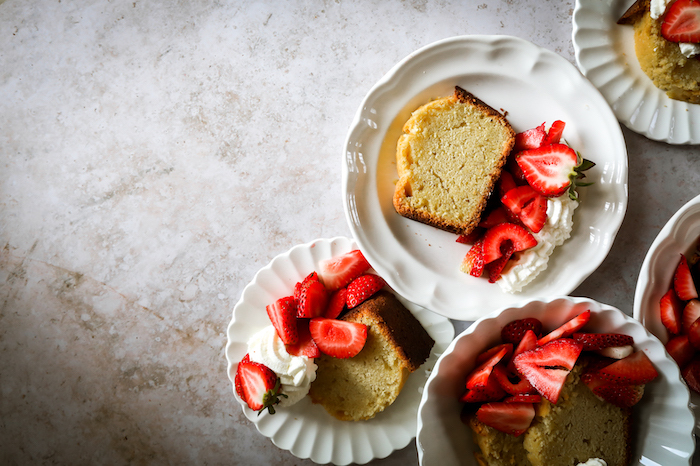 This classic cake is a must-have summer cake for your recipe book. It pairs well with every luscious fruit that the summertime produces, plus it's an easy cake to whip up.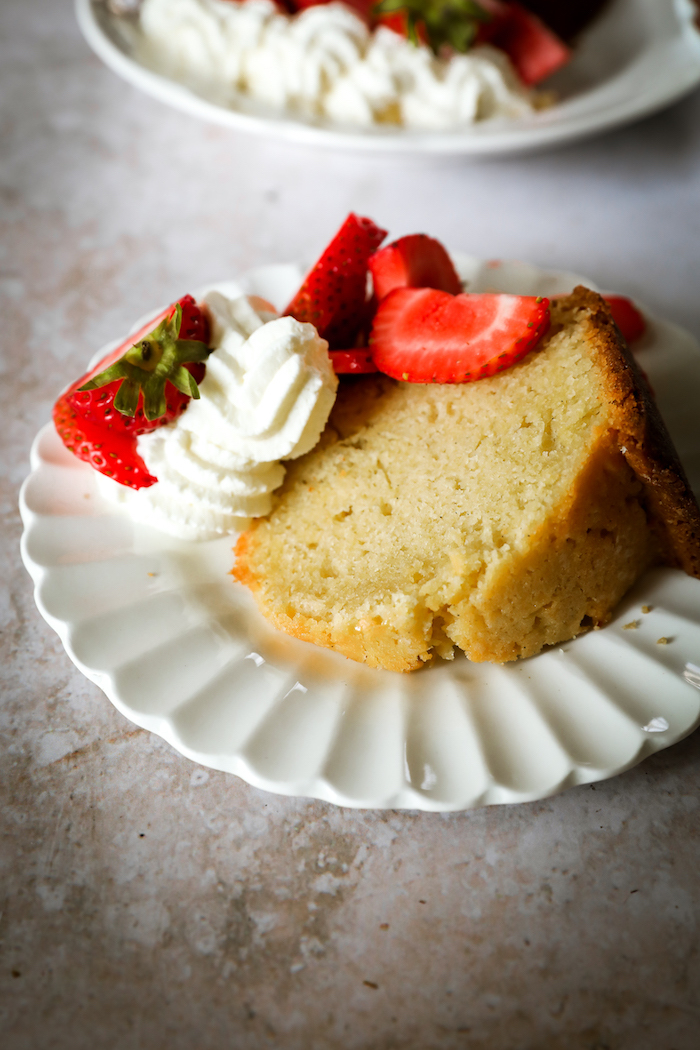 The best part of this classic cake is that its recipe's ingredient proportions are right there in the title. Yep, that's right, a pound of each ingredient makes for a pound cake! In fact, it weighs more than a pound because of this.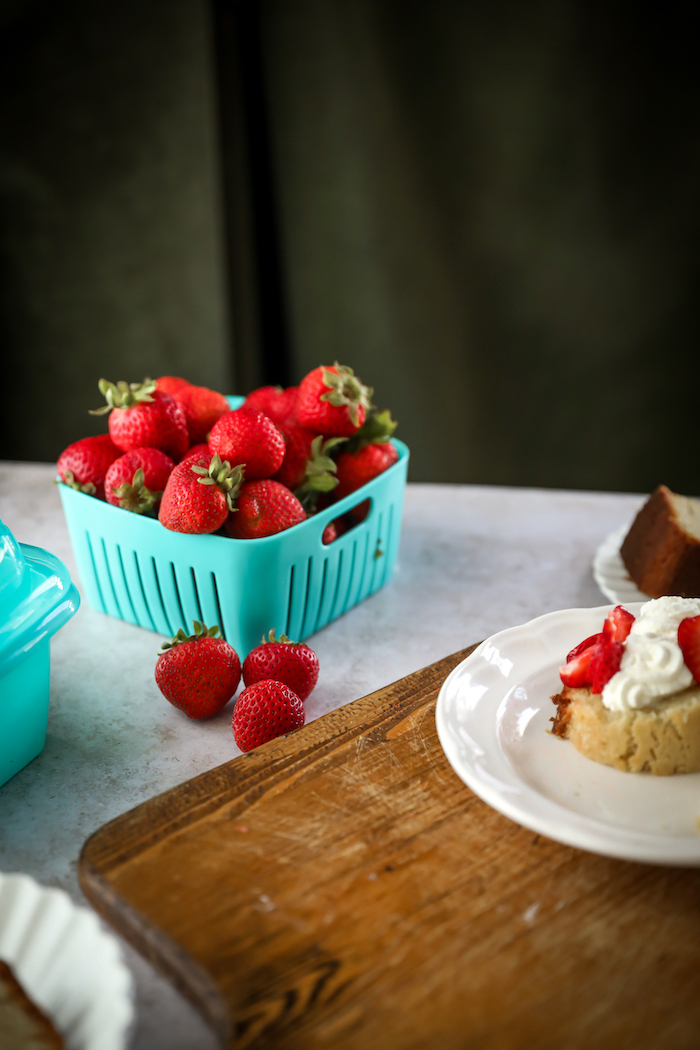 I'm offering up my classic pound cake recipe with strawberries and whipped cream because, well, it's a classic! If you pick your own berries in the summer, I suggest you leave them raw and enjoy the flavorful sun-kissed flavors.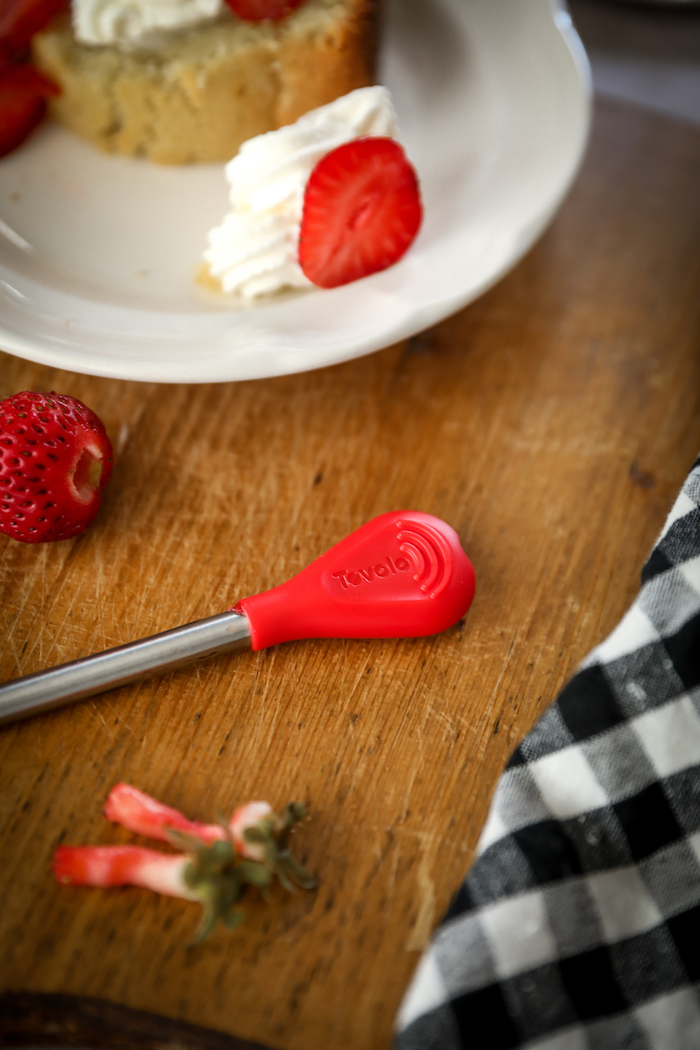 If you're using them slightly out of season or from another region (aka California) feel free to make a macerated strawberry sauce or topping to bring out the flavor. Looking for more recipe tips? Be sure to see all my notes below.
Classic Pound Cake with Fresh Strawberries & Homemade Whipped Cream
This classic pound cake is a must-have summer cake for your recipe book. It pairs well with every luscious fruit (hello, strawberries!) that the summertime produces, plus it's an easy cake to whip up. Top with fresh, homemade whipped cream and you've got yourself the perfect dessert.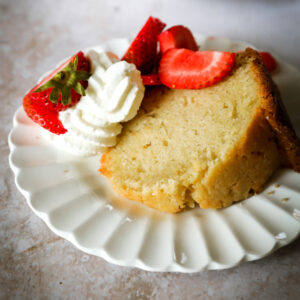 Ingredients
1

lb

cultured and salted butter, softened (2 cups)

1

lb

sugar (2 cups + 1 tbsp)

9

eggs (5 whole eggs + 4 egg yolks)

3

tsp

vanilla extract

2

tsp

vanilla bean paste

1

lb

cake flour, or sifted all-purpose flour

pinch of salt

1

lb

stawberries

32

oz

heavy whipping cream (1 quart)

2

tbsp

confectioner's sugar
Instructions
Preheat the oven to 350 degrees and prepare a bundt pan with non-stick spray. In a standing mixer with the paddle attachment, whip the butter for 5 minutes until fluffy and light in color.

Mix in sugar and cream together for about 3 minutes. Slow down the speed a bit and add the eggs, vanilla extract, and vanilla bean paste. Mix until completely incorporated, and the batter appears to be slightly curdled. Scrape down the bottom and sides of the bowl as necessary.

Add the flour mixed with a heavy pinch of salt, a third at a time, letting the mixer run constantly on slow speed, until just incorporated. Scrape down the bottom of the bowl and mix once more.

Scoop the very thick batter into the prepared bundt pan, smoothing the top at the end. Bake for 30 minutes, rotate and test. Bake an additional 20-30 minutes or until a large skewer comes out clean from the center of the cake. Careful to not overcook.

Let the cake cool slightly before inverting over a grate to cool fully. While the cake cools, prepare the strawberries and whipped cream.

To prepare the whipped cream, use a whipping cream tool like pictured here, or some sort of electric mixer to whip air into the cream and confectioner's sugar. Stop once stiff peaks form, being careful not to over-whip. Add an optional dash of salt and vanilla extract if you prefer a more flavorful whipped cream.

Top cooled pound cake with prepared strawberries and whipped cream, enjoy!
Nutrition
Serving:
1
g
Calories:
721
kcal
Carbohydrates:
61
g
Protein:
8
g
Fat:
51
g
Saturated Fat:
31
g
Cholesterol:
263
mg
Sodium:
222
mg
Fiber:
1
g
Sugar:
35
g
Recipe Notes
Batter. This cake batter should be extra dense and uses a mixture of egg yolks and whole eggs to balance the thickness. I love the flavor that cultured butter provides, however, if this is harder to come by, feel free to use regular salted butter.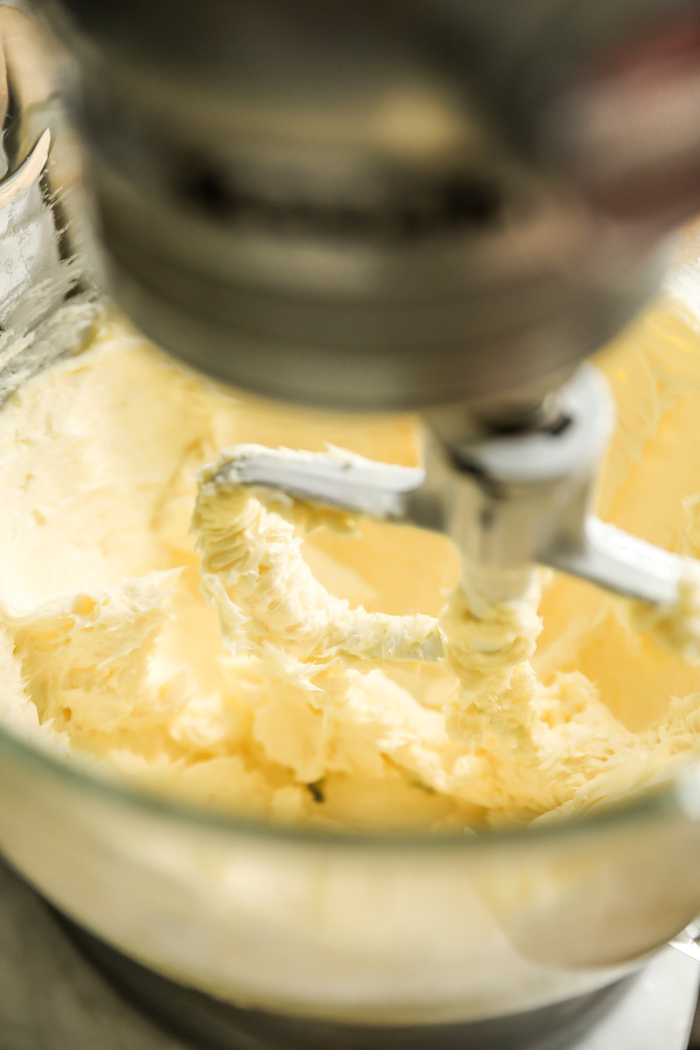 If you only have unsalted on hand, add an extra teaspoon of salt to the batter with the flour. I love the speckles of vanilla bean paste, but again if you don't have it just simply increase the vanilla extract to 1 tablespoon.
Measuring flour. I'm putting this note in its own category because this is super important. If you are not using a scale to measure a pound of flour, which I highly recommend you do, then it's important to know how to properly measure flour.
To measure using a dry cup only, make sure to first scoop the flour out of the container using a scoop or large spoon. Dump each scoop into the measuring cup without packing it down. Once the cup is full, use a knife's edge to scrape off the peak of flour to create a level cup. Avoid packing the flour in and with this method you can get extremely close to an accurate flour measurement. Inaccurate flour measurements can result in dry, dense, and relatively unappetizing end products.
Whipped Cream. The tool I'm using here, the Betsy Bossi whipped cream maker, is awesome! It's so much fun to hand turn the whipped cream, plus it comes together in a pinch and is really each to serve with the gadget's decorative tip.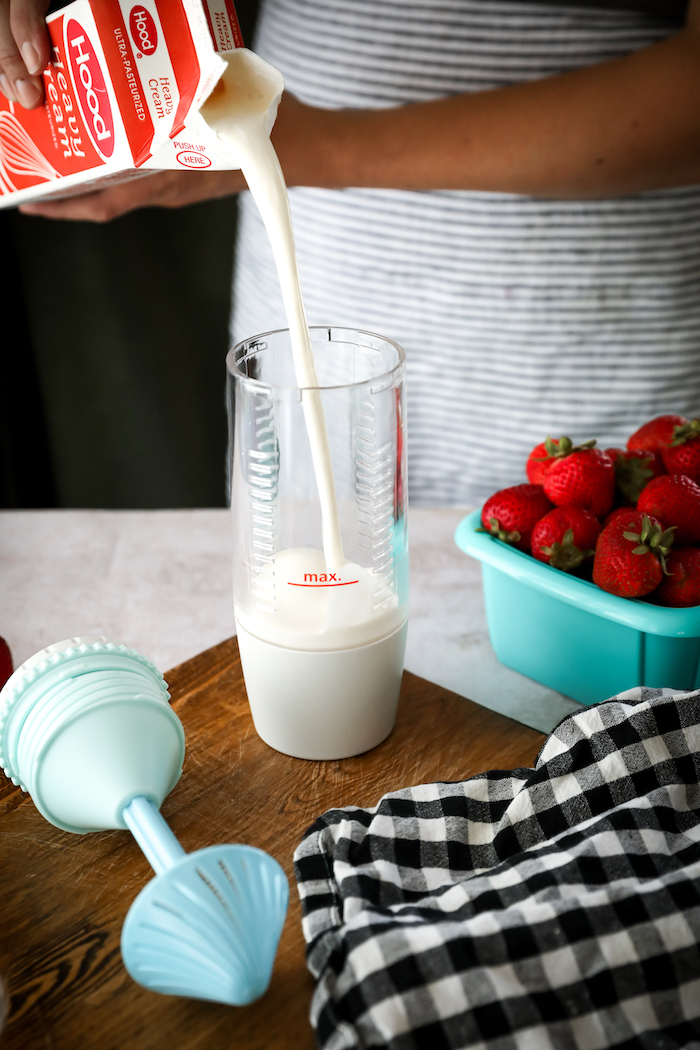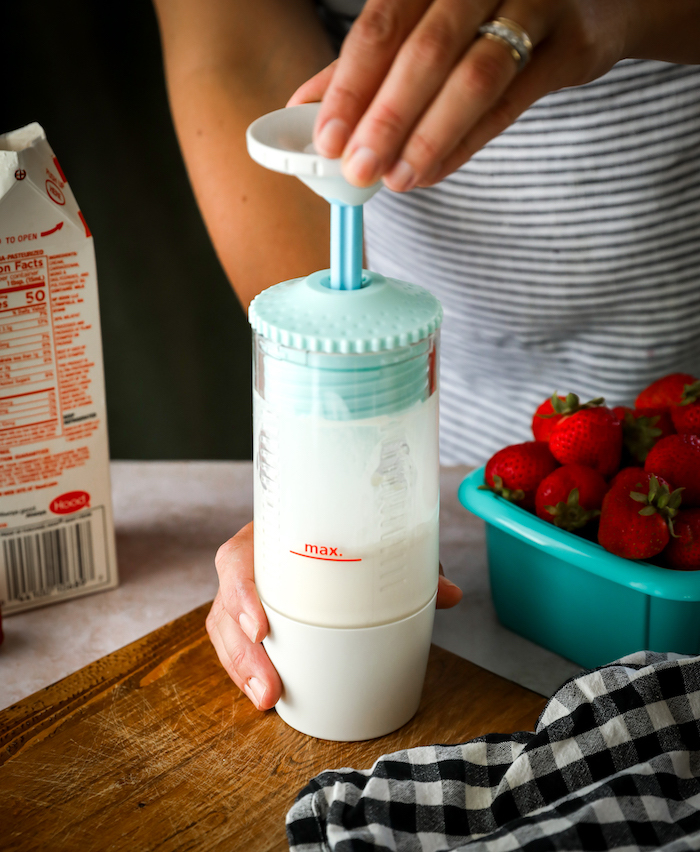 Whipped Cream Dispenser & Decorator

By Betty Bossi

Shop Now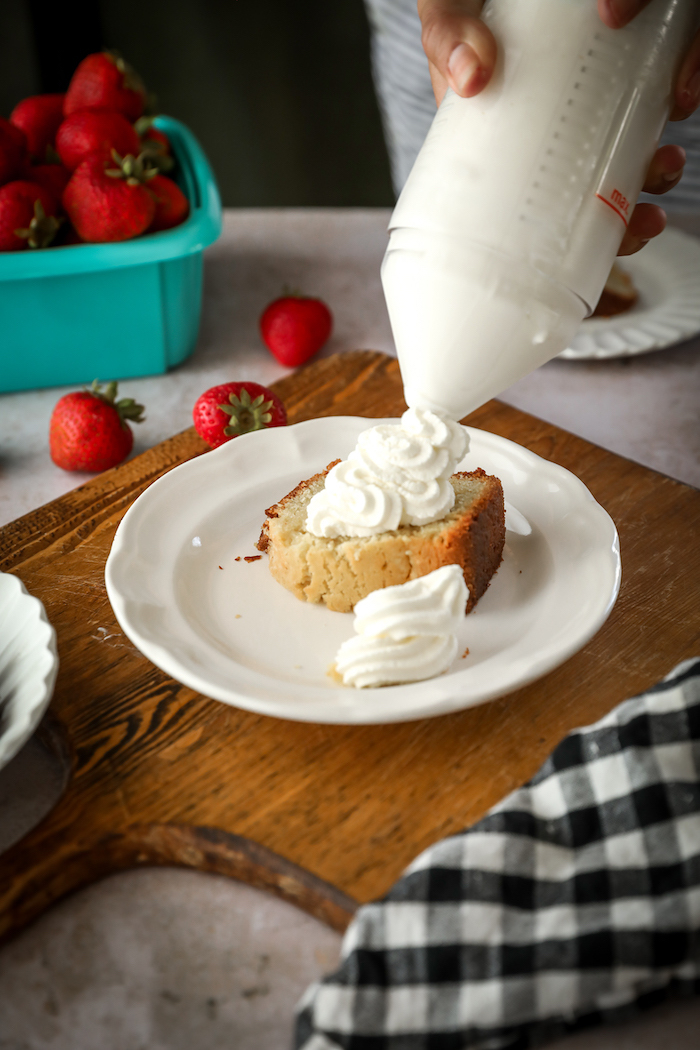 This would be really fun with kids! If you are not using this piece of equipment, go ahead and use a standing mixer with the whisk attachment, or a hand mixer. Feel free to jazz up the whipped cream by adding a dash of vanilla extract and a pinch of salt in addition to the confectioner's sugar called for in the recipe.
Bundt pan vs. loaf pan. Feel free to use whichever pan you prefer, however, note that this is a very dense batter and a bundt pan helps cook it evenly and thoroughly without getting the edges too brown.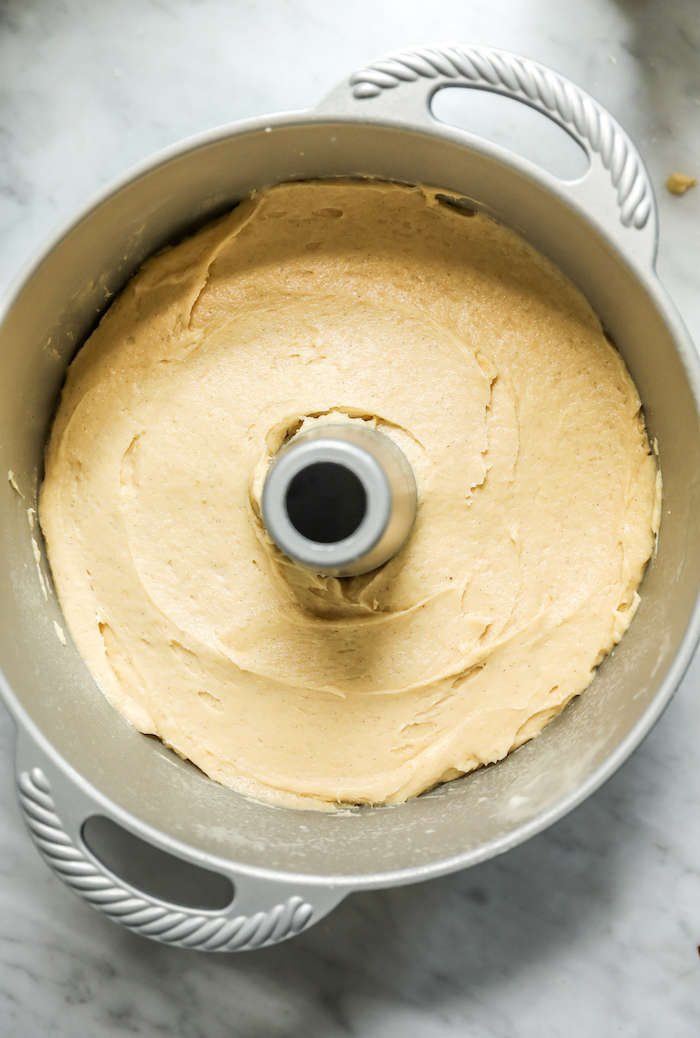 Classic Cast Pound Cake and Angelfood Pan

By Nordic Ware

Shop Now
Cook time. There is a delicate balance for a pound cake because it can easily go too far and get too dry, or look totally done on the outside and remain slightly undercooked in the center.
Make sure to use a long skewer or testing stick to get to the center of the cake during cooking. Also, I can't recommend using an oven thermometer to keep an eye on the oven temperature enough. Whether or not you have one is always my first question when I'm helping people troubleshoot.