These Chocolate Candy Spoons Are Such a Cute Homemade Valentine's Day Gift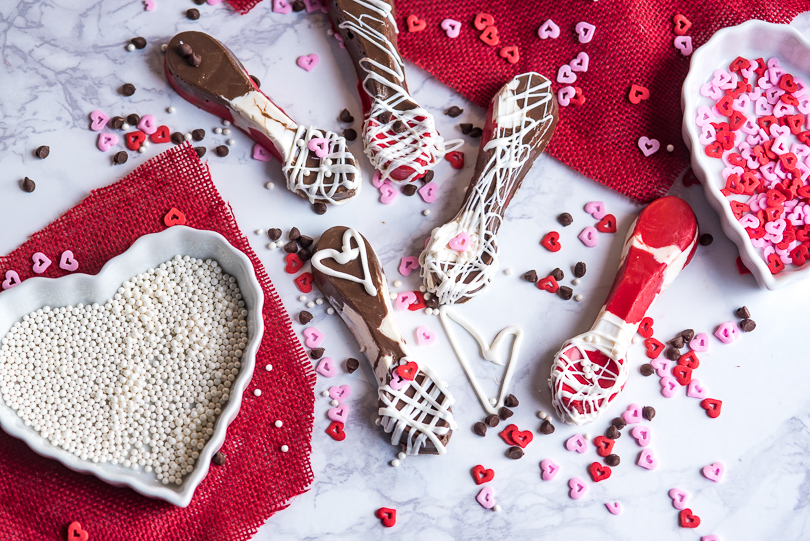 Chocolate Candy Spoons are the perfect treat to make for a valentine. They are an awesome easy teacher gift to make with your kids!
It's Valentine's Day and we realized it was the perfect excuse to use our new Chicago Metallic Cookie Dunker Pan. We brainstormed with the kids and they decided that chocolate candy spoons would be the ultimate present to make for their teachers.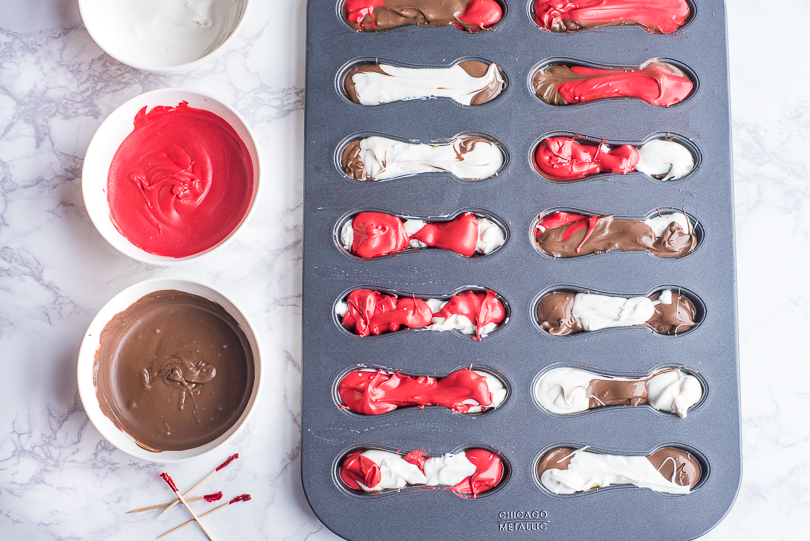 We went with chocolate, vanilla and bright red to make spoons that are brilliant and bright. Melt the chocolate discs in the microwave for one minute then stir. Then pop them in the microwave again for 30 seconds then stir. Repeat until chocolate is hot and melted.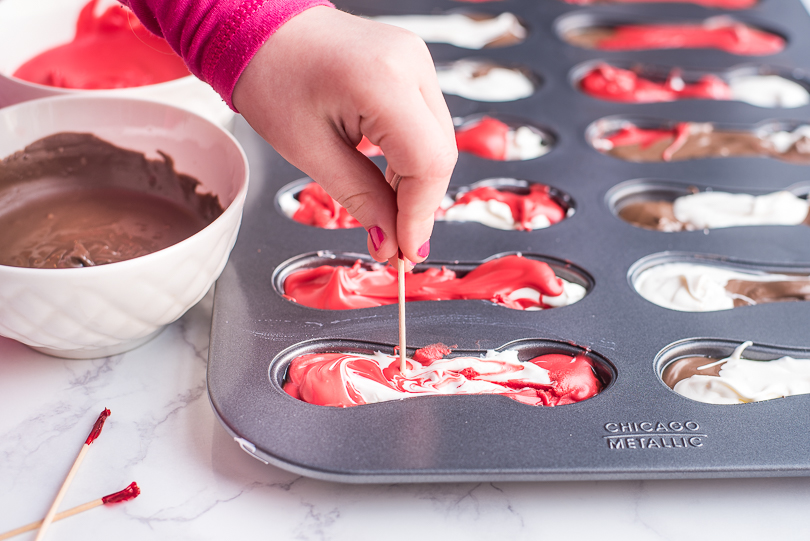 Once your chocolate is ready add scoops of each color into frosting bags for easy decorating. Add them into the mold and swirl with a toothpick!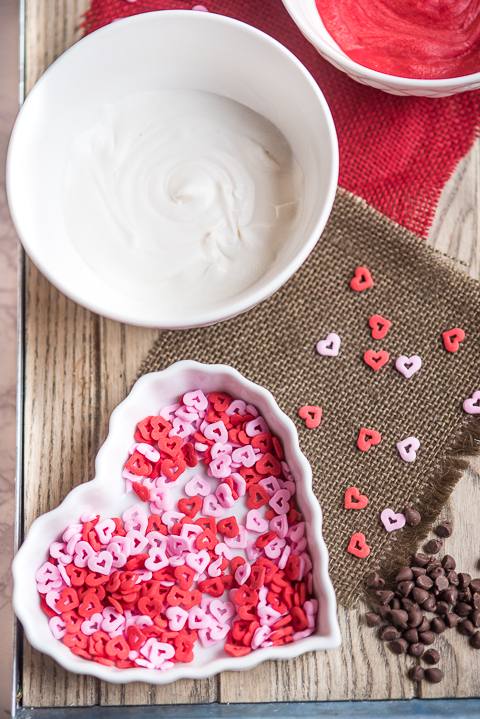 Then we topped with heart sprinkles and place in the refrigerator to harden.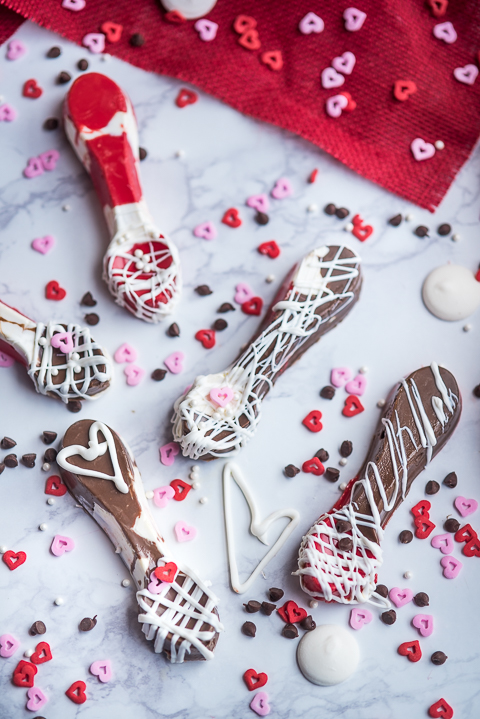 While we waited we had so much fun writing our names in different colors of chocolate and eating them and making cute little heart and squiggly lines!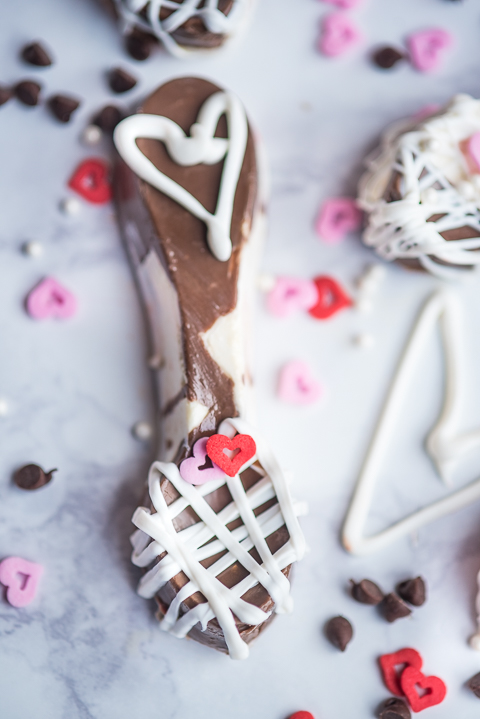 Once the spoons were hardened we grabbed some clear bags and some twine to bag them up. Making them easily transportable and easy to save until ready for consumption. Let's face it, if these spoons are going make it to the teacher in one piece than they are going to need as much help as possible!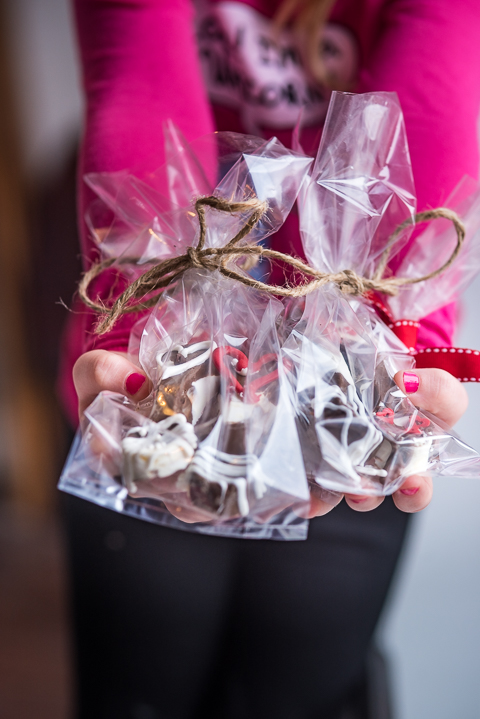 The kids were so proud of the spoons they created and the teachers all absolutely loved them!
Chocolate Candy Spoons are the perfect treat to make!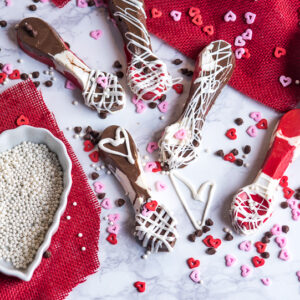 Ingredients
1

cups

red chocolate candy melts

1

cups

chocolate candy melts

1

cups

white chocolate candy melts
Instructions
Place each candy melt color in their own microwave safe dish.

Heat in the microwave for 1 minute and stir.

Continue microwaving in 30 second increments, stirring each time.

Once melted spoon chocolate into spoon molds and add decorations.

Place in freezer for 10-20 minutes until set solidly.

Add remaining chocolate to decorating bags for decorating tops.

Once cooled pop spoons from mold by turning pan over and tapping firmly.

Decorate with piping bags if desired, bag and deliver to your valentine!
Nutrition
Serving:
1
g
Calories:
267
kcal
Carbohydrates:
29.5
g
Protein:
1.6
g
Fat:
16.3
g
Saturated Fat:
14.7
g
Cholesterol:
2
mg
Sodium:
44
mg
Fiber:
0.8
g
Sugar:
28.3
g