The Best, Spooky Halloween Buffet Set Up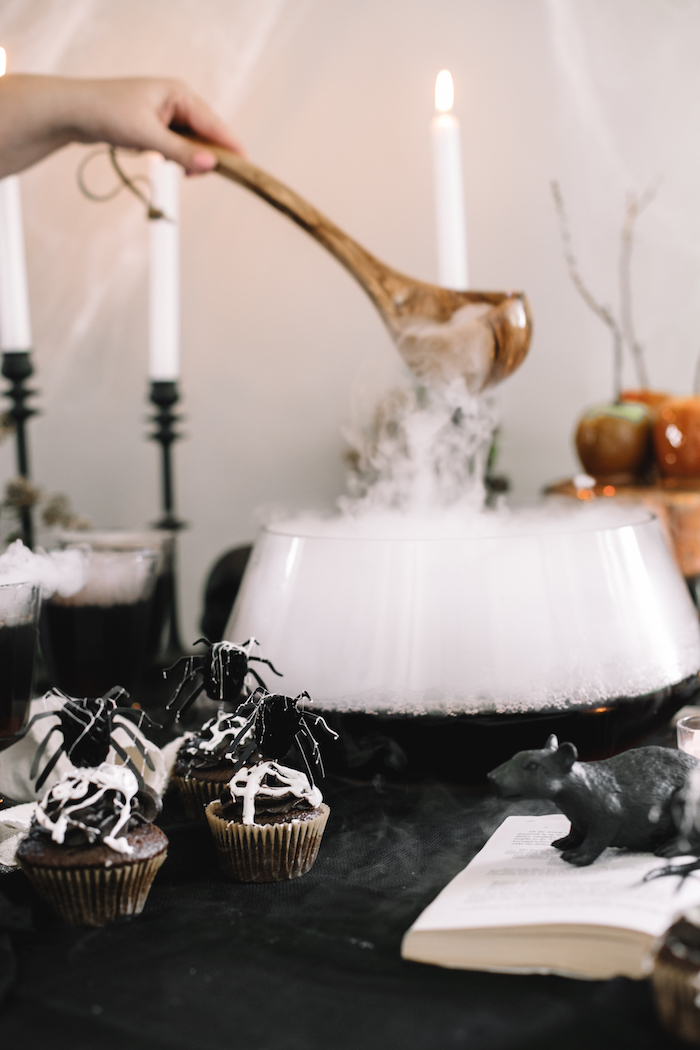 If you're in charge of the Halloween buffet set up this year, let's deck it out right! The options are endless when it comes to spooky buffet decorations. You can use everything from packaged spiderwebs to a few pounds of dry ice for that "smoky" drink effect that we all know and love.
Pick a theme:
When it comes to Halloween decorating the options are limitless. You can set up a spooky Halloween buffet with anything from crazy Halloween color to ULTRA "spooky" decked out in skeletons and spiderwebs. These are some of my favorite themes for Halloween:
Black and White – a timeless theme that always works (like this one!!). Think black and white linens, cobwebs, candles and dry ice.
Herbology – like Harry Potter! Set up your buffet like an herbology classroom with lots of funky vegetables, plants and vessels and pots filled with dry ice.
Colorful – staple Halloween colors are orange, black, purple, and green.
"Dead" theme – think dead leaves and flowers, and lots of candles.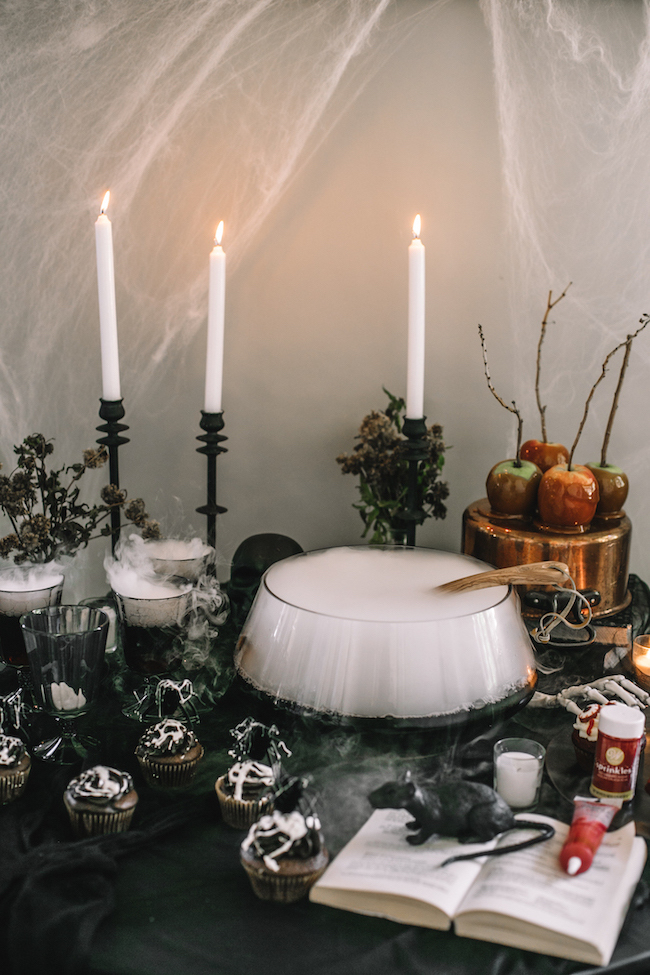 Modern Crystal Punch Bowl

By Fortessa

Shop Now
Nothing says Halloween like… Dry Ice:
I always get so giddy this time of year to break out the dry ice! Not only does it look insane in photos but it makes for SUCH a festive party touch. Who doesn't love drinking out of a goblet just like Harry Potter?! If there is one thing you use to 'spookify' your Halloween set up, it's dry ice. There are a few different ways to handle dry ice
when making drinks and cocktails…
How to use dry ice for spooky drinks:
Dry ice is actually so cold (-110 F!) that is frozen carbon dioxide. Which means it's dangerous to touch it with your bare skin. Always use tongs when handling dry ice.
Most dry ice is sold in 1 lb blocks (I buy mine at Smart & Final) and you will need to break it up yourself. I've used everything from a hammer and screwdriver like a chisel or a sharp knife to shave off pieces. Either way, ALWAYS use gloves and keep your face away while chipping.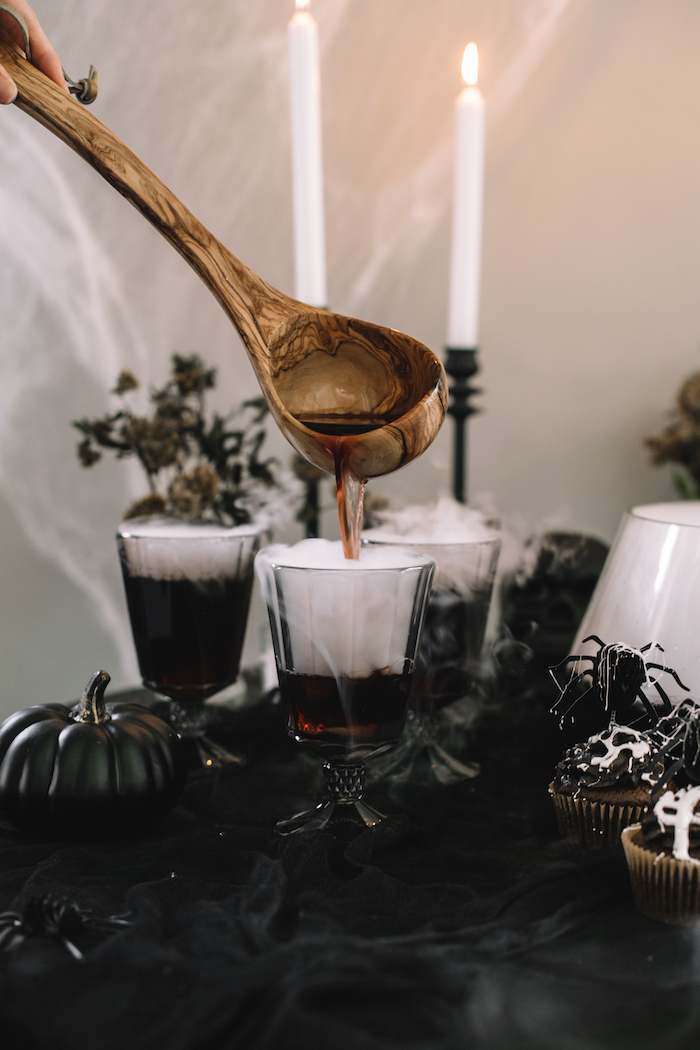 Once you have a piece or a cube ready to use, pop them into drinks and cocktails with tongs and serve right way. The 'smoky' effect will last for 5-10 minutes. You can also opt to use a large chunk in a punch bowl for a more lasting effect.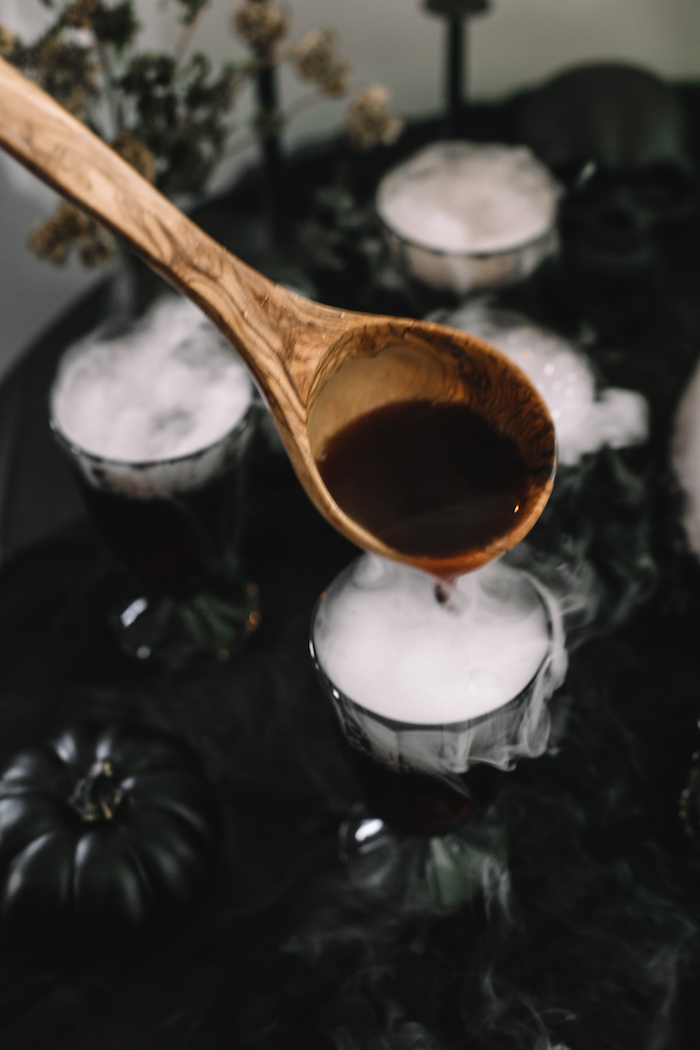 Olivewood Handcrafted Ladle

By Berard

Shop Now
Do NOT store your dry ice in the refrigerator. It's not even close to being cold enough to keep dry ice frozen. Place it in its own cooler with a seal tight lid. Ideally, use dry ice within a couple of hours of purchasing for maximum effect.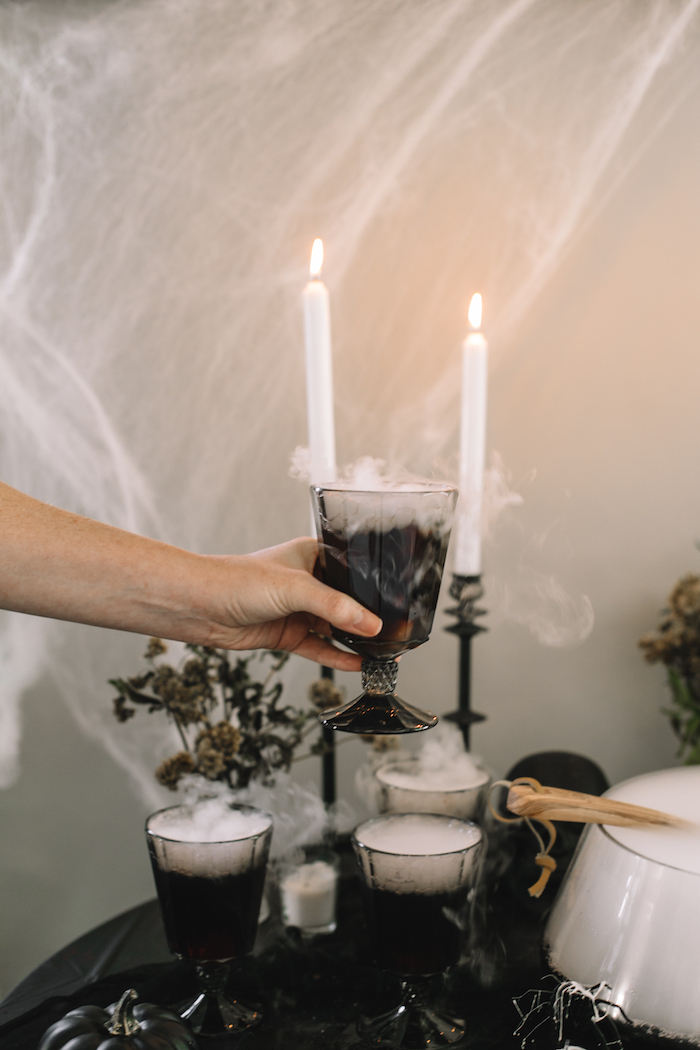 Opera Smoke Goblet

By Villeroy & Boch

Shop Now
Get Moody with Candles:
Nothing says moody like candlelight. When it comes to spooky décor and decking out a Halloween buffet table, turn down the regular room lights and bring out the candles. It will make the entire vibe and aesthetic feel much spookier and moodier. Use a variety of candle sticks and tea lights. For Halloween, I always break out my Design Ideas candle sticks, but truly they are great for most décor.
Spindle Candlesticks

By Design Ideas

Shop Now
Spooky Treats:
This is the time of year where your baked goods can be a little wonky, spooky and fun. This year, we went with two different kinds of "spooky" cupcakes, one spider-themed and one-bloody-eye-themed. Both are achievable with easy techniques and supplies from Wilton!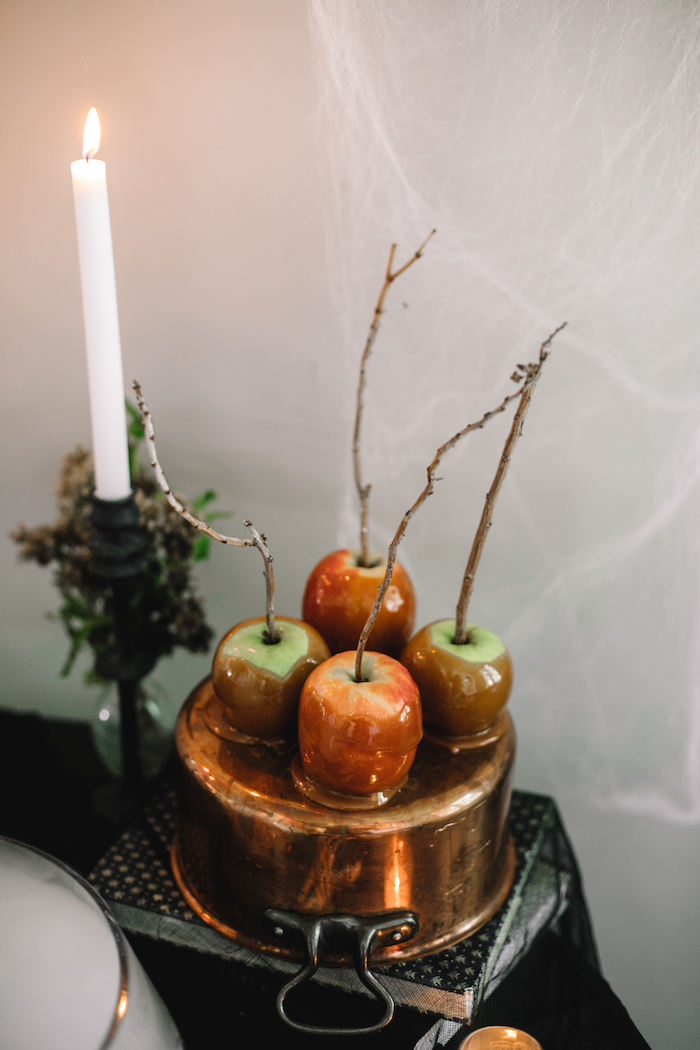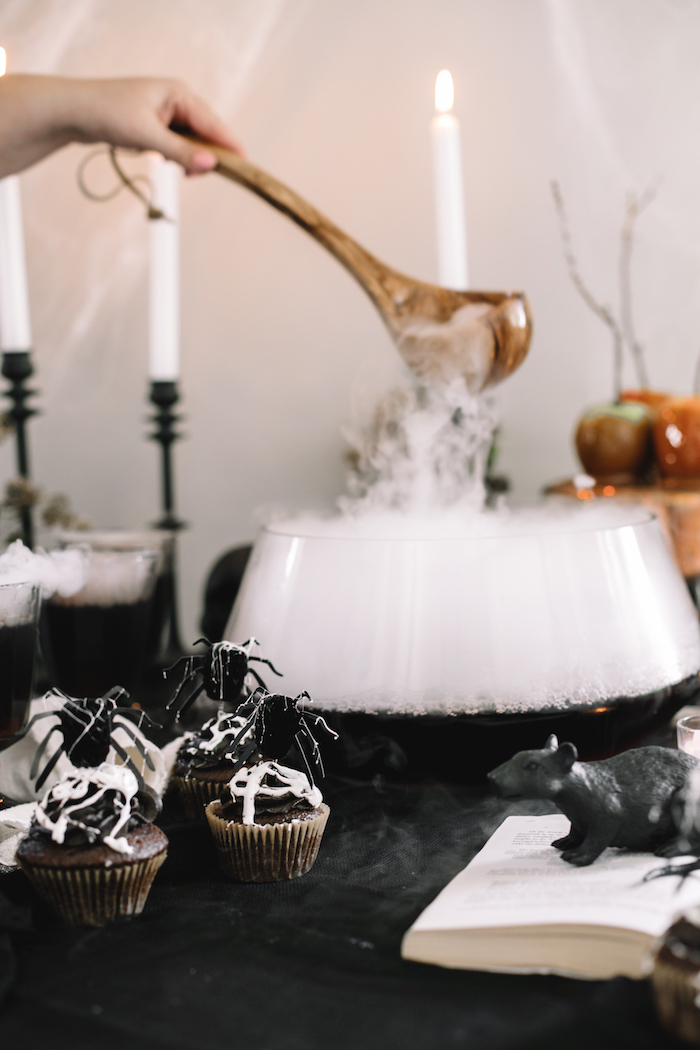 Spider Web Cupcakes: For spider web cupcakes, simply bake and frost chocolate cupcakes with chocolate frosting. For the webbing, melt a bowl or marshmallows on the stove top until gooey and just melted. Grab a small chunk at a time and stretch between your fingers and strategically place the 'webbing' onto the cupcake. Top with a Wilton Spider Cupcake Topper to complete.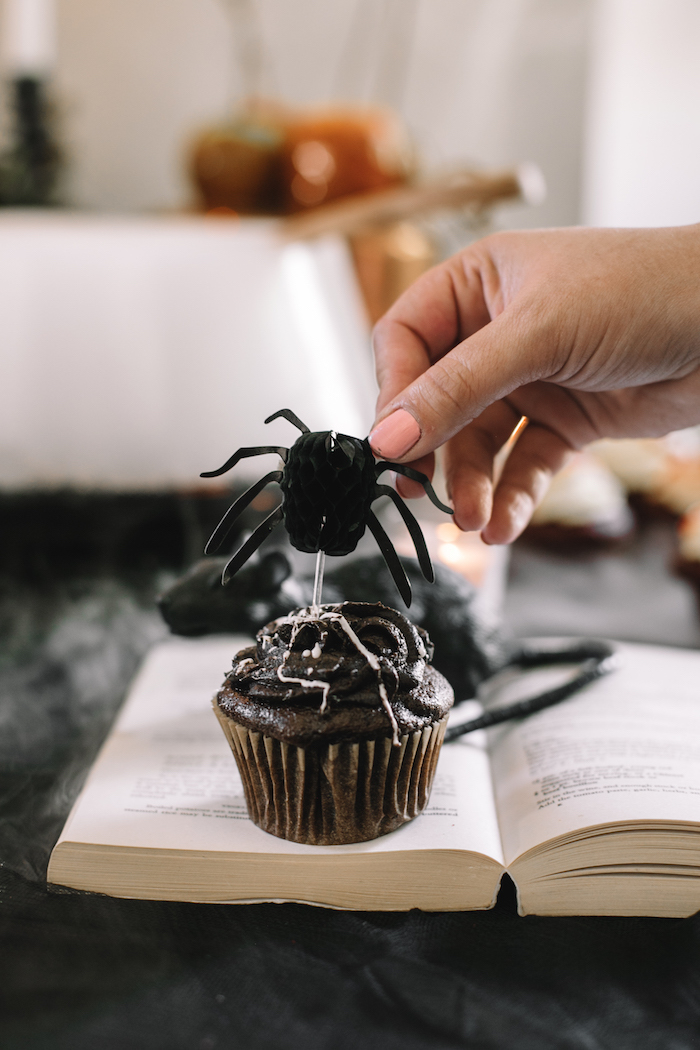 Spider Cupcake Toppers

By Wilton

Shop Now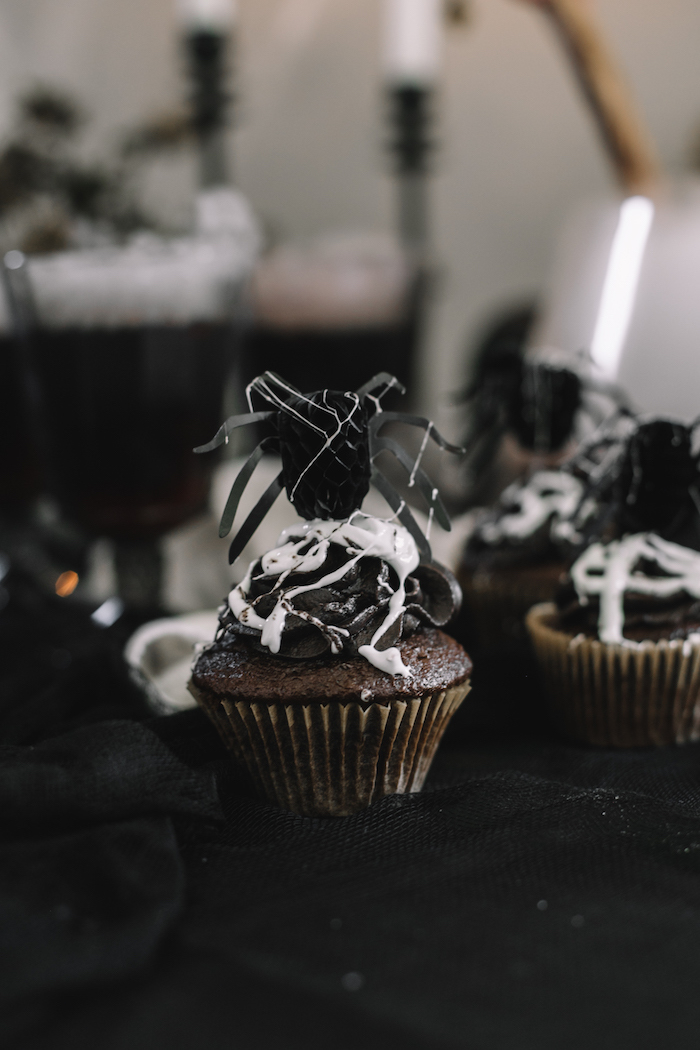 Bloody Eye Cupcakes: Bloody eye cupcakes start with a red velvet cupcake base and can be frosted with cream cheese or vanilla frosting. Using Wilton's Red Sparkle Gel squiggle red lines from the center of the cupcake to the base for the 'blood shot' effect. Finish off with red sanding sugar and 1-2 Eyeball decorations.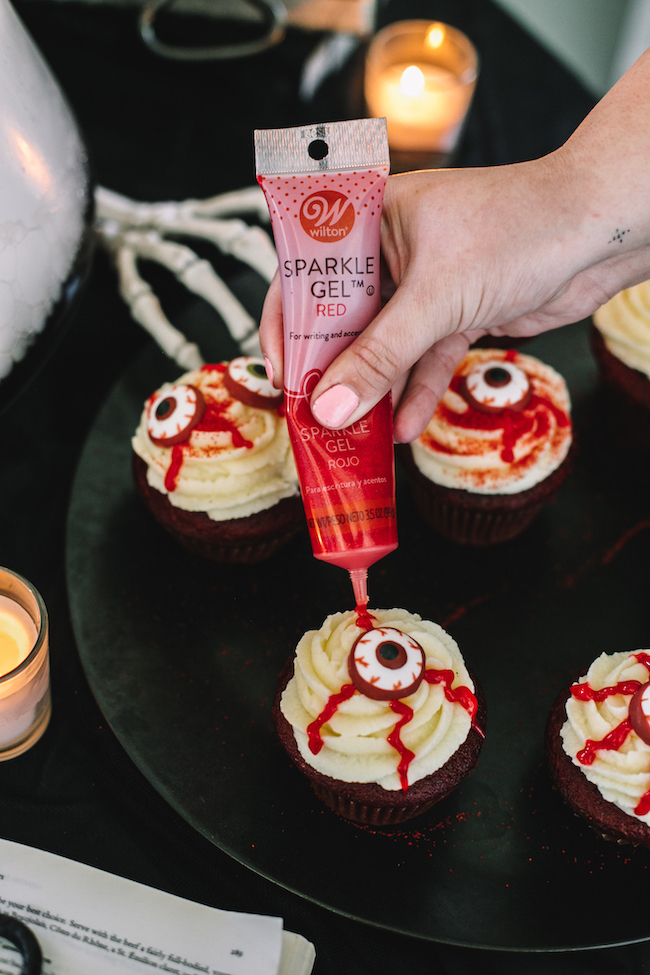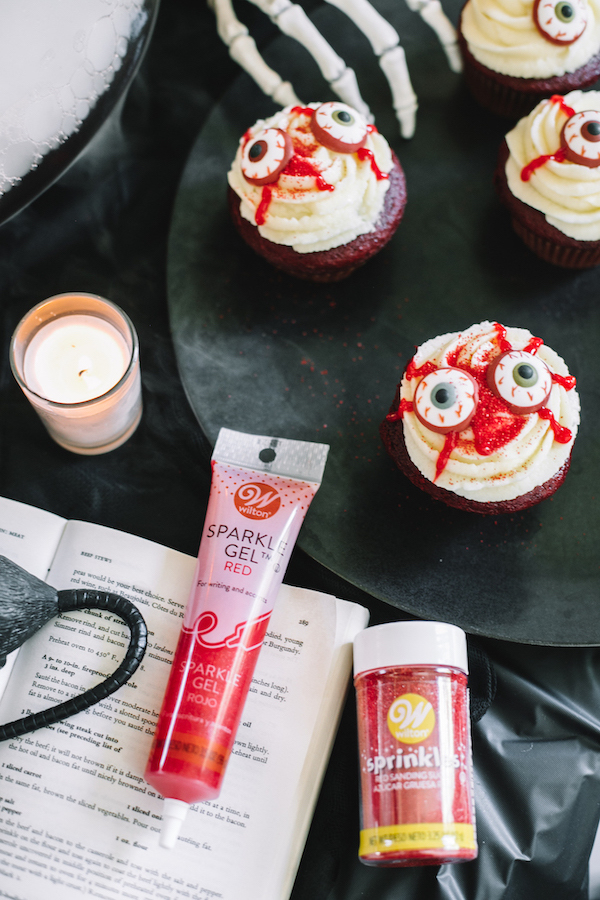 Have a very Happy Halloween everyone!
Related:
Throw a Slightly Spooky (But Still Classy) Halloween Party
This Elegant Halloween Table Will Make You Want to Host a Spooky Dinner Party