This Fig & Pear Tart Recipe Is the Fall Dessert You've Been Waiting For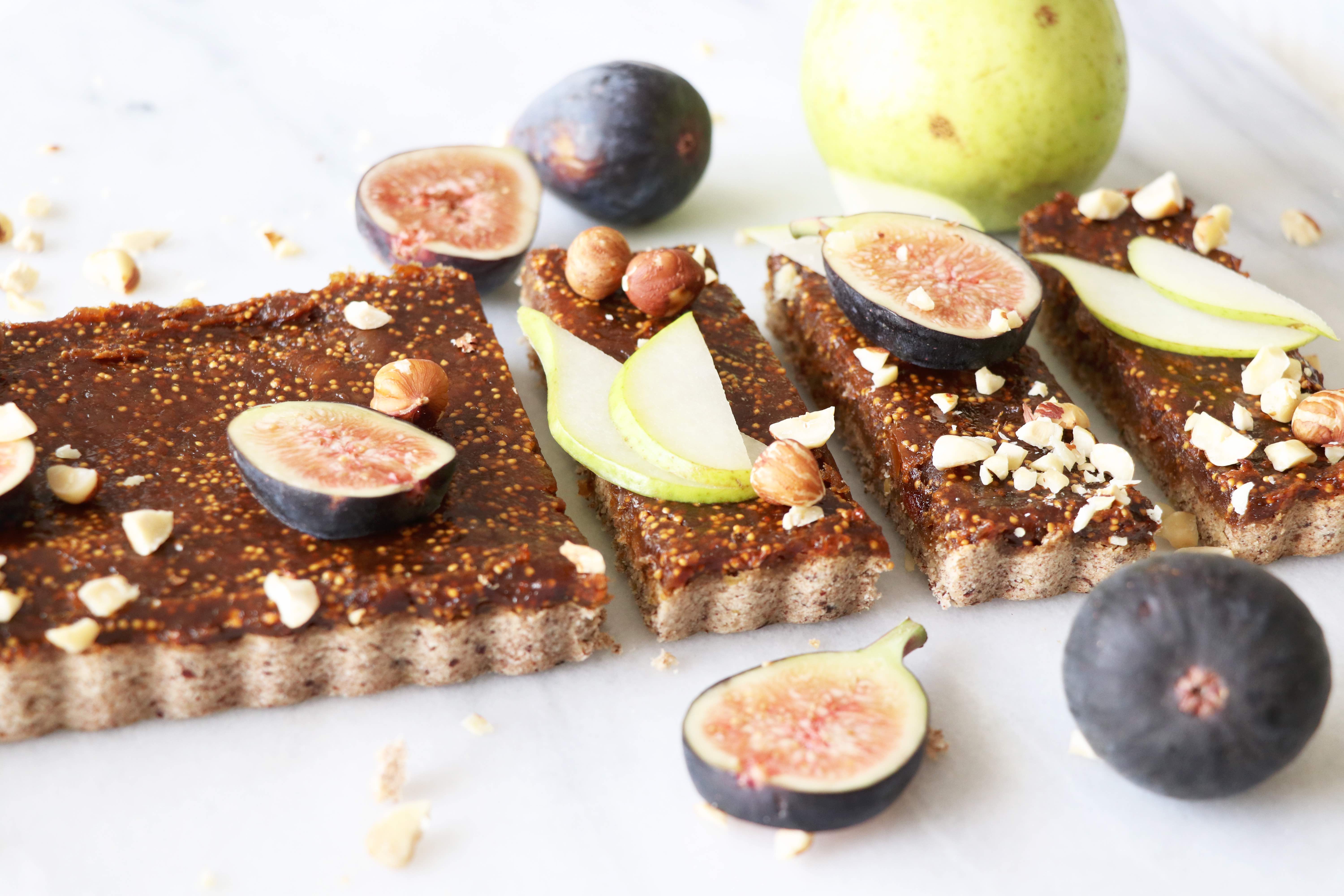 In my house, we say, "Summer is fun… but fall is delicious!" Okay, we don't actually say that, but it is still true! Fall or autumn is, in my opinion, the prettiest season with its cool crisp weather and leaves changing colors.
With cooler weather also brings some of the most delicious fruits and vegetables. Two of my favorite seasonal fall fruits are pears and figs, both delicious fresh and on their own, or used in a variety of savory or sweet recipes, like this amazing fig and pear tart!
Many Fall fruits contain hearty amounts of dietary fiber such as apples, pears, prunes, dates and figs. Dietary fiber helps to keep your digestive system regular, and 2500 years ago Hippocrates is believed to have made the claim that "ll disease begins in the gut." A healthy, regular digestive system can support your immune health and a healthy weight. For more insight, check out my five steps to a healthier gut and better digestion.
Pears are like a high-end apple! Pears are packed with antioxidants, minerals such as copper, iron, potassium, manganese and magnesium as well as B-complex vitamins such as folates, riboflavin and pyridoxine (vitamin B-6).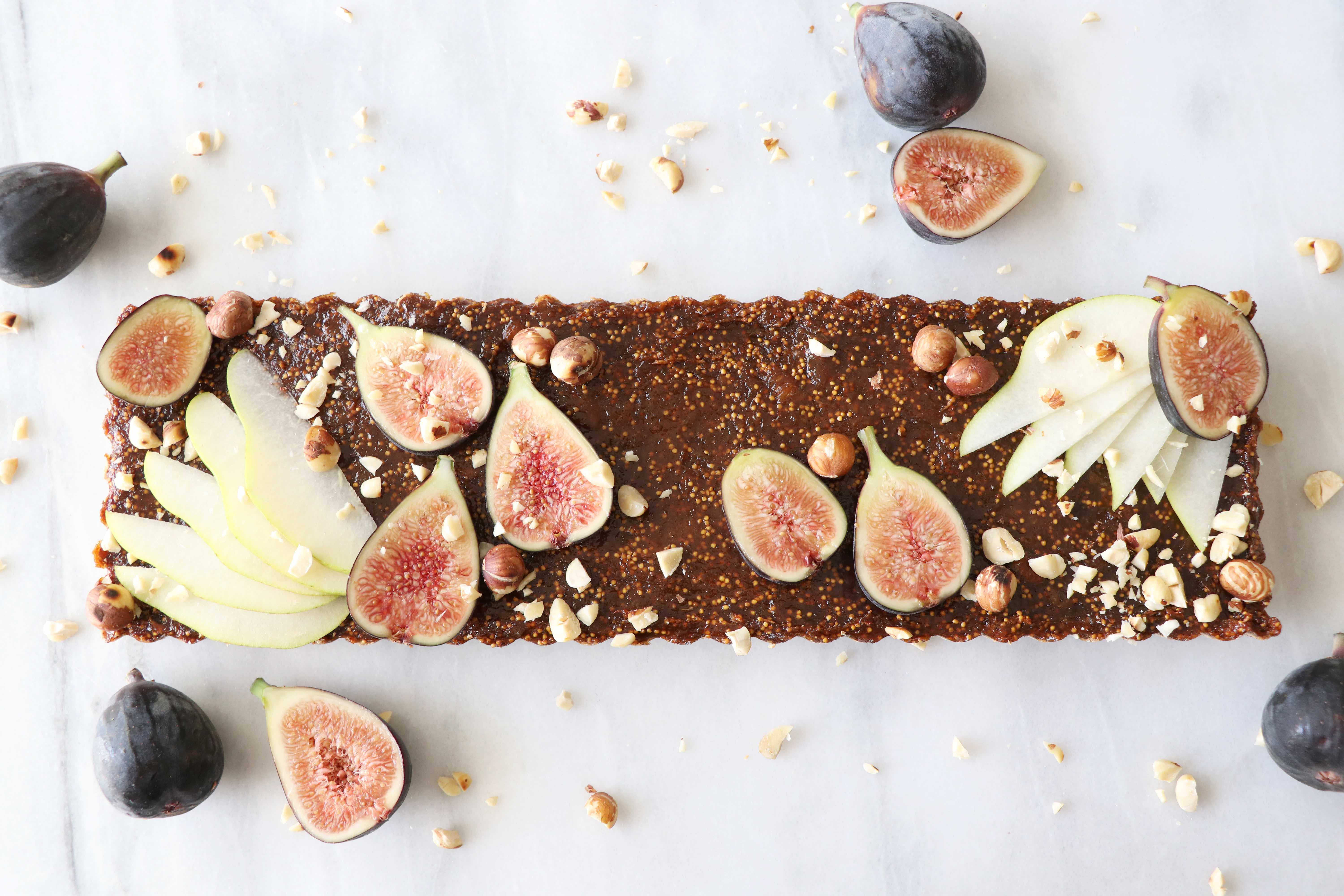 Figs also contain magnesium, manganese, calcium, copper, and potassium as well as vitamins such as K and B6. Figs are full of antioxidants that may fight free radicals in your body and help to prevent disease.
Below is one of my go-to fall recipes, a delicious pear and fig tart. This recipe reminds me of eating Fig Newtons as a child! One of my favorite things about this recipe is that there is no added sugar. The natural sweetness of beautifully ripe fall fruits are all you need.
No Sugar Added Fig & Pear Tart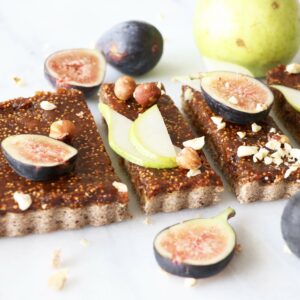 INGREDIENTS
For the Filling:
12 oz. soft dried Turkish figs
juice of 1 lemon
½ teaspoon salt
½ teaspoon cinnamon
For the Crust:

1 cup hazelnut flour
½ cup coconut flour
½ teaspoon salt
1 ½ teaspoons cinnamon
½cup blended pear-sauce (2 small pears)
For the Toppings (optional):

Fresh pear
Fresh figs
Crushed hazelnuts
INSTRUCTIONS
First make the pear sauce. Wash and core two small pears, place pears in steamer basket over boiling water and steam with a lid on for 10 minutes. Add steamed pears to a high-speed blender (such as a Vitamix) and blend until smooth. Done!
Preheat oven to 325 degrees Fahrenheit.
Add all filling ingredients into a food processor or blender and process until thick, smooth paste is formed.
In a bowl add hazelnut flour, coconut flour, salt and cinnamon and whisk until well mixed. Add pear-sauce and stir until fully mixed.
Add crust mixture into a fluted tart pan with pop-out bottom, firmly press crust mixture evenly into pan.
Add fig mixture to pan and spread evenly over crust.
Bake for 30-35 minutes.
Topped with thin sliced pear, fresh figs and crushed hazelnuts!