Easy Lunch in a Pinch: Black Bean & Feta Tacos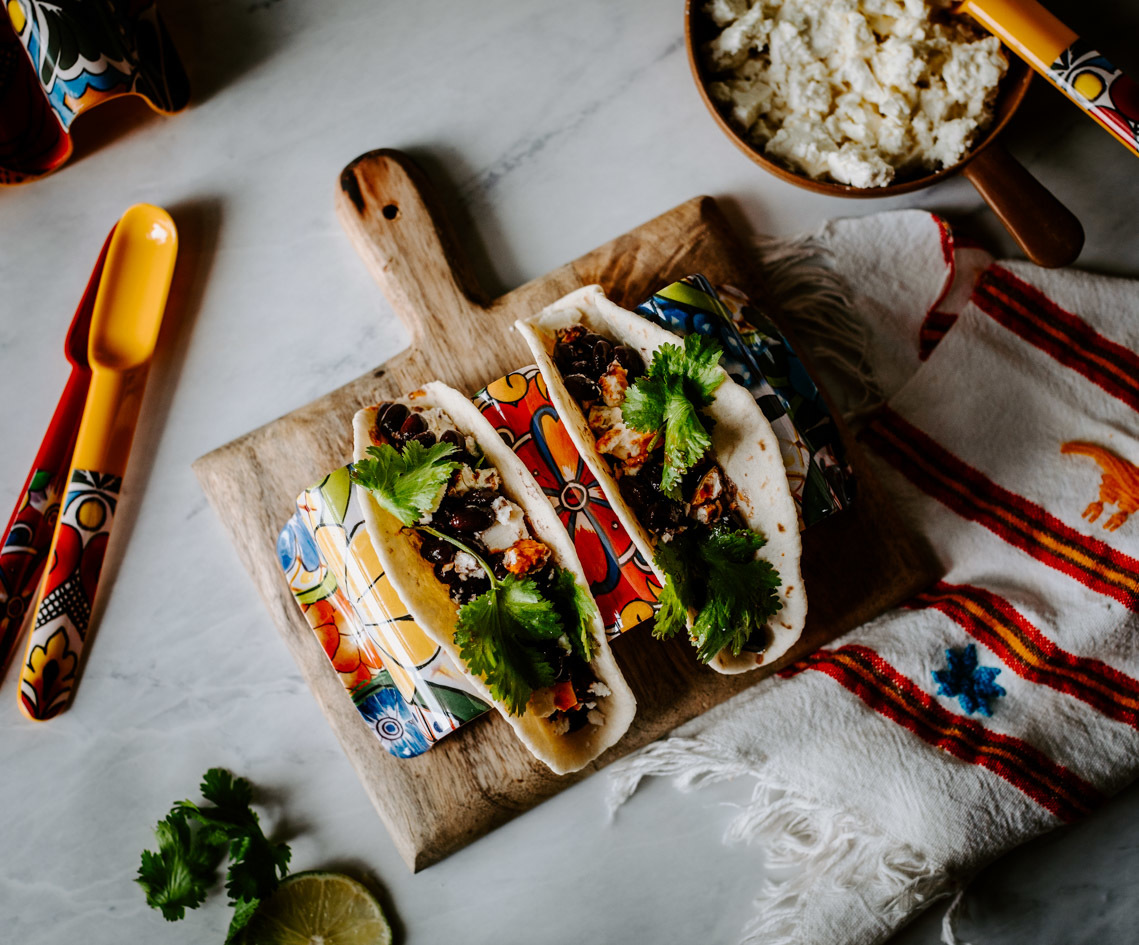 Sometimes we need a lunch idea that takes almost no time to create but satisfies us more than an energy bar. Cue: black bean and feta tacos. This is one of my favorite go-to lunches when I have a really busy day and no time for lunch prep. It provides a wonderfully balanced meal or snack and can be made at home or at work.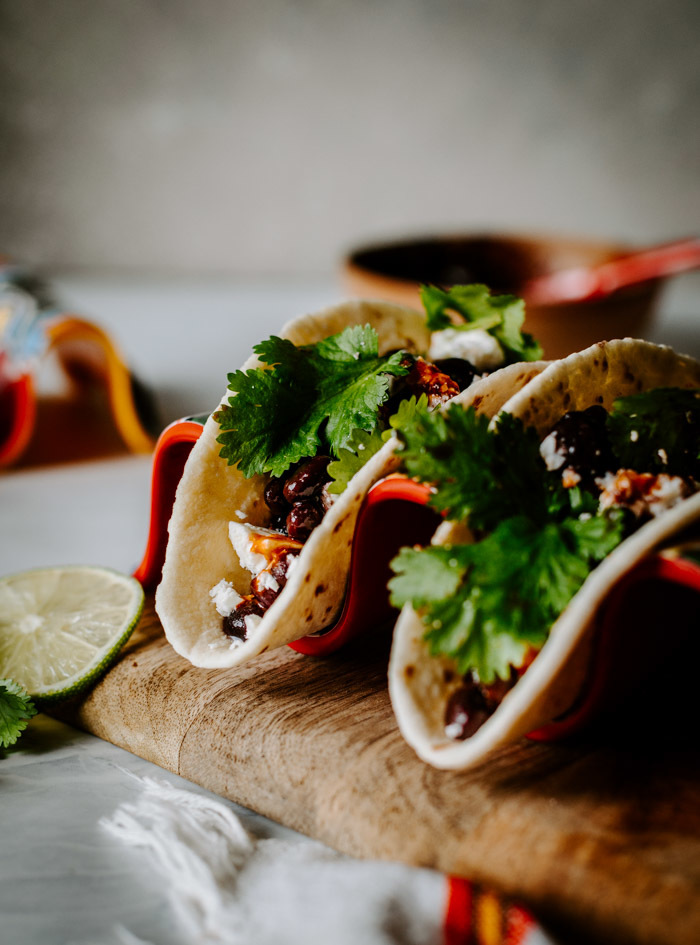 Most of the time I already have a can of black beans open in the fridge, while tortillas, feta, and fresh herbs are regular staples on my grocery list. Easy peasy! Another thing to love is how a recipe like this fits into intuitive eating. The simplicity minimizes the amount of energy one has to use to prepare a healthy meal, and sometimes less truly is more.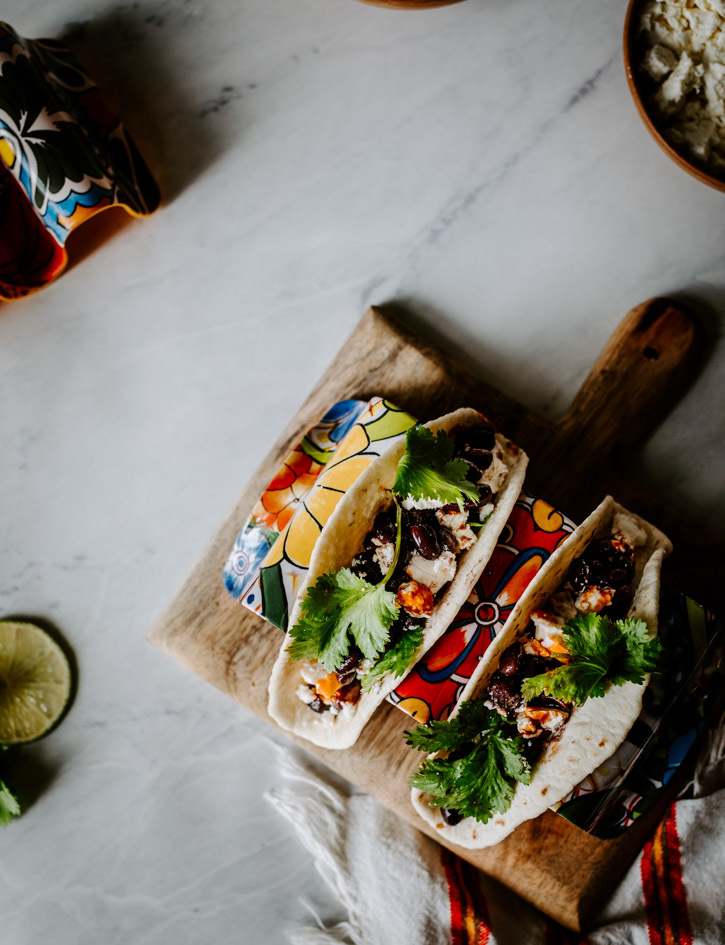 The recipe below is truly just a guide, and I highly encourage you to play around with the black bean to feta ratio until you find what you love most. Maybe you prefer more black beans and less feta, or more of an equal feta to black bean situation. Or maybe this inspires you to make something completely different, like a Mediterranean pocket (ha, stick with me I have an idea in ingredient substitutions below the recipe). But whatever it is, you do you.
When you need a lunch idea that takes almost no time to create but satisfies us more than an energy bar, cue: black bean and feta tacos. This is one of our favorite go-to lunches when we have a really busy day and no time for lunch prep!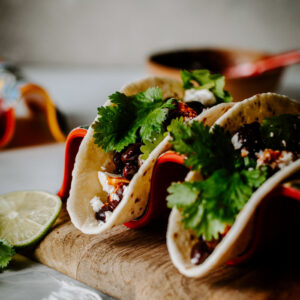 Ingredients
2

soft flour tortillas

0.5

cups

canned black beans, in liquid

0.25

cups

crumbled feta cheese

cilantro, clean and trimmed, for garnish

your favorite hot sauce, for garnish
Instructions
In a small pot, heat black beans until bubbling and heated throughout (or use the microwave if you prefer!). If you decide to heat the entire can of black beans this may take up to 5 minutes. Set aside.

Place tortillas in a microwave-safe tortilla warmer and heat for 10 seconds intervals until tortillas are hot.

Assemble tacos by placing the warmed tortillas in a taco stand and equally dividing black beans and feta cheese into each. Garnish with hot sauce and cilantro. Enjoy!
Nutrition
Serving:
2
g
Calories:
338
kcal
Carbohydrates:
41
g
Protein:
15
g
Fat:
13
g
Saturated Fat:
6
g
Cholesterol:
33
mg
Sodium:
950
mg
Fiber:
8
g
Sugar:
5
g
Ingredient Substitutions
Beans.
Play around with refried black beans, pinto beans, etc. You could even put hummus and make this a Mediterranean dish with olives, tomatoes, and feta – ohh I'm into that!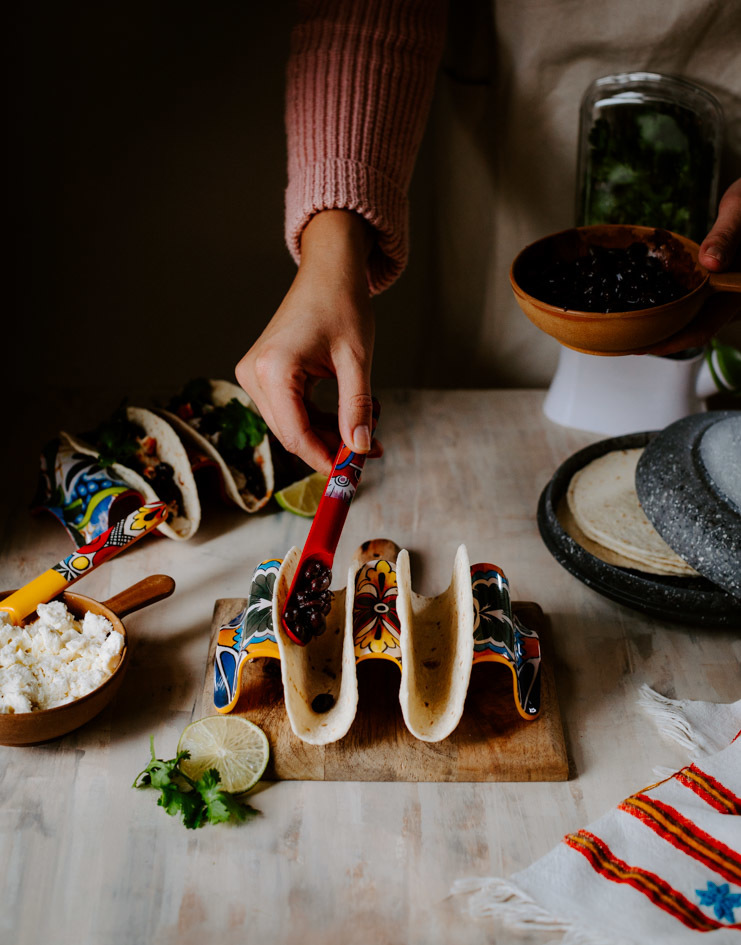 Cheese.
Because the cheese in this recipe isn't meant to be particularly melty, I like a salty hard cheese such as feta. Another option could be cotija or something that you expect to hold its shape. If you want it melty, throw everything together in the microwave/stovetop and use something like shredded cheddar to create a quesadilla instead!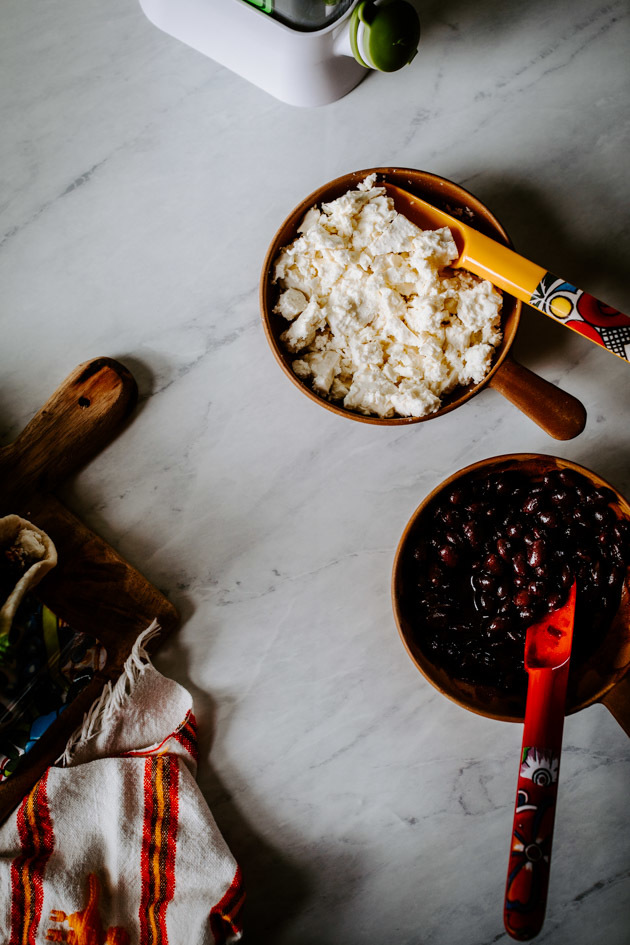 Herbs.
I know cilantro can be pretty polarizing. If you're someone who finds it soap-like in taste, you could absolutely omit it. However, I recommend you jazz it up somehow.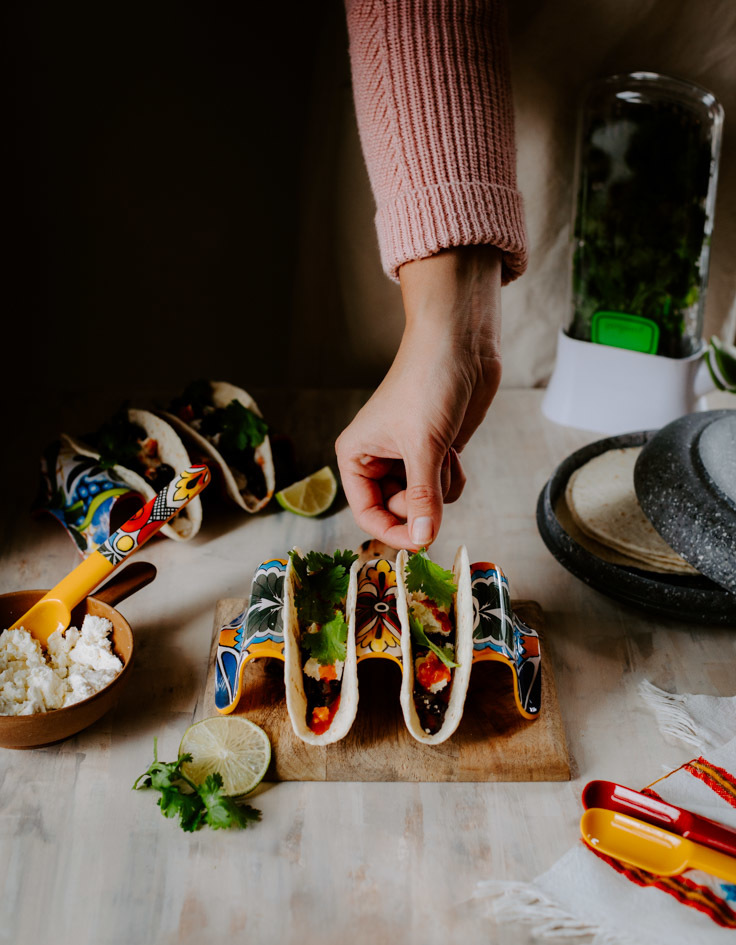 Oh! And as far as herb storage is concerned, I get a ton of questions about how I keep my leafy herbs fresh in the fridge. I can't recommend the Prepara herb keeper highly enough. This gadget keeps the stems submerged in a bit of water, and the humidity and temperature stable inside the plastic case. Honestly, my herbs have never stayed so fresh as they have with this herb keeper.
Tortillas.
In our house, we prefer soft flour tortillas. My husband isn't a huge fan of corn tortillas so we don't buy them much. However, if you have an allergy, you could absolutely use corn or whatever kind of tortilla works for you.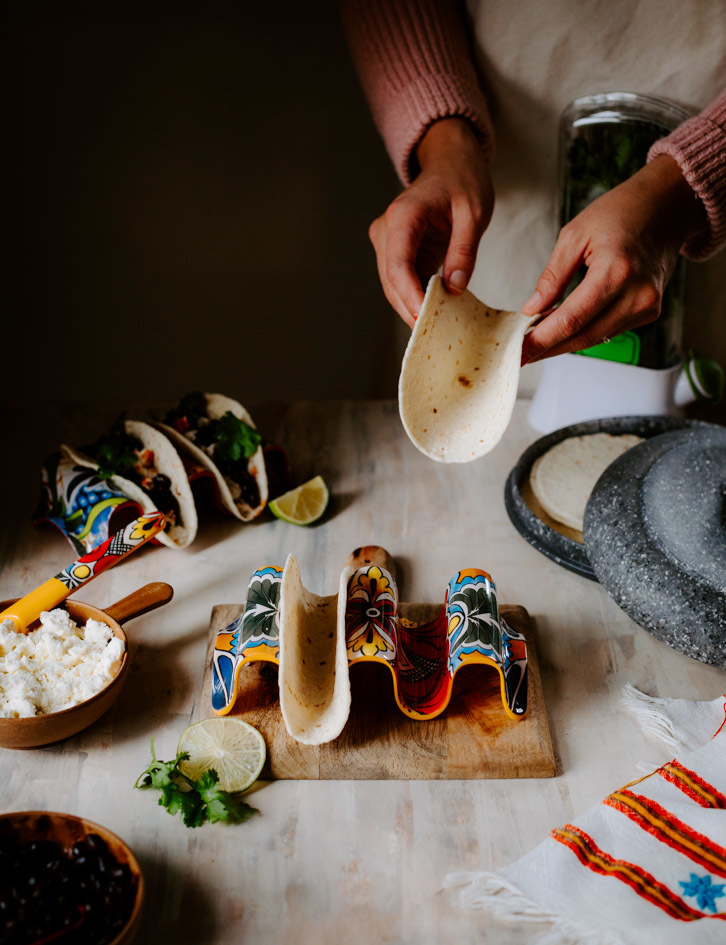 Extra Large Tortilla Warmer

By Dexas

Shop Now
A non-negotiable is to always heat your tortillas, and having a tortilla warmer is always a good idea. This is because tortillas tend to cool down very quickly and then they can turn hard and dry. No matter how you like to heat your tortillas — whether that be in the microwave or on an open flame — a tortilla warmer does the job!