Easy Single Serving Shakshuka Recipe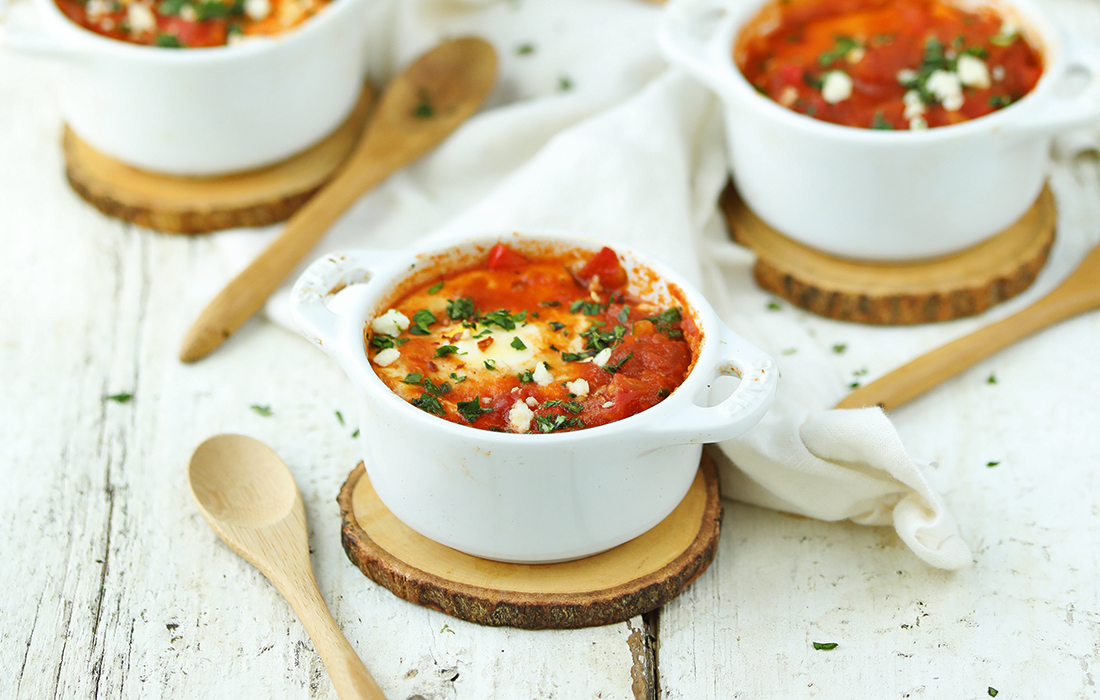 One of the first recipes I had ever seen online when I decided to be a full time food blogger was shakshuka. Even though I had logged several years as a cook in a restaurant, I never heard of such this breakfast recipe.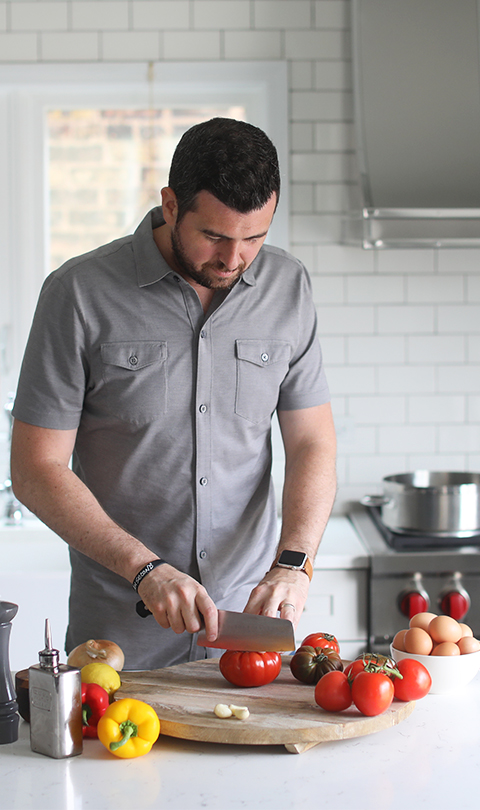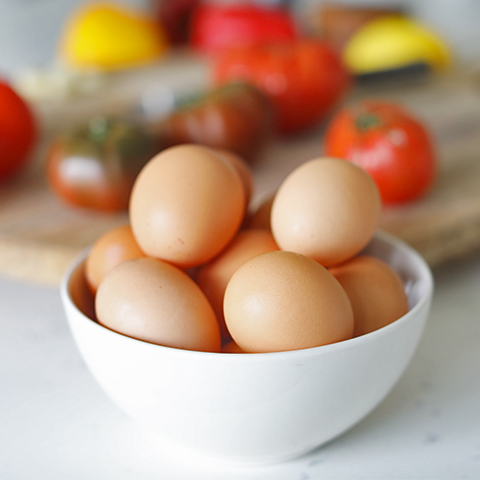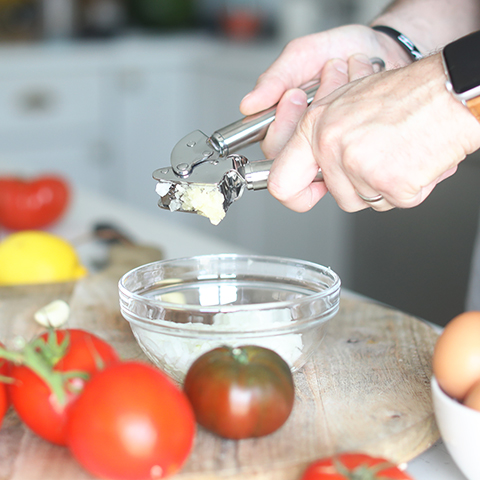 When it comes to food around the world, I only know a little bit about a lot. In fact, if anyone out there outside of a certified master chef says they know everything about food, they are full of it! I've learned more being a food blogger than I ever did in culinary school or in the restaurant industry, maybe because I now have more time to focus and less time worrying about prepping and serving customers.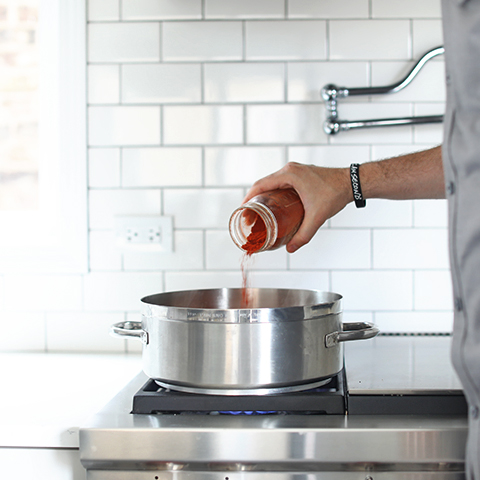 There are a few things out there that suggest shakshuka is a traditional Tunisian dish, but I was always taught that it was Israeli. Regardless, it is definitely a staple in Middle-Eastern and Mediterranean cuisine. There are also many ways to tweak the recipe by adding in different vegetables, herbs and cheeses. While it isn't traditional to do this, I always say to make recipes your own and add in what you like, with a knowledge of how it was originally intended to be prepared.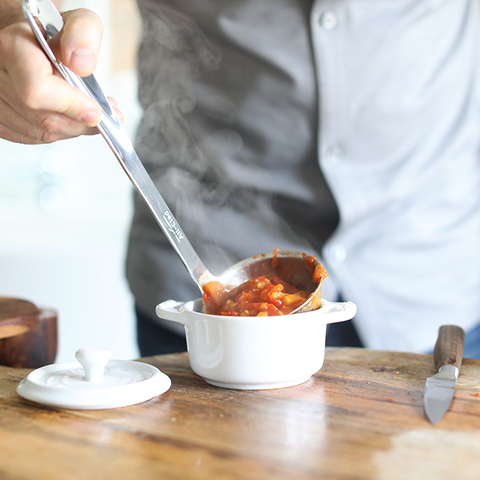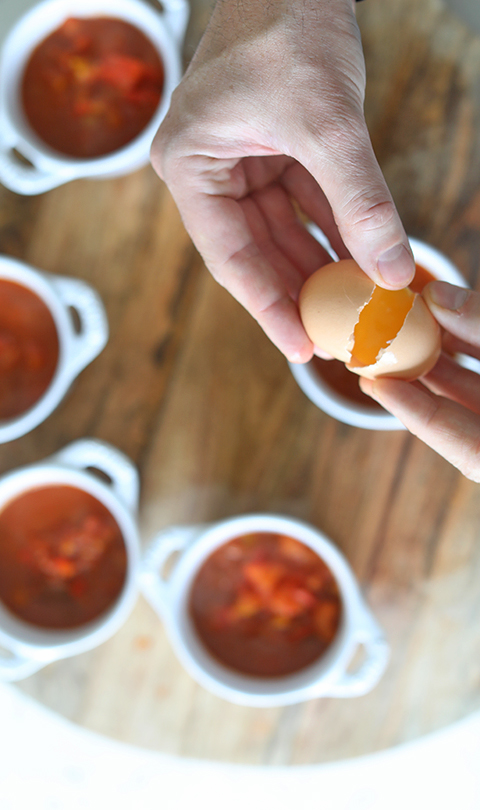 Once the shakshuka is finished, distribute it amongst the cocottes and crack an egg into each one. Season the tops a bit with salt and pepper and feel free to add on some cheese. I used halloumi cheese but feta, goat, parmesan, or even a queso fresco would be really good in there. Like I said earlier, get inspired and have fun when making recipes and add in ingredients that you like to enhance or tweak the flavors.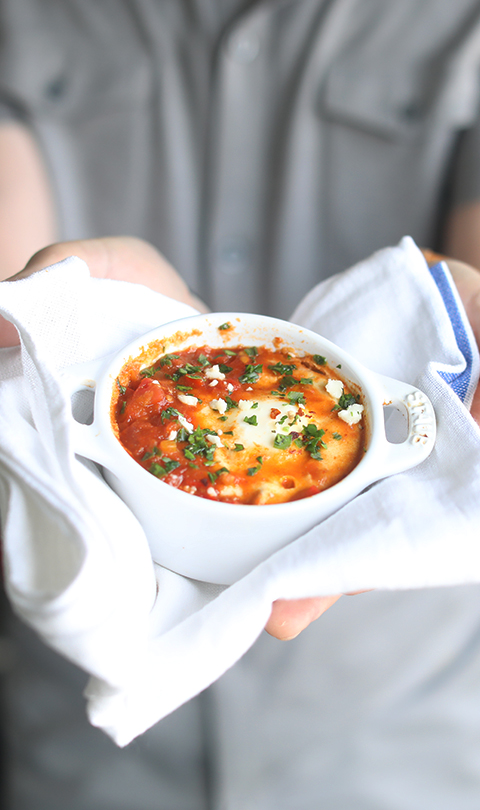 Simply finish off this easy shakshuka recipe with some fresh chopped herbs and a some more cheese and that's it! You've got a delicious single serving shakshuka that is different from the same old breakfast recipes and is sure to be a hit at your table!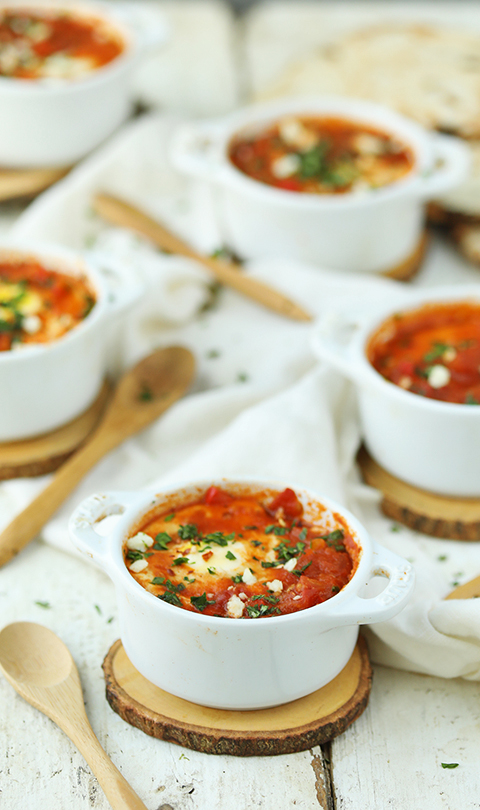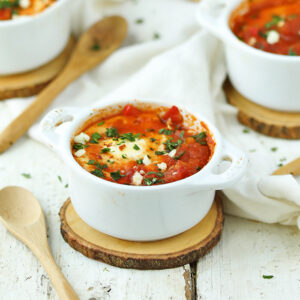 INGREDIENTS
1 tablespoon of olive oil
½ peeled and small diced yellow onion
4 finely minced cloves of garlic
Juice of 1 lemon
1 each seeded and small diced red and yellow bell pepper
8 roughly chopped assorted fresh tomatoes
1 cup of water
1½ teaspoons of cumin
1 teaspoon of smoked paprika
¼ cup of crumbled halloumi cheese
8 eggs
2 tablespoons total of finely minced parsley, chives, basil and oregano
Kosher salt and fresh cracked pepper to taste
INSTRUCTIONS
Preheat the oven to 375°.
Heat the olive oil in a medium size rondeaux and cook the onion and garlic until browned, about 10-12 minutes.
Deglaze with the lemon juice and add in the bell peppers and sauté for 4 to 6 minutes.
Add in the tomatoes and water and stew over medium-high heat for 20 minutes or until the sauce becomes thick. Note: If the sauce is thin, stir in 1 teaspoon of tomato paste at a time until it is thick.
Finish by stirring in the cumin, paprika, salt and pepper, and evenly transfer the mixture between 8 cocottes.
Add an egg to the top of each shakshuka cocotte and evenly sprinkle on half of the crumbled cheese.
Bake in the oven for 8-10 minutes or until the desired internal temperature of the eggs is achieved.
Garnish with the remaining cheese and chopped herbs.
Serve hot.